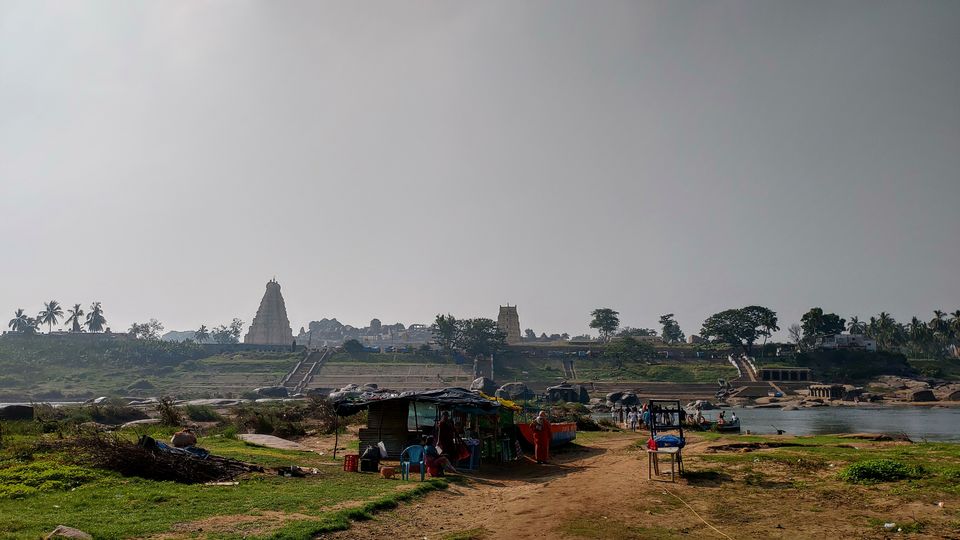 We (Me&my friend Siva) started our journey by train from Bangalore at 10:30 PM with eagerness, expectations ...whatnot.As the train starts to make tuukk..tuukk...noise, I was involved in a steer conversation with the stranger to the extent of exchanging numbers. Well..that's a new one🙂. We reached the nearest railway station next day morning (Hospet Jn), there we a bus to Hampi.
Hippie Island is known for its laid back ambient lodges, scenic beauty and living in small huts across the Tungabhadra river. You need to travel in a boat to reach there. We pre-booked a hut for our stay there, as you may not get the one on the spot. This is the place where mostly hippie foreign backpackers stay. You get accommodation facilities on both sides of the river, You should make your choice where to stay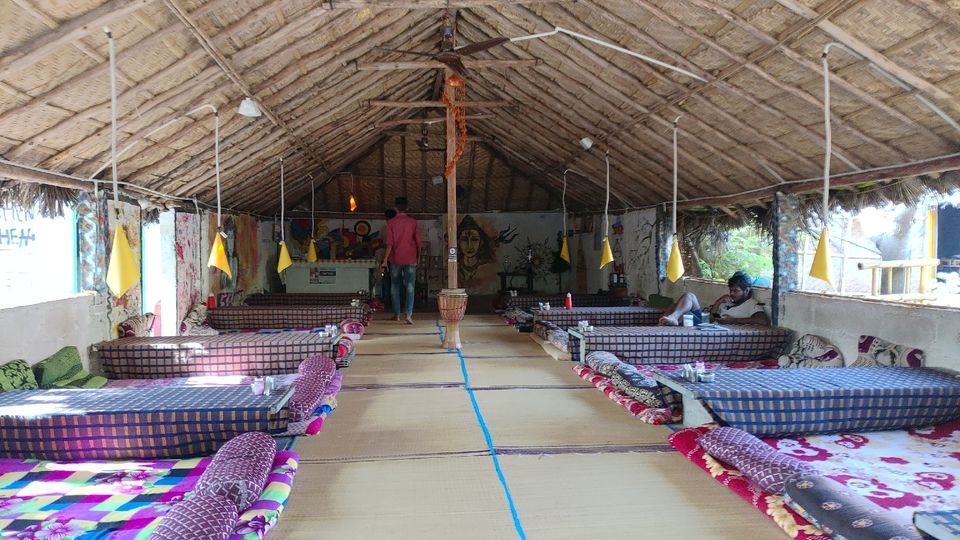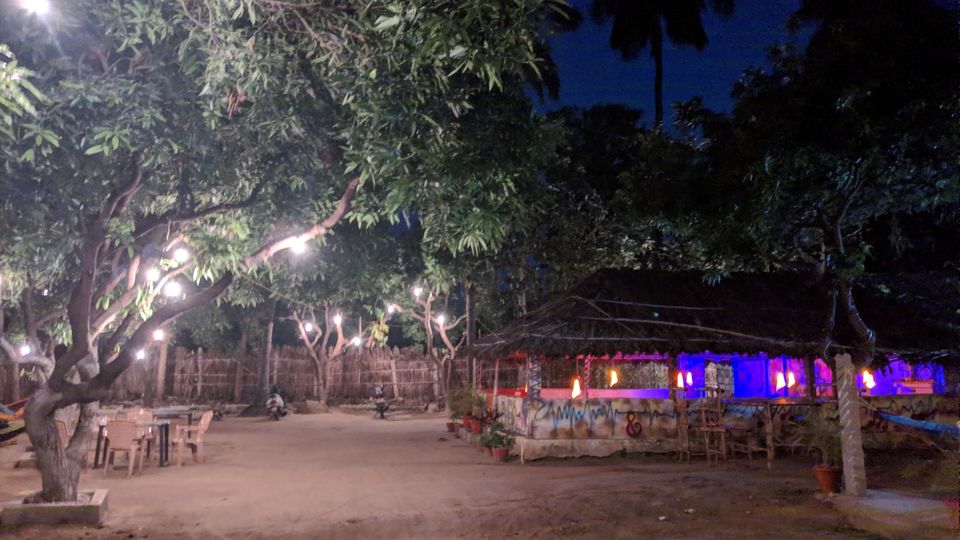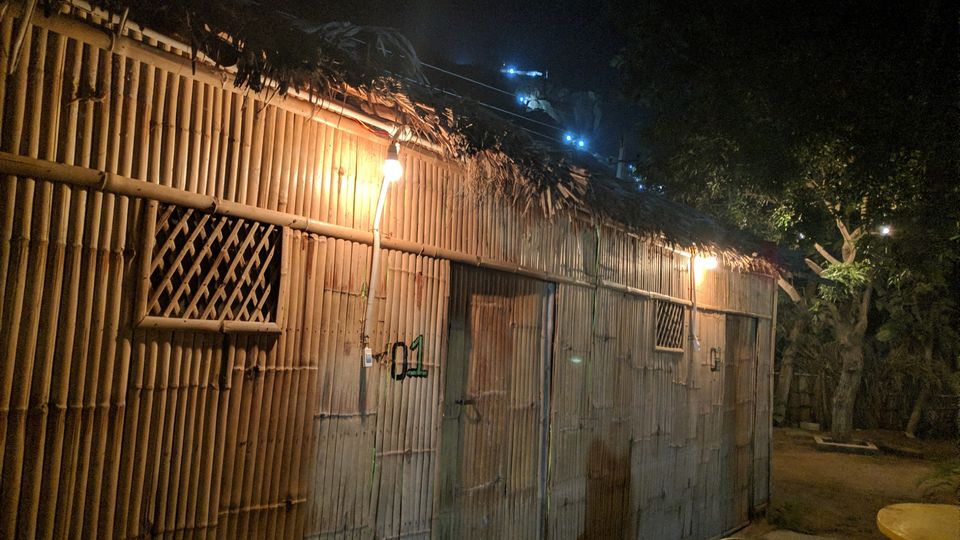 We started our exploration after hiring a scooter. It is necessary in order to cover all the places if you gonna be there only for 2/3 days. There were so many mountains, water bodies. We came across such one called Sanapur lake and went for a ride on Coracle. Which felt like retro days.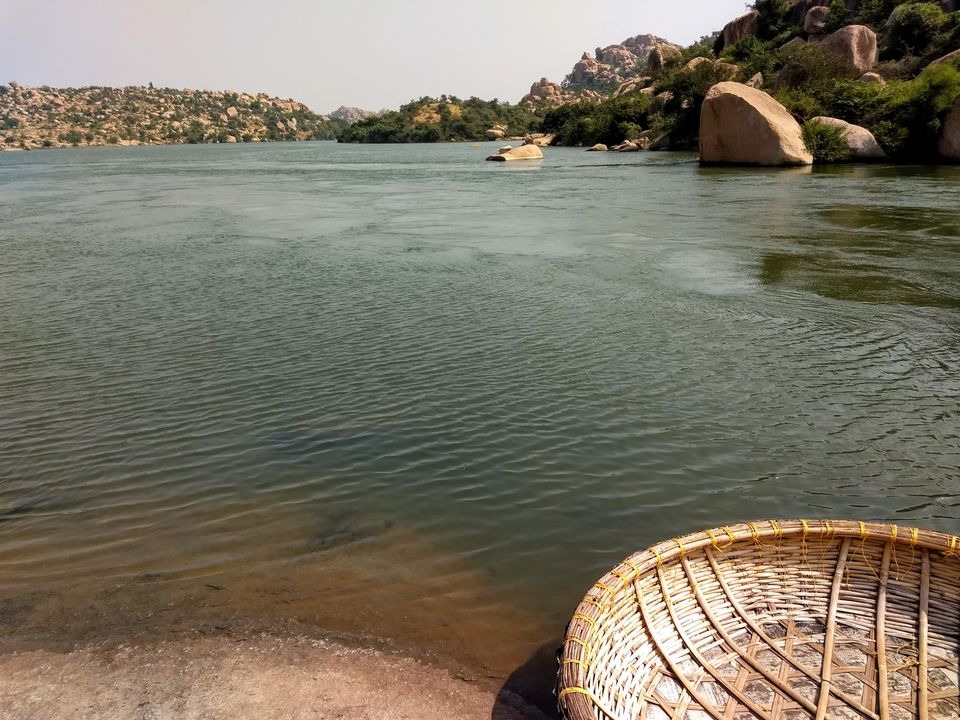 After that, we sat next to the lake placing our feet in the water watching and listening😜 to the conversation of foreigners and boat guys, We were quite amazed by the locals and their fluency in English👏. From there we started to roam around dams, empty roads.... and reached Tungabhadra river water flow by afternoon and spent some time there sitting in the water flow pits. By the way, those rocks and pits are slippery.😃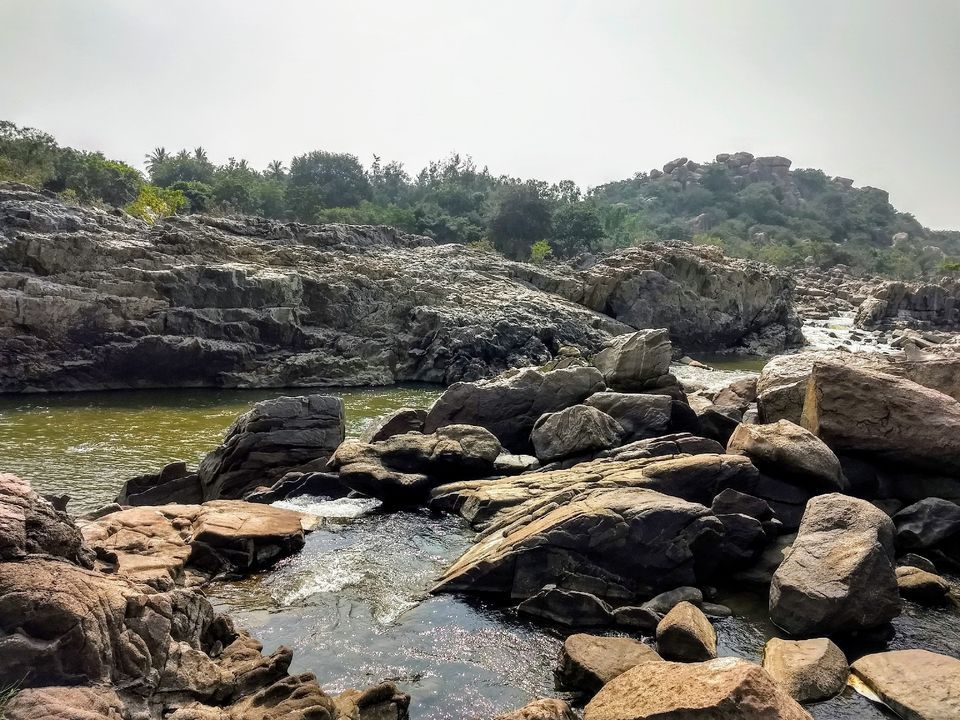 At evening we headed to Anjanadri hill (Monkey temple🐒) also known as the birthplace of Lord Hanuman. When we reached there we saw some Gary langurs (Hanuman langur) playing around, I tried to move towards them as a gesture of hello but they didn't welcome that😄.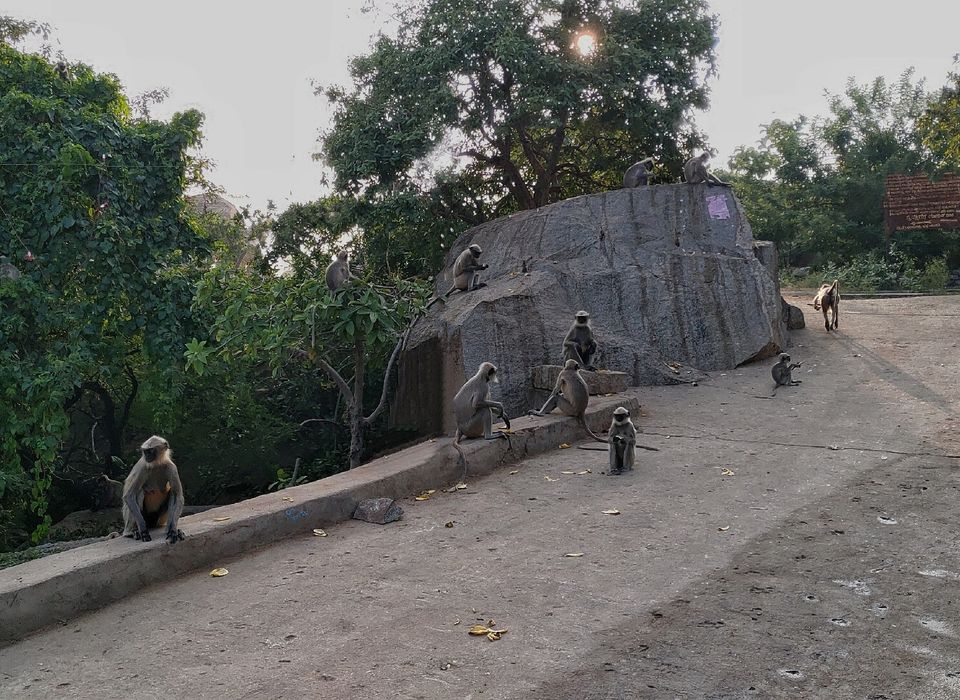 Reaching the top of the hill which is around 1800 feet was not easy for us, we had to rest for a while during the course. The moment you reach the top, those visuals, calmness and evening breeze will make you feel eternal🧘🏻‍♂️.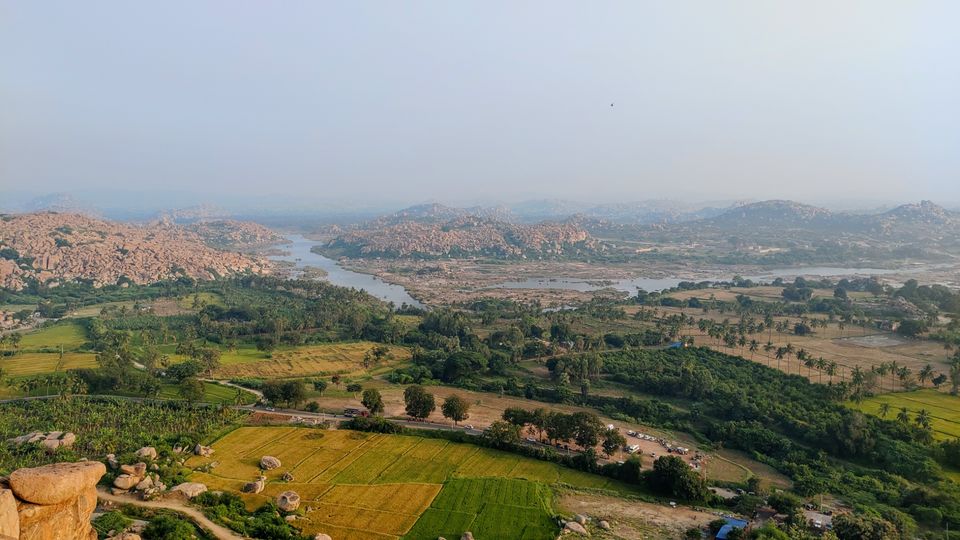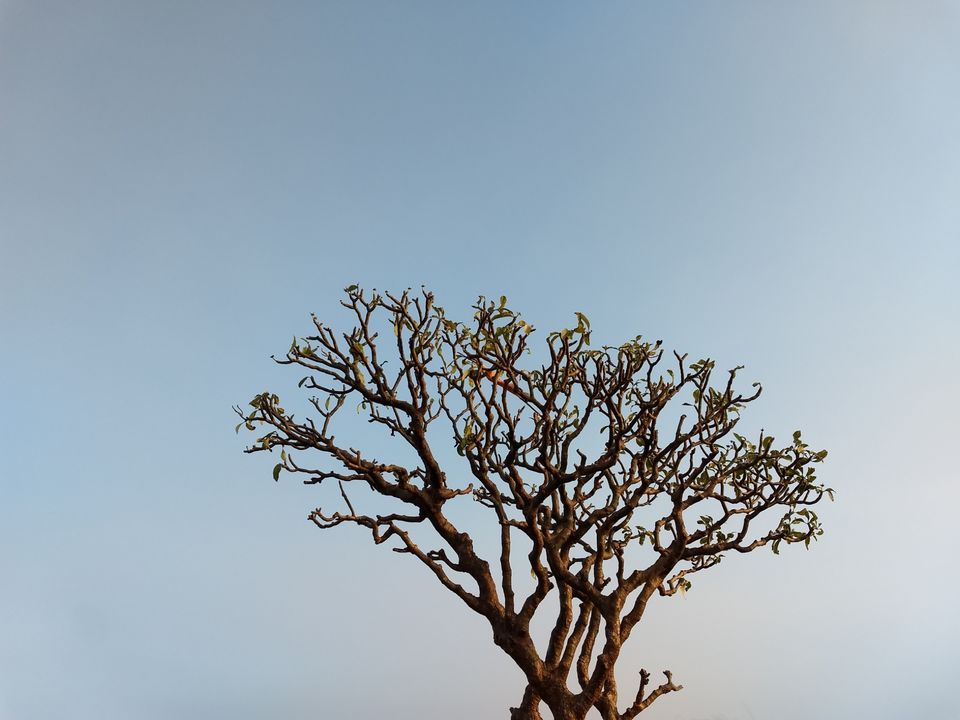 We went around the top for a while and sat down to watch the sunset over the hills, in the middle of all these there were a bunch of people sitting around a man who is teaching about Hanuman in a mic🎤 , That loud noise is a disturbance for a while but we started to focus on the sunset across the mountains, crops and barren lands.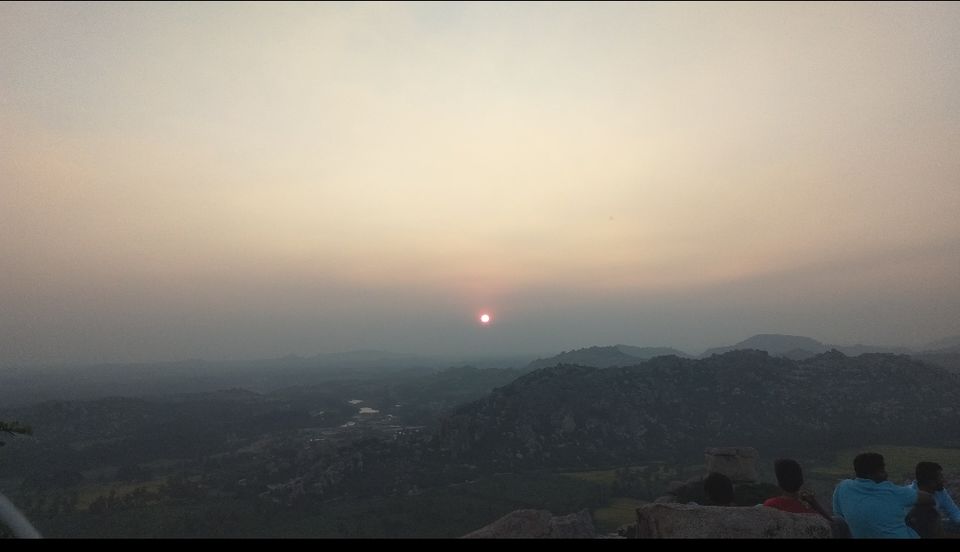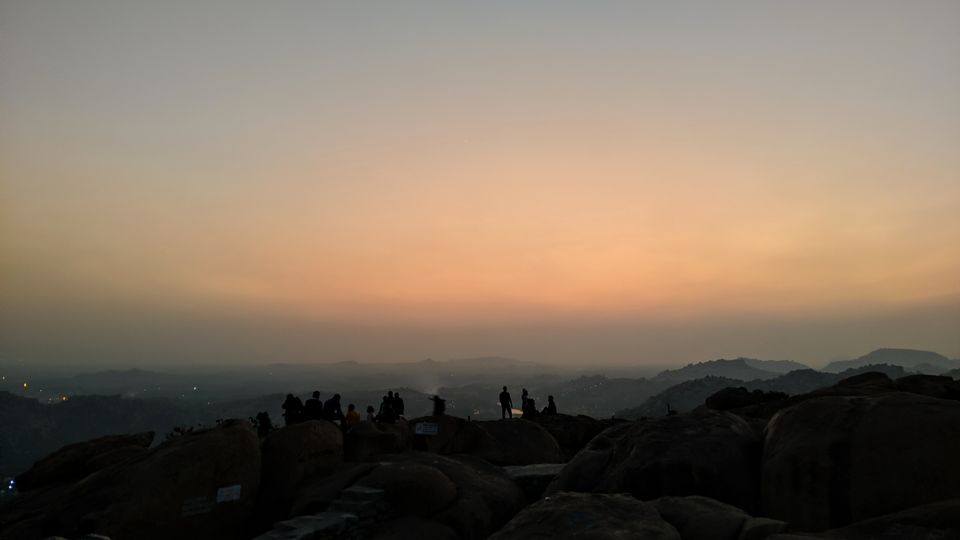 As time passes sun starts to settle down into the darkness before the sky turns on sparkling, along with our conversations. There were a few people who were involved in reading books📖 too. And finally, we reached our nest⛺ and we spent the rest of the winter night walking around the streets with uninterrupted conversations. You can go to a themed restaurant or do some shopping there viz., musical instruments, hippie clothes, ornaments etc.
Before we reach the other side of the river to explore (UNESCO sites ), We went on a ride early morning around the villages and paddy fields.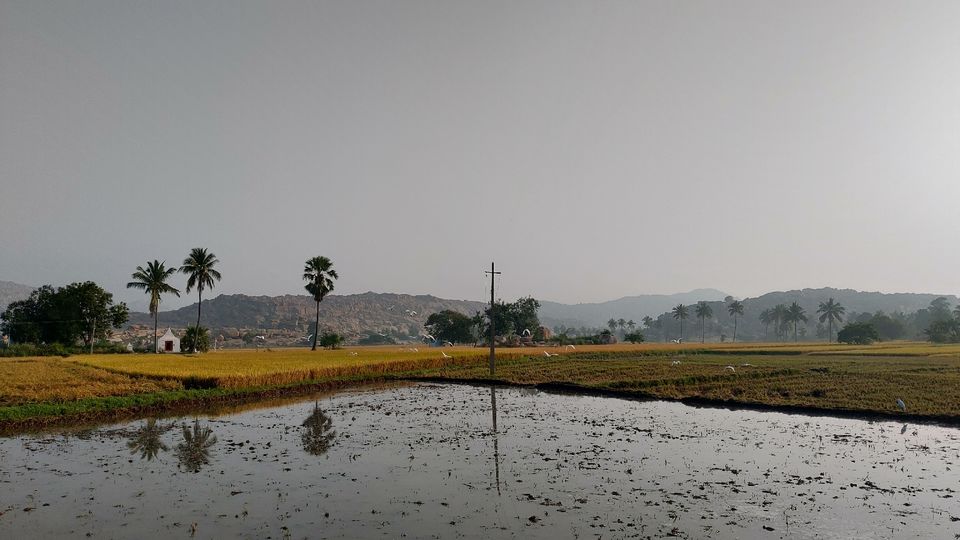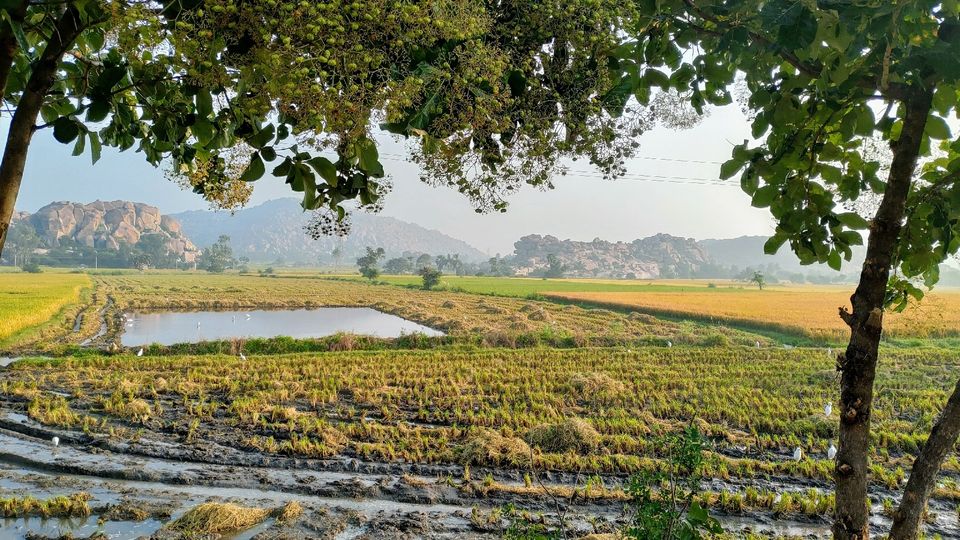 You will be restricted to enter the other side with the bike which you rented on Hippie Island. So if you have a requirement you need to rent a moped ( TVS XL) on reaching there. Which is the only option other than a bicycle. We started to visit Temples, Ruins, Monuments.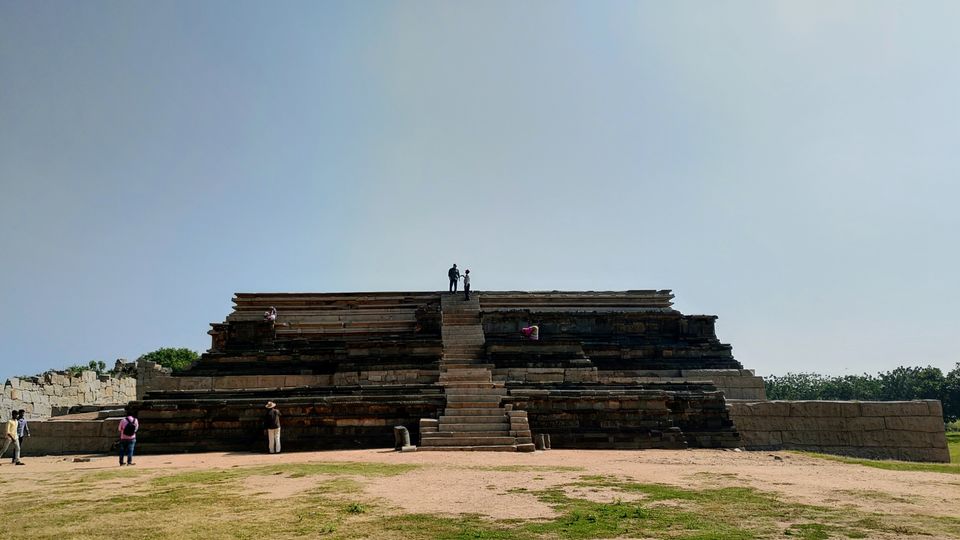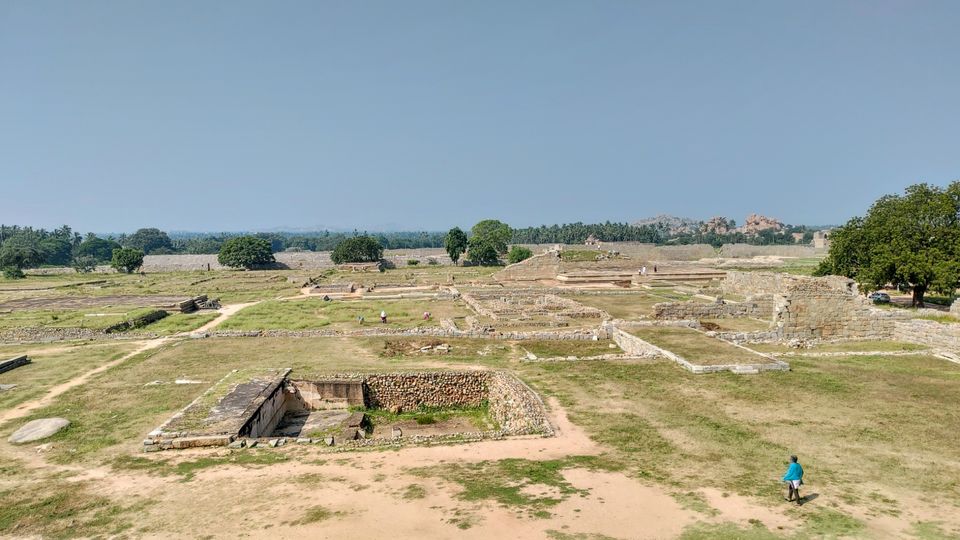 Chronicles left by the Persians say "Hampi was a prosperous and wealthy city with numerous temples, farms and trading markets, probably India's richest at the time (1500CE) -Wikipedia
Every structure in temple involves so much of art, engineering, hard work, which defines Indian cultural heritage and diversity.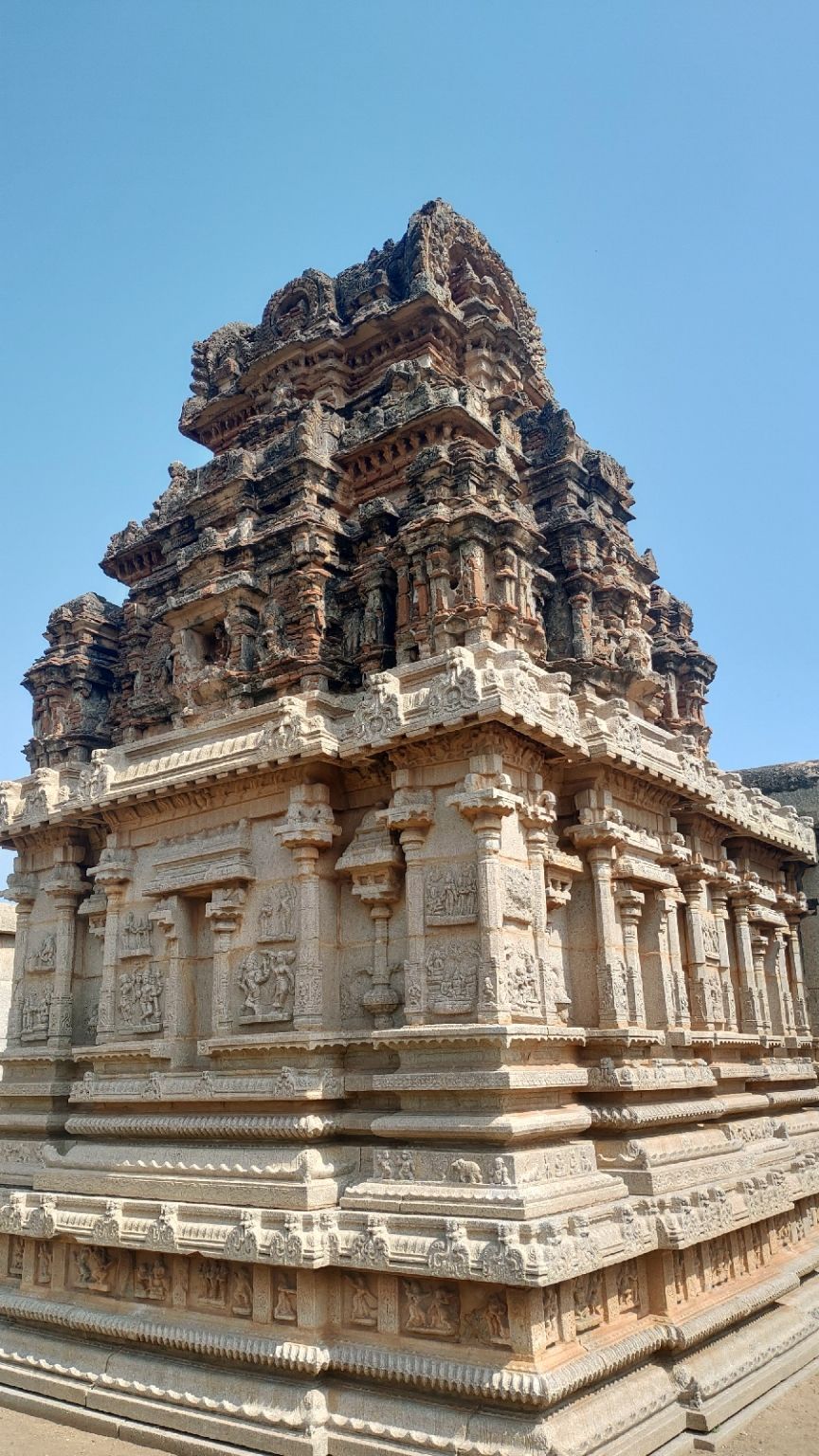 While riding on moped we came across a steep road that made our vehicle (TVS XL) to struggle to climb it 😂, one of us need to step down and walk for a while. Even with a single person with a lot of effort, it reached the top. At elephant stables we were sitting under a tree and chatting, a few school students came there and sat next to us surrounded by their teachers, who started to explain about the history of it in lecture mode. Even we listened to it for a few minutes 🙂and walked away to the site.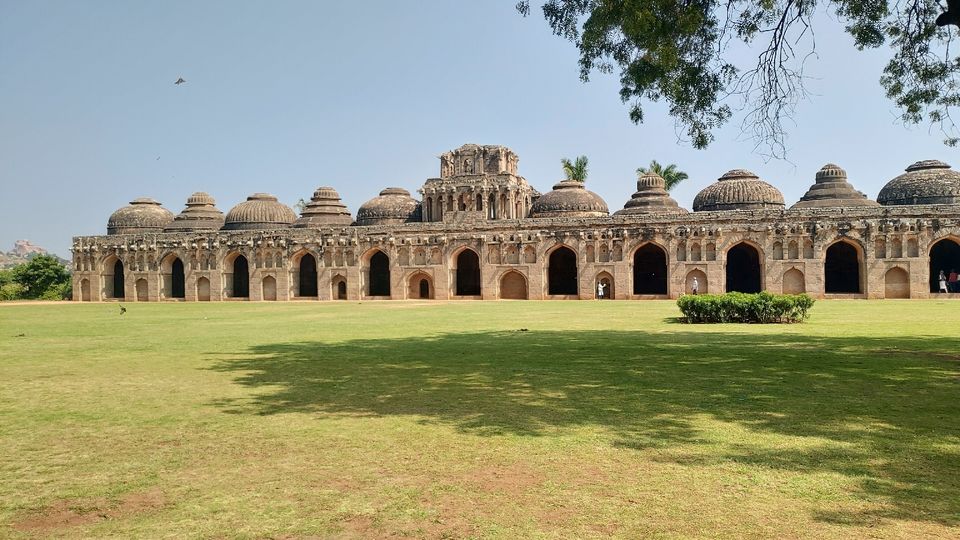 From there we went to visit Vitthal temple where the famous monolithic stone chariot is located. If you come in any vehicle you need to park it before 2km (approximately)itself. From there on foot or take a battery vehicle.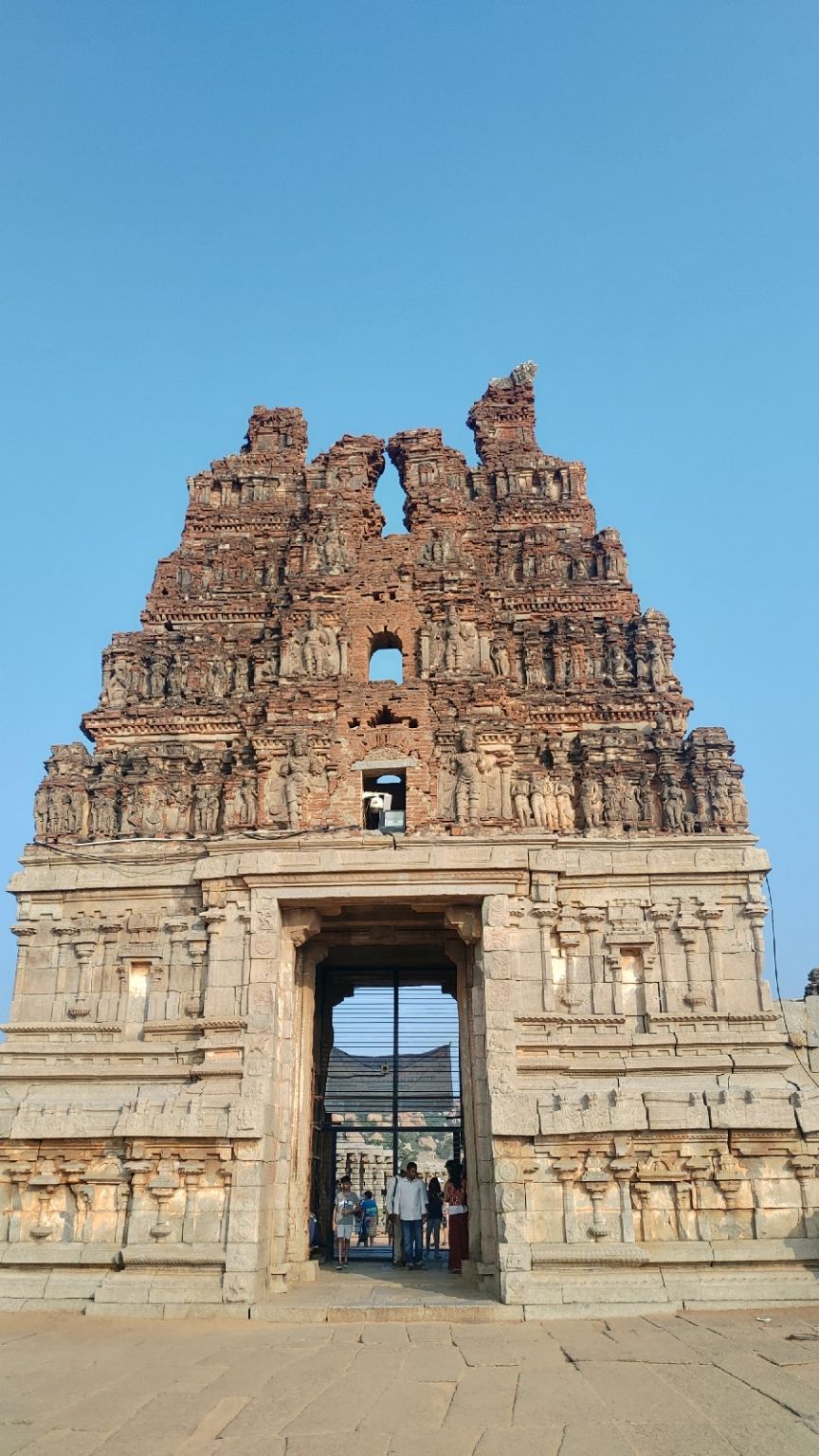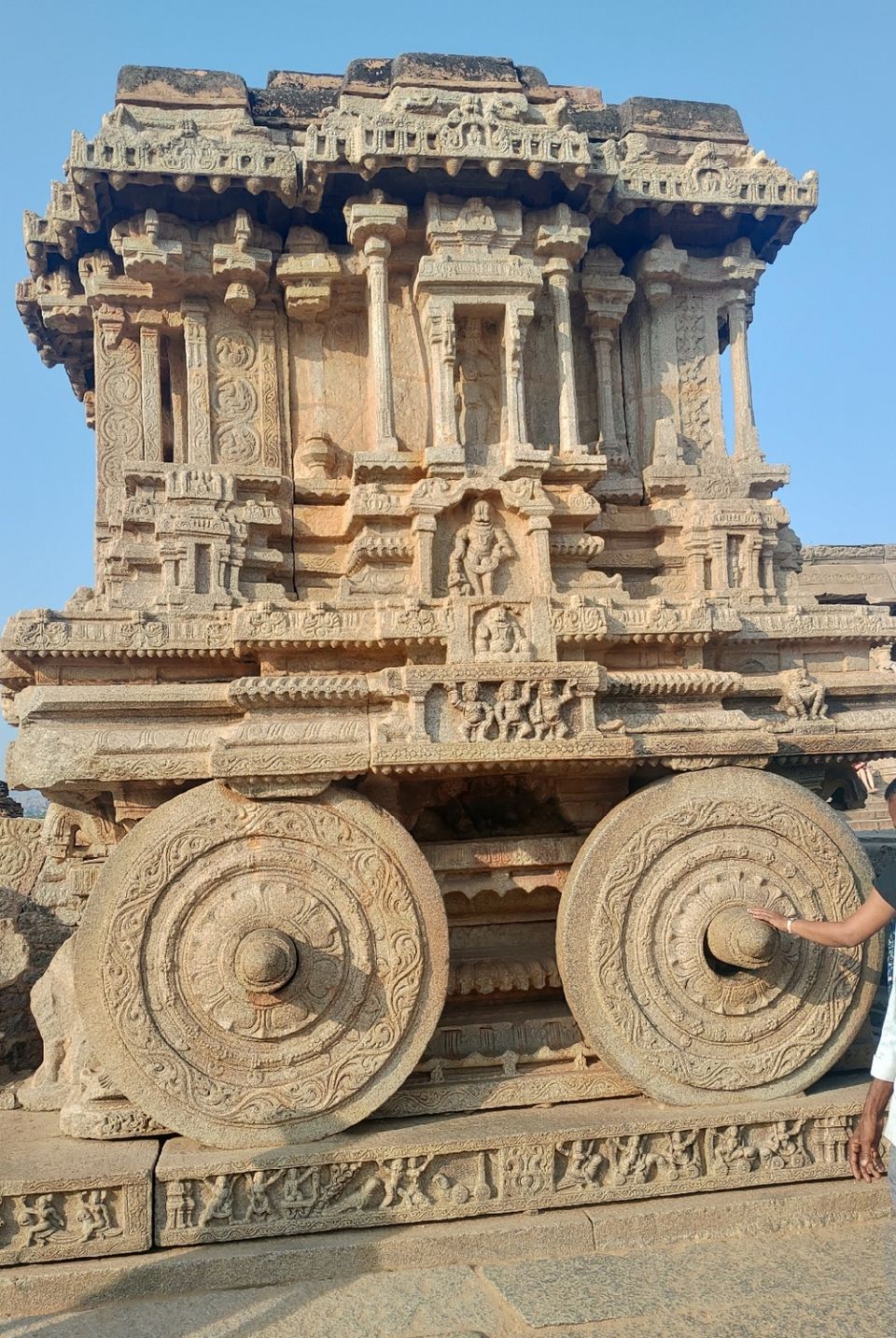 At the last hour before the closure of museum we went there where you can see and gain some information about the Hampi history, statues, how the different Indian languages were derived and so on.. capturing photos is strictly prohibited inside the museum except a few places.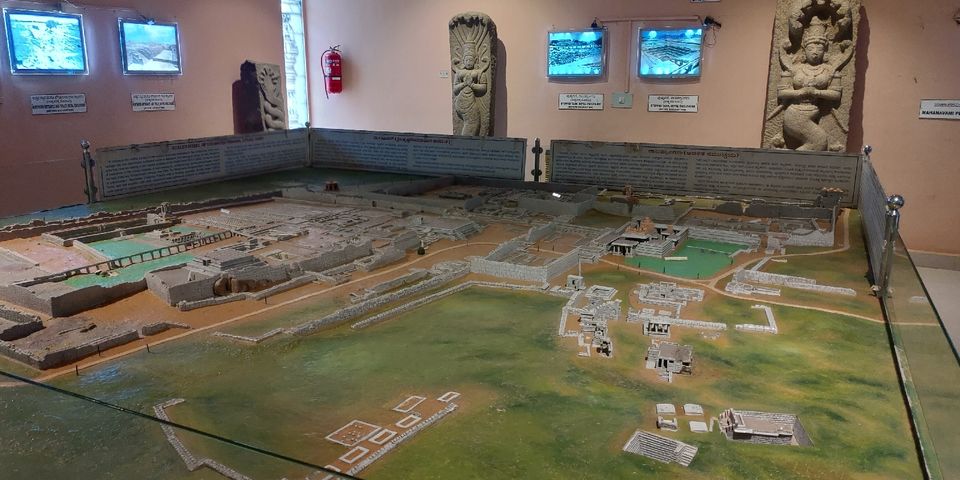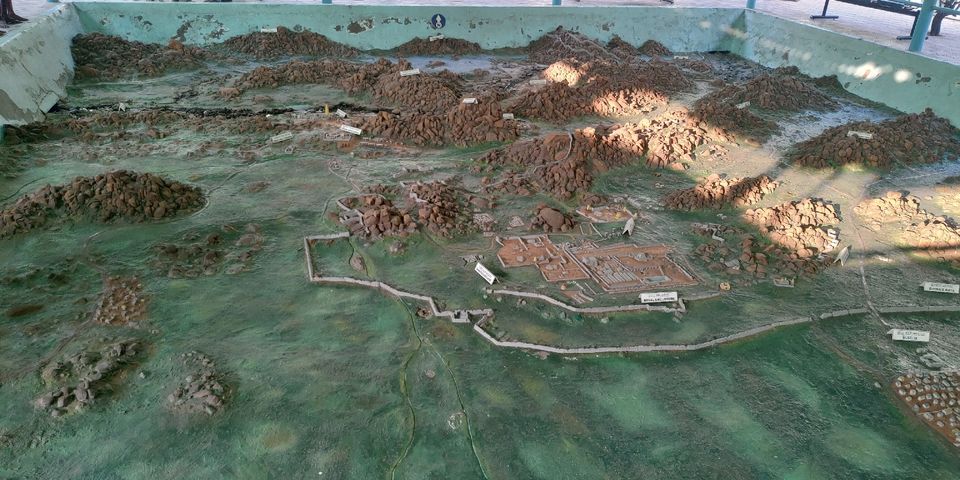 From there we headed to Hemakuta hill for a sunset view which is located right next to Virupaksha temple. After the sunset around 7 PM, we took a bus back to the railway station, Thus ending Our trip with a smile and memories 💕.
Suggestion: Do carry some extra cash, because you won't find any ATMs in Hampi. Although you notice some wallet payment boards they won't accept citing network issues.