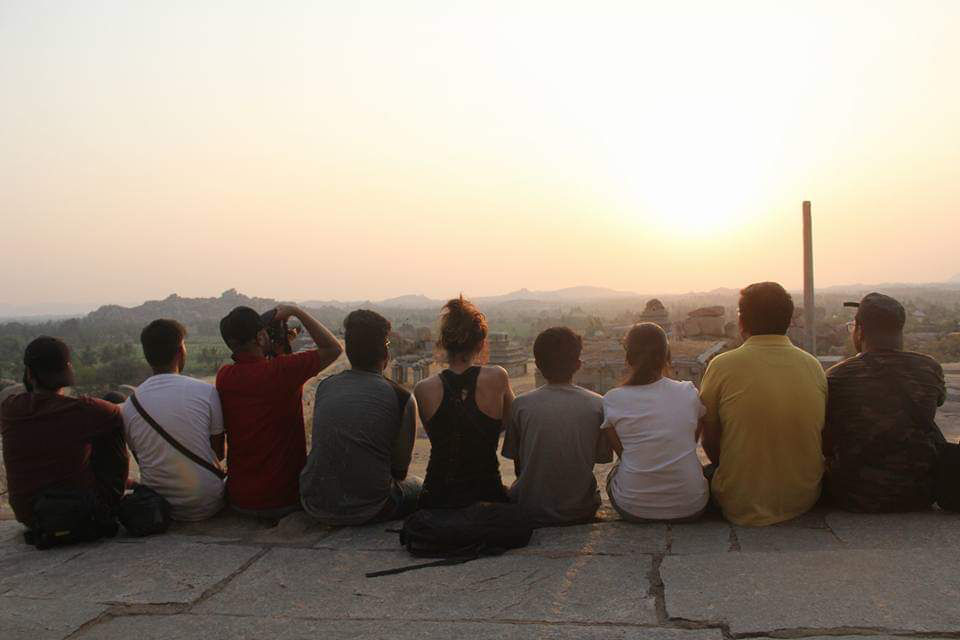 *Holi in Hampi*
Holi, the festival of colours came back again and brought with it the beautiful message of making our lives colourful and what would be more colourful than celebrating it in the most enchanting, vibrant, little town throbbing with the most happiest people in the world...Hampi.As the bus waded through the misty Friday morning, we came across Palm trees, orange sun, rock temples, lush green fields and of course a board "Welcome to Hampi".
And the first glance I had of this amazing place the moment i stepped down from the bus is unforgettable. The huge gopuram of Virupaksha temple , the ruins on Hemakuta hill and the vast empty spaces around me exactly looked like it was depicted in a painting that i came across long back. It was as if i was thrown into a different world altogether , a world which is nothing short of a Disney land, a disney land of heritage and history lovers like me.
In a moment, we walked towards the picturesque Pampa river flowing right beside the temple town and complimenting the beautiful little place Hampi is, to cross over to the Hippie Island. The ferry was so close to the flowing river that it brought goosebumps to hydrophobics like our Krishna bhaiyya. And soon our Gopala proposed an interesting offer to our adventure lovers... Traversing on bicycles to which we gave a thumbsup .
Led by Gopala in the front and peddling through the beautiful river island on bumpy, stony and rough patches of road we reached our camp site hidden deep amongst fields, mountains and adjoined by river. Throwing our backpacks in the room, we soon braced ourselves for Holi celebrations on the river front. Trekking on sharp, slippery rock boulders to search for a sweet spot to play holi was quite an adventure but soon we realised that it isn't safe and started our trek back.
Soo nerve breaking the trek was that we felt "the mission is accomplished if all of us reached back in shape one" and thanks to our team efforts we did . Climbing on our gear cycles, we then soon sped off to epi centre of holi celebrations in the island. As we reached near rubbing past hundreds of people, the sounds of drumbeats grew louder and so the beat in our hearts. As the beat in our hearts grew louder we went into trance, a state of intense joy that can never be put in words and danced like hell.
It was one of the fantastic experiences of my life but little did i realise that the best experience of my life awaited me as my footwear was torn in berserk during trance and the rest of the day was the closest i could get to Nature walking barefoot wherever we went .Peddling on cycles we then reached a little stream for a quick wash and chilled there for some time before we headed for a sumptuous South Indian meal that consisted of Sambar, papad in a road side hotel.
Post lunch, we went to a temple cave hoping to take a quick nap after an exhausting morning of travelling, dancing and peddling only to find Gopala discussing the further course of action for the next two days. The cool breeze flowing through the cave made the battle tougher and before i could close my eye slits, we were ready for an another raid, the trek to Anjanadri hill for the most spectacular sunset of Hampi.
On the trek to hill top, we came across breath taking views of the place which included vast fields, coconut orchards, streams, mountains of little boulders of rocks. It looked as if it is God's magnificent art piece. After reaching the hill top Gopala began giving an aerial briefing about different hills, temples, rock structures located far and wide and the folklore behind it like a Commander to his commandos on a stealth operation before we were spell bound by setting sun.The icing on the top is a ride to Sanapur lake under Moonlight ❤️
*Country roads... Take me home* (Day 2)
Early next morning, the sun rays pierced through our tents as we overslept, tired and exhausted because of the adventures, exploration and fun we had the day before. We were supposed to recieve our new friends, 10 of them who are joining us from second day. Gopala left in frantic to recieve them on the other side of the river while Akmal mustered all of us . An hour later, we too began on our convoy of bikes (which we exchanged for bicycles on the other night) to pick and drop them at camp site.
Friends recieved. Breakfasts done. Backpacks dropped. We were back on the roads in our quest for exploring and Chintamani temple was our first destination. Located far away from our camp, it took us a half an hour ride on roads dotted with coconut trees , surrounded by greenery as far as one could see and snaking around little hills of rock boulders and it just liberated me , let me fly free so much so that it reminded me of the love of every travel freak " Country roads... Take me home " ❤️
As folklore had it, Hampi was the erstwhile mythical Khishkinda kingdom and it is from this place Lord Rama shot Vali, the Monkey king as promised to seek help from Hanuman. We then chilled for sometime in the river nearby as Gopala narrated our friends from other countries, the legend of Ramayana. Far away from the place, Gopala showed us a 64 pillar rock structure which is believed to be the tomb of one of the greatest kings of all times Sri Krishna devaraya himself.
The bikes then soon sped off till we reached Tulasi, a traditional South Indian restaurant for a hunger break . True to their name , the palate included the true essence of South Indian food and was served on banana leaves. This was followed by a quick stop at Elephant stables built around 500 years ago and cave paintings believed to be from Old stone age. The paintings had a lot of detail in them and depicted animals, humans and a lot of things in reddish maroon colour.
We rode back to the river bank and parked our bikes to cross over to the temple town to witness the sunset from Mathunga hill. And the trek up the hill is nothing short of "way to hell" ( It is actually "Way to hill" but meddled with ) written down below on one of the rocks because a single step could make all difference. It is only after we got to feast on the nature's beauty from the top, did we realise that there is a heaven above hell. The temples around, bird's eye view of the place, setting sun captivated us for few moments.
Down the hill and a couple of steps, we reached Kodandarama temple for a moonlit night coracle ride. We got into large baskets that could accommodate 8 people at once and sailed under a billion stars ⭐quite visible as I rested my neck behind and gazed at the sky above. My eyes glew in reflection and my heart erupted in joy . After reaching the other end, Gopala asked us to switch our torch lights off and we stood there mesmerised for few moments gazing at stars.
After that, we reached the campsite for the last night of our trip. Bonfire was lit, music played in the background as people gathered around with chilled beers. The pace of the music set the mood in the air. People indulged in heart felt conversations as light music played and danced as the pace of music increased. Two beers down, my world turned upside down and I drowned in euphoria only to float in my tent.
*I m sooo Hampi*❤️( Day 3)
Dehydrated from the last night's booze, I woke up early and freshed up to find some 'me time'. I sat in solace on a rock up the hill just beside the camp facing the river to Welcome my Sunday Morning . Refreshing breeze blew over my face and early birds flew with their morning's catch. In a while, Anirudh came to ask 500 bucks for the 2 beers and whatever little kick left over in my head flew away (Next time! Make sure you find the cost of your drink before you gulp it down at Hampi )
" Another waterpoint!?"people put up wry faces when Gopala proposed to visit the fast flowing waters in Tungabadra gorges. But they opened their mouths in awe after looking at it and we didn't feel like letting go of that place without taking an another coracle ride. The basket swirled round and round like a top and the man on the basket took us for a ride to explore the rock formations and little gullies of water that flowed from surface into the river like tiny waterfalls here and there.
By the time we were done with coracle ride, it was noon and we headed to " Laughing Buddha", a river front restraunt near the ferry point. The art pieces, the music and everything inside the restraunt reflected Hippie culture who frequent this place in huge numbers. We tried some Israeli and Mexican food. After lunch, we gave back our bikes and bid an adieu to the hippie island after 3 days of bonhomie assuring ourselves that we would come back again for more fun, more adventure very soon.
It is only on the last day did we get some time to explore the apple of Hampi's eye Virupaksha temple.The first thing we encountered after we entered the temple is Lakshmi, the Temple Elephant. To make sure I do not arouse any suspicion, I removed my Shades, messenger bag and went near to it with a 10 Rs note only to be fooled around ☹️for some time as it preferred Bananas. But trust me! it scared the hell out of me every time it swinged it's trunk to and fro while having bananas.
We stood there astounded looking at the huge pillars, arches sculpted with intricate detail and the evening sun made it look even better. We then set out to hemakuta hill sloping down towards the Virupaksha temple and unveiling the numerous magnificent rock structures built on it. Gopala took us through almost each one of it before we settled down at the sun set point. We have had 2 sun sets before but some how this was different, more beautiful and melancholic perhaps because of the fact this one is our last at Hampi.
The wide, elaborate stepwell in front of Krishna temple was our last stop before we hurried down as fast as we could in autos to catch our buses in Hospet. Finally ! it wasn't about the destination , it was the journey and the friendships that bloomed, memories made during the journey. The whole trip couldn't have been what it was without each one of you people. Hope to see you all sometime in the near future in our trails . Miss you ❤️And Cheers to Hyderabad trails.