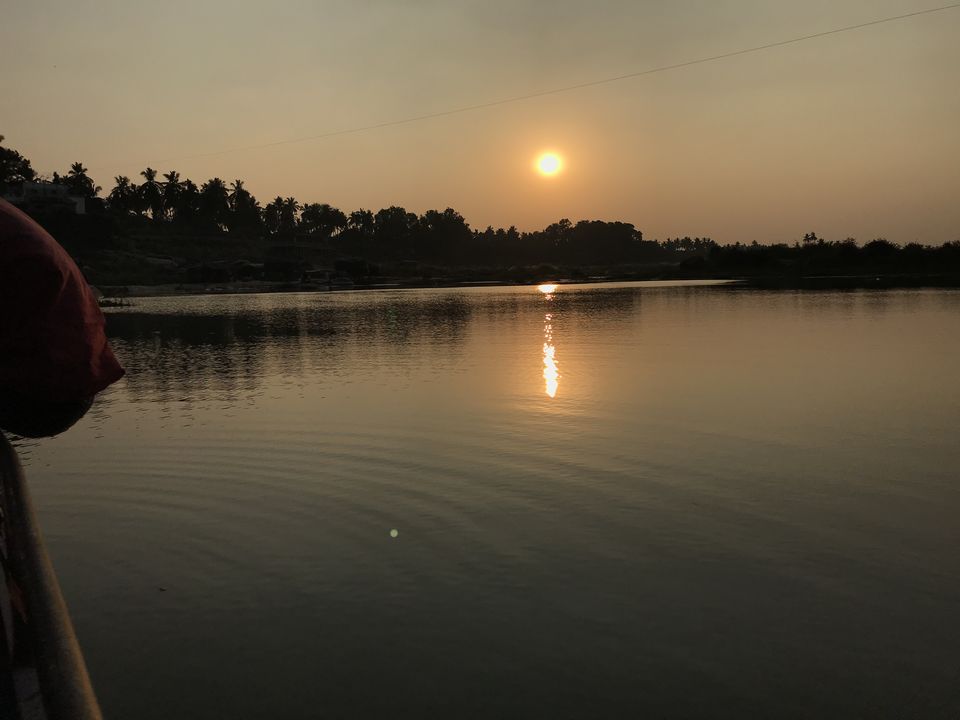 Heard all good and catchy stories about Hampi from my photographer and traveller friends so I have added Hampi in my travel bucket list long back. I was just waiting for right time. Shifted Mumbai to Hyderabad for studies and got opportunity to plan my Hampi trip. I was planning to go solo but that turned out to be a college trip hahaha 3 girls and 3 boys (P.S- no no no do not think that, none of us were couple.)
So finally we have decided to visit Hampi during Christmas. We (girls) were going from Hyderabad and guys were coming from Mumbai.
Twist # 1:
I have booked tickets for wrong date. I know I know you must be thinking being a so called traveller how she can book wrong ticket!! Dude galti insaan se hi hoti hai aur ye toh genuine hai. 22nd night 12 o'clock means 23rd ka 00:05 but this excitement no I tell you! Instead of booking 23rd ka tickets, I have booked 22nd ka. Which means now we will reach Hampi one day before guys comes which means freeeeeeeeeeedom from don't go there, it's not safe etc etc.
Twist # 2:
Govt has shut down all the guesthouses and accommodation for tourists in the main Hampi Bazar or Hampi Village so you can cross the river and stay at Hippie Island.
So here is the tragedy, Accommodation was not sort yet. One cottage guy told us on phone "arey aap aajao mai arrangements kr dunga" and yes wohi hua jo aap soch rahe ho. He ditched us last moment saying "sorry bhailog sab full hai"
Somehow we managed our accommodation with the help of Mr. Yogi (the auto guy) who charged us extra and planned our accommodation in bits and pieces. 1 day in hotel and other 3 days in different hotel. That too not in Hippie Island. Oh did I tell you about Geographical condition of Hampi? No na. Okay so to clear the confusion, read the next twist.
Twist # 3:
I wanted this trip to be complete unplanned so I did not do my homework before going there like a mischievous child so of course I did know nothing about the place.
For those who don't know anything about Hampi, let me give you some basic information. Hampi is is divided in 2 parts. One is Hampi Village. It is all about monuments and temples. Second part is Hippie Island. It is what Hampi is famous for in teenagers. As name suggests, The Hippie Island is full of hippies from all over the world. You will find people smoking weed in day and night openly. I have seen cottage staff also smoking with people. Though I don't drink or smoke, I enjoyed my 4 days stay in Hampi.
So after all twists and turns here is the day wise itinerary of my Hampi trip.
We reached Hospet Junction at 11 am from Hyderabad. Hospet to Hampi Village is 13km. 30-40 mins drive. There are N number of autos available. Other than that, buses and cars also available. Our auto guy charged us 300/-(side effects of not doing homework before trip ) which is too much DO NOT PAY them this much. We checked in Hotel settled had our meal and went out to see what this town has to offer us.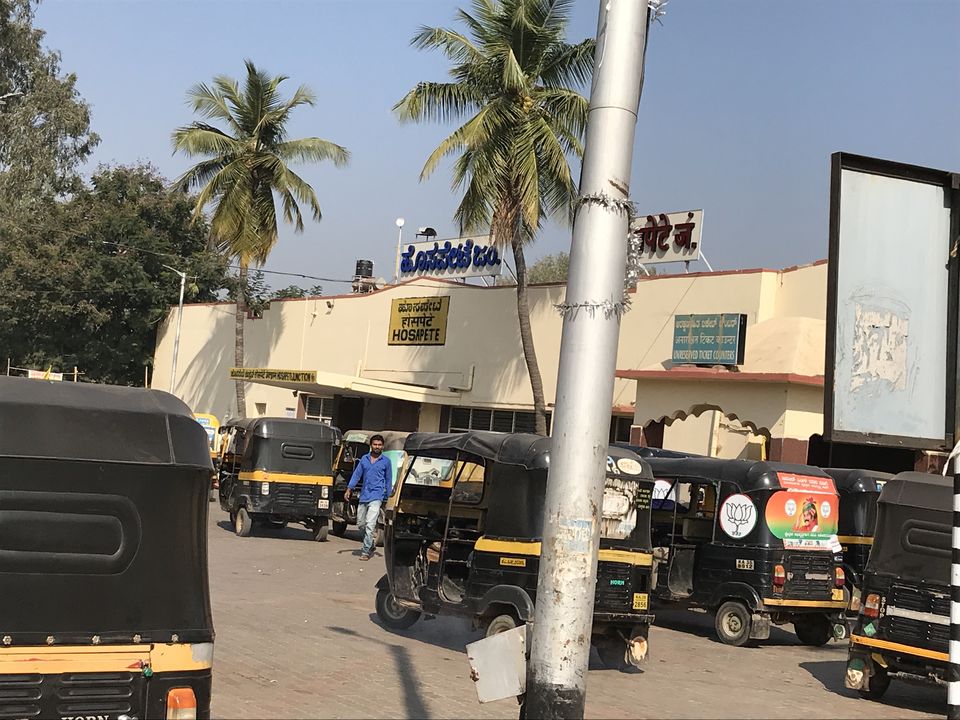 We started our day with breakfast at THE Mango Tree cafe. Then We crossed the river and went to Hippie Island, roamed around with the purpose of accommodation hunt because we had no place to stay. After all failed try finally we got a tent to stay. Oh please don't take me wrong, it was not riverside camping. It was at Sri Uma Shankar Guest House's terrace. All the guest house owners were charging excessive price because there are not many options left to stay in Hampi because of Govt Notice. We paid Rs. 600 per tent that too for not so decent place. With no view and common bathroom. After all this drama we head back to the famous Virupaksha Temple to watch sunset.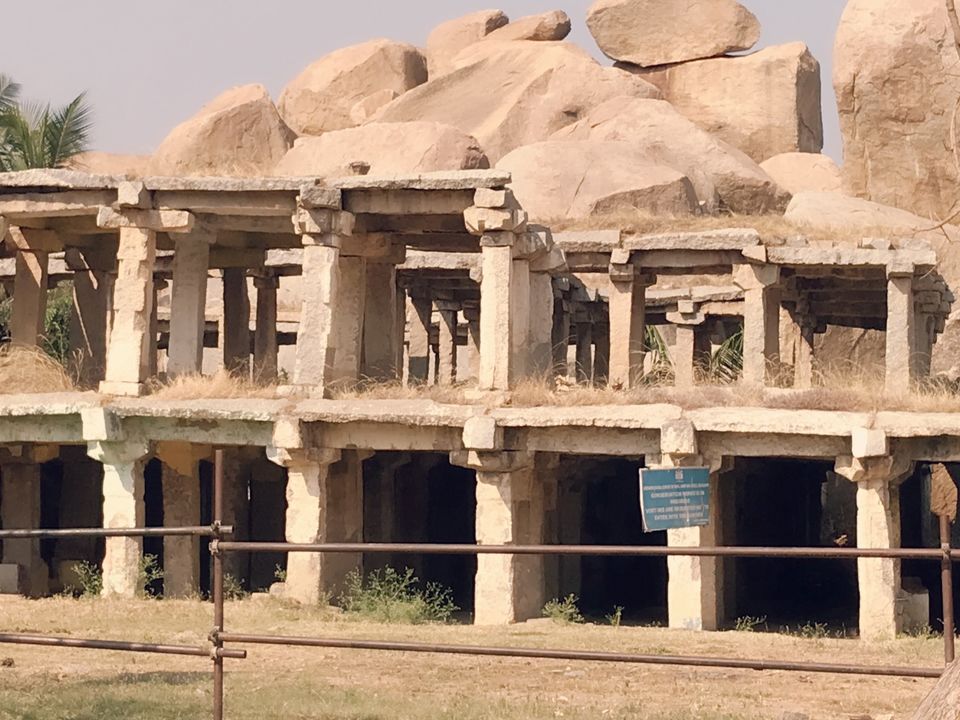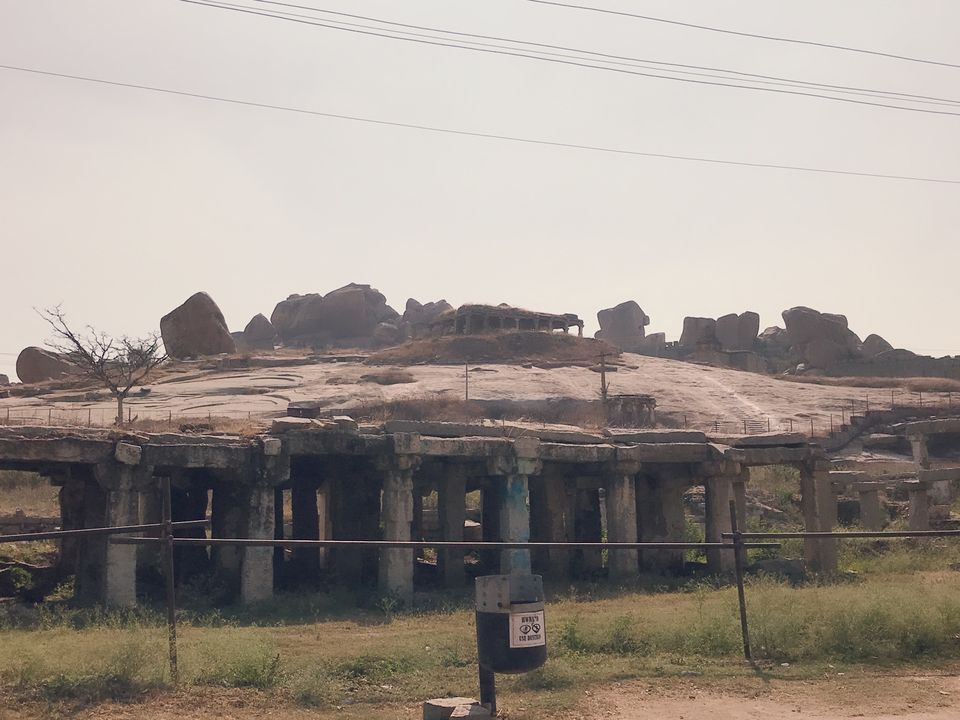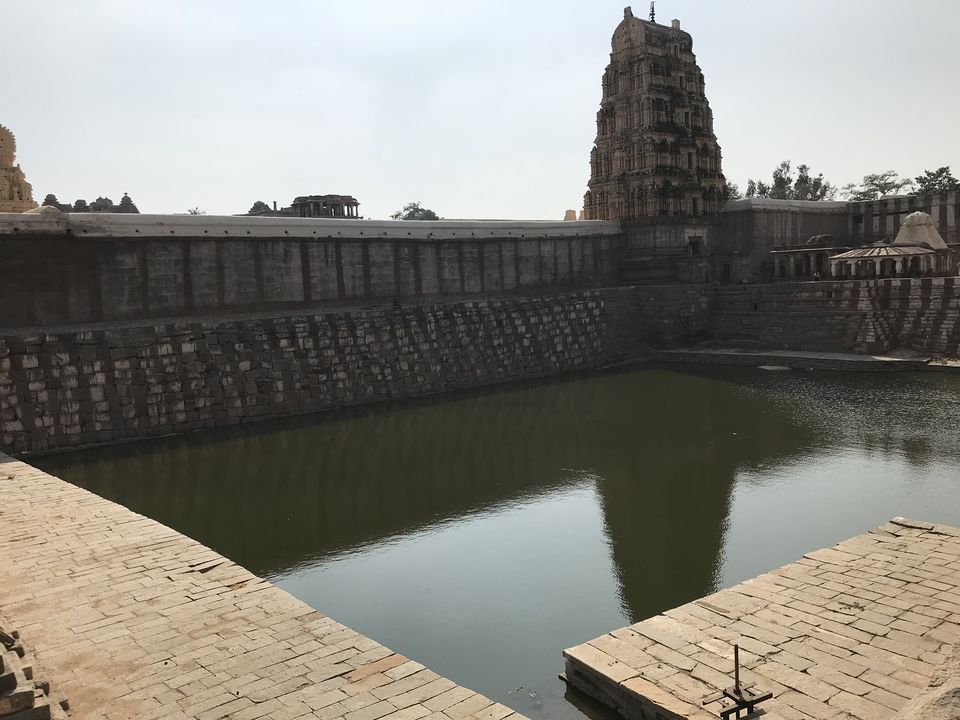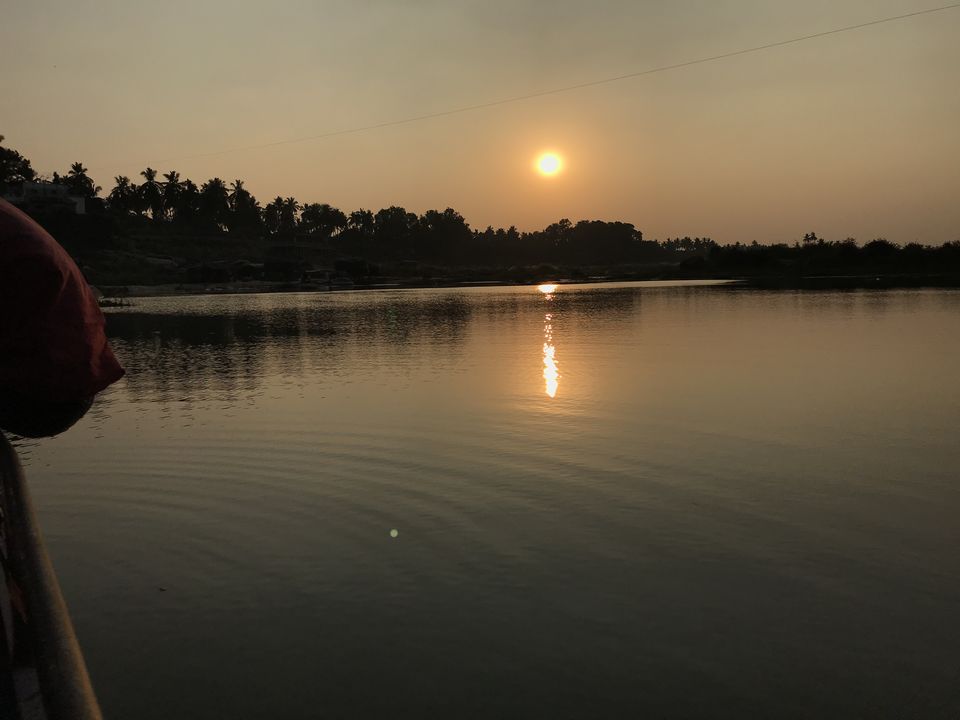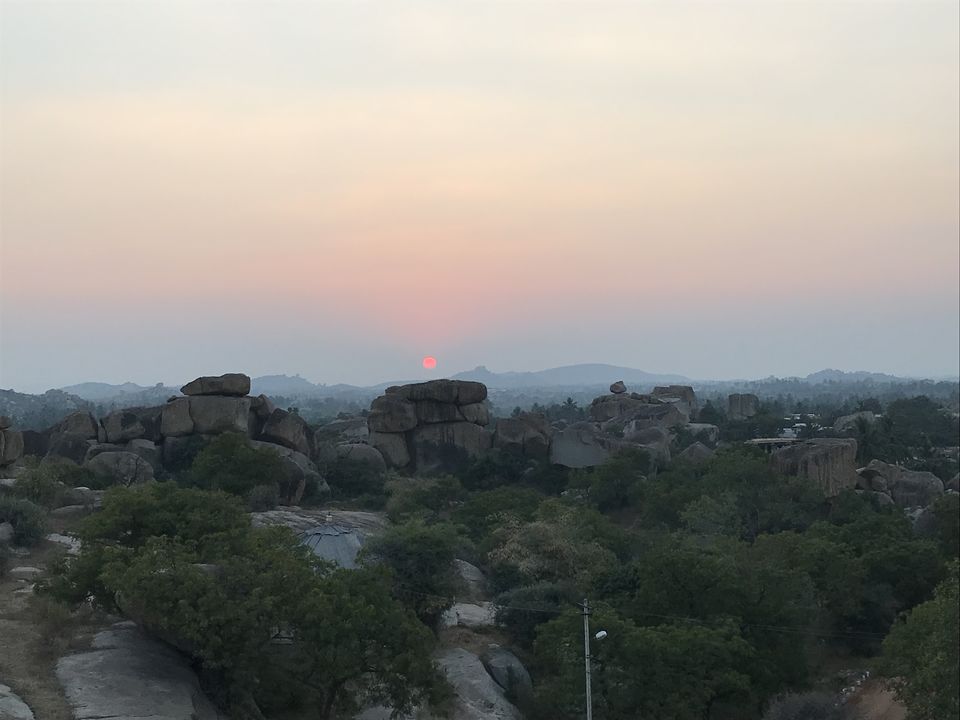 After coming back to our hotel which was in Hampi Village, we had 2nd best meal of our stay at Udipi near our hotel. It is managed by 70+ year old Uncle and his son and his wife. Aunty made delicious home like food and fed us with the meal prepared for their dinner. It was something like Pongal. They were very kind and food was tasty.
It is 9am in the clock and my bouyssssss are here :P Yes I've literally jumped on to them. So our day started with getting into fight with our tent owners. As I mentioned above there was no place to stay in Hampi, these cottage owners have become greedy and wanted extra money. Somehow after an hour we got our tents and we proceed to explore UNESCO world heritage site Hampi This day is all about hiring motorbike and roaming to places you don't know how far or how scenic it is. So I just heard from somewhere that there is a beautiful lake in Hampi. And we all started lake hunting on bikes. SO we had variety of vehicle just like we are a group of mix nature of people. We have rented 1 Avanger, 1 Activa and 1 Moped for 500, 300, 200 per day. Yes you read it right. Moped it is.
Hampi is not so cold in day time so the temperature was around 26-33 degree in end of Dec there. In that heat we were searching that anonymous lake :D finally after 40-60 minute ride we have reached at Tungabhadra Dam (which is nowhere close to what we were searching) at 2pm and the water is shining. The view is worth bearing the heat but I would suggest you to go in evening for sunset view. Oh ya by the way we have experienced small boat ride there. No there is no official boat riding. We requested fisherman and he gave us small ride. It was fun.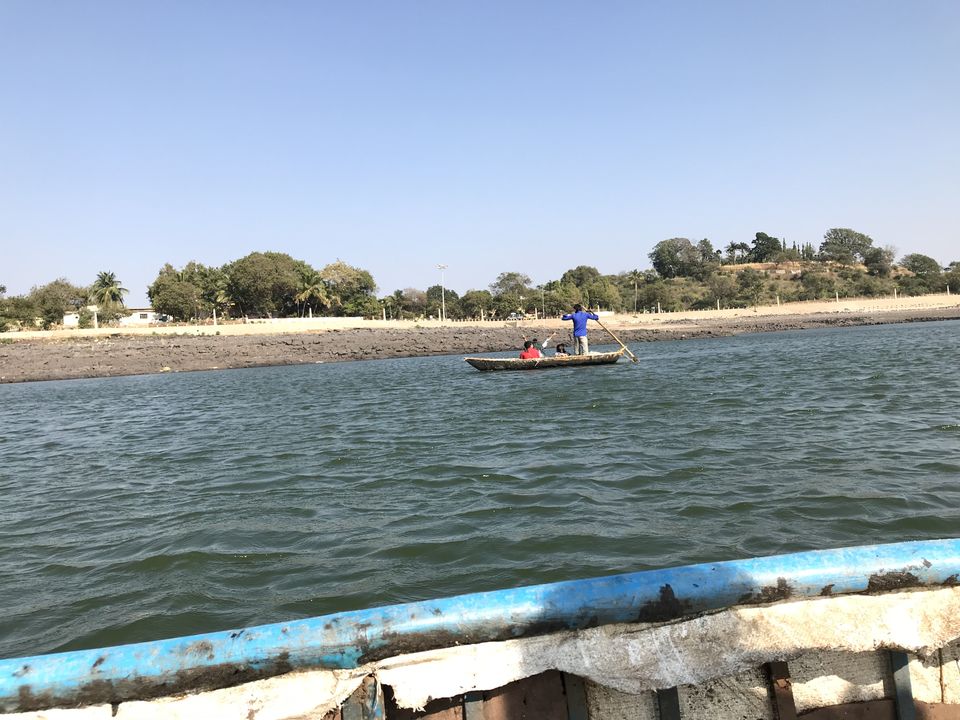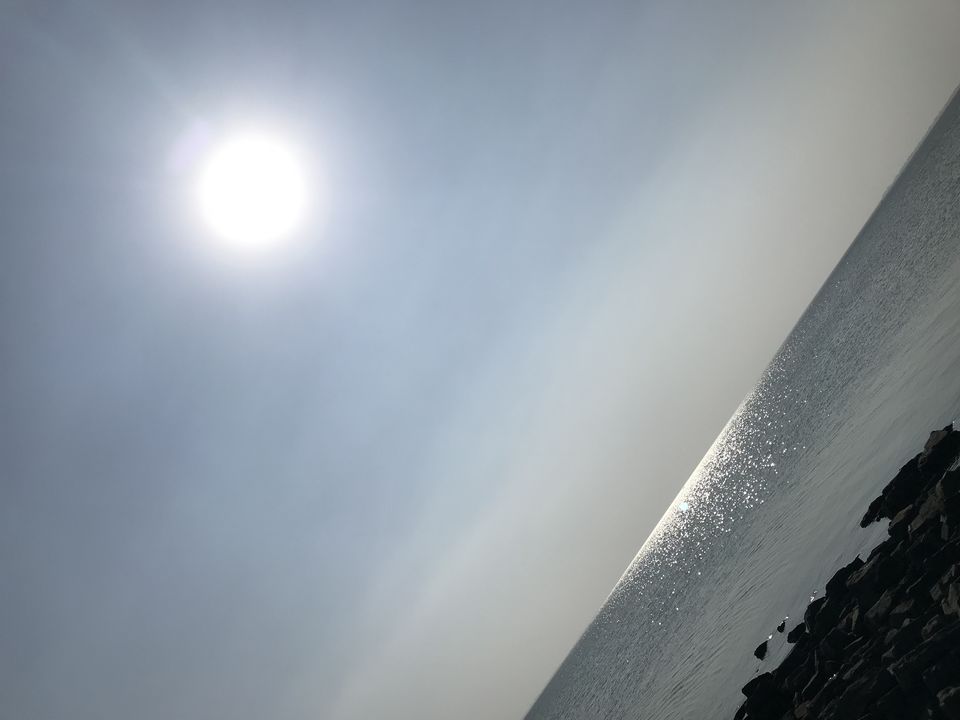 P.S: the original lake which people have recommended me was in Hampi Village, Behind Matanga hills.
After the tiring ride, I forced everyone to climb stairs for around 20-30 mins for sunset at Hanuman Tample. For which they thanked me enough because as they say 'the best view comes after the hardest climb". We stayed there till 8pm to see moon and starts and really one can see clear sky from there.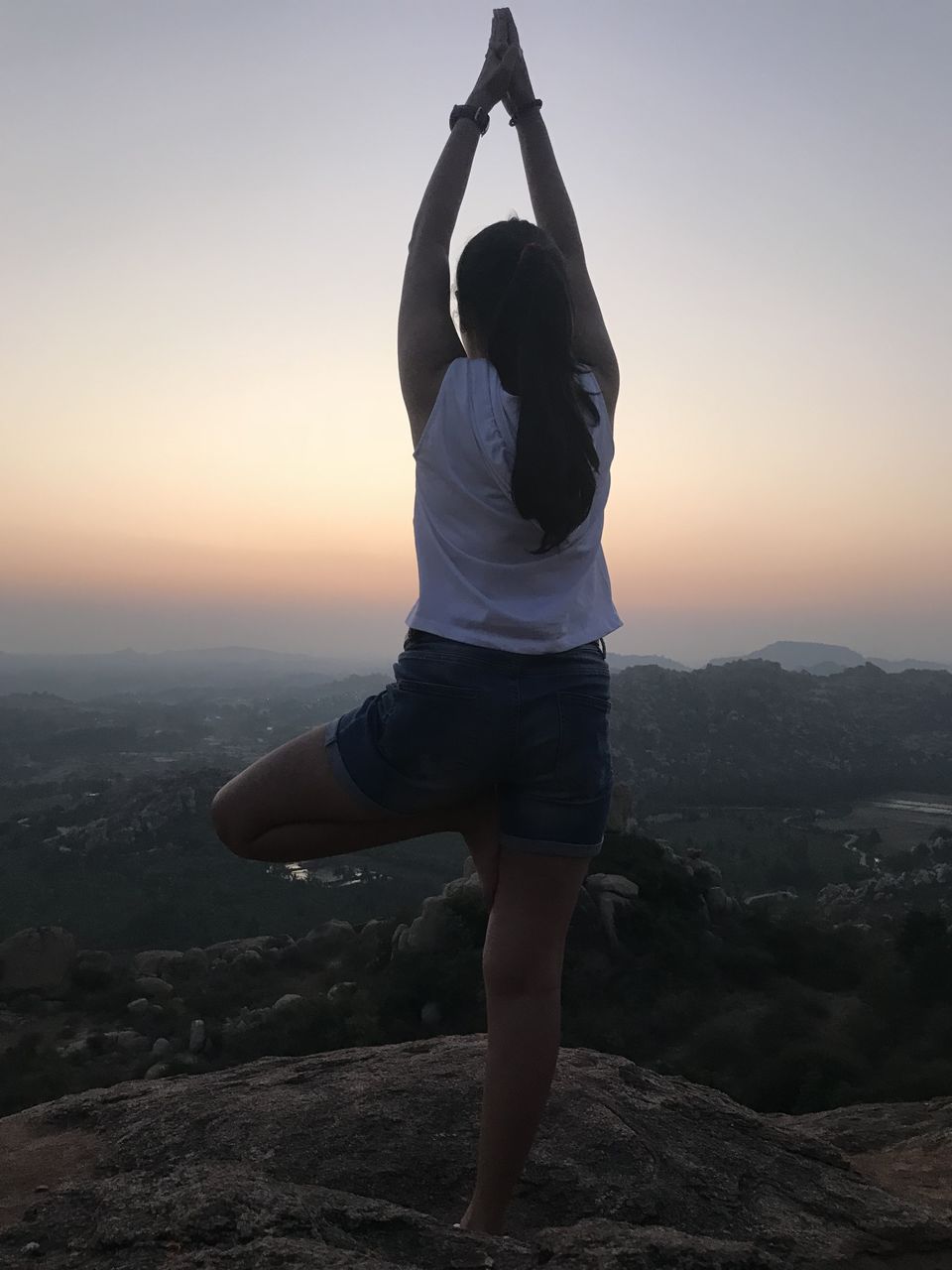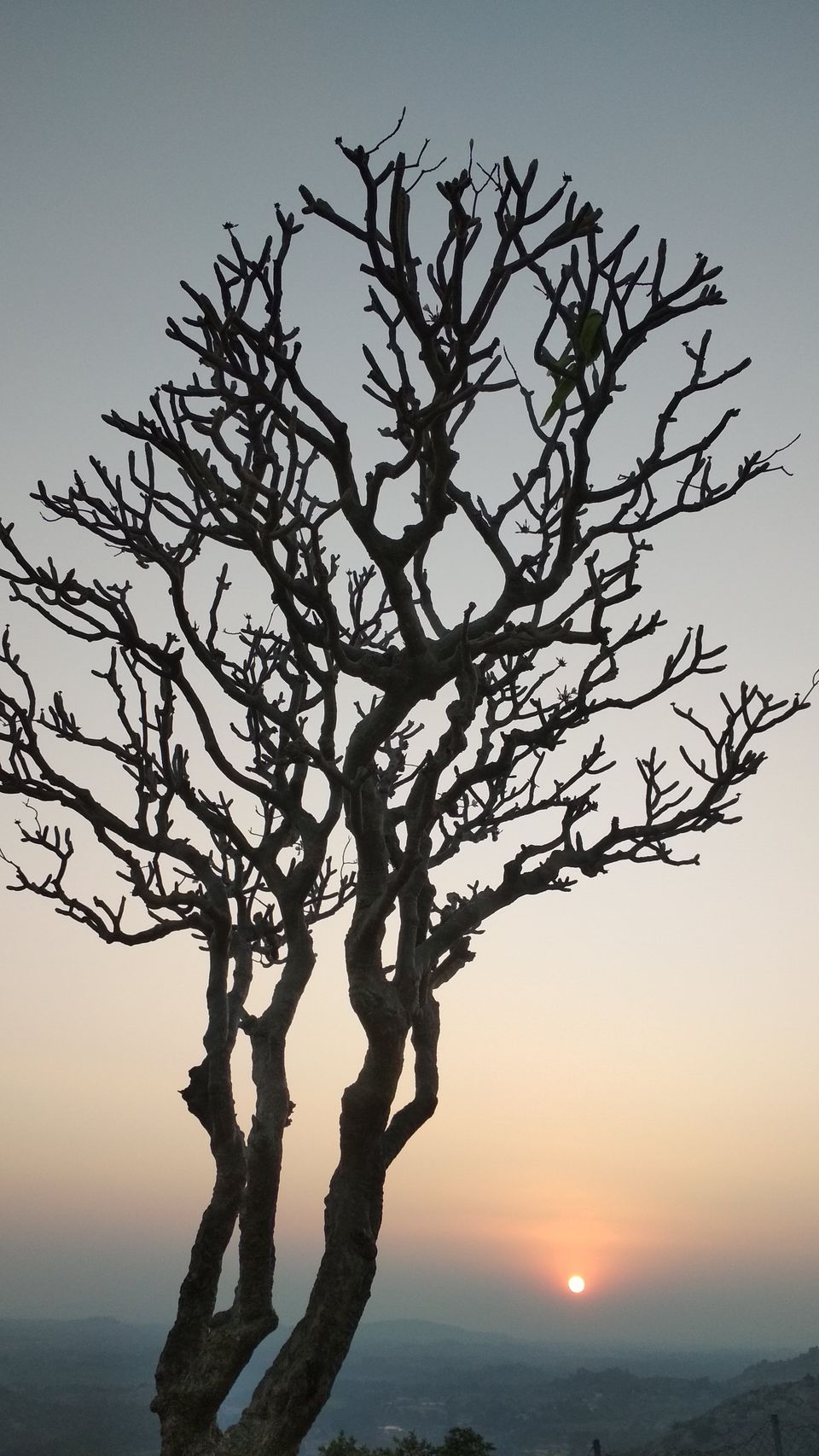 After that we head back to our tents and went to have yummy food at Nargila restaurant. Do not forget to experience their live music if you are around. Energetic and really talented artists are performing there.
First half of the day was all lazing around and food. Later in second half we went to the famous Matanga hills recommended by my photographer friend Ganesh Kanade. It is a 30-45 mins trek from main Virupaksha temple. You have to walk straight from Virupaksha Temple through Hampi Bazar and you will see stairs going up to visit The Hampi Bazar and the Lake is ahead of the bazar.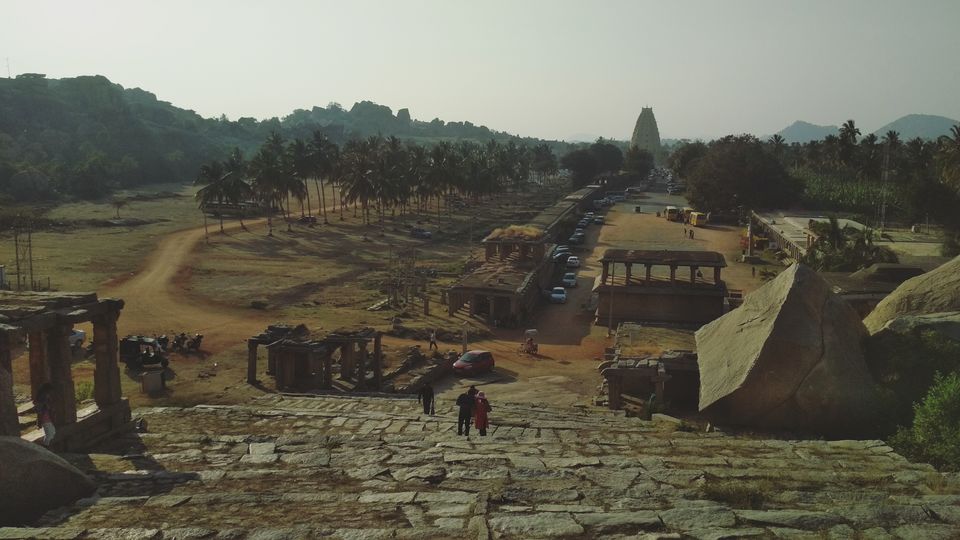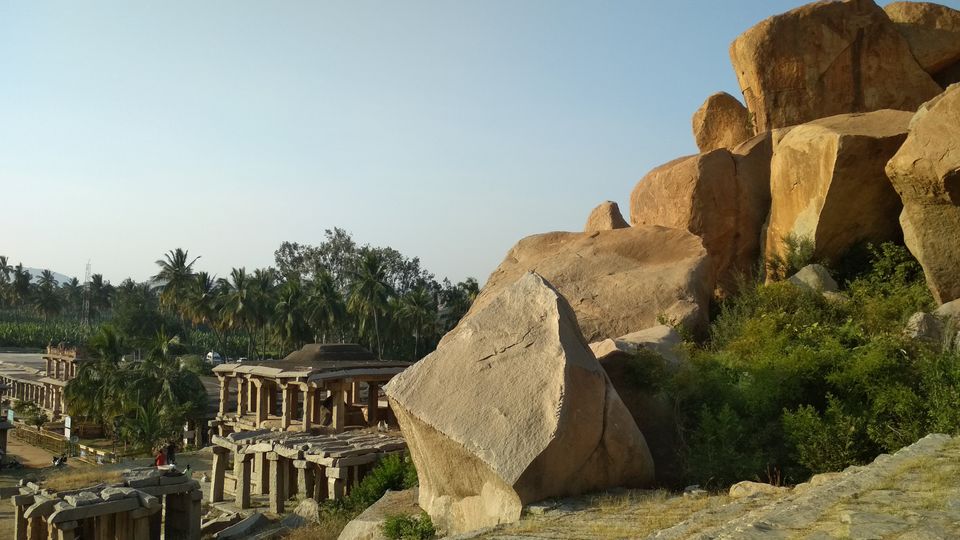 Another rough way will lead you to Matanga Hills. There is a temple at the top as well and pujari ji of temple will give you all information about Hampi and provide tea and snacks as well. This place has breathtaking view of sunset.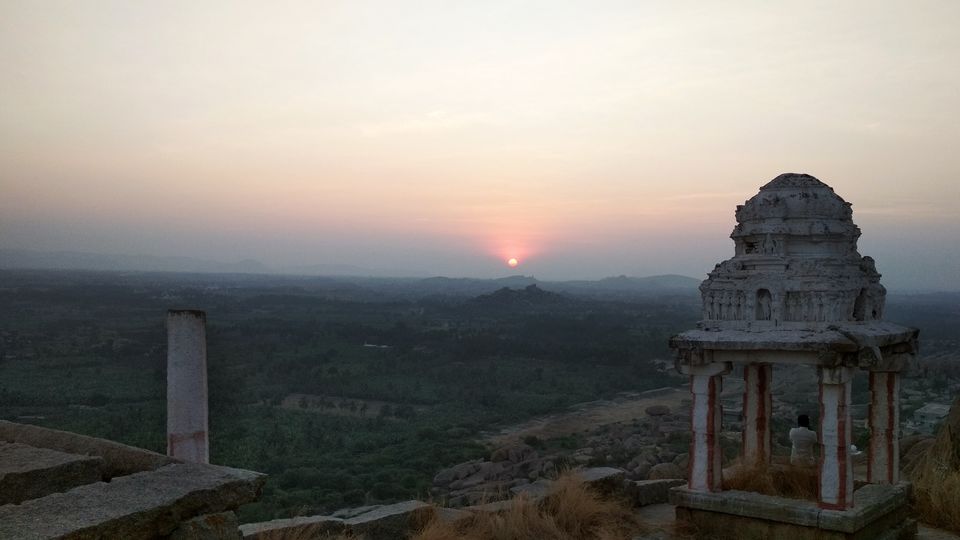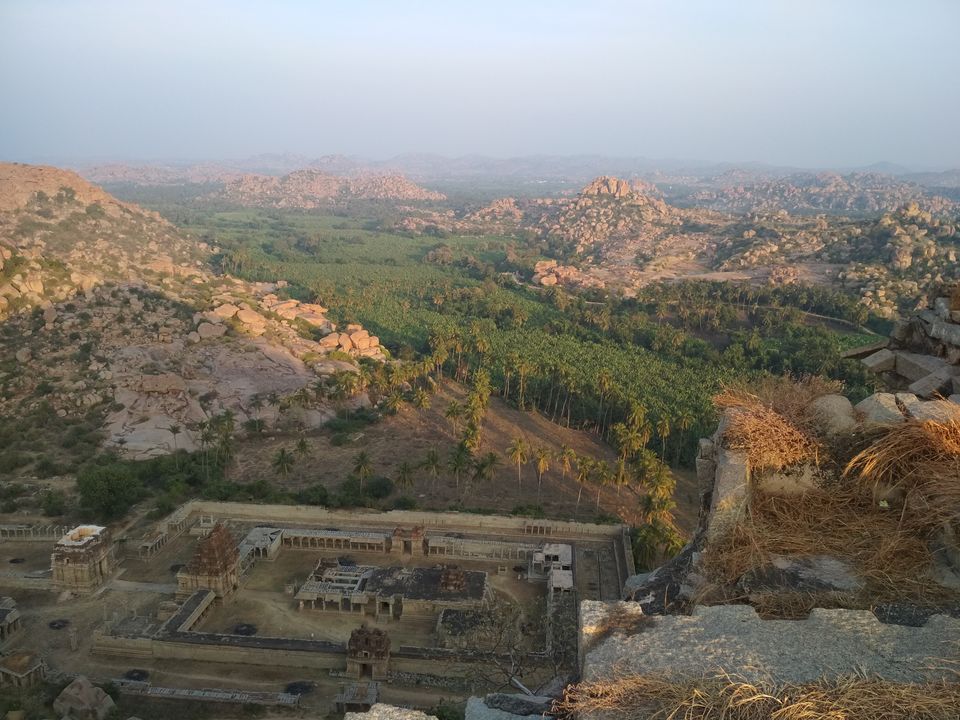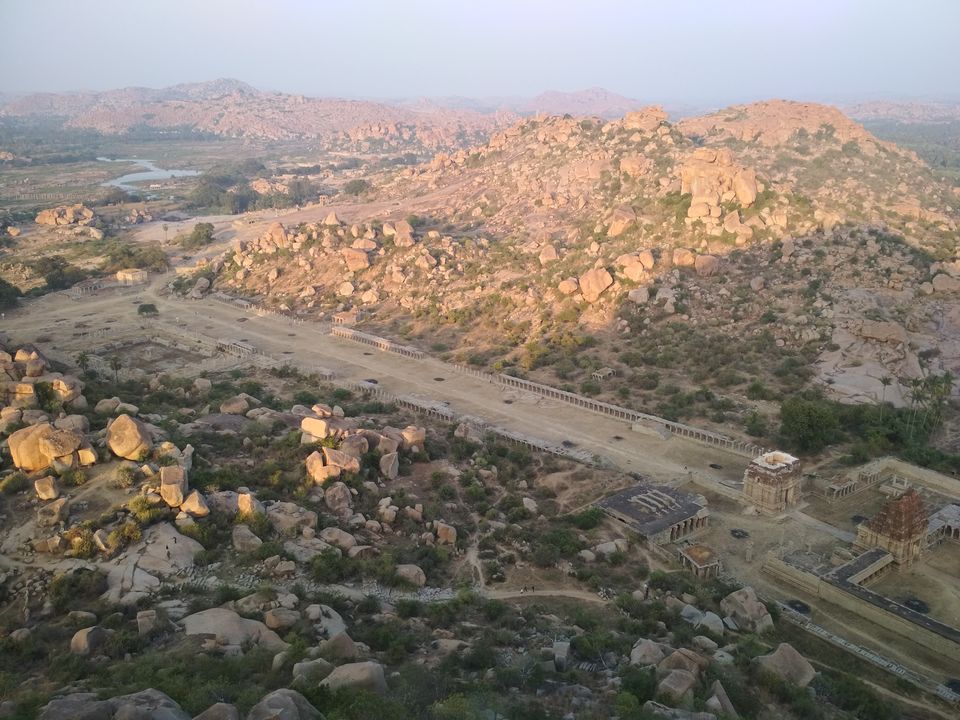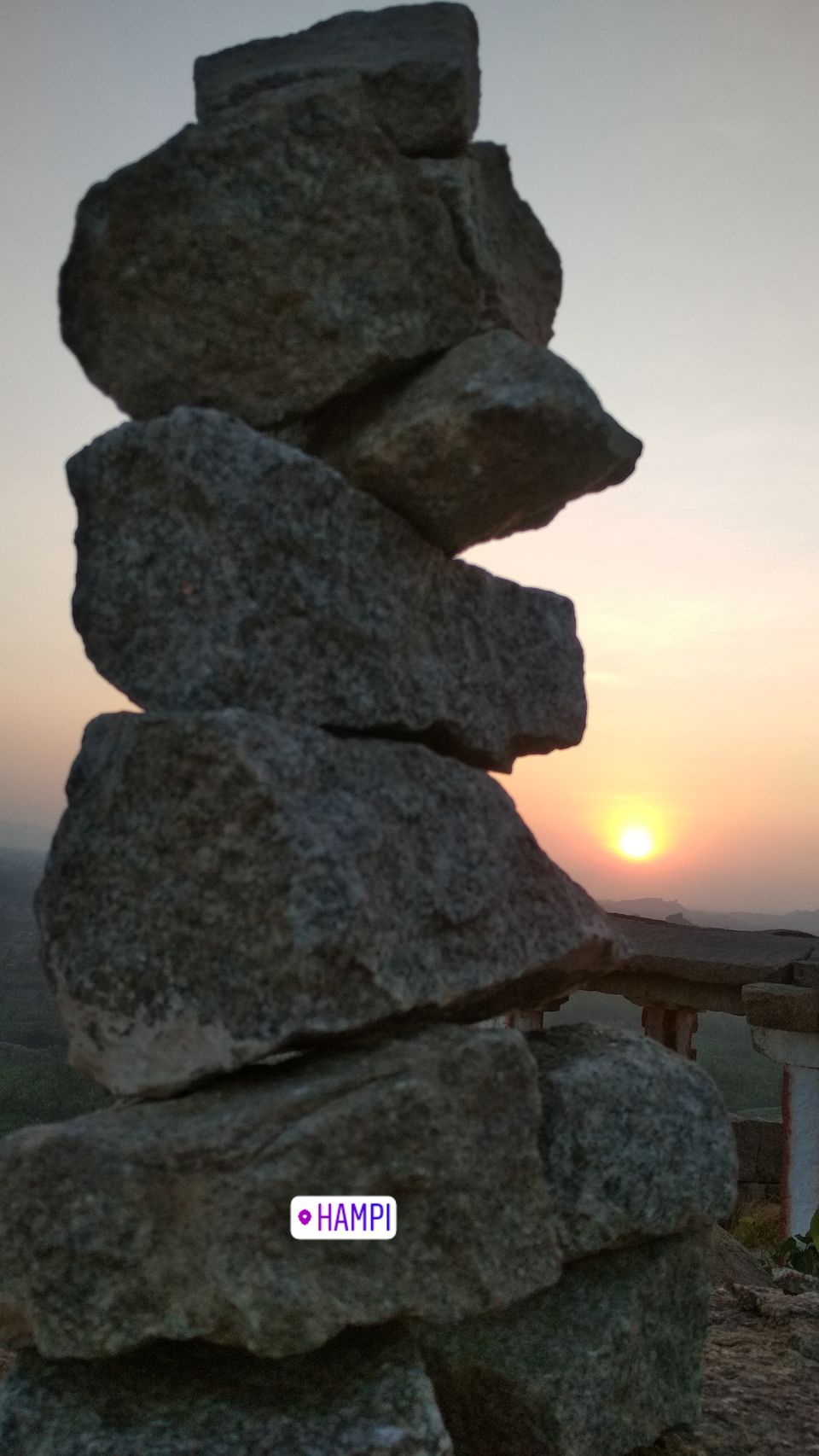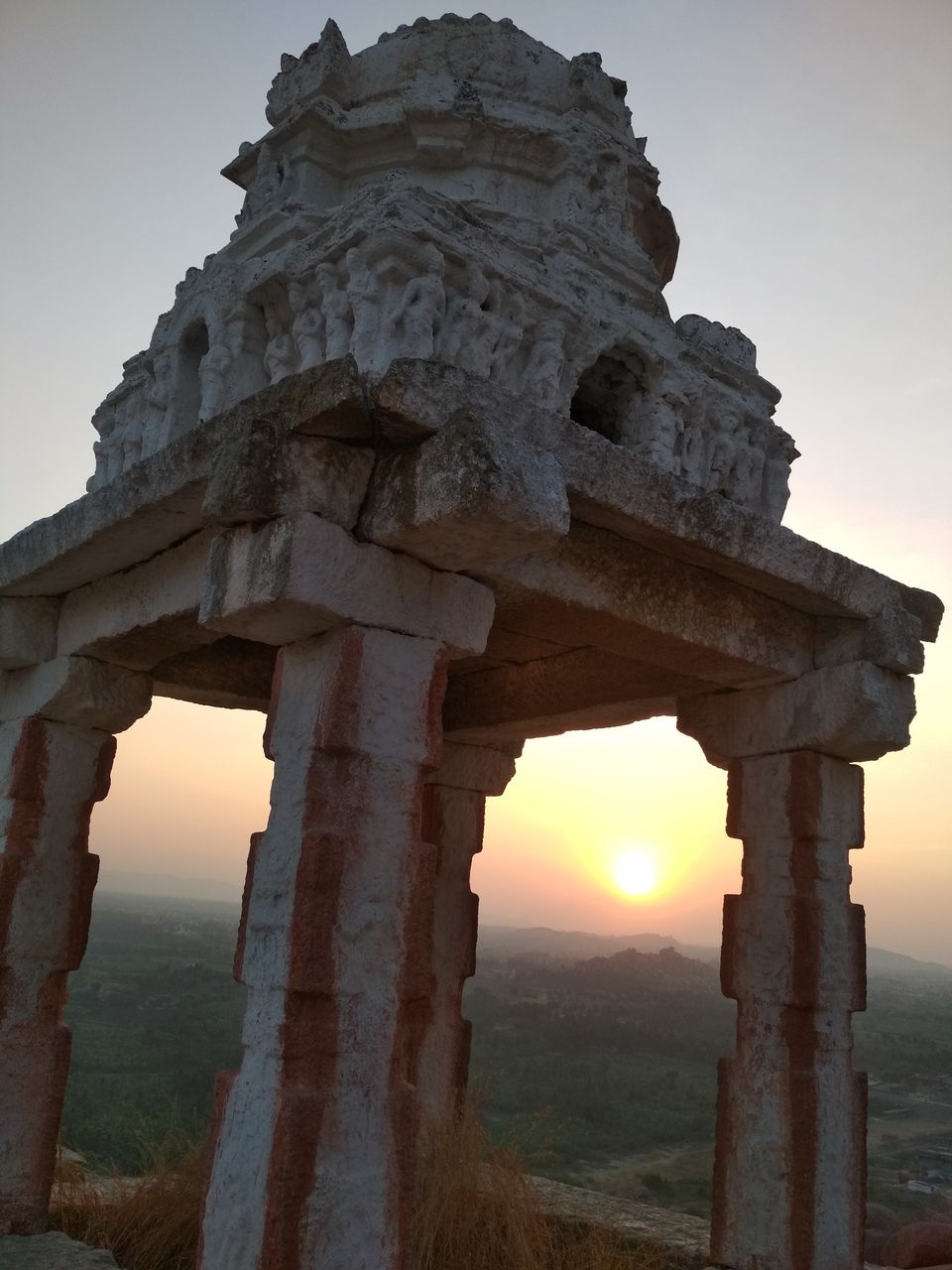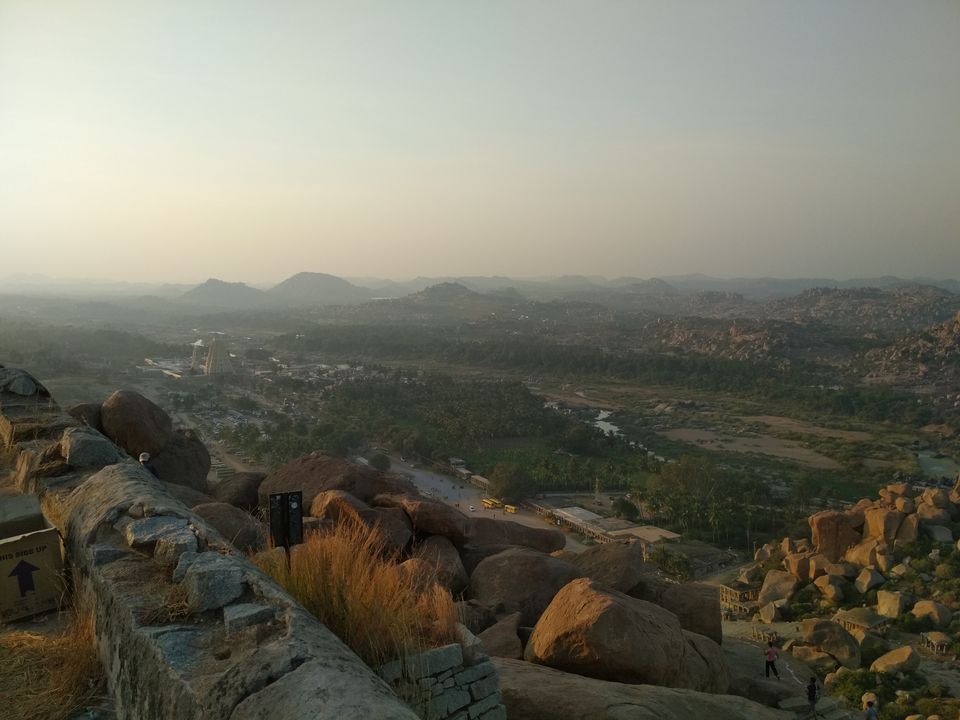 So this was Christmas eve and when in Hampi it is more special. So after yummy dinner at Namaste Restaurant.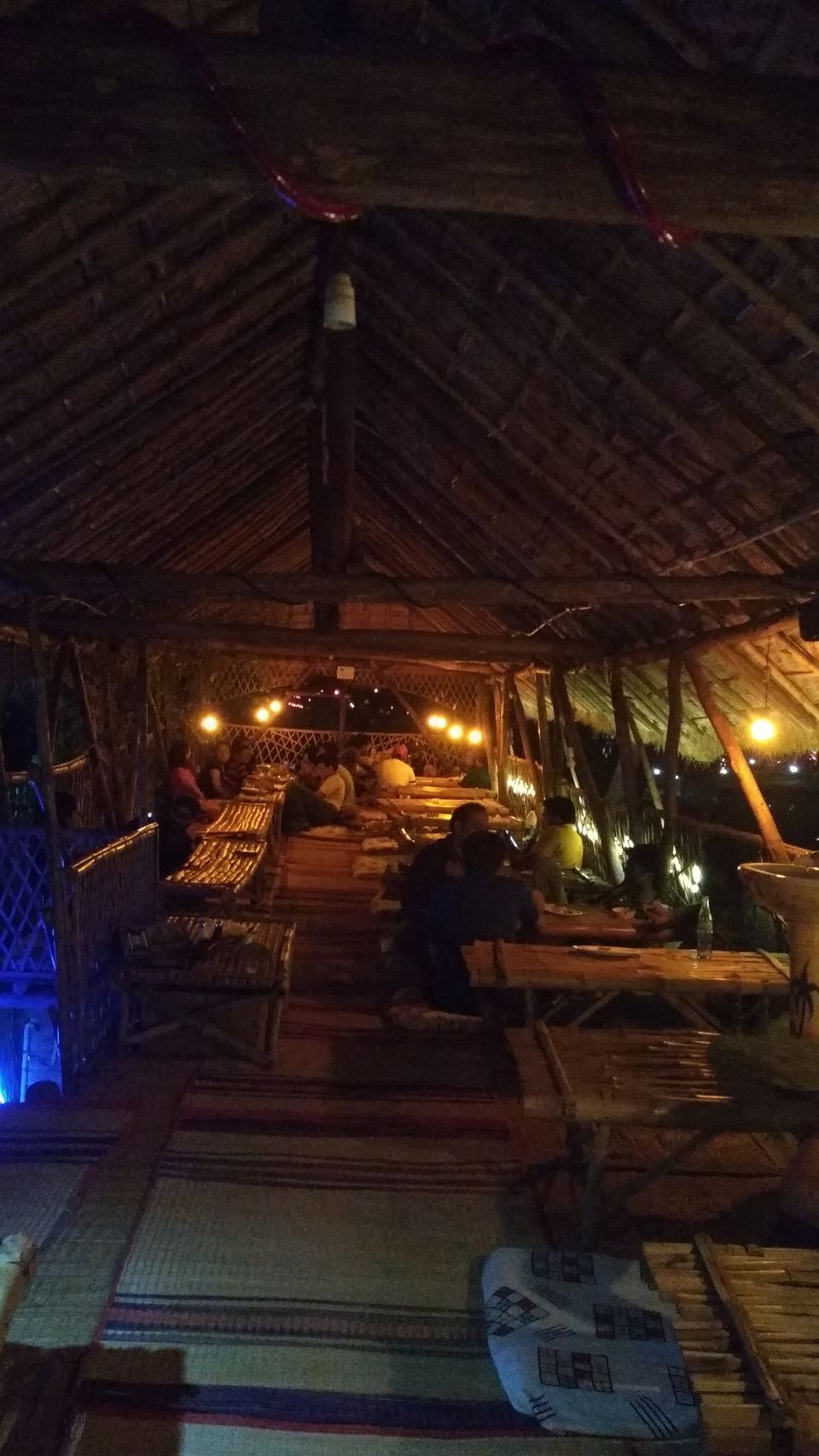 We celebrated Christmas on the rocks and roads of Hampi. Hampi roads are scary in the night yet fun to roam around but ya be careful in night and if you are going far from Hampi village you need to be extra careful.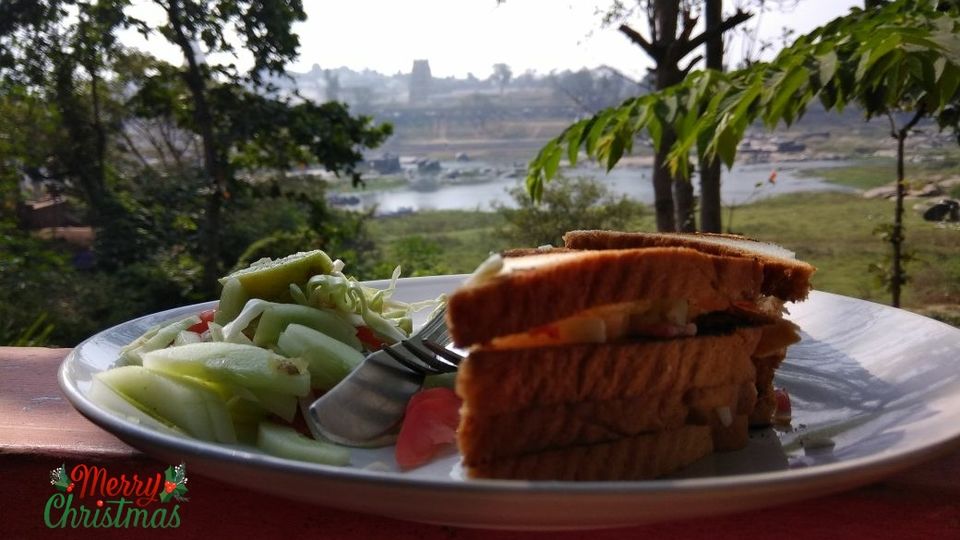 It was time to say goodbye to this hippi place. After breakfast at Laughing Buddha we checked out and proceed to Hospet Junction. In Hospet we had our best lunch of the trip. And we ate like we are starving from months. Because the food in Hampi is good but you will not get proper Dal Chawal Roti Sabzi and being a typical Indian we all crave normal food after some days.
So this was all about Hampi from my side. It was kinda bumpy ride yet fun. Before ending this blog here is some important facts for my fellow friend who wants to plan Hampi.
Some important Facts about Hampi:
1. Most guest house owners are greedy so bargaining power is must if you are on budget travelling.
2. Hampi locals are foreigner friendly because they thinks they will pay them more and Indians won't.
3. Hampi is real hippie place. Do not expect 3 star or 5 star services or luxury there.
4. You will be over charged for every rule broken which is set by the locals only. For eg: if you want to cross the river after 6pm, they will charge 150-200 Rs. Per person where in normal time they charge 20-30 Rs. Per person.
5. Hampi is all about sunsets, Monuments, food, chill. There is no other activities. So if you just want to stay connected to nature and chill for few days Hampi has everything to offer you
6. If you are a pet lover, I would recommend stay at 'Laughing Buddha'. They have so many cats around.
7. The world famous Mango Café is shifted to monument side of the Hampi so its real essence has gone. Google is still showing old Mango café pictures but it is not same anymore. Now they are operating under the hotel with no view and not so great food.
8. Best time to visit Hampi is after rains when the only colour you see is Green anywhere you see.
9. Girls, do not talk much with cottage staff they might take your this gesture in some other sense and stalk you or try contacting you post check out. P.s: Personal experience.
10. Myth: Only those who do drugs go to Hampi. Fact : not at all. Hampi has something to offer to everyone. What is Hampi for me? Eat. Chill. Sunset. Repeat.
Stay tuned for my Pondi trip summary :)