It was around 4 A.M. in the morning when I heard Zingaat ( Marathi Song) playing loudly outside my room. Yes that, was my roommate (Vaibhav) style of waking me up to go to Savandurga. I woke up had a nice bath, a cup of green tea and delicious bread omelette prepared by my roommate Vaibhav. We were ready and waiting for other friends who went to take the vehicle booked. This time it was again zoomcar's scorpio but this time it's not 14 but 7 friends.
DIGGING DEEP:
The hill is considered to be among the largest monolith hills in Asia. The hill rises to 1227 m above mean sea level and forms a part of the Deccan plateau. Savandurga is formed by two hills known locally as Karigudda (black hill) and Biligudda (white hill). The earliest record of the name of the hill is from 1340 AD by Hoysala Ballala III from Madabalu where it is called Savandi. Another view is that the name is originated from Samantadurga attributed to a Samantharaya, a governor under Ahchutaraya at Magadi, although there is no inscription confirming this. This was the secondary capital of the Magadi rulers such as Kempegowda. From 1638 to 1728, Mysore took over this place and Dalavayi Devaraja occupied this place with the palace at Nelapattana. In 1791 Lord Cornwallis captured it from Tipu Sultan's forces during the Third Anglo-Mysore War. Robert Home in his Select views in Mysore (1794) shows distant views of the hill from Bangalore. He called it Savinadurga or the fort of death. There were no steps to reach the hill top and it was covered by bamboos and other trees forming a barricade.
MY STORY:
My friends finally came around 5:30 A.M. and started our journey to Savandurga around 6:15 A.M. We started from the same place as before,Chikkabanvara in Bangalore. Savandurga is around 60 kms from here. The best route is to take NH 75 and later SH 3. NH 75 was filled with good views, so we stopped our car approximately after 35 kms and clicked pics.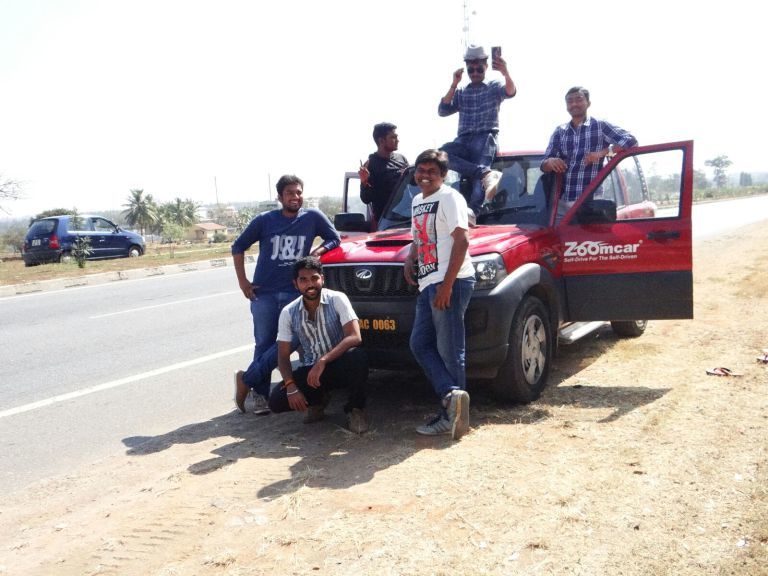 We reached Savandurga's base around 8 A.M. The weather was good and not so hot. If you are planning here in summer, reach early else the climate would be hot and you can't complete your trek.We got to know that, there were no shops or hotel up. So, we got our lunch and some snacks from the base itself. There are two temples ,the Savandi Veerabhadreshwara Swamy temple and the Narasimha Swamy temple at the foothills of Svandurga. People usually go to temple situated there but we started trekking without going to temple as the place was bit crowded. The rocks can get quite hot during certain months and during certain periods of the day, so it is advisable to carry water and other refreshments to sustain one through the gruelling trek to the top.
During our trek we stopped at certain places for rest and clicked pics. We also went to the fort there.According to the Imperial Gazetteer of India, this fort was first built in 1543 by Samantha Raya, an officer under the Vijayanagar Empire. Around 1570, the chief of Bangalore acquired the fort and the Magadi region. The area was the secondary headquarters for the Magadi rulers, especially Kempegowda. Then we trekked further and reached Nandi temple at the hill top. It took almost 3 hours for us to reach the hill top.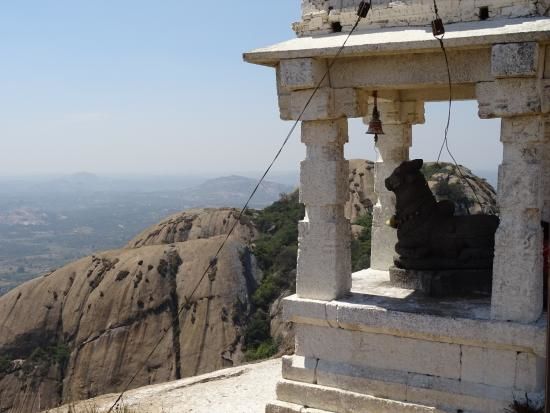 After visiting the temple, we ate our lunch which we bought earlier. We enjoyed the view for few hours and then started to trek down. It is always easy to trek down but be careful the rocks are slippery and one can't get proper grip. We reached the base after 1 hour. On reaching, we had some snacks and drove back to Bangalore.
See you in next post.
Happy trails!