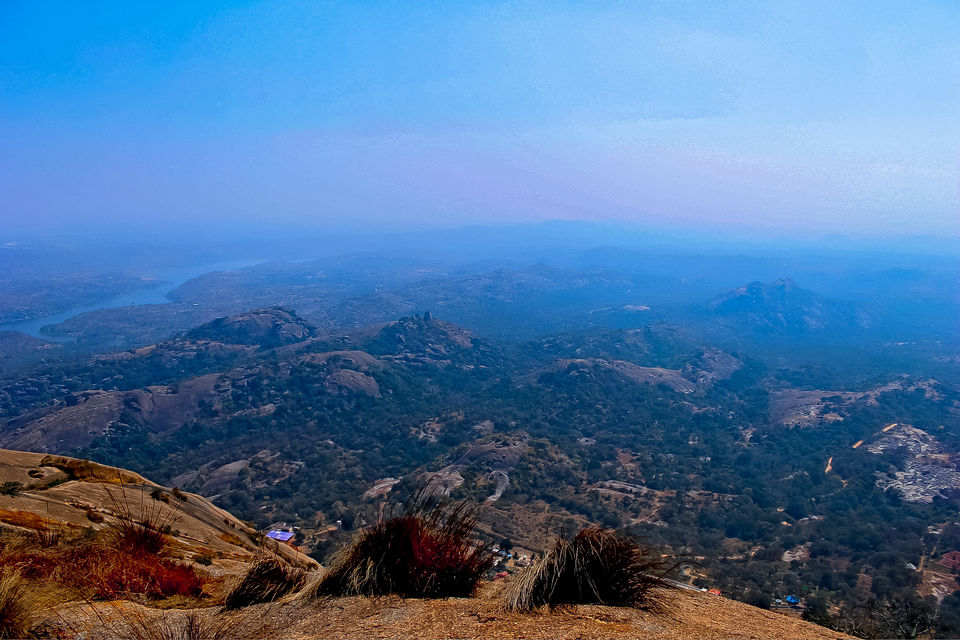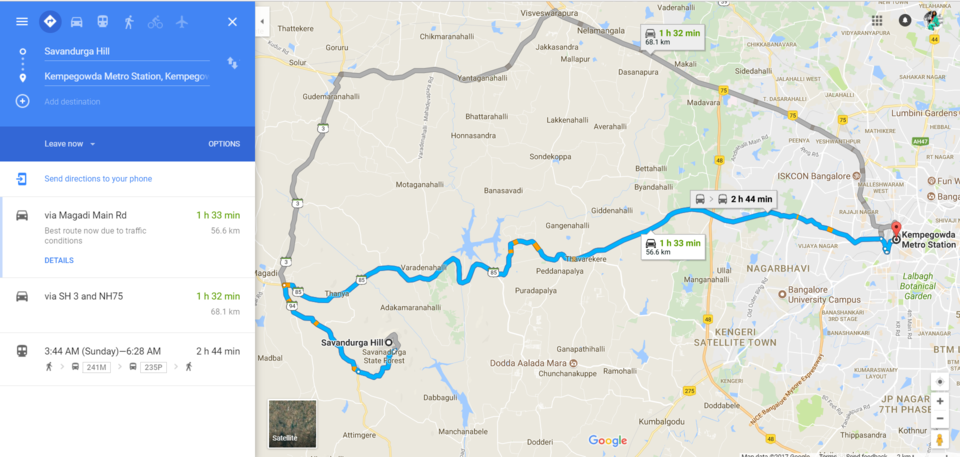 We human beings are always looking for a way to break the chain of mechanical lives. We are generally ranting about how mundane our existence is. On any such day, the best thing to do is to take a deep breath, pack your bag, sports shoes, sunscreen and book a trek.
Situated near Magadi town and 60 kms from Bangalore, Savandurga is one of the best trekking spots in Karnataka. If you want to kick back after a long work week or if you want to re-kindle the adventurist in you, Savandurga is one of the best one day treks. At an altitude of 1226 mts(4000 ft), it is the highest monolith hill in Asia.
Savandurga is formed by two hills known locally as Karigudda (black hill) and Biligudda (white hill). Trek starts from Lakshmi Narasimhaswamy temple. Once you reach the peak, you are welcomed by a Nandi statue and a spectacular view of river Arkavathi.
Getting there:
The nearest airport, Bangalore, is ~9o kms from Savandurga. KSRTC runs regular buses (non AC) to Magadi town. Private buses are also available from KR market. From Magadi (Ramanagaram road) any bus will drop you off at Nayaknapalya, from where Savandurga is merely 4 kms away. One can take rickshaws to the trek point. You can also drive down in your private vehicle from Bangalore via Nelamangala or Tavarekere. Irrespective of the form of transportation you choose, the journey will satisfy your travel buds.
Permits:
No special permissions are required for the trek.
Route and Guide:
One would not require a guide for the trek. As it is a monolith hill, there are no trails for you to follow. There are clear yellow and white arrow marks which can be tracked to the peak. You can also check for electric poles which in-turn will guide you to the top.
Highlights:
Distance from Bangalore - 60 kms by road
Difficulty Level - Moderate
Trek distance - 2 kms (one side) consisting of many steep climbs and no trees to take shelter during breaks.
Time to summit - 2 to 3 hours.
Best time to trek - Winter and Summer months are particularly advised. November to March is the best time. Avoiding monsoon serves in your best interests as the slippery rocks have been known to cause fatalities.
Food - At the foot hills, no hotels are available, there are a few shops where you can get juice and chats. For a proper meal one has to go to Hospet Gate or Magadi which is 12 kms away. Pack some eateries before you start your walk.
My Story:
I am always mind travelling and day dreaming. I am constantly researching places to visit and mountains to conquer. After doing my research about Savandurga, I filled my car with fuel and set out at 5 am.
The drive was pleasant and traffic free, passing through yellow signals, street dogs barking at vehicles, paddy fields and sunrise. We reached Savandurga by 7.00 am. From the local shops, we purchased juice and some snacks for the climb.
As it was only 2 kms climb, we assumed it would be a cake walk and that we were going to be back in a couple of hours. Only to our surprise, the climb at no point got easy, the rising sun definitely did not favour us. Huffing and puffing along with multiple breaks, we made it half way. At no point should a person with Acrophobia turn around and look below as it will fill you with vertigo and make the climb all the more strenuous.
We witnessed many locals walking bear foot as it provides better grip and less chance of slipping. Seems like a great idea only if the rocks weren't burning hot. Finally on reaching the top , we bowed down to Nandi and vowed to get in better shape for next time.
Savandurga is one such trek that any adventurist should experience. It is one of those activities that look simple but requires utmost courage to complete.
Bon Voyage!