When the month of Karthika (this eighth month, as per Hindu solar calendar, starts when Sun enters Scorpio, corresponding to October/November) started, I remembered the TV program about Varanasi Karthika masa/month last day celebration when Ghats are lit with oil lamps and wanted to be there.
Unfortunately no rooms were available in any of the guest houses near the main Ghat. They all said the same thing, rooms get booked 6 months in advance for this festival! Checking on the net, I read about Dharmasthala Karthika masa "Laskhadeepotsava" festival. Dharmasthala is the temple town on the banks of the Nethravathi River in the Belthangadi taluk of Dakshina Kannada in Karnataka. We decided to go there as it is only 6 hrs drive from Bengaluru & to stay somewhere outside Dharmasthala town as accommodation within the town is catered to pilgrim crowd. We were warned of the crowds in this temple town; forget about the festival time, this sacred place attracts 10,000 people on average on a normal day.
Travelling to Western Ghats by itself is a thrill - Older than the Himalayan Mountains, this mountain chain of the Western Ghats, declared UNESCO World Heritage site, represents geomorphic features of immense importance with unique biophysical and ecological processes. The site's high montane forest ecosystems influence the Indian monsoon weather pattern.
A quick search found what looked & sounded like an awesome home stay, "Stream of Joy", 30 km from Dharmasthala in Arasinamakki by the River Kapila & in the middle of Adike thota/ beetle-nut farm. A call to the host, Mr. Kashinath Damle, helped us book a cottage at a very nominal rate of Rs. 3,000/- including 3 meals/day for 2 people. He informed me of heritage temples within 10-15 km radius and a short trek into the forest for some great bird watching. Added bonus was he was going to be our guide for these. Key information he stressed is, it is fully vegetarian with no liquor allowed and place not suitable for people who cannot do stairs! With one of Viji's friends joining us, it became even more economical at Rs. 4,000/- total including 3 meals/day for 3. After booking the cottage & bus tickets, the word that came to my mind is "Destiny" since these two places were never in mine or Viji's bucket list or in radar of our things to do/see.
On Dec 9, 2015 off we went on a 2N/3D getaway by the 10:30 PM Airawat bus to Dharmasthala. We were informed by host to get down at Kokkada (20 km before Dharmasthala) & to take a Rickshaw to Arasinamakki (10 km ride) for a cost of Rs. 200/-. Checking with the bus driver, we found out that we would reach this place around 4:30 AM. Ride was OK as night bus ride can never be comfortableespecially the ride through the winding Ghats. Reaching little early at 4:15 AM, we were happy to see an auto in the stand & were at the property by 4:30 AM. Although we were sort of in the middle of nowhere, riding an Auto felt safe! We were greeted by the host. As I had booked the cottage for 3 full days, we were able to check-in at this odd hour. The Cottages are located a little distance from the main house and have few steps along the way. Our cottage was clean & simple with an attached bathroom and a small sit-out facing the river.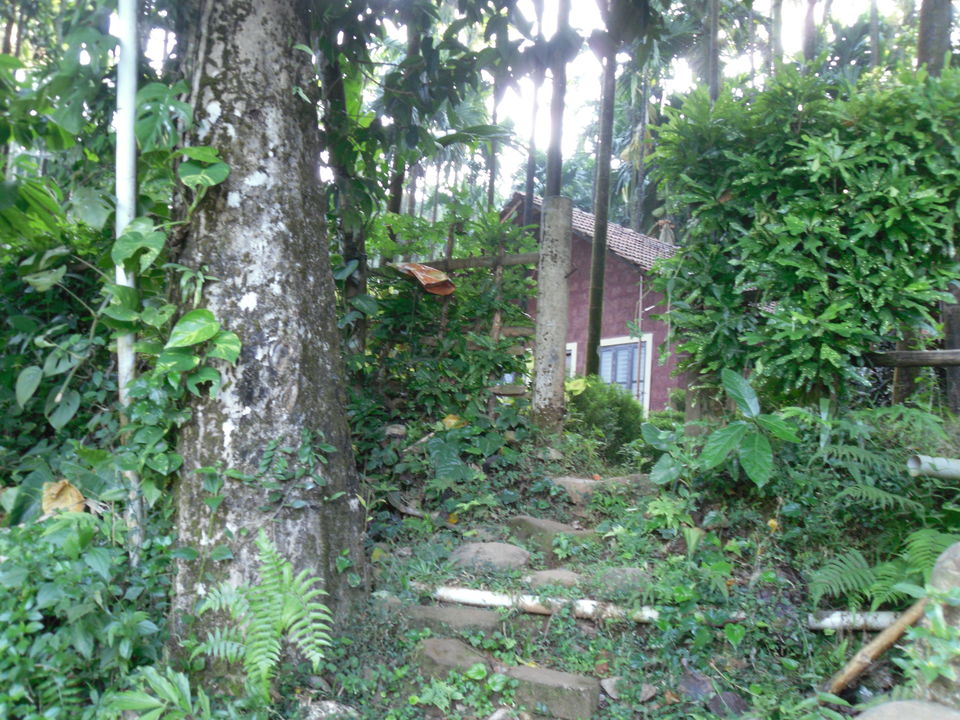 We crashed for couple of hrs and later walked around the property which is neatly done: 4 cottages, 2 small and 2 slightly larger to accommodate 3 people. Each cottage has basic bathroom with a nice old style "Hande/copper vessel" for hot water right outside each cottage bathroom with direct pipe connection. The dining area is a gazebo with net all around in the middle of all the trees & close to the cottages. The River Kapila, in its tranquil form, flows a few feet from the cottage completely surrounded by greenery. Kapila, originating at "Devaramane" in Gutti Village of Mudigere taluk of Chikmagalore district, also takes-in the waters of a river-let "Bairavi" and flows westwards before joining Netravathi at Koodali Pathikallu. Understand during monsoon, river rises to 10ft and comes to cottage entrance steps, but now it was only up to my thighs and you can cross this pure/clean/transparent flowing water by foot or use home-made bridge from beetle tree trunk & balance across. They have a bamboo raft & a man-made rain fall on the river for your pleasure. Added to this natural picturesque beauty is the continuous music from varieties of birds.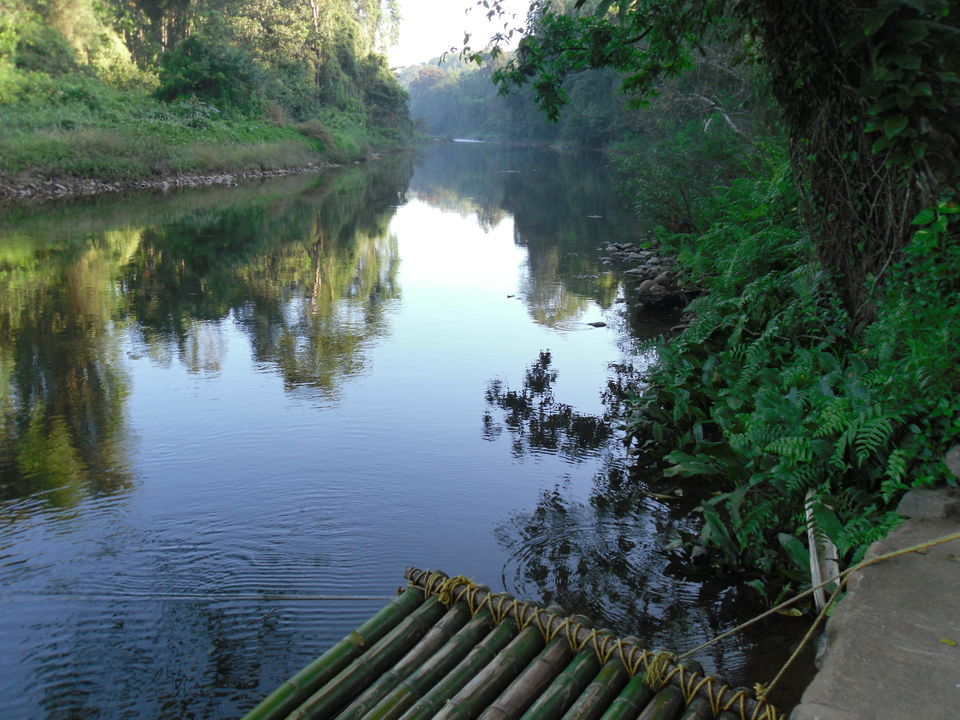 Simply fell in love with this place instantaneously. Had breakfast around 9:00AM - delicious banana leaf wrapped idly, chatni & sambar with avalakke and pinapple kesari bath. I ate more than I should (Well! What's new?).
Discussing our plans with Mr. Kashinath, our host, we decided to visit Dharmasthala after lunch. The agenda was first to see some of the temples/places I had listed & walk around till late evening to see the lighting of deepas/one lakh oil lamps. We were informed once again of the huge crowd during this time and the long lines to temple. Our host arranged a taxi ride at Rs. 650/- each way. After breakfast we took a walk in & around the estate, saw the interesting process of rubber tapping and just relaxed by the river enjoying the pristine Kapila!
After a heavy typical South Canara lunch, off we went to Dharmatsala at 2:30 PM on a 30 min ride to the 800 years old historic place- Shri Khestra Dharmasthala. Today's Karthika festival special was lakshadeepotsava, Sahitya sammelana/literature discussion and Gowri Marukatte Utsava/street fair. It is said " Twenty generations of the Heggade lineage have devoted their lives to manage and develop the Dharmasthala kshetra. Sheer dedication, selfless service and pious devotion to God and Man, have been the foundation of the revered religious centre that Dharmasthala is today."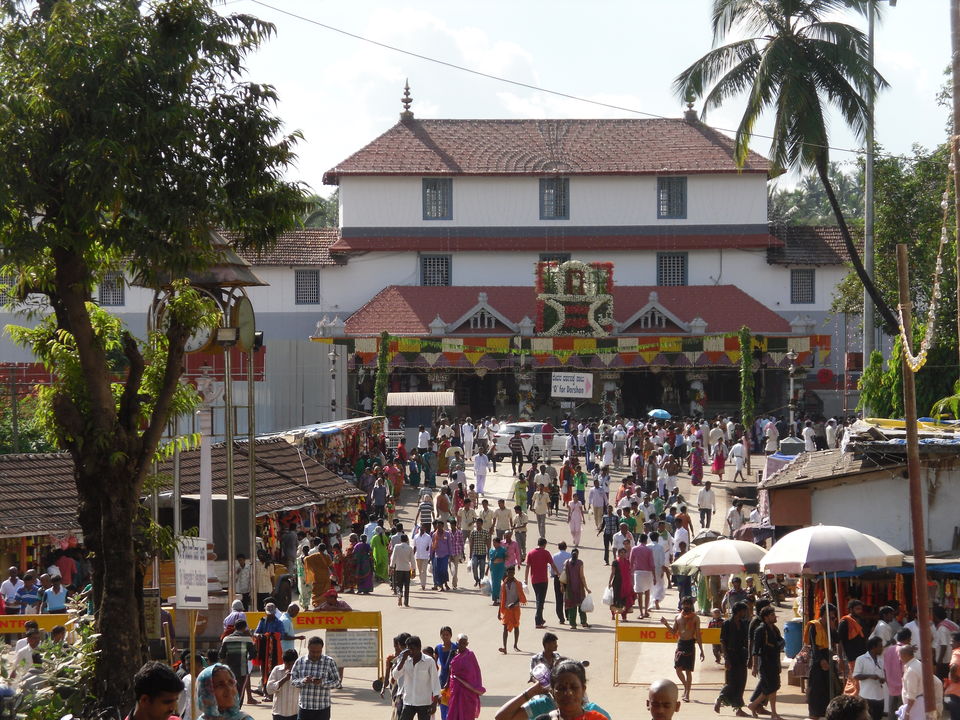 This is one place where people of all walks of life & religion are united. I say to all those Indians who are screaming on top of their lungs about intolerance... please come here :-) Its history & legend are amazing; details can be found here - http://www.shridharmasthala.org/subsequent_page.php?id1=3&id=2
We were in for a surprise when we reached Sri Manjunatha Swamy temple, contrary to what we had heard there were very few people as it was temple's afternoon closing time. It was 2:50 and we were asked to run/walk real fast through the long... winding barricade path to reach the inside of the temple as they close the door at 3:00 PM. Huffing and puffing along the long path, we ran this marathon in a hot humid afternoon (like we say in Kannada mata mata madhyana uri beselu) and reached inside the temple in time for dharshan.
Unlike in North India, no pandas/priests bother you for money or to perform special poojas. Priest here specially informed us to go to the food hall "Annapoorna Dining hall" and have the meal before its 4:00 PM closing time. This is Dharmatsala for you... or, should I say, South Canara temples uniqueness where everyone is fed well for free during lunch time in a clean and hygienic environment. I remember what the famous Indian chef Vikas Kanna once mentioned, the tastiest South Indian meal he ever had was at the Udupi Shri Krishna Temple free lunch.
We went on another long walk in the Sun towards the lunch hall to see it. It is indeed amazing, to see how they feed approx 10,000 people, on average, every day. Since we had heavy lunch already, we did not eat anything. By now the heat was getting to us. Could hardly believe it was almost 4:00 PM but still the Sun and the heat was way too much to handle. There was no space with shade available to sit. Went to the Information Center to check the time the lamps will be lit, but to our disappointment we were informed that oil lamps will be lit after mid night after the chariot is drawn through the Temple Street. They also said oil lamps are few and mostly electric light everywhere which will be on as soon as sun goes down.
Although we passed by Modi chai shop :-) , we went to a canteen nearby to sit and made my first wrong move, while the other 2 had cool drinks, I opted for coffee (stupid!? May be! But when I heard coffee I was tempted to have it). Went to see ") The house was locked and we have to see it from outside. Adjacent to this is Dharma (Religion) consider it to be a seat for flourishing Dharma. Hegade's were instructed by Devathas to propagate Dharma and offer free education, food and shelter to people of Nelyadi Beedu, which is still followed to this day & hence the name Dharmatsala. Neliyadi Beedu" the original residence of the Heggades. (Story goes "Devathas or guardian of Shri Chandranatha Swamy Basadi, a well known Jain temple. Across is their grain storage building called, Jama Ugrana and an antique car museum. We walked thro' the fair/jathre street and noticed more and more people were just coming to Dharmatsala and festivity had started. By now it was past 5:00, yet still very hot. We went to towards the Bahubali hill.
" In 1973 a statue of Lord Bahubali carved out of a single rock, was installed at Dharmasthala on a low hill near the Manjunatha temple. It is about 39 feet." You have to climb about 250 steps to the base of the statue. Statue is done nicely but nowhere close to Bahubali statue in Shravana belugola. It was very crowded with school children.
Although exhausted, from here we took a Rickshaw to see Sri Rama Kshetra which is couple of kilometres away. This new temple structure looked colourful & attractive. External architecture reminds you of Bhubaneswar temples, the inside is North Indian/Iskon style white marble idols and halls. Legend has it that Lord Rama stayed here for some time during Seethanveshane/search for Seetha. In 70's a temple was built here.
After spending some time wondering around, we decided to leave at 8:00 PM, our car was ready! The winding road back to home-stay was too much to take for me at this point. The coffee(s) I had in that terrible heat started doing numbers in my stomach and I felt nauseated...luckily I started puking only after I reached the cottage. I felt terrible & just crashed that night! For the first time, although when Viji told me the dinner was very good, I did not even blink!By morning, I was perfectly fine again with all the toxins out of my system.
Woke up to a beautiful morning. There is nothing like being in the midst of the nature. Went for a short walk across the river via the beetle trunk bridge. Plan for the day was to visit the off-the-beaten-track heritage temples within 15 km radius of Arasinamakki. Had a good breakfast (Akki Rotti, chatni & avalakki) and set out with our host to see temples in his car. The hosting family is so humble and kind, it is beyond words! He took time from his busy schedule to accompany us in his vehicle to these temples with no additional taxi/tour charge.
First stop was "Southadka Shree Mahaganapathi Temple". It is more than 800Yrs old and has no gopura/temple structure. It is in open field amidst of nature. The origin of the name is interesting- Southa in kannada means "cucumber" and Adka means "plain/field", this Ganesha idol was found by cow herd boys who used to offer tender cucumber which was grown mainly around here. This temple is considered as one of the siddhi kshetras. There are lots of brass bells of different size hanging all the way from entrance to the idol sanctuary. We were just in time for morning pooja/maha managalarathi, which was such a great sight and sound from100's of bells. Panchakajjaya Pooja, the way it is done, is one of the typical South Canara trademarks for Ganesha. It is so colorful to watch. Avalakke Panchakajjaya Prasada& laddu were delicious!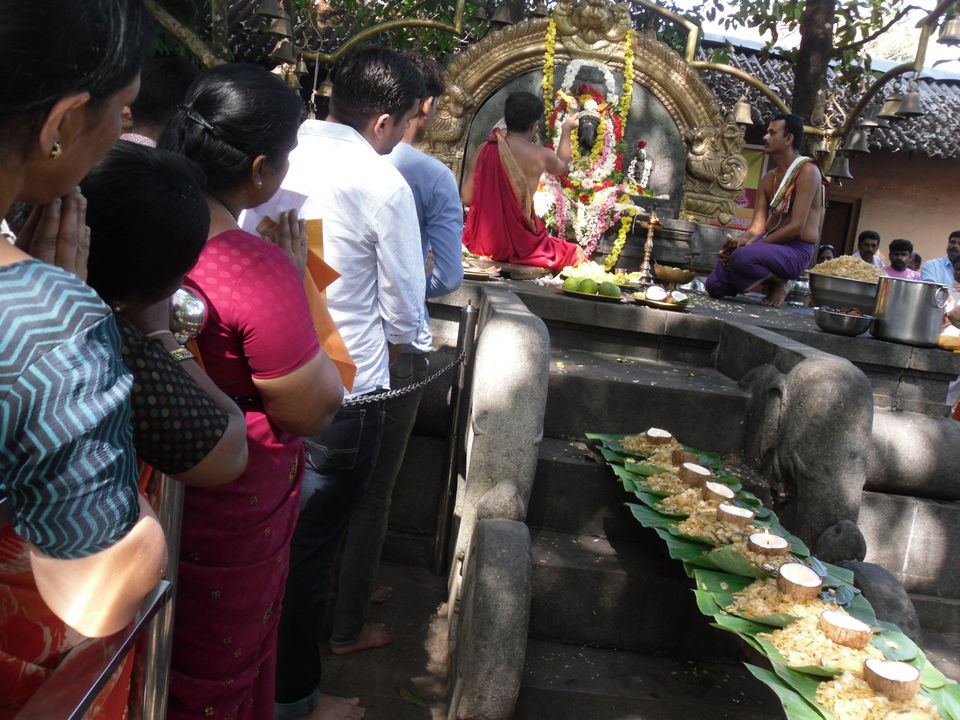 From here we proceeded towards the historic Kokkada Vaidhyanatheswara Temple, It is one of the few places where Hari and Hara, both are worshipped in the same temple complex. The management & priests here are Vaishnavaits. In this complex there is Vishnu, Vaidhyanatheswara and Neelakanta idols/temples. According to the history it is more than 2600 Yr old" In Dhvaparayuga, Madhvacharya consecrated the idol of Lord Vishnumurthy in Kokkada & authored the Sanskrit book 'Krishnamruthamaharnava' here". 2600 year old!! Goose bumps experience indeed!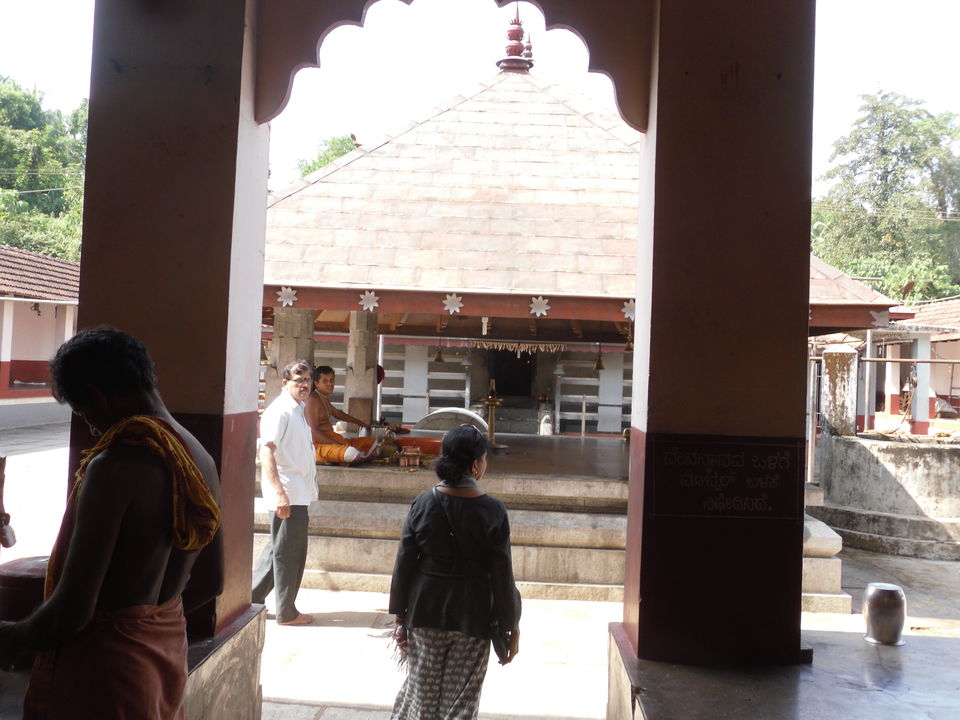 The main temple as you enter is peaceful, beautiful & clean, it is of Vaidhyanatheshwara - temple is in 'Deerga Sthandilakara' structure and was built approximately 1000 years ago. There is a stone writing in Halegannada/Old Kannada in front of the temple which was written in 1544 by Devu (son of king Desinga). He also consecrated Dhwajasthamba, the flag post, in front of the temple . Garbha gudi/Sanctum was glowing with oil lamps all around - the word that comes to mind is "pure".
The Nandhi, in front, is a natural rock formation. Next to this is the small Vishnumurthy temple, the current structure in the form of Mandal is believed to be of the Vijayanagar period. Next to it is this beautiful Kalyani/sacred pond which is believed to have many herbal properties and hence called as Dhanwanthari Kshethra. Pond is believed to be built by Pandavas. The Neelakanta Swamy temple which is in middle of the pond is believed to be one of the very old temples in the region. This temple probably is the least know heritage temple in Karnataka. Thanks to Dharmasthala trust that contributes to the up-keep of all these temples.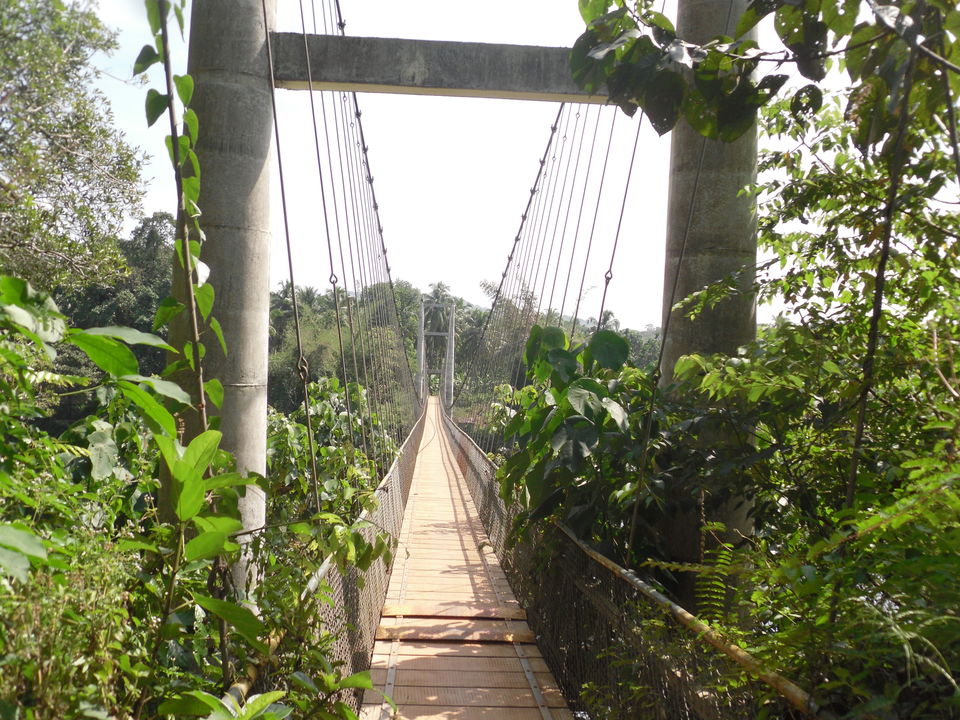 Next stop was Panchlineshwara Temple dating back to Mahabharata. Here mother nature is at its feet, you have to walk about a km in the middle of beetle farm & cross a beautiful hanging bridge on the river called "Gundya holae" to reach this temple. Here the scenic beauty of Western Ghats - the greenery, water and the surrounding hills/mountain - Yethena buja (looks like shoulder of an Ox and hence the name), Amedhe kallu and Shingani gudda - is breathtaking. Seems you can trek these hills but minimum 10 people are required. We were told there are elephants and leopards in those areas & hence local guide/villager is essential for such treks. This temple complex is marvellous in a traditional style of this region and Kerala.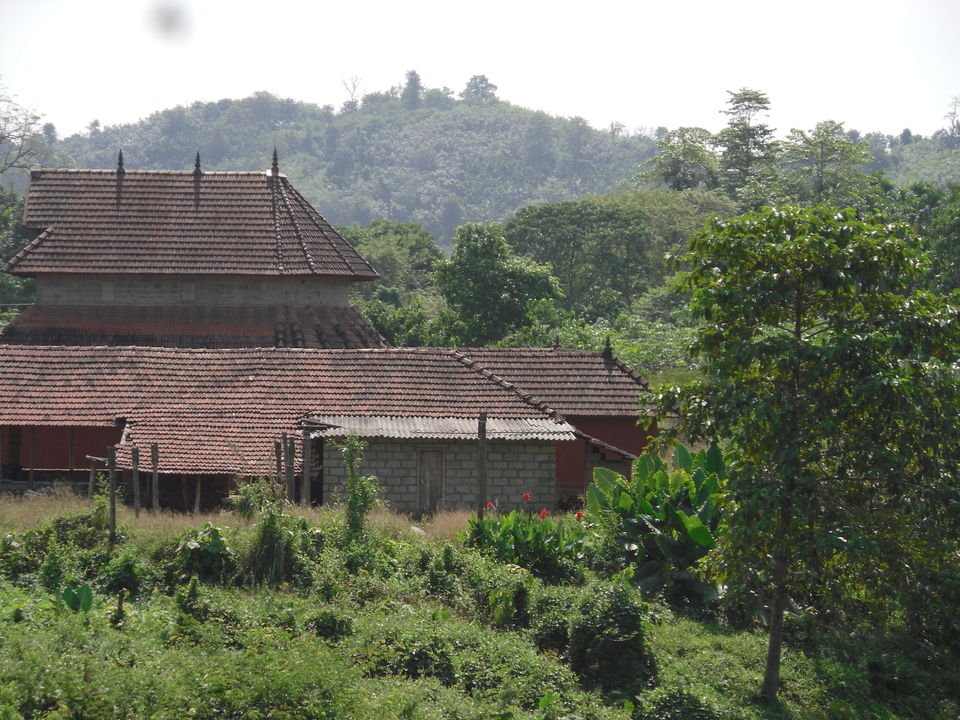 Our host told us that we will cover Shishila Temple & sunset point in the evening and we headed back to cottage. The drive was picturesque and beautiful all the way. We saw a few "Cold pressed coconut oil mill" on the way and, of course, we wanted to buy some oil. The price is so cheap (Rs.185 /liter) with an appetizing fragrance (spoken like a true Mangalorean). You realize what a rip off in Bangalore organic stores for cold pressed oils at Rs. 500/ litre .
After a great lunch and a short napoff to Shishila - This temple, on the banks of Kapila River surrounded by dense forested mountains, is a biodiversity hot spot. You have to cross a hanging bridge on Kapila River to reach the Shiva temple. Idol here is in the form of a Linga & is believed to be Udbhava Linga. There are interesting folk stories about this temple. This place is known as Matsya Theertha as huge numbers of Mahashir fish is found here in this river. These fish are considered sacred and prasada is offered everyday to them.There is a belief that feeding these fish can cure skin disease.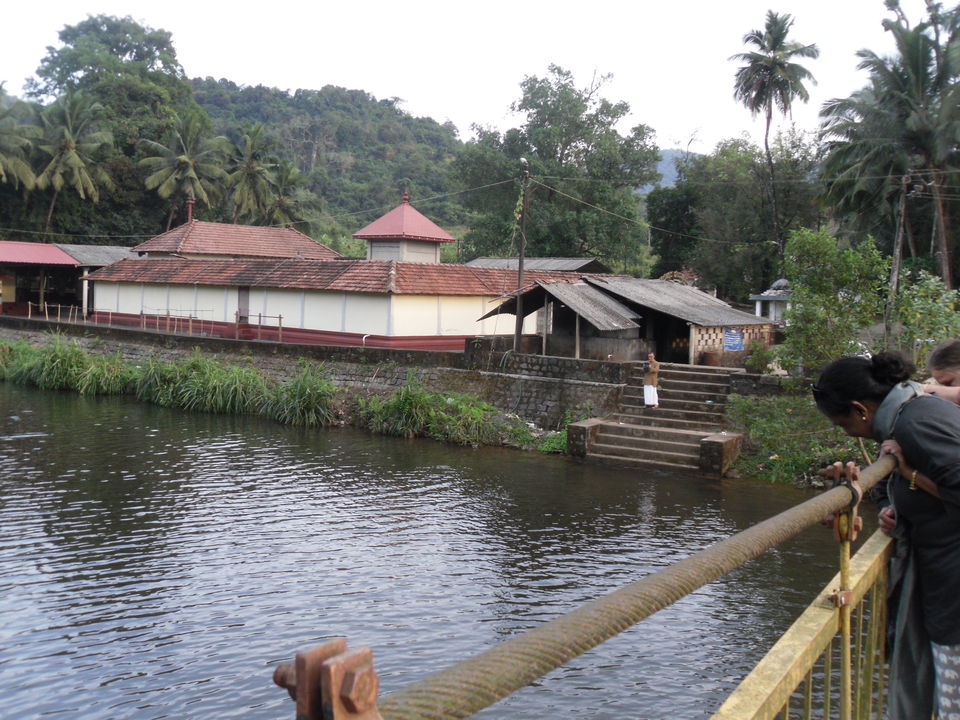 A devotee from Bangalore has paid for & requested our host to feed the fish on his behalf every time he came here. So, our host had carried a huge bag full of "Aralu/puffed paddy" and the moment he threw some in the water a huge group of fish came up the water and we all got so excited. He showed us a trick, he made loud thumping noise on the bridge and walked towards the steps to the Kapila river, the fishes followed him. It was as if they knew he was going to feed them. I guess they are used to people feeding them and follow footsteps. It was an awesome experience feeding these fish, they are anywhere from a foot to 3 ft big, Our enthusiasm went up 100 folds automatically; it is one of those being in the moment experience!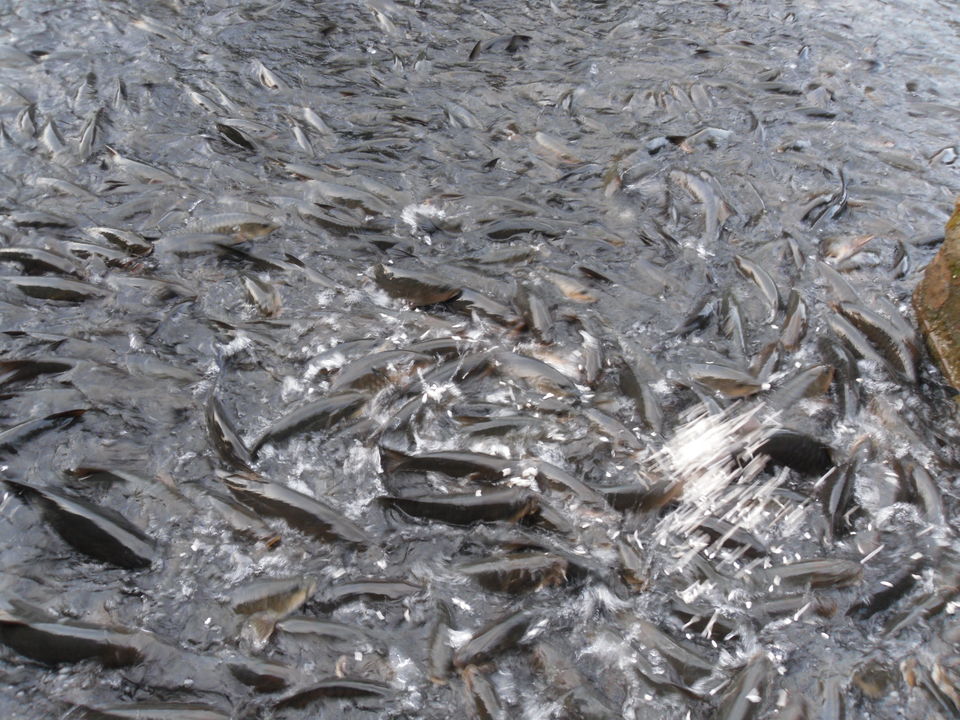 architecture being more like a Basadi/Jain Temple. There is a memorial carved in stone thatAfter we emptied the bag of Aralu, we went inside the temple. It is a serene 800Yrs old rocky temple with internal Known as the Shishila Temple Fish Sanctuary, today it is one of the finest such sanctuaries in the country reminds one of a terrible disaster on the liveliest occupant of the river-the Mahashir fish. They perished in thousands when miscreants poisoned the river in 1996. Residents of Shishila village joined hands to set up the Matsya Samrakshane Vedike (Fish Protection Forum). and a prime example of what is happening in our country today: Locals taking efforts in protecting eco system/aquatic life & becoming self-appointed guardians of the environment, in this case this fish sanctuary. A total contrast to this, our Govt's unscientific Yettinahole Dam project, that is coming up just 15 km away from this sanctuary, will definitely upset the eco system here and of the Western Ghats in general. Sad state of affairs with total disregard towards the nature! They have not learnt any lesson from 2013 Himalayan tragedy!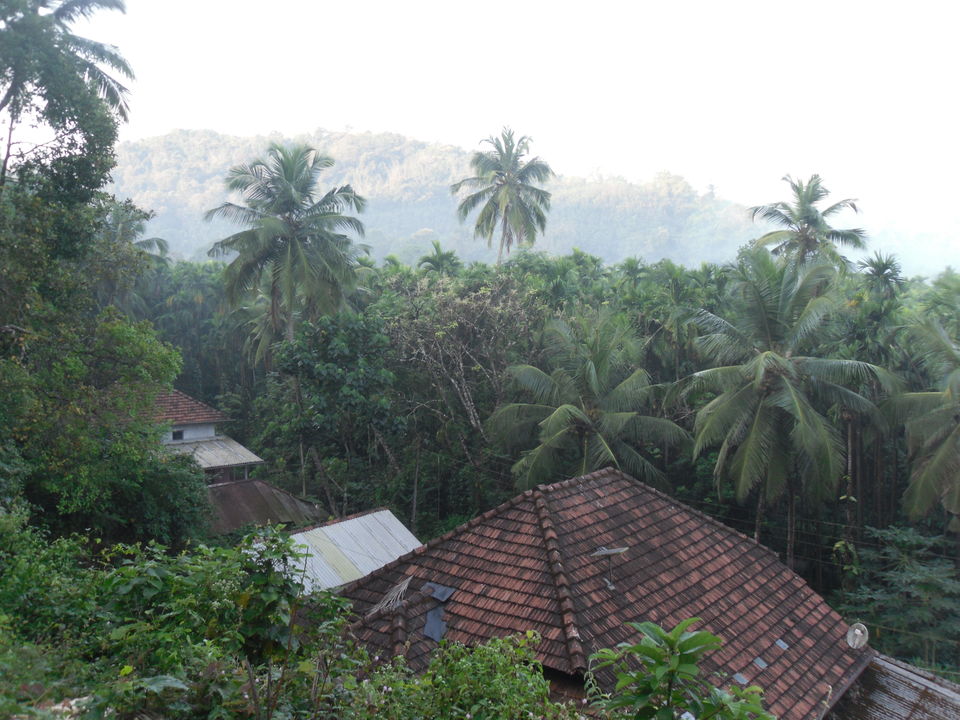 By now it was cloudy and sun already going down and so, we dropped the plan of going to sunset point. We headed back towards the home stay. We spent some quiet evening time at the water recalling how mesmerizing day had been! Had a great dinner again and finally off to bed for an early morning bird watching.
Ah...our last day here! After a good cup of coffee, off we went for bird watching. A group of four Techies from next cottage joined us. It was a wonderful guided walk tour with our host. Inside the forest area, hardly 2 Km from the cottage we saw many birds. The whole experience was very good! The nature walk of uphill/downhill/straight path surrounded by thick vegetation, music from birds and us chatting all the way - very different experience from our Hawaii bird watching tour, where fellow tour group members would get annoyed even if you breath loudly and snap at you saying birds will fly away. In India birds are like us, adjust madee attitude with humans and won't fly away when they see or hear us.
We saw 17 different species including hornbill (Barbet, woodpecker, grey hornbill, King fisher, Bee eater, plum headed parakeet, Cormorant, Heron, greater Coucal, Black hooded Oriole, Flycatcher, Drongo, Common Iora, Red whiskered Bulbul, Sun bird and white wagtail). Some of these, you get to see quite often near the cottage river area here. After an amazing couple of hours' walk, headed back to cottage. As usual, had good breakfast and nice chat with IT folks who surprising were sort of my peers and all four from different parts of India. These guys with 20+ yr exp & the couple we met earlier who worked 30 yr in IT before retirement was a total contrast to the three youngsters we met first day. Those youngsters had quit IT jobs after a year as they felt IT is not their cup of tea. We hear this quite often nowadays. Parents, please note :-) if you are pushing your kids to do Engineering - money you spent on Engg degree is down the drain.
After some rest we decided to hit the water. It was so relaxing just being in this peaceful clear river. We enjoyed being under the waterfall at the river. You can just sit in the water and watch the reflection of the surrounding scenery for hours. We just hung out there till it was time to catch the late night bus back to Bangalore.
What an enchanting 2N/3D trip right in our own backyard at an unbelievable total cost of Rs. 6000 Rs/head. Arasinamakki came in as such a pleasant surprise and feel so privileged that destiny brought me to such a magnificent place! A real hidden gem!