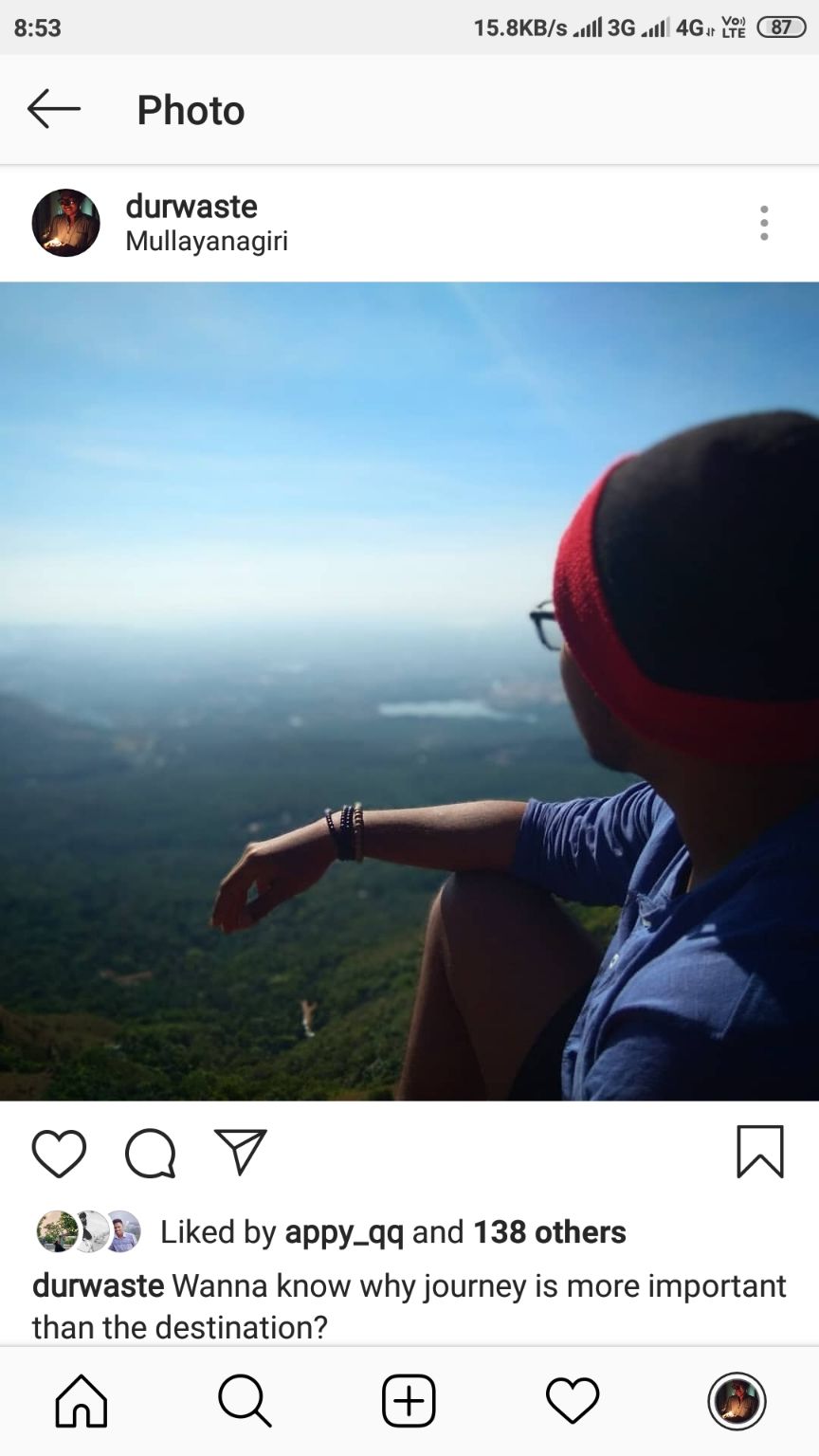 "The journey is more important than the destination!", they say. There is no better example to this other than a road trip. It all started as we 10 hostelites wanting to set out of the routine for the weekend.It was all spontaneous. Unplanned trip are the best but they come with their own sets of challenges. This is our story!
We had nothing planned other than reaching our homestay in Chikmagalur by 9:00PM. We started our search for the destination along the way. First stop was Dharmasthala,a small town known for its beautiful Shiva temple, magnificent Bahuballi statue and ancient wooded chariots. It was going to cost us a 30Km detour, but we decided to go for it. We reached Dharmasthala at 11:30 Am. Hoards of pilgrims visiting everyday, the place had a very special peaceful kind of a vibe. We also visited the Manjusha Car museum,witch is from on a walking distance from the temple. Its totally worth it.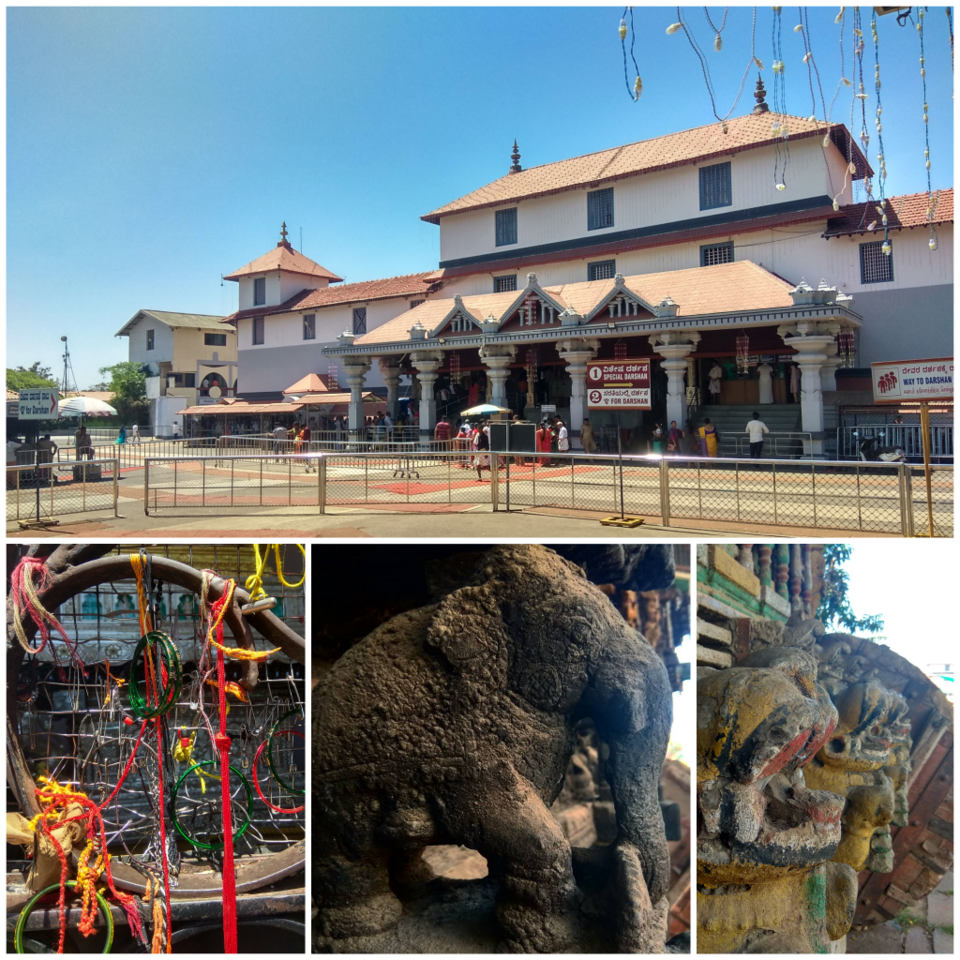 With bare minimum luggage and very high enthusiasm we set out at 7:30 Am from Nitk. We had our zoom cars booked. Picked up the cars at 8:00 from Mangalore, had a quick breakfast of idli-vada near by and we were good to go.
After saying our prayers and breathing in the peace we left Dharmasthala at 12:40 PM. We all were hungry by now. We then stopped for lunch at Ujire at around 1:00 PM. Using that time to plan the next route,we found out about Belur,a small town in Hassan district known for it's Chanakeshava temple which is one of the finest examples of Hoysalla architecture. It was around 30km to the south of our stay for the night. After having our thalis at Disha Food Corner,we left towards Belur at 2:15 PM
The breathtaking views of Charmadi ghats along the way left all of us in awe. Staring at those mountain range disappearing in the horizon, the valleys, those perfect curves of the roads and the trees hanging from the edges challenging gravity made me feel alive. Not being the one driving,I had the luxury of getting lost in the views and my daydreams. There are a ton of view points along the way,with localites selling watermelons and churmuri(mixture of rice flakes,onion and spices). After an hour of curves and turns,which truly felt like the blink of an eye we were out of the ghats. You can never get enough of some places.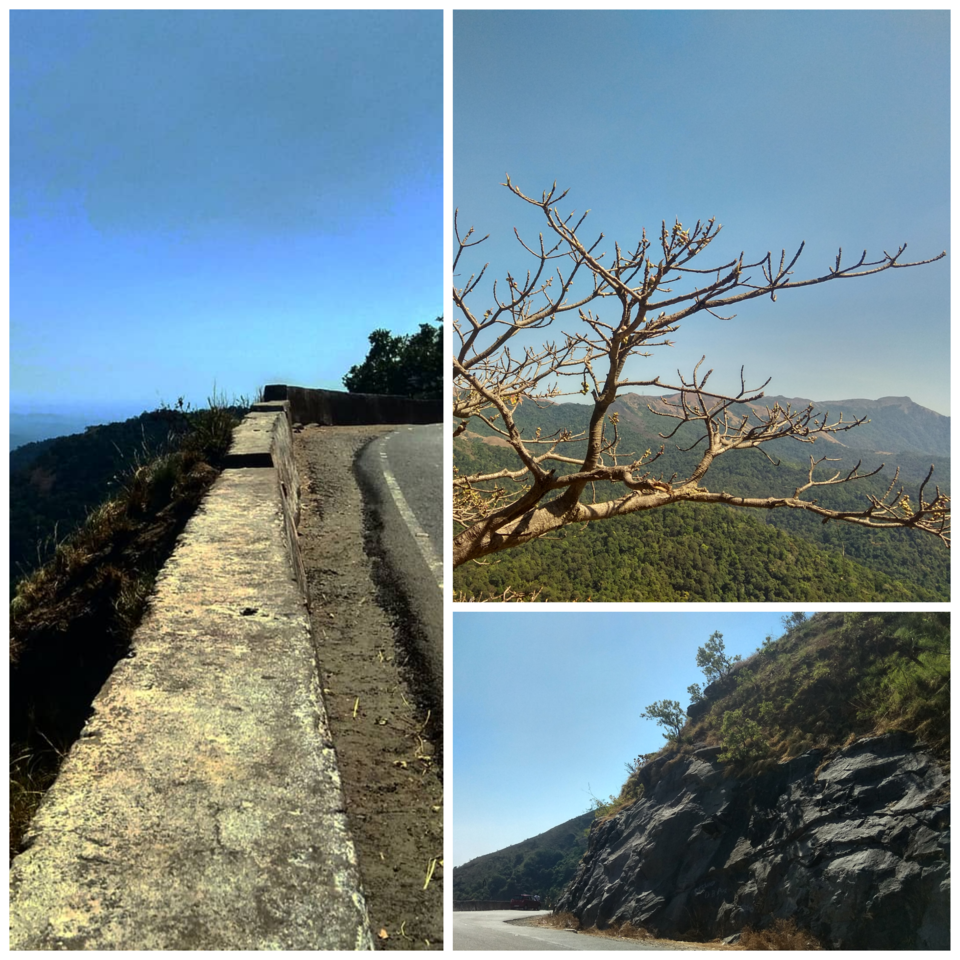 We reached the Chanakeshava Temple at 4:15 PM and it stood up to its name. The grandeur,the architecture,the detail put in each carving on the walls takes you back in time and makes you feel the efforts and dedication of the people who built it. It was filled with people but still we had no problems in finding the silence. You could stare at carving forever and still be amazed by the skillful work. Some of just closed our eyes and tried to take in what the temple had to offer.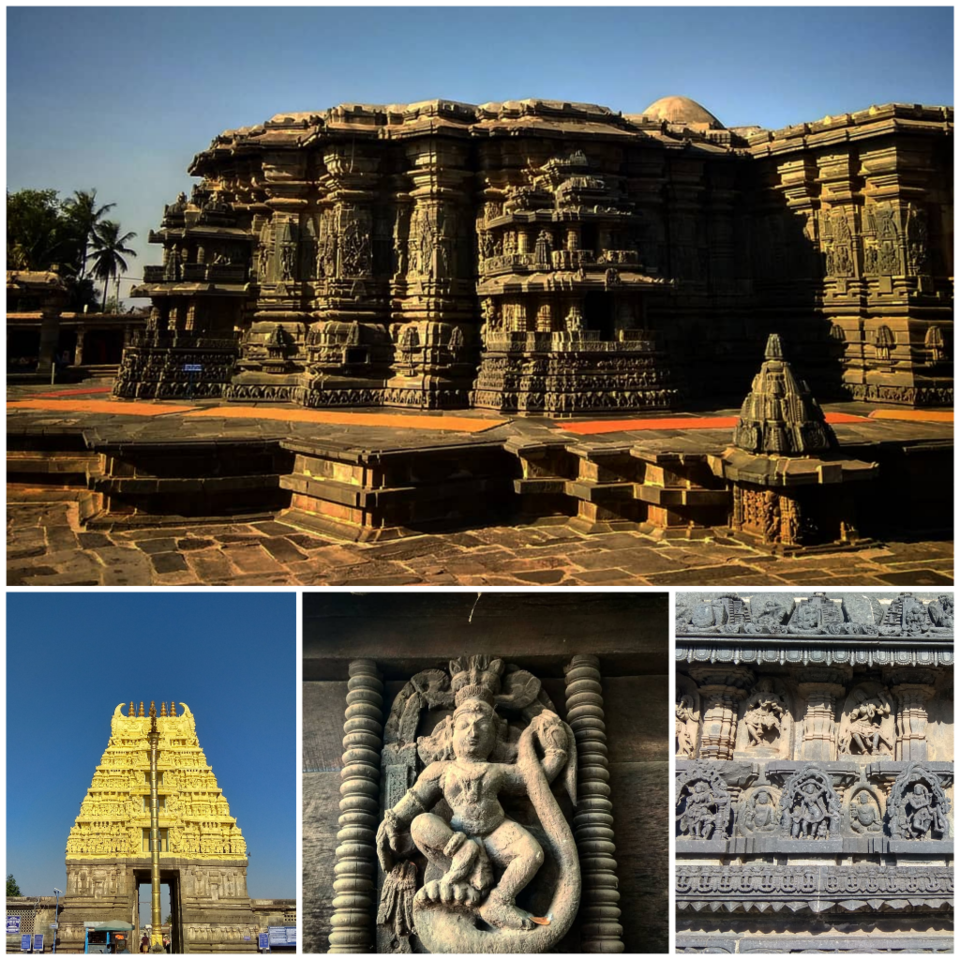 We left the temple with at 5:15 PM. Next was Yagachi Dam. It was a beautiful place, lush green trees and clear blue waters. We took a walk around , found some cute puppies playing around,clicked pictures and just like that we didn't realize how we had already spent an hour. We still had around 25Km to travel to reach our home-stay.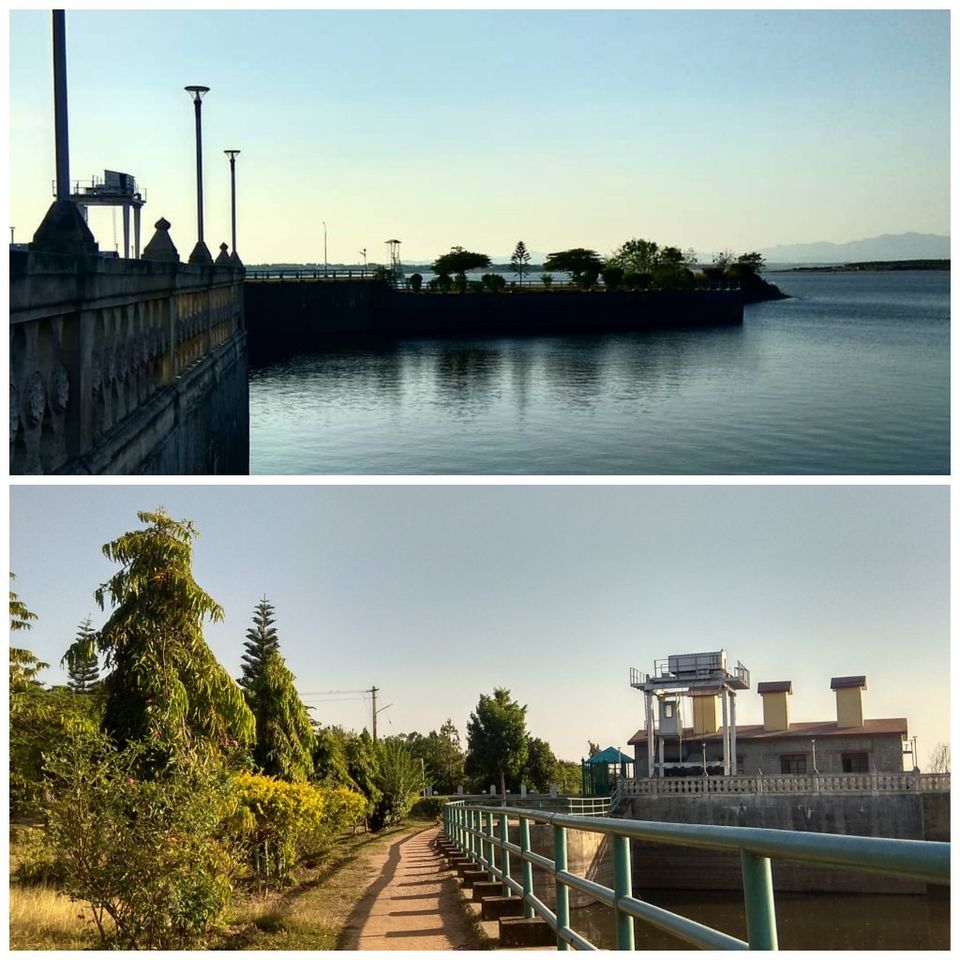 This journey from Belur to Chikmagalur was something I'll never forget. Perfect straight roads, nice music,friends,farms and the setting sun on the side.Could it get any better? These are the moments that make you want to keep travelling.We reached Chikmagalur at 6:45PM. We roamed the streets of Chikmagalur and had some street food. Headed towards out stay for the night, we had our dinner on the way at Montana Cafe and as scheduled we reached our stay at 9:00PM.
Punyakothi Homestay
I could keep on talking about how beautiful,peaceful,calm and extremely well maintained this place was! We were received by our host Prasanna Uncle and their cute dog. It was this small house surrounded by trees on all fours, with sufficiently large front yard for us to park our cars and still have all the place to play anything we wanted. The room were very well maintained. We all freshened up, hot water bath in the cold forest was bliss. We all then hung around,played some music, told stories and went off to bed.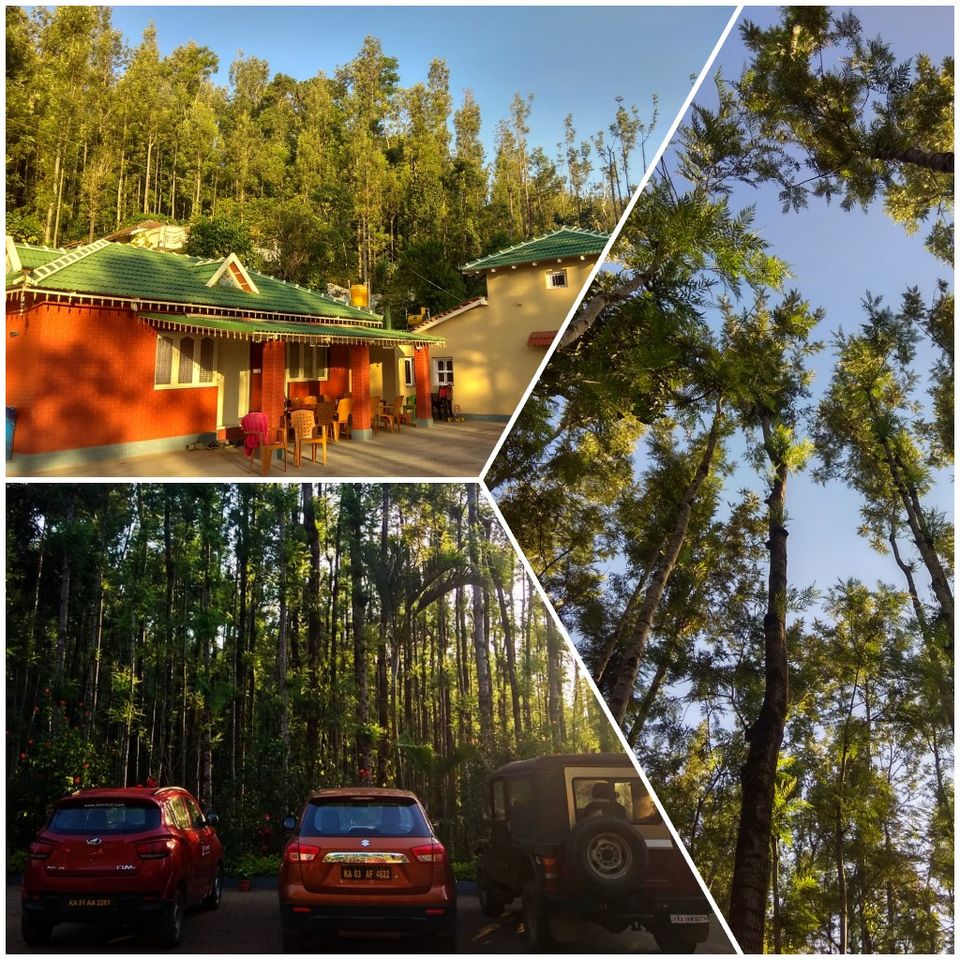 We were up by 7:15 in the morning. Sunlight just increased out love for the place. It was now even more beautiful. Prasanna uncle gave us tour of the place,showed us his coffee processing(yeah,they obviously owned a large coffee plantation and also told us a thing or two about different grades of coffee and how to distinguish between them. We played frisbee for a while and it was the time to leave. We said our goodbyes and we were off by 8:45 Am
We had an amazing breakfast at a small stall named Royal Darbar. The service we received was something we never expected. We had coffee,biscuits and parathas. The owner kept getting us a variety of Sabjis and chutneys to try with the parathas, claiming how each one was better than the previous. With our tummies full we set off towards the first location of the day - The Mullayanagiri Hill.
We reached here at 10:00 AM.the roads our newly constructed and we could take our cars to the top.The winds we strong and the hills majestic. Among all those, on top of a hillock was the small stone temple painted in white.Standing thereon the rocks, in those winds with the temple standing tall on one side and valley on the other was a magical feeling.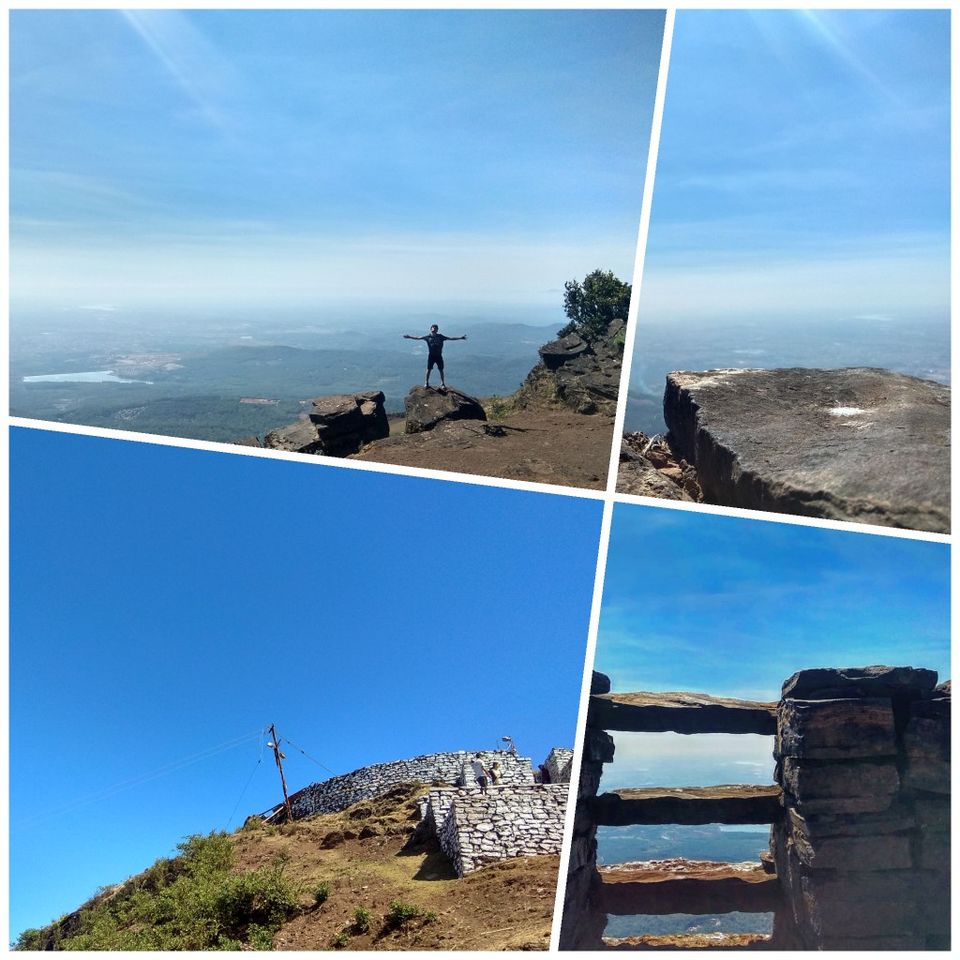 We left the peak at 11:30 AM and drove towards Dabhedabhe falls and Baba Budangiri. The falls were too crowed so we decided to skip those and move towards the Baba Budan Giri caves. The road here were muddy. Off roading was fun but equally scary. We didn't know much about the history of the place. I still don't,but we saw people performing rituals where they would take a shower in a waterfalls and then throw off their cloths as a symbol of washing all the sins and throwing off the evil and returning back as pure. It was already 1:15 and we had to leave Chikmagalur by 3:30 PM to make sure we reach back in time. We left baba Budan Giri and decended to the Chikmagalur city. We had our lunch and left by 3:30 PM.
Journey back was peaceful, we discussed about all our experiences throughout the trip,shared funny stories we encountered but for the most of the tine we were quite. Trying to sink in the feeling of going back and keeping safe all the we had encountered. I feel these are the experiences I live for. These are the moments, the moments that make me stop and wonder, moments that make me feel alive!