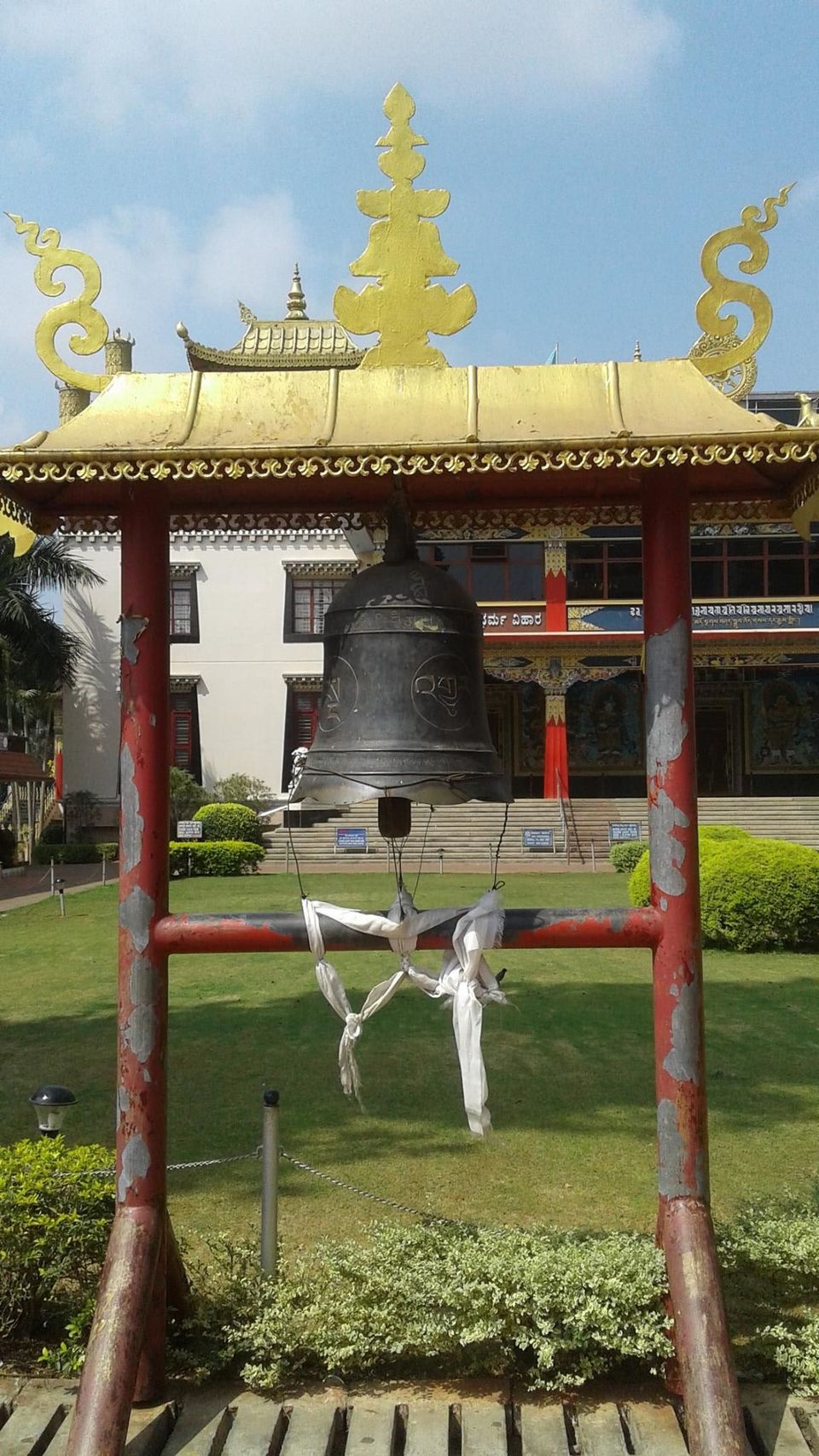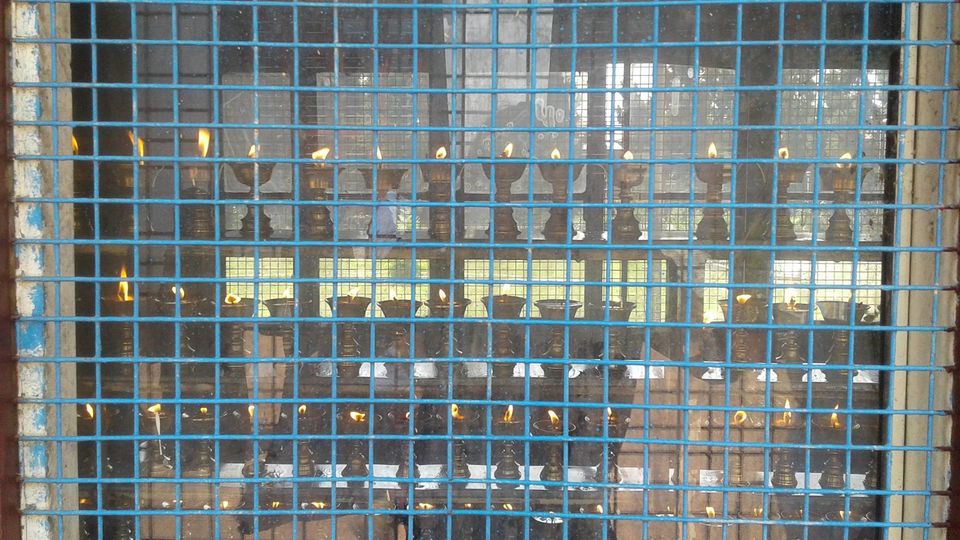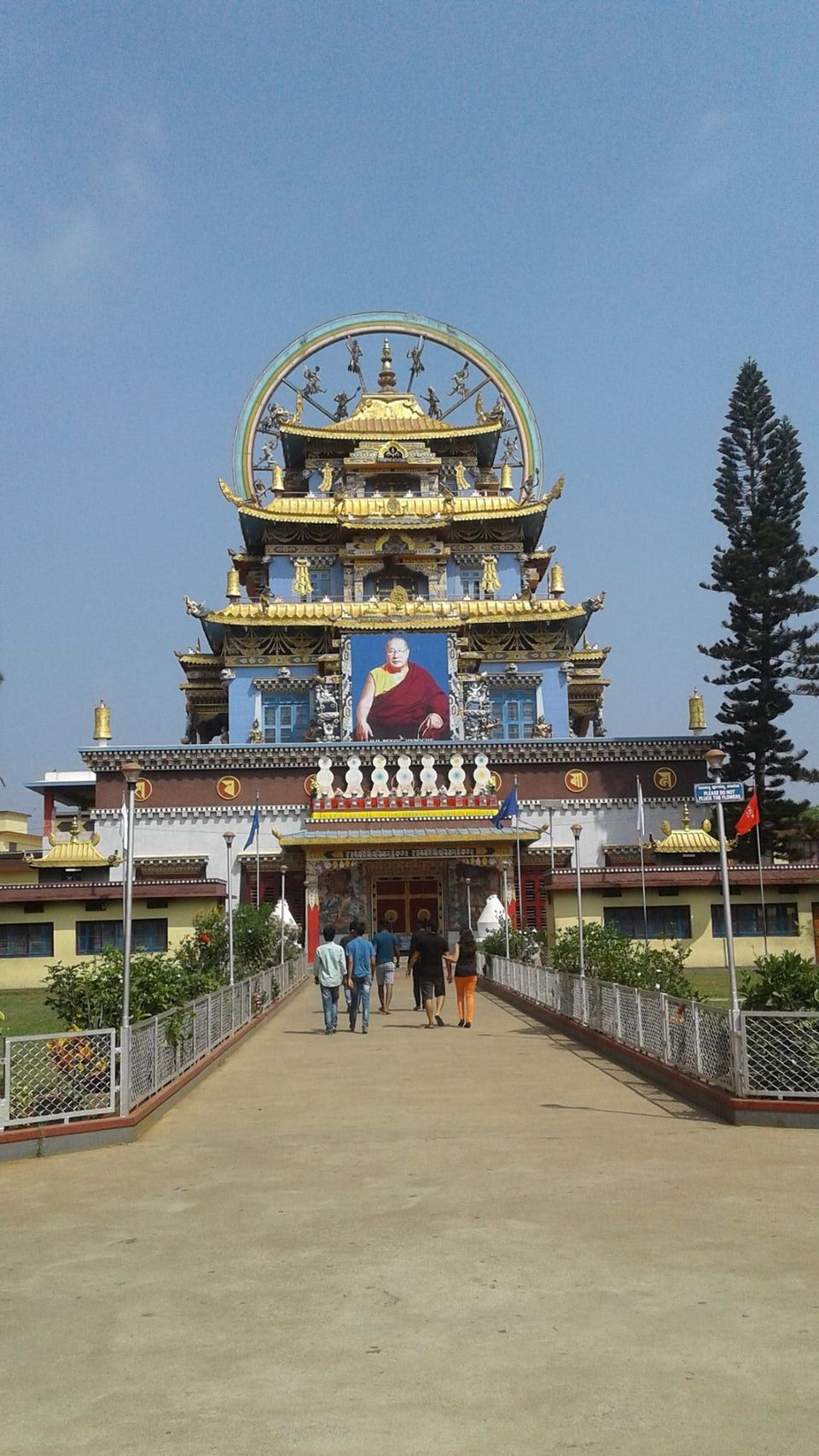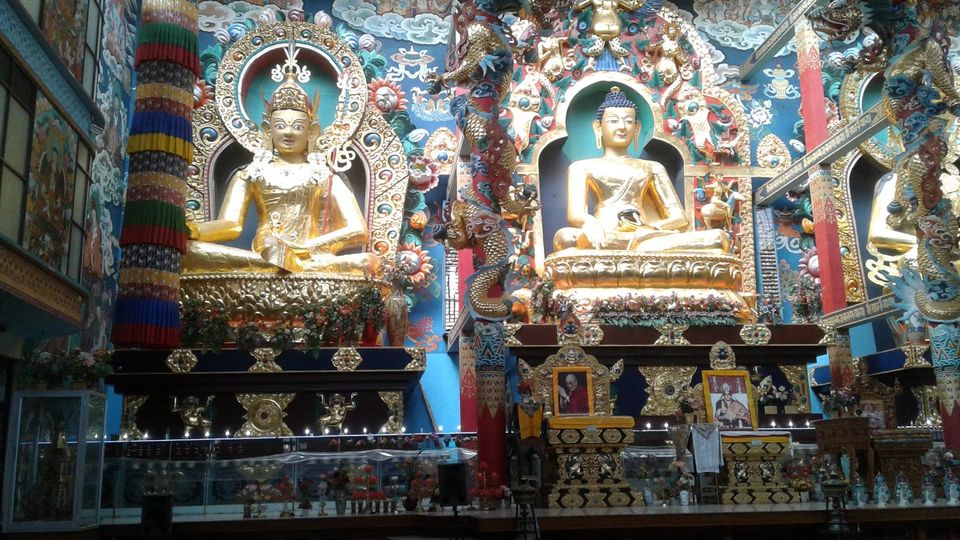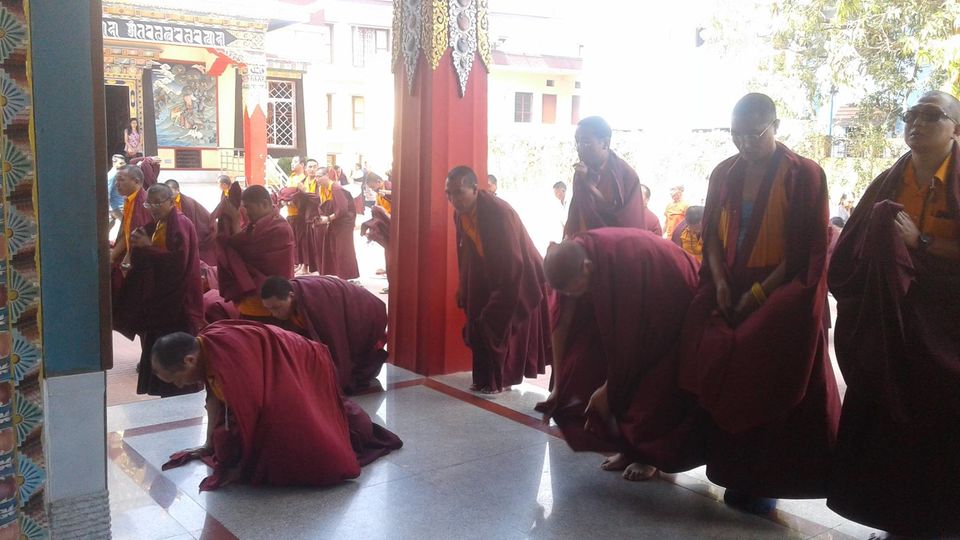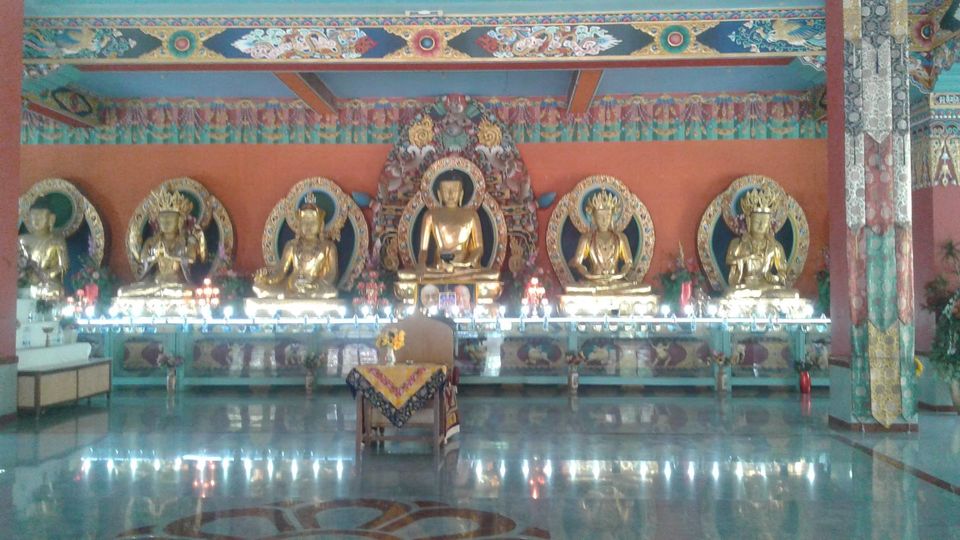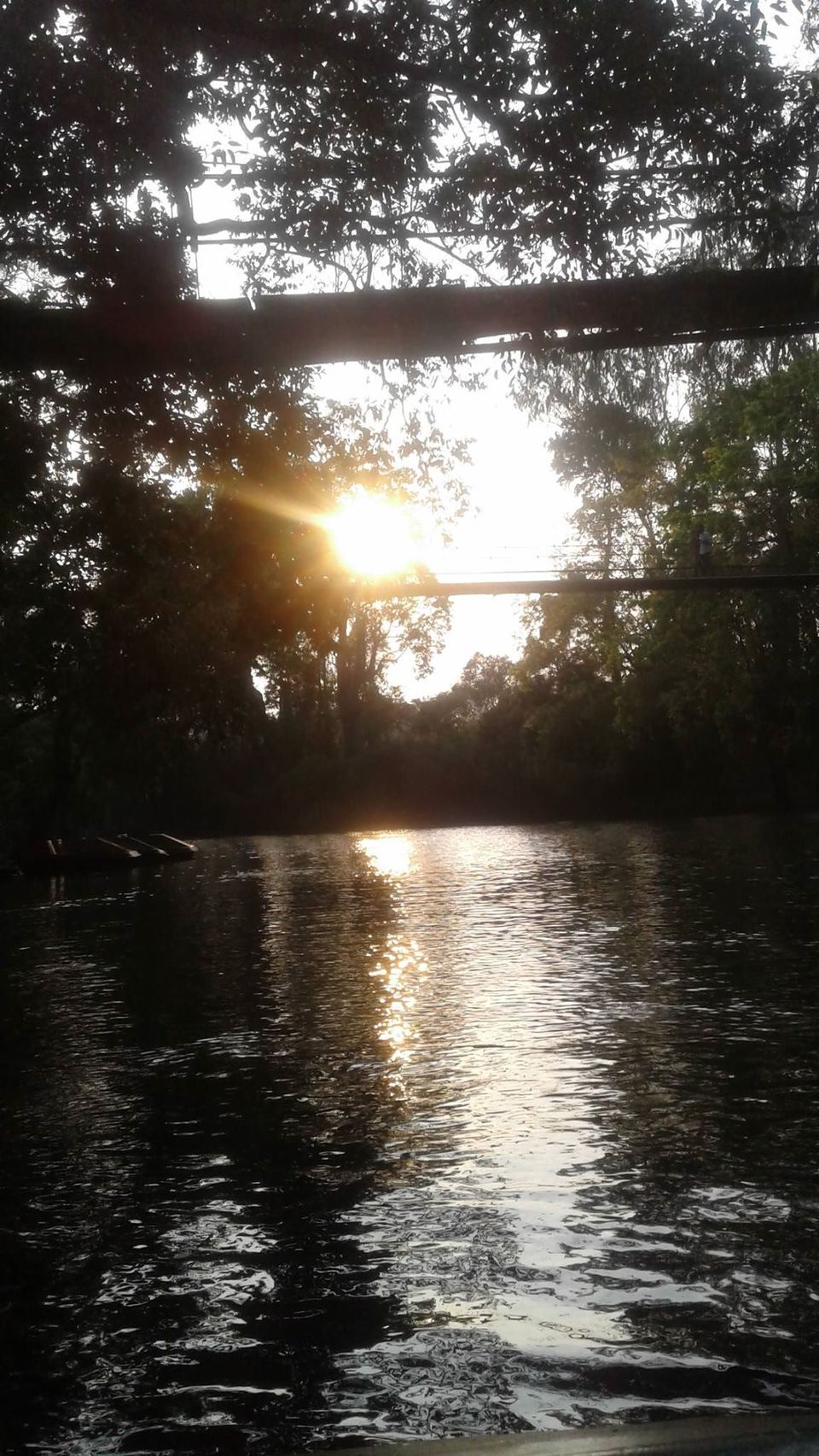 One word to describe the trip- peaceful. It was my friend's birthday and we decided to do something different. The place that came to my mind in no time was Bylakuppe. Heard a lot about it from my sister-in-law and thought nothing could be best than visiting this place ( Pondy, hampi, ooty, chikmanglur were already off the list). We boarded the bus from Domlur around 11 PM on March 5th night and reached Kushal Nagar the next day at 5 AM. We got down at the bus stand opposite to Vinayak temple. We did not have any itinerary with us. It was a random plan.
It was a chilly morning as we got down. We saw few Tibetans waiting at the bus stop. One of them was a monk. We wanted to visit the Golden Temple which was obviously the must see thing in Bylakuppe. We asked those people how to go to the place and how far was that place from here. We got to know they had headed towards another monsatery called Sera Jey which was another famous and big monastery in that place. While we spoke, we saw two students standing there. Seemed they had also come to visit Bylakuppe and they also wished to go to the Golden Temple. We were happy that we got company and we could go together. The tibetans were very helpful and they guided us how to go to the Golden temple and also told us about near by places to see around. We thanked them as they left for Sera Jey monastery.
Me and my friend wanted to check in a hotel to take some rest as the temples do not open before 8 AM. The two students accompanied us while we walked down the streets of Kushal nagar. We felt safe as the other student was a guy. The streets were empty and we saw few vehicles pass by. We saw a few lodges on our way too and went to enquire at one. We went in and saw the person sleeping on the floor in the reception area. We tried waking him up but our efforts went in vain. We went further down the street and saw a man sweeping the outside area of his shop. We asked if he knew any lodges where we could find a room. He pointed at the lodge opposite to his shop and we went straight ahead. Rang the bell and saw through the grill a tall slim smart guy come down and opened the door for us. He looked sleepy and asked for how many hours we need the room for. We answered we would need for 4-5 hours. the charges seemed fine to us and moreover we had no choice but to say yes. The students bade us good bye and the gal shared her phone number hoping we would see each other in the later part of the day. We were happy and delighted to have found a lodge and an acquaintance in case we need help with directions whatsoever. The hotel guy took us to the room and we paid him Rs 600 for half a day. The room seemed nice clean and cosy. In no time me and my friend crashed on to the bed and had a profound sleep. We woke up very relaxed and started to get ready for our trip. The guy knocked on our door and called us out for breakfast. His lodge had a restaurant which was quite big enough to accomodate more than 70 people. He served us masala and onion dosa along with tea. It was a good breakfast and we excitedly headed towards the much awaited Golden Temple.
It took us 20 mins to reach the Golden Temple from the lodge. We passed through farm, small roads and saw monks walk down the street. The Golden Temple also called Namdroling Monastery looked magnificent from outside. It is a replica of a Tibetan Monastery. As we went in, we got soaked in a different atmosphere which was soothing and peaceful. On both sides of the entrance, we saw boards saying No entry as only monks were allowed in. It was a hostel with several rooms and each door was covered with a colourful silk curtain with drawings on it. We heard the monks pray as we entered in. The Temple is situated in a vast expanse of land with beautiful garden all around. The main temple is built in the centre with few small ones located in around it. The top of the temple had a wheel carrying different symbols. We went inside and saw three big statues one of which was Gautam Buddha placed in the middle of it. The statues were marvellously designed and one could find intricate details of painting on it. The pillars were immensely decorated with beautiful designs. The walls had huge paintings hung on it. The paintings displayed Tibetan culture with demons in dark and Gods in light. We sat there and could feel the peace and tranquility encapsulating the temple. We took pictures and selfies and left for another temple. We would see monks clean the temple , sweep the floor and broom. Felt amazed to see the life of a monk led with such simplicity and discipline. They always wear a nice smile when you greet them. The child monks look super cute wrapped up in their robes.
We could peep through the window of the temple and saw several diyas being lit on the table kept on both sides. The moment felt like there is always light in the darkest of dark times and one should never lose hope. There is always a silver lining in the darkest sky. As we explored around, we saw through the grilled window of a small room enclosed with thousands of diyas burning bright and clear. It looked like flame of undying love and compassion.
We walked towards the exit and saw monks carrying lunch from the canteen exclusively meant for them. I wanted to have a bite too. The meal looked so simple and delicious. We then headed off to another monastery called Sera Jey which was around 6 kms from this place. As we reached Sera Jey, our eyes were met with a huge space of land with temple on one side of it. We could not see anyone except for one monk cleaning the prayer place. Upon asking , he replied that everyone has gone for lunch. We sat on this wide platform ( looked like a place where monks gathered to pray) with pillars placed next to each other. There were trees all around ;amidst this hot weather sitting in the shadow felt a big relief. We could see a man and an old lady burning some stuff and cows grazing near by. Suddenly we saw kids came running with books in their hands and fighting amongst themselves- throwing bottle at each other, pulling each other's clothes. I wanted to take a picture with them so I ran behind them but they refused to come near me and spoke something which i failed to understand. We sat there for a while longer and thereafter headed towards the temple. We heard chants coming from the temple. We took off our shoes and hurriedly went in to see a monk sit and pray. He was the only one praying inside the temple. He greeted us by nodding his head and then he continued with his pooja. We went inside the door to see this huge Buddha statue and a big hall in front of it. The hall had several benches covered in red cloth with books kept over them. We donated some money as well. Just when we came out, we saw the monk had finished with his prayer. While praying, we saw him pour some liquid over a bowl (looked like oil) after completing every verse. Upon asking, to our astonishment it was tea and not oil. The monk then showed us around the temple. He was struggling to speak hindi or english. He hailed from Tibet and had settled in this monastery for the past 20 years. He was extremely polite in his conversation. We thanked him and left.
We grew hungry and started looking for a place to eat. While coming to Sera Jey we saw many tibetan restaurants on the way. We decided to walk down and explore the area. However, the weather did not allow us to walk longer. We took an auto and spotted a Tibetan restaurant on our way. We got down and went in the restaurant. It was run by a family and their house was right behind the restaurant. They served us rice and vegetable gravy made in Tibetan style. It appealed to our taste.
The next thing on our mind was to visit Coorg as it was near by Kushal Nagar and we wanted to make the most of the day as our bus was around 11 PM.
Just then I realised I forgot to do Kura- its a ritual where one takes a round of the temple and his wishes get fulfilled. We again went back to the Golden Temple and did kura. We were tired a bit and decided to sit inside the temple for a while. We sat in one corner of the temple and felt sleepy post our lunch.
Suddenly we saw several monks come up outside the temple and started chanting in a chorus. Seemed it was their evening prayer. It was a breathtaking sight to watch them pray and sing in a chorus. The whole environment seemed to vibrate with the hymns. I stood like a stone and saw them pray. After they left, we went to a shop outside the temple to buy stuff. We bought prayer beads; they looked cool. It was coffee/tea time for us and we went to a near by coffee shop and sipped hot filter coffee. While we sipped coffee, we planned about visiting places in Coorg. We started looking out for an auto as coorg was not far from this place. We took an auto and headed to a place called Dobara where one can do elephant ride and river rafting. When we reached the place, we were disappointed to see the boating was closed for the public. We pondered for a while and decided to go to Deer park.
Luckily, the deer park was not closed and we could get a chance to explore the area. We walked inside the forest and came across a river. We spent near the river bank for some time; it started to get dark and we headed back to town.
While heading back, we stopped by a restaurant to have dinner. The food was great and we were delighted to have a sumptuous dinner.
We reached Kushal nagar bus stop and waited for our bus to arrive.
We were going back with a box full of memories and great moments spent.
It is truly said life is a journey not a destination.