I always had a hankering to visit hippie destinations. #Gokarna being one of them was always in my top of the list. Being in Mumbai, I desperately wanted to get away from squalid beaches and explore the sublime sea side of Indian coastal area. Planning Gokarna was just a whim. I hurriedly packed my bags and hopped into a Goa bus, that dropped me to Margaon. From Margoan there are local transport buses to Gokarna, that take around 4 hours to reach Gokarna. The journey from Margaon to Gokarna is pleasing. For the first time I actually got rid of pothole riddled roads of Mumbai. All the local bus stations are well maintained by Karnataka Government with clean washrooms and excellent food facilities.
Many travellers, backpackers and hippies have been drifting in Gokarna, to get away from crowded beaches of Goa. Gokarna has two sides. One is the sacred side with beautiful ancient temples and the other one is the intriguing beaches.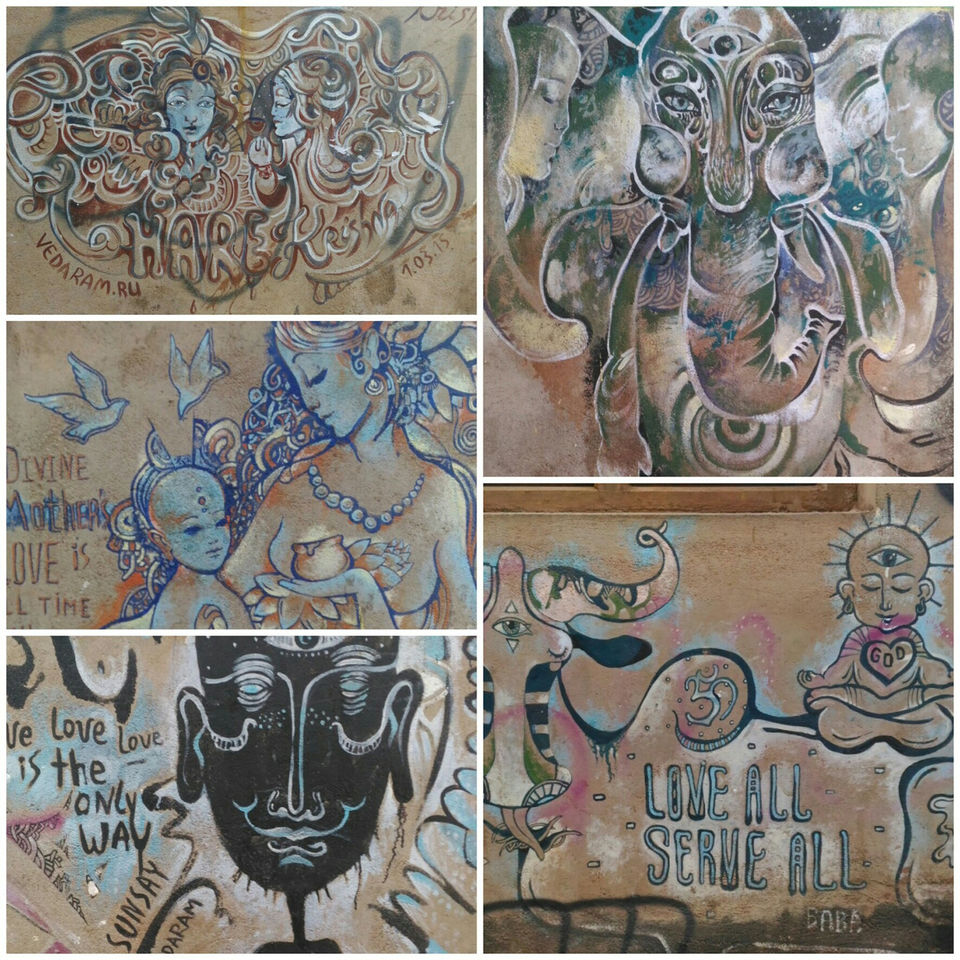 Once you reach the town, you can experience the religious rituals around the city.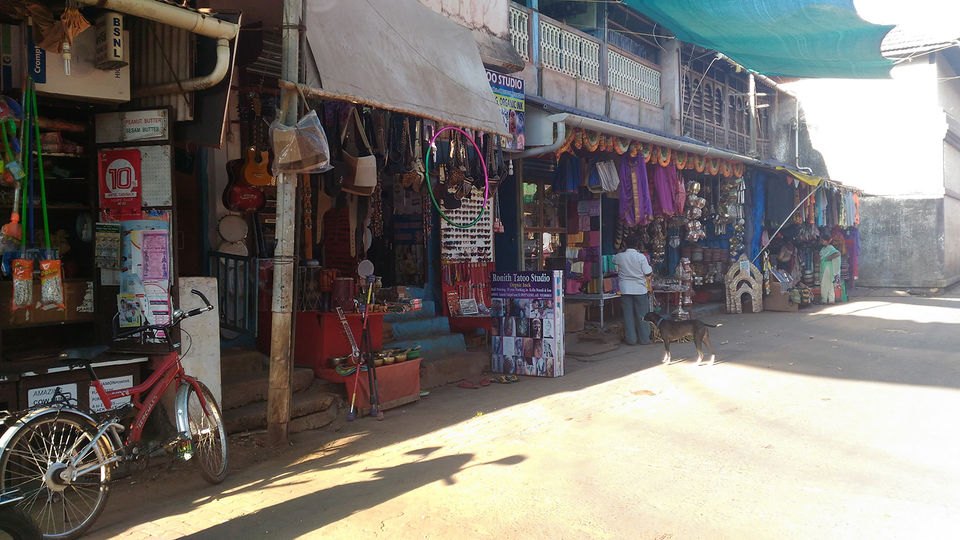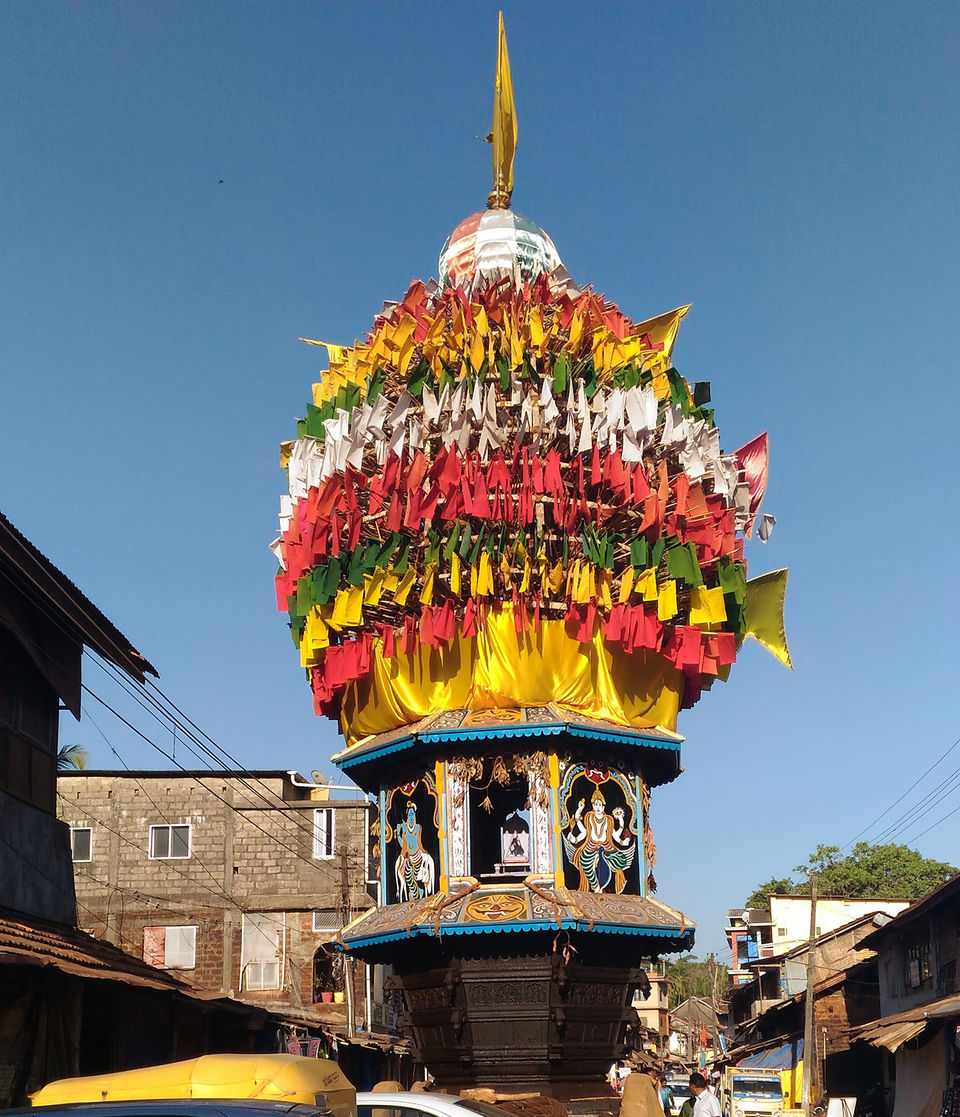 Kudle Beach:
Autos commute between the beaches which is quite an expensive option (150 bucks per ride). I chose to hike around the beaches. Usually budget travellers like me would always prefer to hike. The first of the four beaches on the coast of Gokarna is #Kudle Beach, which is around 20 minuets walk from the Ganesha temple. The beach is quite clean and one can truly enjoy the clean, refreshing waves hitting the wide beach. Kudle beach has number of shacks and hotels that offer good food & pocket friendly accommodation options.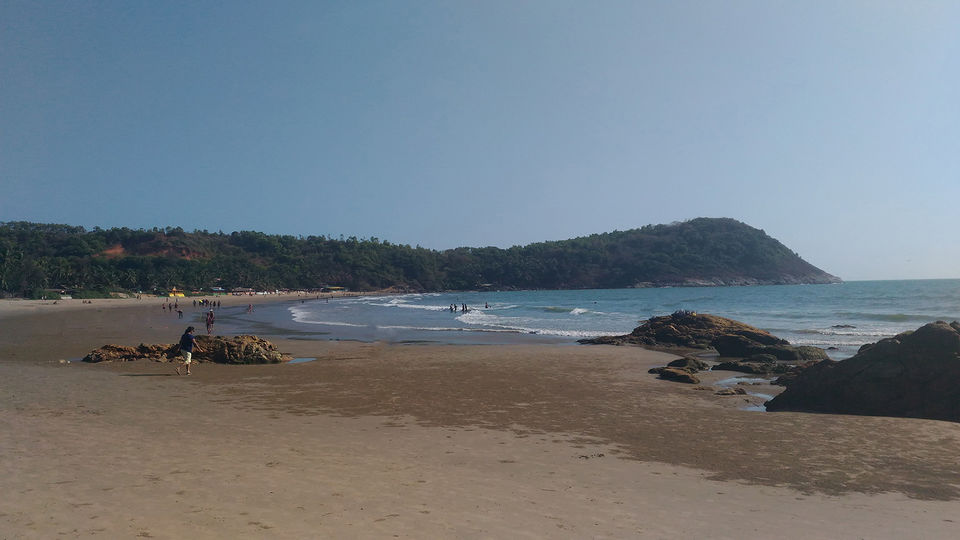 Om Beach:
From the southern side of Kudle beach one can walk for 20 minuets along the mountain to reach Om beach.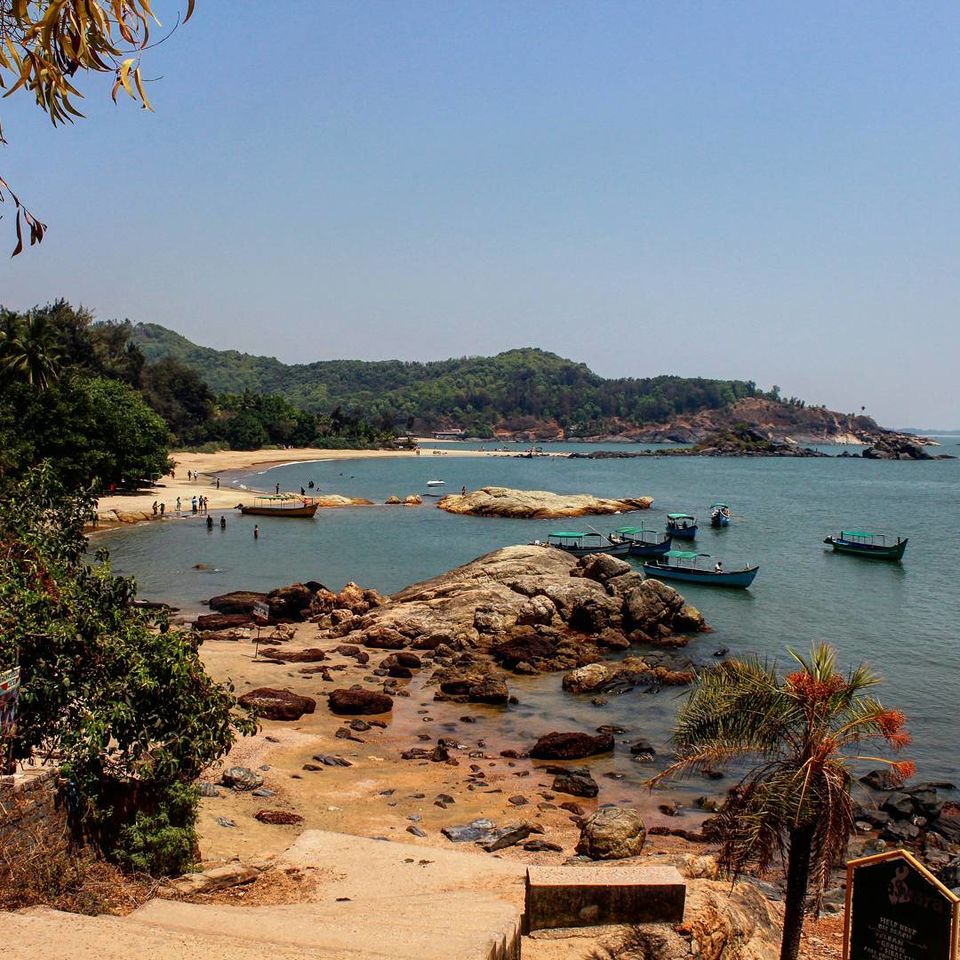 It is the most popular beach of Gokarna. May be because of its shape and the name.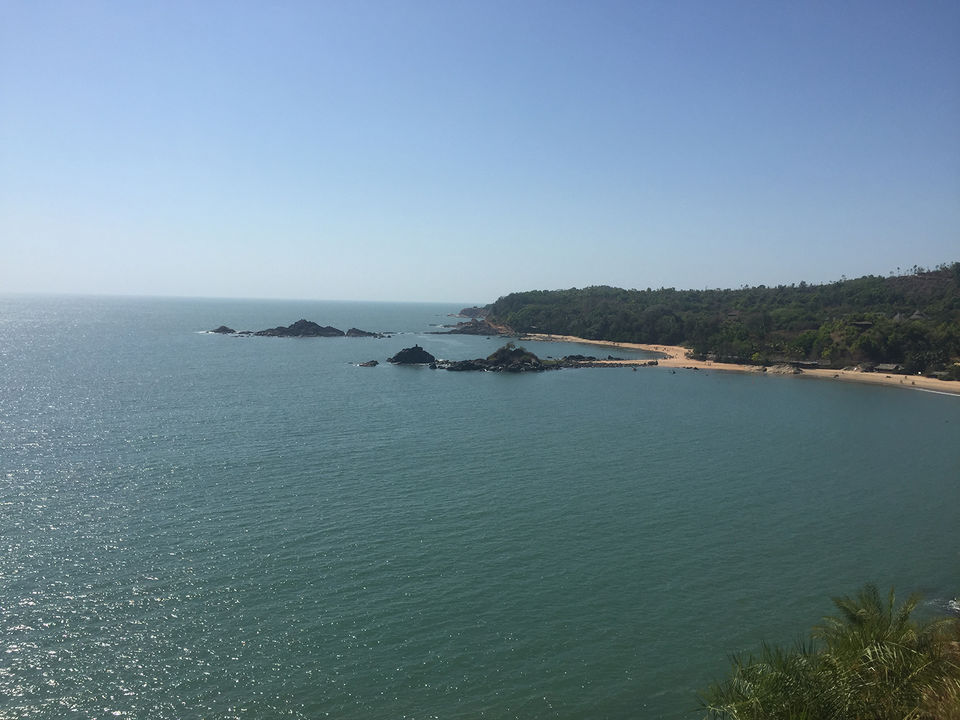 The beach is quite crowded during the weekends because many day trippers come by the car-load.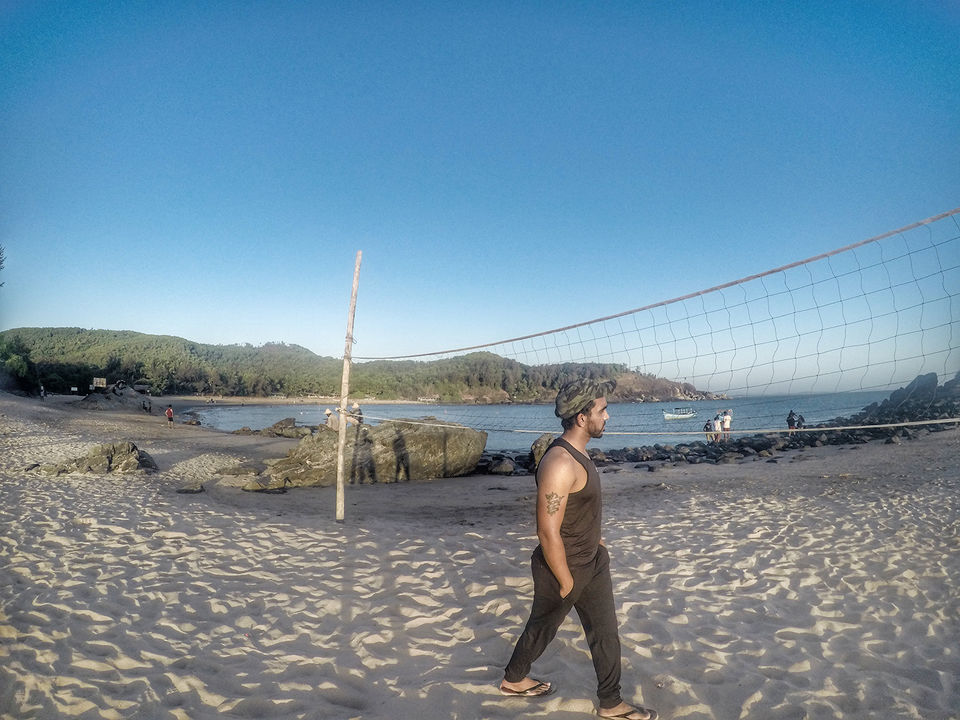 This beach is a perfect location if you are hungry and looking for a relaxed time with several shacks offering delicious Mediterranean cuisine.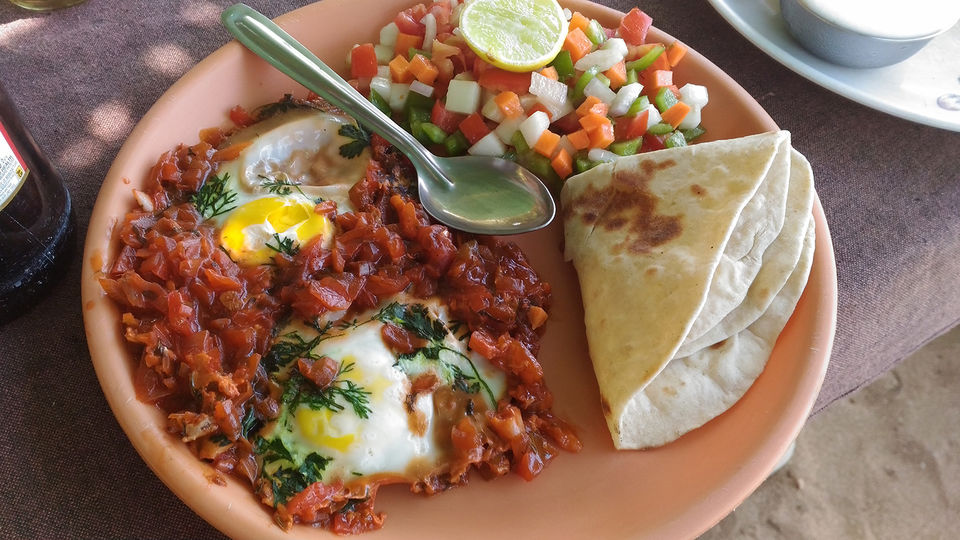 Cafes here are predominantly thronged by Russians and Israelis.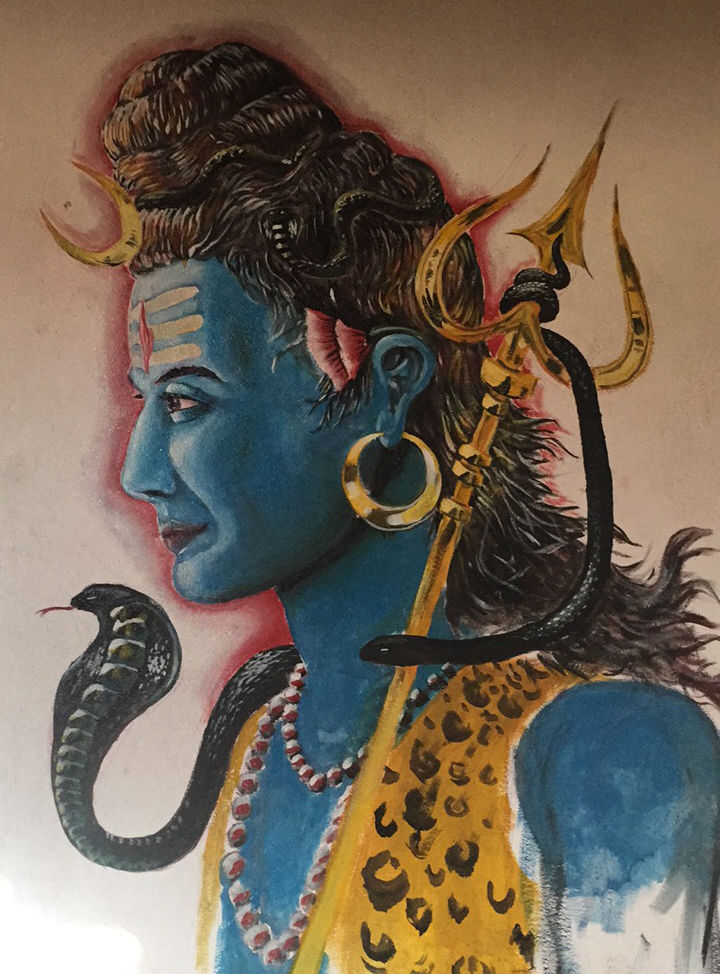 After some sauntering around, you can climb some rocks to explore the beautiful sunset.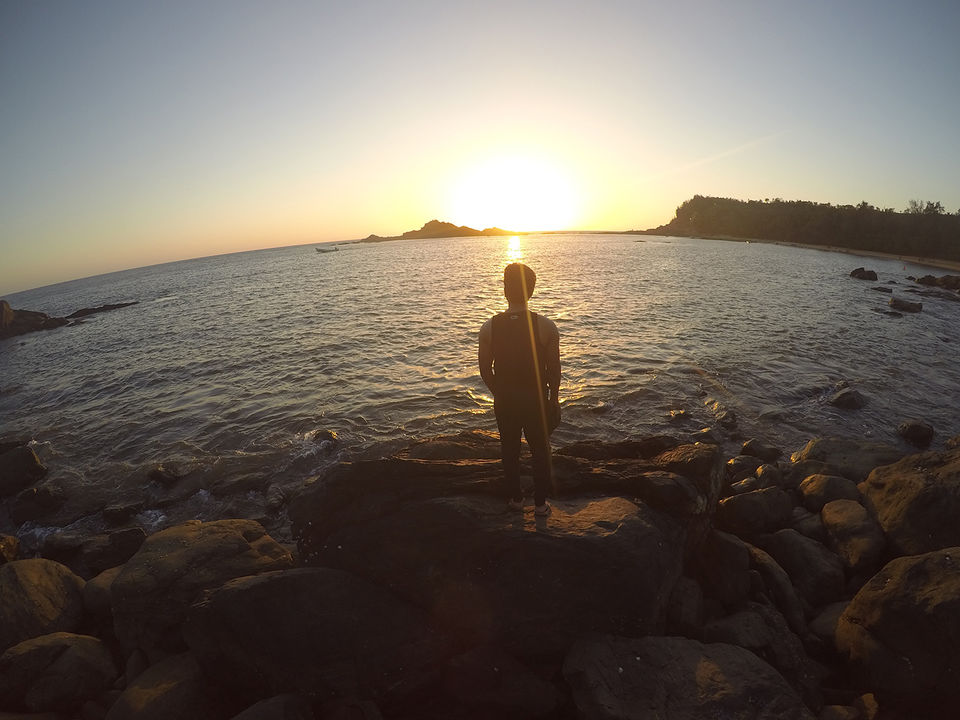 I stayed at Om shani cafe and I would not recommend anyone to stay here due to many reasons.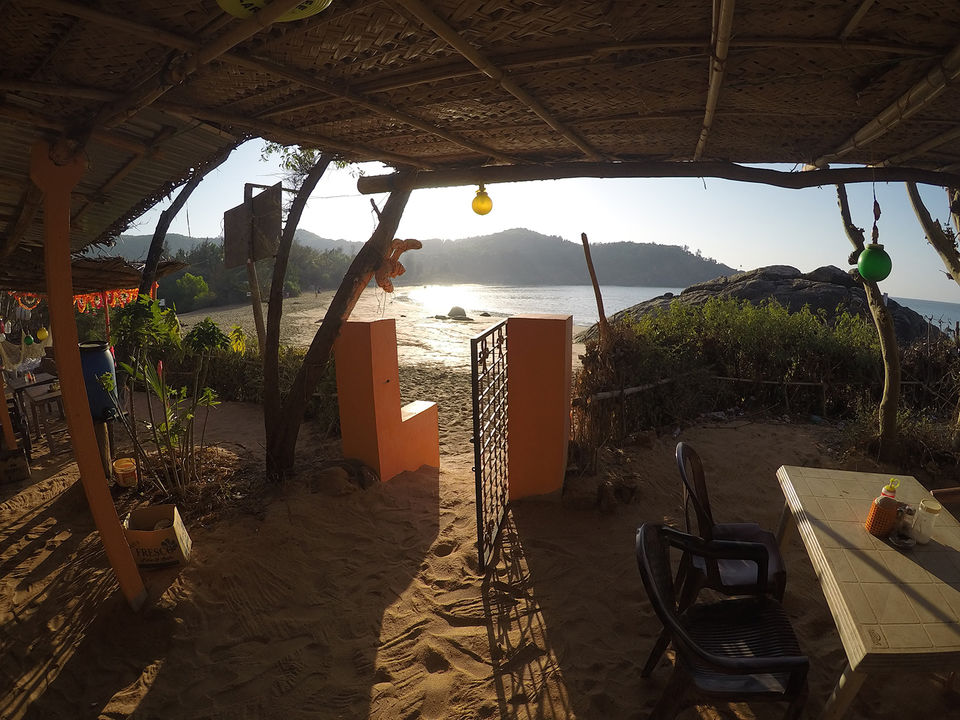 As the sun sets to the west, the moon rises in the opposite direction. Walking on the beach in the moonlight witnessing the beautiful reflection of moon in the sea water is an experience not to be missed. Waters sports on the beach are available during peak seasons.
Half Moon Beach:
The beach has its name because of its similarities to a half moon. The beach is not connected by road and is accessible only by hiking or boating. At the end of om beach is a narrow path leading up the hills.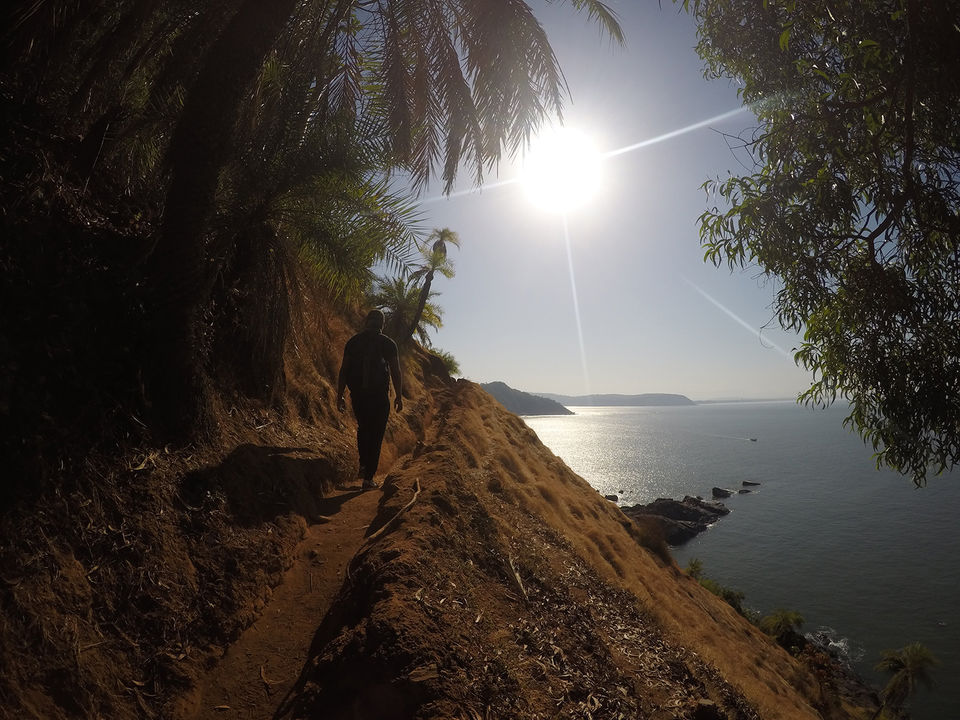 Further 20 minuits walk towards south side brings you to Half moon beach. The way is quite adventurous with breathtaking 180 degree sea views, backed by the foothills of western ghats.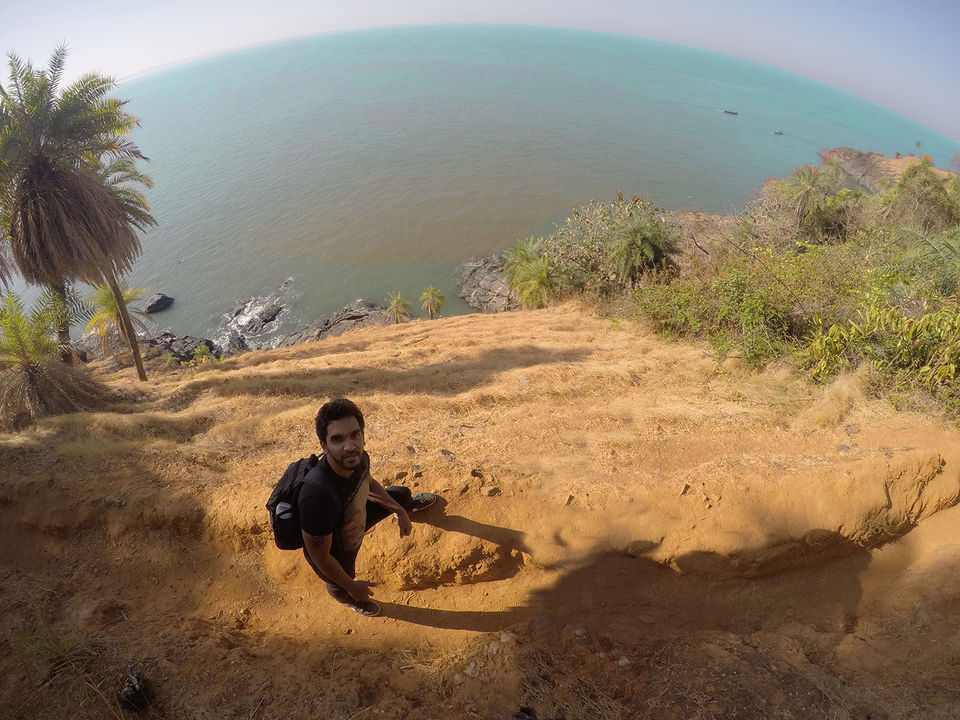 Make sure you are on the right path. Its easy to get lost and end up clawing up the rocks precariously.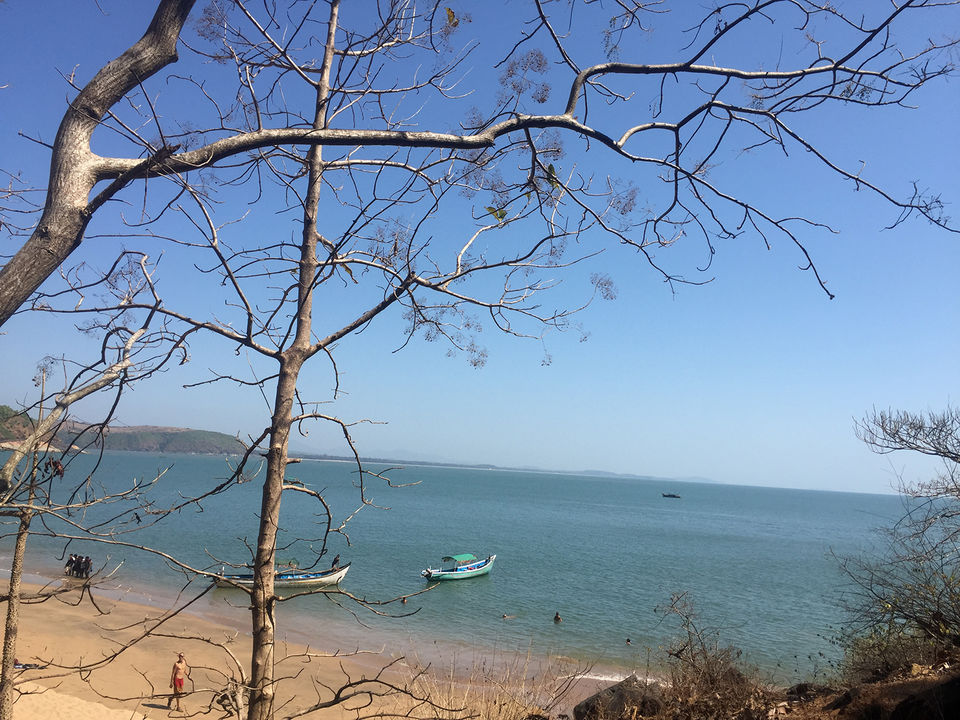 The beach is small but yet inimitably alluring. This beach is quite isolated as compared to Kudle and Om. Bonfires are allowed as long as police don't interrupt. The stay here is quite cheap. I was very much fascinated by the tattooed hippies and couple of travellers doing yoga on the beach shore. This beach is a perfect place for travellers and backpackers to unwind and de-stress.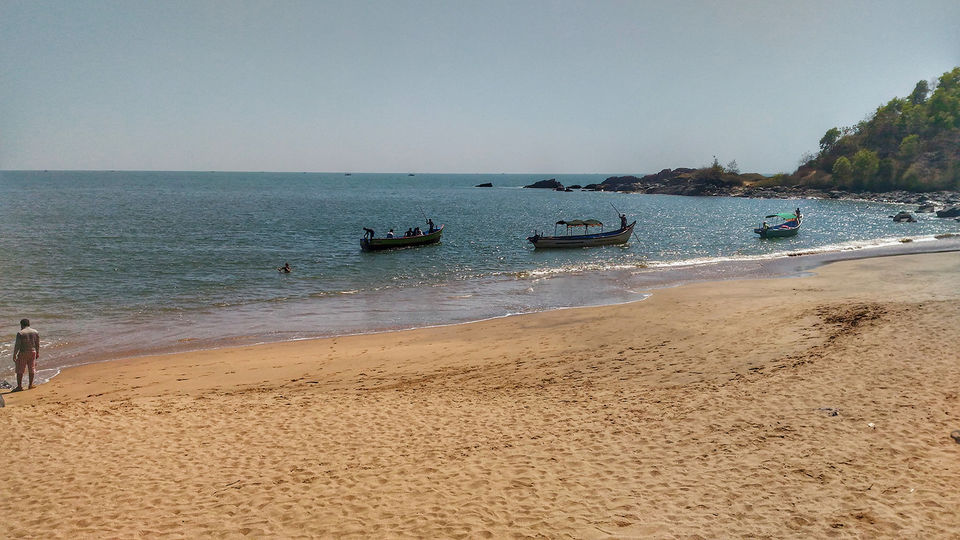 Who Doesn't like to sleep on hammock after a heavy lunch in lazy afternoon ;)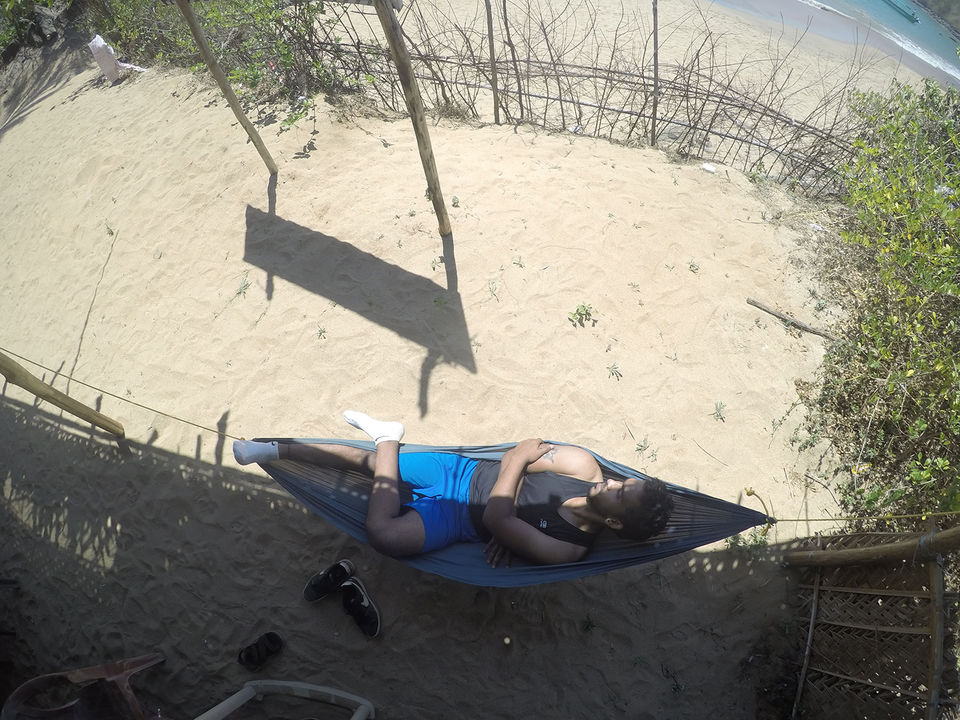 Paradise Beach:
A further walk from the half moon beach to the southern side leads to paradise beach.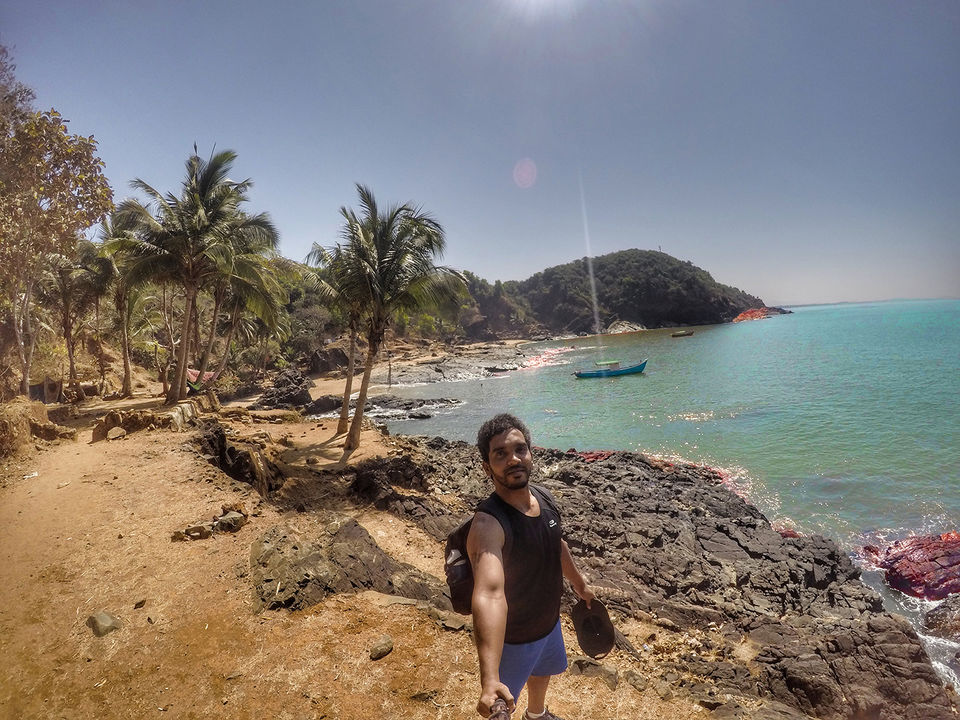 Away from the bustle of the other beaches, with handful of hippies smoking weed, Some doing yoga & taking sunbath, this beach is a prefect place if you are seeking a real Peace.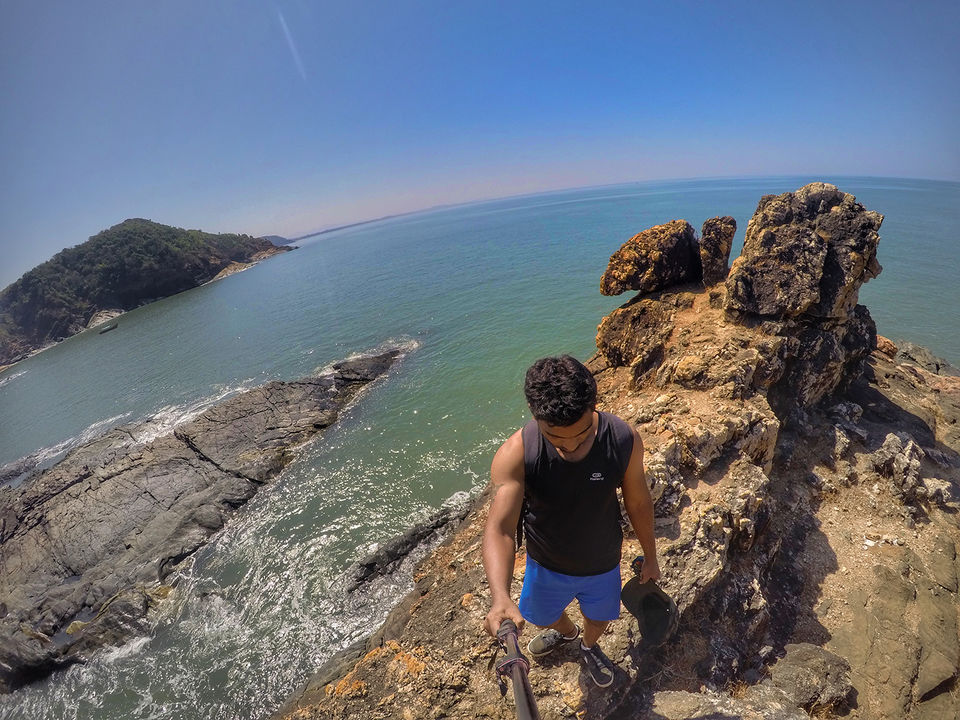 The beach truly justifies its name & is one of the most cleanest beaches I have ever been to.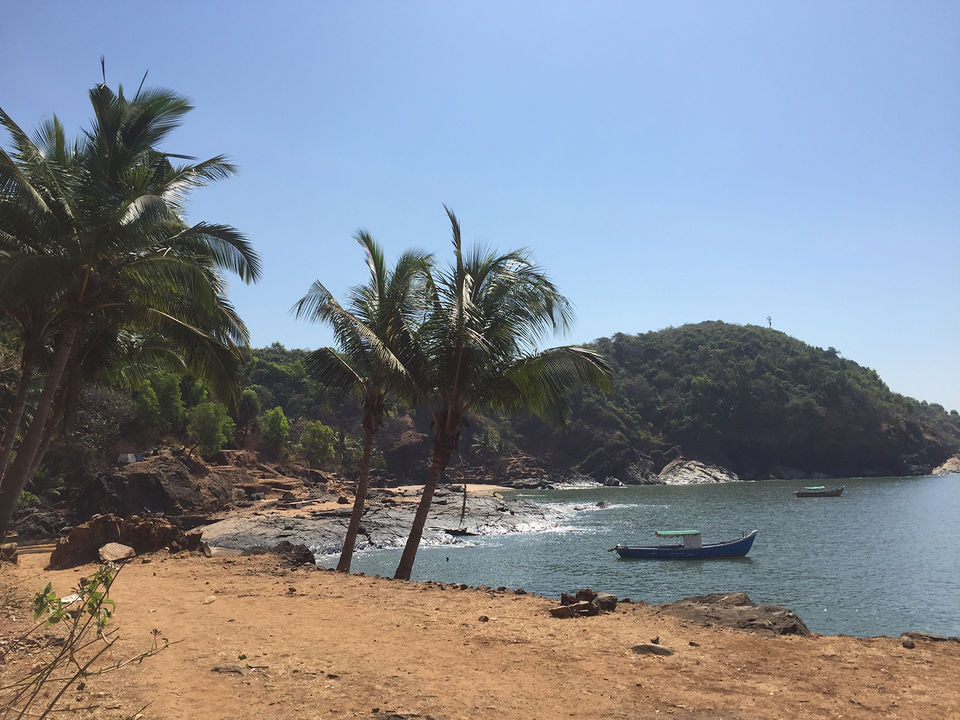 The beach once had number of shacks that sold weed but then were destroyed by Government officials. Many hippies make paradise beach their home for months. Camping on the beach shore is very common here and is the only option if you are looking to stay. The place gives you a perfect feeling of peace and spirituality combined.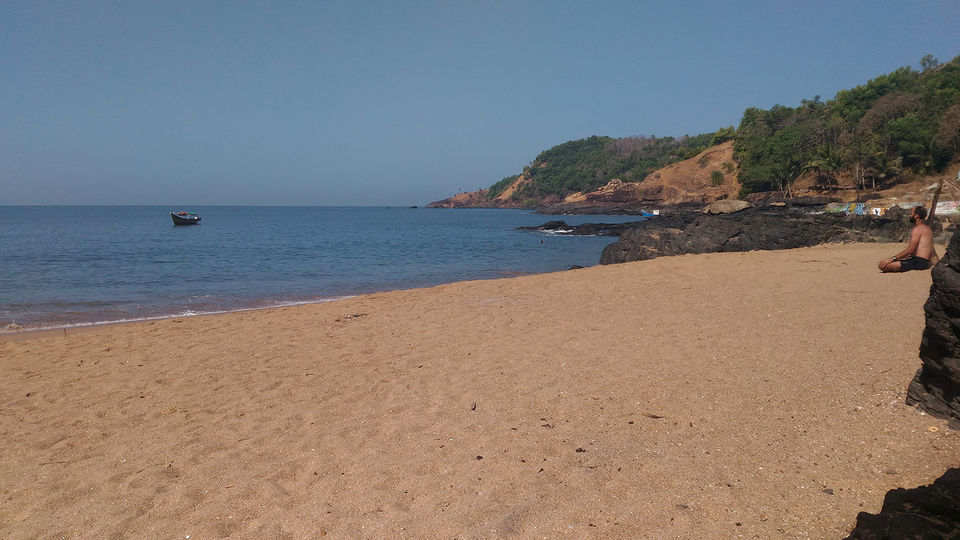 Strolling around the beach aimlessly, gazing at the blue sea can take you to a supernatural realm within few minuets. This beach is truly a place to find you inner-self and let go all the stress and worries.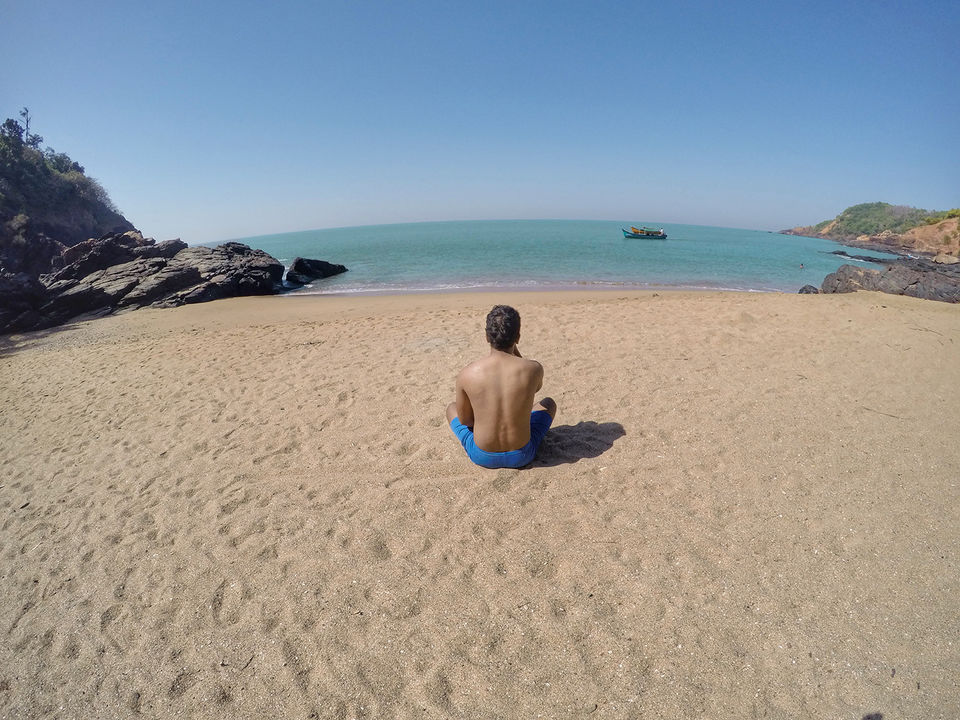 In a nutshell, the beauty of Gokarna needs no preface. It jostles your inner being. The place is truly a wonderland. This beach town is a perfect spiritual and hippie destination if you are looking to get away from maddening crowd of Goa.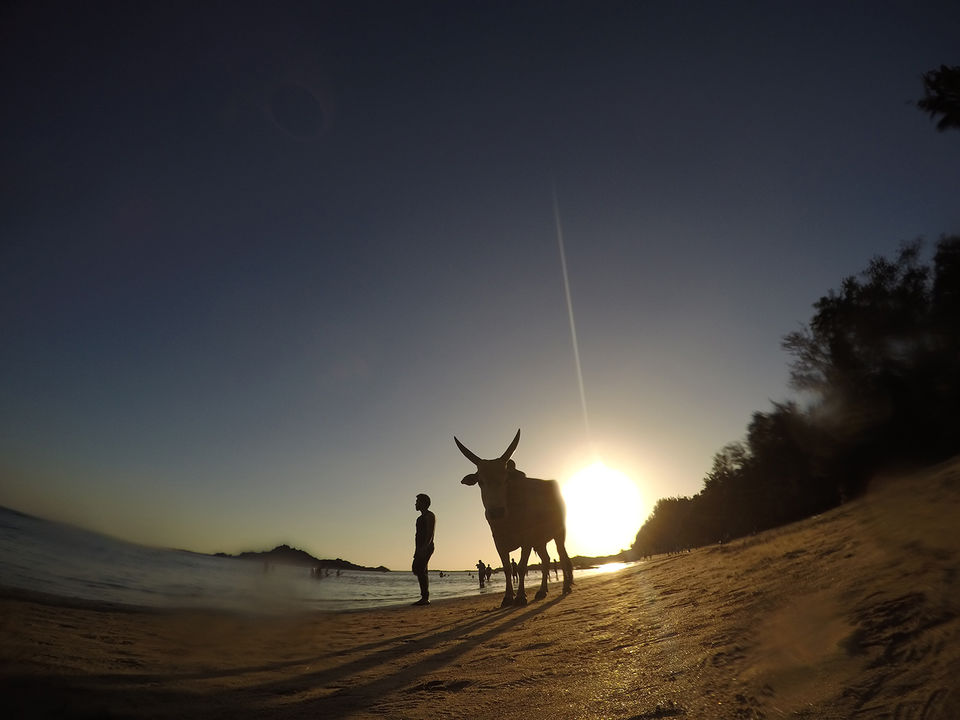 India embraces diversity & Gokarna is a perfect example of it. Every stone you climb, every beach you cross has its own tales to tell.
Gokarna Travel Tips:
1) Prefer train travel. Its faster and convenient.
2) All the shacks are infested with bed bugs, so better carry a bed bugs repellent.
3) Prefer To Stay in Zostel. The only place that is bed bugs free, but it is always full. Book in advance.
4) Dont carry your luggage and valuable things during hiking between the beaches.
5) Avoid hiking between the beaches during nights.
Namaste Cafe - 98864 66565 (Om Beach)
Dolphin Bay Cafe - 8971649042 (Om Beach)
Sunset Cafe - 94485 26270 (Kudle Beach)
La Pizzeria - 9886674903 (Kudle Beach)