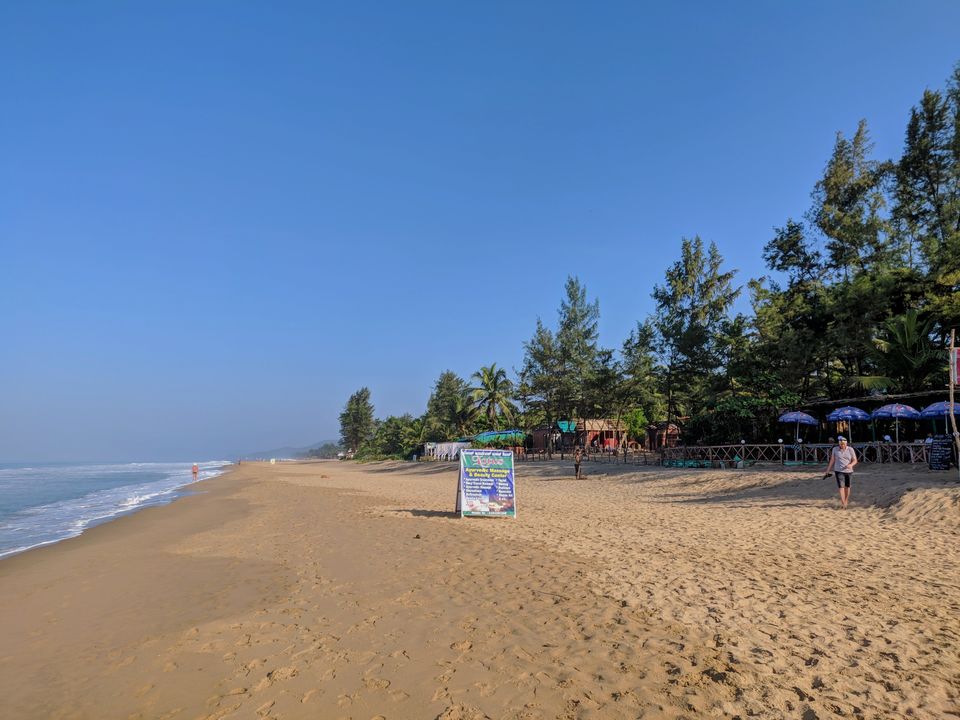 Despite a very small coastline that can literally be covered on foot, Gokarna is a tropical paradise. The coastal temple town attracts beach bums from all over the world and is a booming beach destination in India. I recently found myself beach-hopping in Gokarna and the sheer diversity on its beaches left me in awe.
Since I was staying on Middle Beach, setting off on the Paradise Beach trek meant that I would have to walk through all of Gokarna's beaches in a day. The harsh Gokarna sun almost got the better of me. But in the end, I was sold.
Just an hour into the trek, I realised that Gokarna was not your average place. Every beach that I went to was completely different from the last one. It was on this trek that I realised how important it is to pick the right beach if you're travelling to Gokarna. Family travellers, solo wanderers, couples and even beach campers, there's something for everyone. It's just about picking the right beach.
Here's the ultimate guide to all of Gokarna's beaches:
Located near the northern end of Gokarna's coastline, Middle Beach is, hands down, the most underrated beach in town. The beach is usually preferred by international travellers, yoga enthusiasts and people who take their tans seriously. With just a handful of shacks and limited stay options, Middle Beach is the place to be if you want to take a break in its truest sense. Make sure you have your accommodation sorted beforehand, especially if you're going during peak season. I went without one and scored the last available cottage just in time. Not everyone is born lucky!
Accessibility: Middle Beach is about 3 km from Gokarna bus stand. A local auto will get you to the beach for about 100 rupees. Alternatively, you can also walk for 25 minutes to reach Middle Beach.
Where to stay: Trippr Gokarna, Deva Samudra Beach Stay
Where to eat: Bhagvan Cafe, Chillout Cafe
A small walk down the Middle Beach, is the Main Beach of Gokarna town. As the name suggests, this beach is the largest and most popular one along the shore. Middle Beach also happens to be a hangout place for the locals so expect fishermen at work, school picnics, traditionally dressed people taking a dip and a few camels, here and there. If you're someone who doesn't mind a sensory overload or two, you will love Main Beach!
Accessibility: Main Beach enjoys a central location and is the most accessible beach in Gokarna. One can simply walk down to Main Beach from the bus stand to cover the distance of 1 km in about 10-15 minutes.
Where to stay: Gokarna Stops, Cafe Surya
Where to eat: Chez Christophe, Shankar Cafe
A part-sandy-part-rocky beach, Kudle offers the best of both worlds in all aspects. It has very few places to stay but on the other hand, had quite a few shacks to laze around in. The crowd, too, is a healthy mix of locals and backpackers. Interestingly, the Kudle waters are usually calm, which also makes it an ideal place to venture into the sea. So if you're the indecisive kind, Kudle is the ideal place to set base for a day, decode the town's vibe and then move on to the beach of your choice. Or, you can always choose to stay back!
Accessibility: Take an auto-rickshaw from the main town to reach Kudle in about 20 minutes (6 km). The beach is a 10-minute walk from the last motorable point.
Where to stay: Shantika Uma Cottage, Gokarna International Beach Resort
Where to eat: The Rock Namaste Cafe, Sunshine Cafe
Owing to the fact that Om Beach has the most popular cafe in town, almost everyone who comes to Gokarna, ends up finding their way to Namaste Cafe. The beach actually boasts of an understated food scene that goes beyond the fancy beach club. Om Beach is lined with many small, makeshift shacks that offer varied cuisines such as Italian, Israeli, Chinese and Continental. And the best part about sampling world cuisine in Gokarna? Even the fanciest of dishes will not cost you more than 200 bucks a serving!
Accessibility: Despite being a rocky beach, there are direct auto-rickshaws from the main city to Om Beach. There is a proper, concrete road till Namaste Cafe's entry, from where one can just take the stairs down to the beach.
Where to stay: Sangam Guesthouse, Nirvana Cafe
Where to eat: Namaste Cafe, Sunset Cafe
Despite being the smallest beach in Gokarna, Half Moon Beach had my heart from the word go. This beach enjoys a serene location and makes for a great place to head to, especially if you're travelling with your significant other. The golden sands, glistening blue waters and laid-back vibe all come together to make Half Moon Beach a gem that's waiting to be discovered.
Accessibility: The last motorable point to reach Half Moon is Om Beach. Head towards Paradise Beach and you will reach Half Moon Beach in about 20-25 minutes.
Where to stay: Half Moon Beach Guesthouse
Where to eat: Shiva Moon Cafe, Half Moon Garden
Located along the southern tip of Gokarna, Paradise Beach stays true to its name. Considering the fact that Paradise Beach is separated from mainland Gokarna, it is the go-to place for people who are looking to go completely off-grid. The pristine beach has managed to stay safe from the shambles of tourism and still has no electricity, shacks or hotels. If you're thinking of camping at Paradise, make sure you pack essentials such as hiking boots, water, canned food, flashlight, power banks etc.
Accessibility: Start hiking from the endpoint of Om Beach and you will reach Paradise Beach in about 30-40 minutes. It is advisable to have proper shoes on as this route also involves going over slippery beach rocks.
Where to stay: There are no stay options on Paradise Beach. However, you can pitch in a tent and stay for as long as you wish.
Where to eat: Since there are no shacks here as well, ensure that you carry enough water and food for the entire duration of your stay.
Ever been to Gokarna? What was your experience like? Share your stories in the comments section below or click here to create a trip and earn Tripoto Credits!
Get travel inspiration from us daily! Save our number and send a Whatsapp message on 9599147110 to begin!