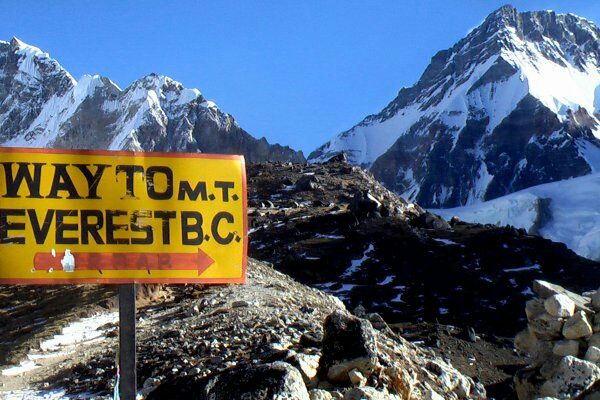 -Reach at kathmandu Bus Park in the morning 7am, was pretty nice weather tho.
-Visited at pashupathinath temple of Lord Shiva, quite peaceful place to visit.
Wanted to start from kharikhola, to avoid altitude sickness and have spectacular view of mountains.
-Meet some new people and made some new friends, helping me out to get bus from kathmandu to phaplu or salleri.
-Chabahil chowk is the place only, you'll find a bus, which lead you to phaplu.
-Cost me 1300Npr,but the friends I made in kathmandu help me out to get in 1000npr bus ticket. Lucky day isn't it?
-Visited at Thamel for trekking clothing shopping. (Make sure to buy all needed stuff, I mean trekking stuff 😂)
-Map
-Torch
-Most importantly medical thingy, such as diamox pill (highly recommended for altitude sickness), cough cirup, motion sickness pill, pain relief spray, bottle of rum😉 (although it's harmful at high altitude place I was carrying one 😂).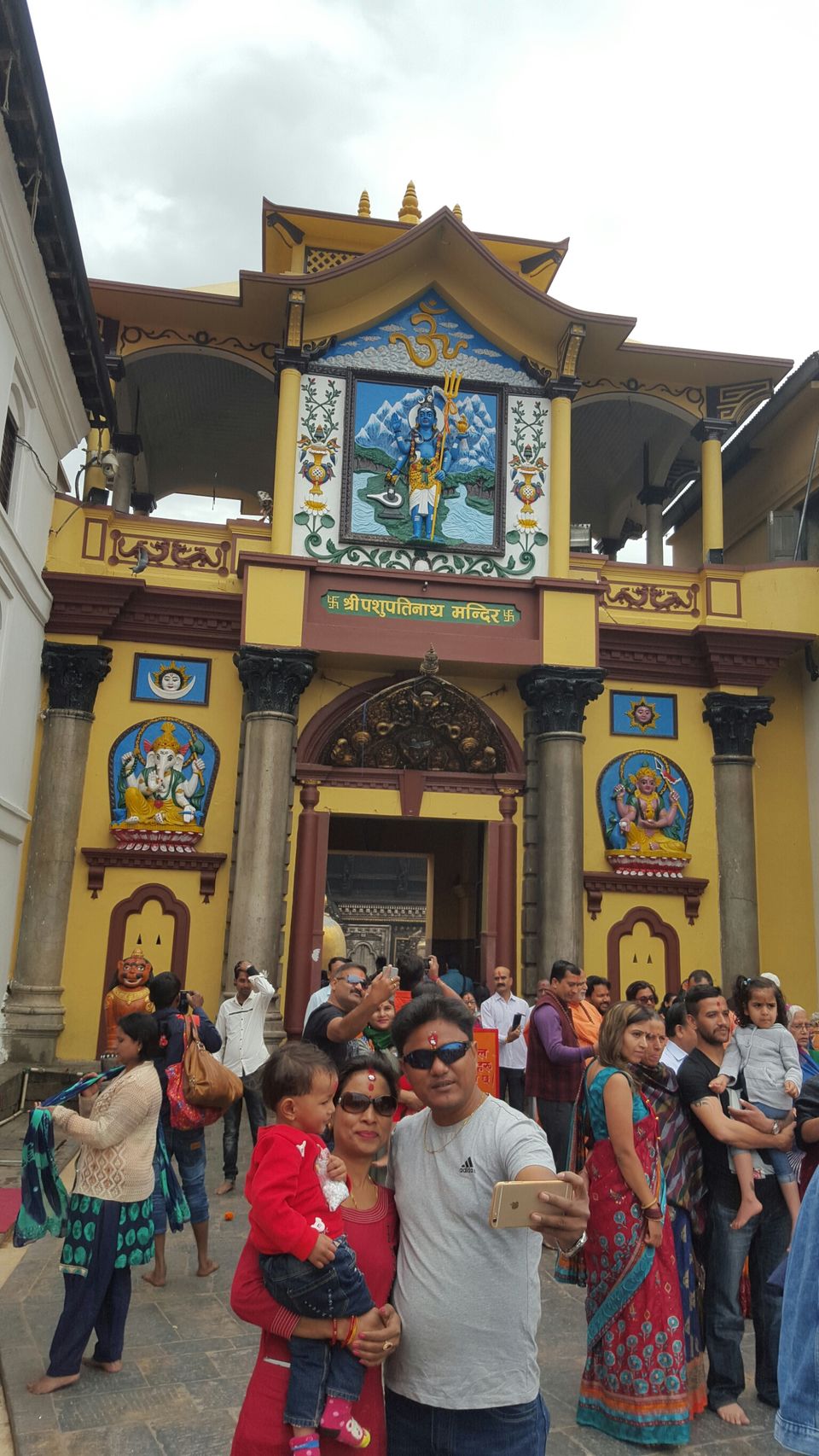 Solo trekking (NO Guide. NO Porter. I was my Own)
-Got ready to catch the bus at 5am in the early morning, all buses had same time so I had no choice tho.
-Reached at Phaplu around 6:30pm in the evening, Wonderful view of giant mountains.
-had a pretty heavy meal with local rakshi alcohol.
-stayed at Everest hotel, cost me around 1500npr including food.
-finally found a guy, who can dropped me at kharikhola by jeep.
-Here I uploaded some of photos while getting at phaplu.
-Make sure you withdraw enough cash from cash-machine.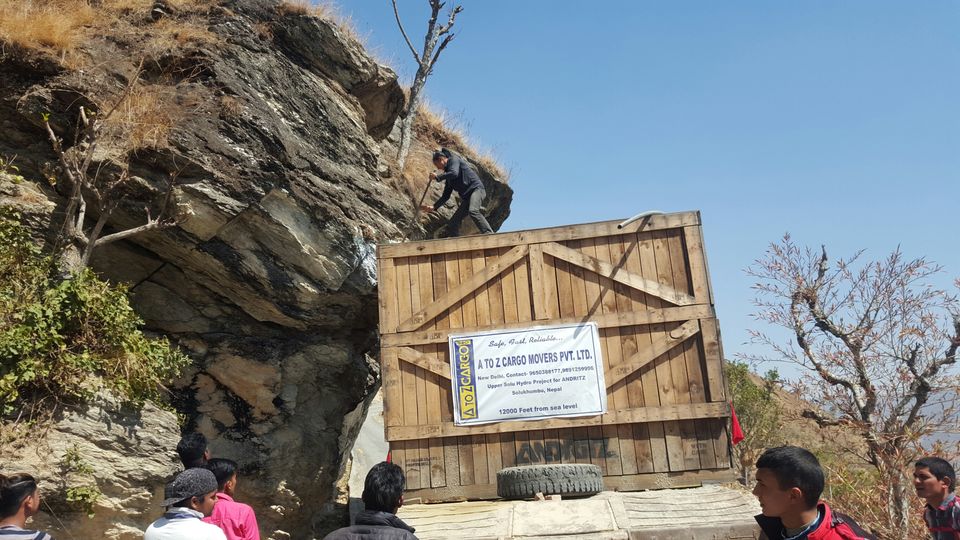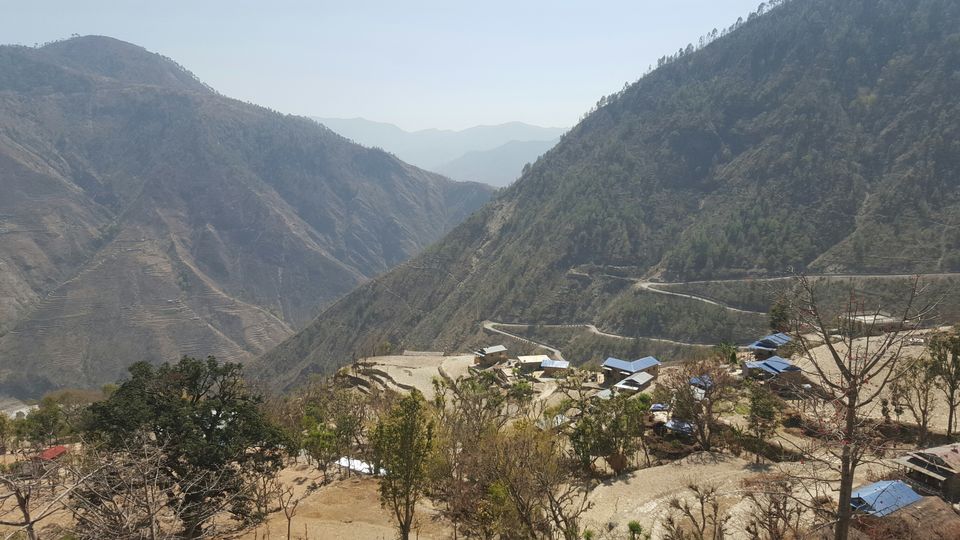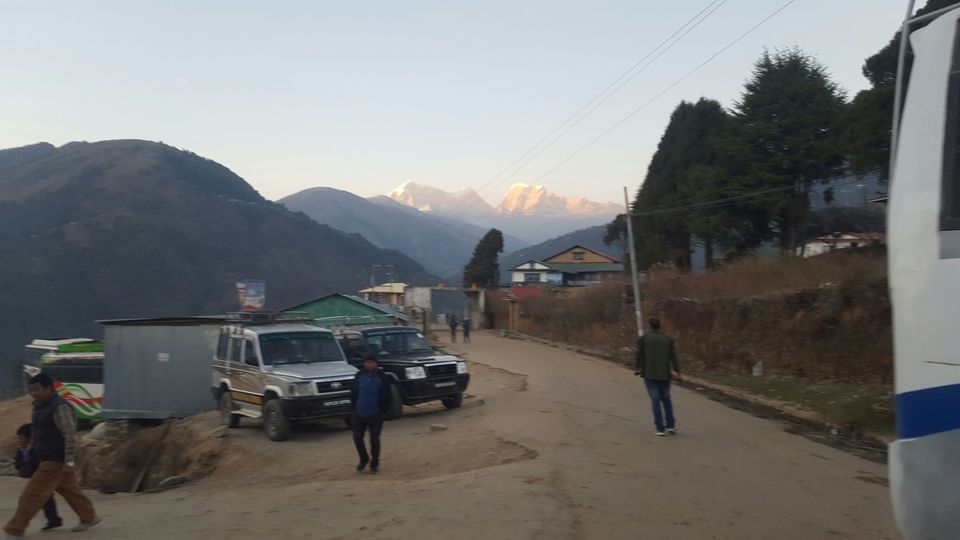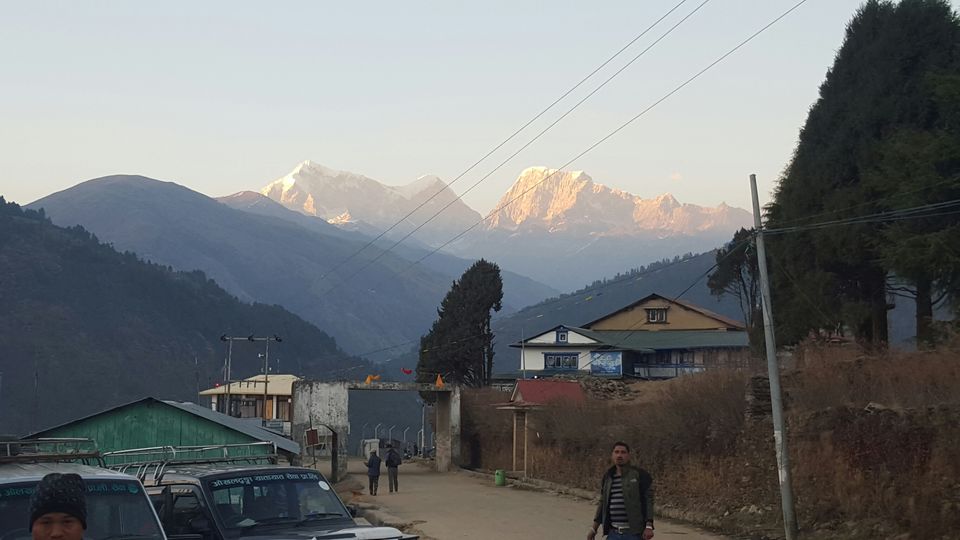 Phaplu(2470m) - Jubing - Kharikhola (2040 m).
(If you wanted to start from phaplu, you can! Just need to add 3/4 more days and expenses)
-7am early morning have to be there to catch jeep, because I already paid them 1300npr.
-Dropped me at Jubing in afternoon around 1pm.
-had pretty nice lunch and a guy in restaurant offer me hookah and local wine, after all these he told me that I have to trek to kharikhola before its get too late.😅😅😅😂
-That 2 hours trek turns into 5 hours, just because I took long way mistakely.
-Finally I reached at kharikhola at 6pm, and I feel like I should take break from smoking cigarette.
-Stay at holiday's home hotel, cost me 100npr a night & dinner was 500npr.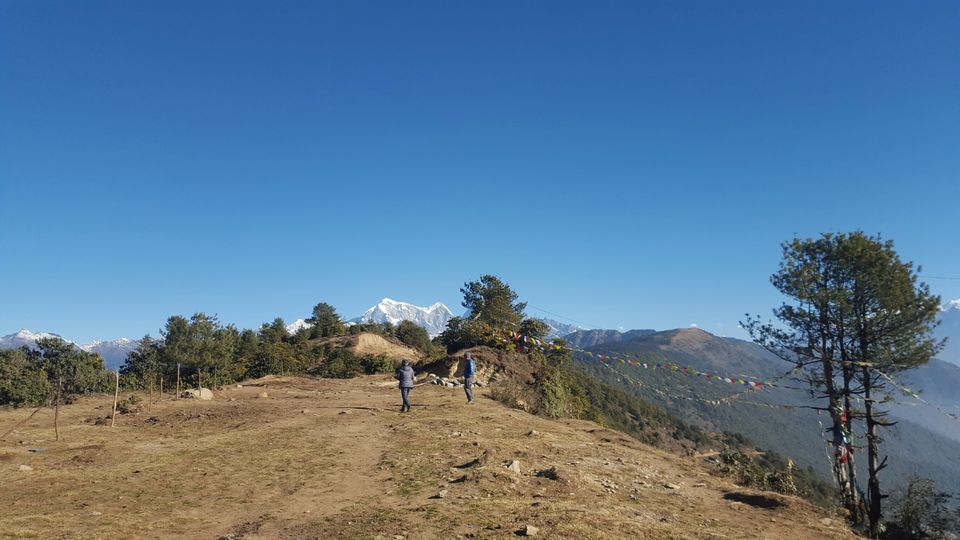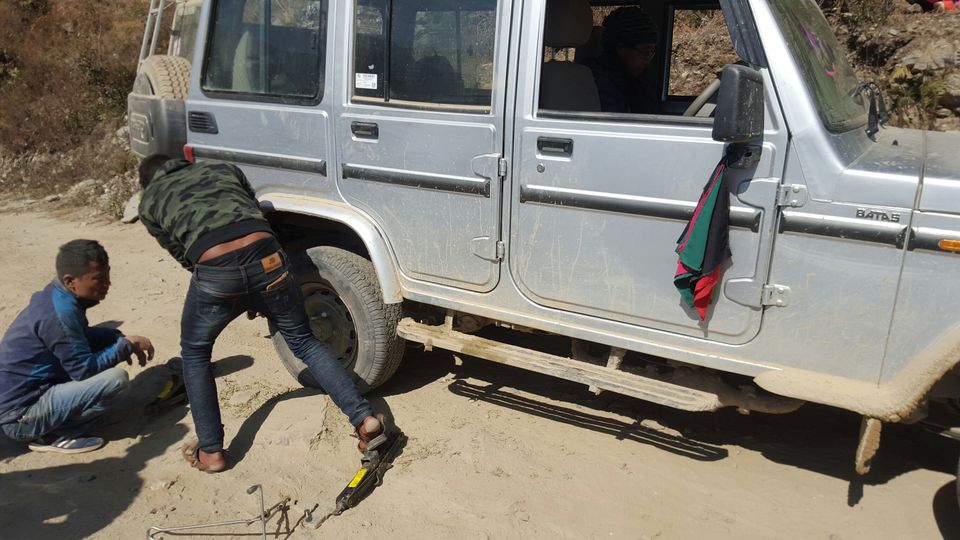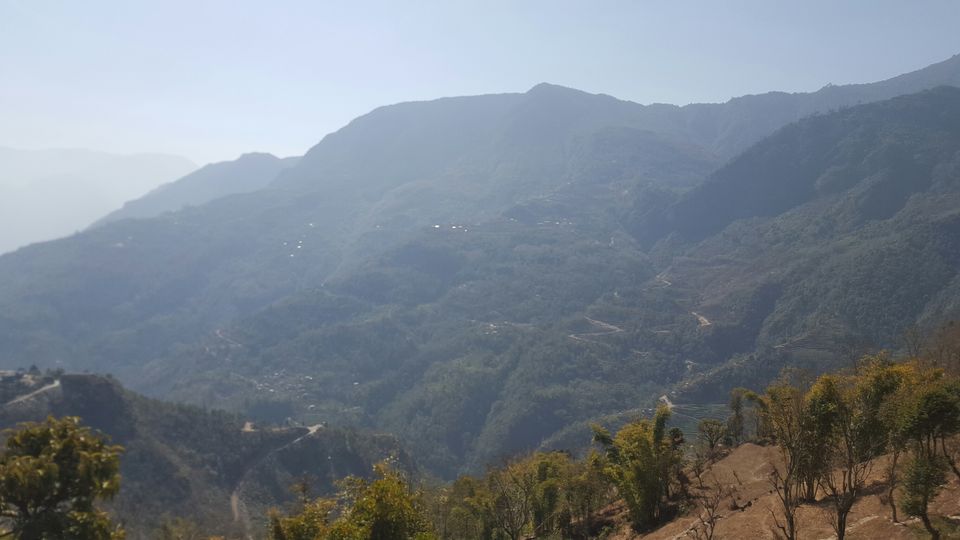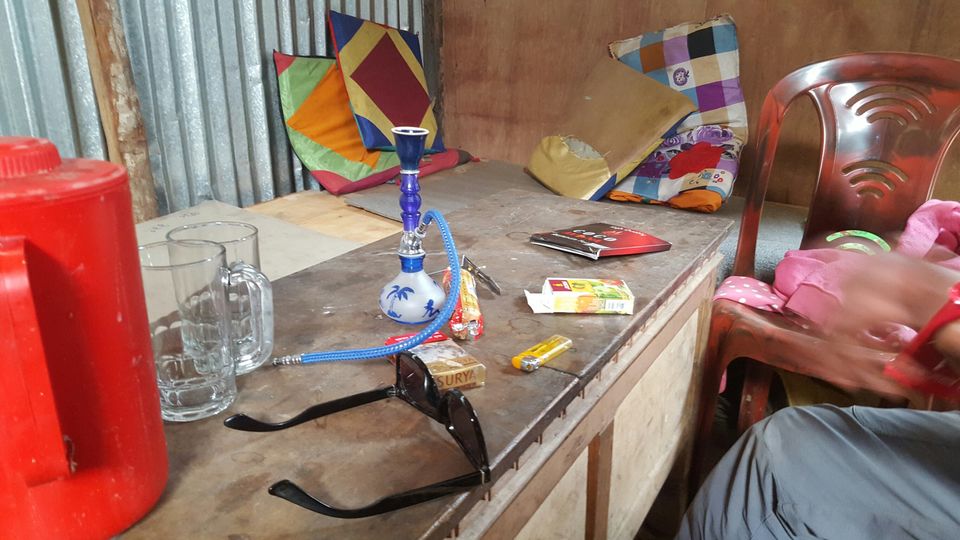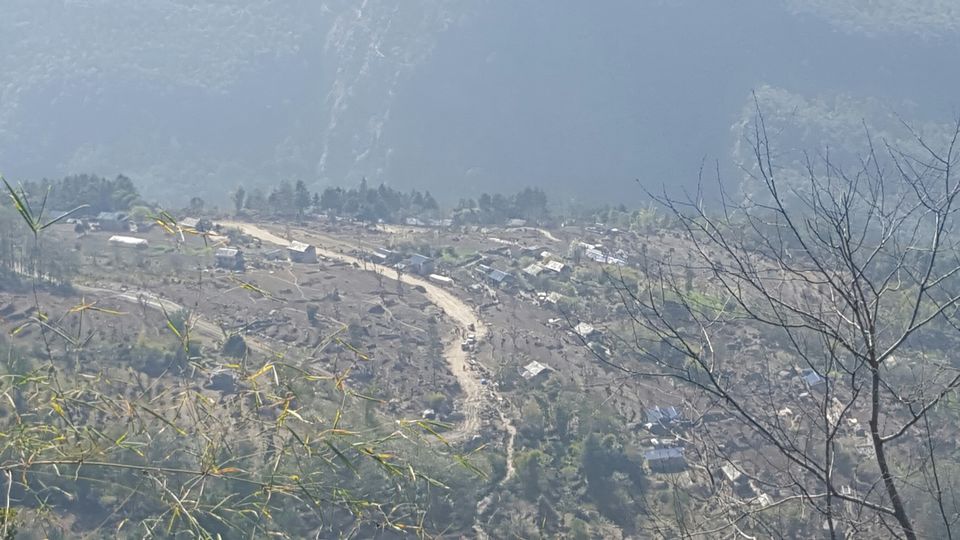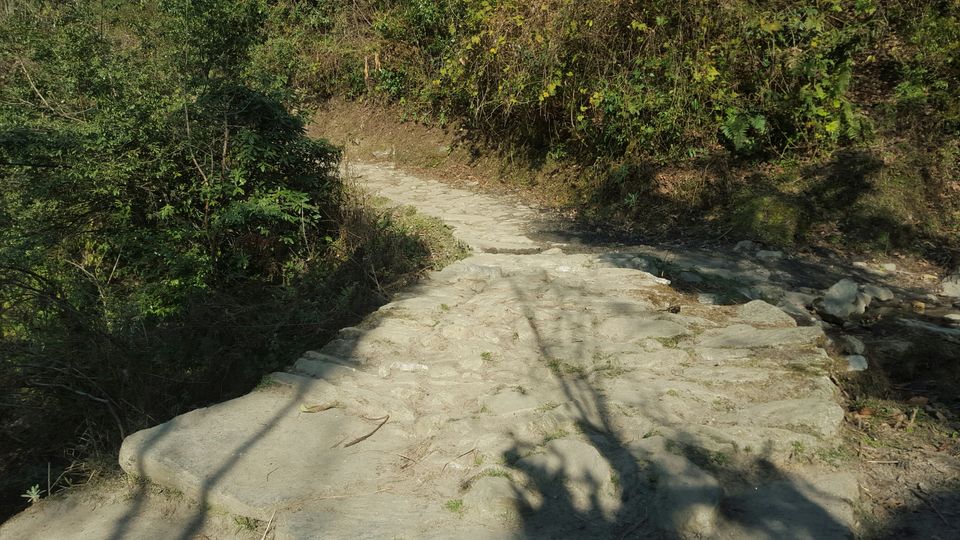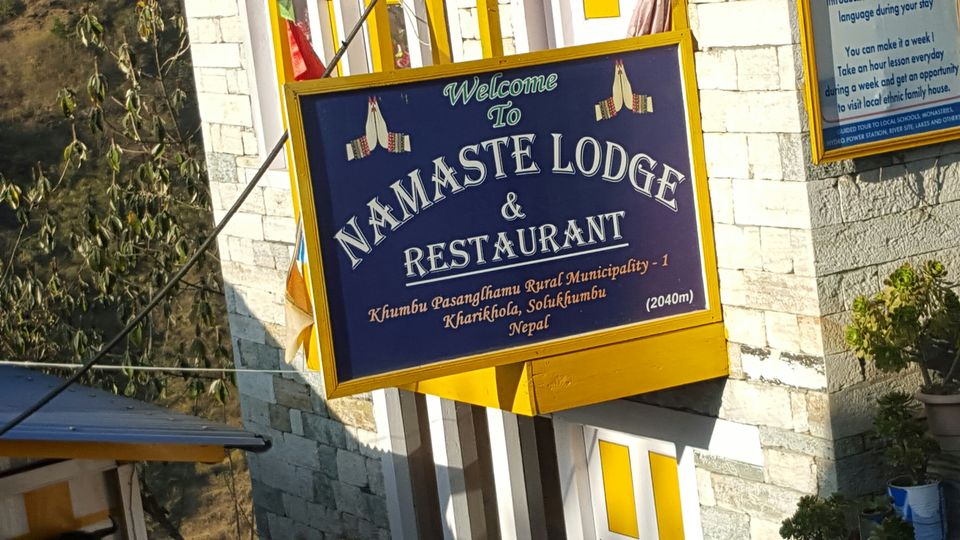 Kharikhola (2040m) - Paiya (2660m)
-8 hours of trek, it took me so long because my bag pack was quite heavy and was taking my time while trekkin up hill. Was freaking exhausted tho.
-you will go insanely up hill, so be prepared.
- woke up early 5am, so I can get there earliest as possible.
-legs were crying when I reached paiya at 3:30pm, so had nice warm shower.
-Bee hive lodge, 100npr for a single room, food & hot shower costs me 1150npr.
-My bag-pack was too heavy that I've to cut down 6kg weight, so I've left my used and unnecessary clothes at lodge and I will collect that while going back.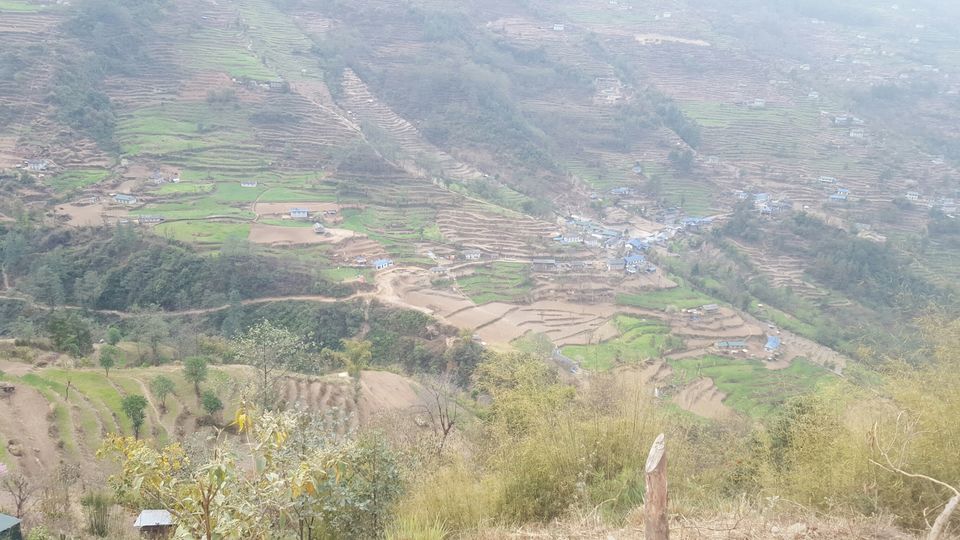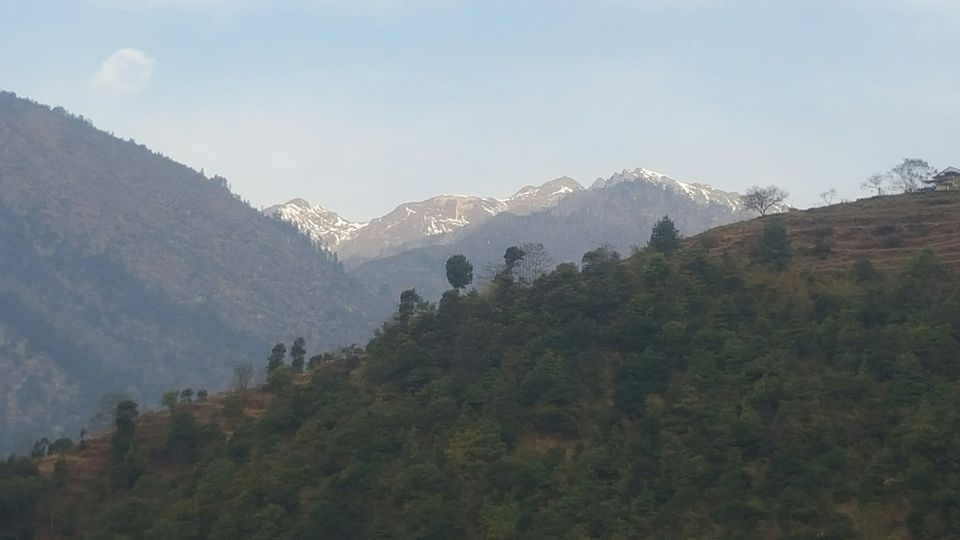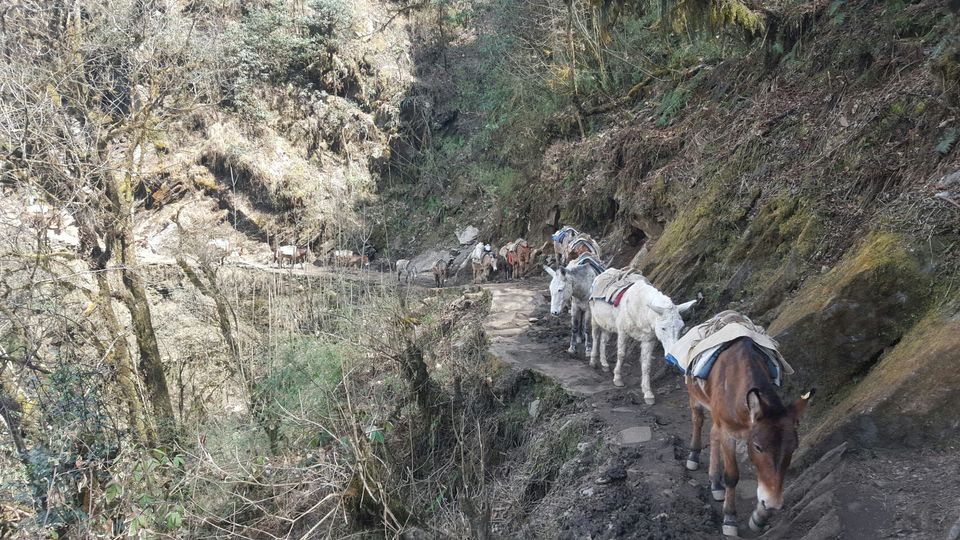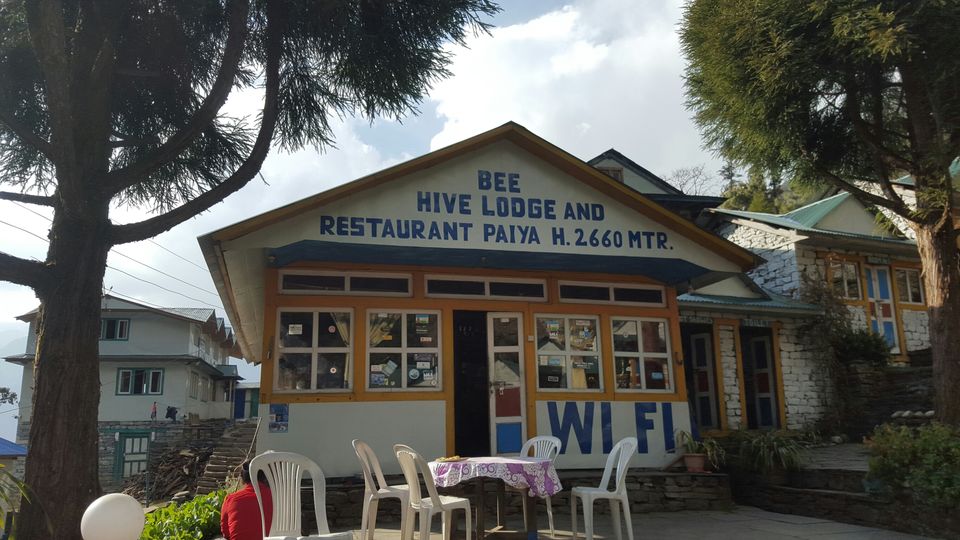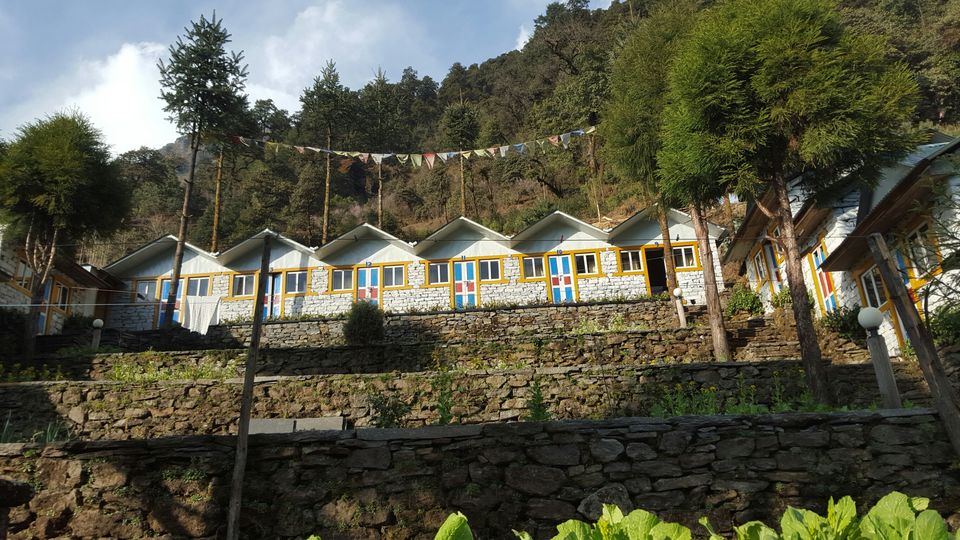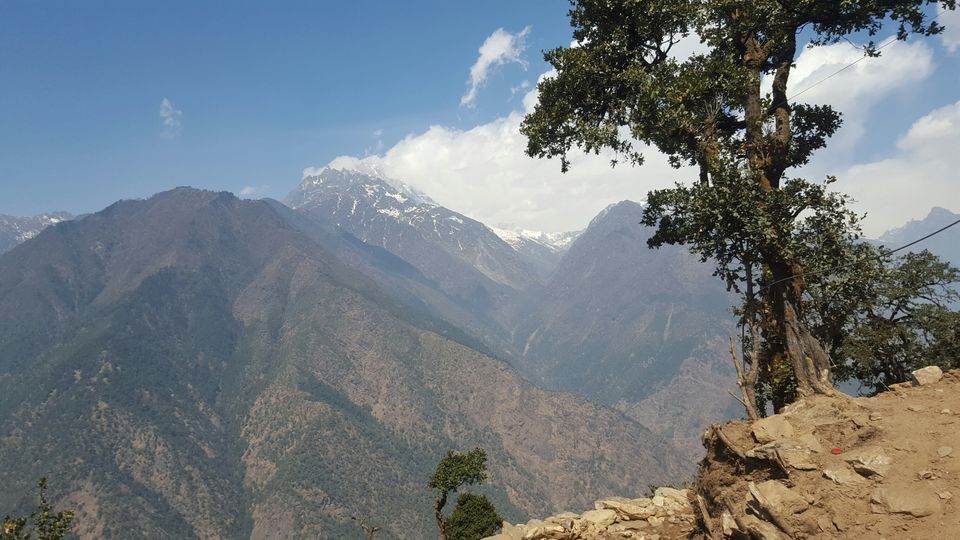 Paiya (2660m) -Phakding 2625m- Tok Tok (2760m)
9 hours trek (Including break for lunch & snacks)
-As usual wakes up at 5.30am and start trekking at 6am.
-Today I feel light weighted than before so I catch my speed very well.
-Trek was much easier than last day, was downhill and then cross small bridge and uphill. (One thing you have to understand ASAP, the more you go downhill, the double you have to pay while trekking uphill.)
-You can view lukla airport while going downhill, and if you're lucky enough you will see plane taking off and on at the airport.
-Started from Paiya, had breakfast at Surke. Make sure you take left for Namche trekking route. And finally reached at Tok Tok.
-Stayed at the River View lodge near the river bridge, 200npr per night, room was pretty nice but hospitality wasn't good enough.
-880npr for dinner.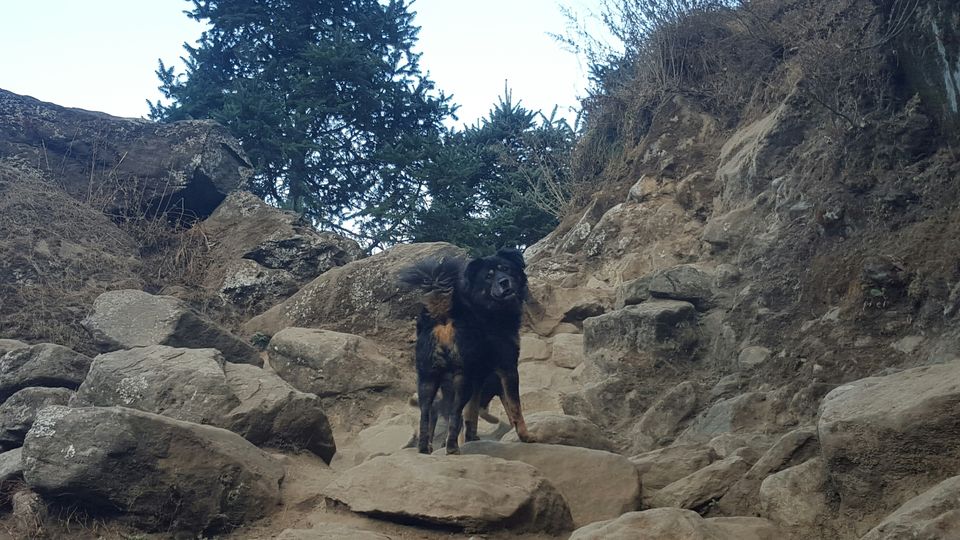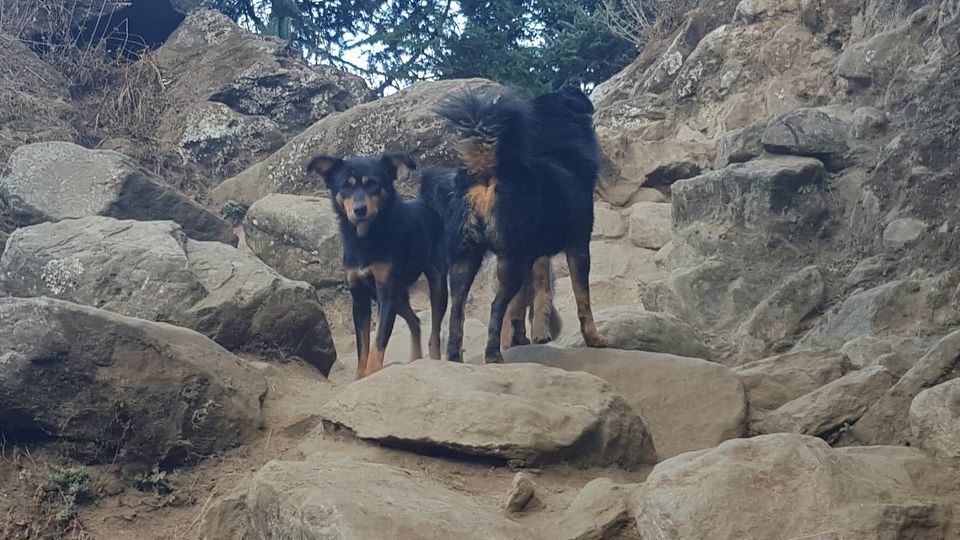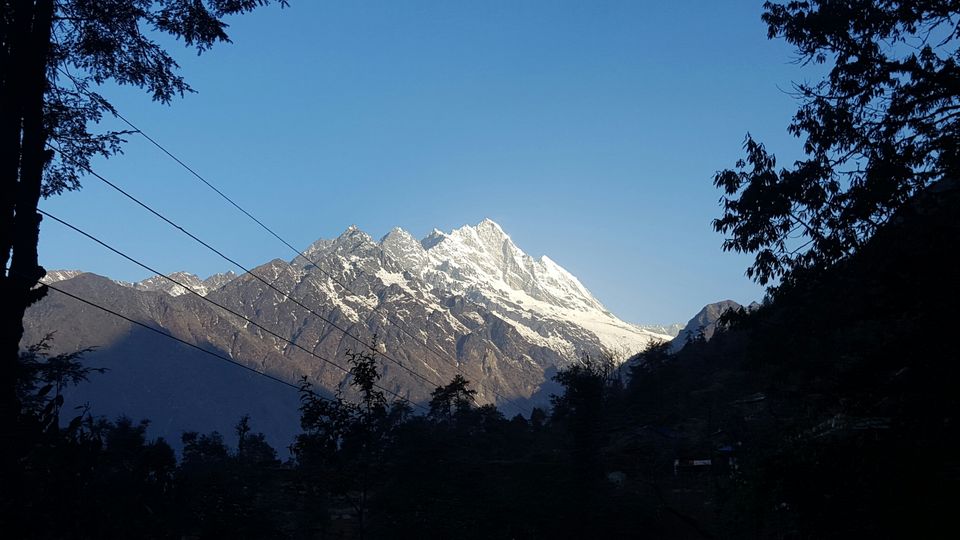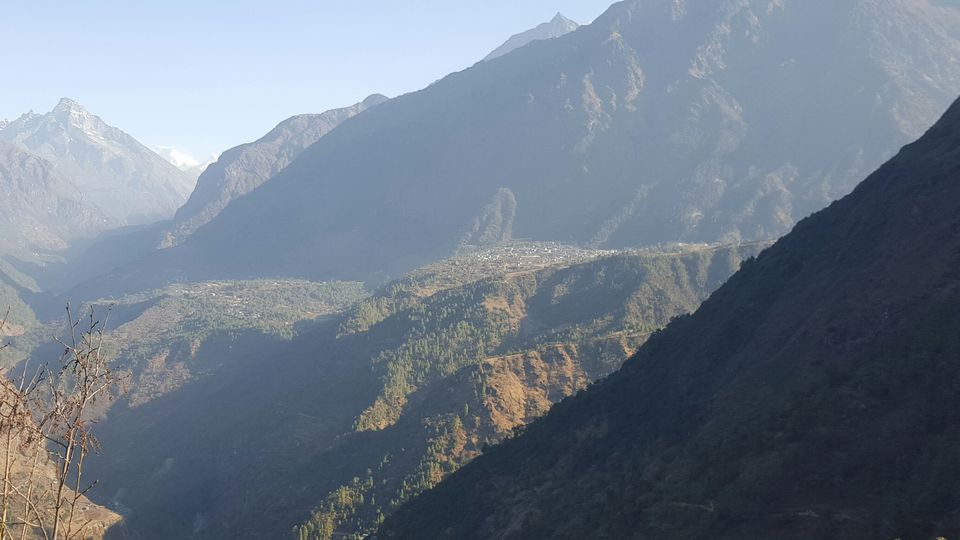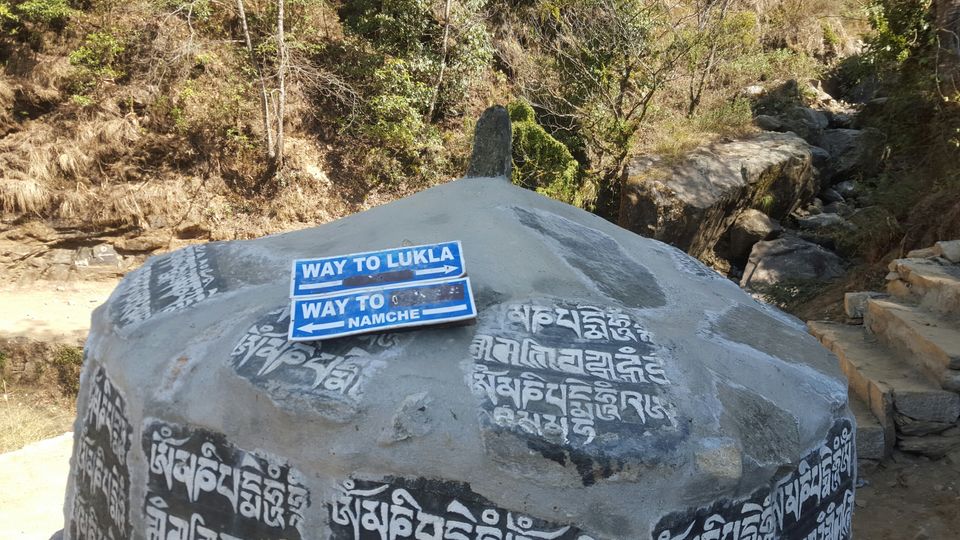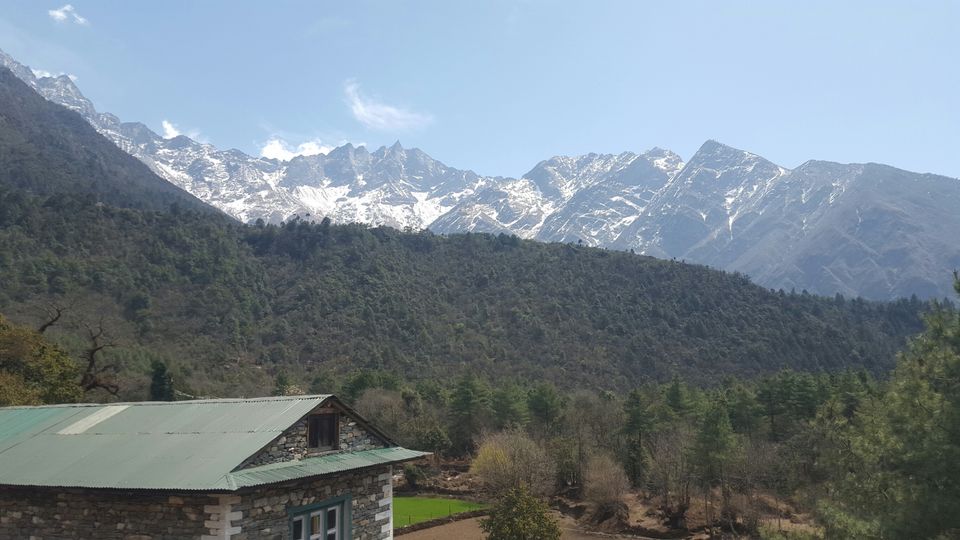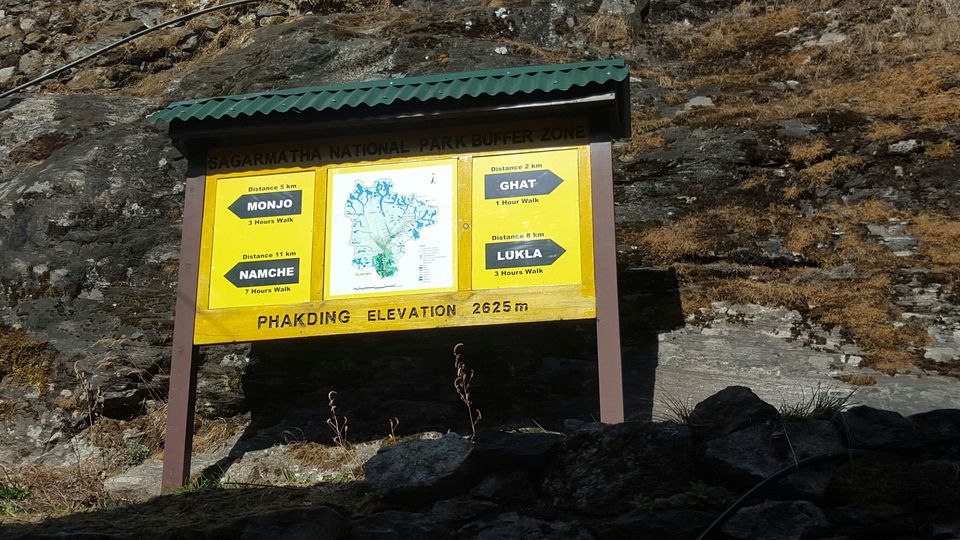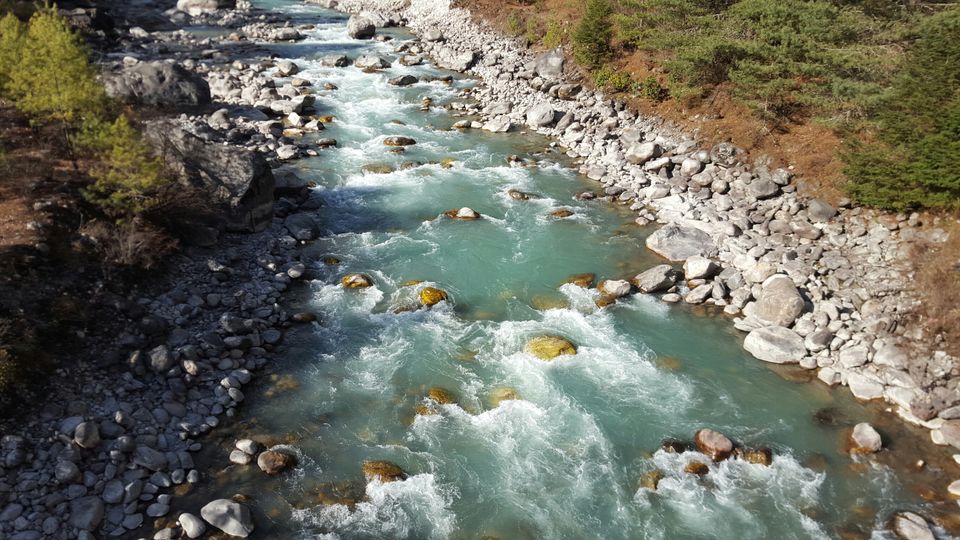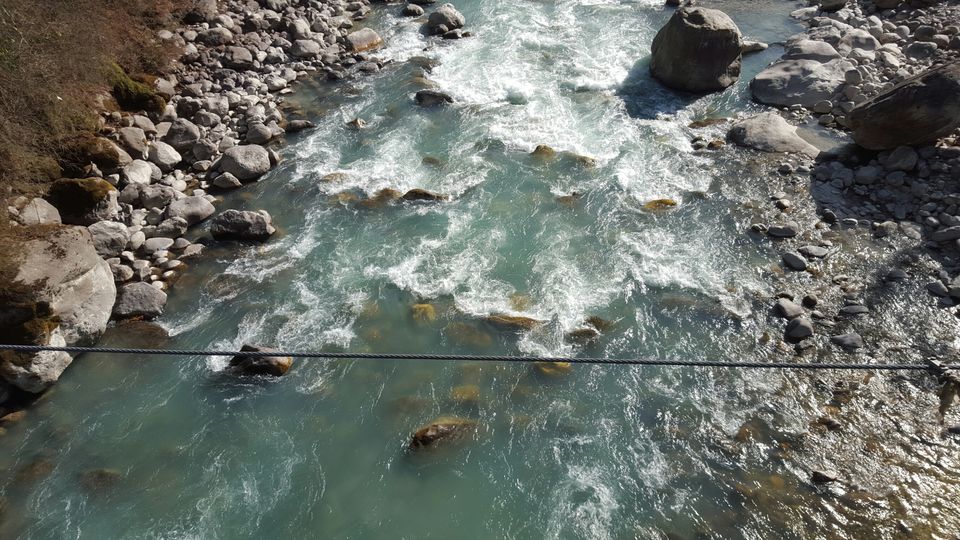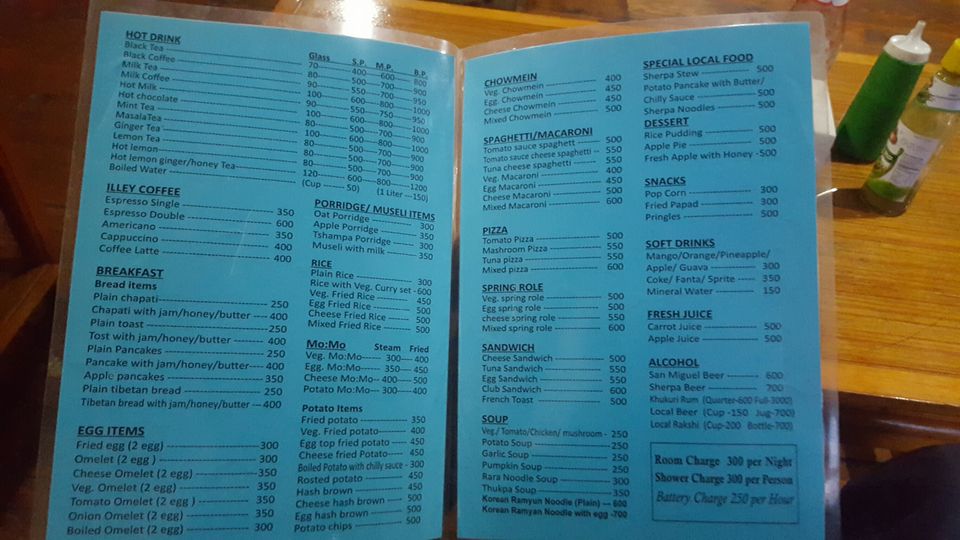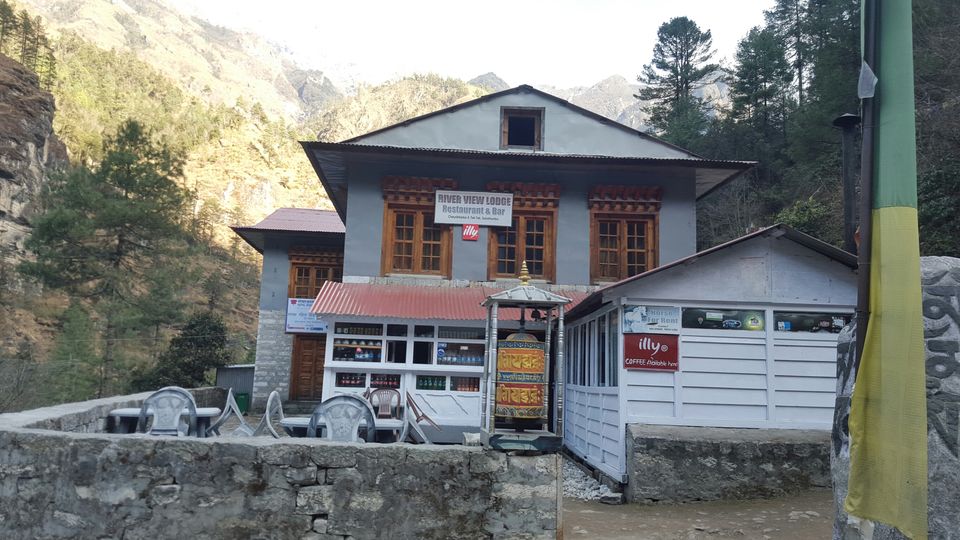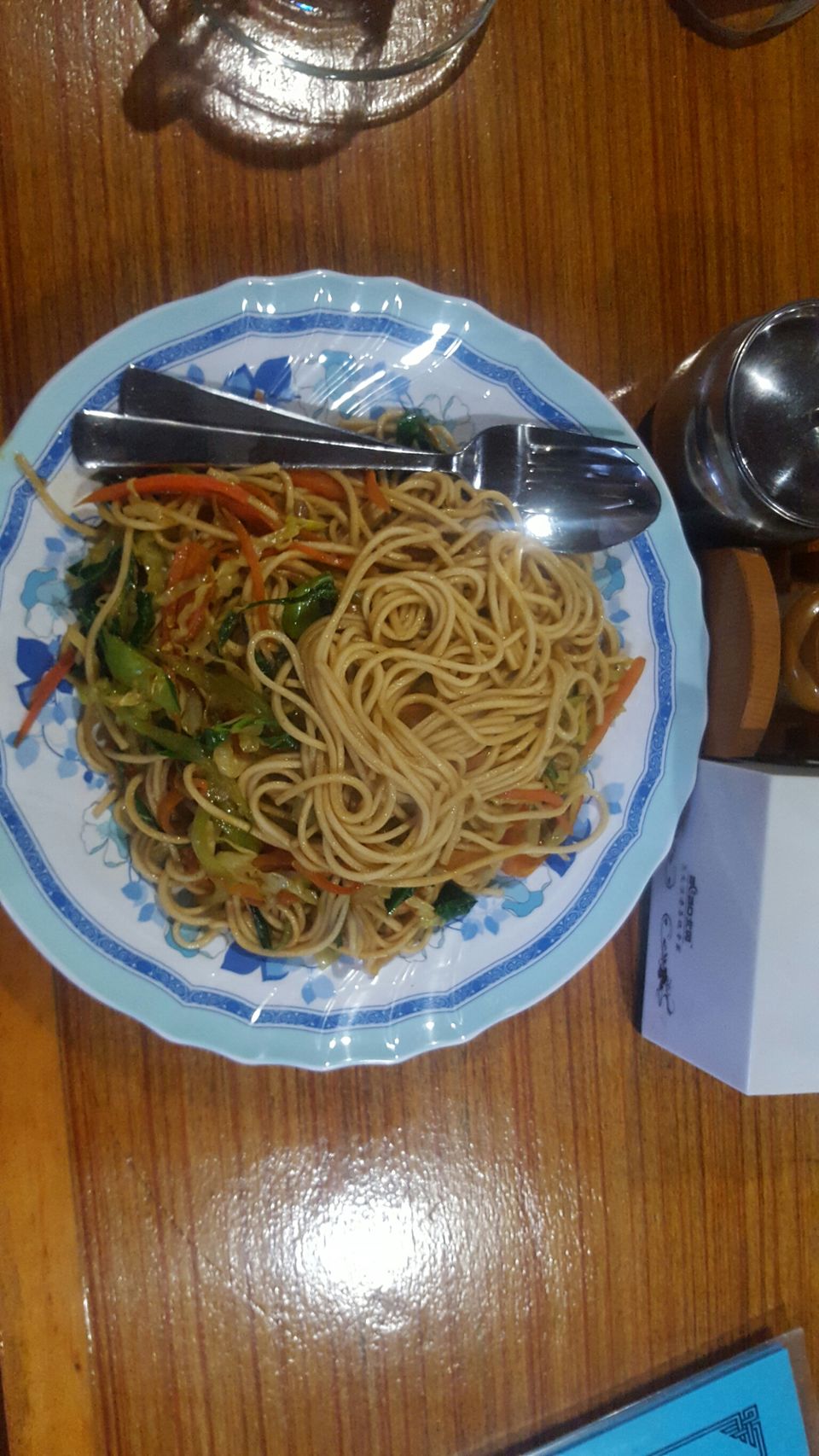 Tok Tok (2760m) - Monjo (2835m)- Namche Bazar (3440m)
Today is a big day, 9/10 hours of trekking
-Insanely uphill for 5/6 hours, once you crossed the suspension bridge.
-Permit fee:2000npr from Monjo
-National Park entry fee:1500npr for Indians only, Western countries have to pay 3000npr.
-Make sure you'll get all these paid tickets, because ther are 4 checking posts are ahead, you simply can't sneak in.
-I motivate myself, somehow I made it to Namche Bazaar around 3pm, was marvellous view there is no word to describe it.
-Today's trek was extremely next level, I've seen that some of the people were going back and will be try after few days.
-Stayed at Sun-Side Lodge (free WiFi): 500npr a night
-It is Obvious that when you're staying at hight altitude place so foods are getting more expensive.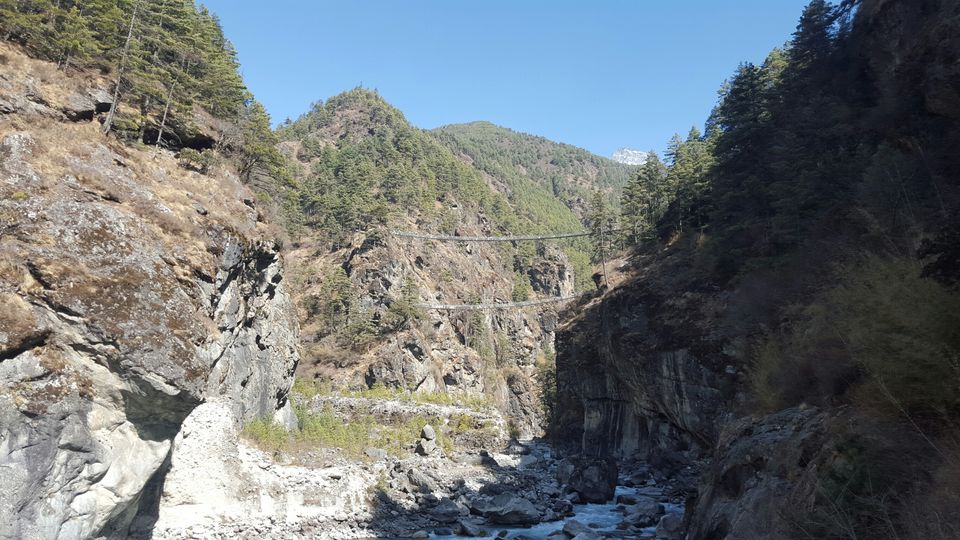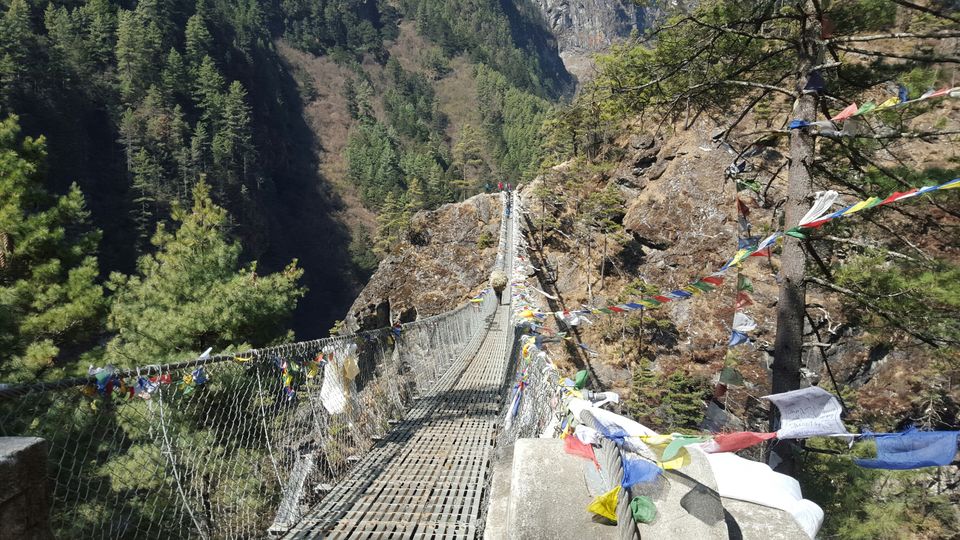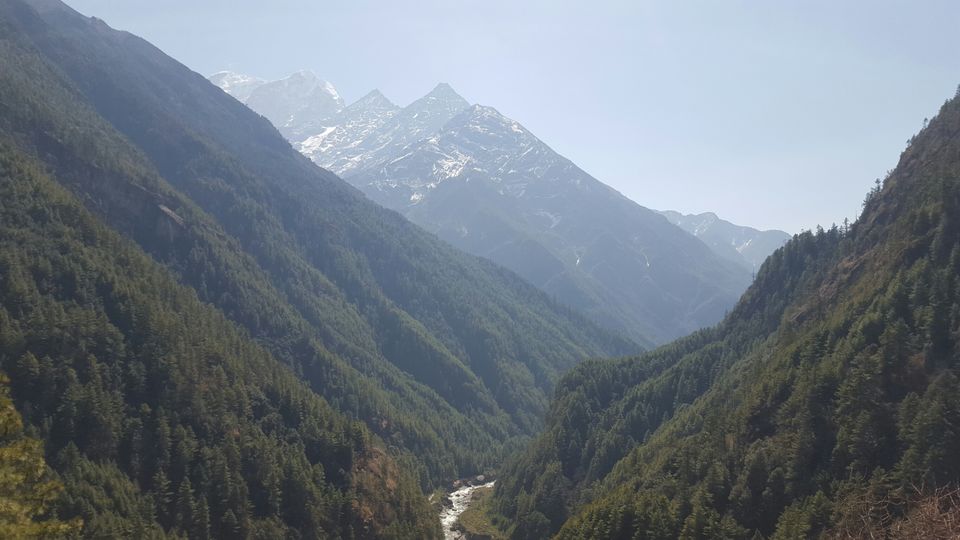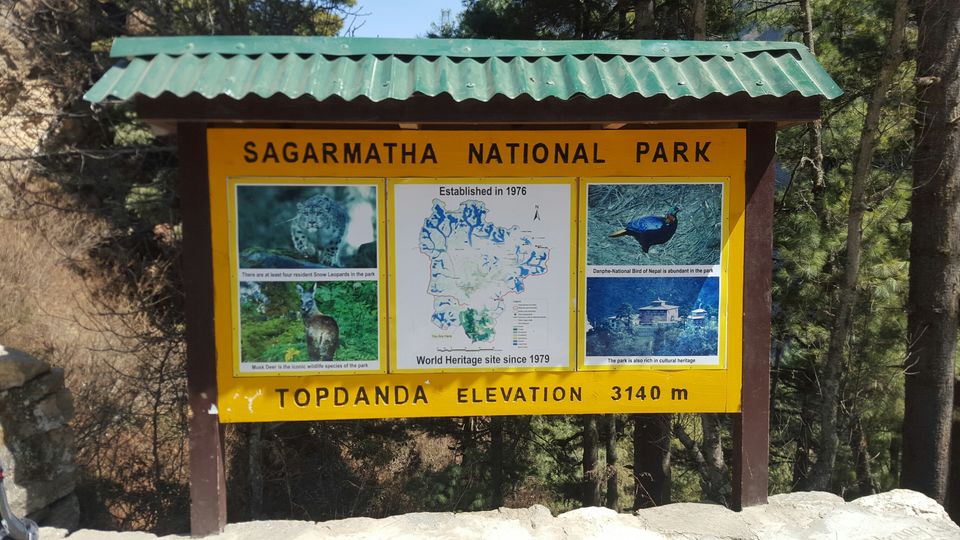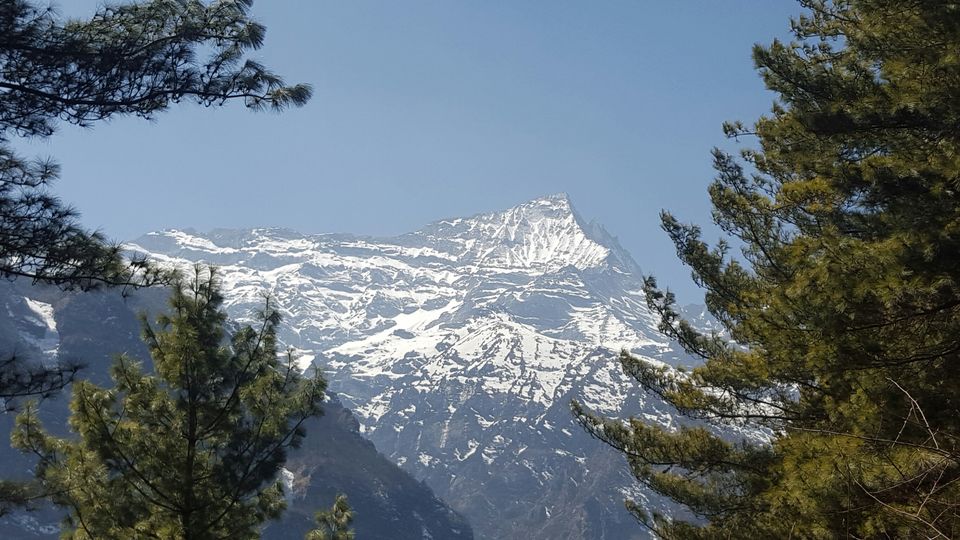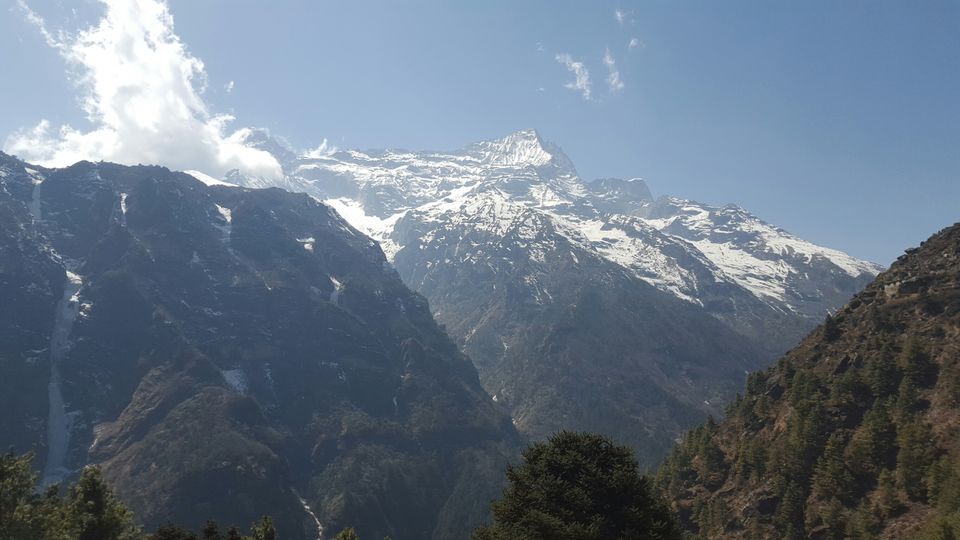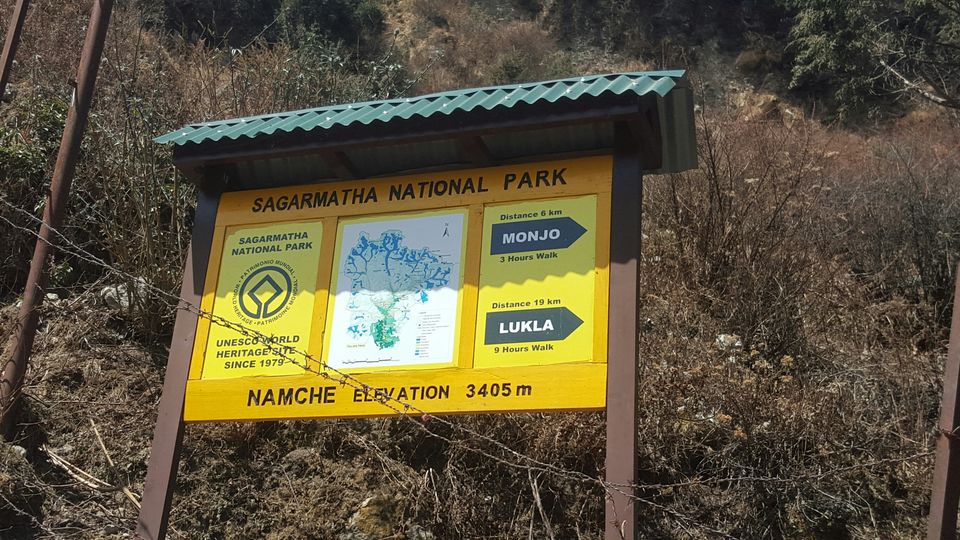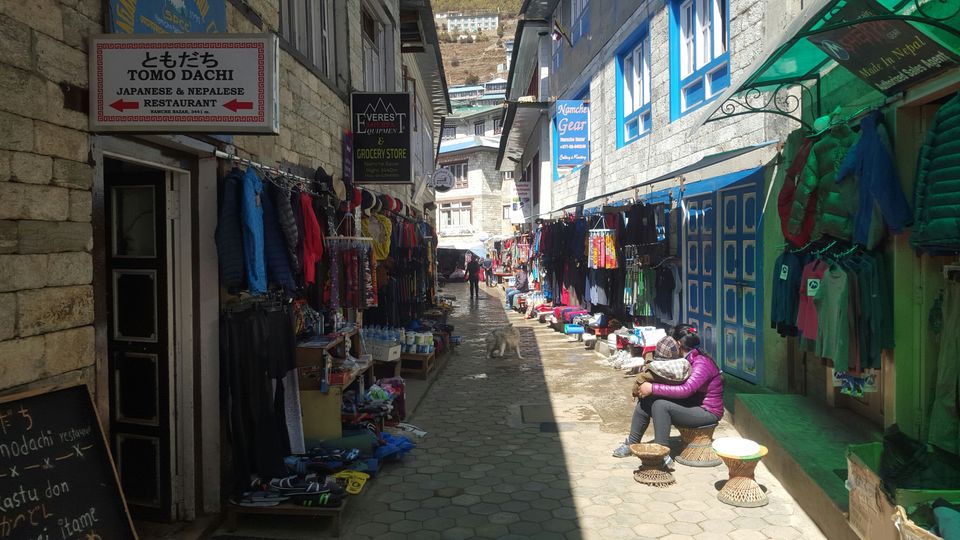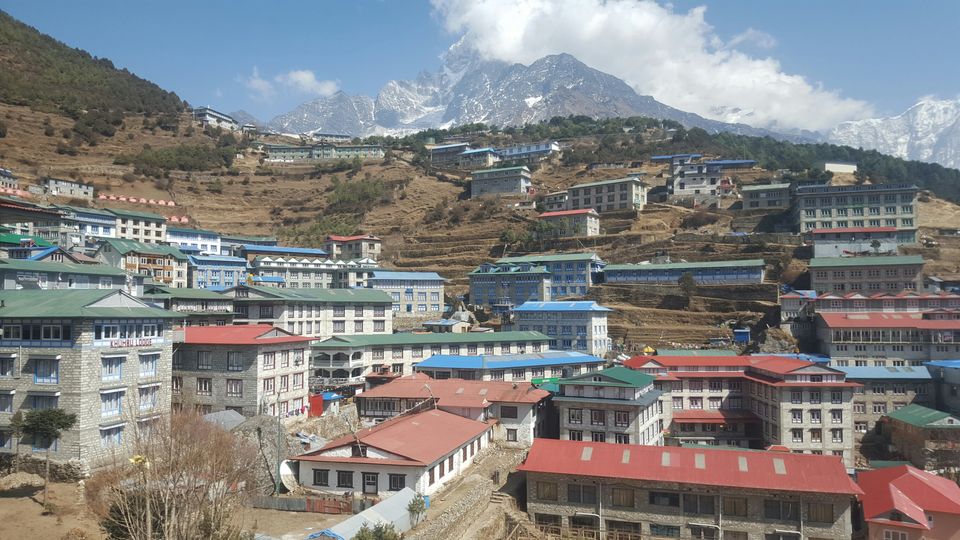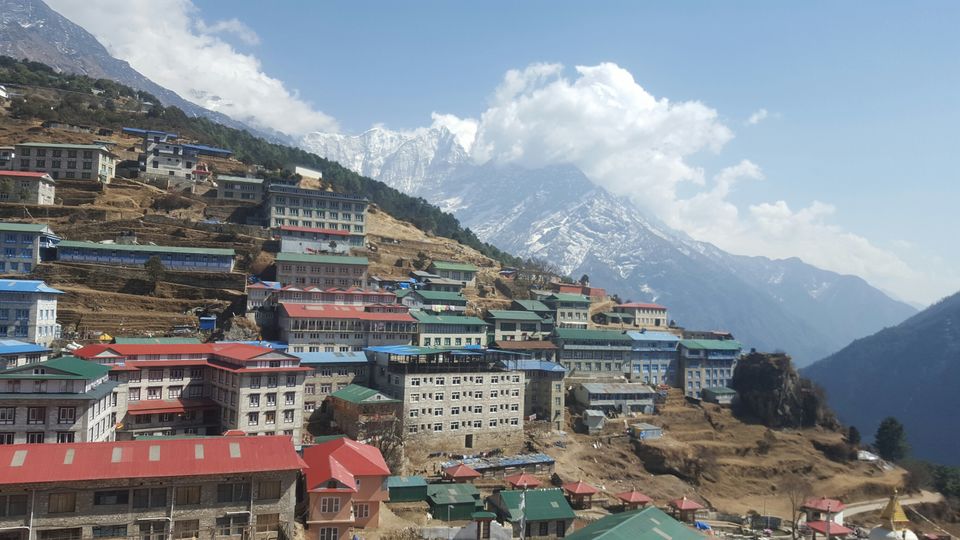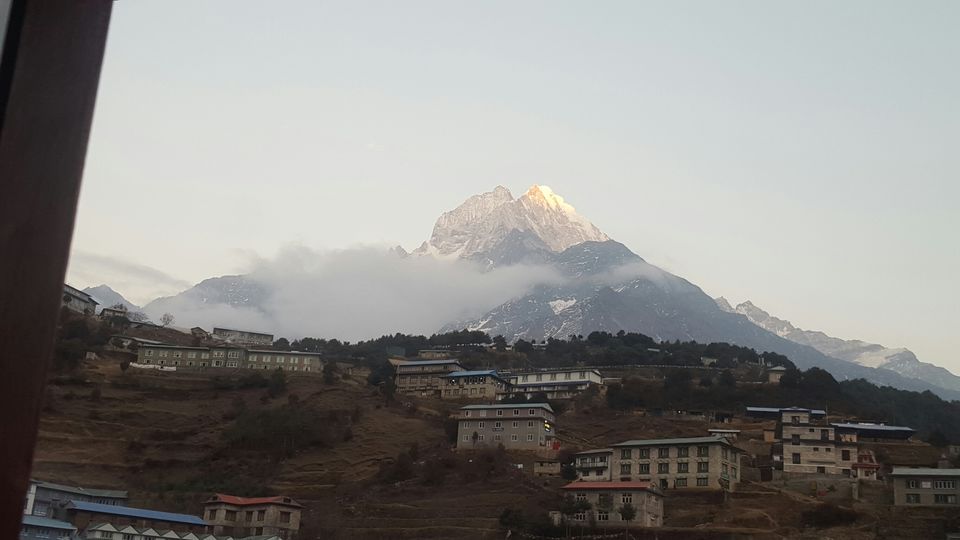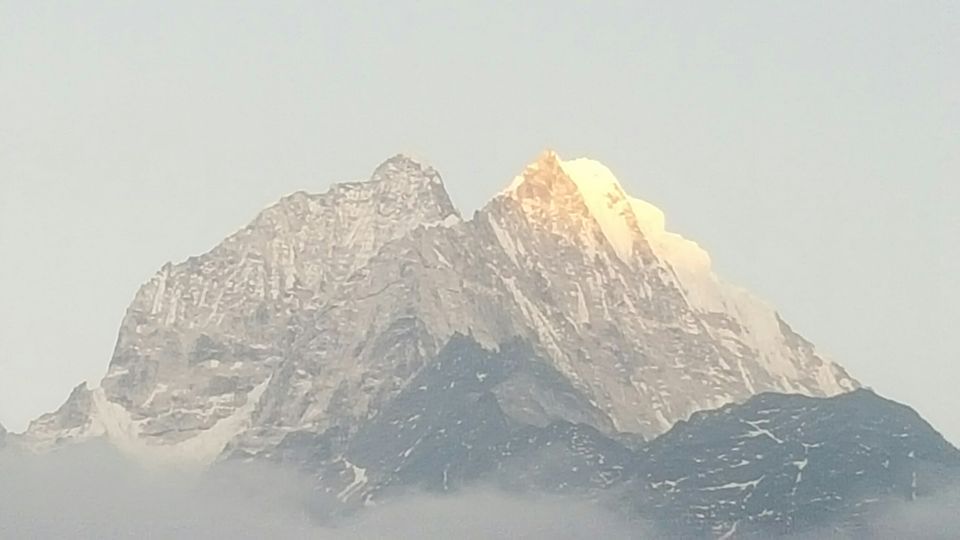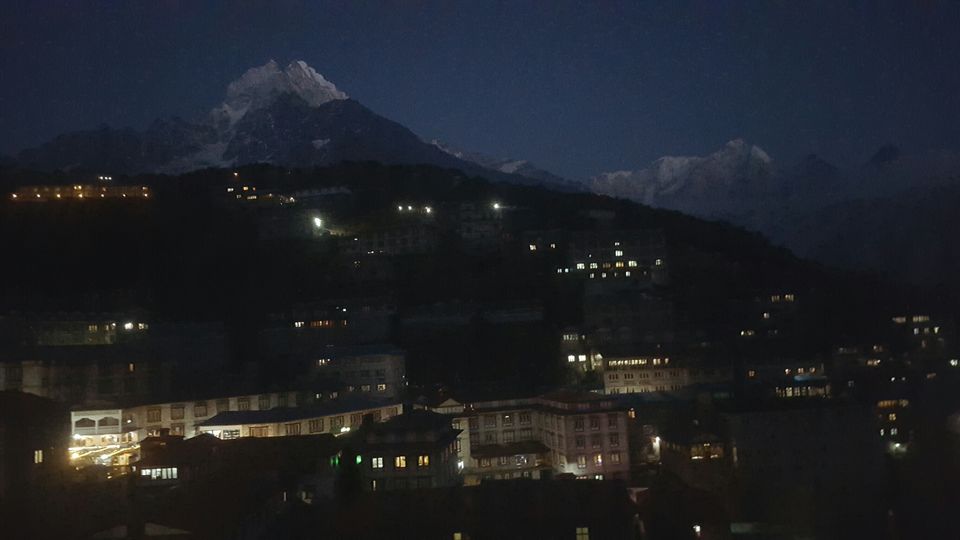 Acclimatisation Day
Trek high and sleep low that's golden rule to avoid altitude sickness.
Namche bazaar 3440m - Everest view 3820m- kumjung 3790m- Namche bazaar 3440m
-Last night I had symptoms of altitude sickness, couldn't sleep properly because had trouble with breathing.
-visit everest view hotel, but couldn't had chance to view everest because it's was hidden between the clouds.
-Nice view of Mt. Ama Dablam.
-went to khumjung village but you can't find single person to talk, it's like you're at war zone.
-back to my hotel.
-Namche bazaar is last place to buy needful stuff and withdraw cash!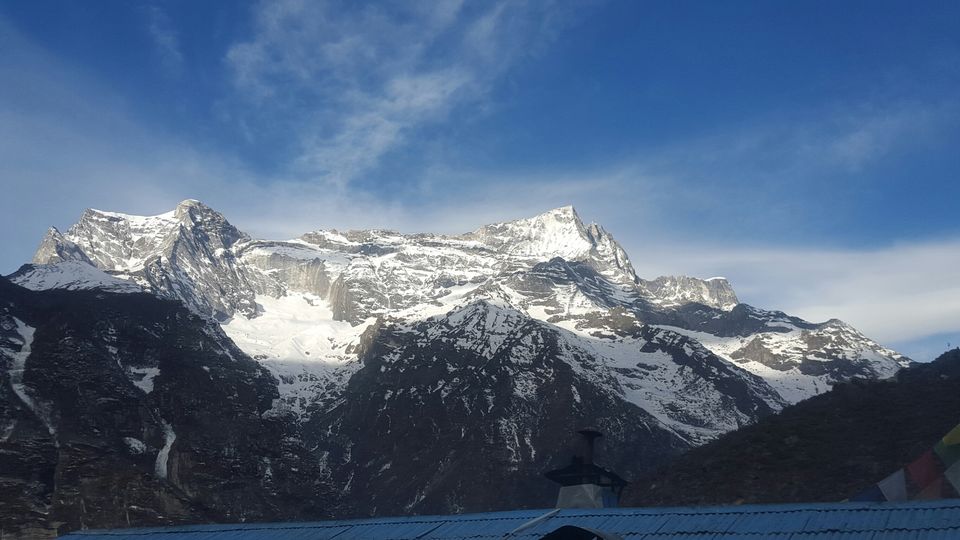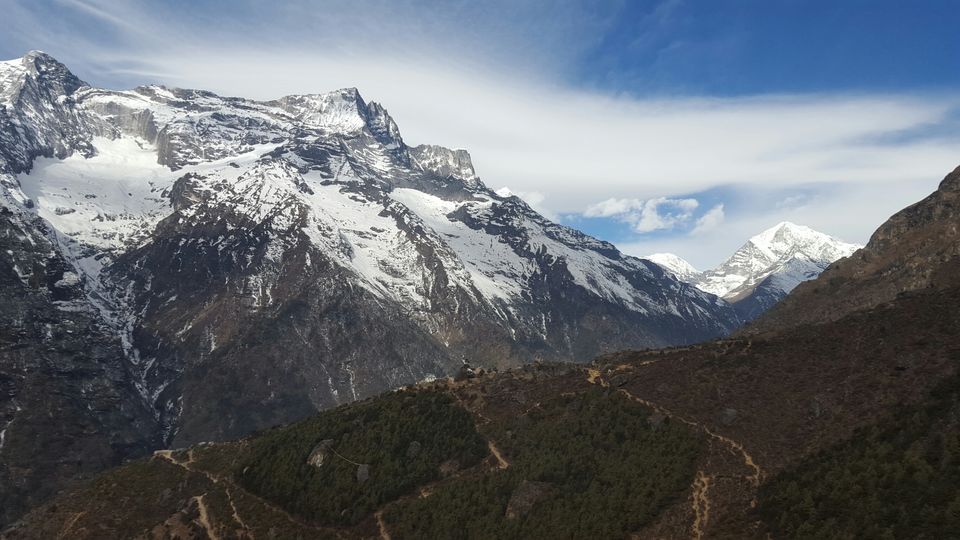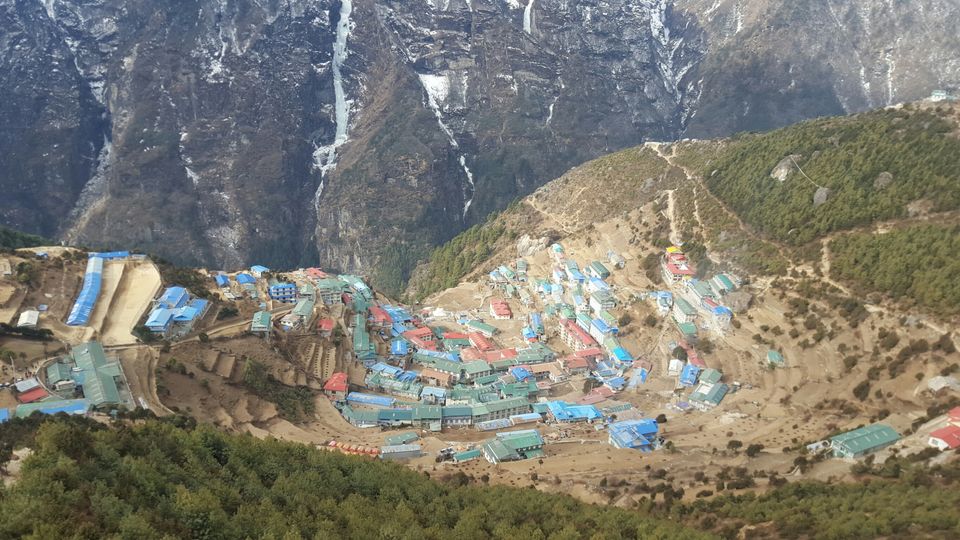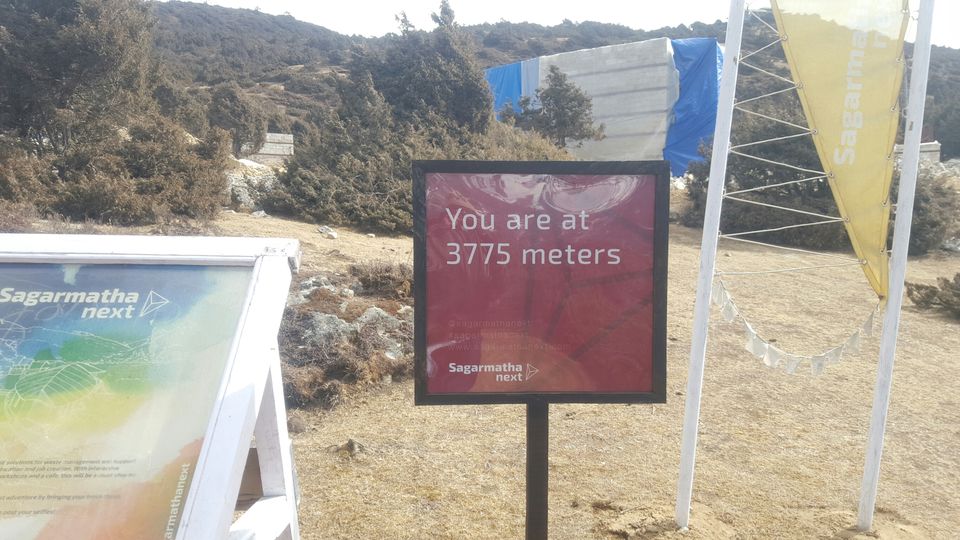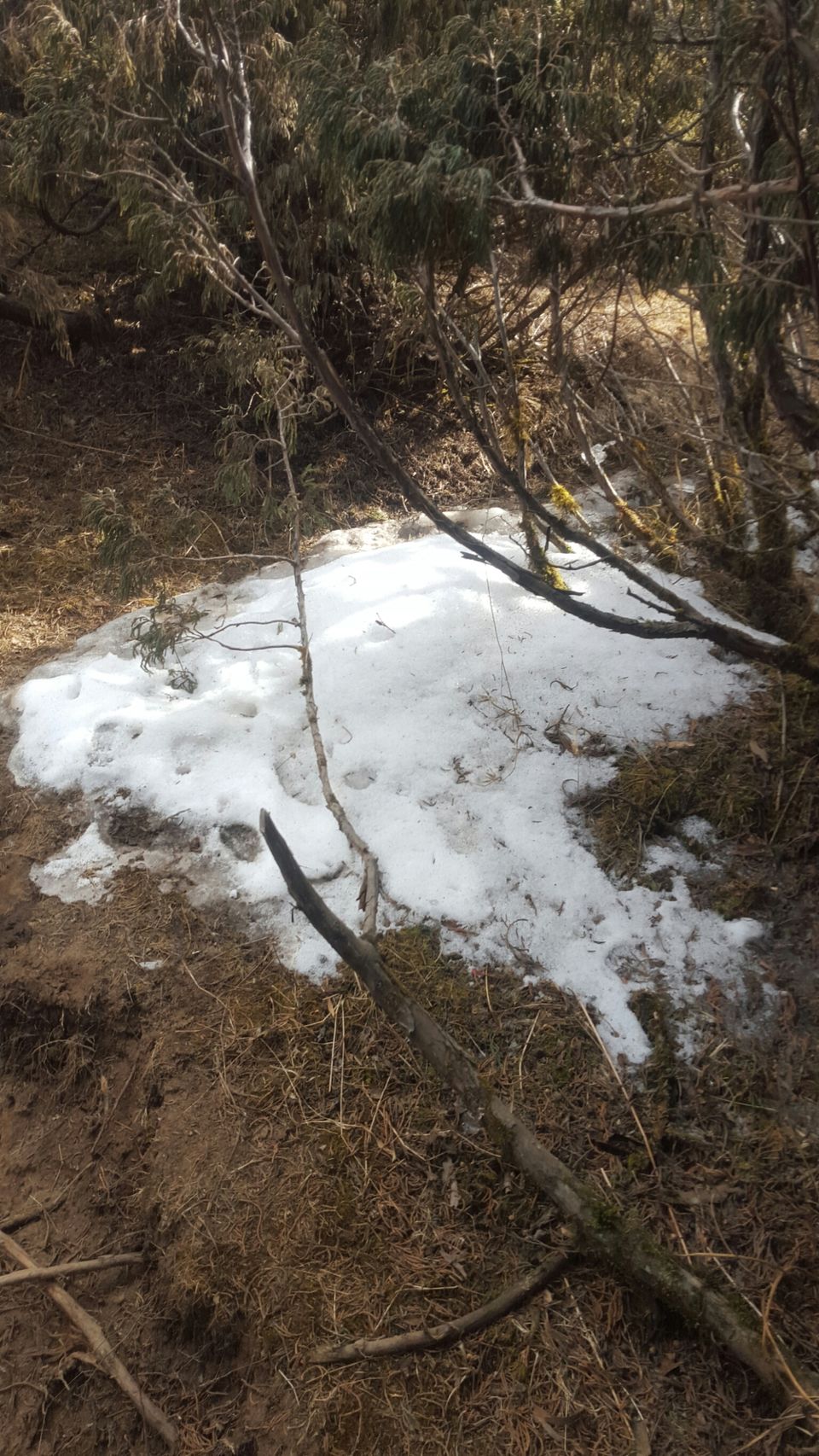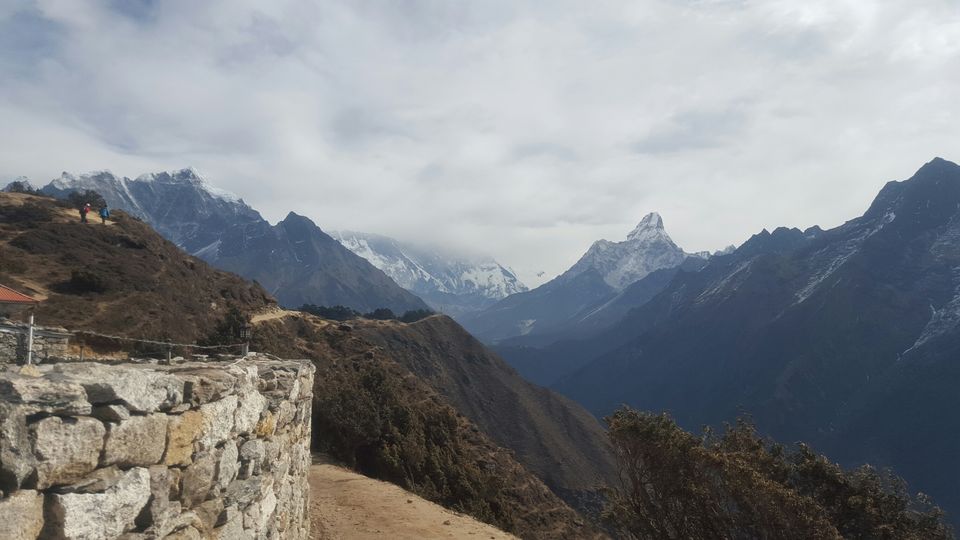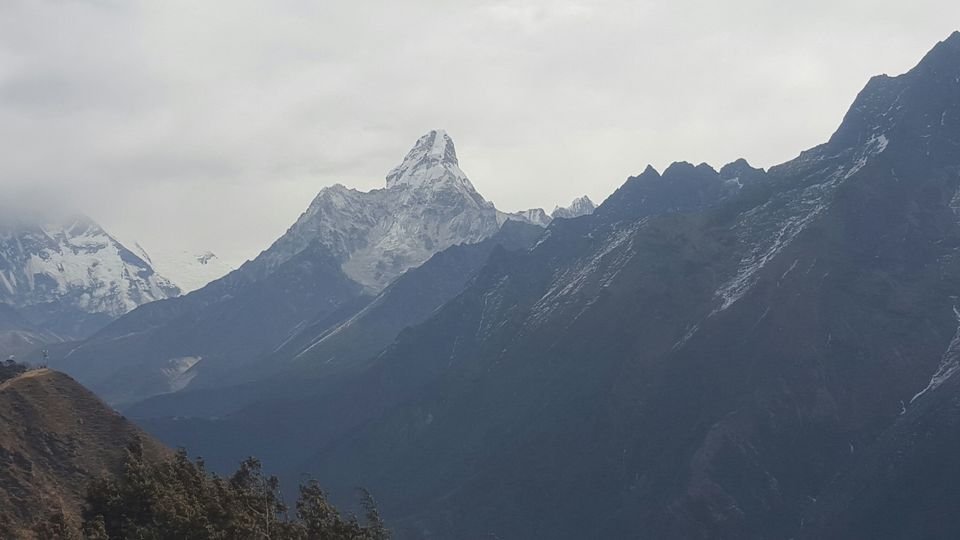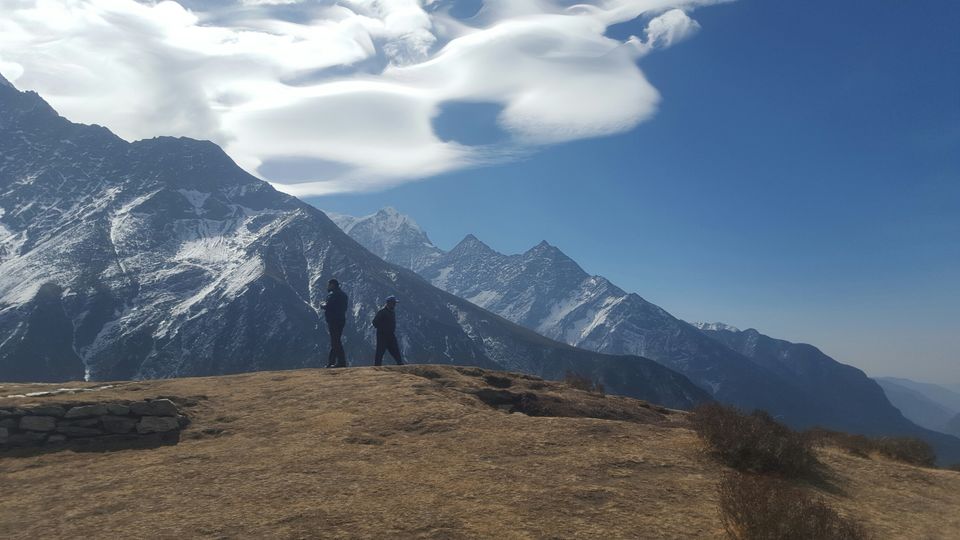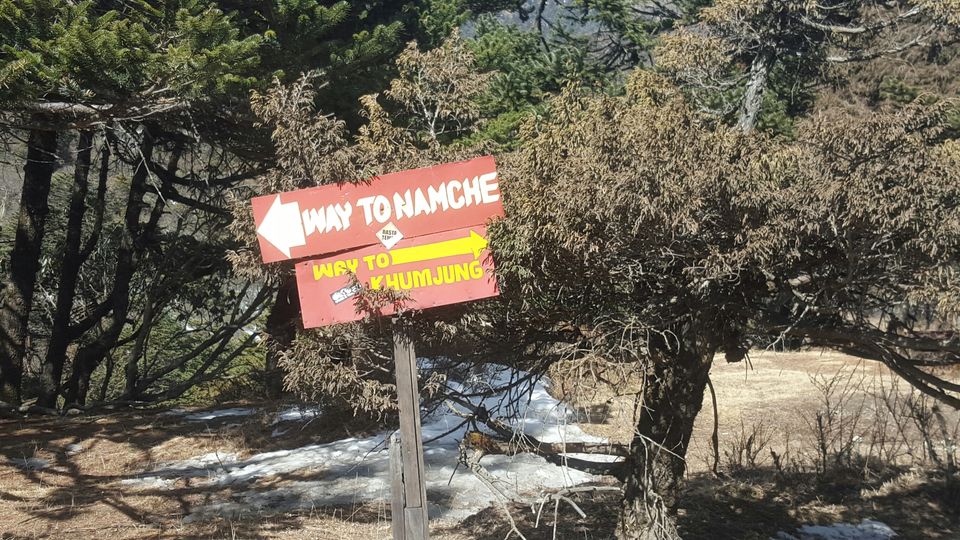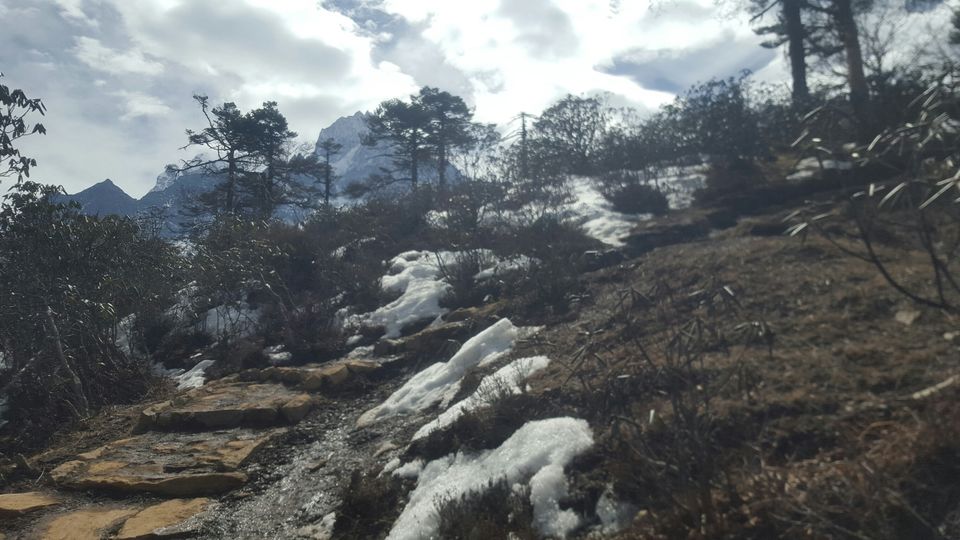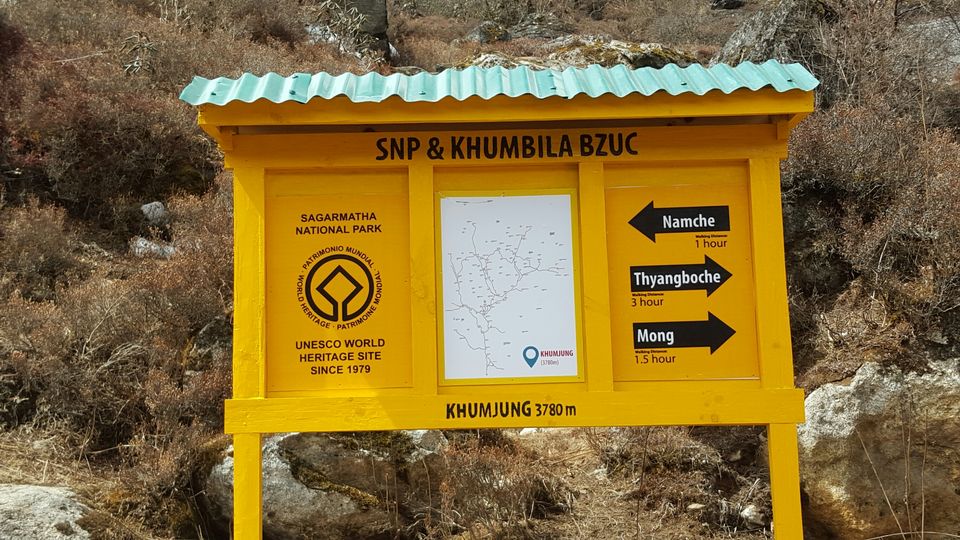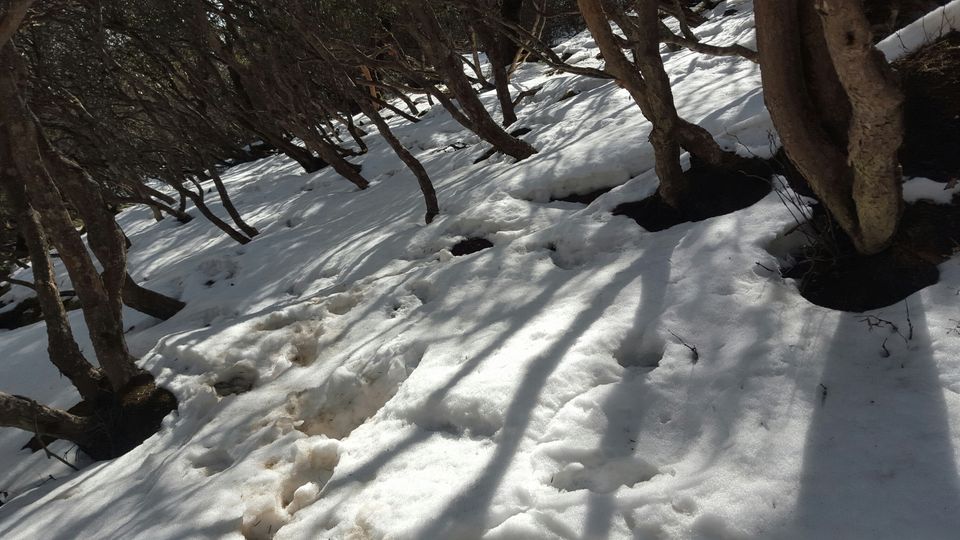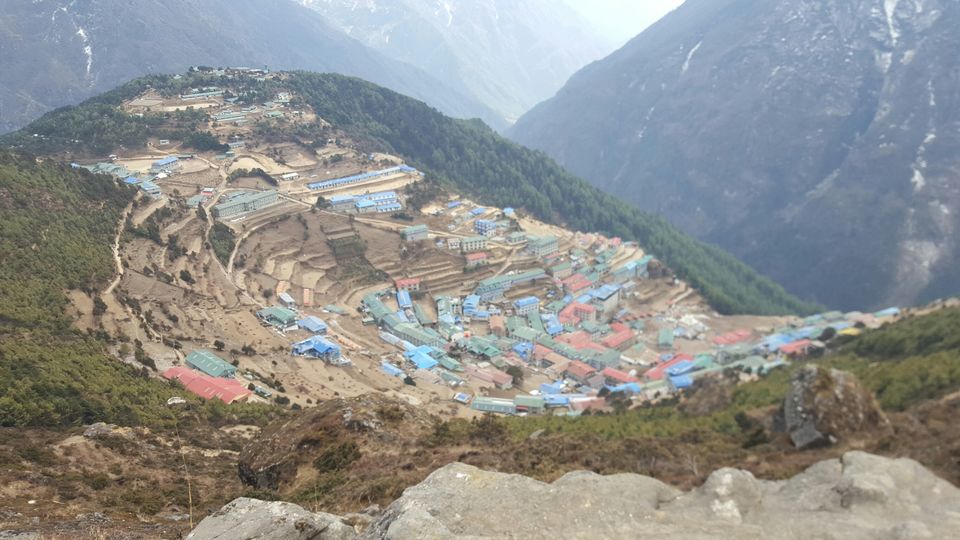 Namche bazaar 3440m - Tengboche 3867m - Pangbouche 3930m
(8/9 hours trek)
-Today I started late because I forgot to withdraw money last night.
-After 2 hours of trekking, suddenly I've seen and feel climate change, which turns into cold and snow. Was amazing experience, but hard to breath.
- Gradually speed of snow increased, and quite to find trail.
-After 4 hours of snow, the sun's up and ice is start melting, which makes trail more slippery and hard to trek on.
-Those people who are returning from Base camp they were keep telling me, that trail is full of snow and it's getting even worst while going downhill.
-No worries, you can't change what is going to happen to you, it's all written.
-keep moving.
-Lunch at Tengboche: 600Npr
-Stay at Everest view lodge 300Npr
-dinner & breakfast : 1150npr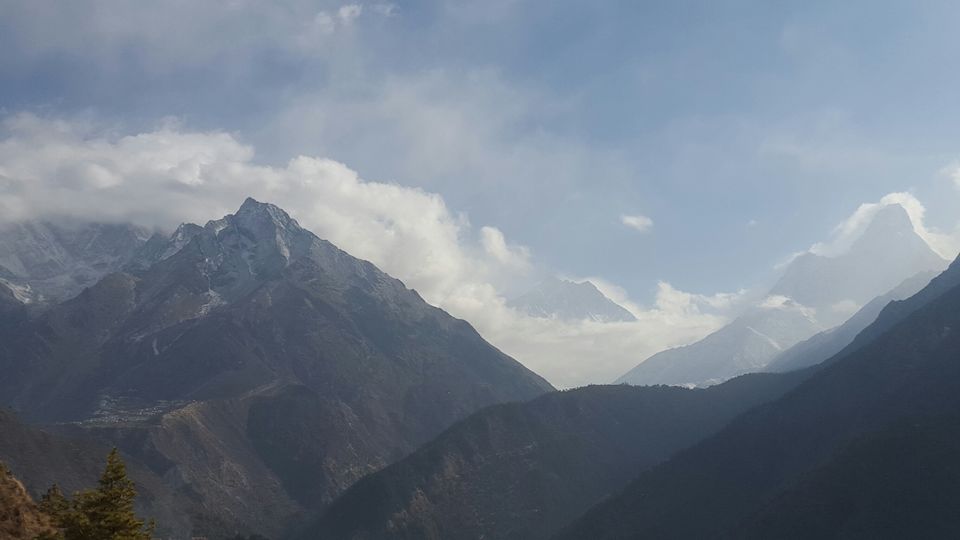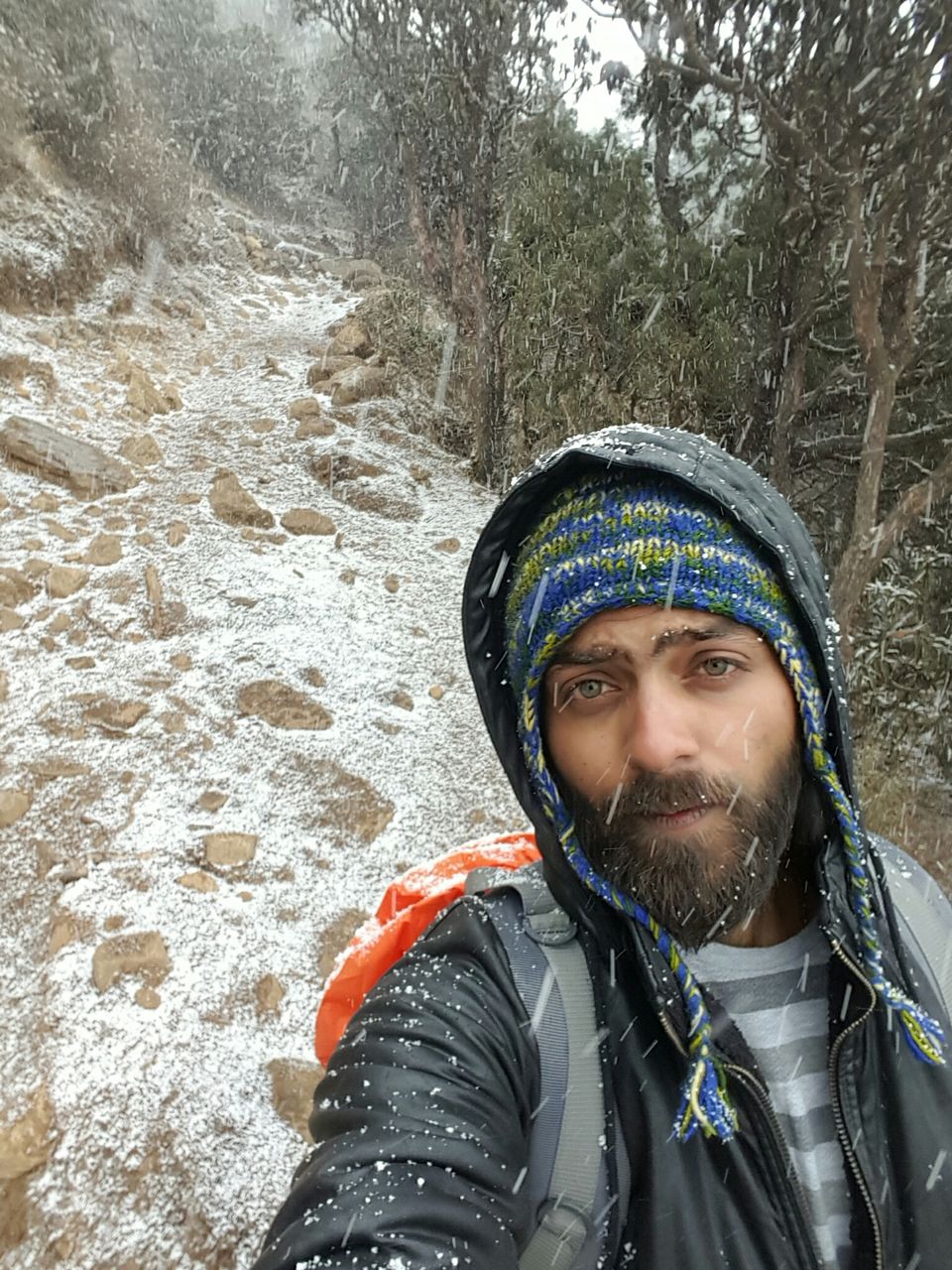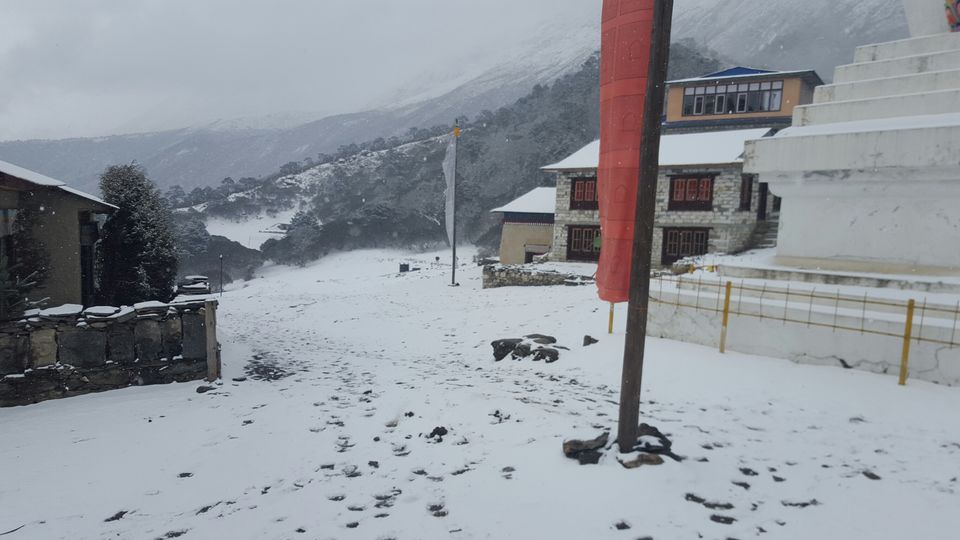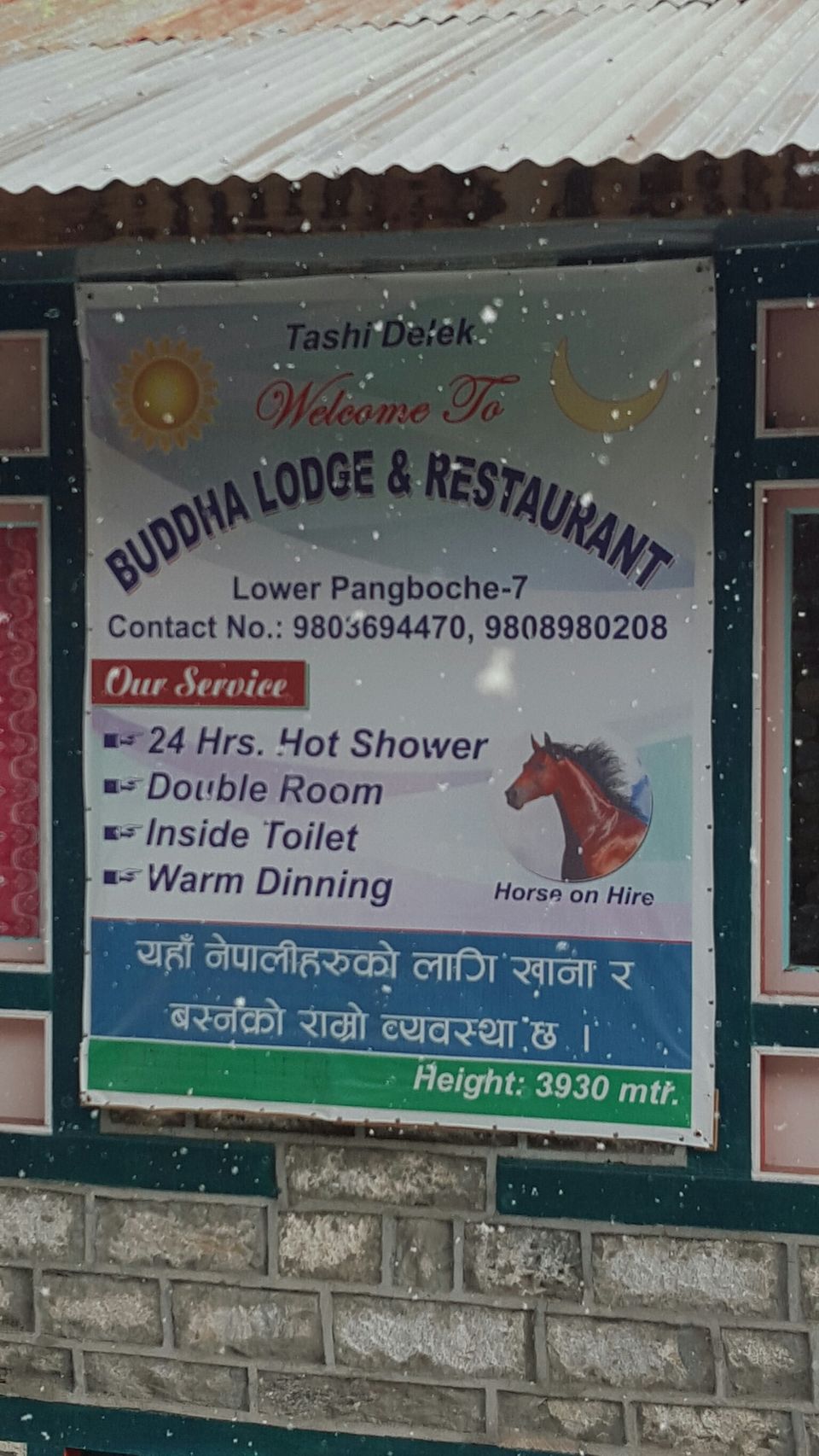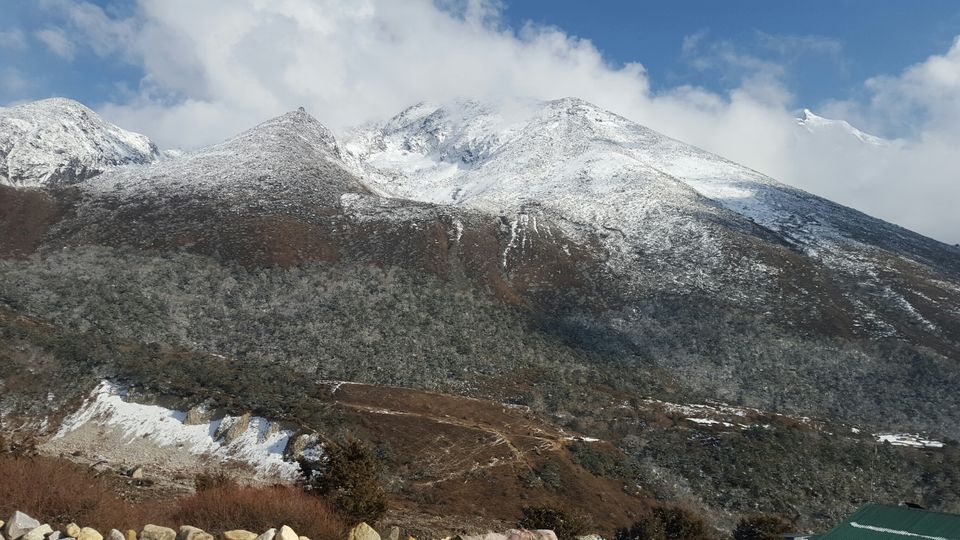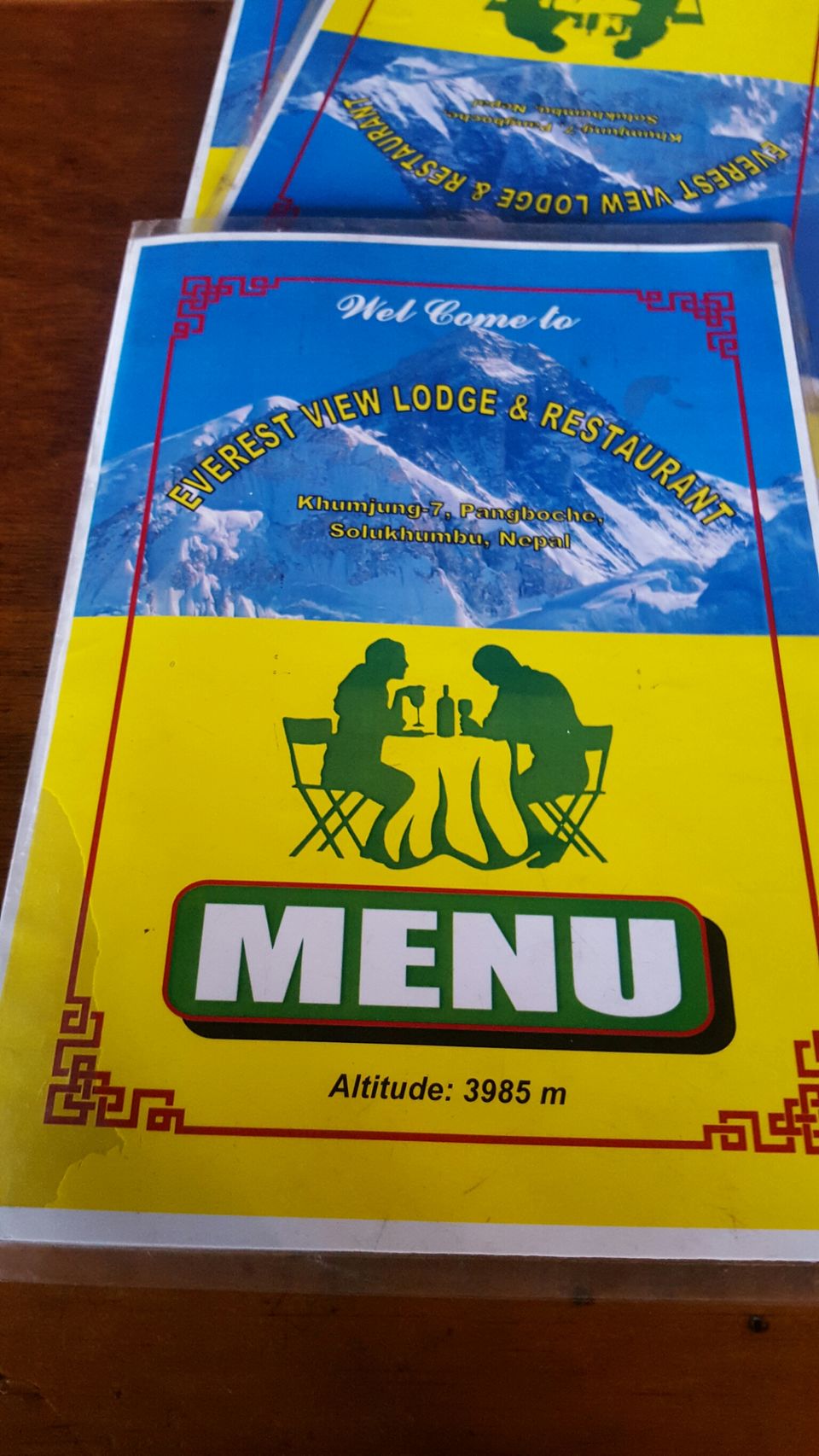 Pangbouche 3985m - Pheriche 4371m - Thukla/Dhugla 4620m
(6/7 hours of trekking)
-Pretty hard to find right trail, because I don't want to end up in Dingbouche. There is no sign for Pheriche or Dingbouche.
- keep asking to people, who are coming from EBC (Everest Base Camp).
-After 2 hours of trekking, there are two trails separating, one cross the bridge leads you to Dingbouche and other one takes you to uphill that's for Pheriche.
-From far distance, you'll see the town and amazing valley.
-Had a kind of brunch at beautiful valley and start heading at Thukla (another big task to chase down).
-Again, hard to find trail, you will know in which direction you've to head at but you don't know for how long. (That Feeling was amazing)
-Stay at Yak Lodge and restaurant : 100npr single bed
-Food: 1100npr (dinner including hot water to drink)
-During night it was -21°c, so I keep water bottles beside me while sleeping.
-thermal sock is very helpful at night.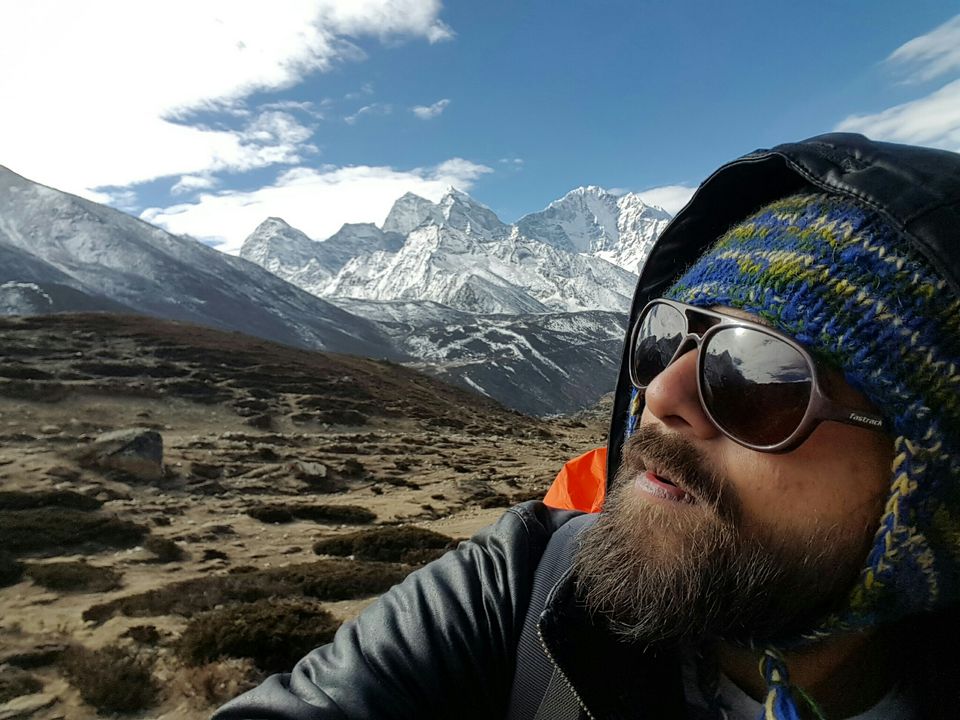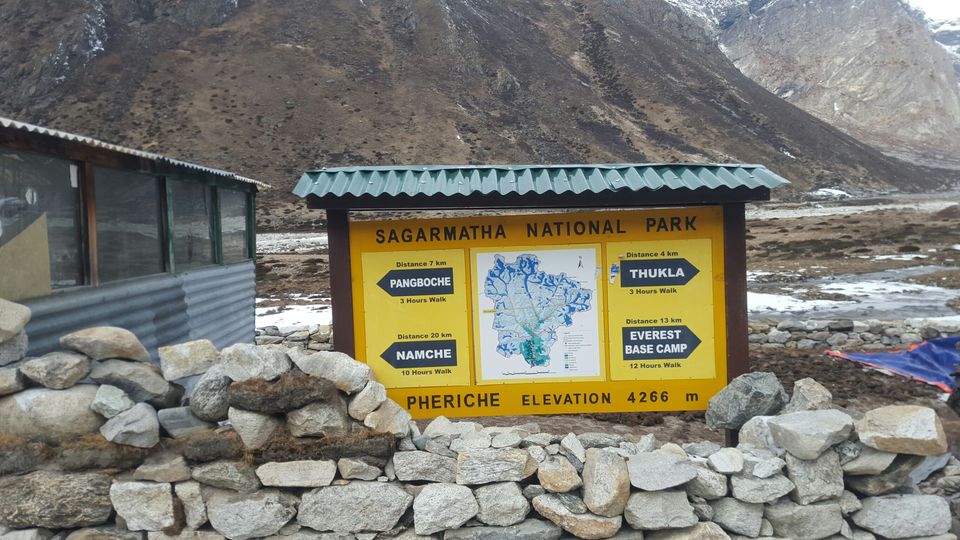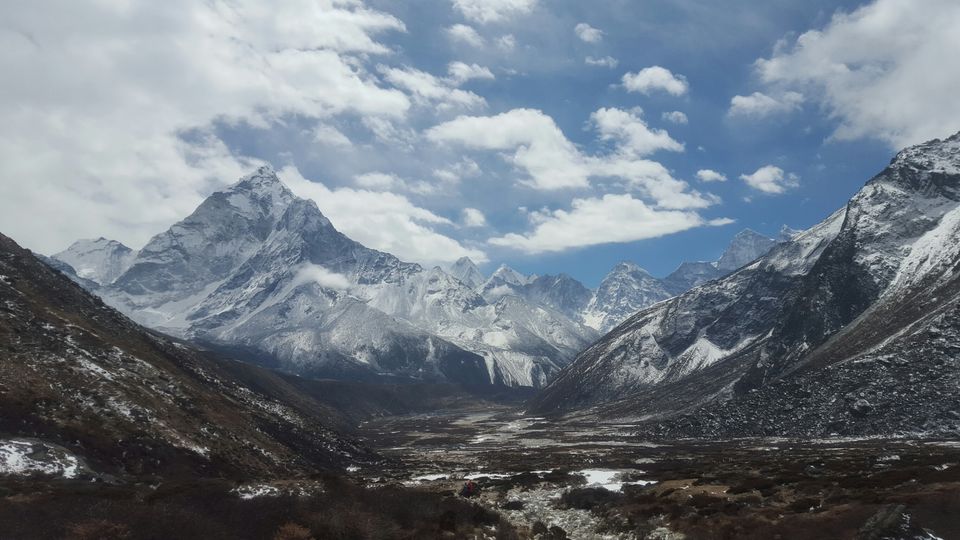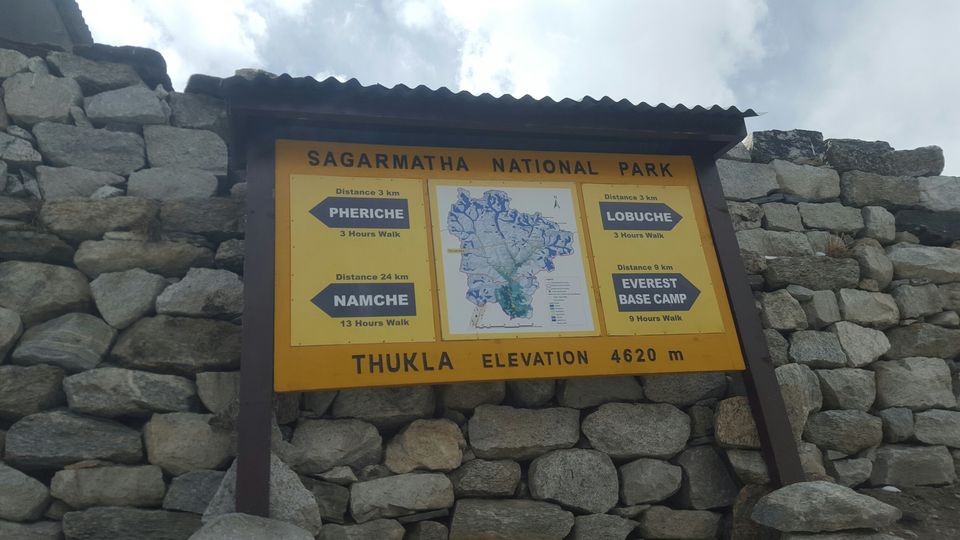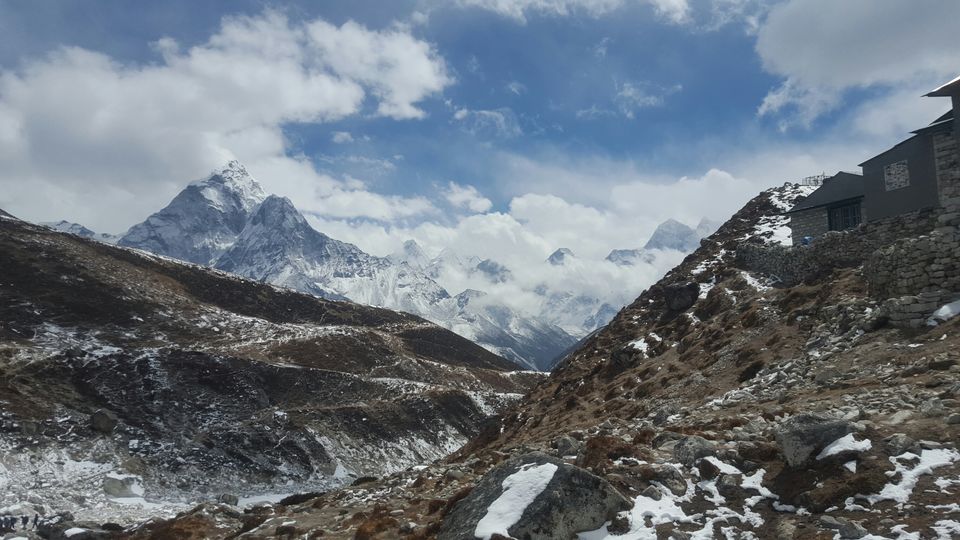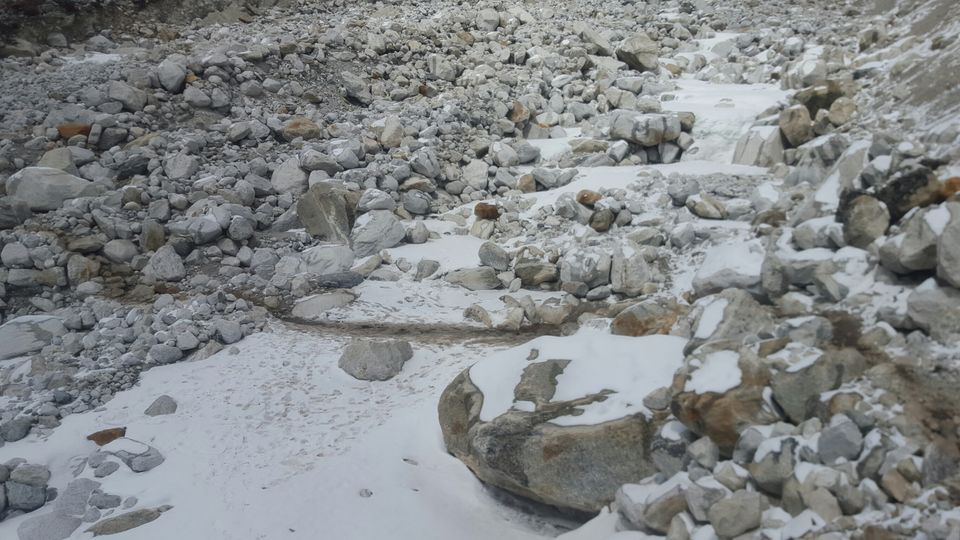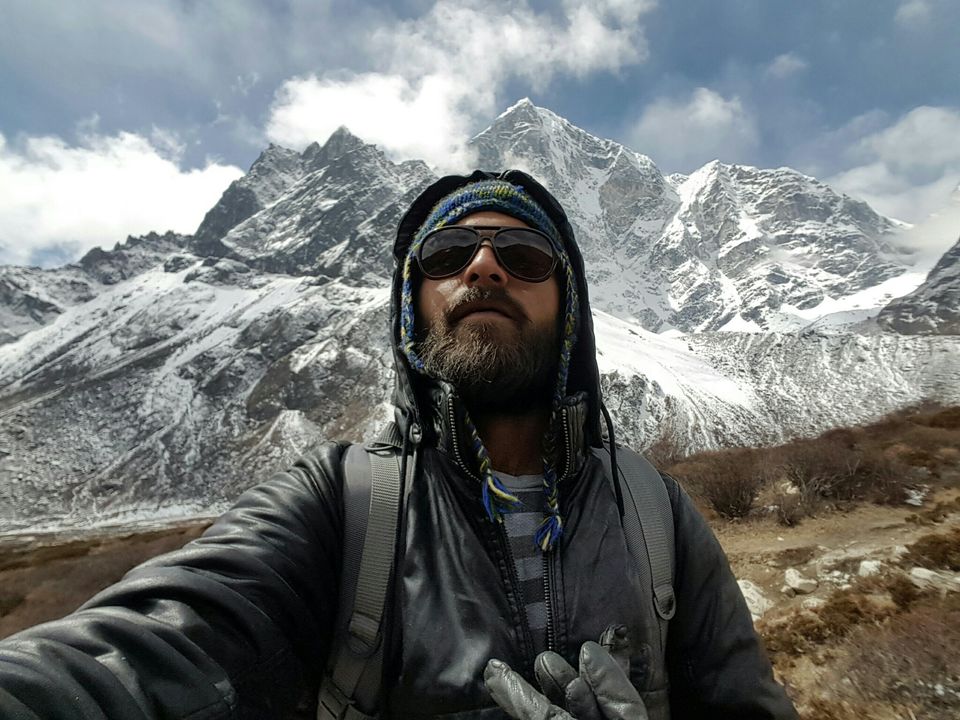 Thukla 4620m - climb up to unknown hill 4950m - Thukla 4620m
Acclimatisation Day
- Last night same problem I've faced, breathing issue, so today I will take easy and rest.
-No idea where I was heading at, so I talk to owner of lodge.
-He show me a mountain, he belives that from up there you'll have amazing view of all mountains.
- Easy trek, up hill.
-Once you reached at the shoulder of the mountain then after there is no trail and you've to make your own way on ice. I dare to go further but not far. It took hardly 5 hours.
-by 3pm I was at my room and enjoying snow.
-Food (wasn't that interesting) : 1100npr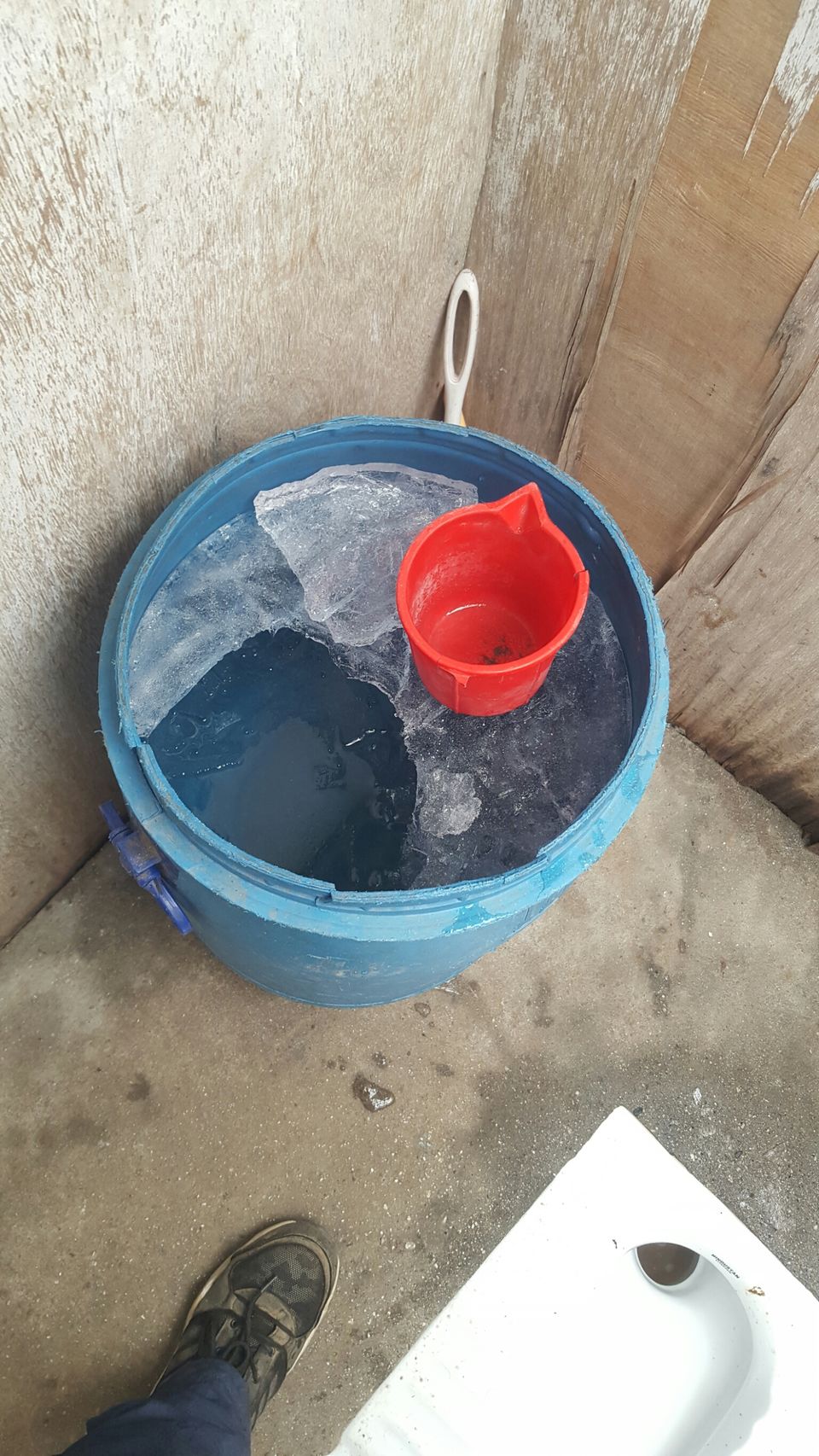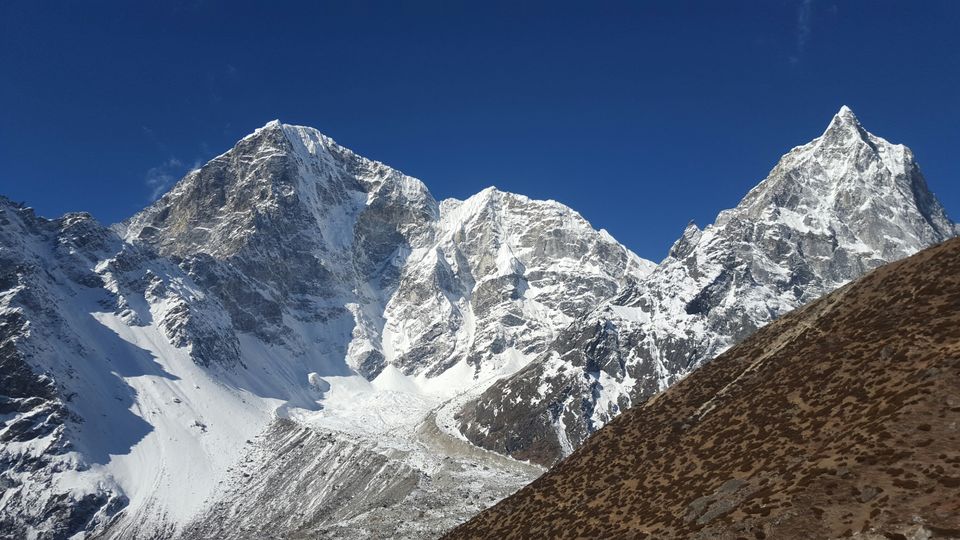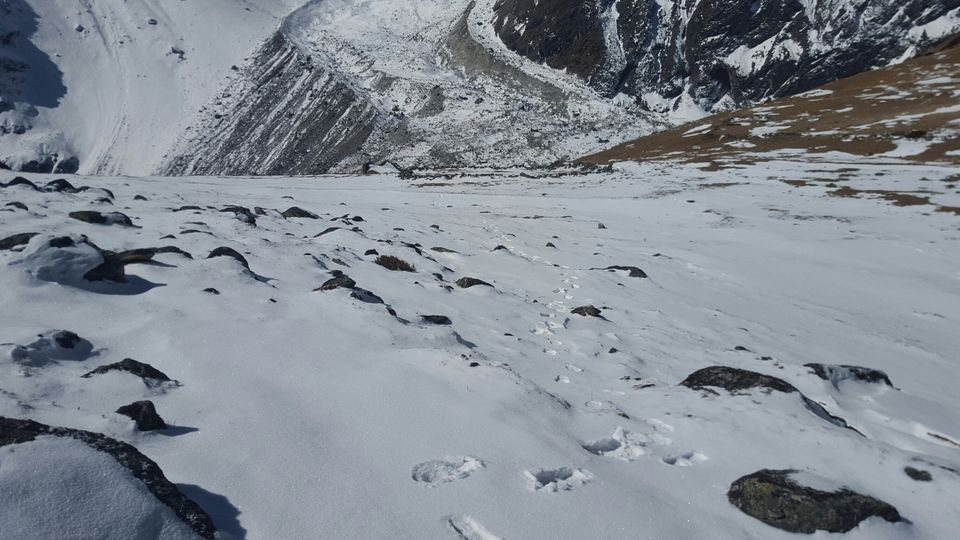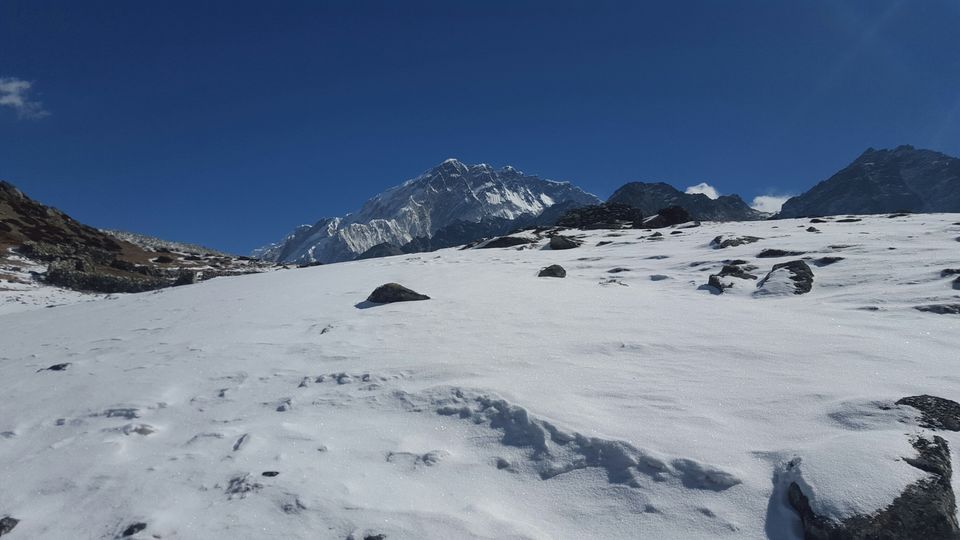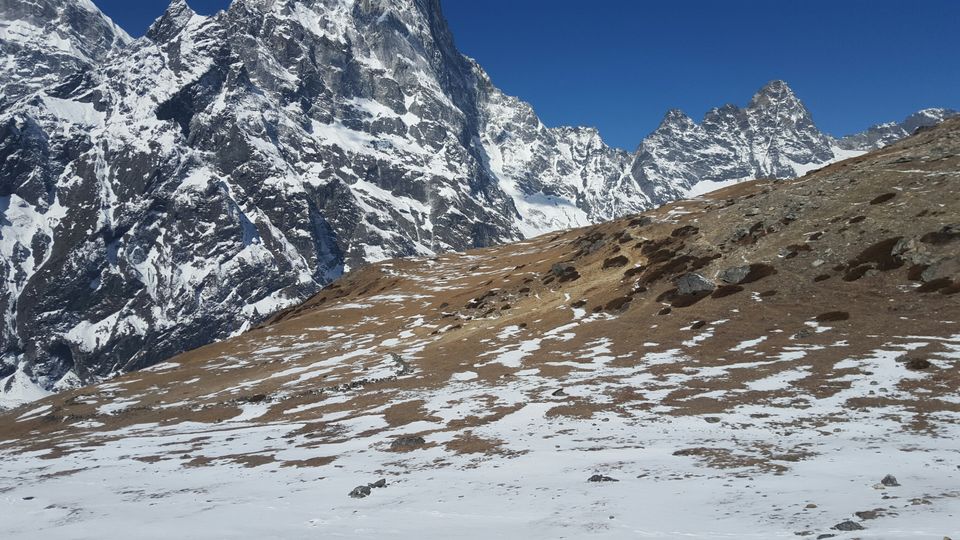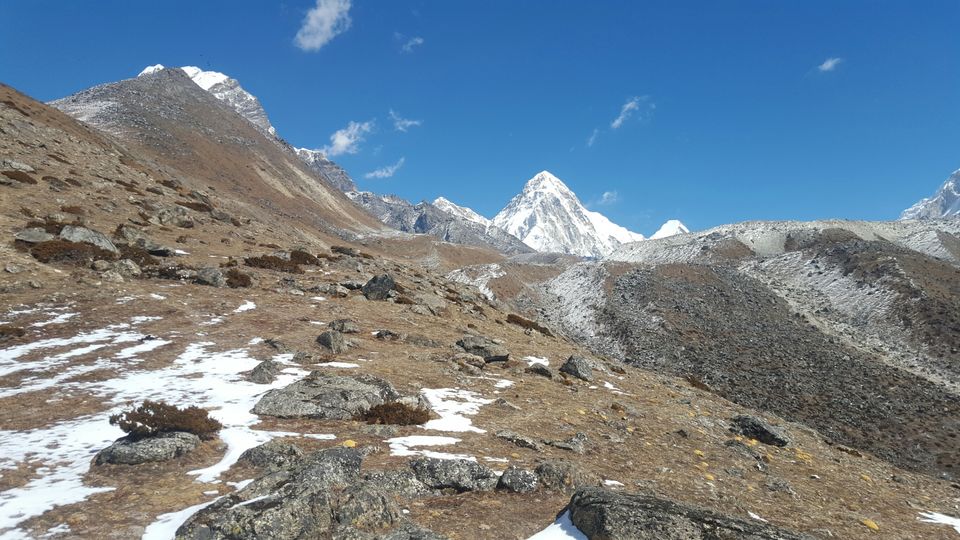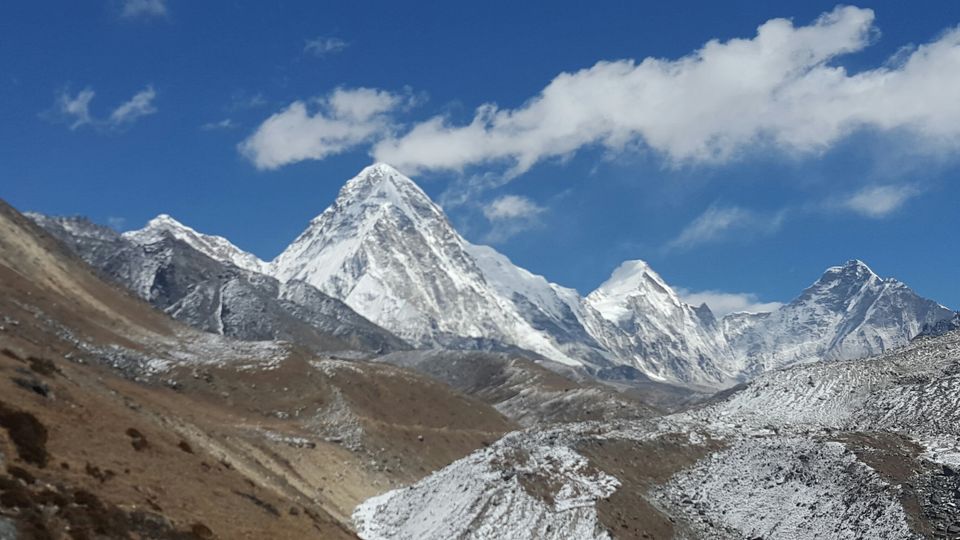 Thukla 4620m - Lobuche 4910m - Gorak Shep 5140m
(8/9 hours of trek)
-Pretty cold out here, can't feel my face, my hand, my legs..getting numb!
-waiting for sun shows up.
-Breakfast at Lobuche: 600Npr
- Make sure you fill up tap water, last place to fill up free tap water. Because at Gorak Shep isn't free nothing.
-Reach at Gorak Shep on 1pm, drop my bag at room and start heading for Everest base camp.
-made it around 3:30pm.
-had beautiful dinner at Buddha lodge: 1000npr.
-lodge: single bed 500npr (same price in every lodge or hotel).
-1 litre mineral Water : 400npr
-1 litre tap water : 200npr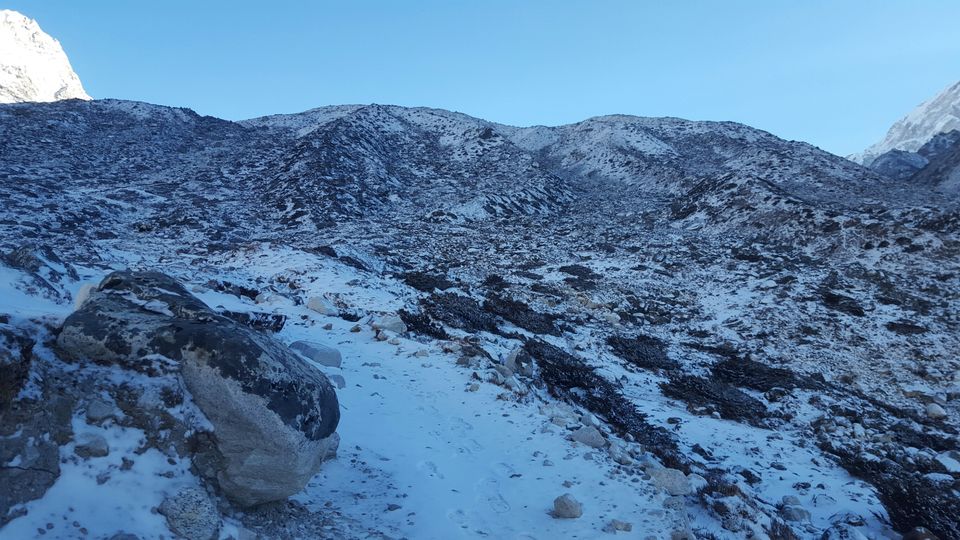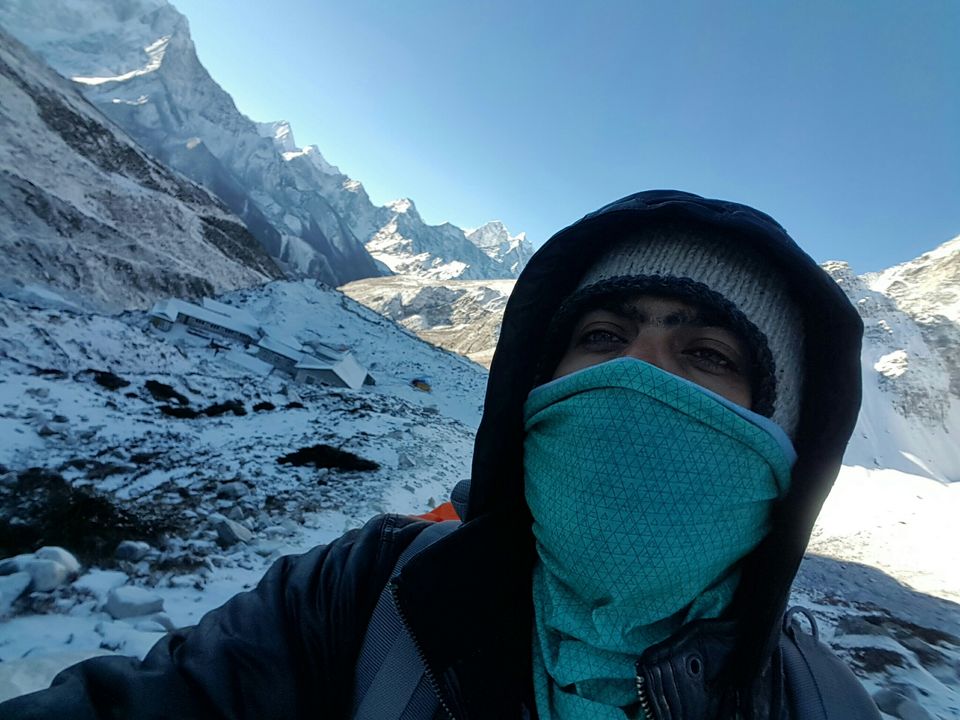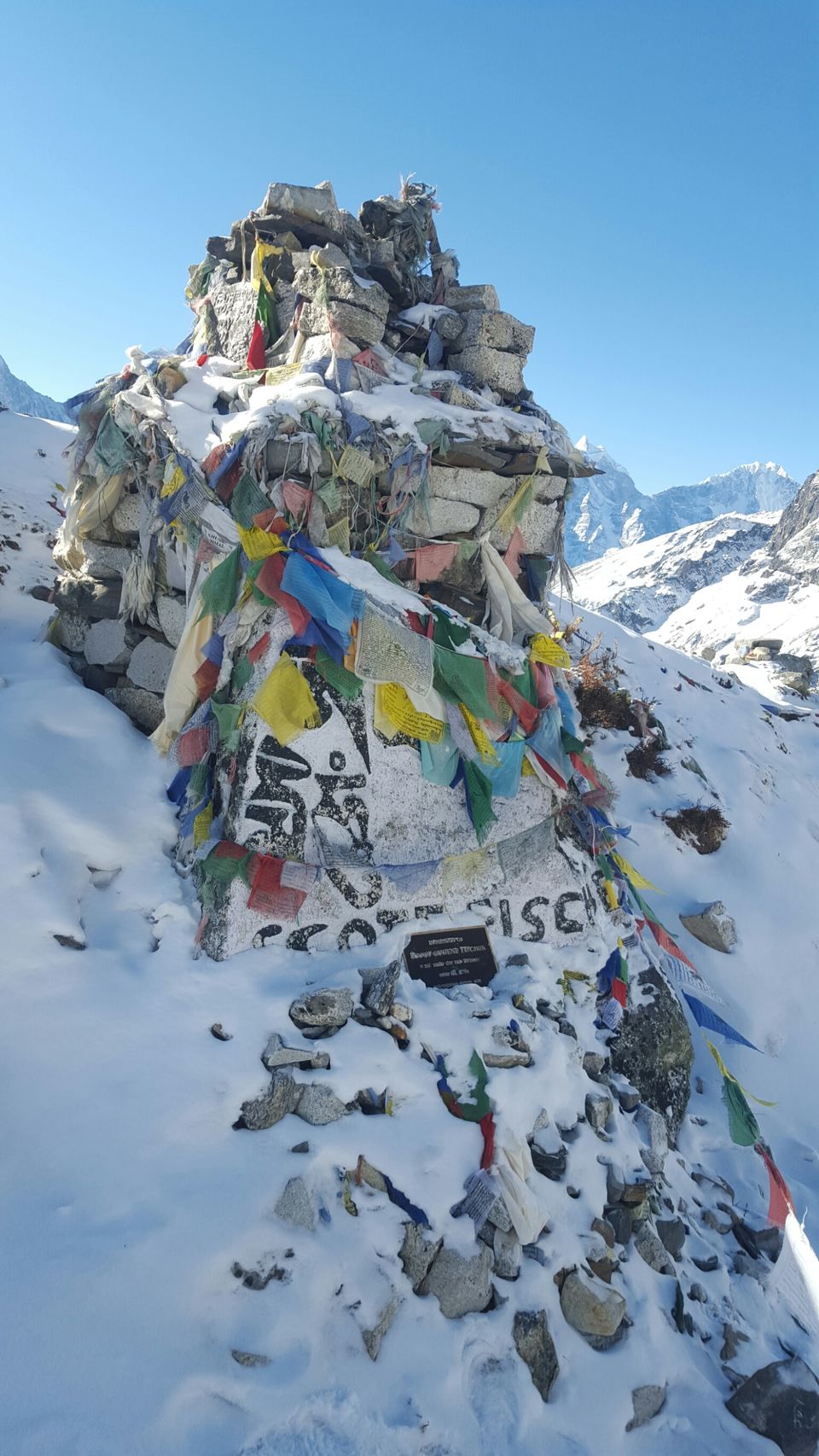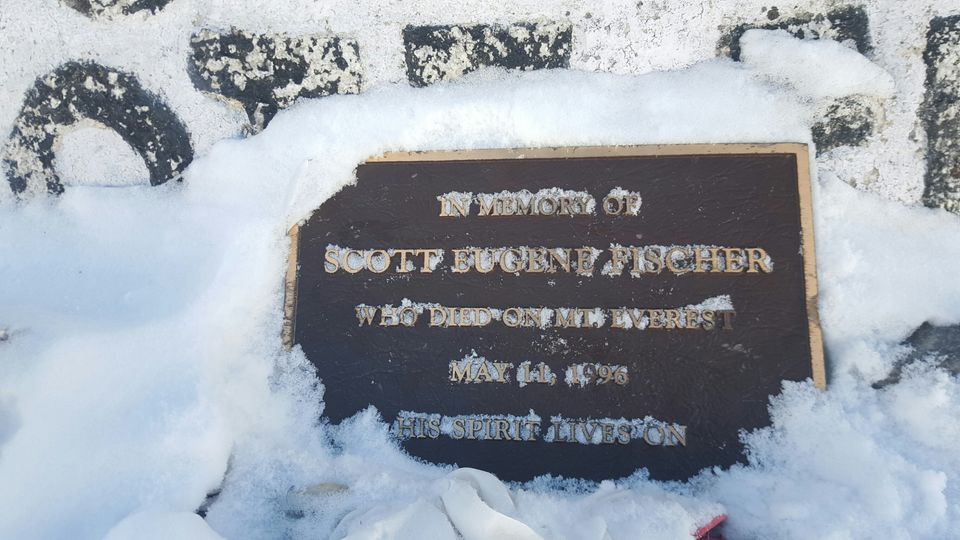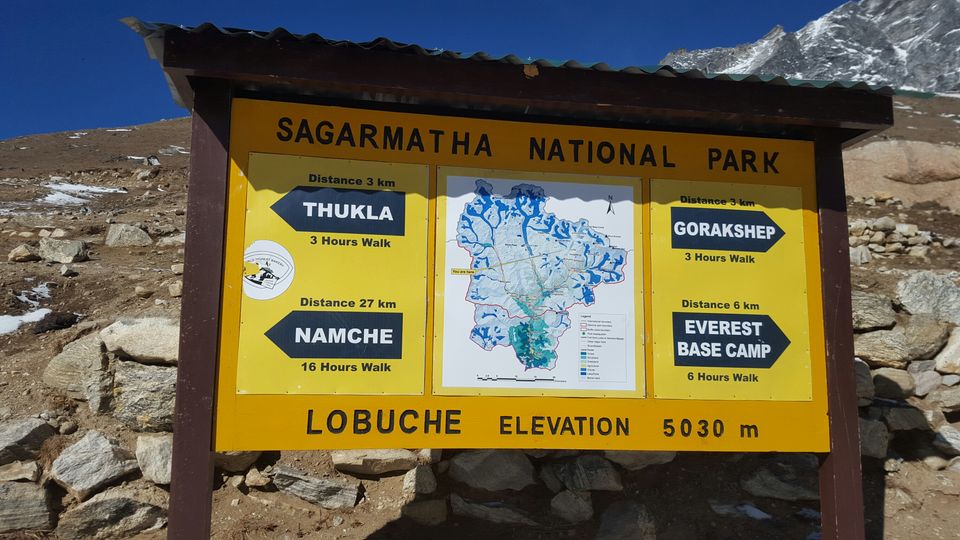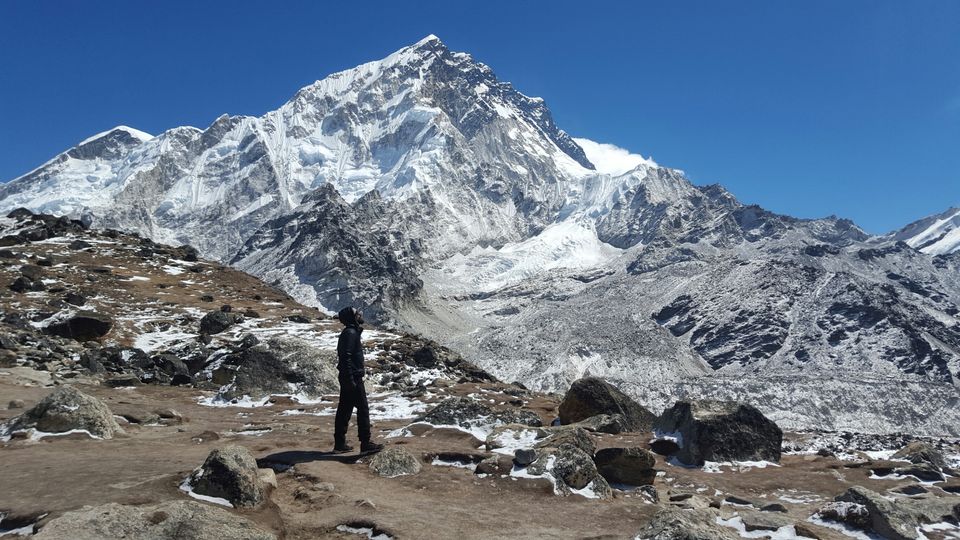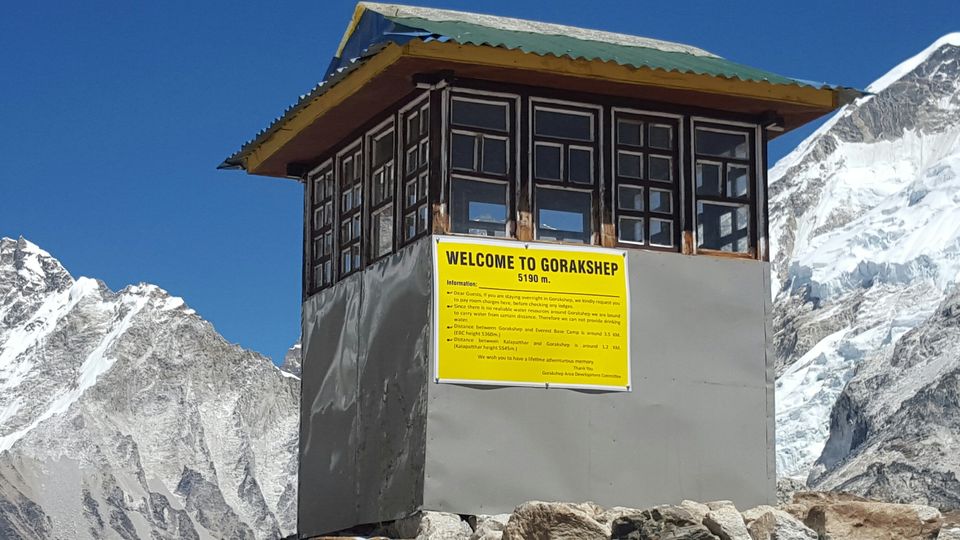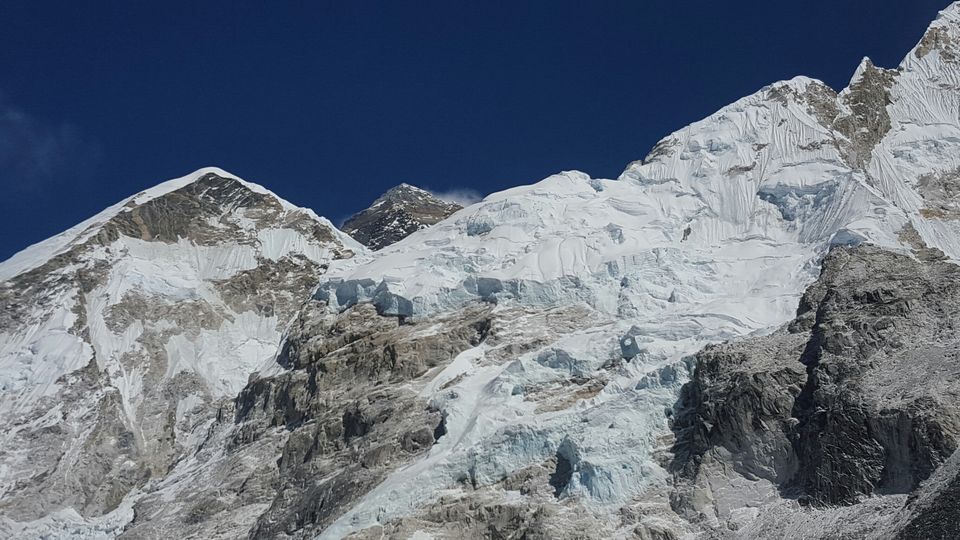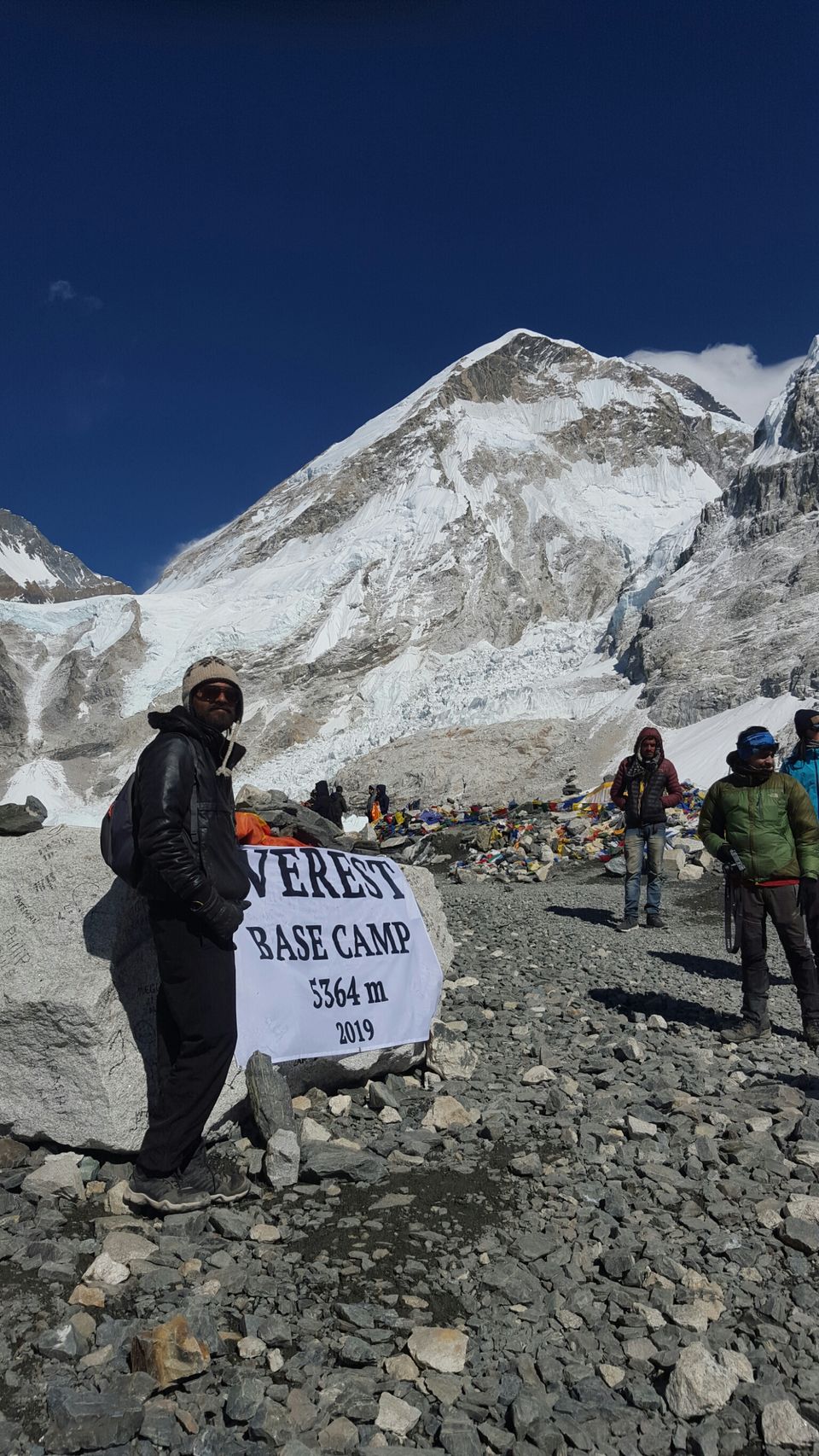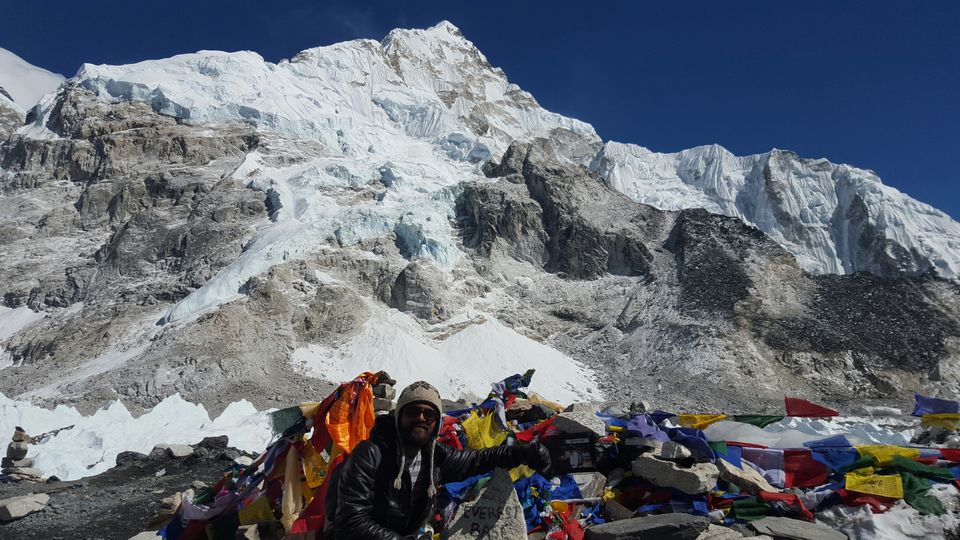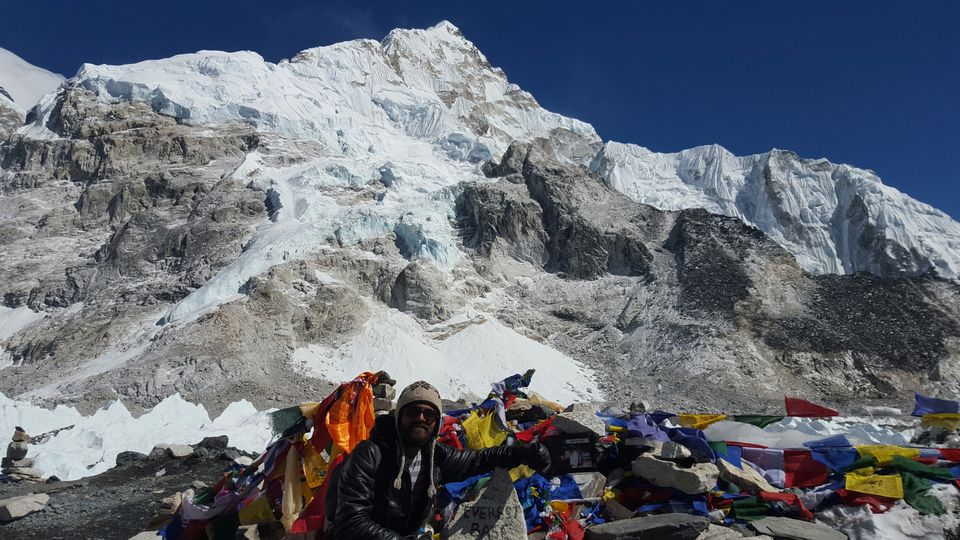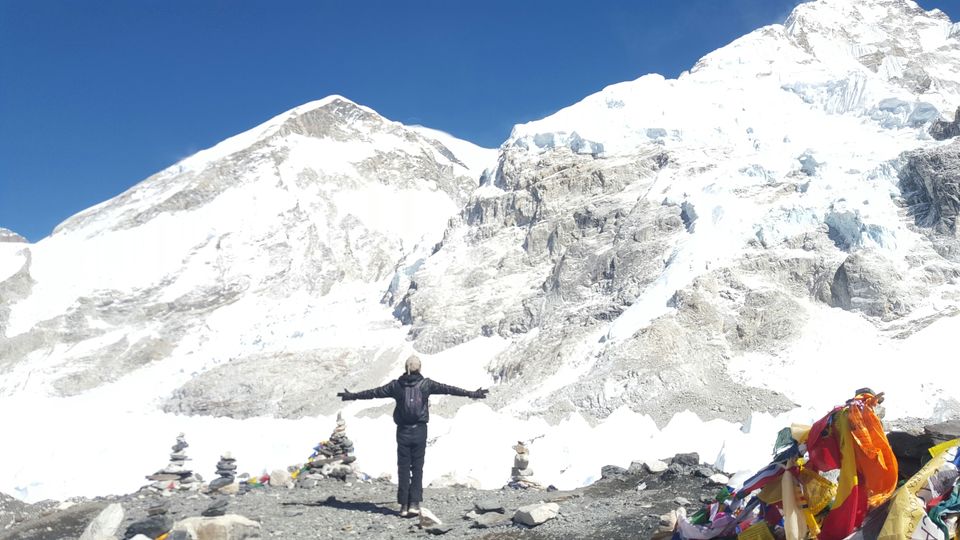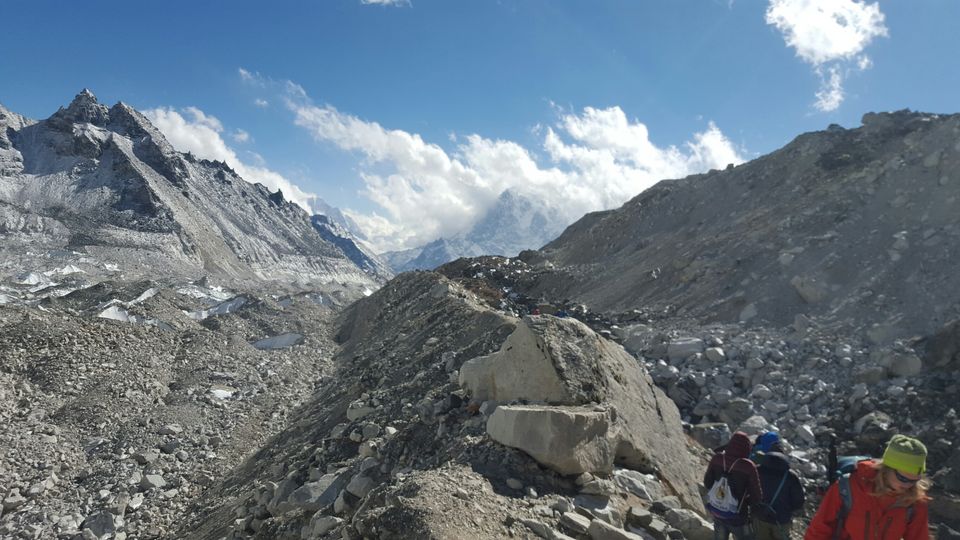 Gorak Shep 5140m - Lobuche 5030m - Thukla 4620m - Pheriche 4371m - Pangbouche 3930m
(9 hours of trek)
-I was feeling so energetic, that I decided to go further as much as I can.
- had lunch at Thukla: 700npr
-Reach at Pangbouche around 4pm
-Stayed at unknown name lodge : 200npr
-Food was great, 600Npr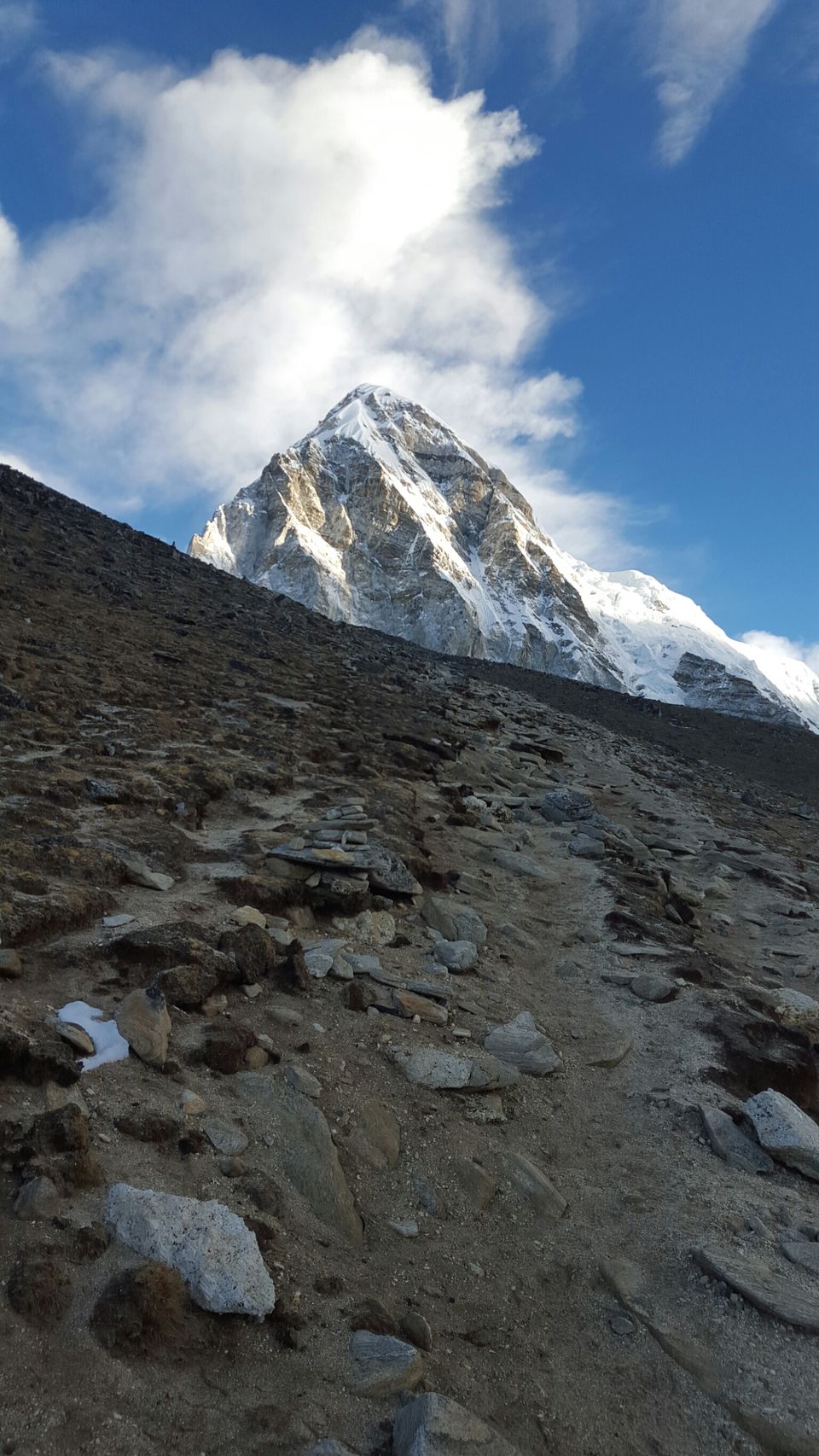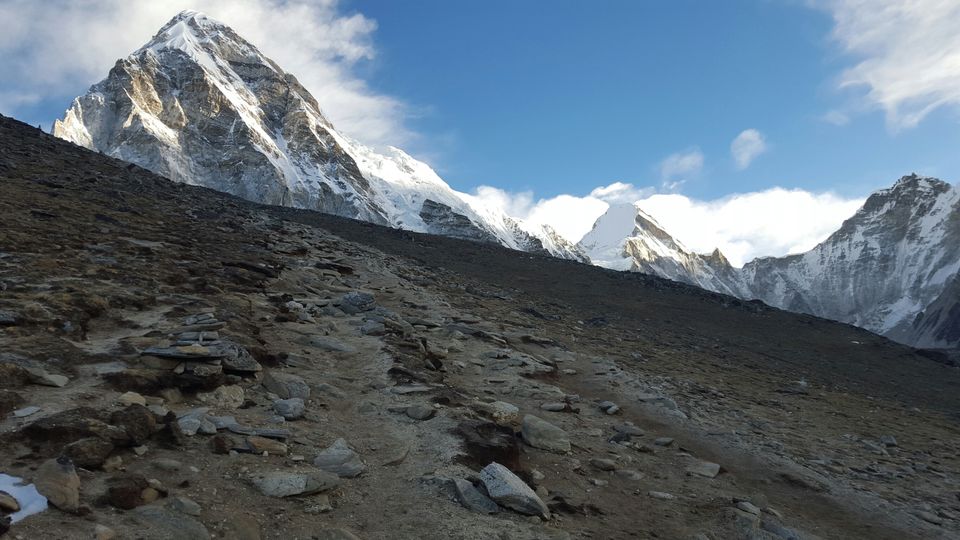 Pangbouche 3930m -Tengboche 3867m - Namche Bazaar 3440m - Monjo 2835m - Tok Tok 2760m - Phakding 2640m
(10 hours of trekking)
-It was getting much warmer.
-Ice melted away, where I had struggle a lot while trekking uphill.
-And you can see clean sky, last view of Mt. Everest nd Mt Nuptse.
-was feeling damn hungry so I had food on 4pm at Tok Tok : 600Npr.
-lots of people heading at EBC.
- stayed at unknown lodge : 100npr
- Dinner : 600Npr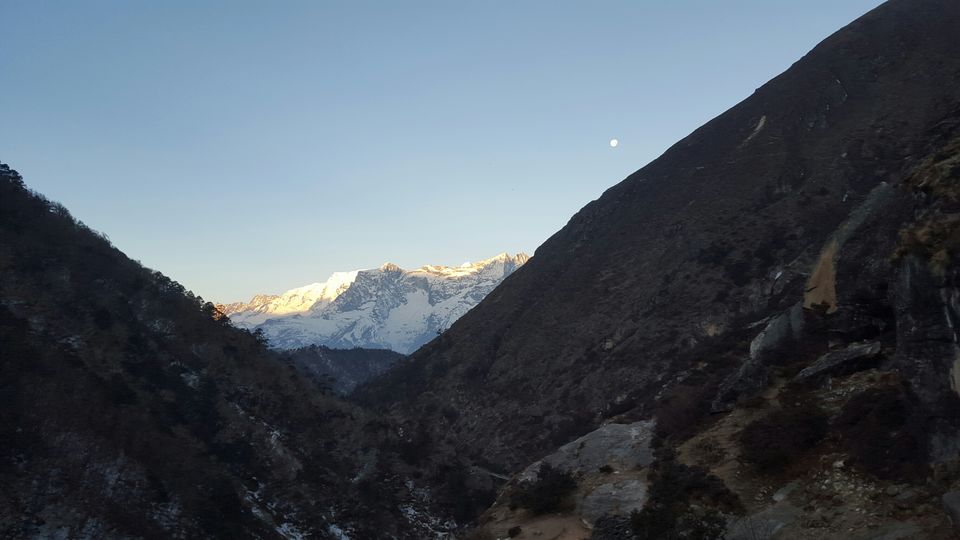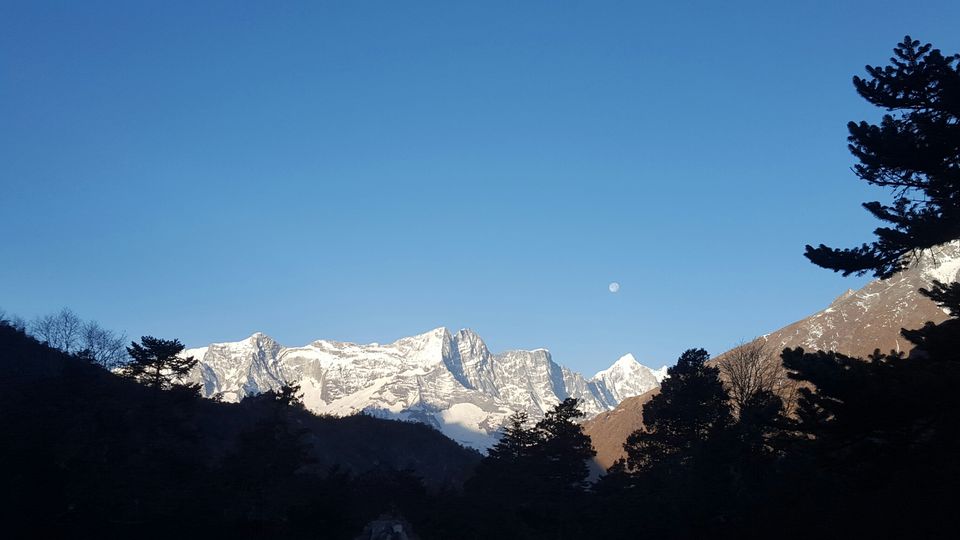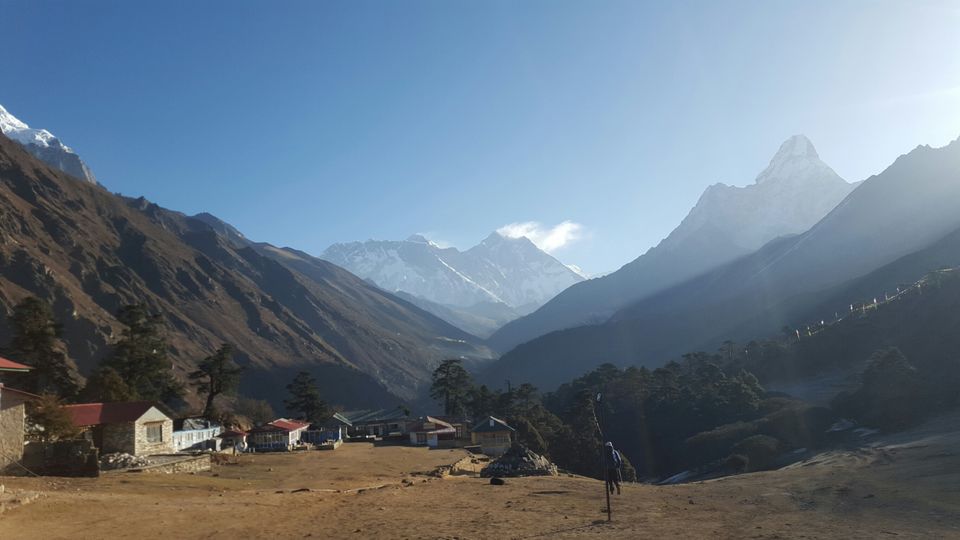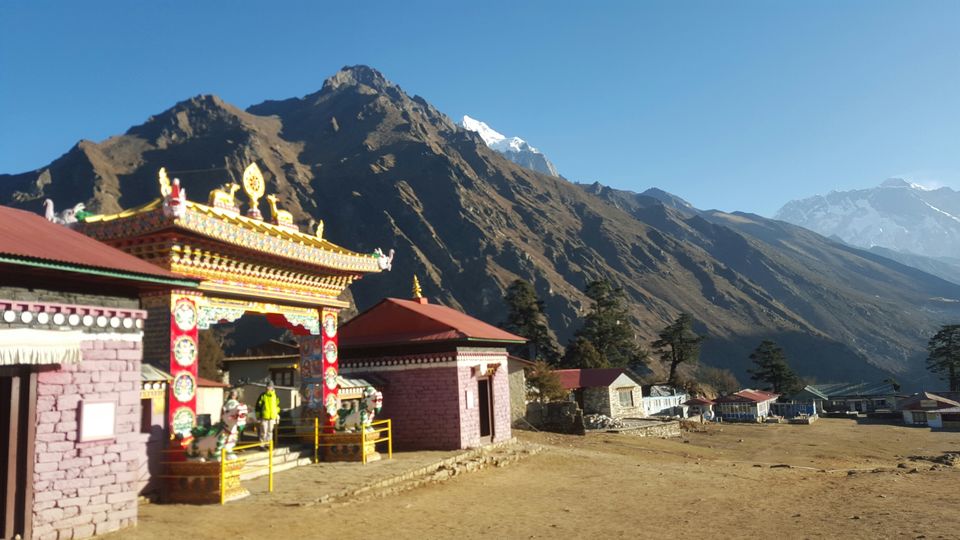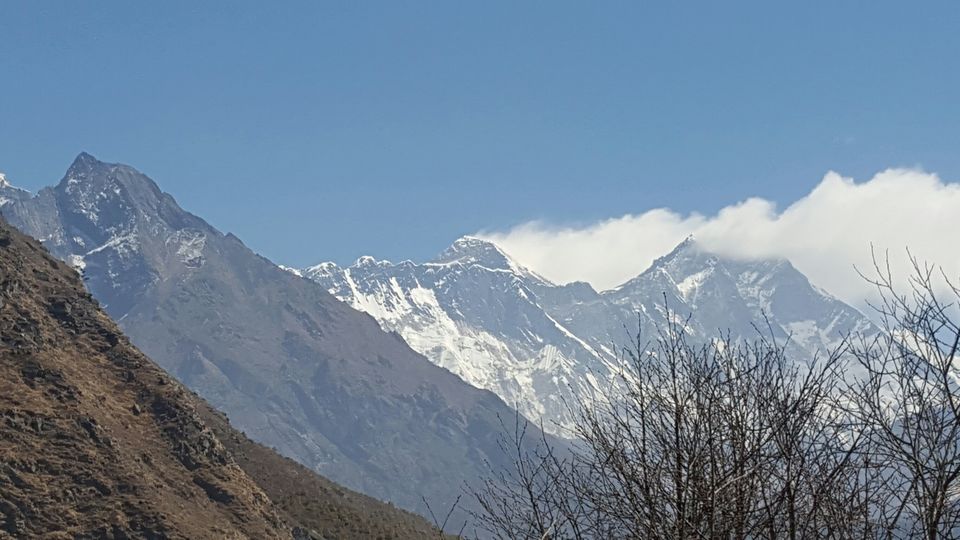 Phakding 2640m - Paiya 2660m - Kharikhola 2040m
(8 hours of trek)
-It took so long because of Mules and Yak, always they have 2/3 groups together in que.
- I was soo mad at them, because owner is not giving attention to them. And they won't mind to kill someone, to run their business.
-Lunch at paiya, was one of my best trip food ever had: 600Npr worth it.
-at 6pm I reached at kharikhola.
-lodge: 100npr
-Dinner: 1000npr (it's should be cheaper than last night I spend, but I can't argue to them).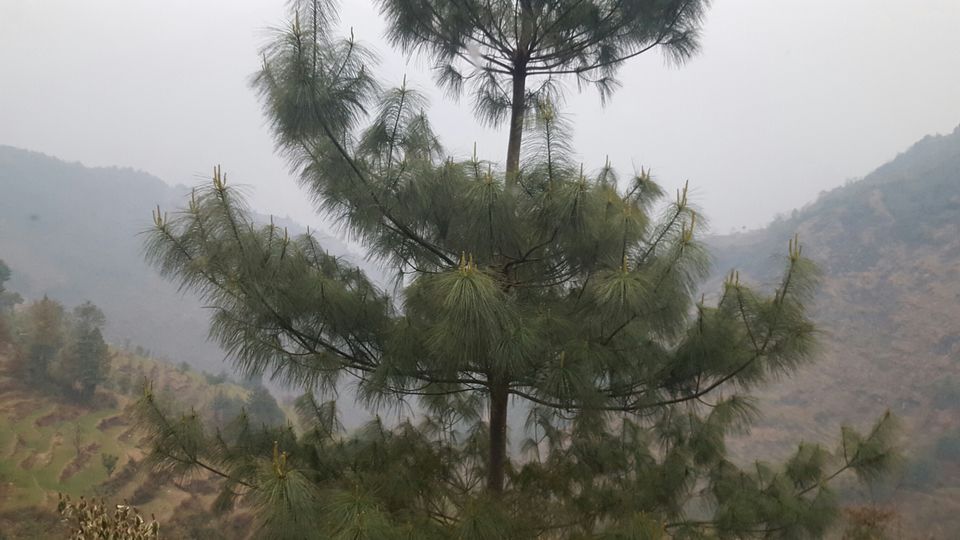 Kharikhola - adheri jeep station - kathmandu
(3 hours of trekking)
- look for the sign of Adheri Jeep station.
-luckily I find a guy, who is heading directly to kathmandu and it was pretty cheap 2000npr.
- drop me at kathmandu 10pm at night.