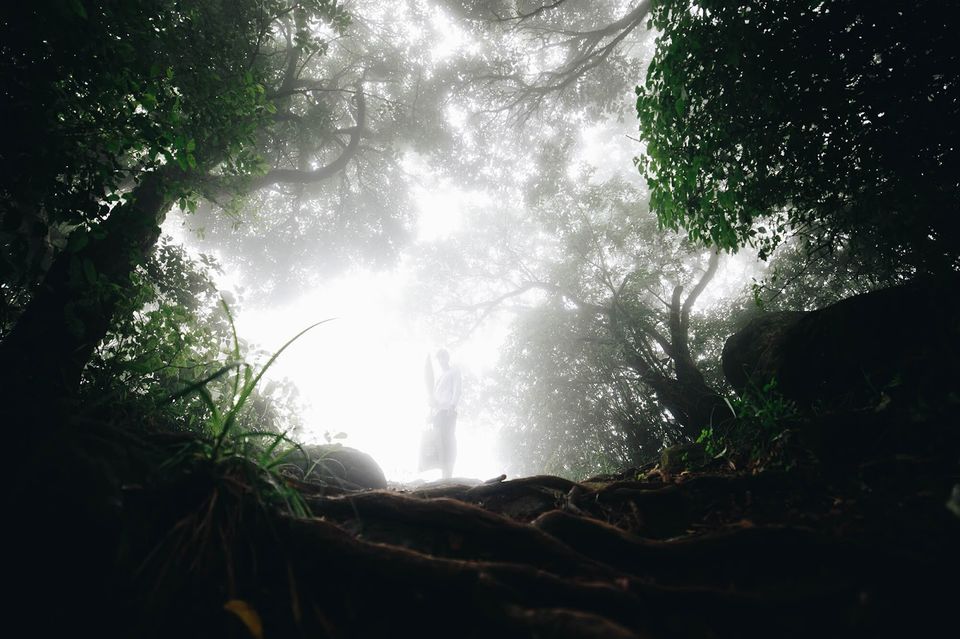 Generation gap, that's the first thing that comes to my mind when I think about Karthik. Even though he is just in his second year at college, he has done more bike trips and treks than I have ever done. Today's kids, they are born on their bikes (Trying to be matured and the elder brother here :p ).
Even so, we both had never been to Paithalmala. He had been to Palakkayam Thattu before, which is close by but has a different terrine. Vignesh's friend Jithin also joined us for the trip. By the by Vignesh and Karthik are both the same persons. I don't want to drag you to this confusion, so let's just call him Karthi for this trip.
As its only around 2 hour drive from hometown, we took my dads trusty Alto K10 and left very "early" around 11:00 AM as Jithin arrived very "early" after multiple calls filled with abuses, from Karthi. Because Karthi was our navigator, as he had been to Palakkayam previously, I turned on the Google map and handed my phone over to Jithin (I know Karthi more than you know him... :P).
This was my second attempt to visit Paithalmala. My previous visit along with Jeevan and Sarath was a disaster, as we reached there only after 05:30 PM to know they are closed. But only I and Sarath where disappointed, as our (Lord Krishna's reincarnation) Jeevan Francis has been to Paithalmala couple of time along with his gang of gopika's.
Our car survived the grumpy road and reached the destination after a tedious drive. As expected Karthi lost the route half the way and the google map saved the day. After enquiring with the locals, we took a climbing road, which was not properly maintained up the hill. That's where the scenic views started to appear. As it was a clear day, which was contrary to whats expected in the rainy season we could see the city below, the greenery and the clouds creating a stunning view for my camera to capture. We spent some time there and moved on as there were a few more kilometers left to reach the hiking point.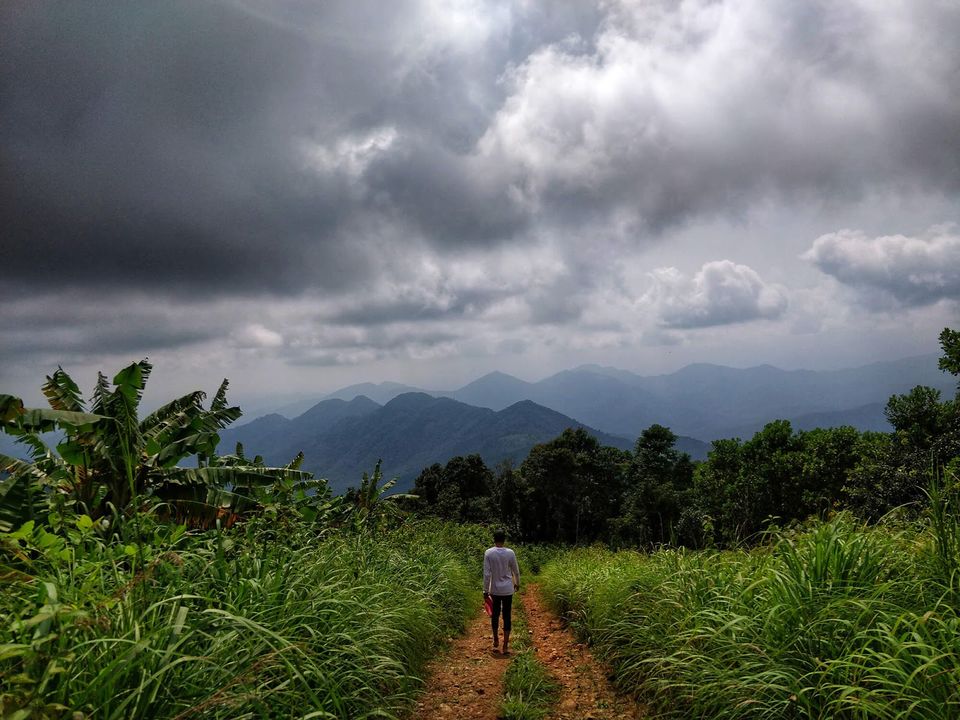 At last, we reached a dead end, which seemed to be a starting point to a forest trek. There was a small tea shop and a small house. This was not the place I have visited the previously. We were really confused and started abusing google map, when a guy came out from a small hut which was on the trekking track. He informed that he was the forest security guard here and this was the actual trekking track to Paithalmala. From his words, it seems that what we have previously visited was the easier route, which was longer and most commonly taken, and this one is the shorter, but tougher route.
anyways we were excited, as we are going to take the road least taken. Remembering Rober Frost, I parked the car and paid the entry fee (Amount I actually don't remember, not costly I think... :P). The starting point was a bit confusing, but we asked and confirmed the rout and took the first step in the wrong direction, which we only realized when we reached another dead end at the banana plantations in front of us. As Karthi was the smallest among the group, so he was made to run the errand back to ask the proper route and also take the plastic bag which I forgot to take for protecting the camera.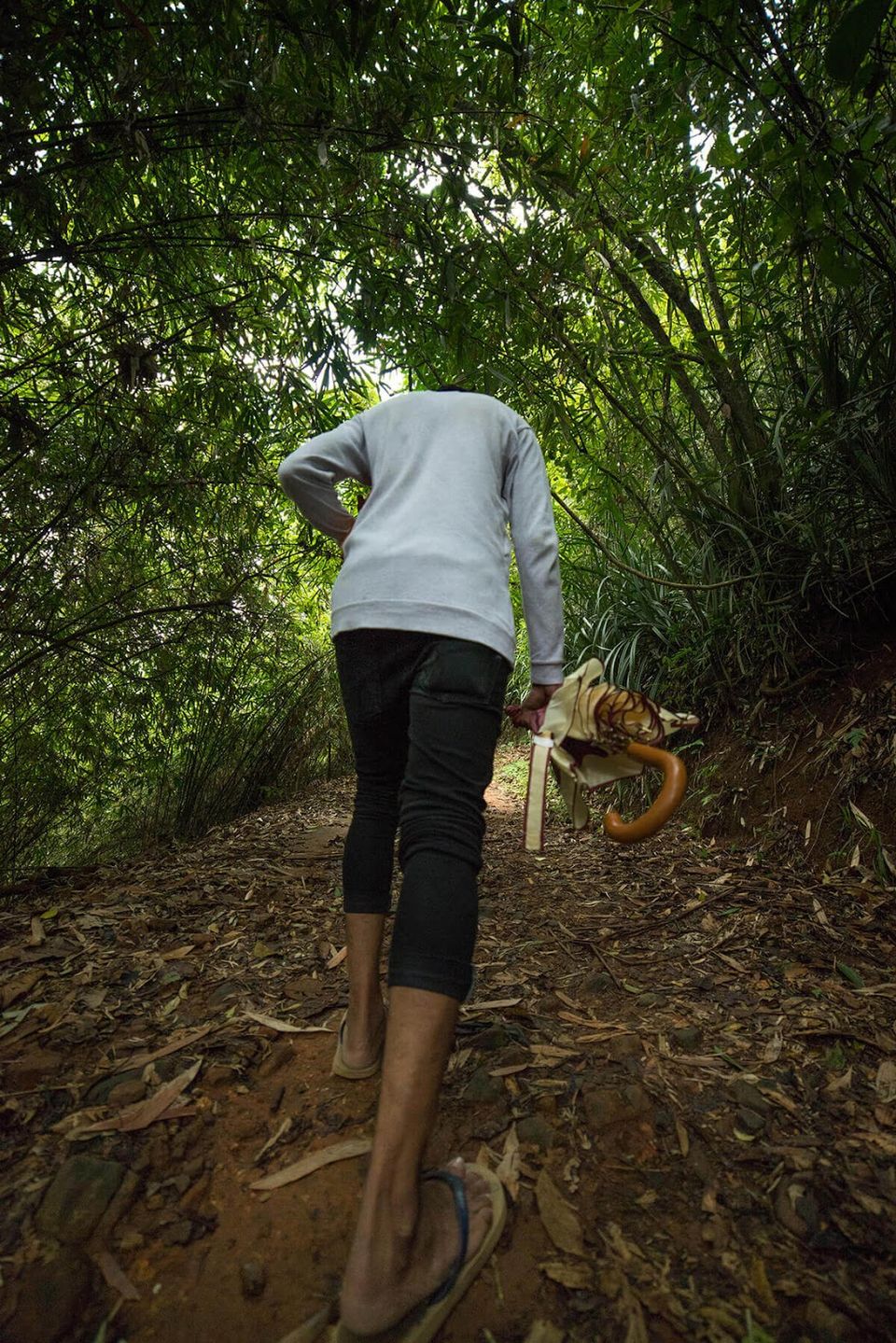 We got the doubts cleared and found out that we had to take the opposite route. We started the ascent thinking about the view we were going to enjoy once we reached the top. The trek was supposed to take around 1.5 hours, but took us a whole 2.5 hours as the younger Karthi and the Asthmatic Jithin where lagging behind. The trek was taking its toll on me also, but I got more time to respite in between as the other two were really slow climbers. Another thing I forgot to mention where the leaches. They were everywhere. we could see them leaping up from the ground like little elephant trunks sniffing for food up on trees.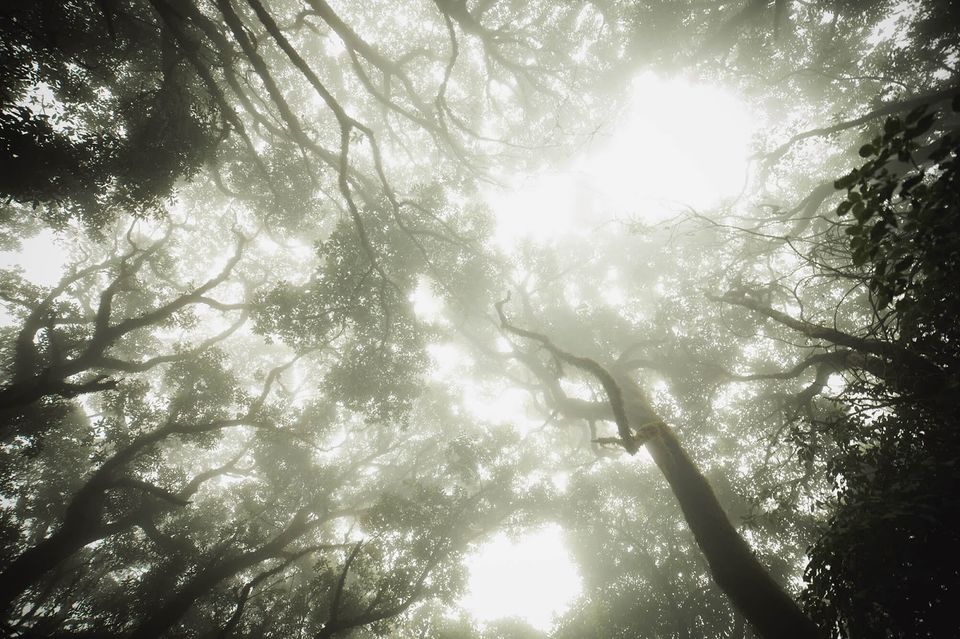 We were already warned of the leaches. I have previously been to leach heaven Ranipuram so I was not afraid of that vampires anymore. But hearing about the leaches, Karthi and Jithin started saying we could take the trek in summer and tried to back away. I got a bottle of Dettol and build confidence explaining how docile creatures they were and they won't suck the life out of you. Only after severe persuasion did they accept to treck.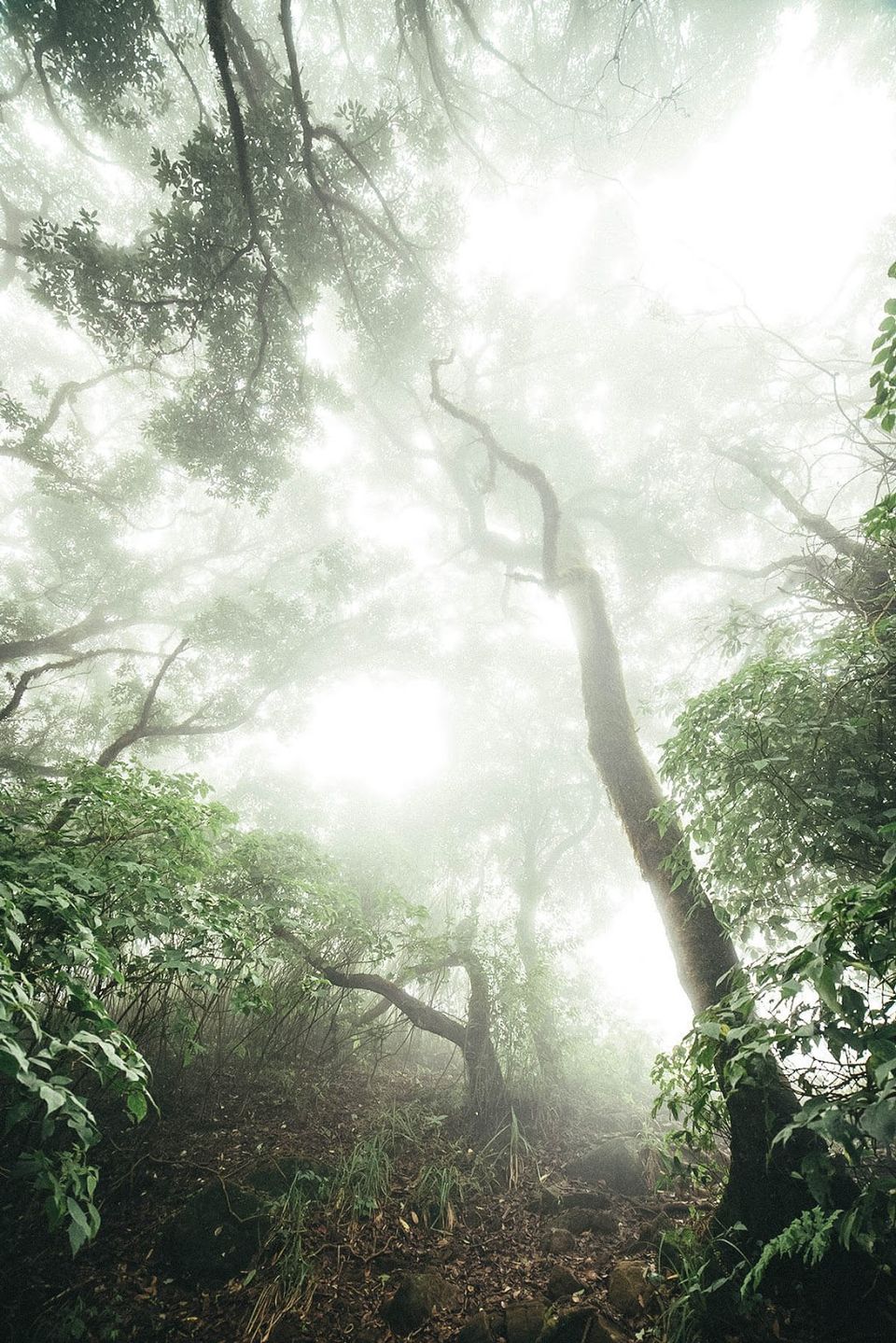 So at each respire stops both Karthi and Jithin looked at me as if looking at a butcher who was taking the goats for slaughter. At last, after a hard and sweaty treck, we reached the top.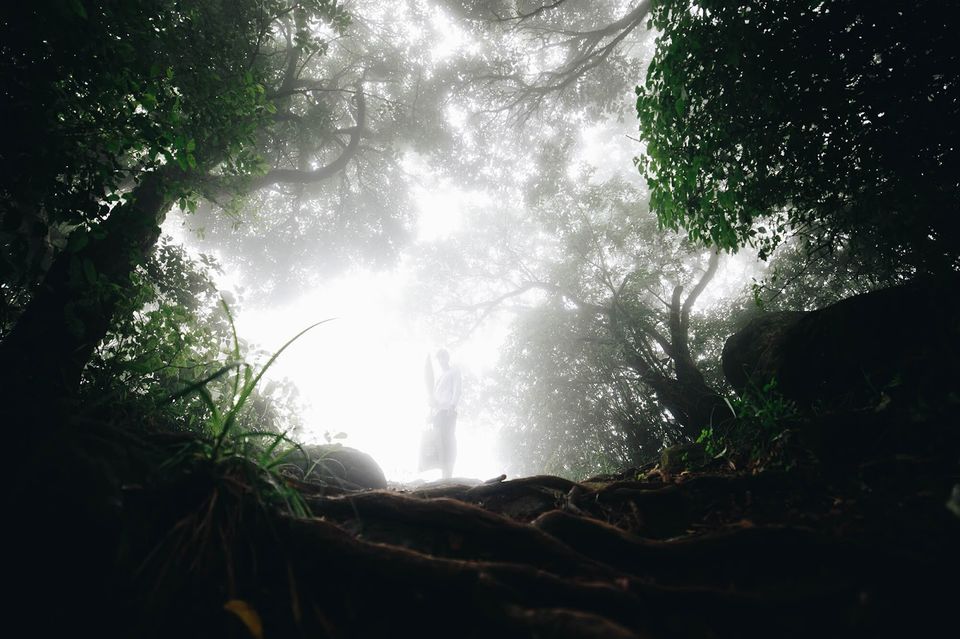 The top canopy open to a meadow full of green grass. It was as if we left a dark cave and entered a magical wonderland. It was another world altogether, which cannot be explained but can only be felt. We climbed the rocks and walked over the ridges. The mist has limited our visibility to a few meters, but still, the majestic hills had quite a few spectacles for us up here. The hard trek had made us tired and week, but the view and the feel we got reaching the top made us realize its worth.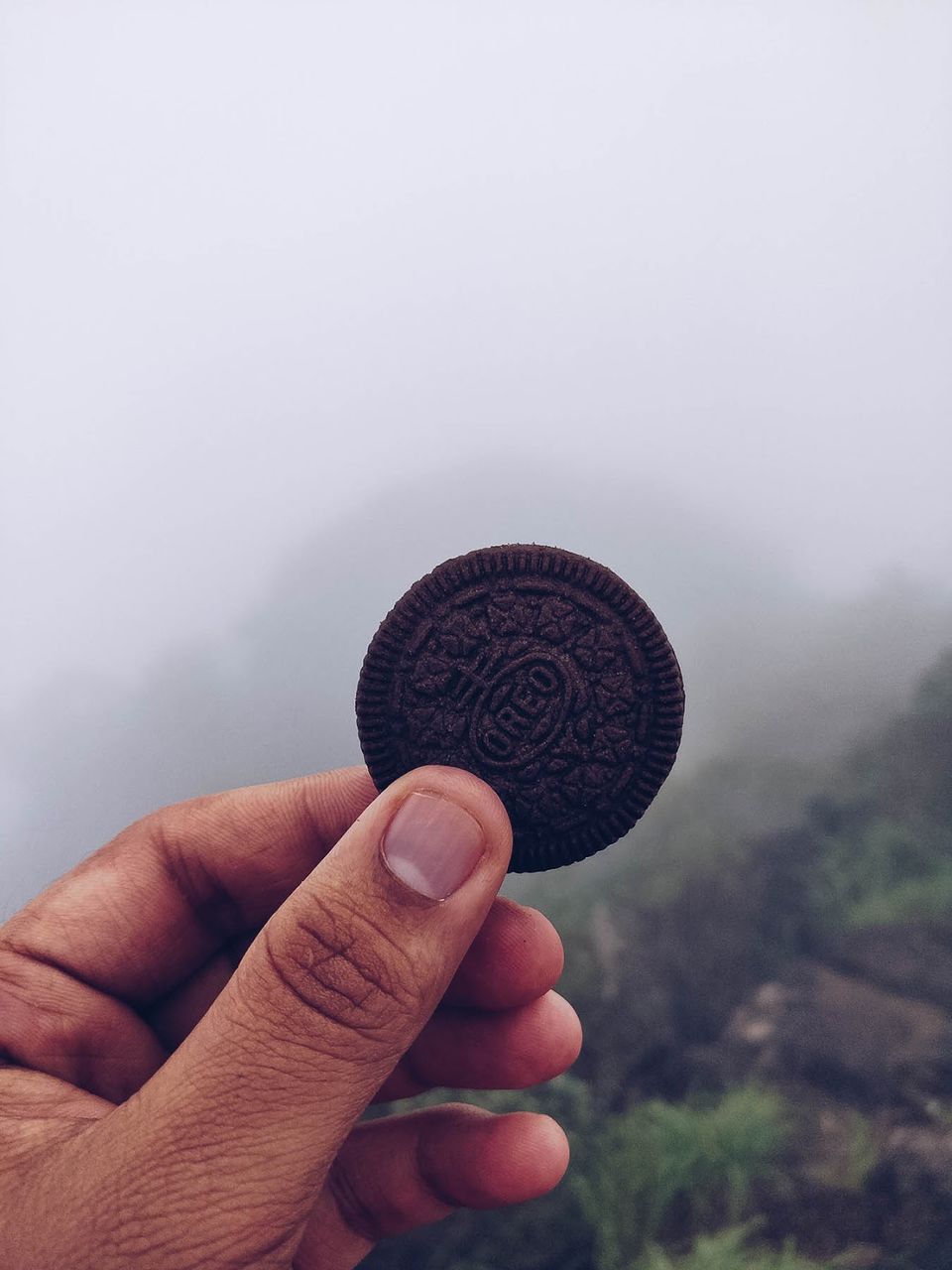 We ate the snacks and drank the water we brought, took some rest and that's when the drizzle started. I could feel that the sky was going to shed a few minutes before itself, as the cold wind was wet and moist. We wrapped up our brief visit and started the descent as soon as possible. I packed my camera inside the plastic bag, as I knew the downpour will begin soon. As expected nature started her tears as soon as we started the descent.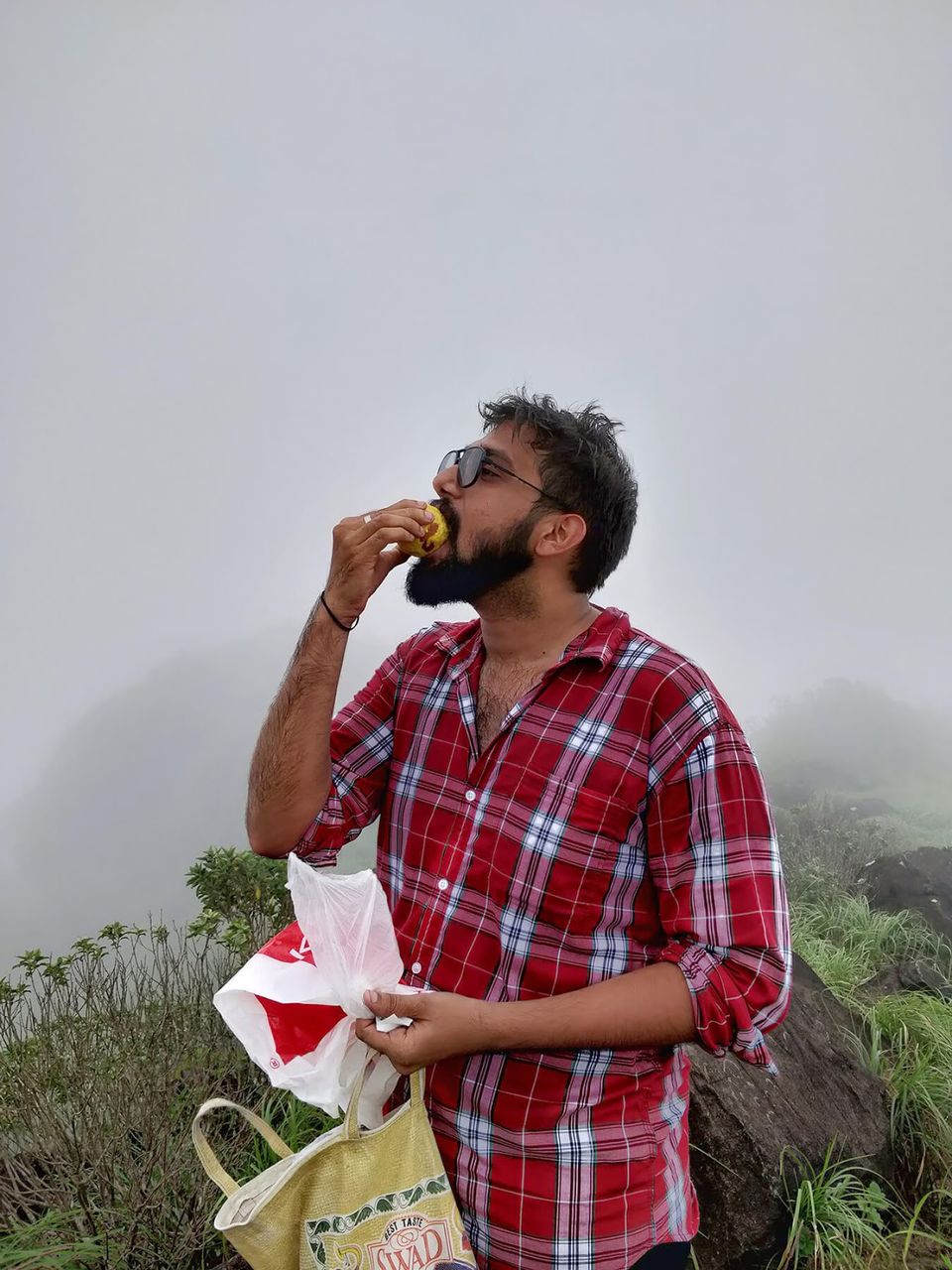 On our way down we met Sandeep, an electrician from Taliparamba along with his friend. Me, Karthi and Sandeep rushed down as fast as possible and left Jithin along with Sandeep's friend as they were slow and they had each other. We Rushed down the path which we climbed like a stone rolling down the hill and reached within a short time back to the tea shop at the starting point.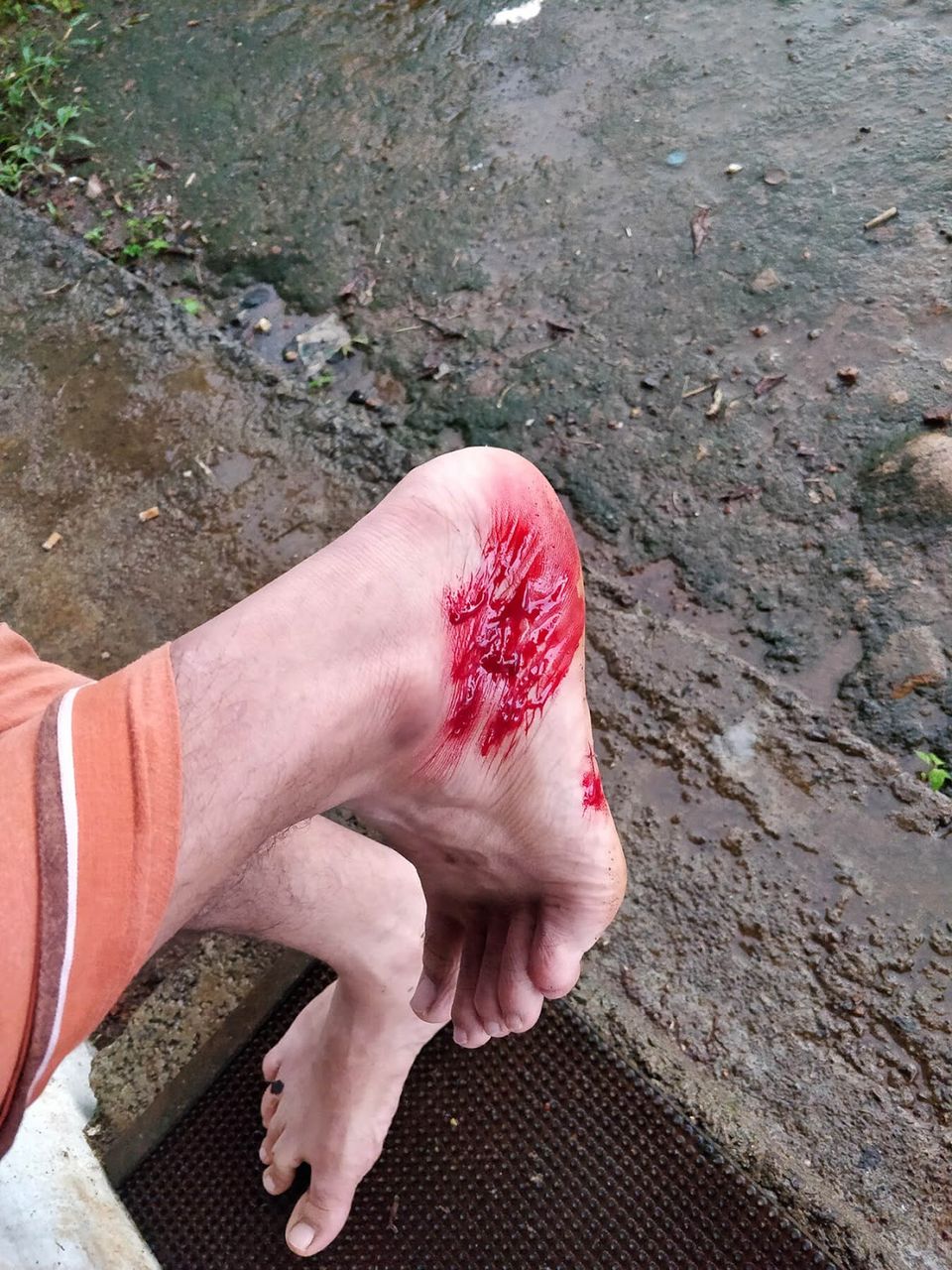 By the time we reached we were dripping wet. The first thing to do was to see how many Leaches are there on me and that they haven't climbed way to up. There were around 12/13 leaches on me and a few on Karthi. We used the left Detole and some salt from the shop to kill off all the leaches. After all the battle my legs looked like a wounded soldier who was left dead in an old war. I washed off all the blood which was oozing down and cleaned my legs. I know it will take more time for the blood to clot.
As I was the only planned person on the team, I took the towel and wiped clean and changed the wet clothes to new from the tea shop itself.
Now we have to wait for Jithin and Sandeep's friend. Meantime we had tea and snacks from the tea shop. After a long one hour, Jithin and the other guy reached us. They had their own different story to tell, about falling down and nearly escaping the serious injury on the way down.
The shopkeeper was a very friendly person. As we talked we enquired about the small house near to his shop. He said that its a mini resort build by himself. Hikers could opt to spend a night in here if they wish to, by spending a small fee. He gave his visiting card for future use. We spend some time talking to him and discussing. After a few more minutes, the rain had subdued. We bid goodbye's to the shopkeeper and Sandeep and left for home. Thus a Saturday turned in to an Itching memory which will last for quite a while (At least the leaches gave some to last for long).