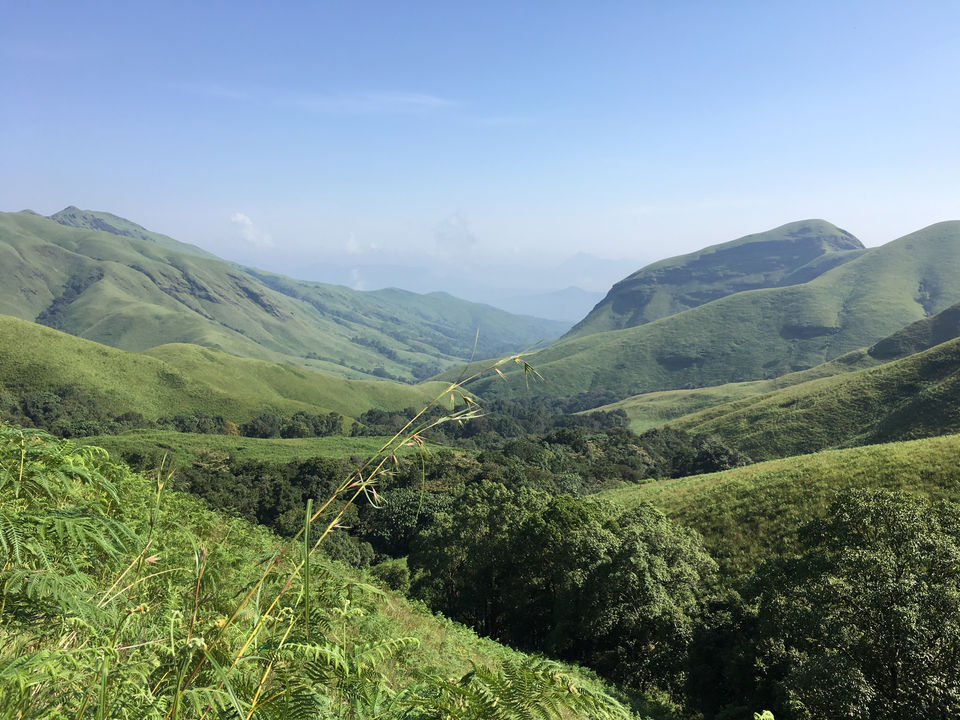 Hello, this is all about a trek to kudremukh peak
We often travel to kudremukh on our way to hornadu its a holy place for Hindus. But we never knew about the kudremukh trek . A friend of mine was speaking about this in our class so I googled about this trekking place. I saw all the photos of trekking and was stunned by the scenery, I decided to trek this mountain and I also read few blogs of experience of people.I was waiting for my exams to get over and couldn't wait to get lost in mountains and that day was finally here .
It was Saturday morning I told one of my friend about this trek near kudremukh I sent him some links of the blogs and photos. After seeing the pictures he was amazed and was ready to join me on this trek. We asked all our friends to join us. But only 4 people came up with yes . It was 11:00 in the morning, I went to bus stand to ask for bus timing to kudremukh ,The buses were at 1:00,2:20 and last bus was at 3:40 from state bank private bus stand of Mangalore . So we decided to catch 1:00 bus. I was packing my bag I got a call from one of my friend that he cannot come with us. It was very disappointing But we couldn't miss that trek because of him. So we packed our bag and left home by the time I reached bus stop it was 1:15 and we had missed the bus,our next bus was at 2:20 and none of my friends had reached the bus stop yet . I was sitting in bus stop and scrolling my Instagram page at 1:30 remaining two of my friends showed up finally . The next bus was at 2:20 and we still had 1 hour , So we decided to go to Karkala first and then change the bus at Karkala to kudremukh we dint knew perfectly but we were trying our luck ,I was 70% sure that we may get bus from Karkala .We took Karkala bus- the journey time from mangalore to Karkala is 1 and half hour . If had not booked anything in kudremukh yet. But we had a phone number of a base camp(home stay ), He is very well known person in that area his name is 'Raje Gowda'.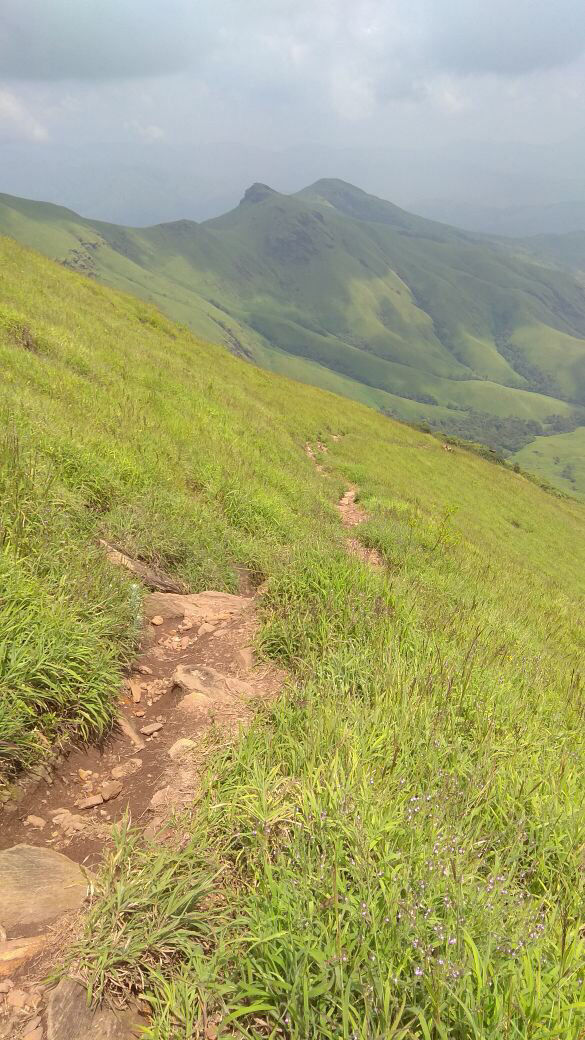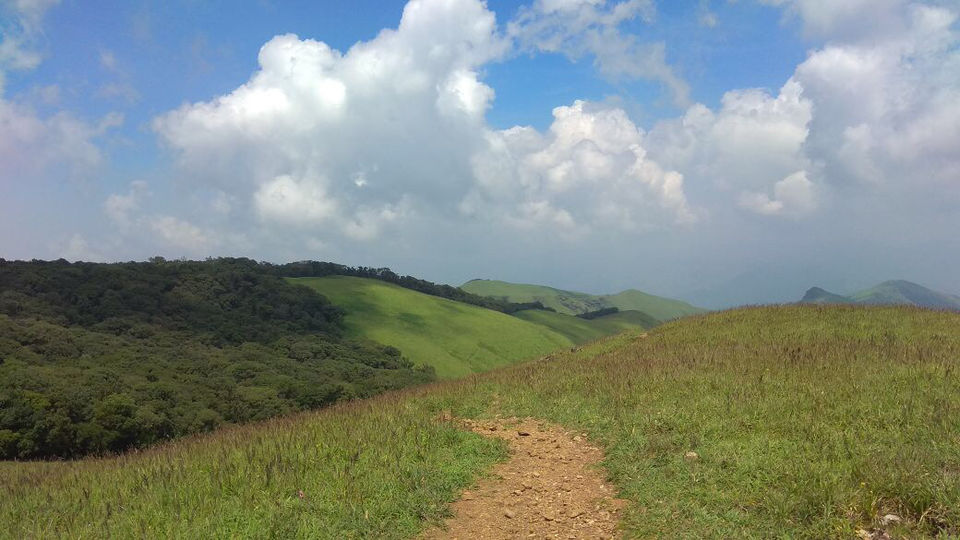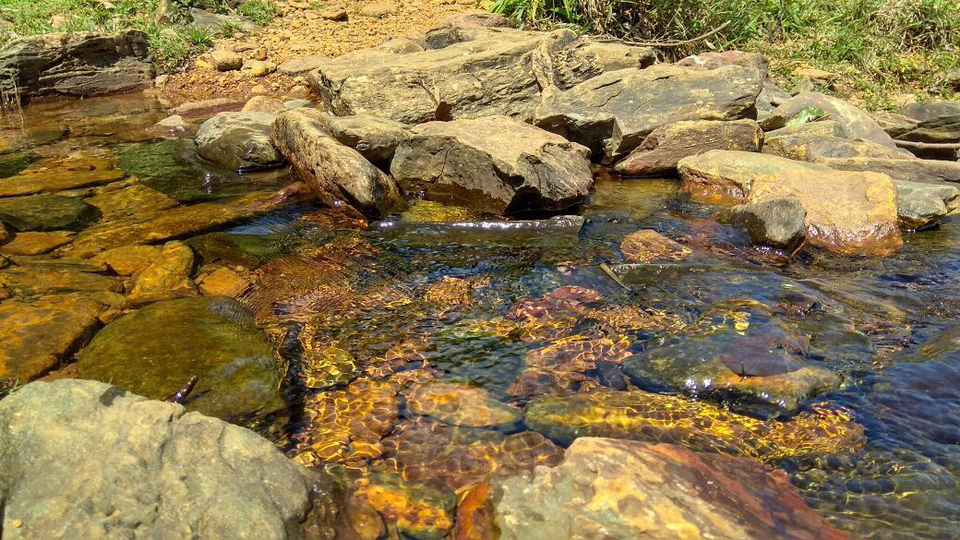 We reached Karkala at 3:00 in the afternoon as soon as we got down from the bus we found a Shivamogga bus via kudremukh ,Kalasa . The bus was ready to leave at 3:15; we placed our bag in bus and went to get some snacks, there was little thing going on our head about the booking of room in kudremukh so we made a phone call to Raje Gowda for booking of a room or tent whichever is available at base camp . He picked the call and he sounded very polite and I asked if rooms are free at his base camp and we asked him the nearest bus stop to get down and other related things. and everything was set the bus left after half an hour we were in thick forest, travelling to kudremukh is just awesome we find some mesmerising views on our way to kudremukh.
We crossed kudremukh another 10Km was left to our bus stop , The bus stop name is "Ballegal bus stop". Ballegal is a small village which is exactly 10km after kudremukh and 10 km before kalasa. we reached ballegal bus stop at 5:15 and the guide "Raje Gowda was waiting for us at the stop. After getting down we spent some time having snacks and had a cup of coffee in nearby shops. The place has around 4-5 shops there and also parking place for people who have come by there own vehicle. we had to travel 10 more kilometres to reach base camp ,It is not possible with normal cars because the road is very slushy. It is only possible with high power engine vehicle(4WD). They have indian jeeps for taking us to base camp, the ride was very bumpy and adventures too. By the time we reached base camp it was dusk. The view was awesome from the base camp it was panoramic view of hills. by the time we got freshed up it was completely dark, there was no signal at that place we wanted to call our home. but it was impossible we tried for 1 hour to find the signal but all the attempts got failed so we went up to Raje gowda and asked his phone to make call, even in his phone it was difficult to get signal but at very few times we got the network to call, however we all three friends managed to make call to our homes and kept them informed. the time had ticked to 8, we were speaking to one family who had come for trekking. as time passed it was 8:30 they served dinner- The dinner was simple with chapatti, 1 curry ,white rice, rasam, curds, pappad, pickel. we had dinner and our room was ready. they gave us carpet,blanket and pillow to sleep there was no bed in our room I dont know about the other rooms, they even have tents to sleep outside we had to keep them informed before as setting up tent takes up few minutes. By 9:30 we were on our bed and were very excited for next morning.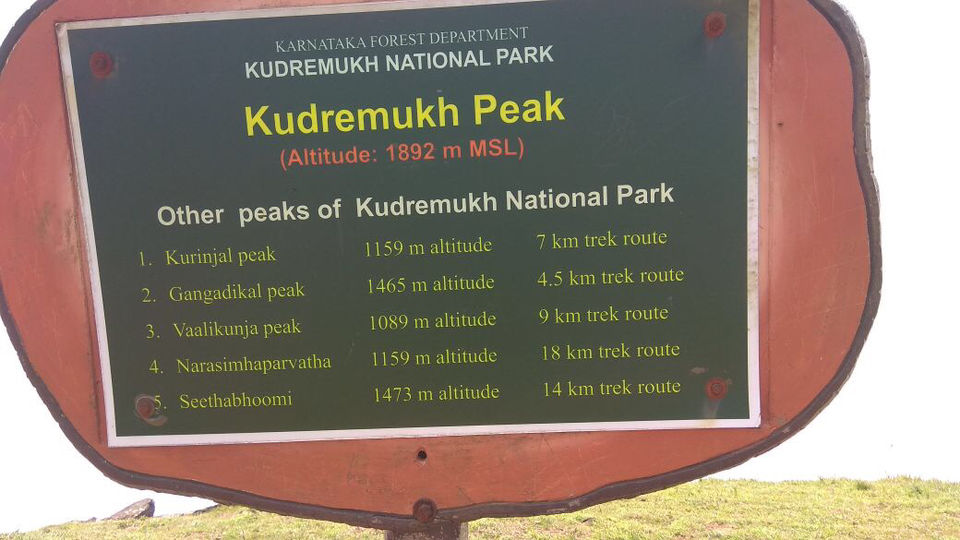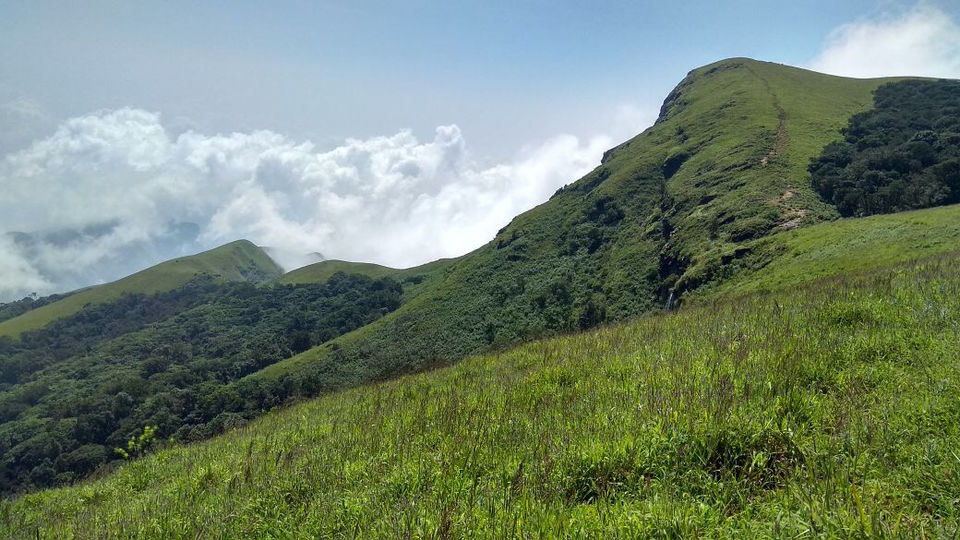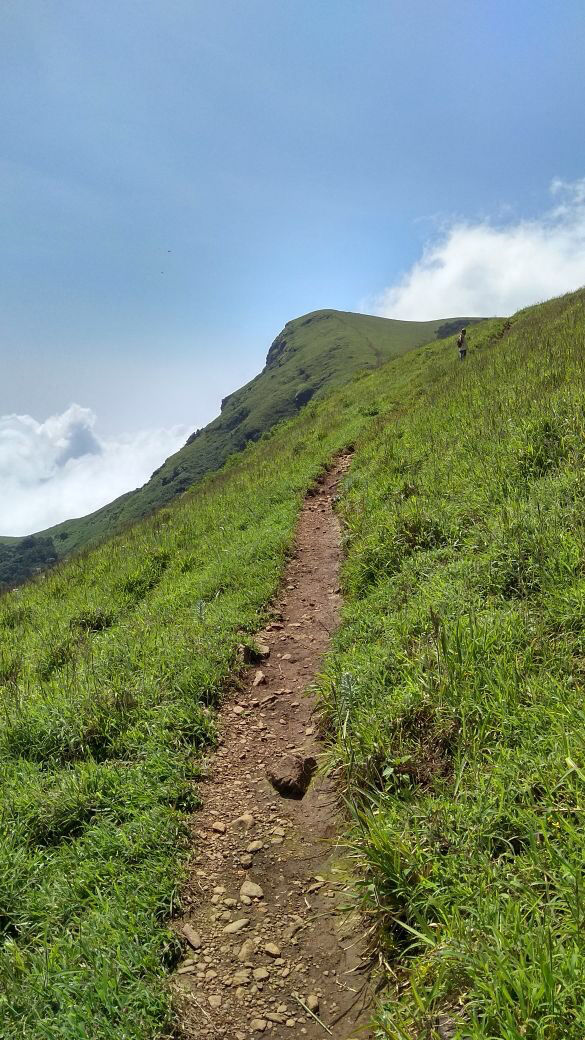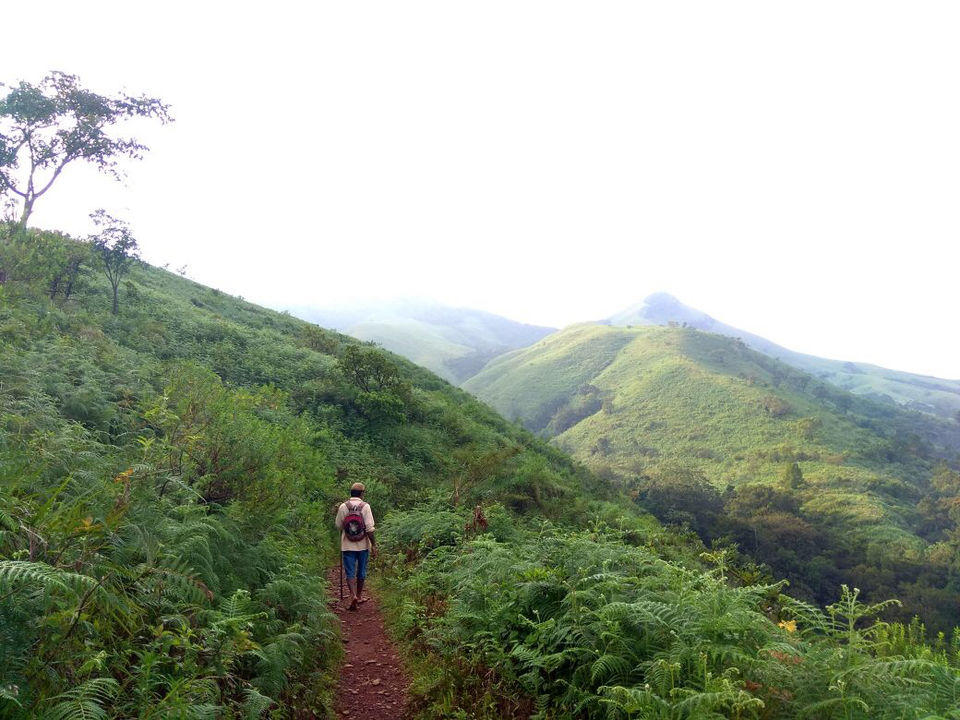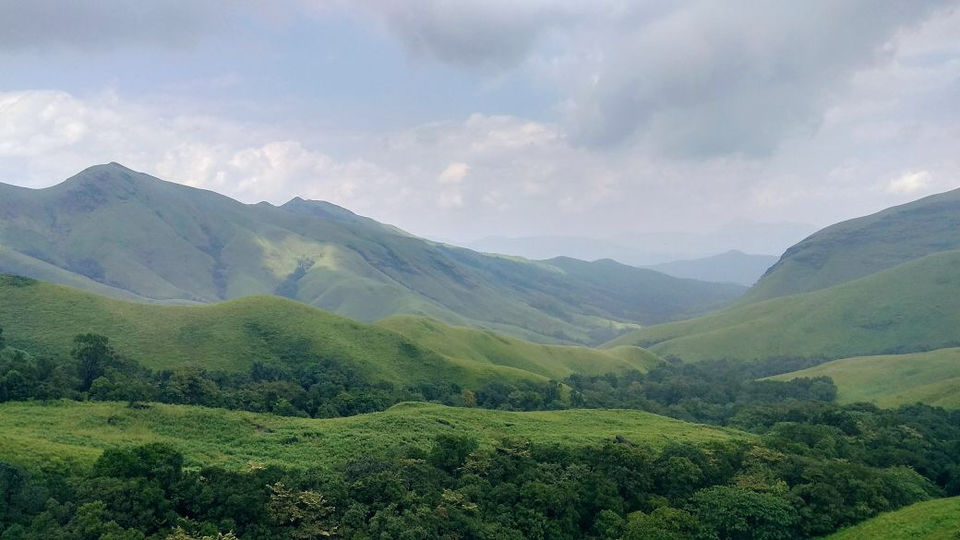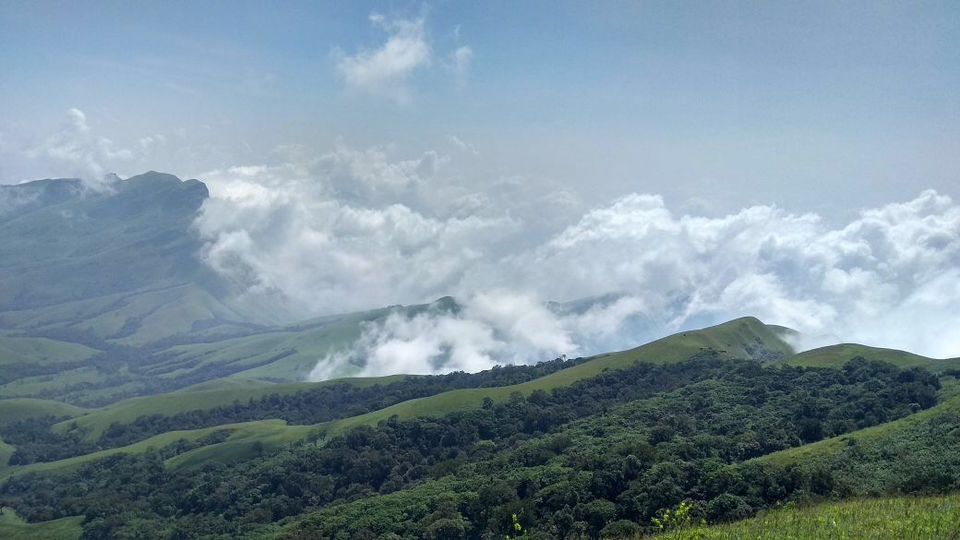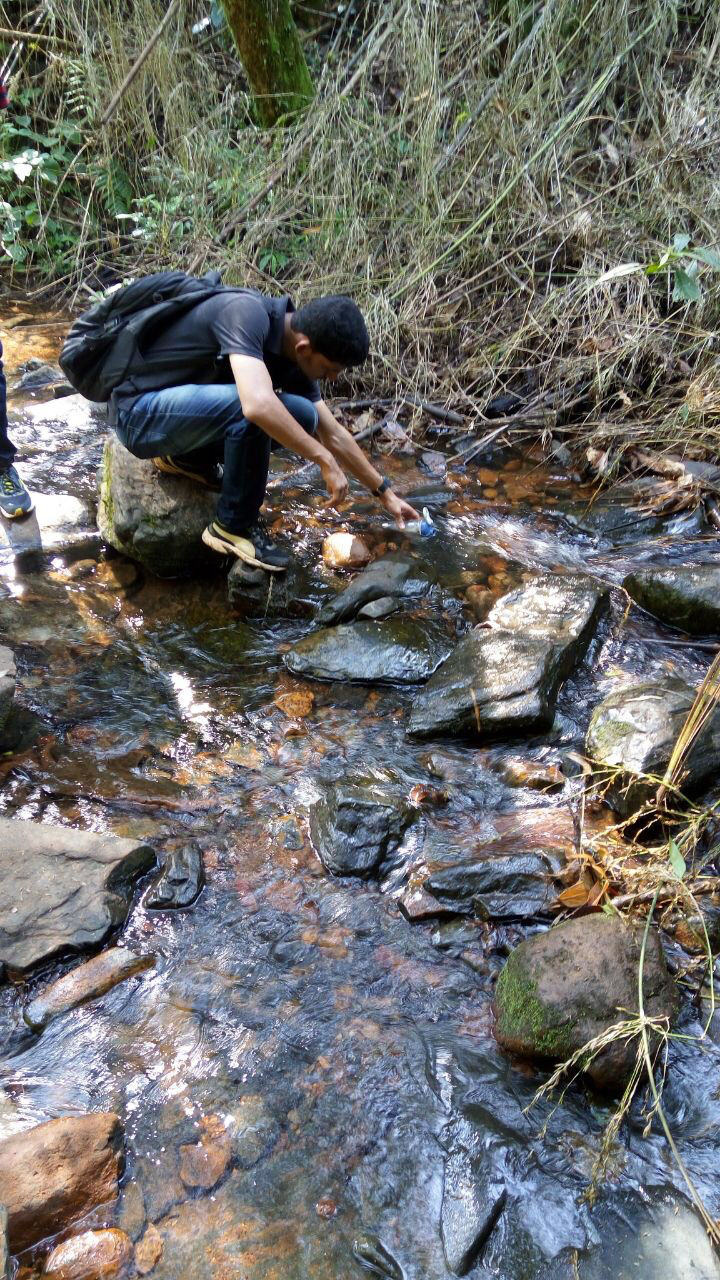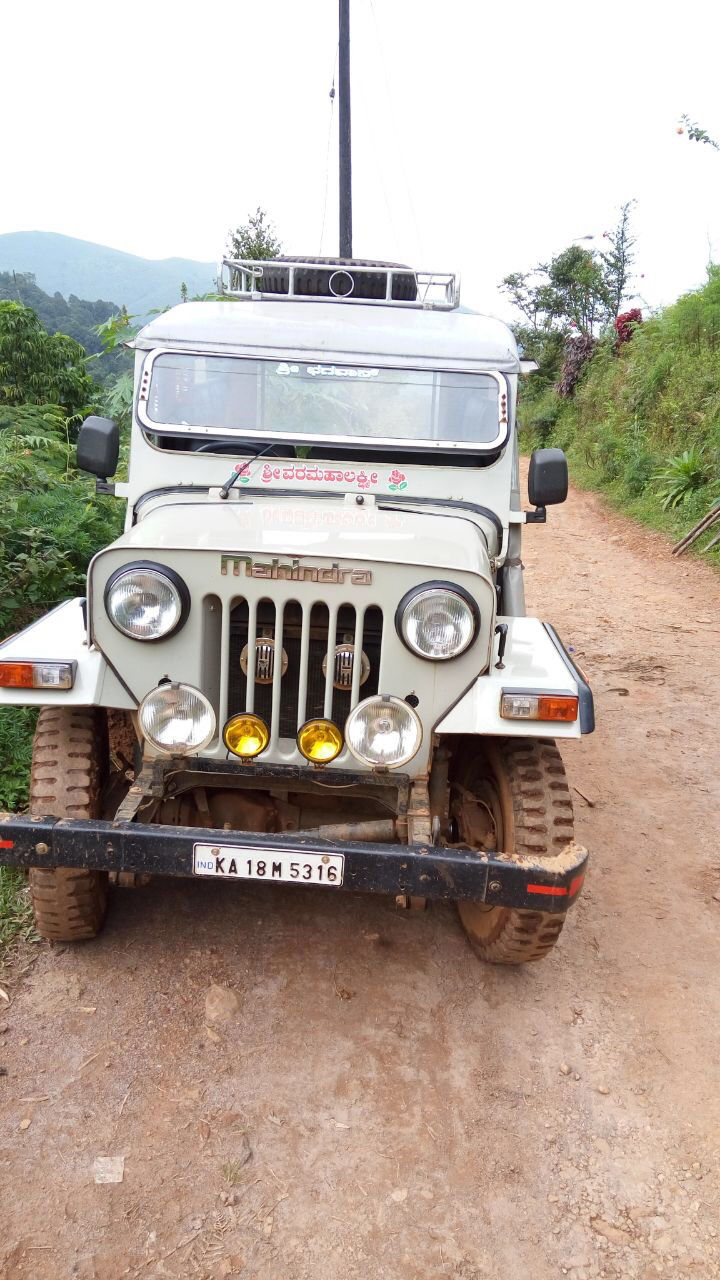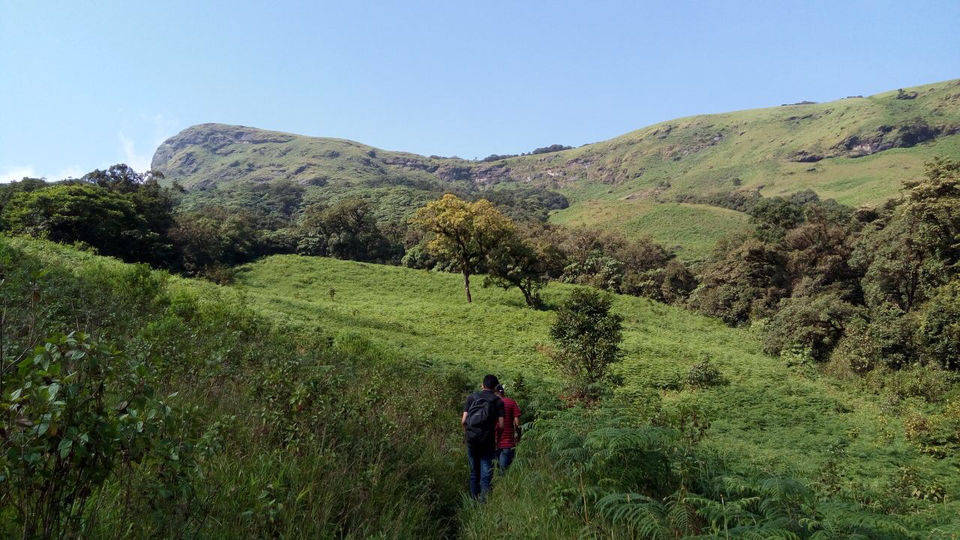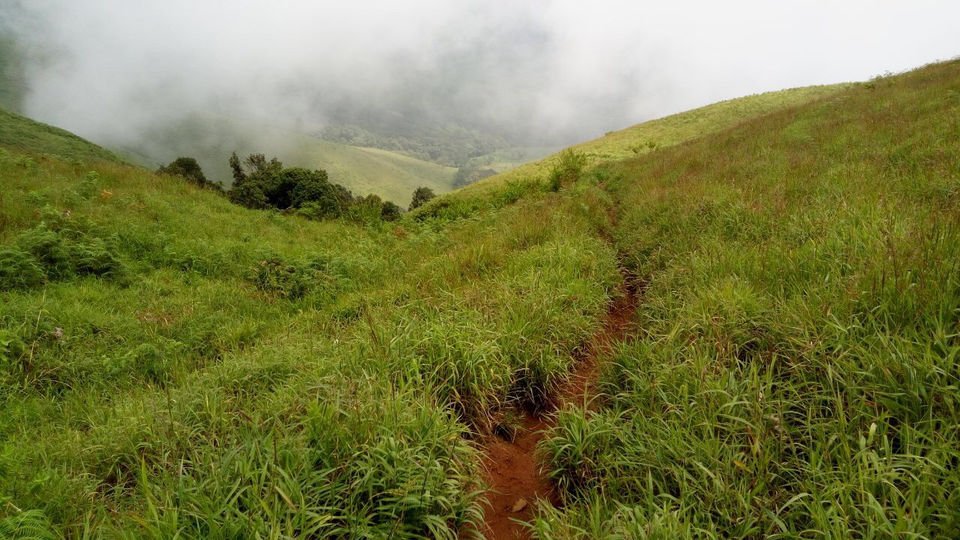 It was the trekking day, we got up early around 6 freshed up and had our breakfast - they served rice balls ,chutney,sambar and coffee we were ready at 7 the guide was ready to take - 'It was not Raje Gowda, its been three years Raje gowda is not serving as guide ,it was some other guide and they have nearly 40 guides in that area'. It is compulsory to have guide for the troop and we have to take permission from the forest department. they have a check post at the base camp from which we will get the permission we had to pay 350 per head but now they have increased to 500. I wont explain much about the beauty of the place or trekking as pictures speak more about it than words . more the climate is clearer the views we get are amazing. we get water continuously for every 1-2 km, the water is from mountains it is clean water no need to worry. shoes are must to carry as there are leaches, u can carry food to have it on the way. we reached the peak around 11. it took us 4 hours depends on your capability we stayed there for 40 mins and started to get down we had to rush because our last bus was at 4:15 from ballegal we had to reach base camp by 3:30. so we rushed down and reached base camp around 3:15 , we had coffee and left the place. we got the bus at right time and reached manglore back around 8.
ENTRY FEES -500 /head.
(Before it was less now they have increased ) .
IMPORTANT THINGS TO BE DONE -SHOES ARE MUST -CARRY FOOD,GLUCOSE IF NEEDED -1 WATER BOTTLE(EMPTY ALSO ITS OK WE GET WATER FOR EVERY 1-2 KM) -TREK IS MODERATE LEVEL "DO NOT FORCE YOURSELF BECAUSE TREKKING IS FOR RELAXATION NOT TO GET TIRED" . RAJE GOWDA PHONE NUMBER-9481179008.
By