This was the last of the planned Karnataka treks of the year. A lot of permutation, combination happened and four of us got together for trek. Hari - my wingman, Karthi - a regular from my yearly school trekking gang and Siva - friend of Mohan. None knew each other before the trek.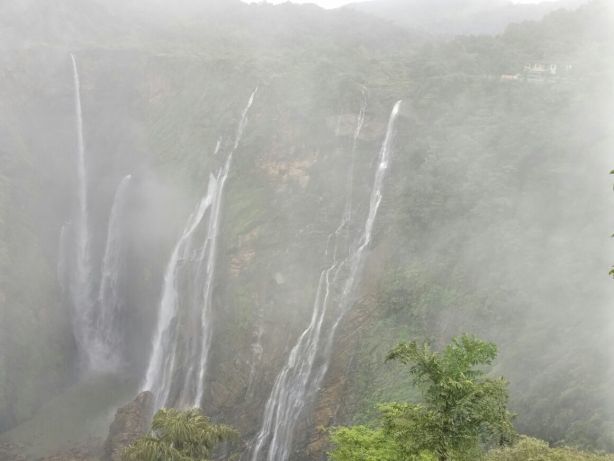 Day 0 - Guilt, Pleasure and Solace
Half your trips are spoilt by your leads. If you had read my trek to Har Ki Doon, you'd remember how my TL spoilt the mood. It was the same, this time too, just that this new person spoilt it a day before. I had to leave early so it felt even more horrible. This feeling of overcoming guilt is such a curious decision. What's worse is I've to decide between working long hours to not feel guilty or be guilty and carry on with what I wanna do. Things would be lot better if I don't work and not feel guilty. But I belong to the latter case.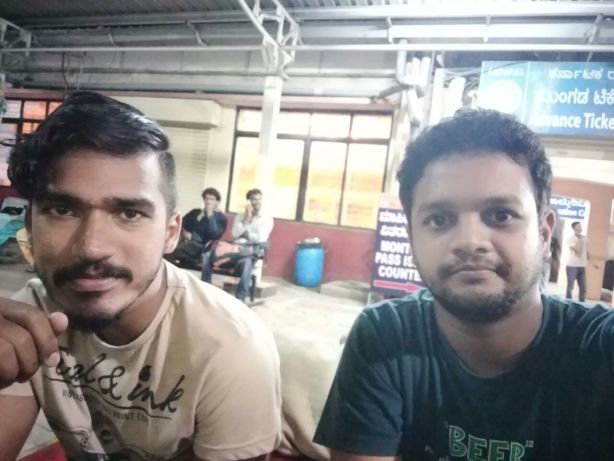 Anways sitting in Paranur station at 10.15 AM and thinking about future, getting sick seeing tons and tons of people going to the office while I'm waiting to get out from there. So similar to my life isn't it. Every other day I would be one of those people. After the crowd dispersed I was sitting there head down along with my trekking bag, wearing my trekking shoes. Felt so much like M S Dhoni film poster. Sometimes you'd feel like, why not someone shoot my photo in this angle, it'd be epic. It was one such moment.
There were four boys, popcorn sellers, I guess from UP, two of them were fighting with each other, of course for no reason, violence is part of their life. The securities from my office were inquiring about the kids whereabouts and one was telling to each other, "ivangalukellam sapadu kedacha podhumntu irukanga" (they feel that getting food is enough). They were also inquiring, why they haven't gone to school, why they came out of town etc. The kids didn't have proper answer, they started playing (fighting) with each other, and they started playing with their own lives too.
A poor lady who came along with her kid in a shabby dress bought a popcorn, he was so happy, his mother was so happy seeing him happy. Later in the day while returning to Central after having lunch, near the subway I saw couple of people keenly looking to buy a small hand stitching sewing machine. I laughed inside, "Inga vanguravanum ezae, vikiravanum ezae, ithula nama kasta padromnu solitu irukom" (it's the poor who buys, poor who sells, but we complain about our life) Don't know why such varied thoughts were crossing my mind but it did.
Once I got into the train, in which I settled in a seat where sun wouldn't beat. There were regular train goers, mostly sad and dejected. Looking at everybody's face made me even sadder. Chennai being a sultry place, made these people sweat and look even sadder. And of course there were a couple who were getting cozy, not as cozy as go-get-a-room but cozier than aww-they-look-so-cute-together. At that moment I thought how I would have behaved. I think we'd have been the couple where an old lady, if she comes and sits opposite would smile to my girl. Of course I'd have been holding hands but not in a face turning way. Too many thoughts.
As I was reading a lot of Sujatha's short stories off late. I thought everyone sitting there would have been a protagonist of the story, except for me, I was the only misfit there. I decided that I'm going to write a Tamil short story next, I decided even the title and what I am going to write.
An elderly man, around fifty years of age and who looked older than what he really was came and sat next to me, "Sir konjam time mathi thara mudiyuma? Railway time vaikathaenu ethane vati sonaen kekala" (Sir, could you please change the time, I asked him not to keep railway time but he did in spite). I took his phone, changed the date format to 12 hours from 24 hours. Took the phone again to change the date to that day's date and PM to AM. When I asked the date, whether it was 2 nd, he said, "confirm ah second thaan sir, yenna inaki engaluku strike." (It definitely is 2 nd ,sir, because it's a strike for us today). I know that if I look at him or nod as an approval I'll get story but even though I was curious I didn't do it because of the number of people around me. He started with, "thevdiya pasanga..." but post that I didn't hear anything and his voice too got lower. Without much drama I got down at Park station and crossed the road to Central.
I thought of having lunch at the same place where my friend and I had last December before the Kumara Paravartha trek. But when I went there, I saw a restaurant in the street next to it. Sat there for meals but when I asked the waiter to bring meals he saw me with an eyes which said, "are you just gonna eat that". So I changed the order to non-veg meals. It was a simple meals with fish curry and chicken curry apart from rasam and buttermilk. Fish curry was amazing, it had a Kerala style preparation. Sometimes, things sweep you off your feet without your knowledge.
Went back to my second home, central station. That too when the Wi-Fi notification comes, I literally feel it as my second home. So used the Wi-Fi, checked in, sent last few messages to whoever I thought to be important (vice versa might not be true) and boarded the train as soon as Hari came. Karthi came in right at the dot. I changed to a more comfortable dress which I was going to make shabby in the forthcoming days.
Thanks to a talkative Hari, Karthi got comfortable with us. I switched off the net and started with the last couple of stories from Sujatha's short story collection. It took a long while to read the penultimate story, the time when Karthi was engrossed in his mobile and Hari was busy sleeping. For the record, I didn't sleep that day and I don't know how. May be I was so hell bent on finishing the book which I did after talking for some time.
There was a Brahmin lady who was time and again feeding another older Brahmin lady with Degree Coffee, the smell was divine. She seemed to have relatives on almost every stop, one gave them vegetables in one stop, and another lady came and sat with them after a few stops. So much planning. And she welcomed everyone with coffee from flask. She and the grandma took my book and gave it a glance.
Post that I read the last story and then there were some serious discussion about arranged marriage, Hari's life, cinema, sex etc. etc. and finally reached Bangalore station after an hours delay.
We had meals in the restaurant near subway. It was decent and sambar wasn't as sweet as we feared. We topped it up with an excellent sweet beeda and walked to Majestic amidst the chaos of weekend trippers and trekkers.
Our bus which was supposed to arrive at 10.30 got there at 12.30 and we used that time to get to know each other. Mostly the other three got to know each other well. In fact so well that I thought they knew each other from their past lives. Siva joined us there and as he was fresh he took the onus of searching for our 10.30 bus.
All the time I was thinking whether to go to Kodachadri or Jog Falls the next day. It was almost decided that it would be Jog Falls but we kept our options open and thought we'd decide depending on the time we reach.
Day 1 - Jogging to the Jog Falls
Yea I couldn't have come up with a cheesier title. But ever since I wanted to upload an Instagram picture with this title, this one was haunting me. People have their own things that haunt them. White frames, black specs etc.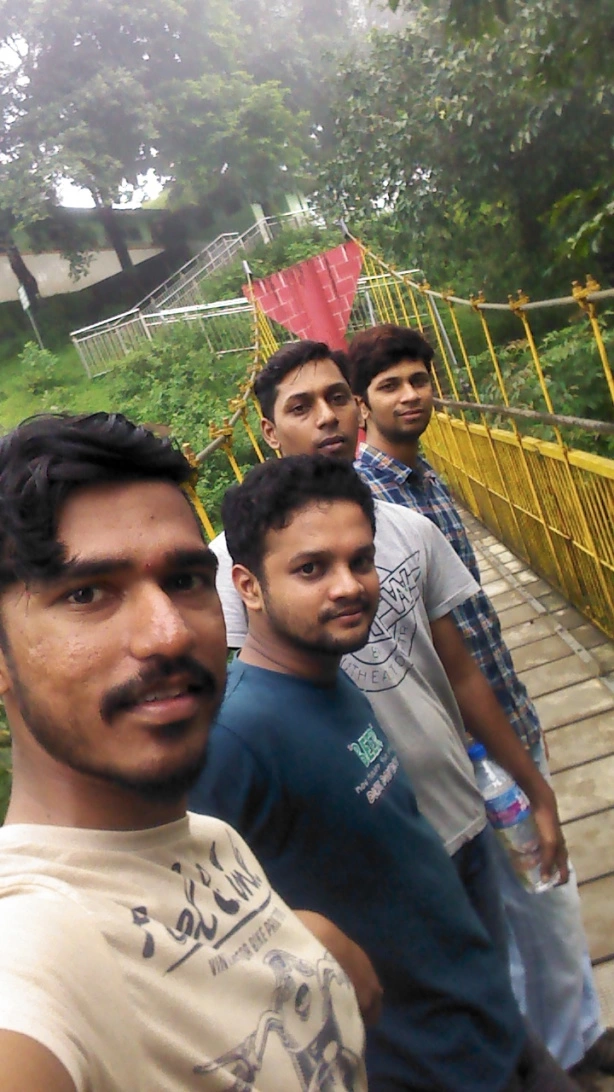 We reached Shimoga around 6.30 AM. Inquired about buses to Kollur for Kodachadri and to Sagar for Jog Falls. When they said it'd take around four hours to reach Kollur we decided that we'd go to Jog Falls instead. I was inquiring in Tamil to the timekeeper who couldn't understand a bit. I was of the opinion that like Coorg, people here too would understand Tamil easily. Only post that I thought, yeah, I could talk in Hindi as well. Post that things were smooth.
We got the bus to Sagar, did cash pooling and got tickets. Within minutes we all slept off and didn't know how time flew. As soon as we got down we went to a restaurant opposite to private bus stand for breakfast. Had Dosa, Masala Dosa, Idly and coconut filled vada for breakfast along with tea. Food was decent.
We were getting second glance, of course not for the looks but for the big big bags that we were wearing. We crossed the road and asked for bus to Jog Falls. In few minutes we got the bus and again started to sleep. The scenery was superb with lush green blanket everywhere. Ever since I re-watched Stalker, the whole place reminded me of the movie. Just like the movie there were power lines, plastics and power stations. I've found the Hydel power plants to be the scariest place on earth. The flow of water, that too with that speed, scares the shit outta me. I realized my aversion to Hydel Power Plants during my Spiti ride, ever since then I've been trying to stay away from it.
We reached Jog Falls in about an hour. Near the ticket counter there were taxi walas who were willing to show certain points around jog falls for some fare. We went past them and got tickets. The ticket checker cum watchman made us hurry to the point where people were clicking pictures. That's the view point of Jog Falls. We went there, took our time to freshen up and take pictures. Only after fixing my zoom lens I got to know why the watchman made us hurry. By the time I fixed the gadget it was full mist. We waited for a long time but it didn't get cleared so with disappointment, kept the luggage in cloak room and started walking with only the camera and water bottle.
In our descent to 1400 odd steps we clicked a few photos. At each juncture, one person. Hari was explaining about his experience when he visited the Jog Falls last time. That got me curious. I think it got the rest of the people too curious. While we were almost at the bottom we could see a huge fence being erected and people were not allowed beyond that. So the thought of taking bath in the falls vanished. We went down and tried few photos and there was a big rock below which a group was passing time. Once they left I tried few silhouette photos for the first time which I think, came out reasonably well. Post that we started our walk back to top.
That's when the water came in real handy as we were getting exhausted. The weather too changed and it got sunny. While climbing down there was a security to check about plastics. We inquired the same person after our visit about the taxis to visit the nearby places which includes Raja falls, Rani falls, Power Station and Boating. Maximum we were willing to spend was a thousand rupees but we couldn't get it below 1200. An additional fee for boating made us all cringe and we unanimously decided not to go.
We came out, took our bags from the cloak room where a photographer was photo-shopping one person with Aishwarya Rai with Jog Falls background and also blackening all his hairs, desperate fellow. While waiting for bus Hari and Siva were talking about another guy Mohan's antics. Everyone were sharing their own story as it took a while for the bus to come.
Once the bus came, we luckily got seats. We somehow placed the luggage in space we had. A horrible K S Ravikumar film, 'Mudinja Ivana Pudi' was being played in the bus. One of the worst films I've ever seen. It would have been fun if we all had got seat together. We'd have enjoyed even more. But the actual horror story was post that. There was a stop were college students were waiting for the bus. Around 50 people were waiting. Already the bus had standees, still almost everyone who were waiting got into the bus. I was sitting in half seat, in twenty degree angle. It was even tough to breath. Somehow I managed to survive without oxygen mask and reached back to Sagar.
I started searching for restaurants to have lunch. We intentionally didn't go to the restaurant we had breakfast in the morning. On our search to have lunch in a new restaurant we went to few hideous places. One turned out to be bar so we went to the restaurant opposite to it, which was mentioned as 'Family Restaurant' and I also saw a lady getting in, so went inside to see but that one had dingy cabins closed by a curtain and with zero watts bulb. Looked like an execution room from Subramaniapuram. We immediately ran out of the place. We again came back to main road and went to the restaurant adjacent to the street.
Our standard four meals arrived. Food was better than what we thought. Sambar wasn't as sweet as it used to be before. But we had trouble in getting the side dishes again as people weren't understanding anything but Kannada.
We thought we couldn't do more than Jog falls that day but as we came back by afternoon we were thinking of seeing one more place. As per the advice of the security there in Jog falls we chose Sigandar. We thought it to be an island, so we decided, what if we missed boating in the morning, we'd do it in Sigandar. The fact that Sigandur is en route to Kollur made us take our decision easily.
We took the bus to Sigandur which was again super crowded. The lady sitting in the front row was making fun of Hari. We both were laughing, neither of us knowing why. After a long time we got seats and within minutes we reached Sigandur. The much coveted island was nothing but a water body which we had to cross by the help of launch. As the bus was up to Kollur, we thought we could to Kollur directly but as there was a temple in Sigandur we decided to go there.
Our bus went to the gates of the temple only for us four to get down. Chowdeshwari Temple was pretty empty. We took turns and went inside the temple. Once out of the temple we got to know that there were no direct bus to Kollur so took a bus to Nittur. A lady said it was just 2, 3 stops from there but Nittur came after one hour of sleep. Good that I didn't keep awake believing the lady's words.
Nittur bus stop was the best. There was absolutely nothing except for a petty shop where we had desi cool drinks, one of the two flavors we had was awesome. Bus came after half an hour but this time we didn't sleep. We reached Kollur in about half an hour and got a decent room in one of the lodges attached to temple.
After quickly freshening up and getting to know that the Kollur Mookambika Temple would be open till 9.30 PM we decided to go the temple. It was not in my list. Thanks to ODC, phoneless life and less internet access, my means of research is getting weaker and weaker.
It felt really good taking a bath after couple of days. Temple too was really nice. Siva and I joined the queue. Hari and Karthi stood out. It started to pour and we were the last person to enter the deity. After we came out we bought a Laddu for fifty rupees and here comes the best part. Karthi told that there was free dinner being served. That got everyone of us excited.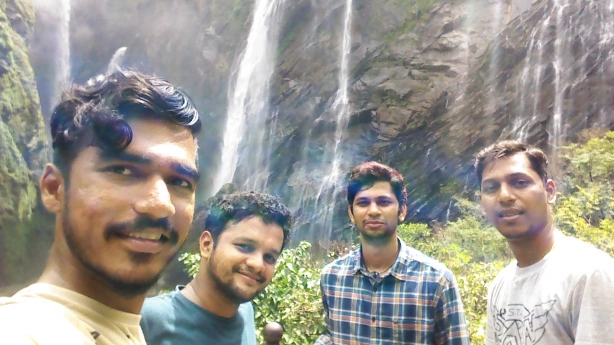 We went and joined the queue. After getting a place, it took a lot of time for them to serve food. That was one of the toughest wait. First rice, sambar, again rice, again sambar and buttermilk on top of it was very different experience. The food wasn't as filling as we expected.
We came out to see that our slippers were missing. The chappal stand people seem to have taken it and kept it near the cabin. We had to shell out Rs. 5 for each pair of slippers. We came out and had dinner, banana and tea. Tea wasn't as good as we expected.
We inquired about the next day's travel to Kodachadri. We got to know that the first bus was around 6'o clock in the morning. We went to our room, kept our alarm at 5 AM and slept after sleep talking for a few minutes.
Day 2 - Leeches, On the Rocks!
As usual after all the four alarms started blazing I got up first and woke up the rest of the group. We got ready within minutes, had not so good tea and took bus. I hurried with my tea as I didn't want to repeat the Tadiandamol experience.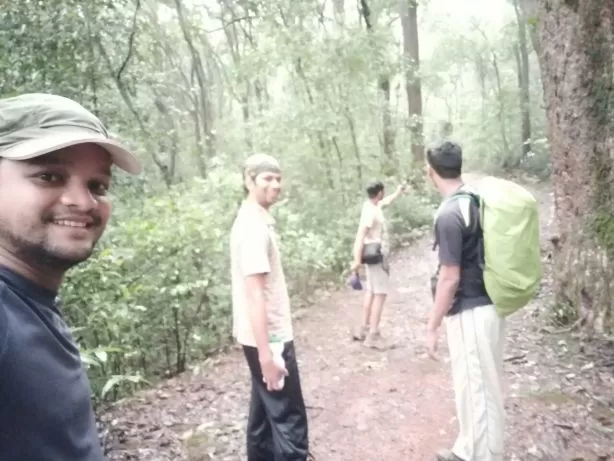 The bus stopped for few minutes near the temple. Karthi reminded us about the Chickmangalur experience where we got into the bus, slept for an hour, ate breakfast, then slept for an hour and bus still hadn't started but luckily it wasn't a repeat of Chickmangalur experience.
We were dropped at Karikatta from where we started the trek. Our idea was to go through Santhosh Hotel route and return via Hidlumane Falls. But even after we started our trek we were not sure whether we were taking the right route. There was one solo trekker who was with us in the bus and took the same route.
When I said that he should always be under our vicinity, Hari told, "he's the guy alone, he should think that way." So true. The next 1 to 1.5 hour was through leech palace, literally. In all the treks I've been, I'm the one who would be getting least to zero leech bites but this time within a couple of steps there was a leech on top of my shoes. I tried to remove it but it was playing around. For the next one hour, till the check post there was no shortage of leech bites. At least for me it climbed only on legs and hands but for others it entered inside the t shirt too. The worst problem was, if we stand to remove the leeches from body, more and more leeches would stick on us so we were dancing while removing the leeches. While typing this, I'm still having the itching from these leech bites.
After crossing the leech palace we were asked to provide our contact information and sign in the register. He asked us to sign the register again while coming back, but we said we'd be returning via Hidlumane falls, then he agreed to it. When we asked whether it was the Santhosh Hotel route, he showed us which was Santosh Hotel.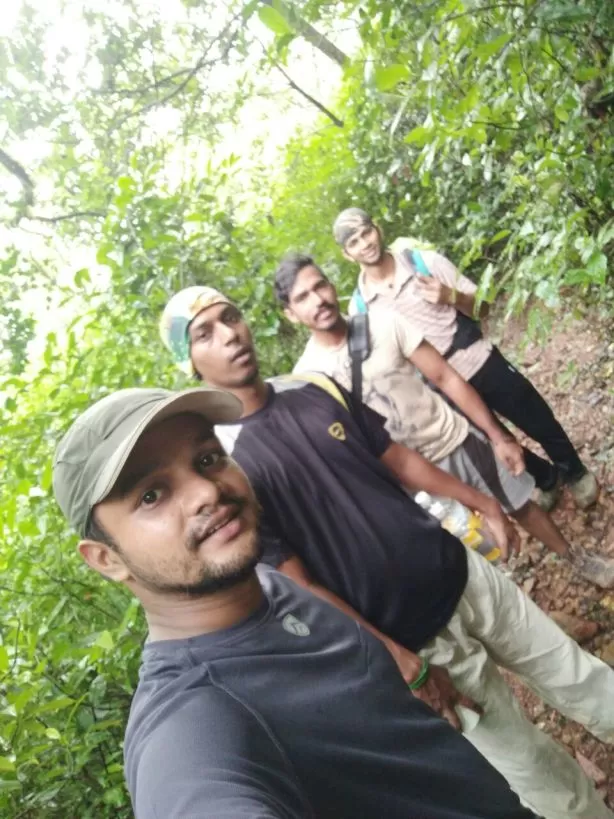 The small hut post the forest check post was the much coveted Santhosh Hotel. We met the solo trekker inside and a negative person inside. There would always be this kind of person wherever you go, who tells you that it is impossible. He first told us that there would be lot of leeches in the path that follows, he also told us with shoes it would not be comfortable to climb and when we told him that we were planning to return via Hidlumane Falls he told us that it would be impossible as even they miss the route a number of times. Needless to say we disproved him in every aspect.
As soon as we ordered Dosa and Omelet, our first task was to remove our shoes and socks to check whether there were any hidden leeches. Luckily there weren't any. Only one leech was sticking to my shoe which we killed mercilessly. The negative person asked us not to spread the leeches there. Our breakfast arrived, a double omelet instead of single omelet and set dosa with sambar. Every single thing tastes divine in a trek. That too tasted the same.
We carried on with the next part of the trek inside the forest area, we moved swiftly with good pace, the area was moist and it was evident that there would be lot of leeches. Except for one path where we went in wrong direction, we did fairly well. Good thing about taking the wrong path was, I went first and beyond a point I could see a lot of cob webs and cob webs touched my face too. I decided that cob web couldn't be in the regular trail as people would have crossed it. It wouldn't be possible for cob web to appear all of a sudden. That was useful in the later part. Of course there were leeches but only one tenth of what we encountered in the first part. We reached the place where jeeps were there i.e. the PWD quarters. From there the temple was just 1.5 km away. We were so happy to have not taken the jeep. It wouldn't have been a trek at all if we had taken the jeep. People in formal attire, fancy shoes, selfie stick etc. were coming by jeep. We felt good to be different from them with blood stained socks and sweat stained t-shirts.
While taking what we thought to be the last route we met the solo trekker again and that was the first time he seemed to be interested to talk to us. He asked us where we are from and whether were planning to stay. We told about our whereabouts and mentioned that as camping was not allowed we'd be leaving back. He told that he wouldn't be camping but stay just like that. Now we knew that he was a serious trekker. Prodding more about his history we got to know that he's a freelance mountaineer and Kodachadri was his first trek in 2003 and he does it every time he visits Shimoga. All this while there was a leech which had got its feel and was making me bleed profusely. That didn't sting but what he told did. Not only for me but for Hari too. He was the first one to open the topic. "Intha mari evanayavathu patha than da depress ayidudhu" (only when we see people like this the depression starts) That led us to talk about society, how we have to falsely make our claim for social acceptance and how we were far better than people who were not even aware of what they are missing. But as he said we were depressed seeing a person doing what he wants to do.
After climbing for some time there was a lime juice/tea shop near where a small cave was there in which there was a small boy sitting and doing prayers. People said there was a falls there but we couldn't find any.
We reached the peak in sometime which had a temple. We saw the guy going past the temple to a point where blogs mentioned that Arabian Sea would be visible. But we lost the sight of him and returned back to the temple point and had our lunch. The usual bread and cheese along with Tea, as there was a tea shop there.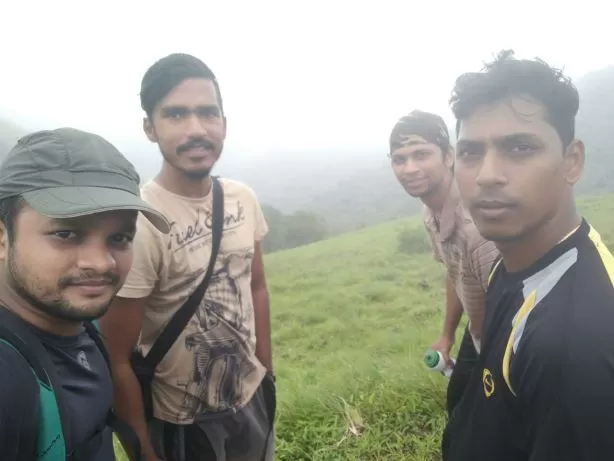 When we were about to get down I asked whether there is a point from where we could see Arabian Sea. The Tea Shop owner asked a person there, who was about to take a couple of women to that point, to tag us along too. We went along with them in the same path we took before. After the point from where I returned, we had to walk for around thirty minutes more to reach the point from where Arabian Sea would be visible but as the whole place was mist covered, we couldn't see anything. It was not the actual end of the road, there was a small path post that too, which when we prodded, we got to know that a Babaji lives there.
There was an excellent nature made shed between the rocks where there were already a couple of people residing. One among them was the mountaineer and the other guy who came down while we reached that point asked us what we were doing in Tamil. We told that we are from Infosys and he told he was an ex infoscion who was co-director of Jigarthanda, Theeya Vela Seyanum Kumaru etc. He told that Nalan Kumarasamy had just went and we would have passed by him. They seem to be on a big road trip about 3000 km in Karnataka. He also told how beautiful the view would be from that place and it would be great to capture it in telephoto lens. He also told how he was a photographer and his short movie was selected as one of the top films by Anurag Kashyap and co. We also talked about few film making techniques and in general about cinema and scripts. He was there with us till the temple point. Hari came back and the same dialogue after we met the mountaineer got repeated. Our depression touched a new level.
We touched the PWD quarters again in no time. There were lot more people climbing at that time. People who'd have come after nice leisurely breakfast and bath. There were a couple of bikers who had walked because their bike had broken down. One among them where asking how to go down, which route to take etc. when the other guy told him to ask us. He told, "they are trekkers, they'll tell everything as easy path, better not to ask them" Another proud moment. Thus the pride and depression fluctuated.
It was around 1.30 PM. We had targeted 1 PM to be at the top at least. But we went to top, even post that a couple of times and returned to PWD by 1.30 PM. All thanks to the co trekkers who didn't slow down or waste time at any point of time. We asked the route to Hidlumane falls, which they said, we had to take jeep road for some time, one said 2 km, one said 5 km etc. and then get into the forest. We followed the orders and walked on the road. Nice leisurely stroll with mist and slight drizzle. Took few photos too. None were photo crazy, so that too was a time saver. In fact we didn't open the camera till then. Thanks to leeches, rains and time constraint.
At a juncture I got doubt, not knowing where to go, there was a big open path and two roads. Intuition said it must be this left which everyone was pointing about but we were not sure whether they meant the left on road or the left into the forest. We decided that we'd proceed only after asking someone about the route. I thought I'll proceed till some point inside the forest until I have the vicinity of my friends. Luckily for us, we saw a couple of foreigners and two more people coming with a guide. We asked them about the route to falls and he said we were taking the right route.
I called out for my friends and they came down, I clicked few pictures. We proceeded in the same direction and there was a brilliant place from where we could see the much sought after Arabian Sea. A small piece of flat land where none except us where there. We sat there sometime for chitchatting and finishing the rusk packet and rest of the cheese. That was the best point of the trek.
There was a huge descent post that which I crossed in a hurry and entered the forest area. I lost sight of them but I decided to go to falls and wait. There were a big group of foreigners and NRIs huffing and puffing to get on top. The route closer to Hidlumane Falls was actually wet and tough. Good that we didn't take our bag. It would have slowed down our progress. As soon as I crossed them I could see the falls. The falls is a perfect place to take bath, shallow water, not so deep and not so force. After checking for leeches I placed by bag, removed my shoes and got ready for a dip. My friends came after some time which I used to click pictures of falls but I couldn't use the classic slow shutter pictures as I thought it wouldn't look proper, once they came I took few decent pictures of them and we all got into the water.
Another big gang from Mysore Infosys had come, most probably trainees or freshers. Karthi who was last to come out of the falls told that a snake had passed by, that made everyone jump out from water. We asked an elderly man there, route to hit the road, he asked us to follow stream. We did the same, got all our shoes wet (the most annoying feeling), used the cob web technique to find the right path and almost got on the path. In addition to the cob web technique, there was also the plastic paper technique, where we follow a certain path and if we don't see any plastics we get to know that humans hadn't traversed that path. The same had happened when we took a wrong left near the fields. But it took us a lot of time to know that it was a wrong path and I had got enough scratches in my legs and cob webs on my face by that time.
The elderly person asked us to come up and follow him. We did and reached the house where a couple of jeeps were there who asked us whether we would want a ride. When we asked them how long it'd take to reach the road they said its 5 km but the road was never ending. We walked for 100 minutes to hit the Nittur road. I walked first for some time, missed the free jeep ride because of that, walked along with other people for some time, was offered and politely rejected coffee/tea by a stranger, finished all the snacks.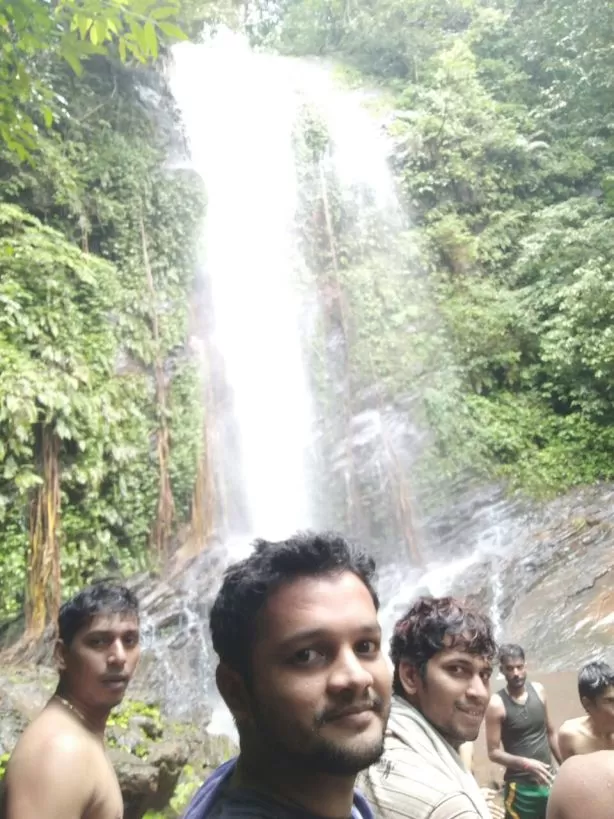 We sat at the junction, got the net connection and Karthi checked in his phone and what we saw was a miracle 38000 steps and 31 km we had walked in one day. Now that was satisfaction. We missed the bus which crossed us, he didn't stop, and generally all buses stop whenever they see people standing for them but that didn't. There could be some reason but for the next one hour we didn't get the bus. Karthi who was so disappointed that he couldn't use the torch light that he had bought for the trek was happy that it could come to use now. I was not getting net connection in bus stop. We had various time pass games like star gazing, dog chasing, mime making and few censored games too. Siva was the target in the last part but it was fun. Like Mani said in previous trek, bus stops are always fun.
We got the last bus at 7.30 PM from there, which stopped at a point where we had tea, we continued the censored games but as Hari started to vomit we didn't have a proper quiz master. When we reached near Kollur we checked whether there was any direct bus to Bangalore. There was one at 8.15 which was standing near the temple. I asked Karthi and Siva to stop the bus but they seem to have said that they wouldn't wait for fifteen minutes.
We took our luggage from the lodge, got back our hundred rupees and asked a couple of people how to go to Bangalore that night. He asked us to take bus to some place which would come near the temple and from there many buses would ply to Bangalore. As soon as we reached the temple we got the bus and went into immediate slumber after buying the tickets. One hour's sleep went just like that. Once we got down in somewhat a scary highway we got a sleeper bus to Bangalore for Rs. 600 which looked like cheating to me as the ticket collector was talking some secret in conductor's ears. I took the upper berth along with along with Karthi, I could tell how stinking my clothes were but we managed to sleep, thanks to the tiredness.
Day 3 - Better not to read
You're done with our information gathering, getting envied or getting irritated session. Last day always is reserved for drinks and that's what we did here too. So you can drop off here if you wish.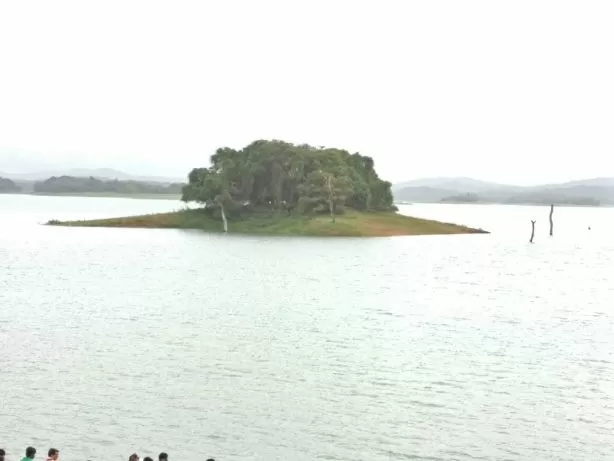 We reached Bangalore with bursting bladders at 6 AM. After answering the nature's call I asked them whether we could have tea. Everyone said 'yes' and Hari told the exact words I use, "Tea kudikalam, apo than clarity kedaikum." (Let's have tea, only then we'll get clarity) Every guy needs a wingman. Period! We missed going to treks right from the first, thanks to our common friend, a reason behind us not becoming friends from the first.
At last we had good tea, after searching for a couple of lodges we got an average room for a day. Siva told that he'd go to his friends room and meet us in the train (We smelled something fishy there) Finished our morning ablutions, took bath, took all our wet clothes to dry and made our room as stinky as possible. With our hunger pangs increasing we went on a restaurant search. I searched for Mudde Madappa Restaurant but that building was being demolished so that was closed and so was MTR. We finally went into a restaurant which we saw first. Annapurna. Upma, dosa, vada, rice bath, sweet bath etc. everything was fabulous. And for the first time in life I had a repeat order of coffee. After having our fill we watched TV and slept again.
For lunch we decided to go to a pub SodaBottleOpenerWala, looked like a fancy pub with good variety of drinks and food. It was also highly rated. We called and inquired whether there was any dress code, luckily for us it didn't have. We went there had a couple of drinks and some great food, played caroms, sat in park bench for some time and came back.
We were dead tired. We watched TV for some time and went for dinner, again our first choice, another Telugu Annapurna restaurant was closed so went to a restaurant next to our room. Food was fabulous and thanks to Hari, curd rice with Brain Masala was out of the world. We went back to room again and packed our bags for station. It was a long walk from there. I don't know why I don't remember that part exactly.
Siva who had told that he'd be coming to KR Puram station was already in Bangalore Central. Contrary to what I expected, the train was not crowded. We talked for few minutes, settled our accounts and slept off. One of the most satisfying treks and might be the last short trek of the year.