Those were the beautiful days when I got married to my wife Diya. We were totally confused where to go for our honeymoon, did lot of research and finally headed towards Kerala popularly known as "God's Own Country". Full of green aromatic spice plantations, tea estates, rolling mountains, and coral beaches. We were totally speechless when we landed there as fragrance of South India was started coming to us. And we said Yes, it's Kerala - our dream destination !
So let me provide you a short itinerary for a 10 day trip to Kerala and the places to watch out for:
- Tea estates in Munnar
- Spice plantations and Wildlife in Thekkady
- Backwater and Houseboat in Alleppey
- Floating bungalows in Poovar
Above itinerary is just for your reference which can be customized basis the no. of days planned.
Day 1: Fly to Kochi
A bright sunny afternoon, coffee in our hands, and smile on our faces we finally boarded our flight from New Delhi domestic airport. We booked our flight to Kochi (as Munnar is 4-5 hrs away from Kochi as compared to Trivadrum which is 6-7 hrs), landed there and directly went to our hotel - Flora airport hotel which was just 1 km away from the airport. There was a charm on our face as we were welcomed in typical Kerala tradition. Hotel staff was dressed up in Dhoti, they put some Tikka on our forehead, and welcomed with a refreshing mocktail. Specialty about this hotel is its south indian food as we ordered Masala dosa with coconut chutney which was quite appetizing.
It's an awesome 4 star property built near airport with luxurious bedrooms, neat and clean washrooms, and extremely good service. We will recommend this hotel to everyone if you are looking to stay for 1 Night as it's quite near to the airport and Kochi (main city) is 30 km away from the airport.
P.S. We didn't go to any place in Kochi as we reached there by 6 pm (3 hrs flight) and next day we had to start for Munnar, so no time was left with us.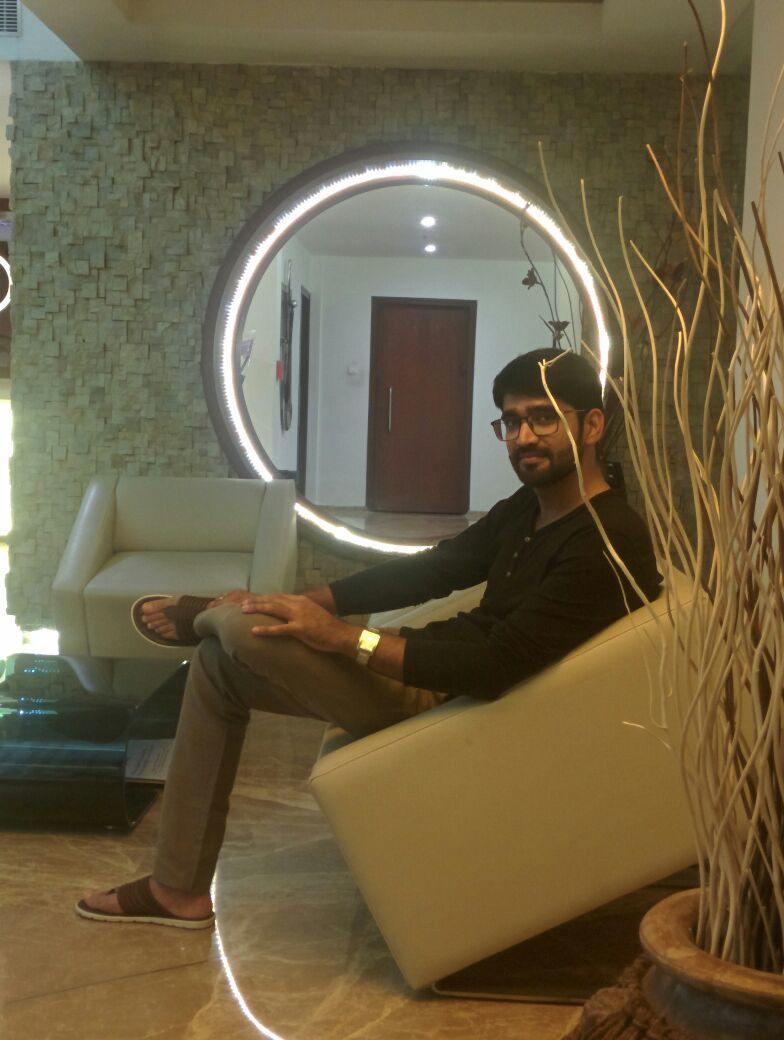 Stay at: Flora airport hotel (**** property)
Cost per night: Rs 4000 (+/-) (depends on the month/duration you are planning and the type of room).
Day 2: Road trip from Kochi to Munnar
It was early morning, we had our breakfast in the hotel itself and started for Munnar around 9 am. Till now, the journey was quite pleasant. On our way, we stopped by Cheeyappra falls which is OK place to visit. More than the waterfall we enjoyed fresh papaya, carrot and pineapple slices offered at the local shops.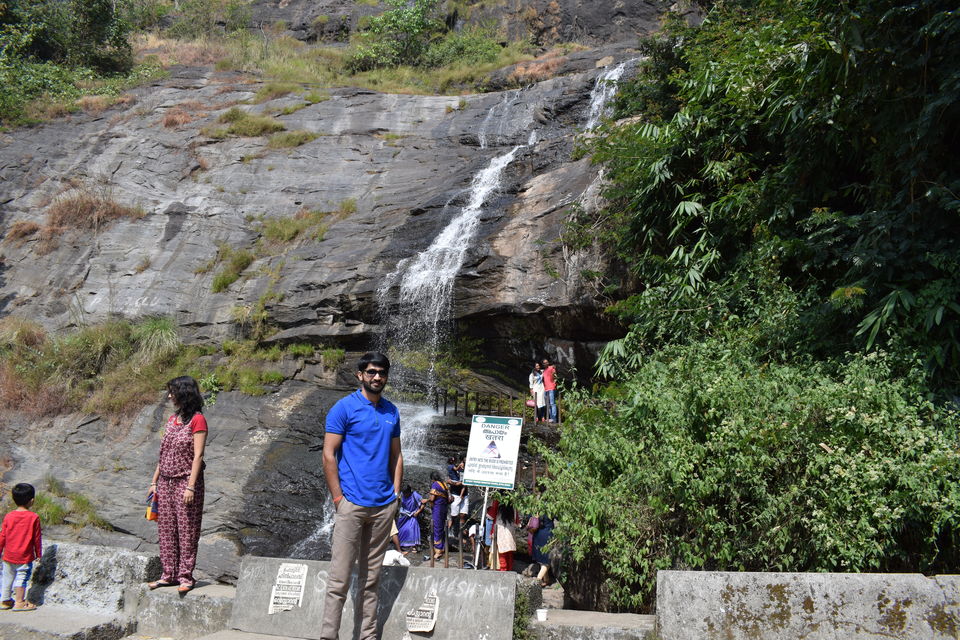 We reached Munnar around 2 pm. All around, what we saw were lush green mountains comprising of tea plantation and then up the hills we saw our resort Blackberry Hills Retreat & Spa. It's an awesome 4 star property with luxurious bedrooms and washrooms, and full of scenic views as it is situated between the mountain area. We rested for the day and went to local market in the evening.
Day 3: Explore tea estates of Munnar
Next morning arrived and we were in full mood of drinking tea sitting in the balcony facing towards the sun. It was an amazing experience that can't be shared through words. Yes, its right ! You have to experience it. We then started to explore Munnar and let me brief about some of the places that we visited.
- Mattupetty Dam & Lake: One of the most popular site in Munnar. The scenic view will totally refresh you and you'll be in a different mood altogether. Water flowing through the slopy mountains will give you energy and you will feel like heaven. A must place for every couple to spend a quality time there.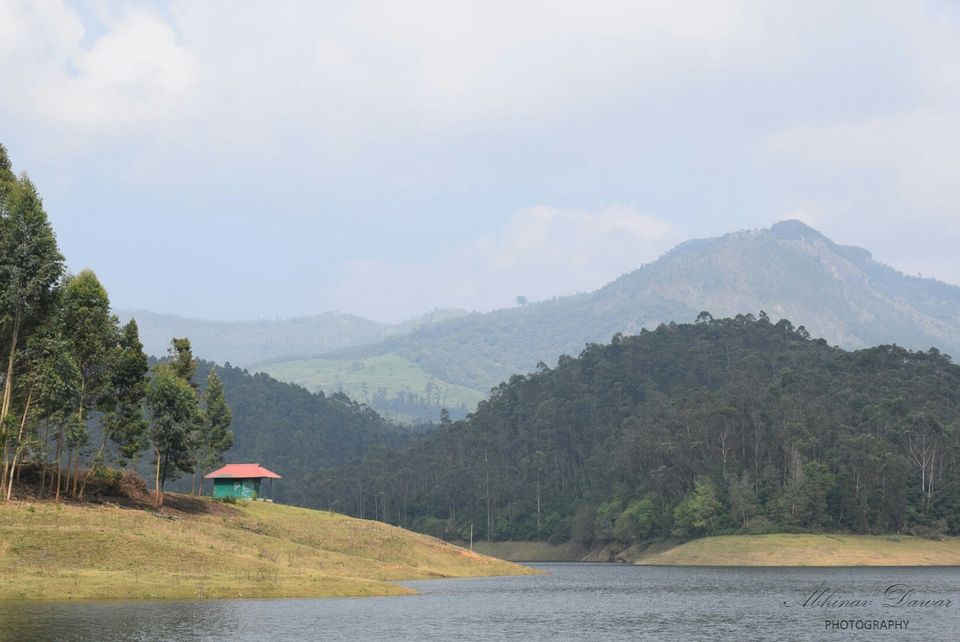 - Echo point: It's a beautiful place in Munnar situated at 600 feet above sea level. Once you reach there and scream/shout, you will feel like you are hearing your voice back. It is 15 km away from Munnar. You can have mango slices, papaya, and maggie there. There is an entry ticket to it which is just Rs 20 per person.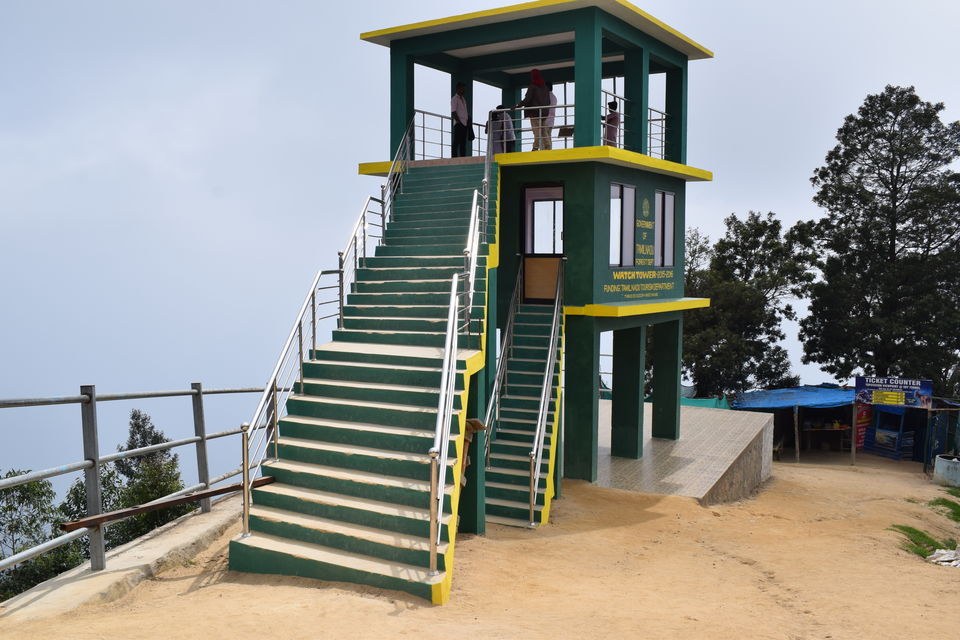 - Kolukkumalai tea estate: It will not be a justice if you leave Munnar without watching tea plantations. It's the world's highest tea plantation where tea is picked and processed which is then supplied to entire part of India and abroad. It's a must watch for everyone.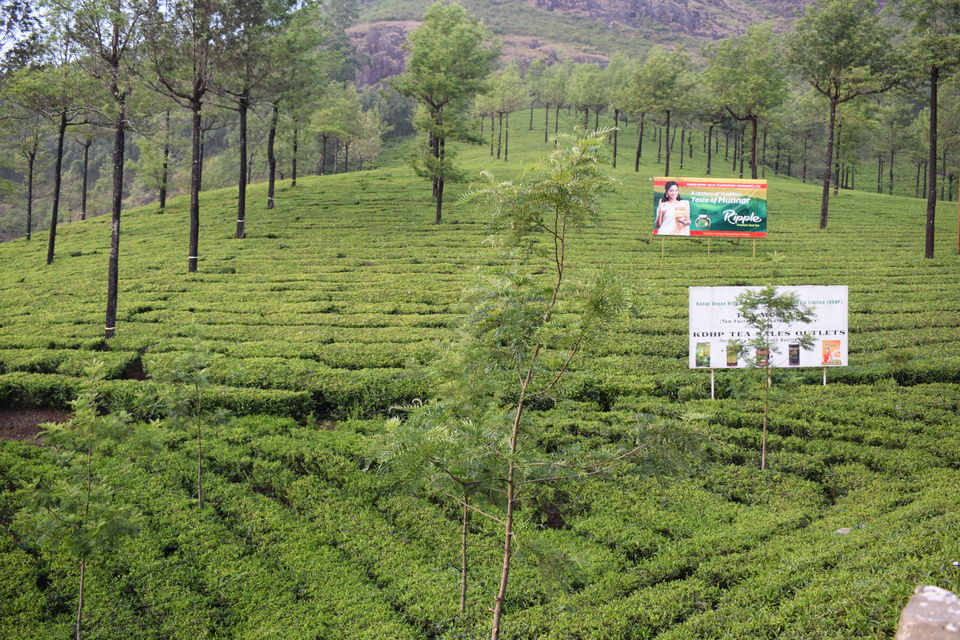 Day 4: Local sightseeing in Munnar
Next day, we went to explore local market. We understood about different types of tea/coffee and how they are grown. We purchased ayurvedic oil for different body parts, had some home-made chocolates which is the specialty of Munnar. In the evening, we returned to our hotel and had their traditional Kerala massage which was quite soothing and relaxing. Typically, the cost of massage is Rs 2300 (+/-) but we got complimentary as we were honeymoon couples.
Stay at: Blackberry Hills Retreat & Spa Resort(**** property)
Cost per night: Rs 8000 (+/-) (depends on the month/duration you are planning and the type of room).
Day 5: Road journey from Munnar to Thekkady
After enjoying the aroma of tea plantations and green environment of Munnar, it was the time to move on to enjoy a road trip to Thekkady. We started early from Munnar so that we can stop by and click photographs. And I am pretty much sure that you will also get down to capture some scenic views around Thekkady. On the way, we stop by to see various spice gardens, coffee farms.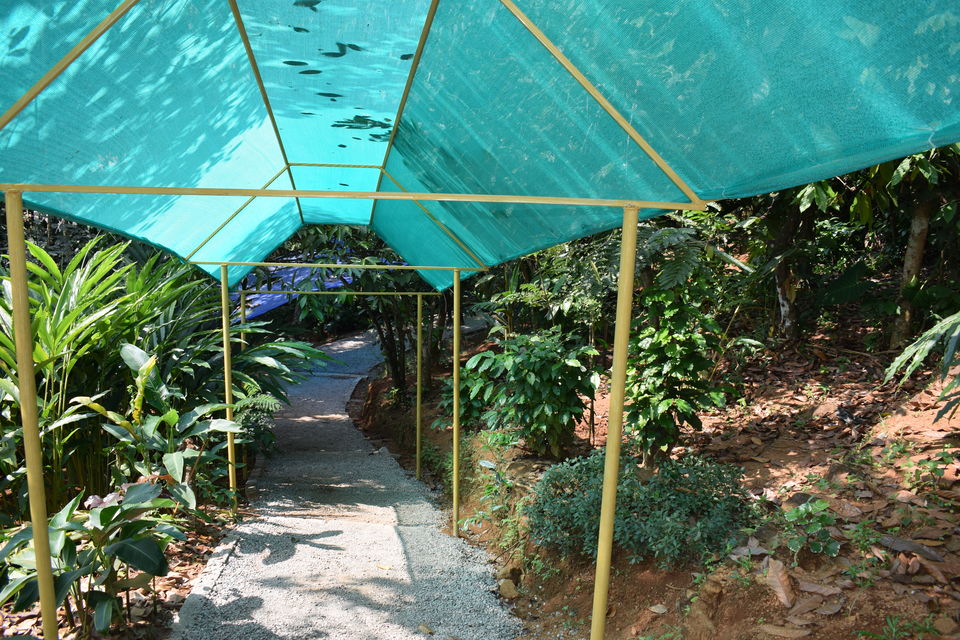 We reached Thekkady somewhere around 4 pm as we stopped in between to see spice gardens and of course photographs too. It almost took 1 hr extra to reach Thekkady. We checked into our hotel Forest Canopy Resort (a beautiful 4 star property in the lush green surrounding area) and rested for the day left with us.
Day 6: Exploring Wildlife & Spice Garden in Thekkady
It was a foggy morning, the next day. We had our breakfast and started to explore Thekkady. As you all know that Thekkady is famous for it's wildlife. So, let me throw some light on what are the things we covered in Thekkady.
- Visit the Periyar National Park: The best way to explore it's beauty is by taking a boat. We took a boat that consisted of 100 members at a time which cost us Rs 250 for 2 persons. Our journey to explore wildlife got started by seeing some elephants, then chirping birds around but couldn't see any tigers as they rarely come outside. And yes, made some new friends too during our journey. But, you can take a faster boat if you have less time in hand. It was a worthful experience.
- Take an exotic tour to Spice Gardens: Next, we covered some of the spice plantation in Thekkady. There's always a guide who will take you through the garden and will give each and every minute details about the spices grown there. You can also purchase them from the Kerala Tourist Corporation (a retail shop consisting of all spices). It's aroma will make you feel to stay there for a longer duration and enjoy them.Guide taking us through the spice garden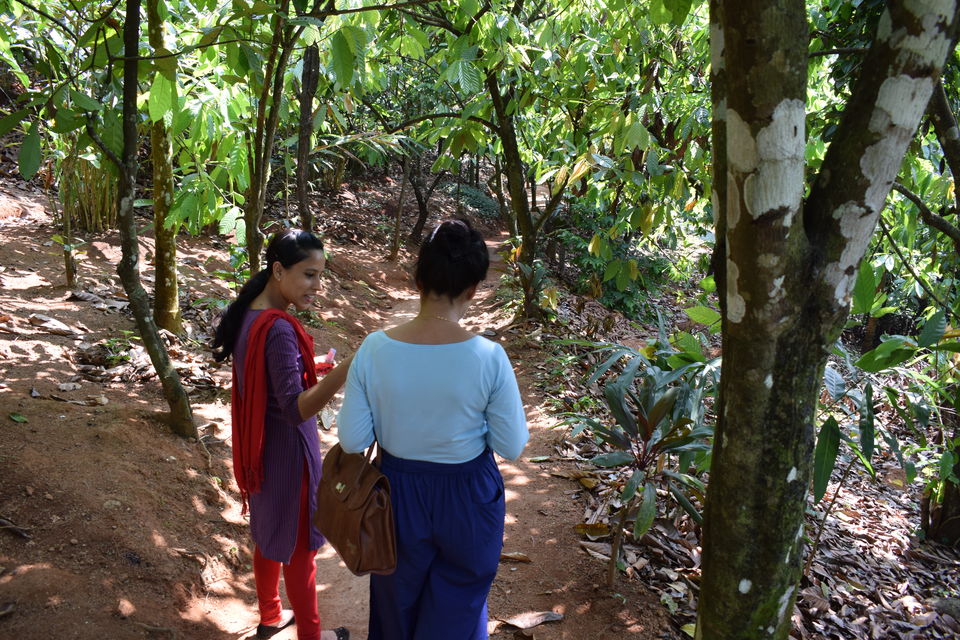 Day 7: Local sightseeing in Thekkady
- Kathakali dance and Martial arts: If you are fond of Kathakali dance and Martial arts, this place is for you and ticket for each show costs Rs 250 per person. We chose to see Kathakali dance and Martial arts which total costs us Rs 1000 for 2 persons for both the shows. There was a musical fountain show too but we didn't opt to see it. If you are fond of it, you can very well go and enjoy.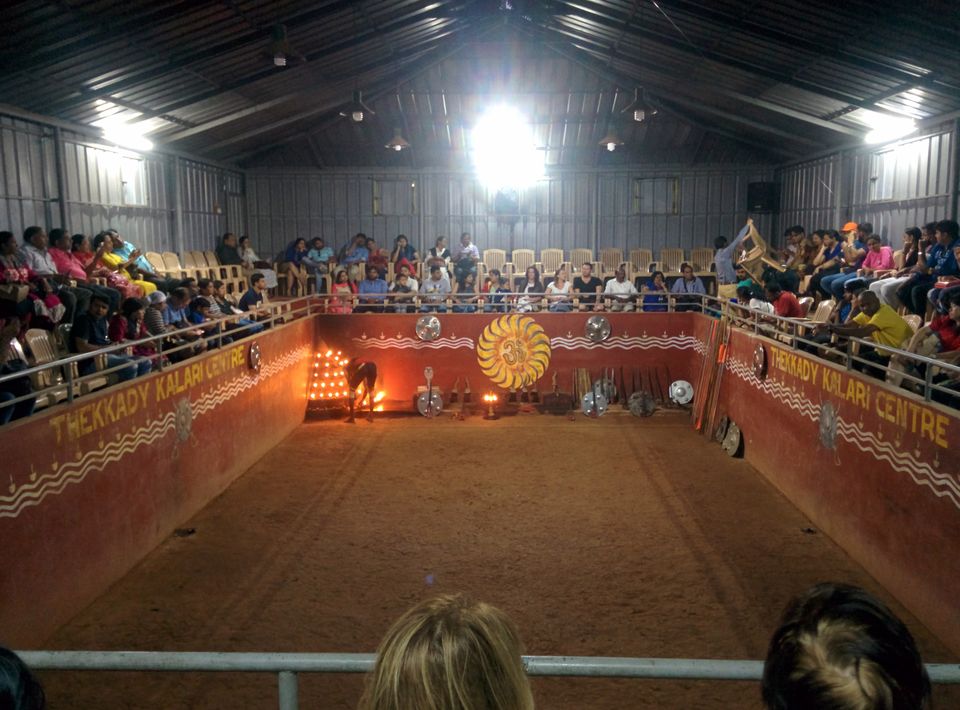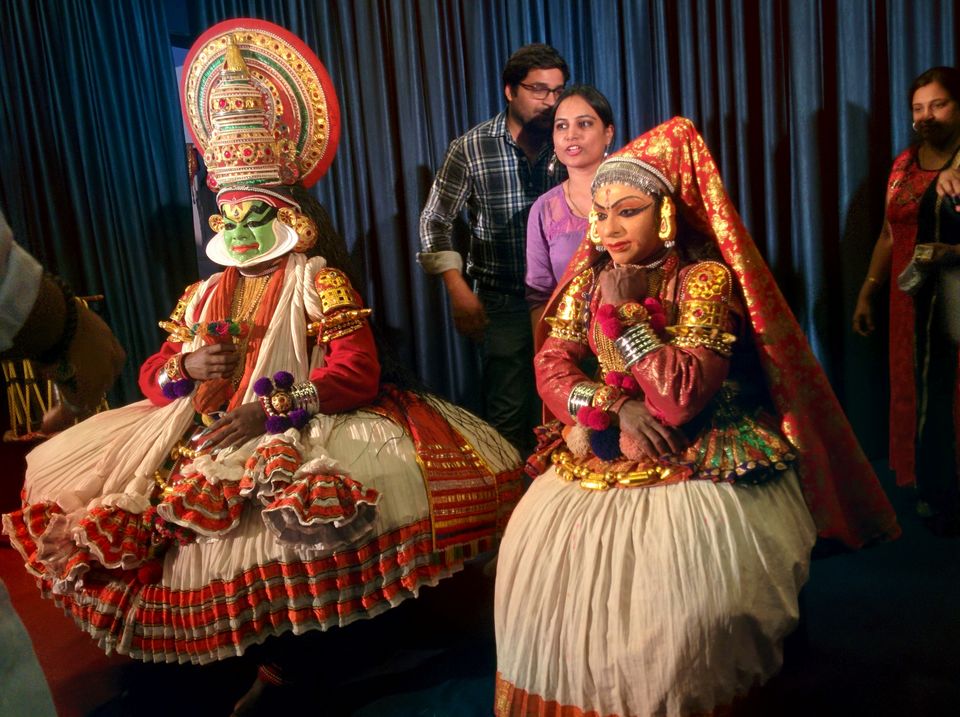 - Take an elephant ride: If you are fond of elephant ride, you can opt for it. The ticket for each ride is Rs 200 per person. The guide will take you through the forest and you can capture some of the wildlife photographs. Thekkady is a very beautiful place which gave different kind of experience to us.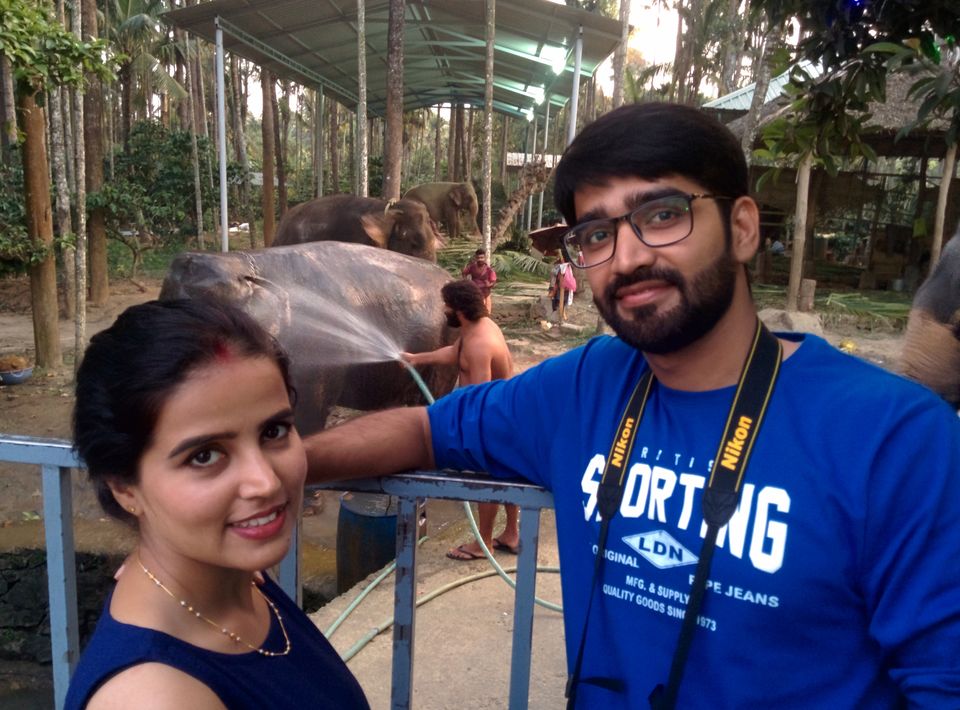 Stay at: Forest Canopy Resort(**** property)
Cost per night: Rs 6000 (+/-) (depends on the month/duration you are planning and the type of room).
Day 8: Enjoy the Backwaters in Alleppey
Here comes our dream place, the Houseboat in Alleppey. We started from Thekkady early morning around 10 am after having our breakfast and reached Alleppey by 2 pm. We opted for Krishna Houseboats which was semi-luxurious. As we entered into the boat, there was a single word that came out, a big WOW !!! A boat in form of a hotel/restaurant whatever you call it. We kept our bags and started exploring the boat. It started and the guide offered us a welcome drink.
Backwater, nearby villages, local people - these were the things we captured in our memory. Guide himself cooked some delicious food for us (both veg & non-veg). In the evening, we had some Pakora's with ginger tea and finally we stopped by some village to explore it further. We got down and spoke to some local people about their life. What an amazing experience we had. We will recommend that everyone should visit Alleppey atleast once in their lifetime.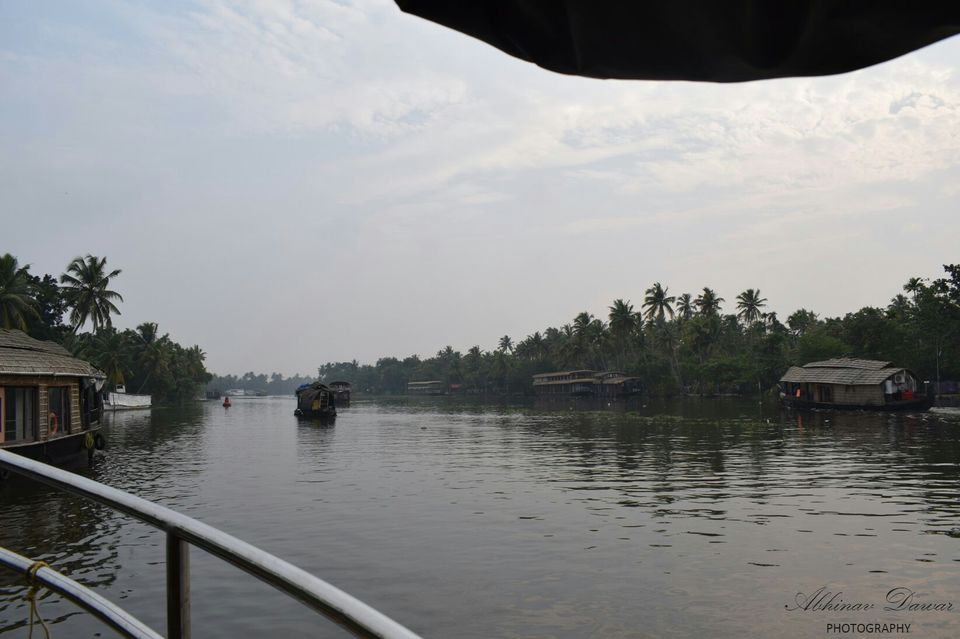 Stay at: Krishna Houseboat
Cost per night: Rs 6600 (+/-) (only couple boat)
Day 9: Explore floating bungalows in Poovar
Poovar is a popular tourist place in the Trivandrum district of Kerala which is famous for its floating bungalows. Even we opted for the same reason. It was around 2 pm when we reached Poovar Island Resort reception. We thought we have reached the place as we got down the car but NO we haven't. It was still 4 km away and we got surprised. Now, here's the catch. Poovar Island Resort is built near the beach. So, the guide took us through boat and finally we reached our resort in another 25 min. Lush green environment, flowing water, amazing view, these were the words which can be used to describe that place.
Specialty about Poovar Island Resort is the bungalows which are floating in the water and you will feel as if earthquake is coming. Yes, you heard it right. It was an amazing experience that will be for a lifetime. We enjoyed their traditional Kerala massage, indoor games, musical night and the food was too delicious that we were not ready to leave that place at all. We will definitely recommend this to everyone as this is one of the best place in India and everyone should visit.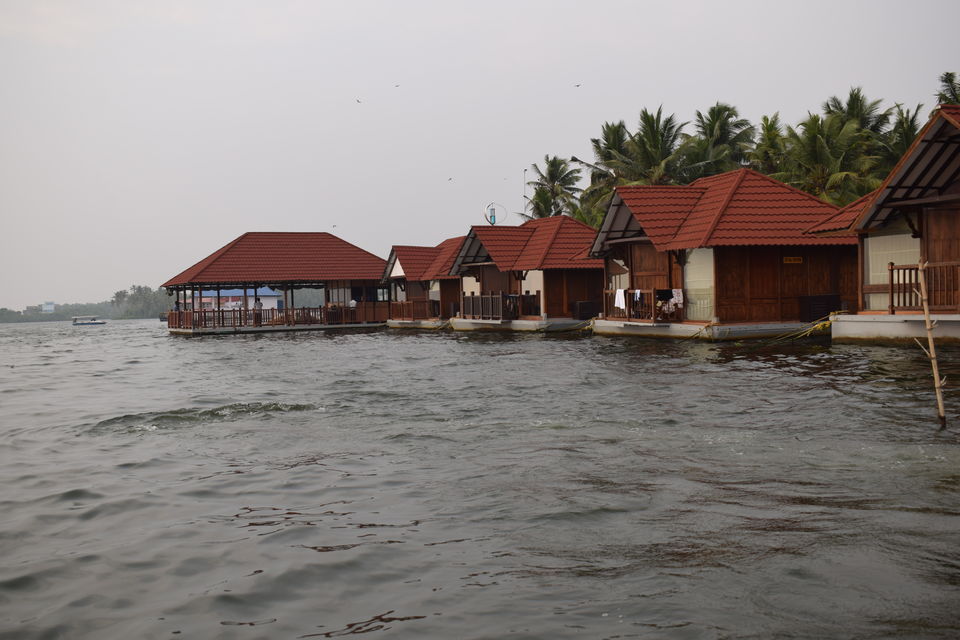 Day10: Road trip from Poovar to Kochi
We thought of taking a longer road trip. That's why we went by cab from Poovar to Kochi and booked our flight from Kochi airport to New Delhi.
If you don't have time, try to book from Trivandrum airport which is just 30 km away from Poovar.
Hope your journey to Kerala will be mind-blowing. We have each and every minute details of the trip and if you are planning to visit Kerala, you can contact us: globetrotter.abhi@gmail.com
We will be happy to reply you at the earliest.
- Abhinav & Diya
Frequent searches leading to this page:-
Kerala Tourism Packages Honeymoon, Kerala Tourism Packages For Family, Top Kerala Tour Packages With Price, Best Kerala Tour Packages For Couple With Price, Kerala Tour Packages 3 Nights 4 Days Price, Best Kerala Tour Packages With Price From Delhi, Kerala Tourism Best Places To Visit