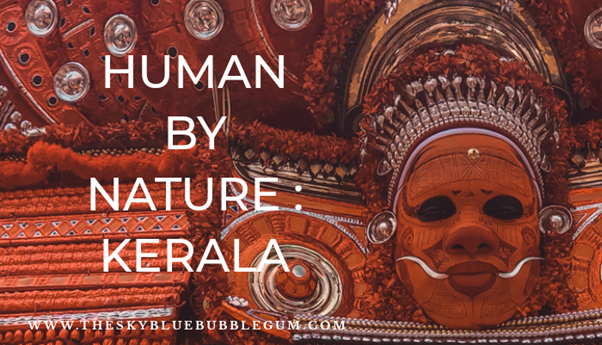 The Spice Coast of India, God's Own Country a.k.a Kerala has always been home to people from across the globe with religion no bar. People from Greece, the U.A.E., Portugal, the Netherlands, China, Rome, France, The U.K. and of course the Indian locals have formed today's harmonious Kerala! A place surrounded by the massive Arabian Sea and a land overshadowed by the Western Ghats in the east is where hospitality and nature are ubiquitous!
A land that boasts of rich history, Ayurveda (spa and medicines), highest literacy rate, hills, backwaters, beaches, wildlife, waterfalls, food, and festivals and hence I think Eros himself has spun this love affair between humans and Kerala. Therefore, putting a check to my theory of Kerala known as God's (Eros and love) Own Country – What do you think? What are your theories?
My tryst with Kerala dutifully began in 2016 and has happily continued to date. And how could it not? Don't we all need a place which is Human by Nature?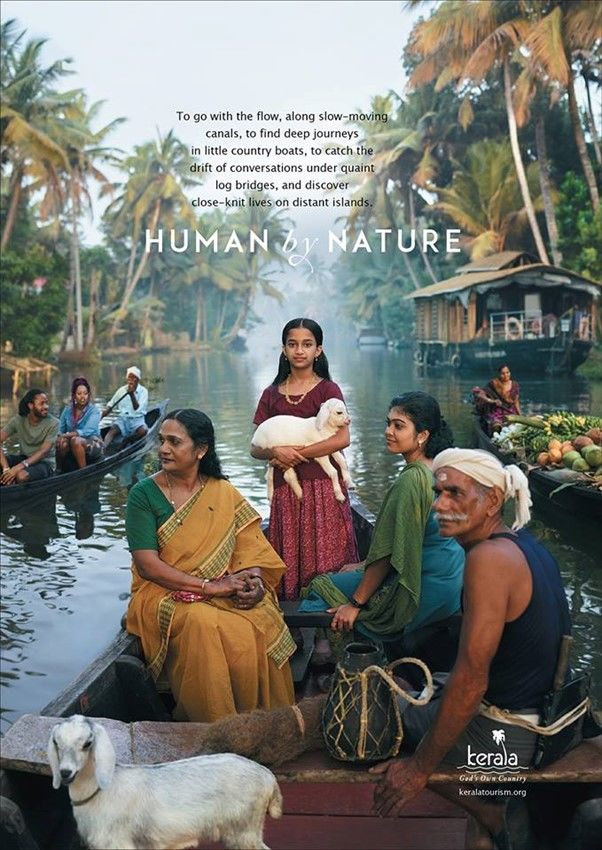 Kochi, Munnar, Thekkady, Alappuzha- 2016
Back in 2016, I planned a special and an unprecedented trip when I was in my early twenties. Special, because my companions were going to be women from my proceeding generations; my mother and my maternal grandmother
With massive apprehensions and inhibitions about safety, we flew to Kochi in late October 2016.
Why Kochi? When we had all of India unexplored why not begin with God's Own Country? A state that depicts itself as Human by Nature? Doesn't this put some ease into one's mind?
Well, not yet, not to my perturbed mind. Not to a bunch of ladies who are venturing out for the first time in an unknown land. Not until we met Aneesh.
"Hello madam, where are you? I am right outside the airport in a white shirt. I cannot spot 3 ladies." Aneesh our driver-cum-guide spoke to us over a call while we lugged our suitcases at the airport exit gate and were searching for him.
A man in his early 30s with black hair and trousers held his white shirt's pocket with one hand fearing the mobile falling off from the pocket started sprinting towards us.
After tucking the bags in the carrier and settling in the car, he revved the engine to start his car.
Having planned the trip, I knew I had to ensure my ladies feeling safe enabling them to enjoy. So I broke the silence lurking in the car by asking him "How safe is Kerala for women?"
His warm smile assured me even before he answered. I knew just then that we are in safe hands when he started telling us stories about his state with pride.
Our trip from Kochi to Alappuzha via Munnar and Thekkady was as smooth as breeze. Our perturbed minds were put to rest on the first hour of day one itself.
An unfortunate incident befell on us on day four while we were in Alappuzha. Aneesh's father was hospitalized. He feared for our safety and worried about our comfort from Alappuzha to Kochi along with the worry about his father's health! Such is the hospitality of Keral-ites!
He arranged for another driver at his cost for us and we rode with him from Alappuzha to Kochi. We bid Kerala goodbye with a promise to come back.
This experience not only gave me courage for my further trips but also, once again restored my faith in humanity in many ways.
Such are the Humans of Kerala! Isn't this what makes a place Human by Nature?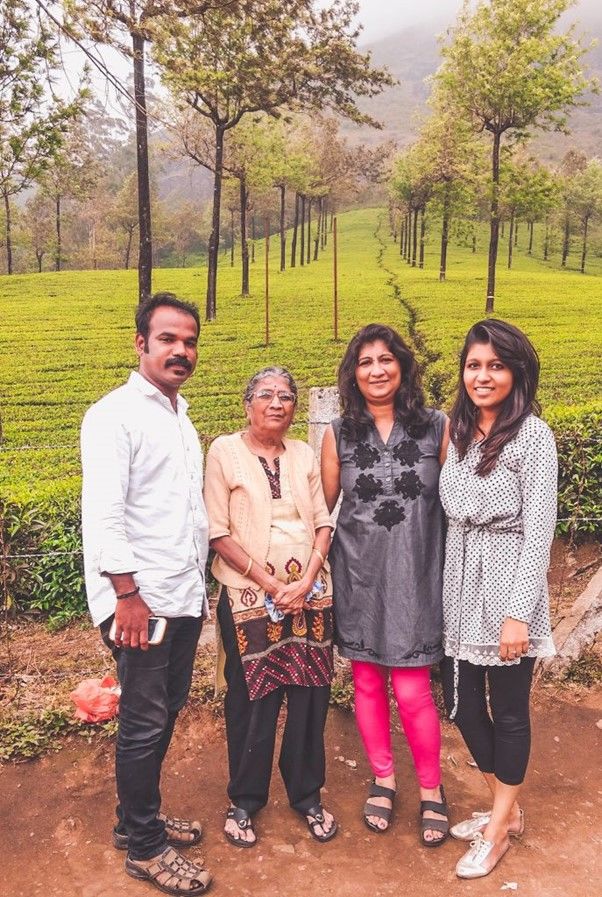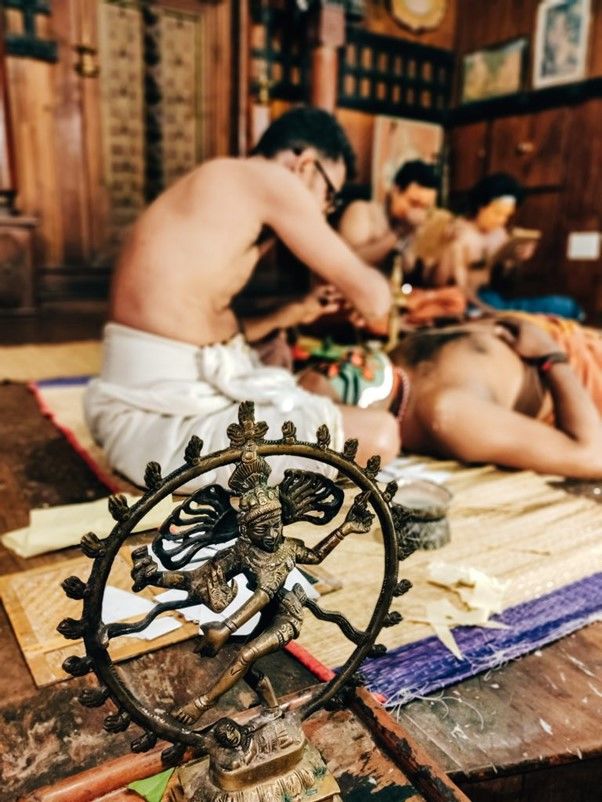 Wayanad, 2018
After the confidence boost received from my earlier trip, I pounced on another chance I got to explore Kerala in 2018.
In a tuk-tuk on a mountain top, our rickshaw driver overheard my friend and I almost cancelling on bamboo rafting because of the scorching heat of 32°C. He conveyed this message to the owner of this Bamboo Raft and they instantly arranged for a raft with a roof! We were not aware of this help.
We climbed down the stairs while I felt so sorry for the people who just got off the raft without a roof! A naïve shy rower Naushad offered his hand to me to transfer me safely to the raft.
He did not speak Hindi or English and we did not speak any Malayalam. He started rowing the raft while we absorbed the waters, fishes, plants in the water, and the raft in our utopia.
After rowing a few meters, I heard "Madam!" and saw him standing on an almost still raft, nudging towards his oar. I couldn't believe he was asking me to experience how to row a bamboo raft!
I excitedly walked towards him to take his oar and started rowing the raft! Of course, I got it wrong in the beginning but thank God for charades with which he could explain me how to position the oar on the moss and grass in the water, take its support and then push!
I could feel a wobbly Earth move below my feet giving my body a jerk and balancing it at the correct moment, I gave the raft another push with the help of his teachings.
I saw Noushad smile and sit down idyllically from the corner of my eye. Never had I imagined rowing a raft and receiving such a pure experience! Despite the language barrier, Naushad's paramount priority was giving us a unique experience and looking out for our happiness.
Such are the Humans of Kerala! Isn't this what makes a place Human by Nature?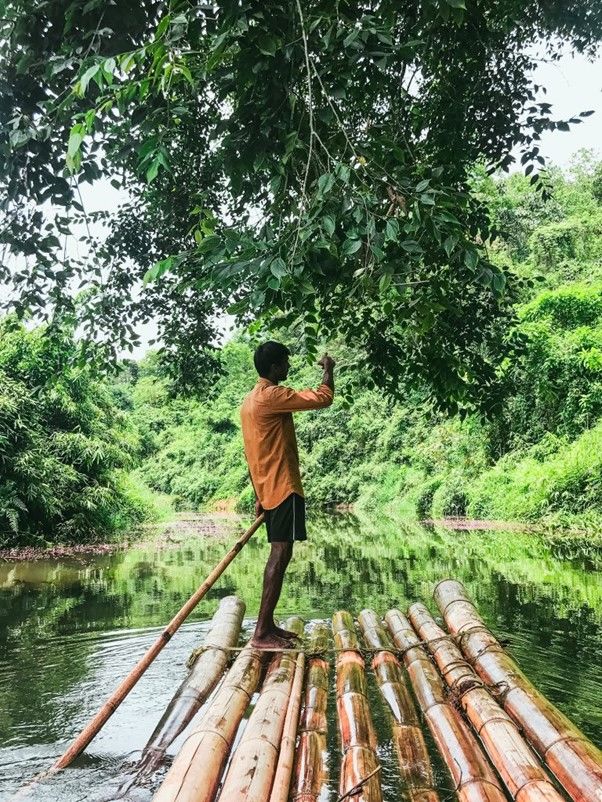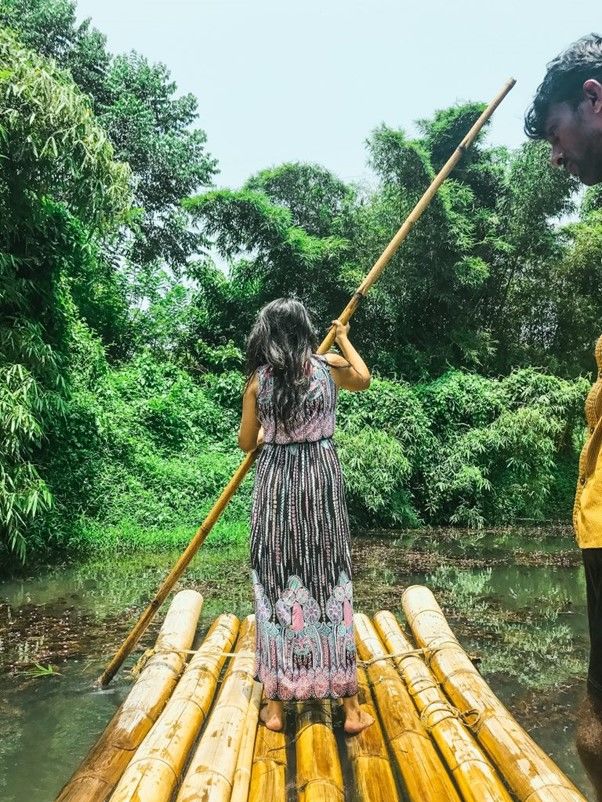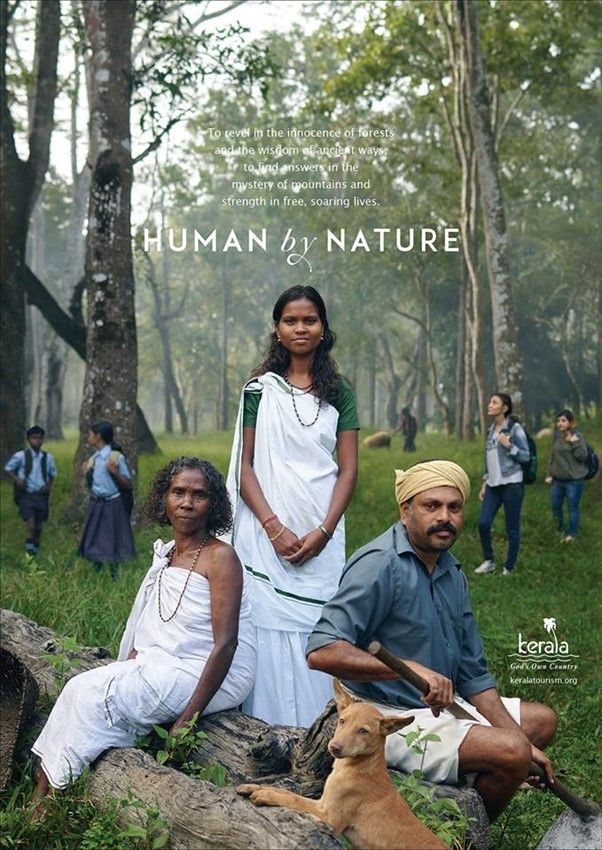 Kanhangad, 2019
How do you plan a trip to an off-beat destination without any information available on the internet? No blogs telling you about the event, no posts telling you about how to get there, no information about cultural practices, and respect as a tourist that has to be considered.
These were the difficulties I faced 4-5 months prior to me planning a trip to Kannur. My feet were itching to witness Theyyam – a ritual art form so ancient it predates Hinduism (500 BCE)!
I spent good 2-4 days in researching and failing on finding relevant details. Dejected, I was on the verge of giving up when an idea struck me.
I decided to search for #theyyam posts by locals on Instagram to get the information I needed.
And there I was, flooded by prudent Malayalis' replies on my messages to them!
About them welcoming a Gujarati to north Kerala, introducing a Gujarati to their culture and rituals with pride, and thankfully someone connecting me to his friend's friend who is a photographer and a guide in Kanhangad!
Sreejit patiently answered all my queries about:
• reaching the house from Kanahangad bus stop
• the decorum to be maintained
• certain heads up about the timings and dates of the rituals
• folklore about rituals
• and history!
Phew! Such are the Humans of Kerala! Isn't this what makes a place Human by Nature?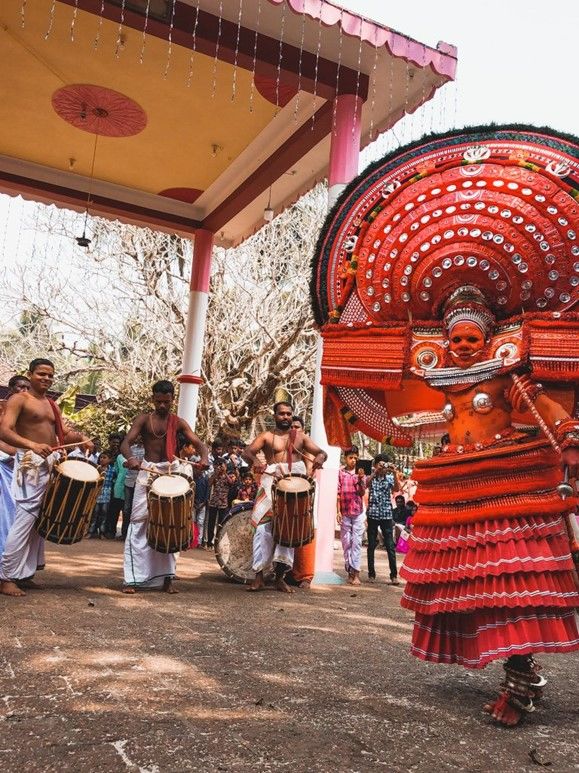 2016 to 2019 comprised of 4 trips to Kerala and I cannot wait for this horrid CoVID-19 pandemic to get over. Because hey, I NEED to visit God's own Country in 2020 too! Don't you? Just in case (I hope to God, not) your answer is a 'no', I urge you to watch this video created by Kerala Tourism. I guarantee you that you will change your mind about visiting Kerala at the earliest!
Did you get goosebumps? I know you did!
You may also check out my other blog-posts from Kerala here . Let me know in the comments below if you still have any questions about Kerala!
This blog is in collaboration with Kerala Tourism Board. Views, photos, and experiences are as always mine.
Stalk me on