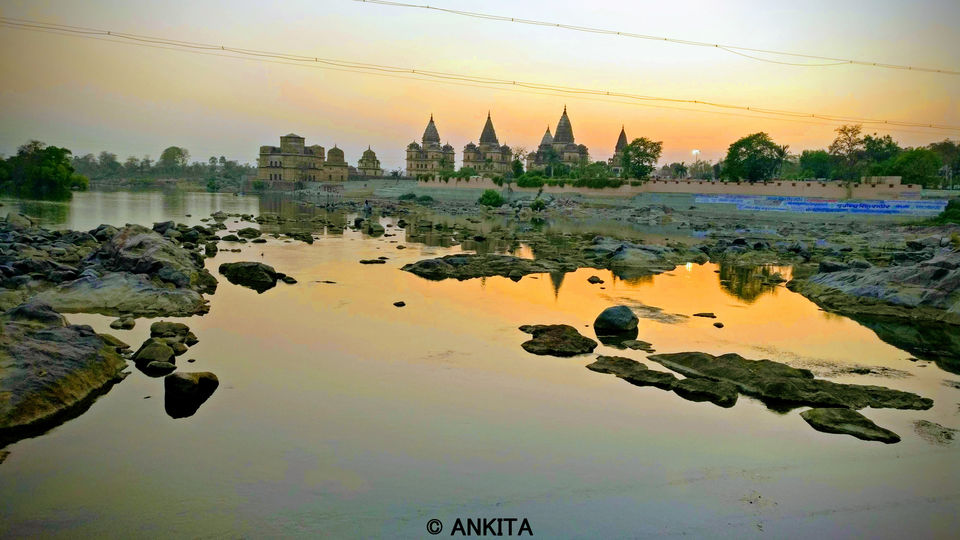 The sound of temple bells goes with the rhythm of the heart. People from whole town were covering every inch of the courtyard and patiently waiting to have a glimpse of deities and how he is celebrated as a king!
Among others were myself and my family waiting for our turn at the Ram Raja Temple in Orchha.
Orchha is a town located near Jhansi in the state of Madhya Pradesh. It is known for it's temples, river Betwa, fort, palace and humble people.
This was my fourth visit to the town and every time I have seen a different side of it. Small yet variant, the town is like a breath of fresh air. In recent times it has commercialized a lot but the humbleness of the locals stayed, this is the best part.
After seeking blessings at the temple, we walked out for our dinner at a local setup closest to the fort. A family owned eatery serving food for which any adjective would not do justification! We placed the order before our visit to temple as they make fresh food, our table was laid and there it was: Baigan bharta (Smoked and mashed Aubergine) with hand flattened chapati, dal and green chutney. I bet there was none of us who didn't overeat! Dinner overlooking the fort with lights highlighting it's glory was another feeling. It was to be explored by us next day.
Our guide for next day, Mr. Govind is a teacher by primary profession. He has good account of history so we were filled in with lot of insights about the town, the fort and palace. In a way I feel sad whenever I visit this iconic site, Jahangir Palace within the compound was built by the King of Orchha in honor of the then emperor of India, Jahangir on his visit. A grand celebration of his arrival but never again this palace saw a life living in the compound. The other palaces are still adorned with old paintings. This grand structure is now a notable historic site and been cared for.
On the other end of the town lies the Royal Cenotaphs! Sometimes you might spot a vulture which are now rare to find. The river Betwa flows close by as if singing a lullaby to the sleeping ones. The serenity of the river is captivating if you witness it from across the small bridge in has during sunrise or sunset.
Even in the heat of month April, my parents loved their short visit of two days. They couldn't stop clicking pictures and wanted to have more of it.
Why visit Orchha?
If you're a person with interest in history and architecture, in photography, or religious or simple someone who loves the quiet then this is place.
When to visit?
I've seen all weathers in Orchha and winters are the best.
Where to stay?
Orchha is a recognized tourist destination now so there are several hotels and lodges here, from backpackers to budget or luxury traveler, Orchha has got it all!
What else to do?
A community owned hand paper manufacturing set up called 'Taragram' is a must visit. You can also visit Khajuraho and explore Jhansi fort, if time allows.
How to go?
Bhopal Shatabdi & Gatiman are best trains to get off at Jhansi railway station and drive from there to Orchha. Road trip enthusiast can easily drive up there. Nearest airport is Khajuraho airport.
Where to eat?
Although there are plenty of restaurants, including the hotels ones but I personally like the one near the fort. I can't recall the name but it's the first eatery on your left if you are coming out of the fort.
This is generally accounted as a weekend destination from Delhi. But visit at your ease and time in hand, I am sure you will find in refreshing.
A request to not spoil the place. Keep the trash where it belongs. Do not sit and climb upon the rocks in the river, the flow is maintained through a dam and sudden water flow can be fatal.
Enjoy the beauty and make memories. Happy Traveling!