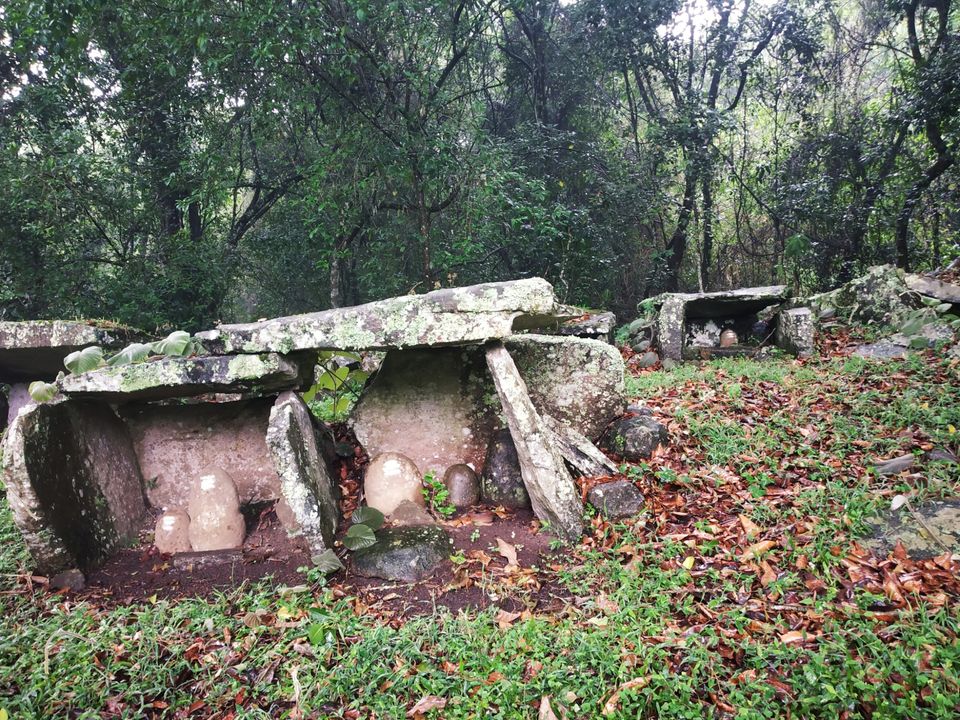 To beat the summer heat and celebrate my close friend's birthday, we chose to spend a weekend at Kotagiri, a small hill station in Nilgiris district of Tamil Nadu.
On the first day, we planned to go for a forest walk in a place called 'Banagudi Shola' also known as 'Sacred forest' is a tribal settlement of Kurumba tribe, one of the very old tribes occupying Western Ghats. With a help of a local person, we started the walk starting from a place connecting kotagiri and Catherine waterfalls.
Along with us, drizzles started to form a heavy rain. With no place to stay under a roof, we decided to walk drenching in the rain through the estate and reached a place with mud houses surrounded by red soil. After taking breaks wherever possible, the pathway to Shola started with a beautiful temple surrounded by a pink Bougainvillea tree which looked like an ornament of the temple. Bana meaning Forest and Gudi meaning Temple, the sacred forest started with a temple.
With light drizzles to heavy rain, we continued to walk to the destination to reach before noon as wild animals will start occupying our way post noon. The forest trail ended at a place where 1000 year old dolmens otherwise known as 'megalithic tombs' were present with a open space allowing sun rays piercing the rain into the mid of the thick forest. The megalithic burial site is believed to be dated around 3000 BC is constructed through the arrangement of large and small stones without the use of mortar or concrete. These stone capped burial monuments are located in many places of Tamil Nadu but spotting it inside a Shola (forest) is the main attraction of Kotagiri.
Since the place is sacred, the local person asked us to go near the tombs with bare foot, the tomb had some tribal sculptures with worshipping lamps. While returning from the trail, leeches were waiting to suck out the blood from our legs and returned through the same tea estate from where we spotted Dolphin Nose which is another main attraction of Ooty in Nilgiris.
With rains still showering on us, we ended the trail with a friendly talks with people working in the tea estate and a good lunch at our Home Stay which was in walk-able distance from Banagudi Shola.