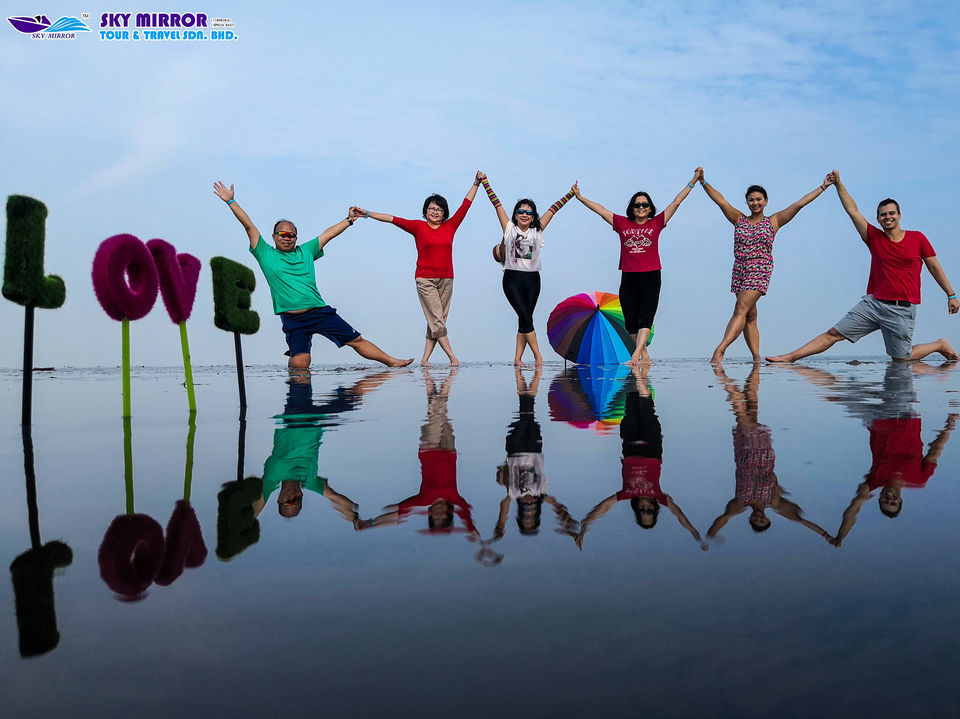 A sight rivaling the famous salt flats of Bolivia, the Sky Mirror is set upon an elusive beach which emerges only twice a month during the phases of the new and the full moon of Sasaran. And you thought only the werewolves come out at this time? Situated on the central western coast of Malaysia in the state of Selangor lies Kuala Selangor, still largely unspoiled by massive tourism. The town of Kuala Selangor is an up and coming point of interest housing the entry jetty to Sky Mirror, opened to the public in 2016 and located just 70 km outside of the Malaysian capital of Kuala Lumpur.
Jumping on a motorboat ferry with Sky Mirror Tour & Travel, a half hour later from the Kuala Selangor jetty we arrived at this mysterious sandbar and it did not disappoint. Roll up your pants if you didn't wear shorts, and as you climb off the boat's step ladder you immediately sink your feet into the soft sands of Sasaran Beach with the world's largest natural mirror for you to behold.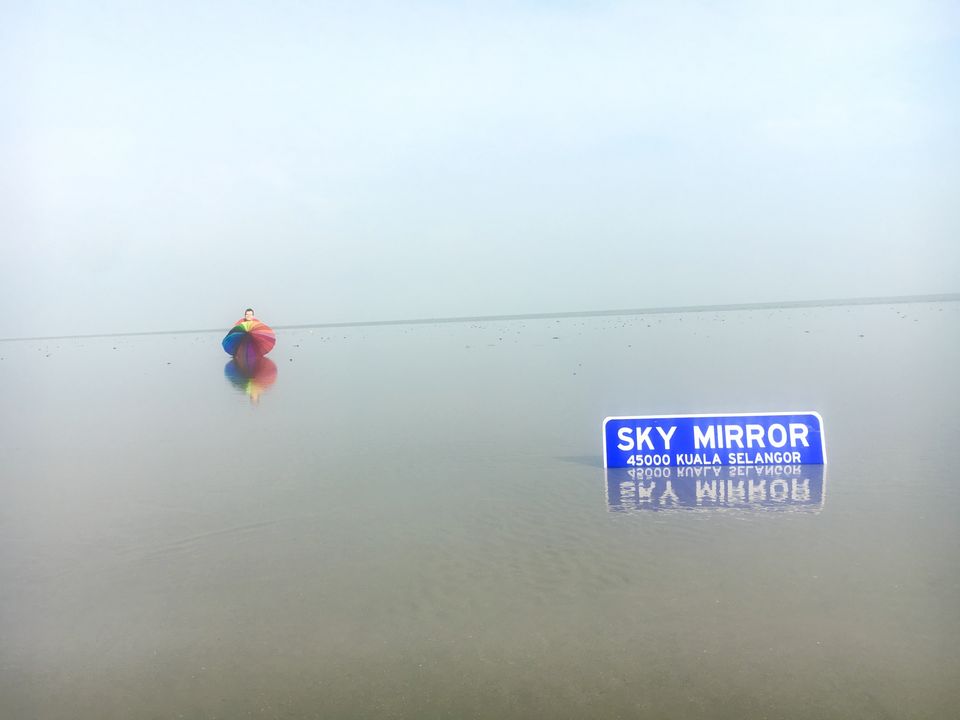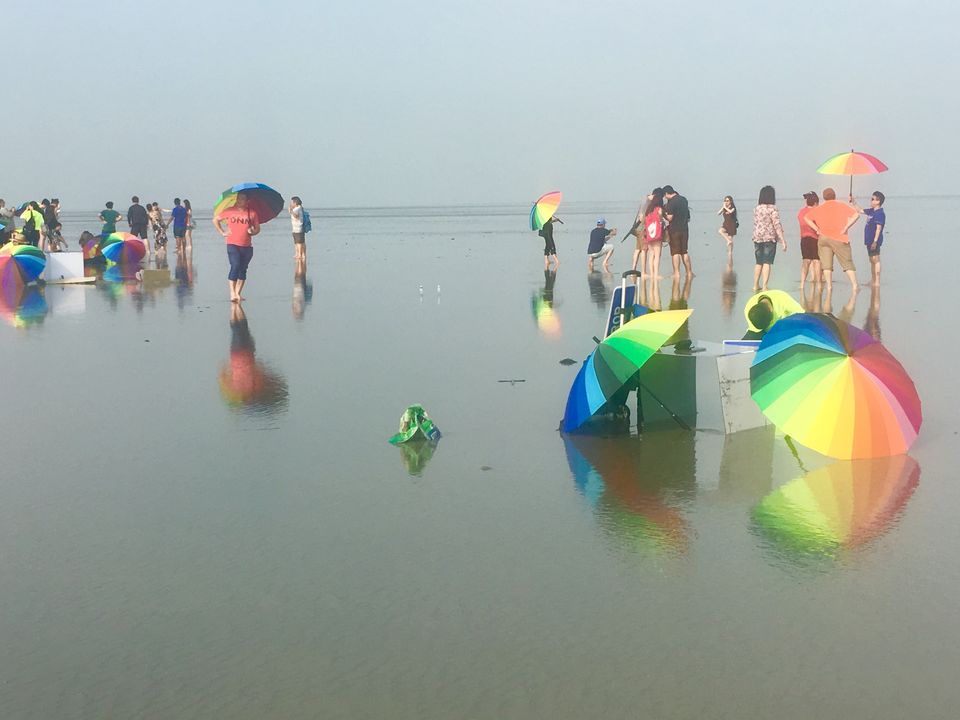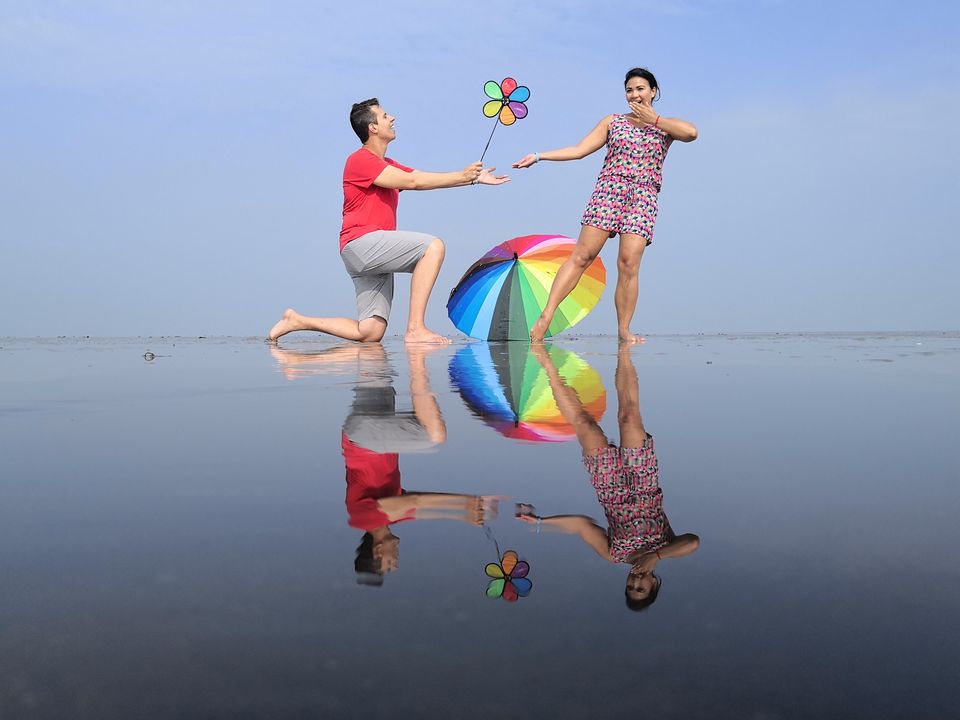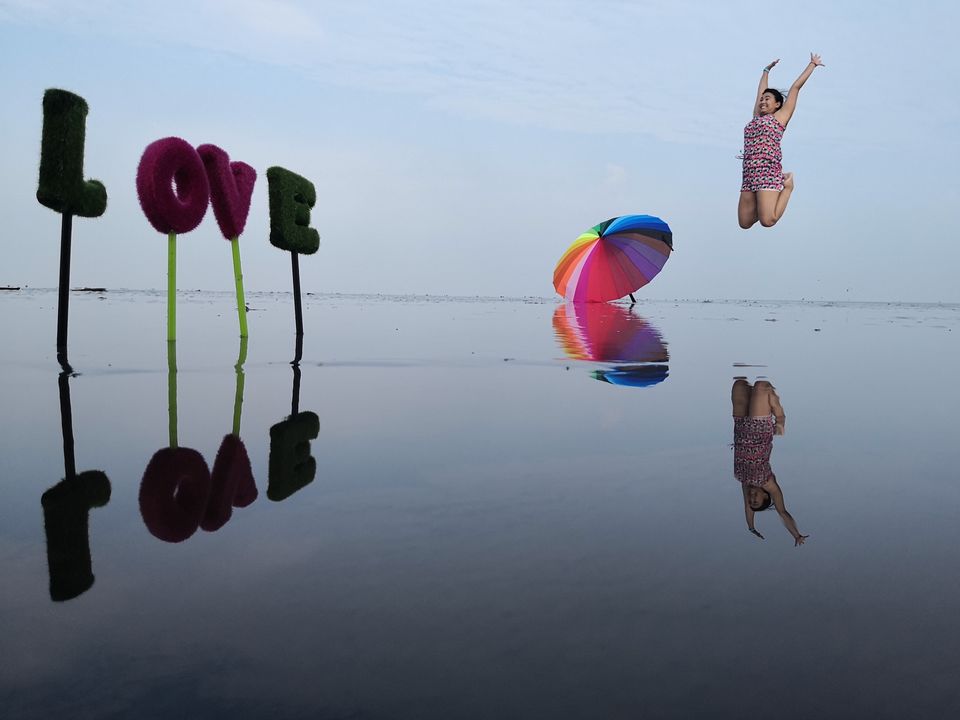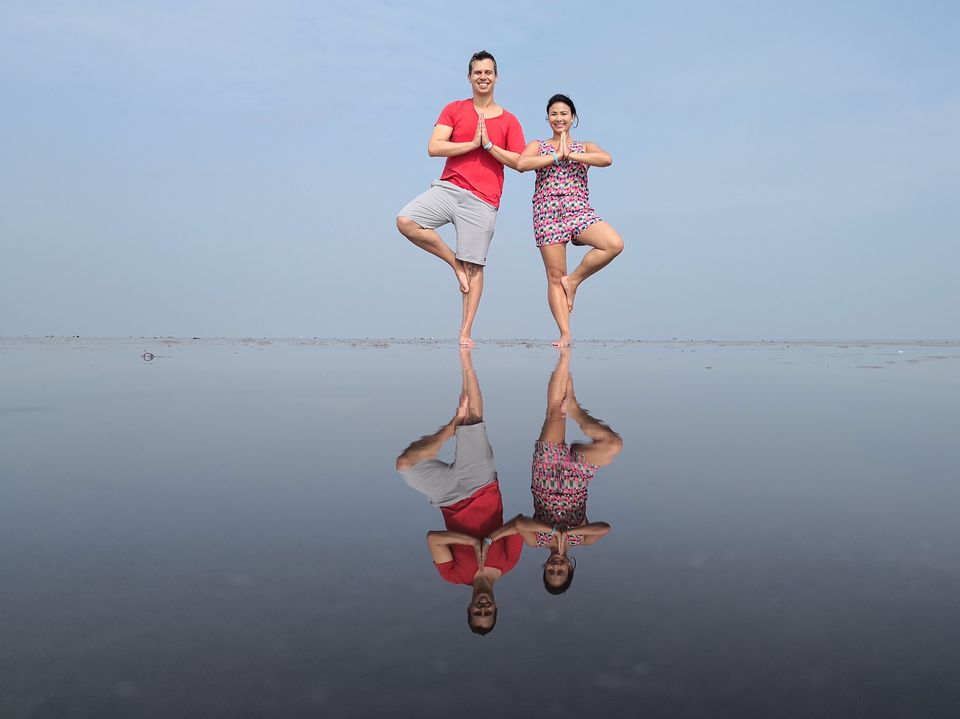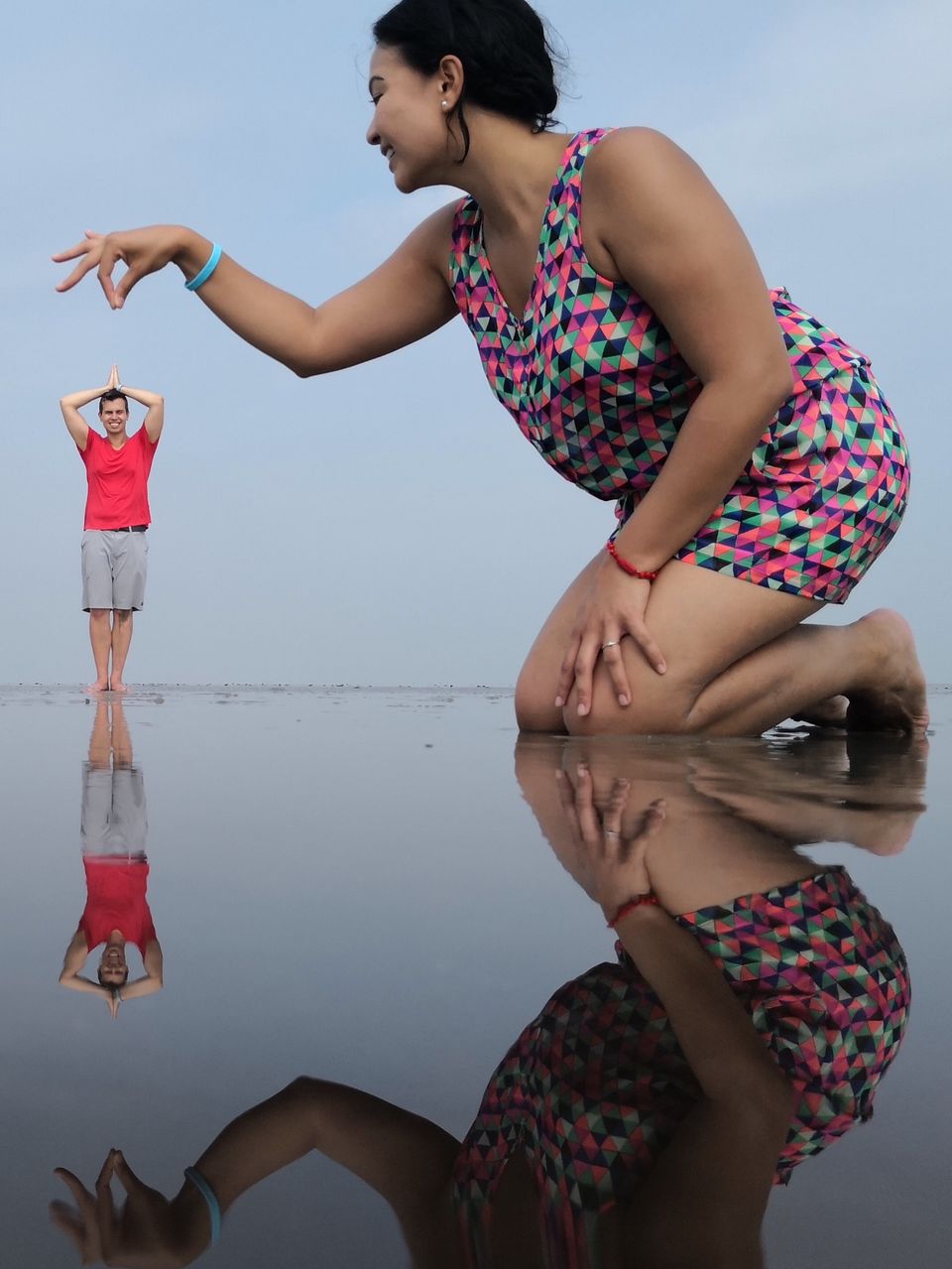 GET IN
If you're staying in Kuala Lumpur, you can reach Kuala Selangor by an hour taxi or uber/grab ride (consider traffic possibilities) for approximately 100 Malaysian Ringgit ($25 USD) in the very early hours of the morning to make an early morning tour departure from the jetty, or as we did by taking public bus #100 starting from Medan Pasar Bus Hub (100 meters north of Central Market close by HSBC bank building) and going the night before. Going by public bus #100, the journey took approximately 3 hours with traffic and cost per person 7.30 Malaysian Ringgit ($1.89 USD) to get to the Kuala Selangor old bus terminal Bandar Malawati. The old bus terminal is located about 10 minutes drive to the jetty, with occasional free bus transfers or taxi drivers ready to take you to the jetty pier. There are no public transportation options or metered taxis available within the town of Kuala Selangor, so in the absence of an available Grab or Uber driver, negotiating for flat rate taxi for transportation is necessary.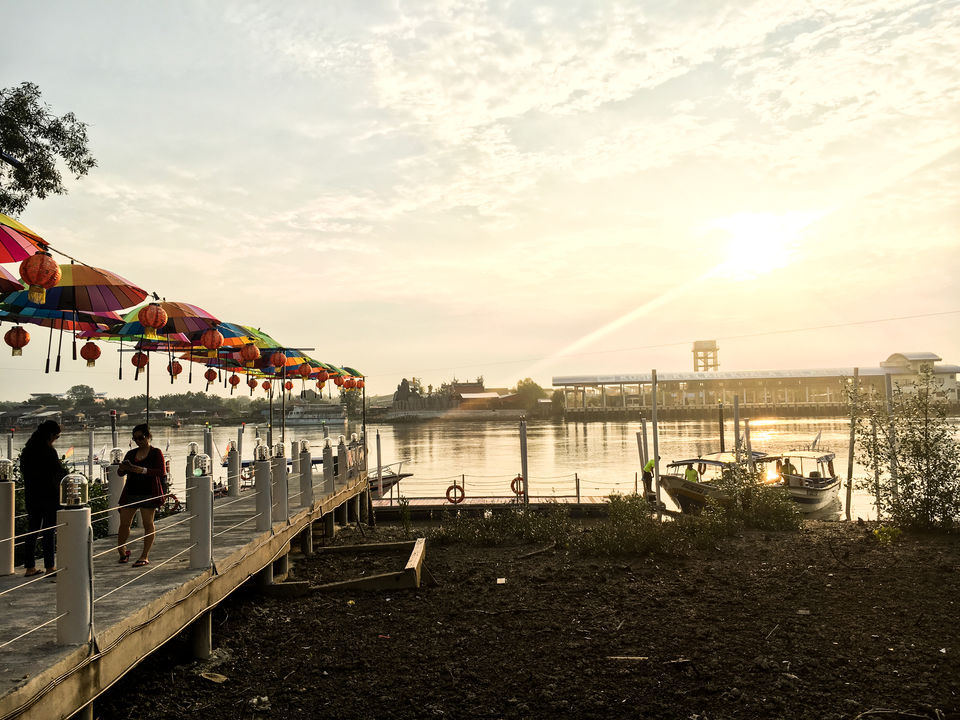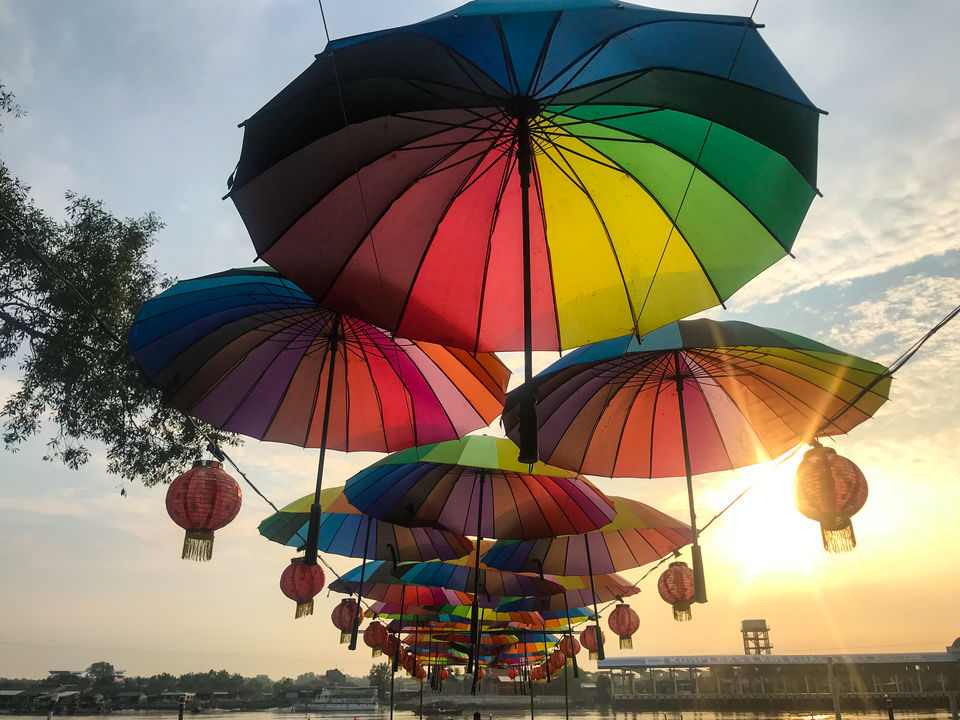 WHILE YOU'RE THERE, CHECK OUT THE FIREFLY LIGHTS ALONG THE RIVER
Leaving Kuala Lumpur around 3PM led to an early evening arrival just before sunset which gives the perfect opportunity to experience another famed attraction Kuala Selangor has to offer, and that's taking a boat ride along the Selangor River and visiting one of the largest firefly colonies in the world. There are three options for witnessing the fantastic and spastic sparks illuminating from the vast colonies of fireflies that make their homes in the mangroves of the Selangor River – Firefly Park Resort, Pasir Penambang Jetty, and Kuala Selangor (Kampung Kuantan) Fireflies Park.
We visited the Kuala Selangor (Kampung Kuantan) Fireflies which offered a private boat with a capacity of 4 adults for the price of 53 Malaysian Ringgit ($13.72 USD) per boat. Kuala Selangor (Kampung Kuantan) Fireflies is located 7km from the Bandar Malawati Bus Terminal and cost 13 Malaysian Ringgit ($3.37 USD) to travel by GrabCar from the bus terminal to the riverfront boat excursion. Also, there are taxi drivers at the bus station who are more than willing to take you to your firefly experience. (Quick money saving tip - make a friend while on bus #100, and you can split the transport cost to the firefly colonies; you probably won't be the only one on the bus from Kuala Lumpur heading in that direction.)
The opportunity to take photos are limited if you only have a smart phone, plus flashing lights can disturb the fireflies, so we suggest putting the phone away and recommend capturing the image with just your mind and committing them to a special place in your memories. In the 30-minute boat ride, you'll go up close and personal to the mangroves and become well acquainted with the blinks of the fireflies giving each mangrove its own individual personality. And if you don't wear mosquito repellent, you will become very acquainted with these bugs as well (there are tables selling repellant just outside the entrance for those who didn't prepare).
After seeing the fireflies, we asked the guard at the security gate to phone a taxi as no Grab or Uber drivers were available for pick up to take us to our accommodations in the old town of Kuala Selangor. We negotiated 15 Malaysian Ringgit ($3.88 USD) for the 8 km drive (initially asked for 20 Malaysian Ringgit or $5 USD by the taxi driver) between Kuala Selangor (Kampung Kuantan) Fireflies and the old town.
WHERE TO STAY
Malaysia Backpackers is a simple backpacker hostel offering $5 USD per dorm bed, or $10 for double bed private room with fan and located 3 minutes walking from the Sky Mirror jetty dock. Our room did get quite hot for the evening with just a fan accommodation, however for those looking for short budget stays, we'd recommend this place for proximity, price, and the enthusiastic attitude and friendly nature of the new owner Alex Yong who recently took over the building aspiring to make it at par with backpacker experiences. Currently Kuala Selangor offers no other options for backpacker hostel budget options, however there are numerous budget hotel options in the area within a reachable car ride to the Sky Mirror.
HOW TO BOOK - RESERVATIONS REQUIRED
A tour of the Sky Mirror cost 100 Malaysian Ringgit ($25 USD) or 75 Malaysian Ringgit for Malaysian Nationals, and includes round trip boat ride from the jetty, water, a local lunch of Nasi Lemak (spicy steamed seafood rice) and sweet treats, as well as the photo package taken by your group tour guide complete with colorful props (oh and be sure to also wear colorful vibrant clothing).
To book a tour directly with the only tour group operating the boats for Sky Mirror – Sky Mirror Tour & Travel, it's as easy as a WhatsApp message to YM Lim at +60 19-266 6665.
If you happen to be in Southeast Asia instead of South America and looking for some amazing reflective photos in a fantastic beach scenery, here's your opportunity for this hidden gem right in Malaysia at the Sky Mirror of Kuala Selangor. Better than paying $100 USD for a one day tour of the Bolivian salt flats? Sky Mirror certainly gives it a run for the money! Enjoy!