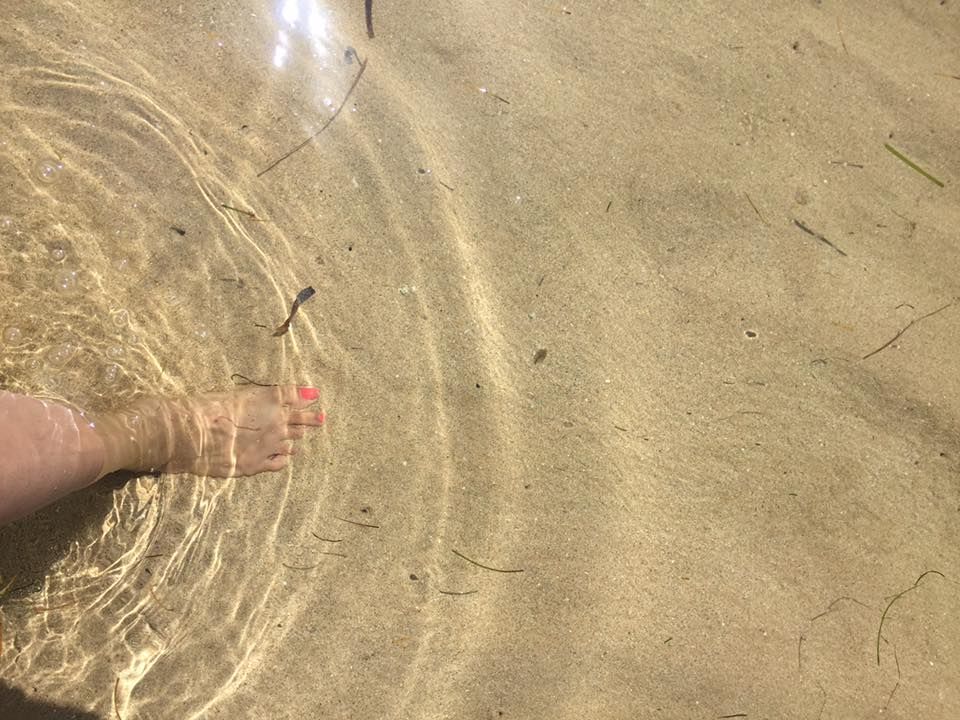 Awestruck is the word I would use for our reaction when we stepped foot at the Westin Bali Nusa Dua Resort and Spa. From the speedy check-in by the friendly staff to the warm welcome, we were already impressed with this gorgeous resort. After a crazy couple days in Kuta & Seminyak, for T and I, this place was just what the doctor ordered.
The moment we walked into the hotel, the grandeur of the reception took me by surprise! Having stayed at numerous luxury hotels, I didn't expect to be that awestruck by this one. Luxurious Italian marble was sprawled across the lobby floor and reception desktop along with hardwood rafters on the ceiling and gigantic murals on the wall behind the reception.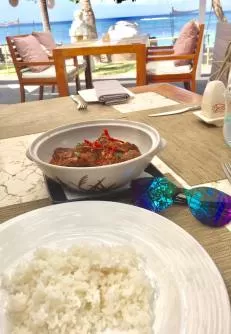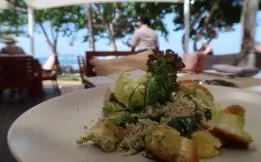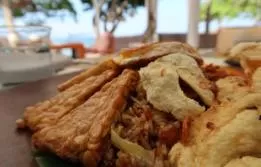 Right after our check-in, we went to the beachside restaurant, 'Ikan' which offered us fascinating views of their private beach along with a varied and delicious menu. Beef Rendang, Cous Cous salad and couple of Bintangs' later, we waddled back, stuffed, to the room for some much-needed rest.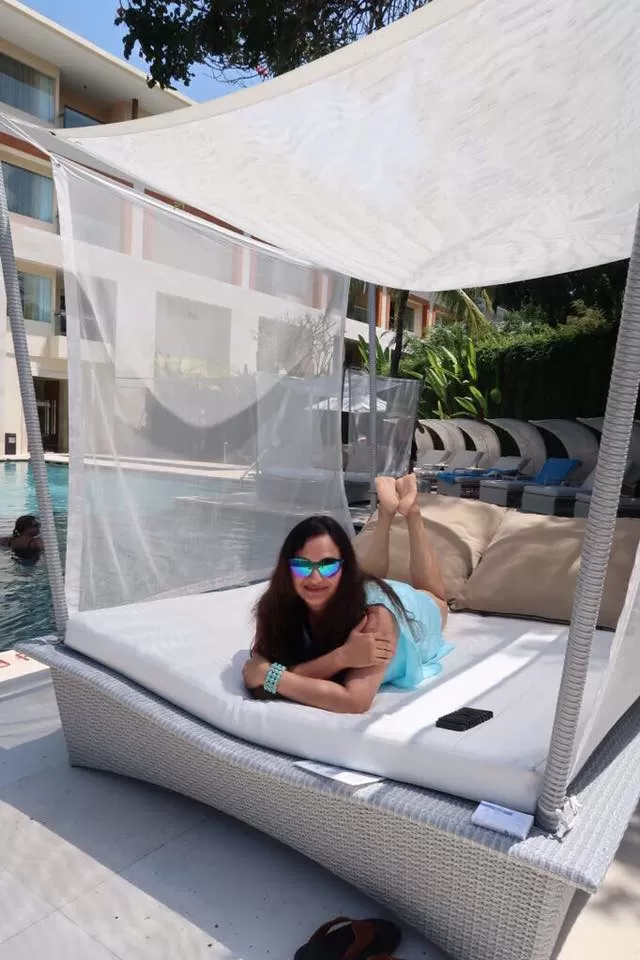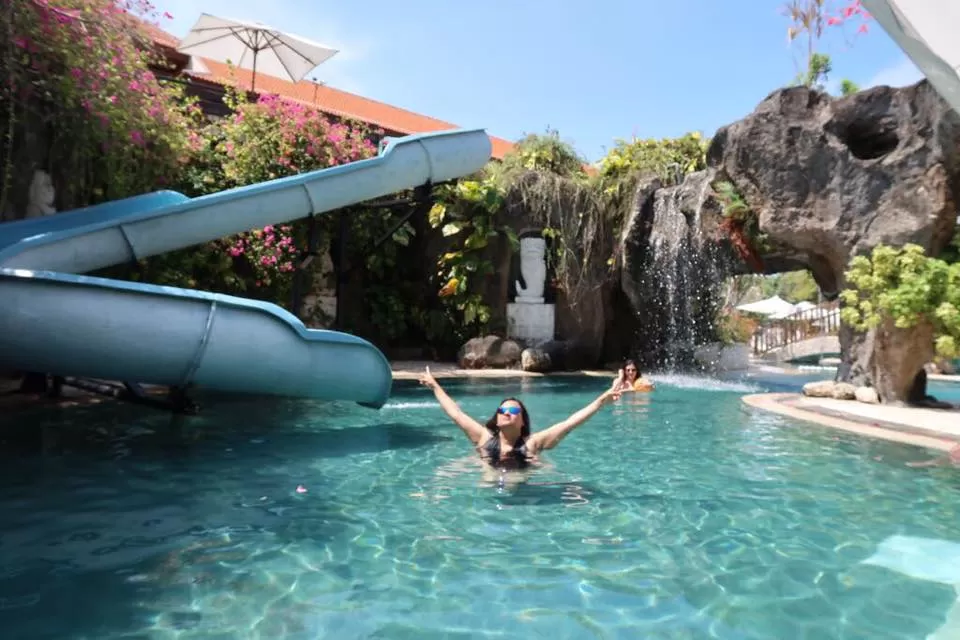 The evening consisted of us lazing on the beach beds at their private beach where we could book tents and just spend all day on that pristine white sand blue water haven. The swimming pool area of the hotel was also so welcoming that we spent the latter half of the day laying on the beds and taking frequent dips in the pool. The pool had an in-built waterfall, bar, and a water volleyball net. You can feel free to make your own conclusions about how the rest of that evening went.
Dinner was an all you can eat buffet at their Japanese restaurant called Hamabe. The variety was overwhelming especially for me, a total carnivore, and I gave serious justice to the whole meal. We had Teppanyaki, Robatayaki, Sushi, Miso Soup, Salads and some rich and exotic dessert dishes. Indulgence was key! T, being a vegetarian, had limited choices but the staff made sure she was provided with the best possible meal within their capacity. Sometimes just a friendly face and the willingness to please you by the staff gets you half full anyway. The food took care of the other half!
A good night's sleep after this much indulgence was almost mandatory & we passed right out into the comforts of our super soft beds.
Fresh & well rested, we woke up to make our way to the breakfast buffet the following morning.The breakfast was vast and the varieties were unimaginable. There was ramen, wok, soups, egg preparations, cereals, sandwiches, bread, Indian breakfast counters, Chinese counters, Balinese cuisine and way too much more to be able to jot down without making that a separate blog post of its own!We wanted to eat more, but our tummies just couldn't take it!
Post breakfast, we went back to the pool to get some always, much-needed pool time. A survey of the resort brought to our notice the facilities it had to offer. 4 restaurants, a bar, yoga sessions, free shuttles to popular shopping malls & so much more, we realised 3 days were just not going to be enough so we set ourselves on a mission to stuff ourselves silly and do as much as possible.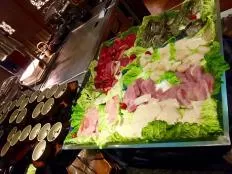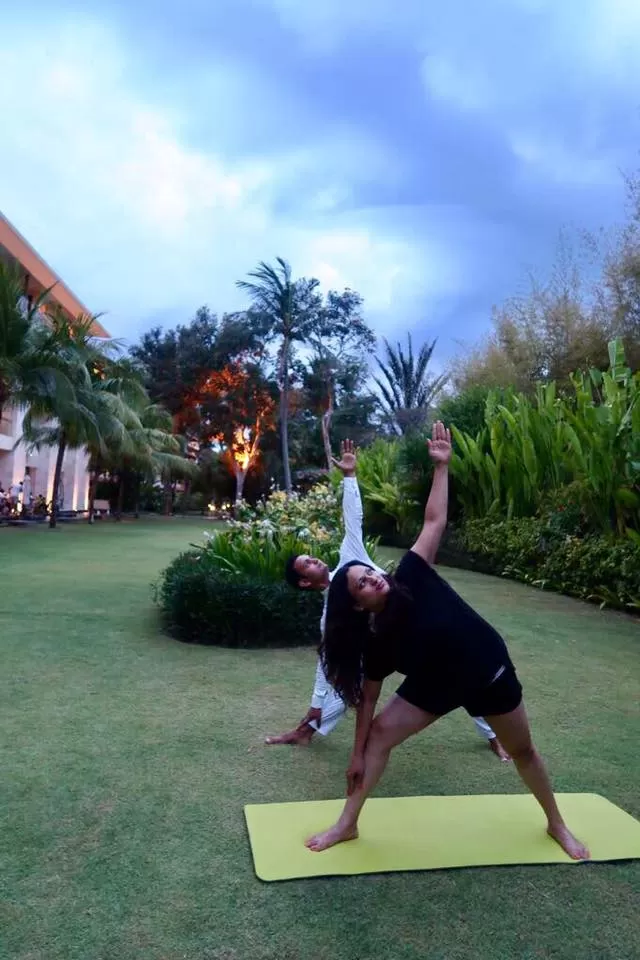 After the monumental quantities of food we were eating, we thought it's only natural to burn some of that off and we signed ourselves up for the yoga session taught by their resident wellness expert, Jitendra Pokhriyal. Doing Yoga in the open on the grass lawn, in natural surroundings was very rejuvenating. Mind you, this was no basic yoga. The guru meant business! We were all tired but felt the workout in our muscles as we trodded our way back to the room to freshen up.
Once all set, we went for Hi-Tea to the 'Velada Tapas & Bar Kitchen'. Cakes, cookies, jams & jellies, marmalades, sandwiches, and burgers!!! How can one make that decision? Despite all we vowed to do during yoga, we abandoned all those choices and dove head on!
Naturally, all that food made us want to nap but I sucked it up and took the shuttle to the mall. What a quaint mall it was. Outdoor boutiques and tiny restaurants with local merchandise tempted me to picked up some cute local souvenirs for friends and family back home before returning back to the resort for my spa session.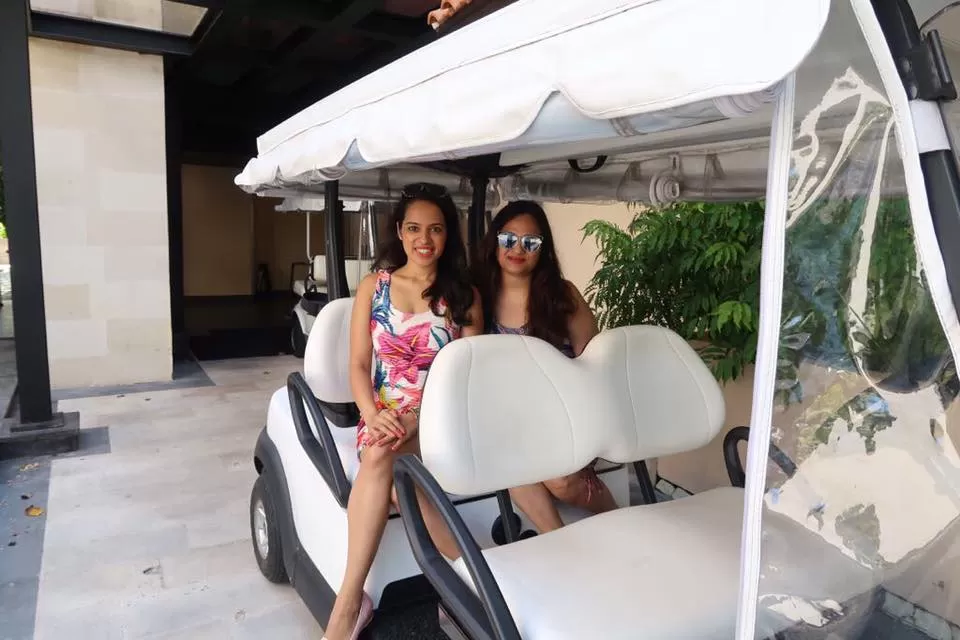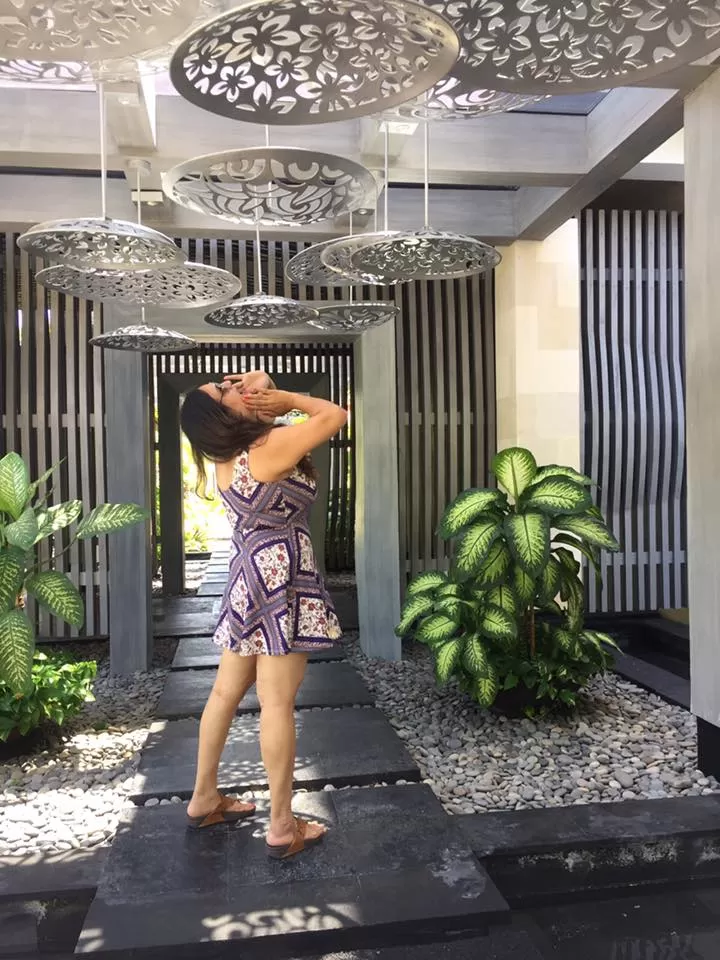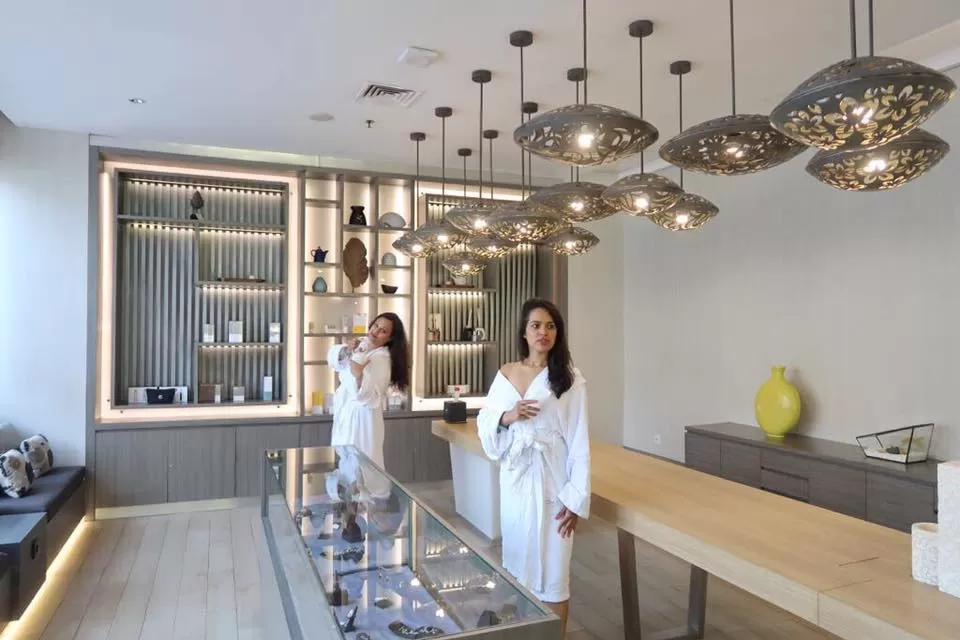 The spa was a whole elevating experience in itself. A friendly staff member escorted us to the spa on a private buggy. She was delightful and answered all our queries regarding their offers and therapies. Once at the spa, we were transported into what seemed like a parallel world with smiling faces, serene surroundings, relaxing music and soothing interiors. Our masseurs directed us to our choice of selected fragrant therapy rooms and I felt like I was floating in the clouds for the next hour and a half. Post the aromatic massage, we dipped into the jacuzzi and just relaxed. A hot cup of green tea and a scrumptious cookie later, we were driven back, rejuvenated and happy.
Post Spa, we headed back to the beachfront restaurant for Balinese all you can eat buffet along with live music. Our table was right on the beach barely 100 meters away from the waves of the ocean. The soothing sound of the waves along with the very talented live music singers and the choicest local food items, this was the perfect send-off meal for us. We lingered on till the very end and then made our sullen trip back to the room for one last time.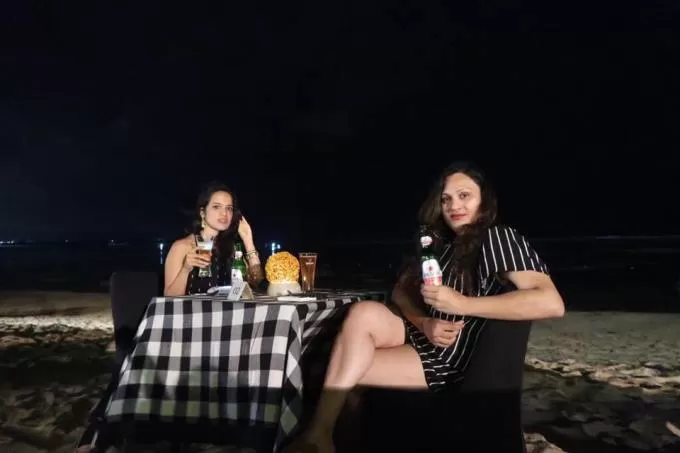 Next morning, we checked out with similar ease, thanked a few staff members who made our stay memorable (A special shout-out to the staff and service team of the Westin, that made our stay immensely pleasurable) and made our journey to the airport to head back home with fond memories and longing to return back some day.