Our time in Seychelles was extra special. Not just because my husband planned this trip as a surprise getaway for our second wedding anniversary, but, this was our first holiday in a long time where we did nothing; no itinerary, no tours. All we did was unwind, stuff ourselves with tropical everything and enjoy the surroundings. And, the cherry to this cake of a vacation was the resort we booked for our stay. Couldn't have asked for a better place to spend the glorious 4 days of our trip. So the darling husband took a brilliant decision of booking with The H Resort and we set off!
This article is a review of our experience at the Seychelles property of the H hotels and Resorts chain and if it is Seychelles Islands that you want to know more about, head to; Things to know before travelling to Seychelles.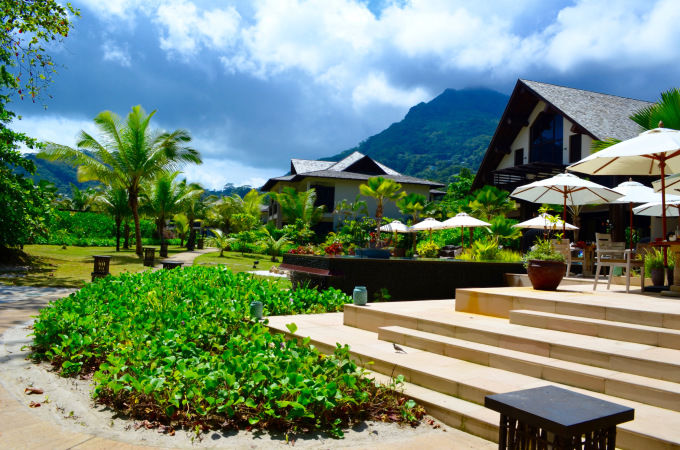 We were looking for the true Seychellois experience on this tropical island paradise within four days without it getting anymore hectic after that long flight and H Resort delivered. Just 20 minutes from the airport, the resort is in the northeast part of the island. Most 5 star properties are known to clean up forests and old plantations to layout their own landscape design of infinity pools, flower gardens and many other facilities that draws one away from the exquisiteness of the island life, but, the H resort folks did just the opposite and built their snug yet massive property layout incorporating the surrounding natural eco system of the island. Don't get me wrong, I love a good infinity pool overlooking a breath-taking view. However, nestled within the capital island of Mahé in Seychelles with a natural stream running through the property, opening right on to the white sand Beau Vallon Beach on one side and lush green mountains on the other is a resort blended with modern comforts a 5 star and wilderness in one place providing the ultimate island experience. And, not to mention the dramatic sunsets while taking dip in the water.
R O O M S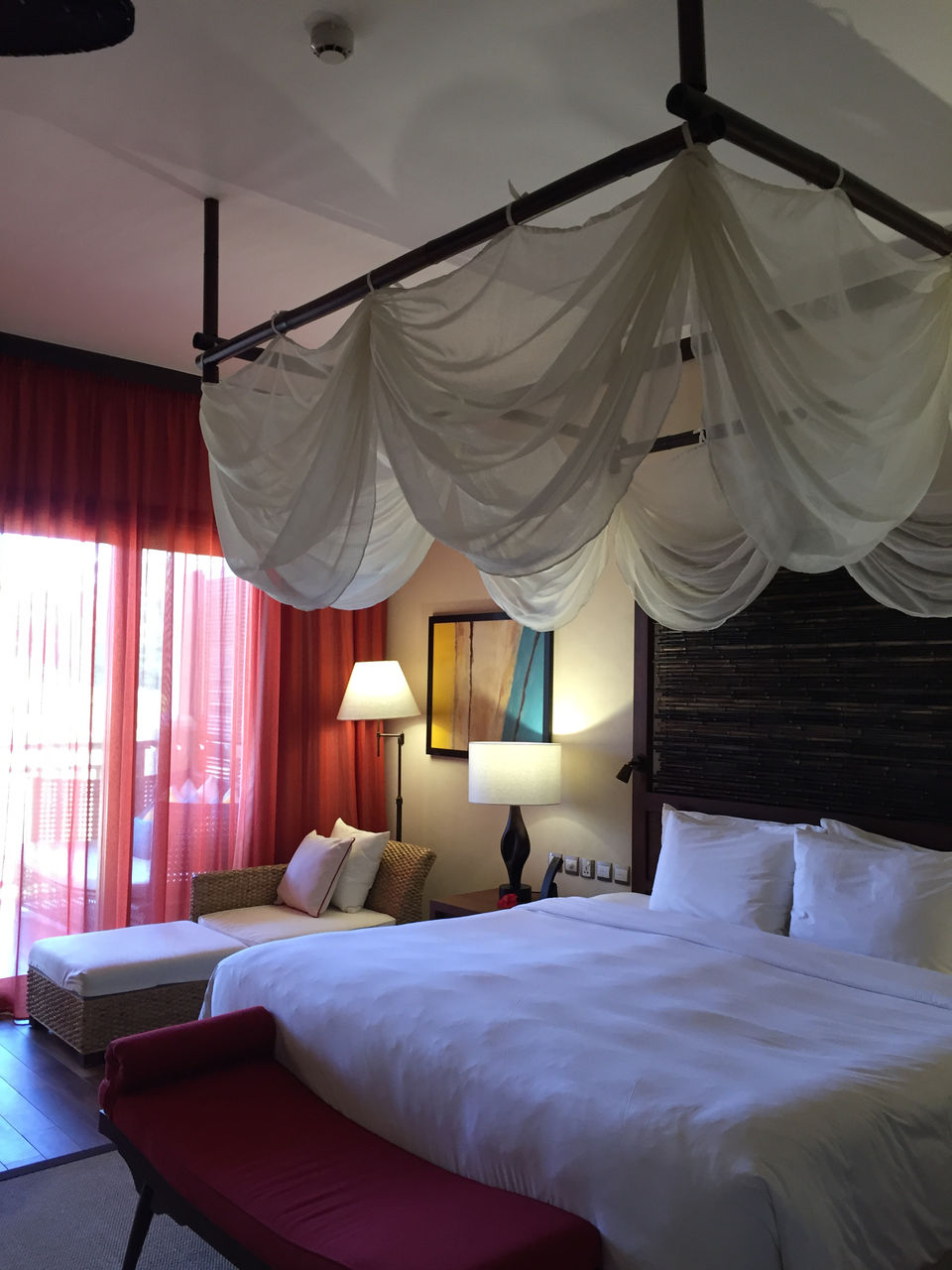 The room was a "suite" surprise after a long flight other than the bowl of complimentary tropical fruits waiting for us. Every room either had a massive balcony facing the beach and greenery of the resort gardens where we caught up with some work or villas with their own personal infinity pool. We stayed in their junior suite; interior was rustic and simple which I really liked and nothing too fancy or too drab, just right for my liking. For me the perk was the huge freestanding bathtub in the en-suite that after swim in the sea served it's purpose. Their comfortable king sized beds with frames and dreamy white-net canopy kept us cozy.
The suite start from 400 to 600 USD a night and the villas can go up 1500 USD to as much as 2000 USD a night!
TIP: Look out for off season deals to make the most of your money, they give away some great deals.
R E S T A U R A N T S
VASCO'S: To be honest for a "5 start resort" we found the food there absolutely average, especially for the price you pay. The resort's main restaurant Vasco's is where the breakfast and dinner buffets are served and the food at both the occasions were extremely average. They strongly display the concept of "quantity over quality", especially over their breakfast buffet. The only fun part about the restaurant is the themed dinner nights like Creole night or the Seafood Festival, where there is free-flowing entertainment of local dance and music.
TIP: If you have a specific palate for breakfast the restaurant does take special requests for things like Indian breakfast up on request and does a decent job at it. Think; paranthas and chole masala.
Other restaurants we loved:
Trader Vic's: where we spent most of our time enjoying their amazing Mai Tai's and the bar food.
1502: A sophisticated restaurant and we can vouch for their deliciously drunk tropical concoctions.
Seyshima: One of the most expensive meal experience where you can enjoy a teppan show by the chef serving away some delicious Teppanyaki and Sushi.
Ripple's: Right by the pool where we indulged in more yummy concoctions. They do amazing cocktails just everywhere here!
F A C I L I T I E S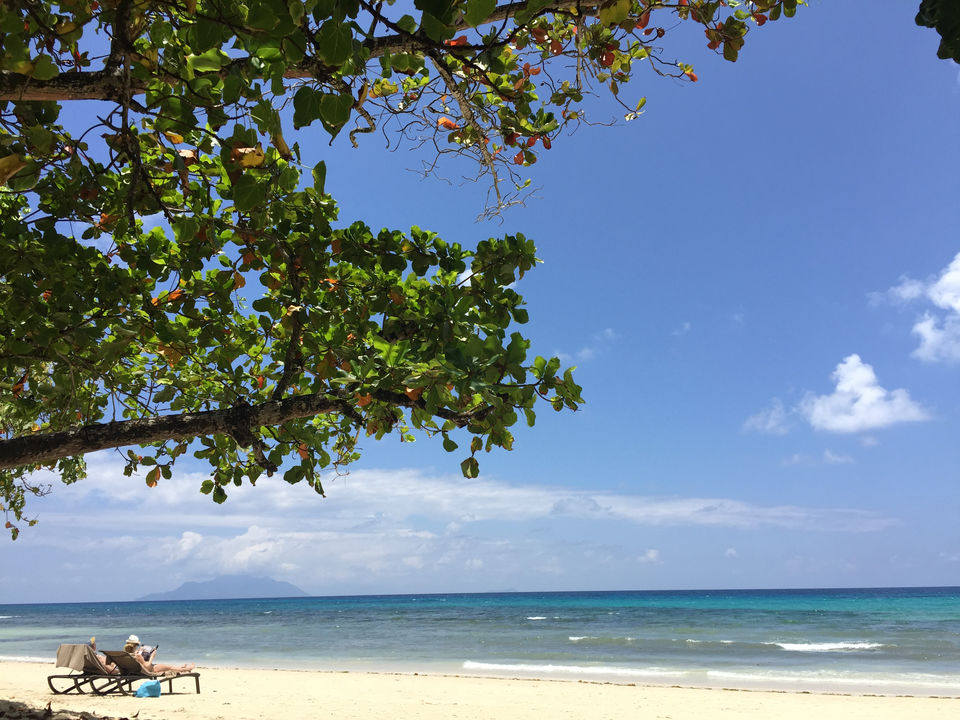 We loved their well equipped gym over looking the lagoon and luscious green from their floor to ceiling windows. Also has a Yoga studio with an instructor. Along with the spa and other beautification services, they do water yoga and many other free exercise classes which is a great touch.
The beach is public so the resort does not have it's own private beach. However, it is still right on the beach where they layout sun beds, provide snorkelling gears and towels for resort guests. Talk about overall experience, I have a lot to say about their wonderful staff.
S T A F F S E R V I C E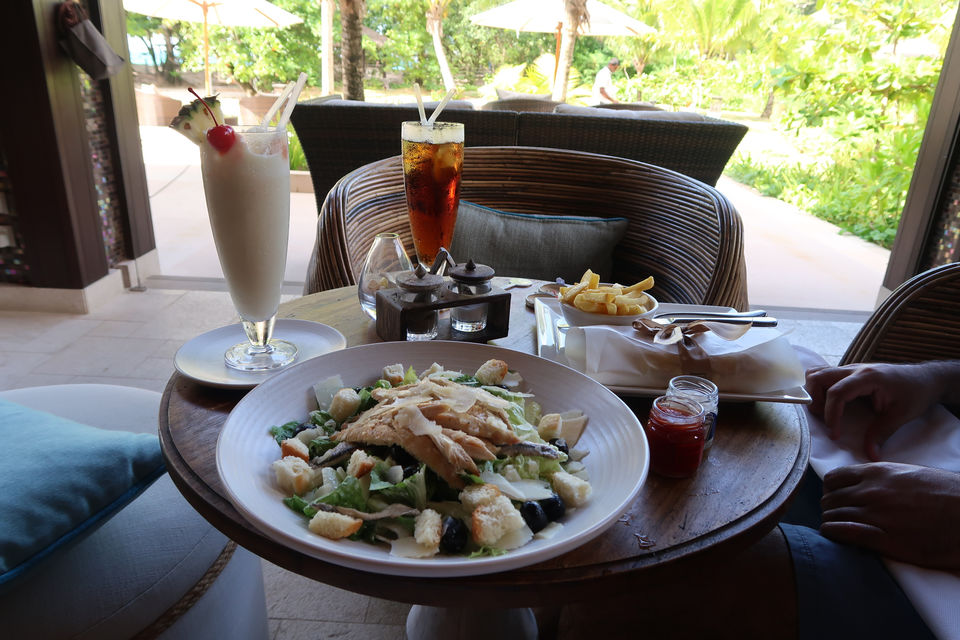 First let me share some of our unpleasant experiences, though there were only a few:
On the day of our anniversary they were kind enough to send over a great looking complimentary cake to celebrate. We do appreciated the thought, effort and the fact that they remembered, but, the cake was a dud and said "Happy Honeymoon" instead.
Once 30 minutes after placing an order with the room service for lunch a staff called us to let us know that the fish wasn't available anymore as the last one has been sent out to someone else instead, right then. I appreciate their honesty, but, after waiting for 30 minutes for my lunch to come up to the room, knowing the dish ordered by me has been sent to another room was rather disappointing.
Another time we ordered pizza from their in room dining menu and we ordered the exact same one right off the menu with no changes. However, the pizza came to us missing two toppings and to rectify they decided to pan fry the ingredients (onion and mushrooms) in oil and bring them to us to sprinkle on our pizza! Again, disappointed with their adversity management skills we kindly asked them to take it back, but, kept the pizza as it is as we were starving.
The resort is massive and has a very slow buggy service within the property. We had our suitcases and did not want to walk in the scorching sun to our rooms. After repeatedly asking for a buggy at the reception we ended up waiting for 20 minutes and never took one again.
Other than these few disappointing experiences with the in room dining service and the buggy frequency we experienced absolutely no problems with the kind and courteous services of the resort staff. Who greeted and catered to our requirements with a warm and friendly smile. At the reception on requesting they even checked us in sooner as we arrived early and that gave us almost an entire day to rest up and enjoy the resort and the beach.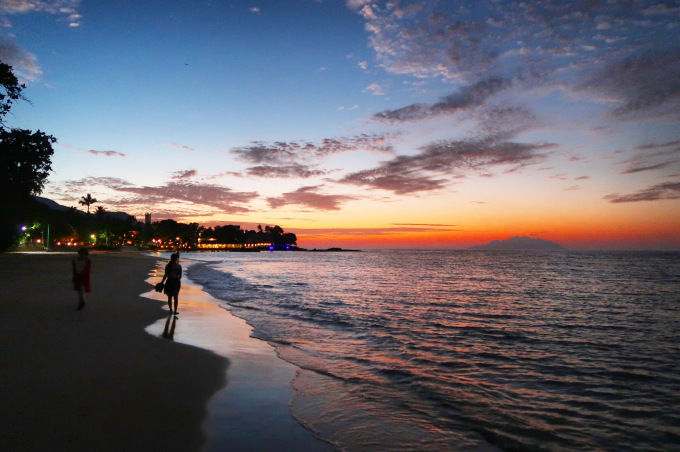 All in all, we loved our stay in this resort and would stay again. However, we want to explore and stay in another Island in Seychelles next time so probably wouldn't be back to The H Resort, but, will definitely recommend anybody looking to book here.
For more stories and updates on my travel exploits follow @BohemianOnTheRun on Instagram.
Visit my website to find more Travel Inspiration www.BohemianOnTheRun.com