I asked myself, is it fact? Am I really standing at the tomb of Jesus Christ? I don't know, whether it is the tomb of Jesus Christ or as per recent claim, it is the tomb of Adolf Hitler? I was simply thrilled. Initially, it was a thrilling experience for me but as time grows it becomes little scary.
Recently, after my Amarnath Yatra 2016, to explore the heritages of Srinagar I stayed there for a couple of days and visit the place called Roza Bal or Rauza Bol was on top of my list. Now I don't understand, where and how do I start to write about this place. Because of the vastness of the subject and also it is an extremely controversial place.
Finally, on 3rd July 2016, I reached Roza Bal, which is located in the middle of Srinagar's old town, Anzimar in the Khaniyar area, which is around 2Km from Khaniyar crossing and near to Bohri Kadal. It was in my knowledge that visitors are not permitted inside the shrine and also photography is strictly prohibited. I found a board in front of the shrine, clearly mentioned that photography is strictly prohibited but I could not resist my photographer instinct. Hastily, I have started taking photographs and captured three photographs of the shrine from outside. It was also in my knowledge that the controversial tomb of Jesus Christ can be viewed from the window. Without wasting much of the time, I enter my camera lens through the window and captured two photographs of the tomb. Suddenly, a group of (8-10 people) indigenous people cordoned me and literally, snatched my camera and started questioning me. After few minutes, they decided on their own that they would hand over me to J&K Police. Seriously I was scared and for that reason, I repeatedly apologized for my deeds...........................................
I read a book named "Proribrajok Swami Abhedananda - Kashmir, Amarnath O Tibbet Bhraman" by Swami Abhedananda during my college days. Swami ji mentioned in his book about Dr. Notovich a Russian traveler, who finds some handwritten documents in the Hemis Monastery in Ladakh, near Leh, which proves that Jesus was traveled to India. A monk showed him the manuscript in the Tibetan language during his visit to the Hemis Monastery in 1922. The monk told him that it was an exact translation of the original documents which could be found in the Marbour Monastery near Lhasa and written in the Pali language. He able to read and translate it, which he discussed in his book. That much of the information was enough to make me curious about Roza Bal, Kashmir, and Jesus in India.
Suzanne Olsson, who claiming to be Jesus Christ's '59th descendant arrived in Srinagar in 2002 and seeking DNA testing of the controversial tomb. What happened after, I don't have any idea but this incident again made me more curious....................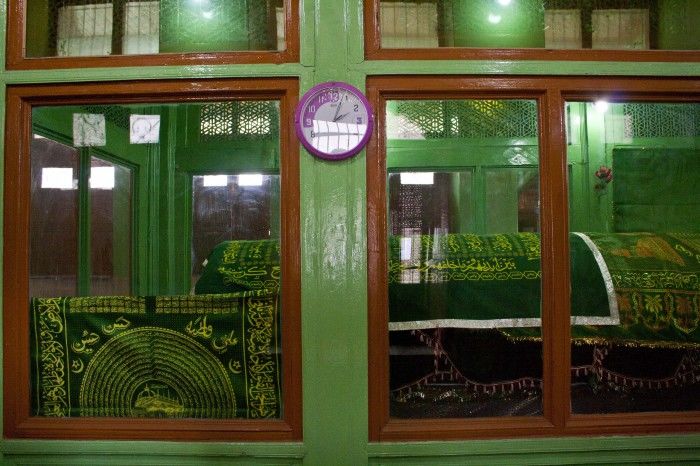 Some Information About Roza Bal
Roza Bal or Rauza Bal or Rauza Bol or Raza Bal, which means "Tomb of the Prophet".
There are two tombs inside the Roza Bal (which is small wooden mausoleum) one tomb is of Ziarati Hazrati Youza Asouph or Yuz Asaph (or Asaf) and another grave is of Syed Nasir-u-Din (Islamic saint, a descendant of Imam Moosa Ali Raza, said to be a great devotee of Jesus, who buried here in 1451).
As per some ancient records, that indicate that the grave of Youza Asouph or Yuz Asaph (or Asaf) is to be as far back as 112 CE.
The Hebrew name of Jesus was Yuza, in Arabic or in the Koran his name was Hazrat Isa or Isa and Issa in Tibetan. Farhang-Asafia, which explains how Jesus healed some leper and then became Asaf (purified or healed) and the word Yuz mean "Leader". Yuz Asaph or Youza Asouph mean "Leader of the Healed" which pointed to Jesus Christ........................................
To Read the Full Article and to See the Full Album