We were four colleagues from Zagreb (Croatia) and planned a day trip to Venice (Italy). Venice was an overnight journey from Zagreb. Having had a great time in Venice on Saturday, and returning to Zagreb, we had to switch buses in Ljubljana (Slovenia). All these countries were accessible with business/tourist Schengen visas. However, Croatia's entry-exit requires immigration clearances.
We had close to 2:30 hours at midnight for a bus change to Zagreb. Not willing to waste the time sleeping in the bus stand, we did a walk of Ljubljana old town for close to 90 minutes. Here is the experience.
Slovenia is a small and historic country and bordered by Italy, Hungary, Croatia and Adriatic sea. History relates the country to Roman and Hungarian history. Ljubljana is the capital of Slovenia and is the biggest city in Slovenia. Slovenia hosts mountainous terrain. Euro is the currency. There are day trip packages for popular destinations of Slovenia from and to Zagreb, Budapest, and various destinations of Italy.
Ljubljana Old Town is popular for all tourist spots that can be seen in 1-2 hours. The market place, Dragon bridge, Cathedral, Townhall, Preseren Square, Preseren statue, Triple bridge, and Dragon bridge. A quick view of Ljubljana and its culture.
Dragon Bridge (Zmajski Most)
An iconic small bridge with dragon statues - compared to any other countries, the identity is quite small - but, it is what it is. 4 dragon statues across a small bridge - seems to be the biggest identity for Slovenia!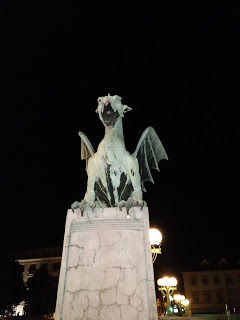 Triple Bridge (Tromostovje)
3 walkway bridges leading to the Ljubljana castle on top of the Ljubljanica river. The bridge is 5 mins walkable from Dragon bridge This is the walkway across the river from Preseren Square to the market area.
Butcher's bridge
Bridge with glass walking areas is known as Mesarski-most in Ljubljana. This is a new bridge and one can walk over the glass and see through the river below. Looks like few tourists have started using this as padding bridge - we can put padlocks on the bridge rails. One more padlock bridge in Europe!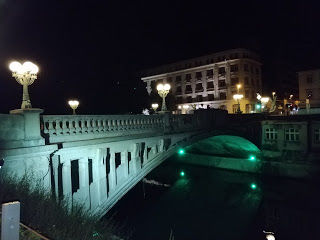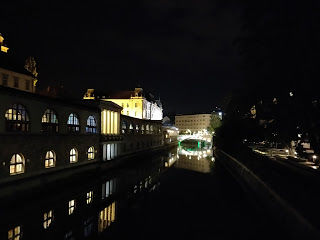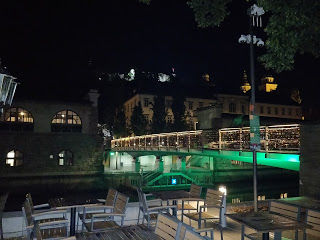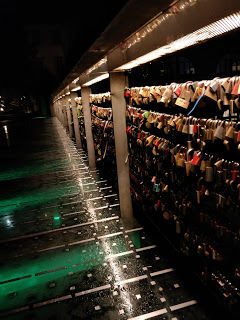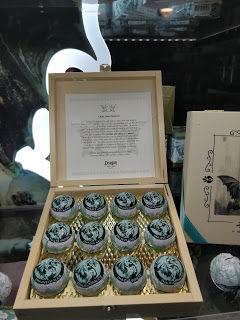 The Ljubljana castle is the one that is situated on top of a hillock. The access roads were closed as it was midnight. We could see the lights of the castle while walking through the walkways around the hillock.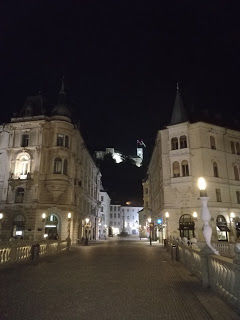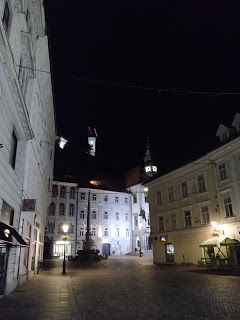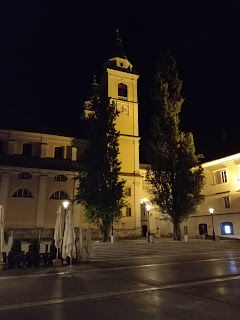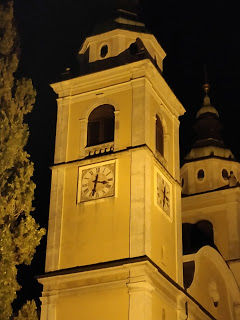 Preseren statue - This is a statue on the Preseren Square - a walk through the statue - local identity in Ljubljana and an important landmark statue. Preseren was a well-known poet in the locality and hence a statue in his memory.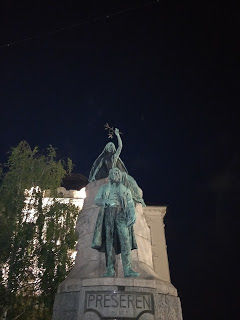 Preseren Square is the area around the Preseren statue - on one side of the triple bridge. The place is locally quite popular and treated as a tourist attraction. Tourist markets operate here in the day time.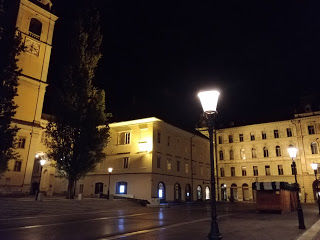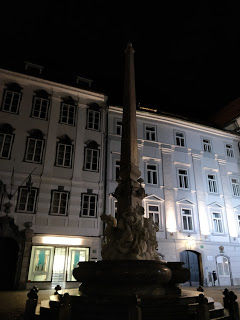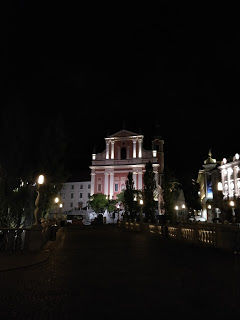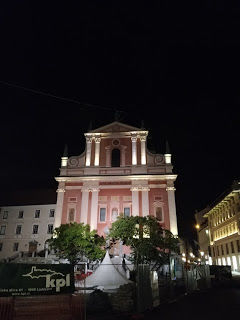 We walked back to the Ljubljana bus stand 20 mins before bus arrival. We were hungry and there was an outlet serving some snacks and sandwiches. Importantly, restrooms were available.
The bus stand of Ljubljana (Avtobusna postaja) had absolutely no facilities for a bus stand in the capital city of a country! No restrooms, no enough seats to wait for the bus and no waiting area! Bad weather, and waiting for the bus - you are a goner! Few eateries around and walkable to the castle. Nothing more!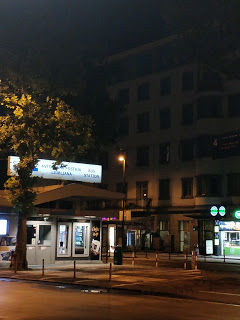 For the time we had, we did an old town walk. A couple of places not to miss for tourists visiting Slovenia are Postojna Limestone Caves and Lake Bled. When you travel to Lake Bled, plan for a whole day to see the Bled Castle as well.
Given the short duration, we had and making the best use of 2 hours to walk around the capital city of a country was something amazing to think of. Even after a tiring long day at Venice, walking through a European city at midnight is always an inspiration and we thoroughly did it. One more country and midnight walk in its capital.