Slovenia - the Country of alpines, bridges, serpentine rivers, fascinating caves, Julian alps, Slovenian coast, Karst region, cafe culture, spectacular wines will certainly leave you mesmerized by its pristine nature and leave an indelible mark on you. Visit to the Ljubljana Castle
One of the things that you cannot miss is the Ljubljana Castle this gorgeous monument is nicely perched on a hill in the center of the city above the old town for about 900 years easily accessible by various modes of transportation including a funicular ride. It's a nice walk up the hill, this marvelous piece dates back to the 15 th century with the medieval baroque style architecture, is a perfect place to enjoy your stroll. The outlook tower and the ramparts offer stunning views of the city. It also has a museum that is a great exhibition of the Slovenian History, puppet museum and a video presentation - the virtual castle. In the 15 th and 16 th century, the castle main purpose was to defend against Turkish invasions. In the 70s the castle was refurbished, today it's a popular tourist destination buzzing with cultural & other activities such as weddings, concerts, theatre activities where people come to enjoy with only thing in mind to relax and unwind.
Ljubljana Castle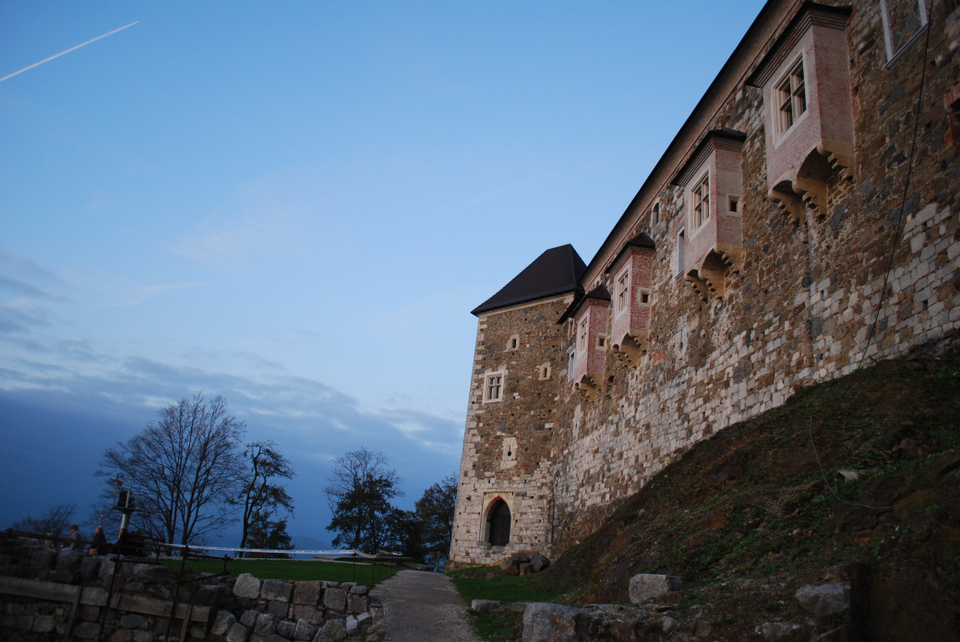 Lake Bled
One of the most scenic island of Slovenia, which is also called the Rowing Capital of Slovenia is dotted with alpine meadows, picturesque castle, churches, handsome villas, gigantic green lake, ideal for hiking and a popular wedding venue. It resides in the Julian Alps in the northwestern part of Slovenia. Don't miss the road trip from Ljubljana to Bled which will take about 60 - 80 minutes where you will come across one of the most stunning scenery and rural countryside setting in Slovenia. Spending one night or two to enjoy the beauty of this lake island is worth it while some also make it a day trip.
Bled is a picturesque small town surrounded by Castle at the top which offers a panaromic view of the lake which is a mixture of glacial and tectonic origins. This unspoilt nature and beauty of the lake is characterized by Pletnas - Traditional wooden boats ferrying tourists to the middle of the lake. An exciting 99 stone steps lead up to the beautiful church, listen to the bell and ring it for yourself for wishes to come true. For the adventurous souls and spoilt for outdoors Lake Bled offers a great hiking destination, cycling, running. Other attractions are thermal springs and Vintgar gorge. Finally, end your trip on a sweet note by trying out the Bled cream Bled's most popular desert.
The Beautiful Bled Lake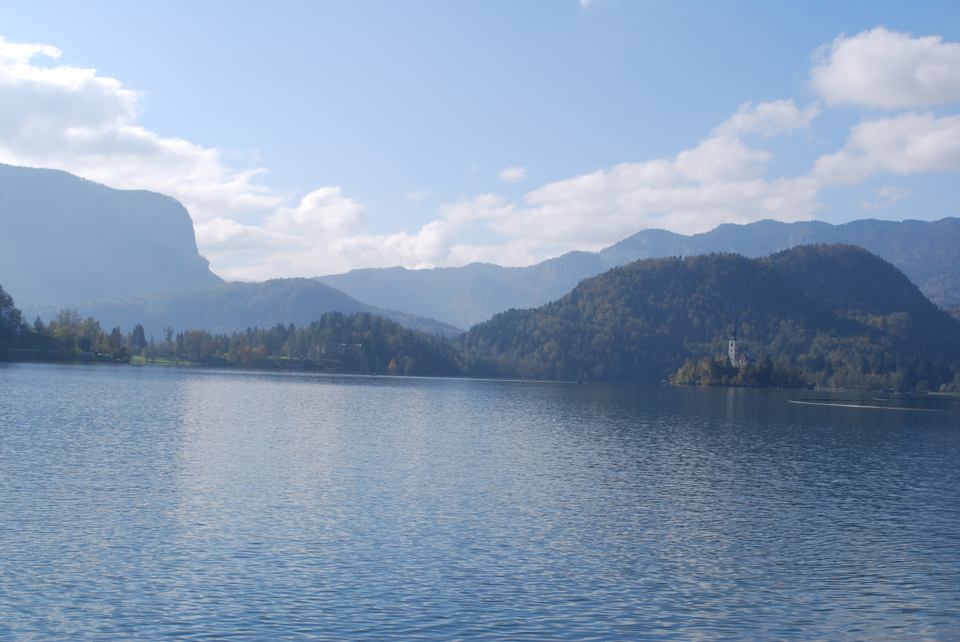 Exploring Ljubljana Walking Tour
Ljubljana the quaint town born out of former Yugoslavia is a cultural capital, is an architectural marvel known for Triple Bridge the most popular meeting point, is a charming laid back city and is a great starting point to start your Slovenian Trip. The magnificent compact city is a great fusion of Italian and the Germanic World. The Ljubljanica river flows through the city with the iconic Dragon Bridge which has become a symbol of the city.
Explore this cute city by walking or opting for a bicycling tour where you can get to know the life of the most renowned Slovenian architect Jože Plečnik, you can see and explore all the main areas, walk up to the old town, visit the vegetable market, admire and gaze people at their compact and beautiful caffes.
Enjoy the culinary delights such as Potica - the typical Slovenian cake which you will find in few restaurants. Visit the Prešeren Square, Dragon Bridge. Visit Tivoli Park largest and most gorgeous park in Ljubljana, the park stretches right up to the city center. Designed by the French Engineer in 1813 nicely landscaped with fountains, ornamental flowers, walking pathways with plenty of workout area for the exercise enthusiasts. Another interesting yet touristy thing to do is to go for a boat cruise in Ljubljanica River that flows through the city. Stay in a prison Hostel Celica which was home to prisoners and militarians. It's a special feeling to live behind the bars in this most happening hostel in Ljubjana. Each cell is unique and retains the elegance of architectural antiqueness. Finally, you will enjoy the company of one of the friendliest people and the gastronomical delights of Ljubljana when you try some of their culinary delights leaving you memories that will give you a feeling that you could have spent more time.
Glimpse of Ljubljana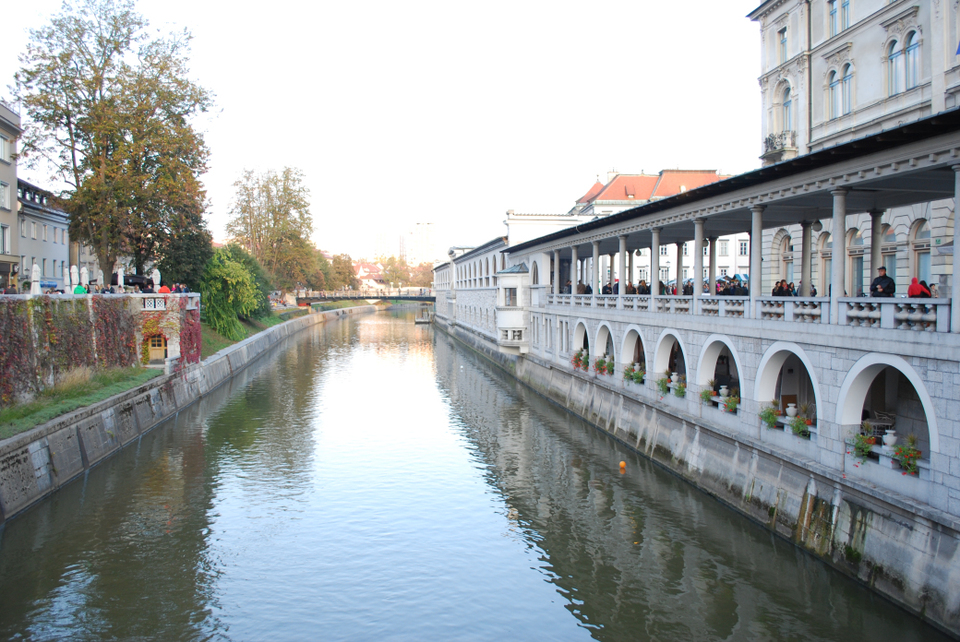 If you are a marathon runner like me you definitely want to do the Ljublianski Marathon that takes place every year in this gorgeous city of Ljubljana and the marathon course would take you through some stunning scenery to die for. I participated in my first full marathon (42.195 km) on October 26, 2014 to celebrate my 40th Birthday.
Celebrating the First Marathon Moment of my life post Finish line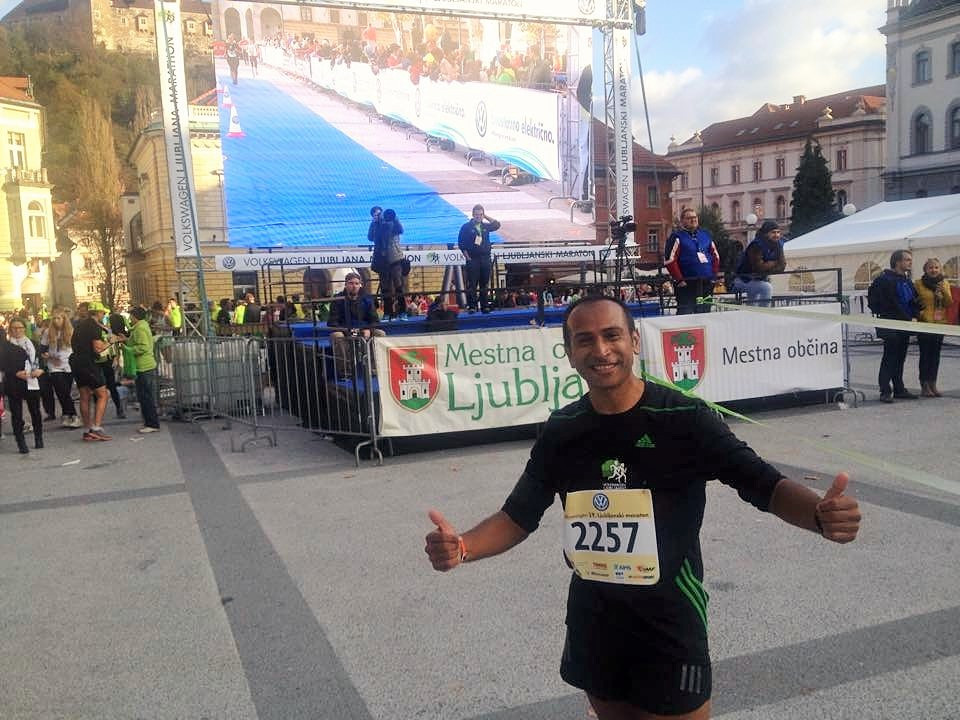 Other Attractions and must See places from Ljubljana : Skocjan Caves, Postojna Cave, Piran on the Adriatic cost, Triglav National Park & Predjama Castle.
How to Reach Slovenia - There are no direct flights. Fly via Germany or France through Lufthansa or Air France. Alternatively there is nothing like taking a road trip from Trieste in North-East Italy to Ljublana, I guarantee you will love this 90 minute road journey. Schengen Visa works for Entry.
Written by Suresh Srinivasan
Suresh is an avid solo backpacker based out of Delhi. He loves exploring the scenic parts of the world and loves to uncover the beauty of travelling through his writing, he is well-traveled. Besides Suresh is a seasoned marathoner, health food freak and a photography enthusiast. He can be reached at sureshsrin@gmail.com