During an outdoor dinner in the forest at Pench Tree Lodge, a naturalist called Karan Rana shocked us by expressing his desire to touch a tiger at least once in his lifetime. A death wish, by anyone's estimation and Rana (perhaps fortified by the local mahua) would have done well to heed John Gardner's words, " God made the cat to give man the pleasure of stroking a tiger."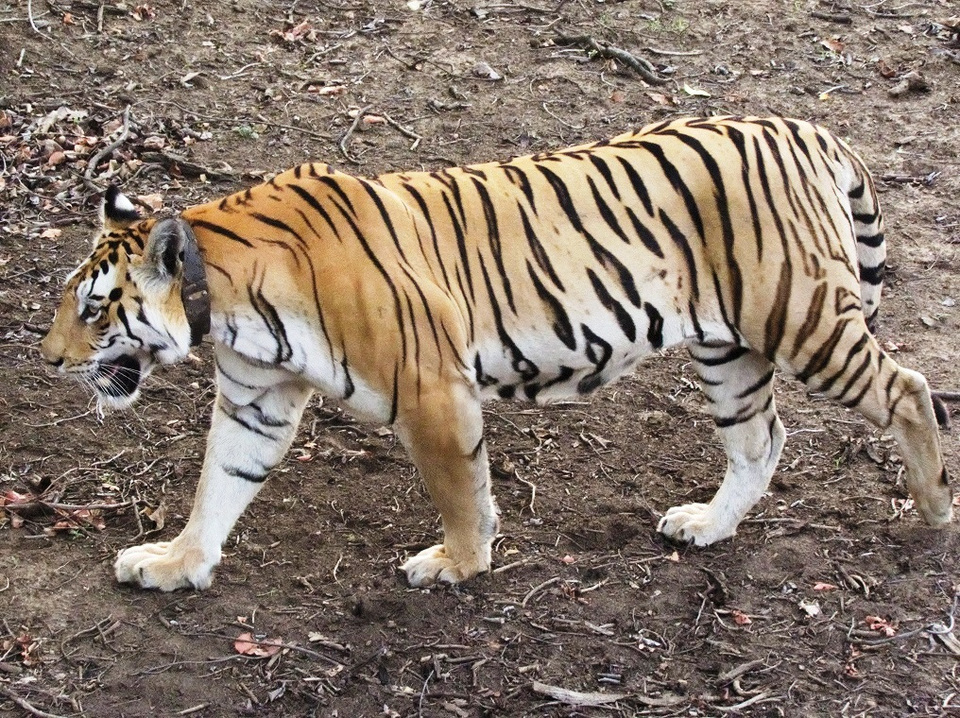 On umpteen safaris through the better known forests of Kanha and Bandhavgarh, the great striped beast had eluded me. And it's all very well to say that sightings are not just about tigers. Obviously, all birds, trees and animals in the wild are as breath-taking but the hollow feeling that a tiger-less sojourn leaves behind is undeniable. And that's why, when I spotted the best known tigress of Pench National Park not once but twice in a span of two days and with nothing less than her two daughters in tow, I felt like I had been blessed. Because I had seen for myself, the feral magic of a tigress' glint.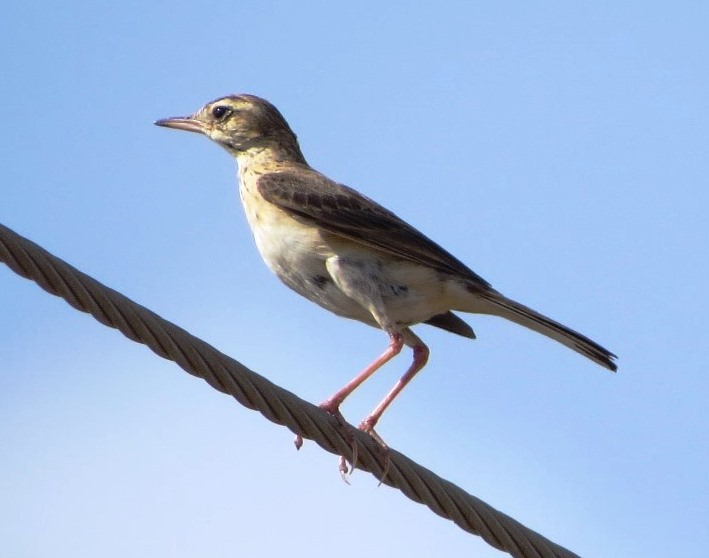 Driving through the picturesque villages of Sarra and Hiri en route to Pench National Park, we felt like the safari had already begun. Several birds had perched themselves on the wires running through the village, their forms outlined against the evening sun. This was to my first introduction to the reserve that sits on the border between Madhya Pradesh and Maharashtra. Much smaller than the other national parks in India's forest state at 293 sq km, Pench is still home to around 54 tigers and 285 species of resident and migratory birds. During the course of two safaris, we spotted an entire herd of wild dogs, several jackals, peacocks perched on trees, colourful Indian pitta, owls, osprey, waterfowl, white-eyed buzzard, a Nilgai in the distance and beautiful chital and sambhar deer.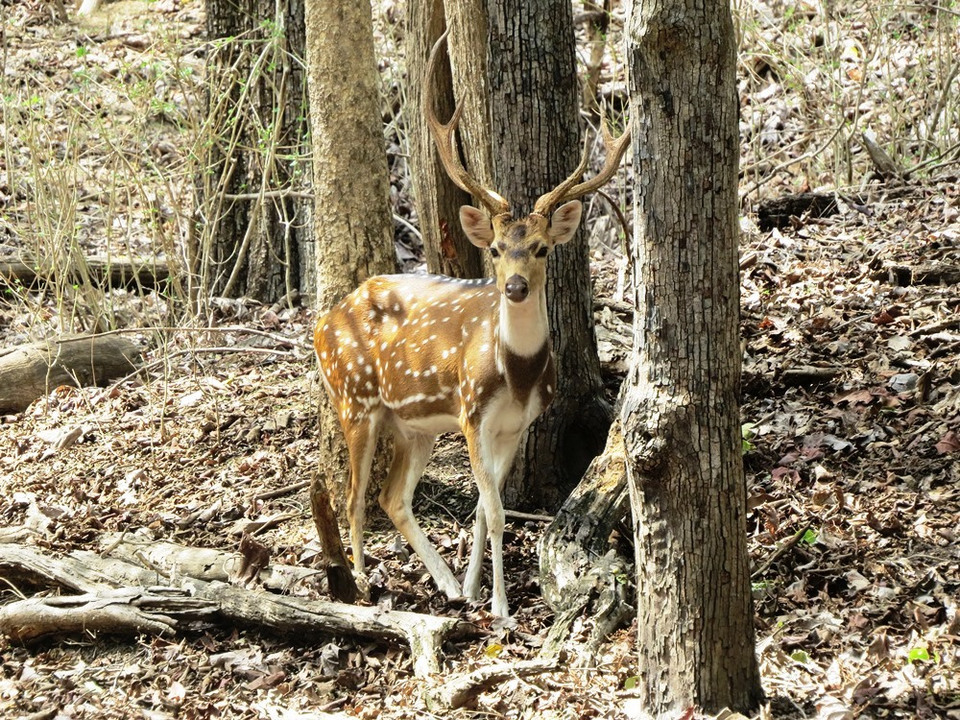 It was mid-June and the rains hadn't begun their onslaught yet. In fact, temperatures soared to nearly 40 degrees and chances of seeing any animal wandering in the heat seemed slim. Then again, most of the ponds had dried up during the summer and it was inevitable that the creatures would frequent the remaining ones in their quest for water. The moment we entered the gates of Priyadarshini National Park as Pench National Park is otherwise called, we were enveloped by the familiar embrace of the forest.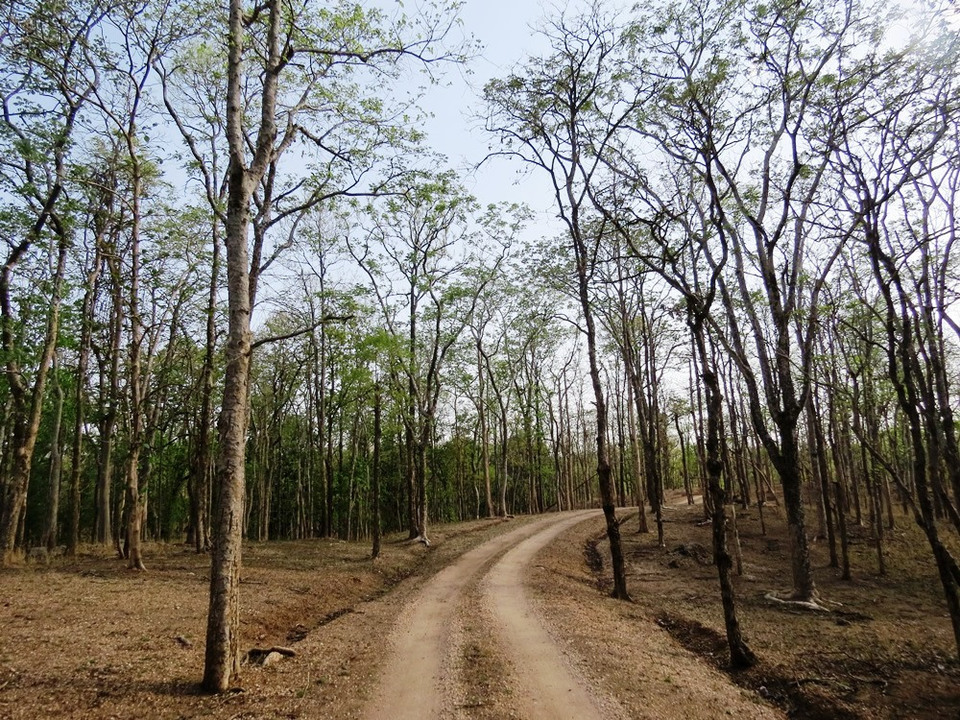 Tall trees tried valiantly to keep the sunlight out but the summer still found its sweltering way into the innards of the jungle. We spied a beautiful lesser golden-backed woodpecker that simply wouldn't sit still long enough for a good photograph. Further on, we encountered a community of langurs, relaxing by the wayside and playing games with each other. A couple of other safari jeeps passed by, words were exchanged between the drivers and a sudden sense of tension stung the air. There were tigers in our vicinity. And in a complete turnaround of the natural order of things, we went in pursuit of danger.
I was prepared for a long and perhaps fruitless search, as had been the case in all my safaris thus far. But this time, destiny had decided to favour us. Within minutes of reaching the watering hole and joining the short line of jeeps in wait, Collarwali, the most famous tigress of Pench National Park made a majestic entry into my frame. It was a few moments before I fully absorbed the reality of her feline presence. She lapped up water from the pond thirstily and then proceeded to lie down in it to cool off.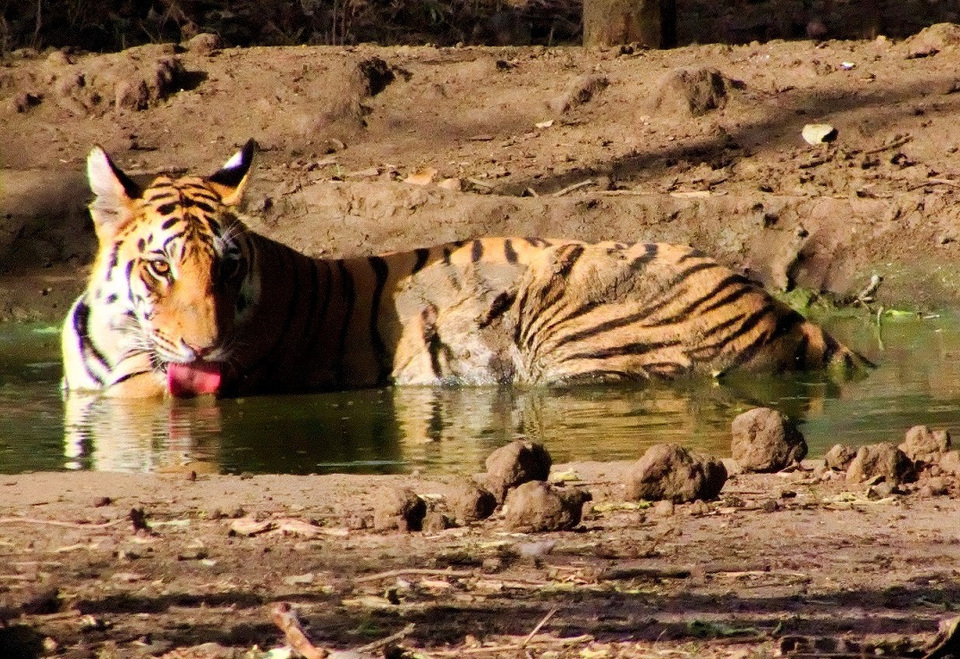 We hoped she wouldn't just doze off there. After what seemed like an eternity, Collarwali arose. Alas, her rear was covered with slushy mud. But she enjoyed the cool wetness no doubt. The tigress made her way along the forest path and disappeared into the undergrowth. But our guide knew exactly where she would emerge. We sped along and stopped at a curve in the road. Sure enough, a few moments later, the tigress emerged and I got a much closer look at her stripes.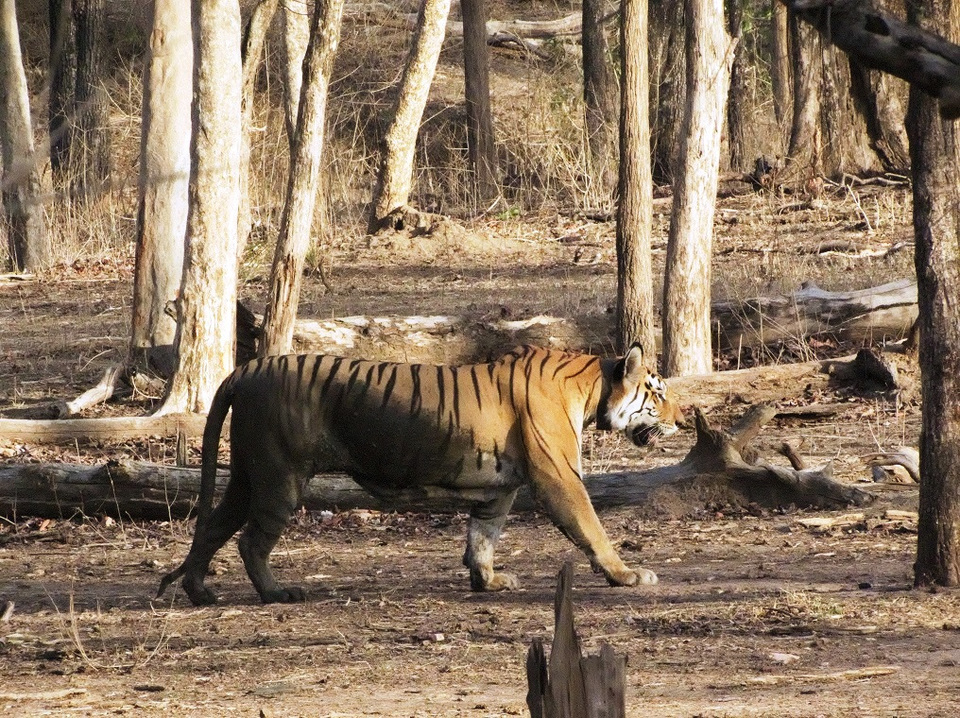 During the drive back, our hearts were filled with joy. But we had no idea that more delights awaited us on the early morning safari the following day. Our groggy selves protested against the idea of embarking on a safari at the unearthly hour of 4:30 am but some great chai and biscuits courtesy Pench Tree Lodge sorted that out. The world beyond the gates was still in the grasp of night-time shadows and we watched with awe as the skies gradually brightened and the sleepy village shook itself from slumber. The forest seemed more inviting in this pre-dawn glow. And our adventures began with a sighting of a jackal couple. We followed them with our eyes and lenses but they only had eyes for each other. Who said animals can't be romantic?
This time, we got really, really lucky. Thanks to our guide's uncanny sensibilities, not only did we get to the spot of the tiger sighting first, we also had the closest view as there was no other jeep in front of us. I would have never dreamt of seeing three tigers together but Pench had great plans for me. To our right, we saw three graceful forms walking towards us. They were Collarwali and her two daughters, both remarkably different in their temperament.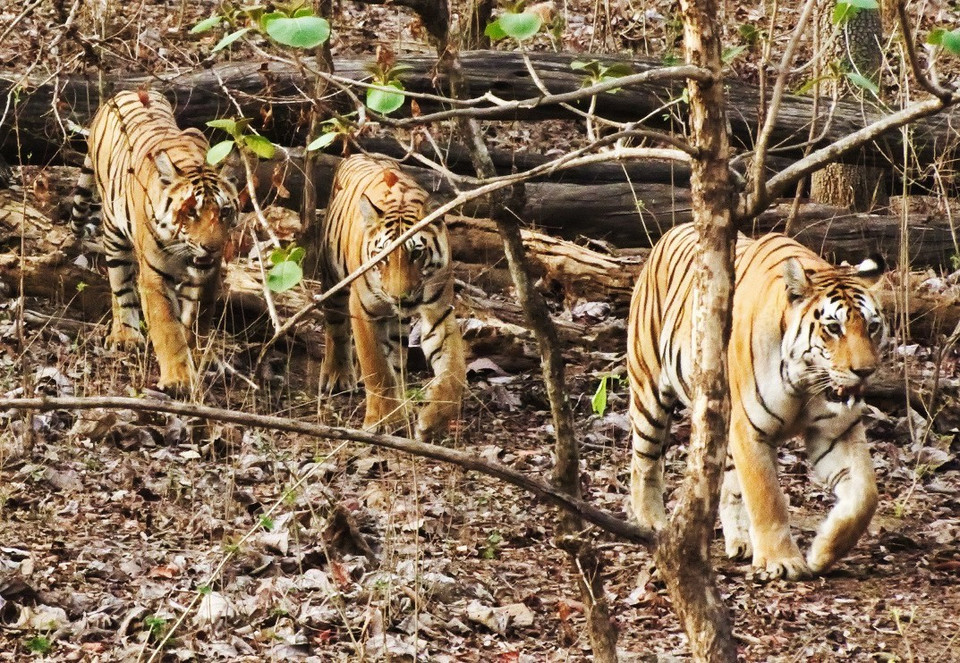 While one stuck to her mother, the other one, more aloof, was determined to chalk a different route and walk on her own. She was the one I enjoy photographing the most. Her defiance shone through in her shapely eyes.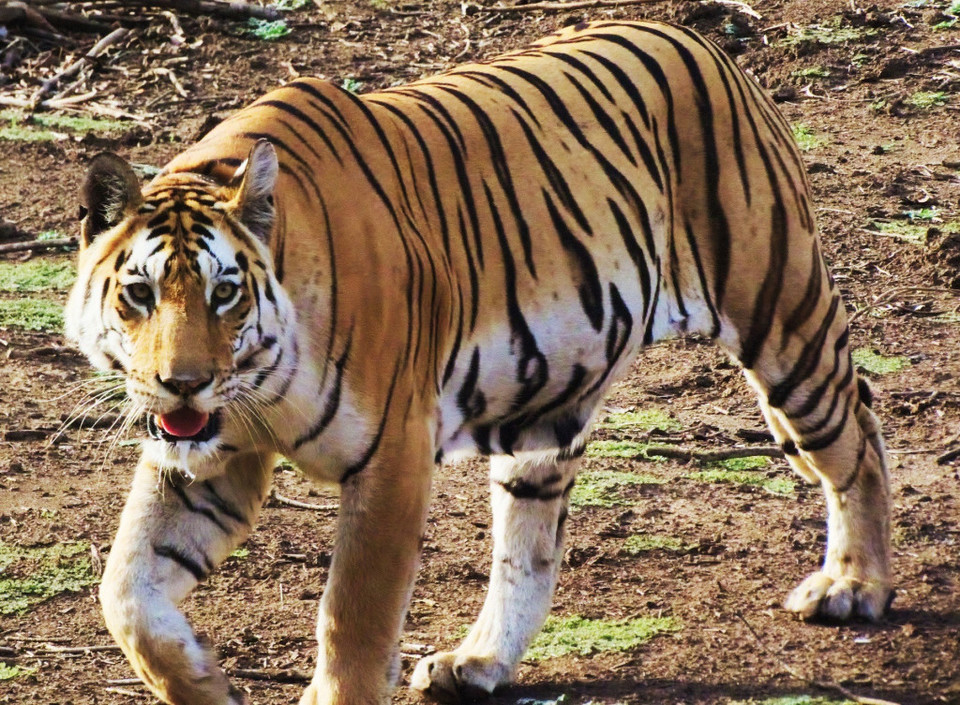 The three of them walked for what felt like a really long time and we followed them across twists and turns. At one point, they crossed the road from mere feet away from our jeep and we sat frozen, delighted and daunted in equal measures.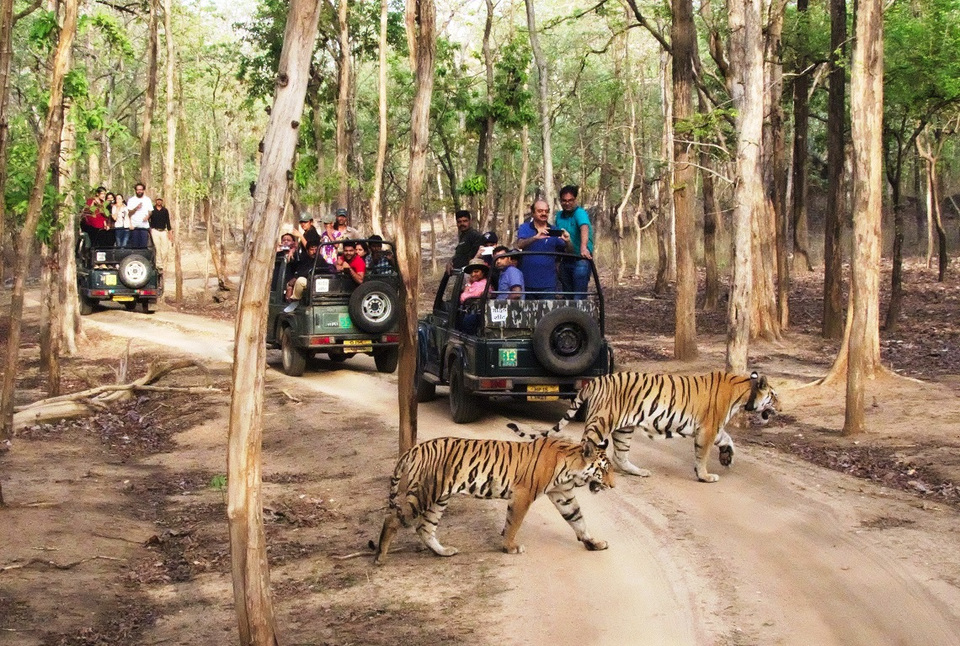 I tossed my camera aside after a while because this was a marvel too momentous to be viewed through the lens. We spent more than an hour feasting our eyes on these queens of Pench National Park.
On our way back to the entrance, we came across a large pack of wild dogs emitting strange high-pitched sounds. They looked and sounded markedly different from the domesticated variety.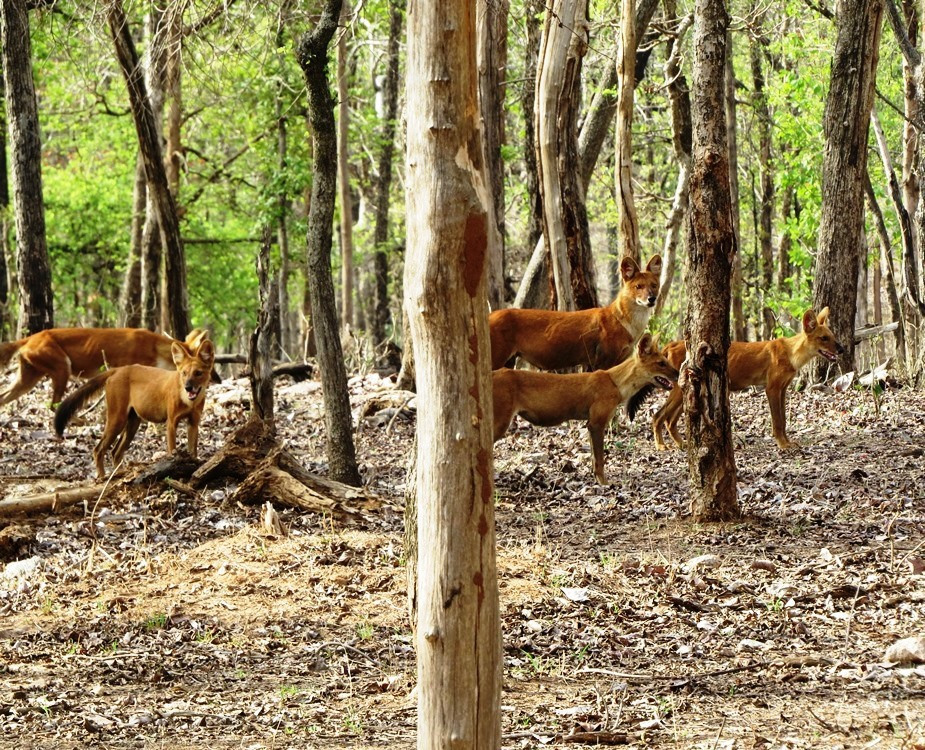 Our forest guide was a great mimic and imitated their call perfectly. The startled dogs paused and stared right at us. We knew how ferocious they can be, and I found myself wishing our vehicle had windows! But after a few moments, they lost interest and continued on their journey. We also saw a couple of owls cosily nestled in their hollow tree home and a little Indian pitta showing off its stunning green and yellow plumage. The Indian rollers were a ubiquitous sight in this part of India but I never tired of photographing their vivid forms.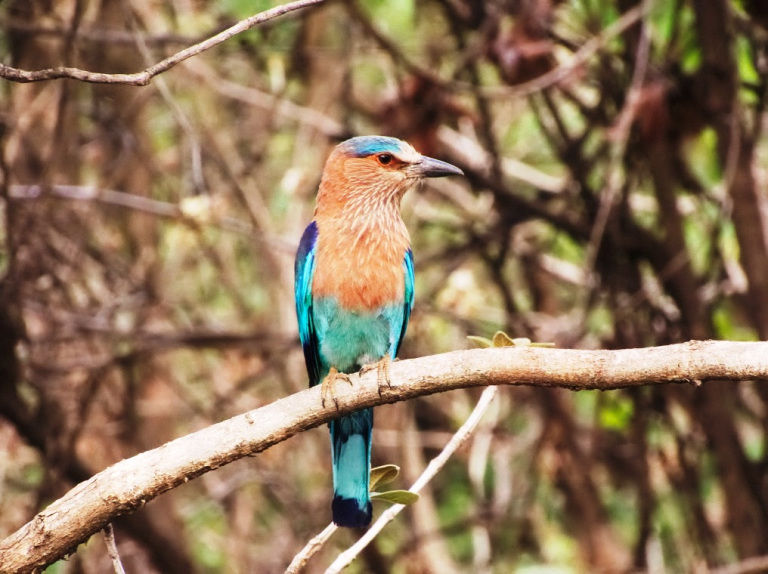 Friendly village children posed for me as we drove past and farmers with ploughs and bullocks made for archetypal rural photographs. A village woman carrying bundles of hay home was a particularly striking sight thanks to the goats that followed her in a neat row.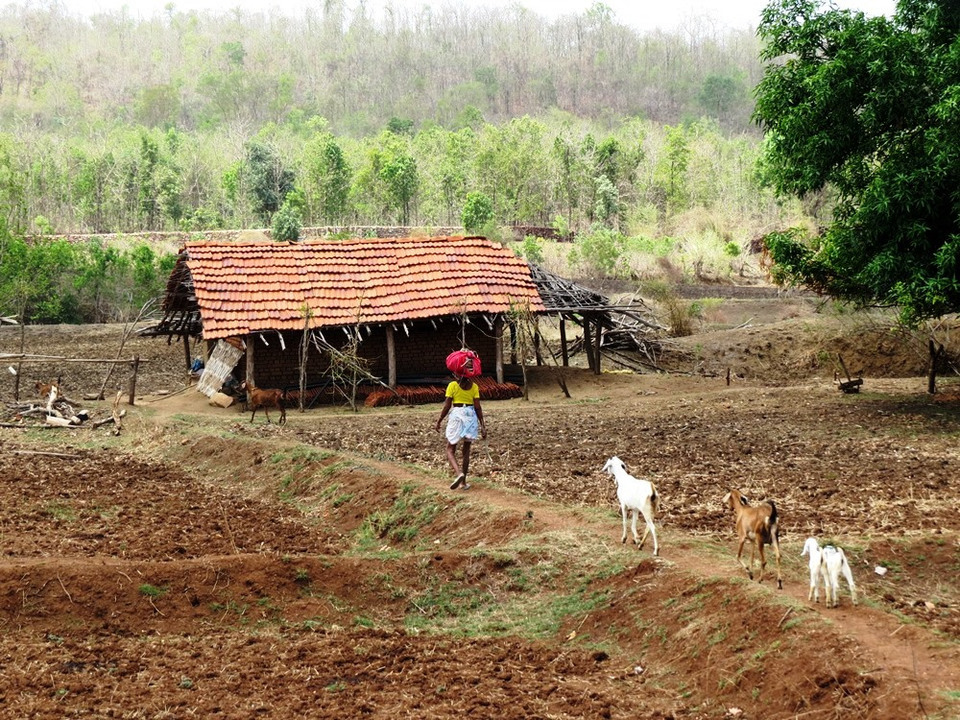 It was unbelievable but I was actually completely content with my safaris in Pench National Park. And I had the rest of my stay at Pench Tree Lodge to look forward to. Life had never been more perfect.
The luxurious Pench Tree Lodge will take care of your stay, meals, safaris and sightseeing. For more details, check out https://www.pugdundeesafaris.com/penchtreelodge-pench.php
This blog was originally posted on Trail-stained Fingers.