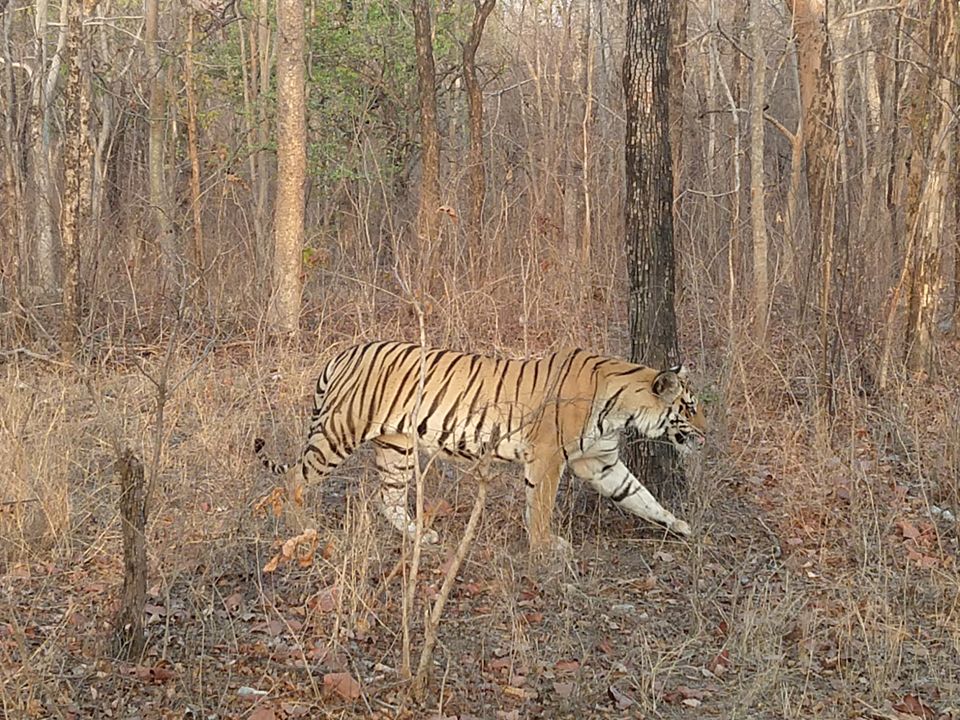 I love wildlife and wanted to have a full fledged wildlife Safari experience where my full day is dedicated only to wildlife and jungle. I have done safaris before but they have mostly been a part of my trip.
We researched before we selected Pench. We were tracking the wildlife sighting in various National Parks along with other criterias like availability of core area safaris, travelling convenience and Luxury accomodation. Pench National Park ticked all the requirements.
We decided to travel by train to Nagpur. Duronto is the best train and you have a comfortable overnight journey along with assurity to reach on time. The train was available and the journey to Pench from Nagpur was only of two hours. I believe Pench is one of the easiest National Park to reach from Mumbai.
We caught a Duronto for Nagpur on the night of 7th May and had a comfortable journey.
A small tip: Most Duronto trains have Pantry but since the Mumbai Nagpur Duronto is less than 12 hour journey there is no pantry. You have to carry your own food and water as the train does not stop in between.
We reached early morning at 8 am. We had chosen 2 tier Ac so that we have a good sleep before our adventure. Our resort had arranged for a pickup from Nagpur Railway station and our driver was already waiting for us when we reached the platform.
We started our journey towards our beautiful resort - The Pench Jungle Camp.
We stopped in between for some breakfast but if you can hold on I would suggest to eat at your resort as the options on the way to Pench are not great.
We reached our resort by 10.30 am. They were kind enough to arrange early check-in for us as our safari was to start at 2.30 in the afternoon and we needed to freshen up and have lunch before we left. We had chosen Luxury Tent accomodation for our stay and the tents were as beautiful as the pictures you see on their website. They were truly luxurious with every possible amenity you need. Those were one of the biggest tents I have ever seen with such lovely decor that I felt like I was some royalty travelling for their jungle expedition.
I would suggest you visit their website to see what I am talking about as I do not have pictures that can do justice to the beauty of these tents.
We freshened up and rested for sometime before we headed out for our lunch. The Lunch was simple but delicious with a good spread.
We started our safari at 2.30 pm sharp. We had opted for private jeep safari which was arranged by our resort but I would suggest you book directly as that would work out to be cheaper. We were taking a total of 5 safaris during our stay and did not want the hassle to choose proper gates. If you are booking on the MP or Maharashtra tourism website directly please make sure you check the distance to your gate from your resort. Pench may seem like one area but it is huge and sometimes travelling to gates can take more than an hour if you do not choose wisely.
Our resort was in Touria hence we had chosen our 3 safaris from Touria gate and remaining two from Khursapar gate ( Maharashtra) which is fairly near to Touria. Pench is spread over MP and Maharashtra so your gates may be in MP or Maharashtra.
Our first safari was from Khursapar and we were lucky to see the beast on our first safari itself. It was my first time seeing the beast up-close and I was mesmerised. Oh the beauty that a Tiger is - inexplicable.
We had not gone with a sole purpose to spot a Tiger but it sure was a sight. We spotted two tigers that day. We returned to our resort happy, they were waiting for us with wet towels and refreshments.
We had to shower after the safari as the dust and the heat leave you with no other option.
It was our Anniversary that day. Our resort had baked a nice cake for us and we enjoyed dining in the open in candle light. It was perfect.
Tips:
1) We chose a train as we did not wish to wake up in the middle of the night to catch an early flight nor were we bold enough to risk having our flight delayed and miss our afternoon safari. So choose wisely your flight or train timing.
2) Carry camouflage or dark clothes but not black as it gets too hot in the afternoon.
3) Wear full clothes so that dust and tan is at bay.
4) Carry a good sunscreen, boots/sports shoes, arm sleeves, bandana/baklava to cover your mouth and nose from dust, UV protected shades,cap and most importantly binoculars.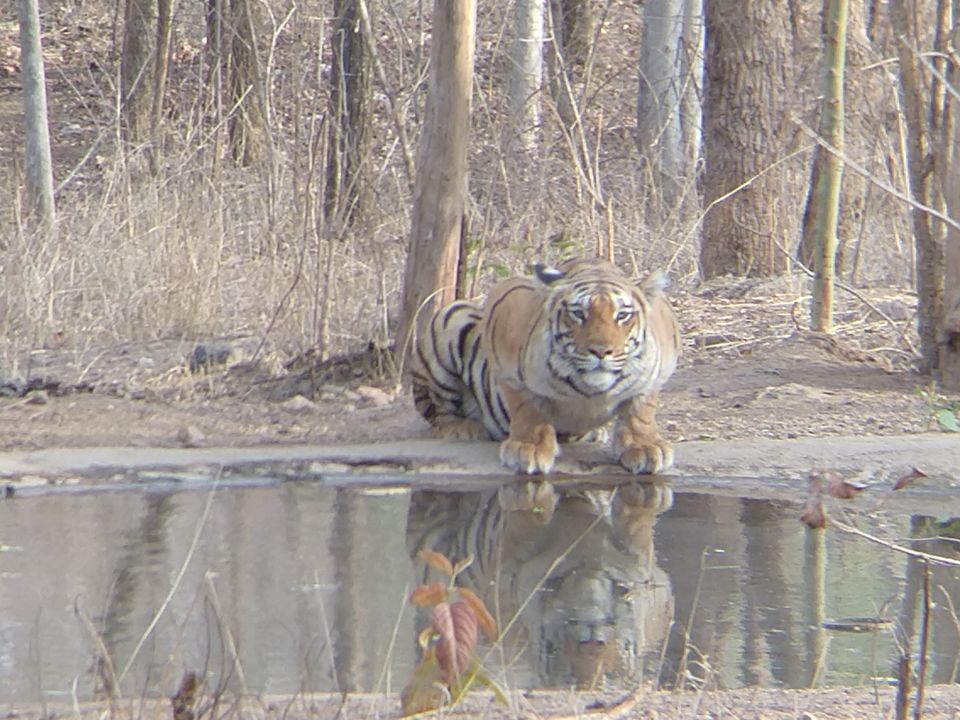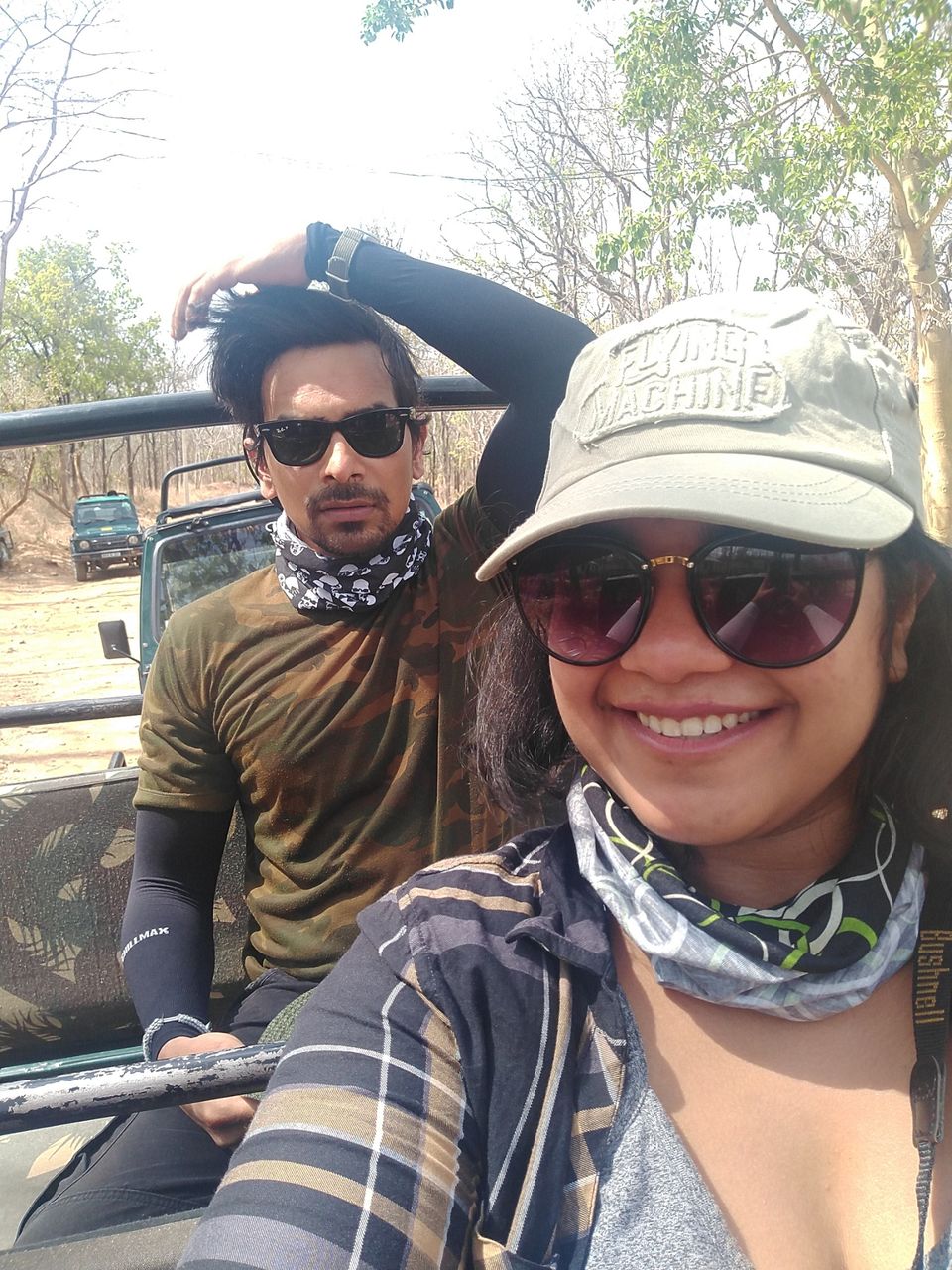 After our successful Safari on our very first day. We woke up for our first Morning safari at 4 am. We had to leave at 5 am sharp for Safari as the gates open at 5.30 am. The resorts serve tea/coffee and cookies in the morning and give you your breakfast basket to be had in the jungle during the safari. It's like a small picnic in the middle of the jungle.
Our Safari was from Touria gate this morning and we saw some amazing wildlife like Sambar deer, spotted deer, wild dogs, wild boars, peacocks and various birds. Our favourite was Night Jar, it sleeps through the day on a tree and is almost invisible without help of a guide. It is almost the same colour of a tea bark.
We did have an amazing safari with all the wildlife around but that day there was no tiger spotting for anyone. We were returning from our safari towards the exit gate and our guide happened to hear a call from a Langur. Our vehicle came to screeching halt and there emerged a tiger cub less than 10 feet away. He stopped and looked at us for a few seconds and I almost had a chill run through my spine. I could not even pick up the camera to click his picture for a few second but then I composed myself and clicked few pictures.
Though it was a cub it looked quite big up close. Ours was the only jeep to spot the cub that morning.
We came back to our hotel and took some rest before lunch. After Lunch we left for our evening safari again from Touria Gate. We did not spot any tiger that evening but we did see some wonderful wildlife.
We came back to our resort and after some rest and freshening up we headed for a Night walk arranged by our resort in the Buffer zone which is the property of the resort. We saw sambar deer and Wild boar during our night walk and learnt some interesting information about insects. Our naturalist Vishal was very informative.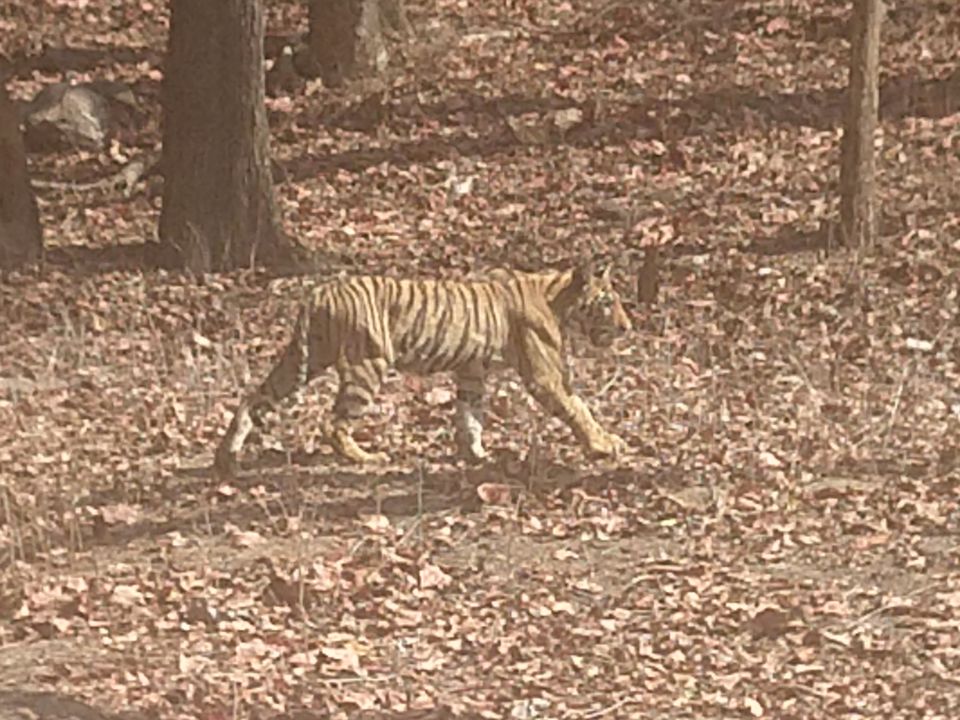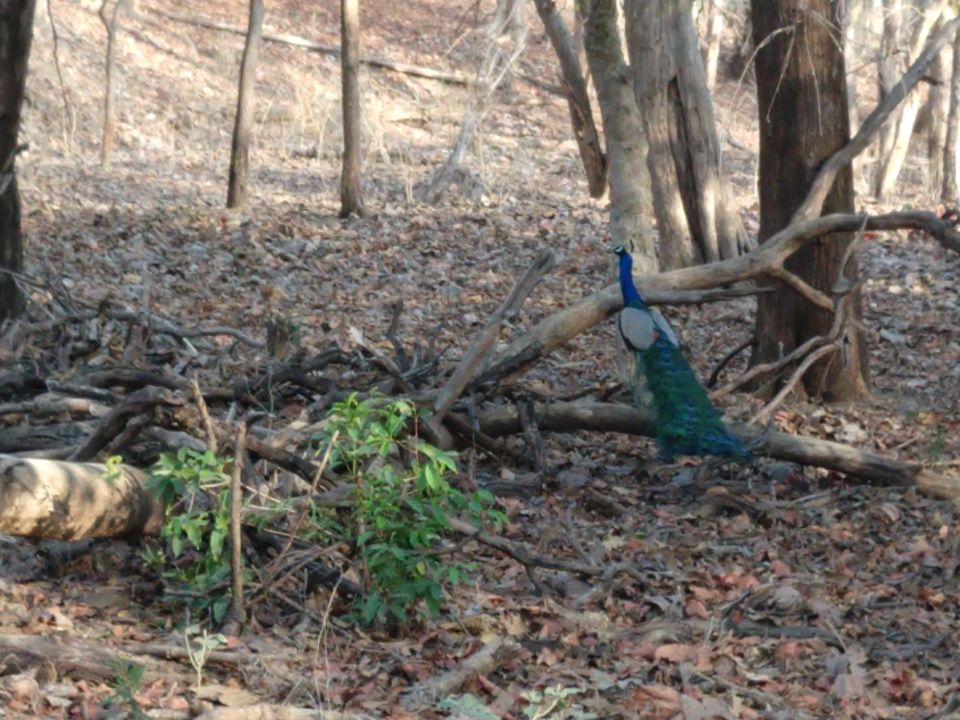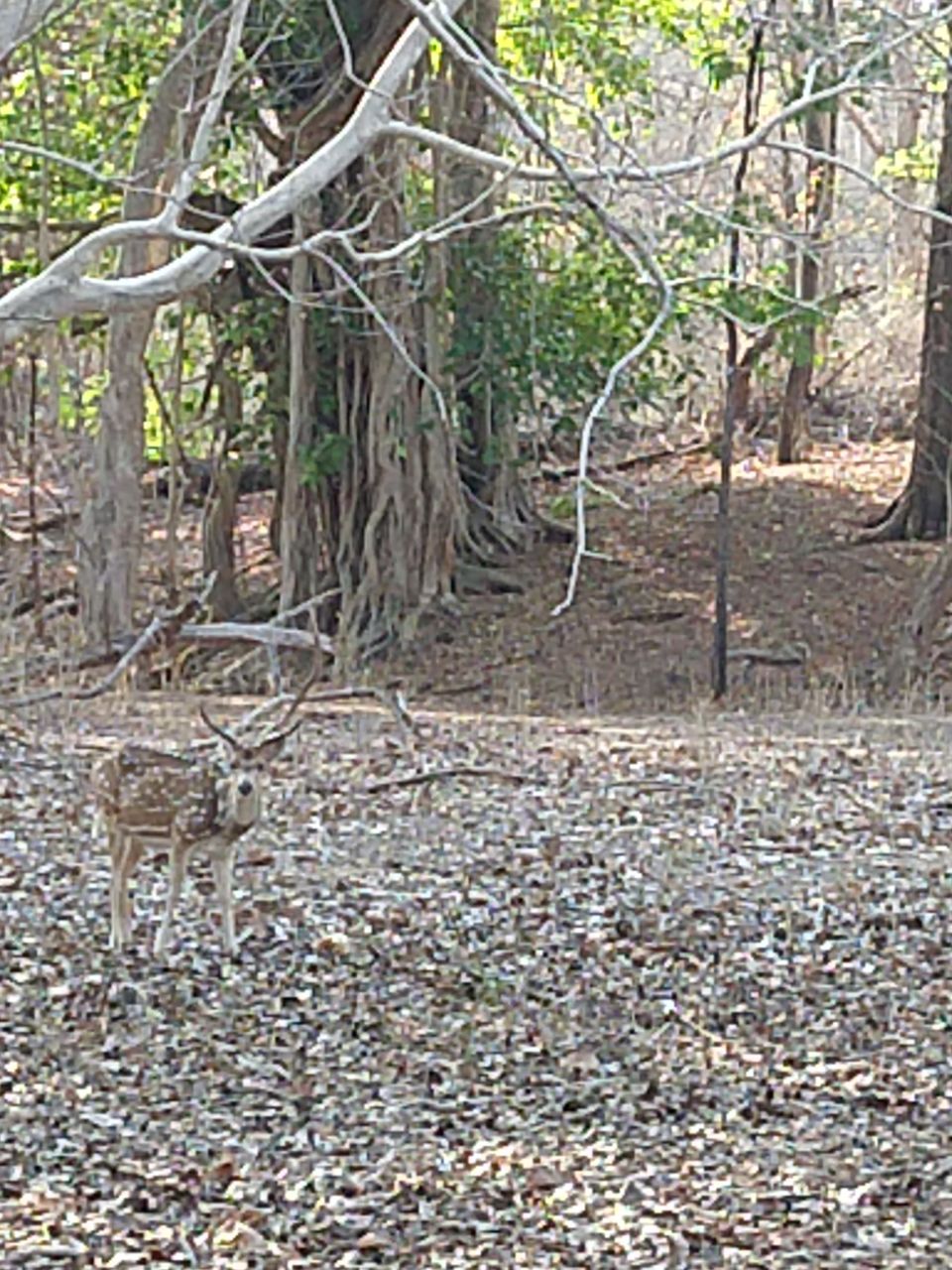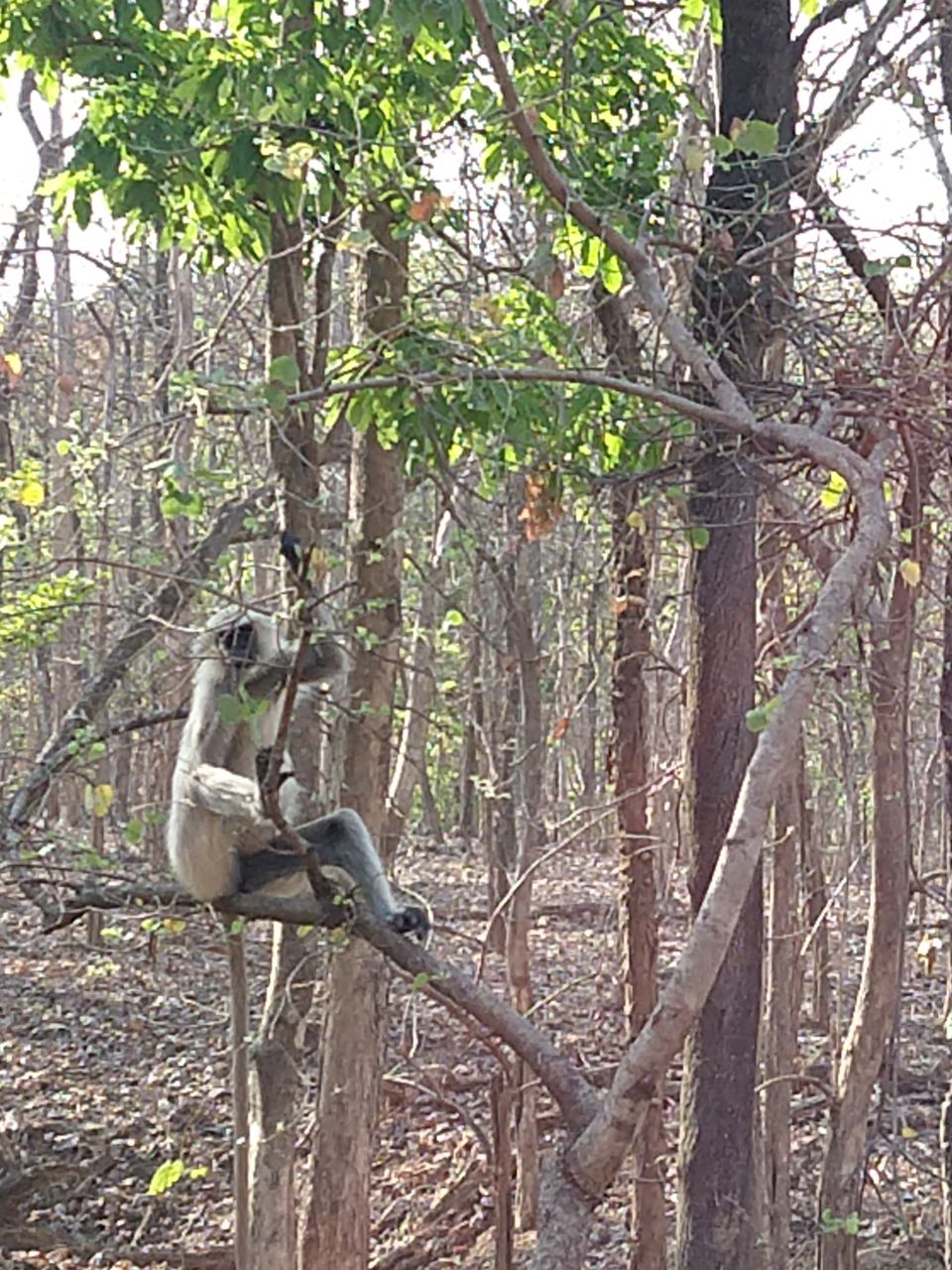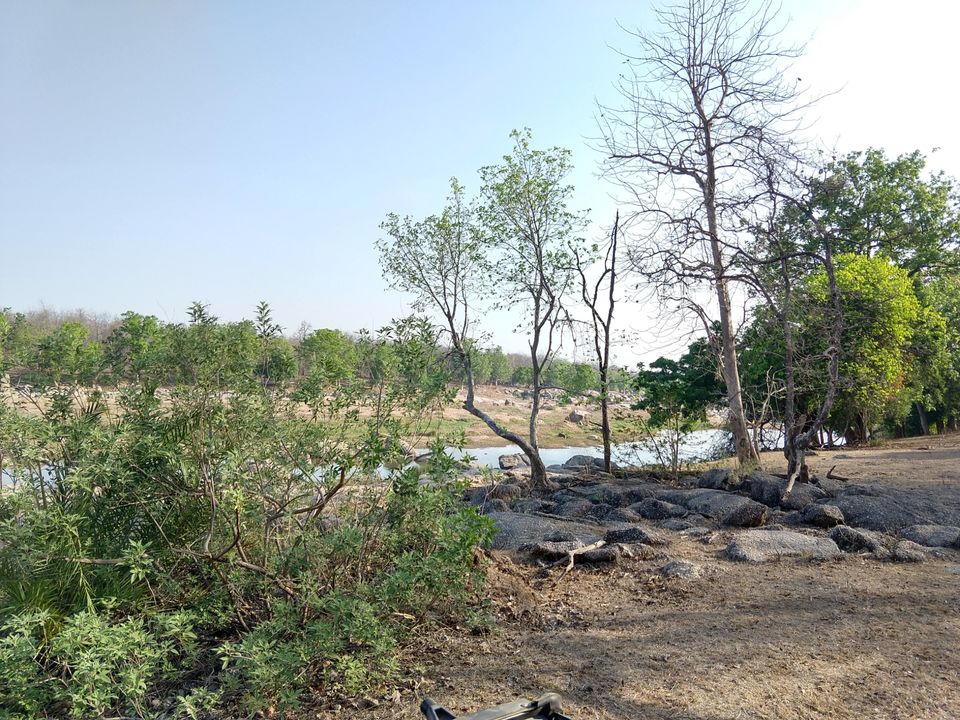 This was our third day at the resort and we had seen quite a bit of wildlife but we were curious and wanting for more rather than satiated.
We left early morning at 5 am for our safari through Khursapar gate. Our Safari was successful as we saw two tigers again that day and one so up-close that I could sense the movement. Tigress Baras was walking with the jeeps and almost leading them to a water hole. She is magnificent and one of the boldest tigress of Pench. She loves paparazzi and is almost a Model. We video recorded her entire walk and marking her territory as she walked. It was an experience.
We also saw a very shy Tiger cub but do not have great pictures of him. The last picture is his and he is not as camera friendly as Baras.
We came back with a story and could not rest as we were busy reliving the experience. We chatted about it with our resort staff through the Lunch and they listened to us like an elderly person listening to a kid who just had a life experience which is part of their daily life.
We were ready for our final safari through Touria gate. We had no expectations as we were content with our sighting so far. We told our guide that we are ok if we do not see a tiger but to take us to an unexplored area and if possible spot a lepord. Our guide was very informative and told us some interesting facts about various birds and other wildlife. We unfortunately did not see a lepord but learnt a great deal about the jungle and explored an amazing landscape where there was just us and the jungle. We did see around 10 Indian Bisons together at a distance and the beautiful river Pench!
We had a great dinner that day along with a bottle of wine to celebrate our successful trip. The mutton Rogan Josh was to die for. One of the best I have had so far.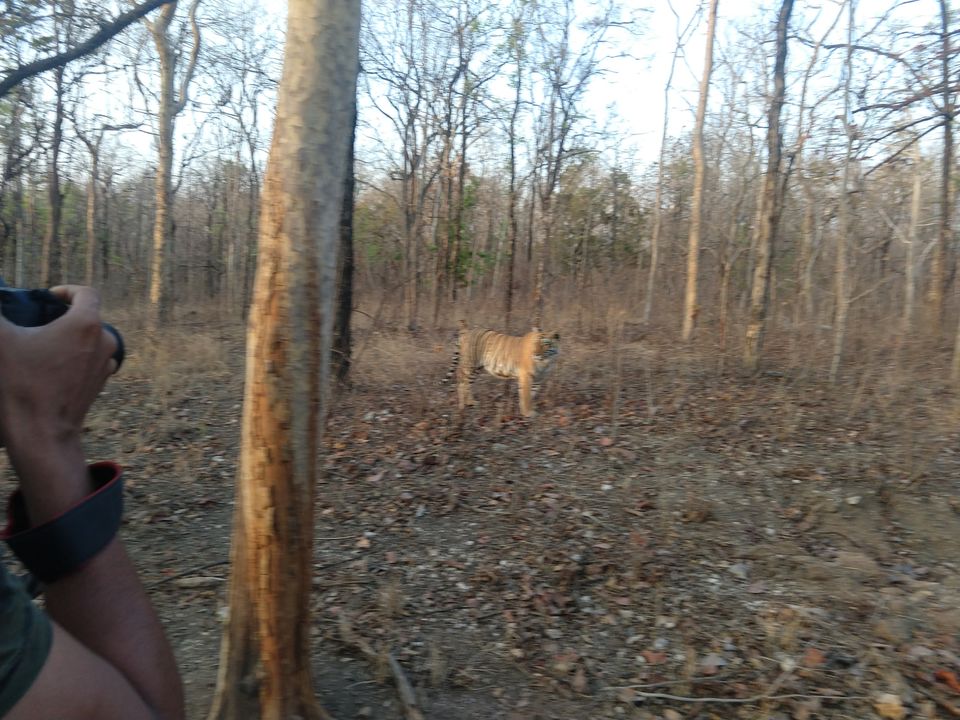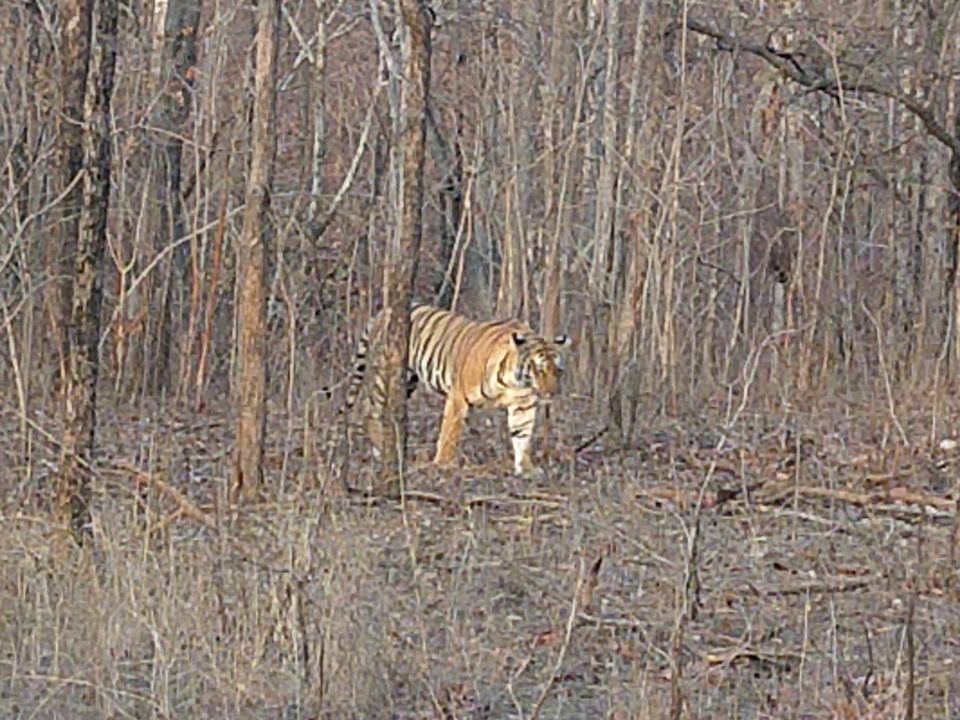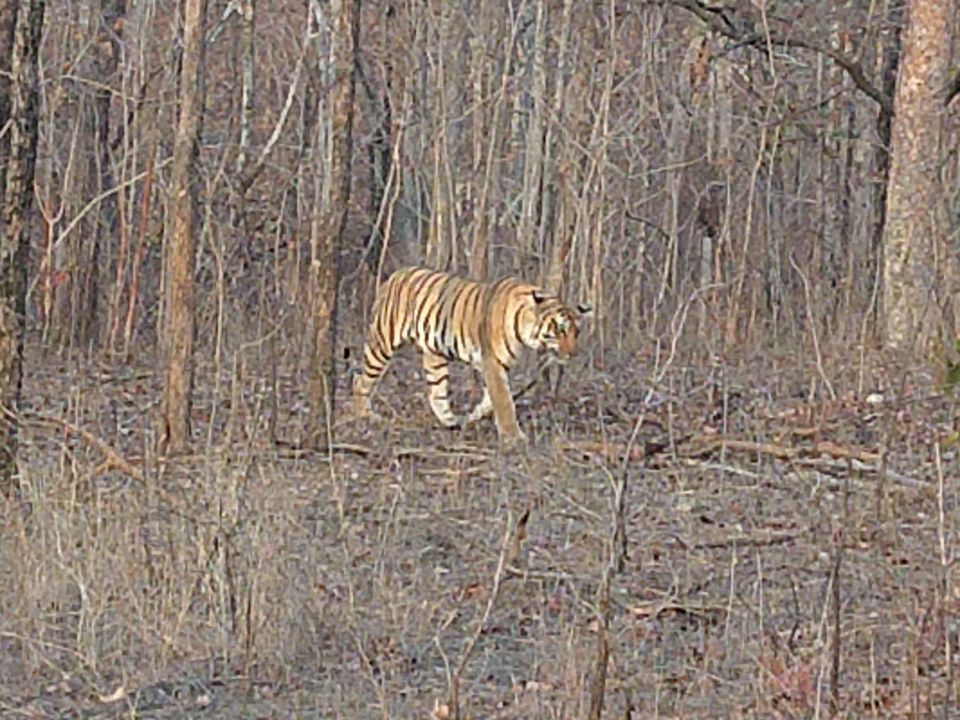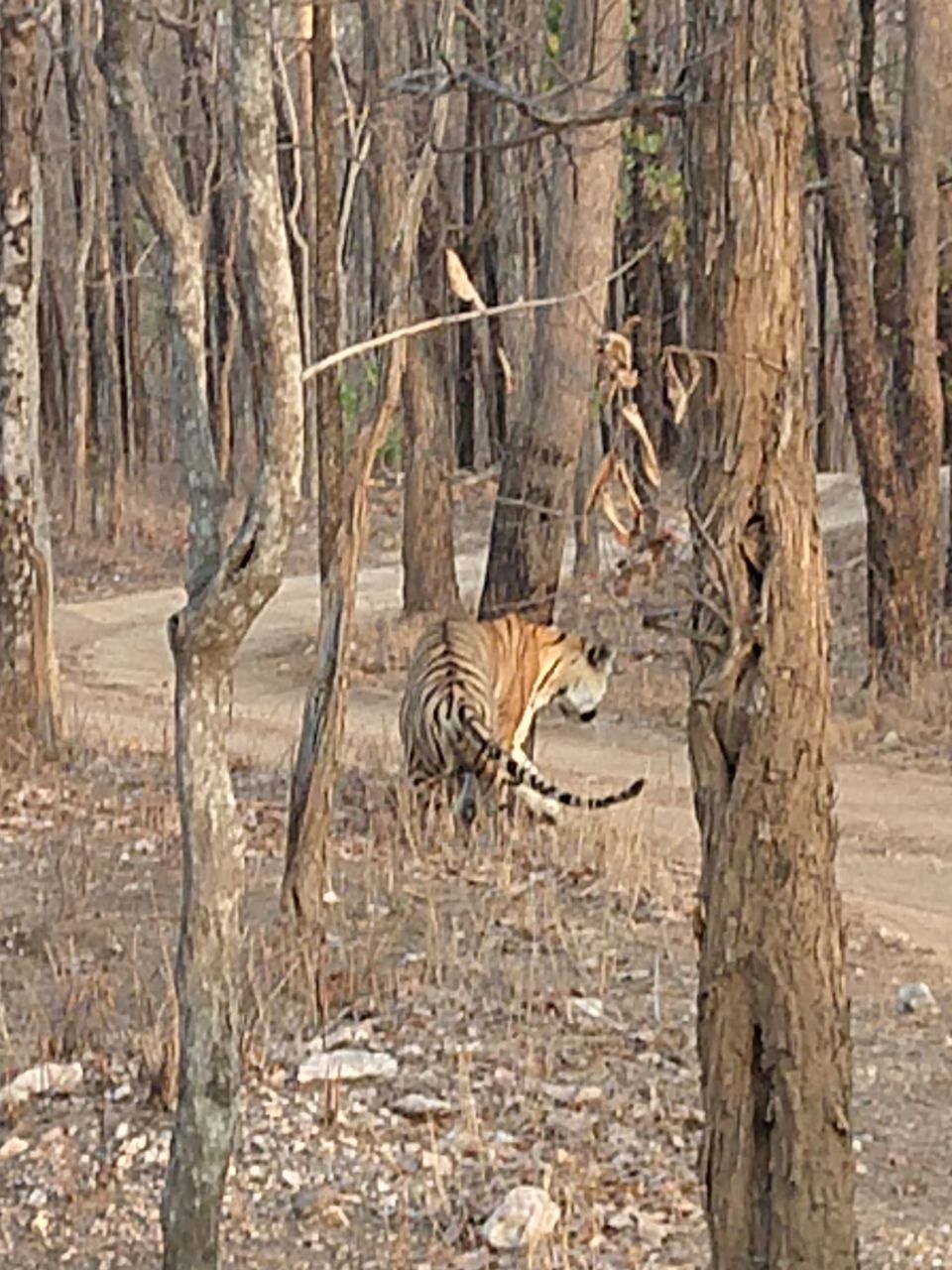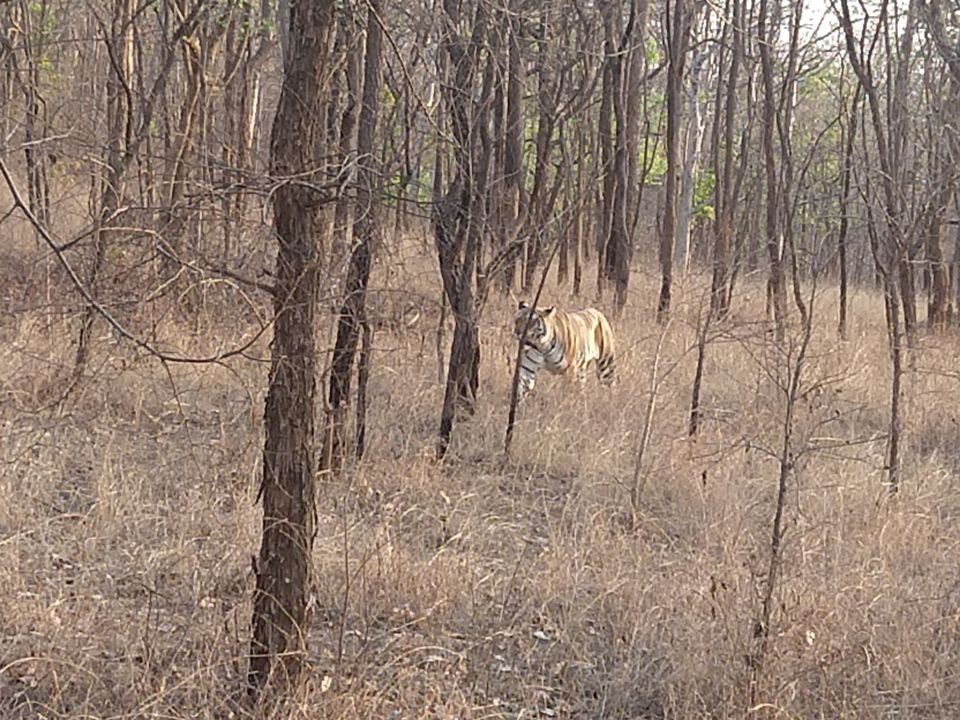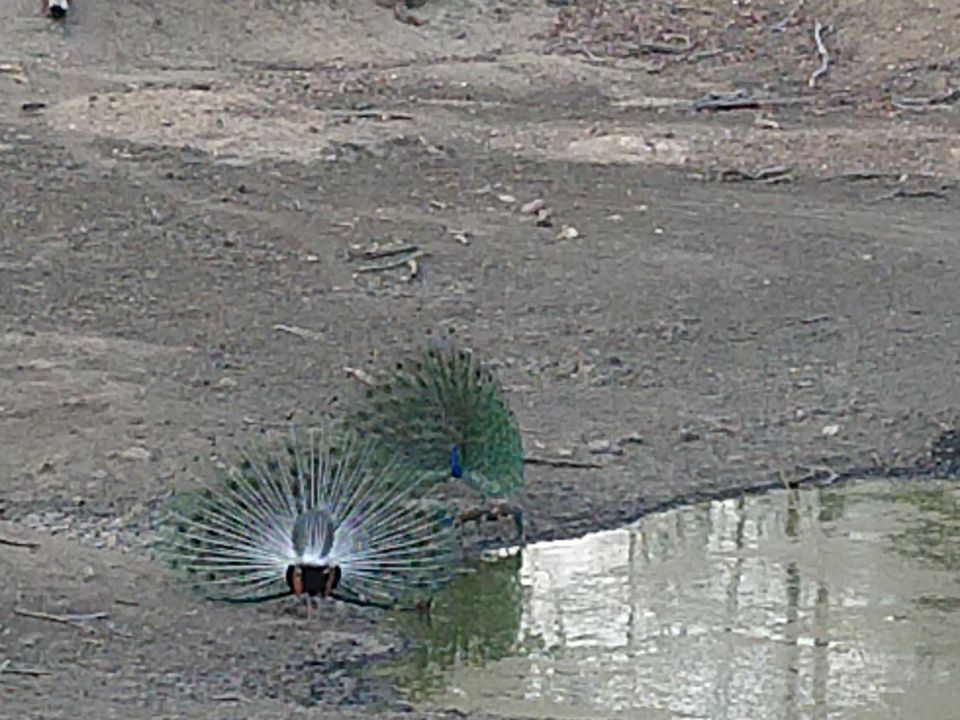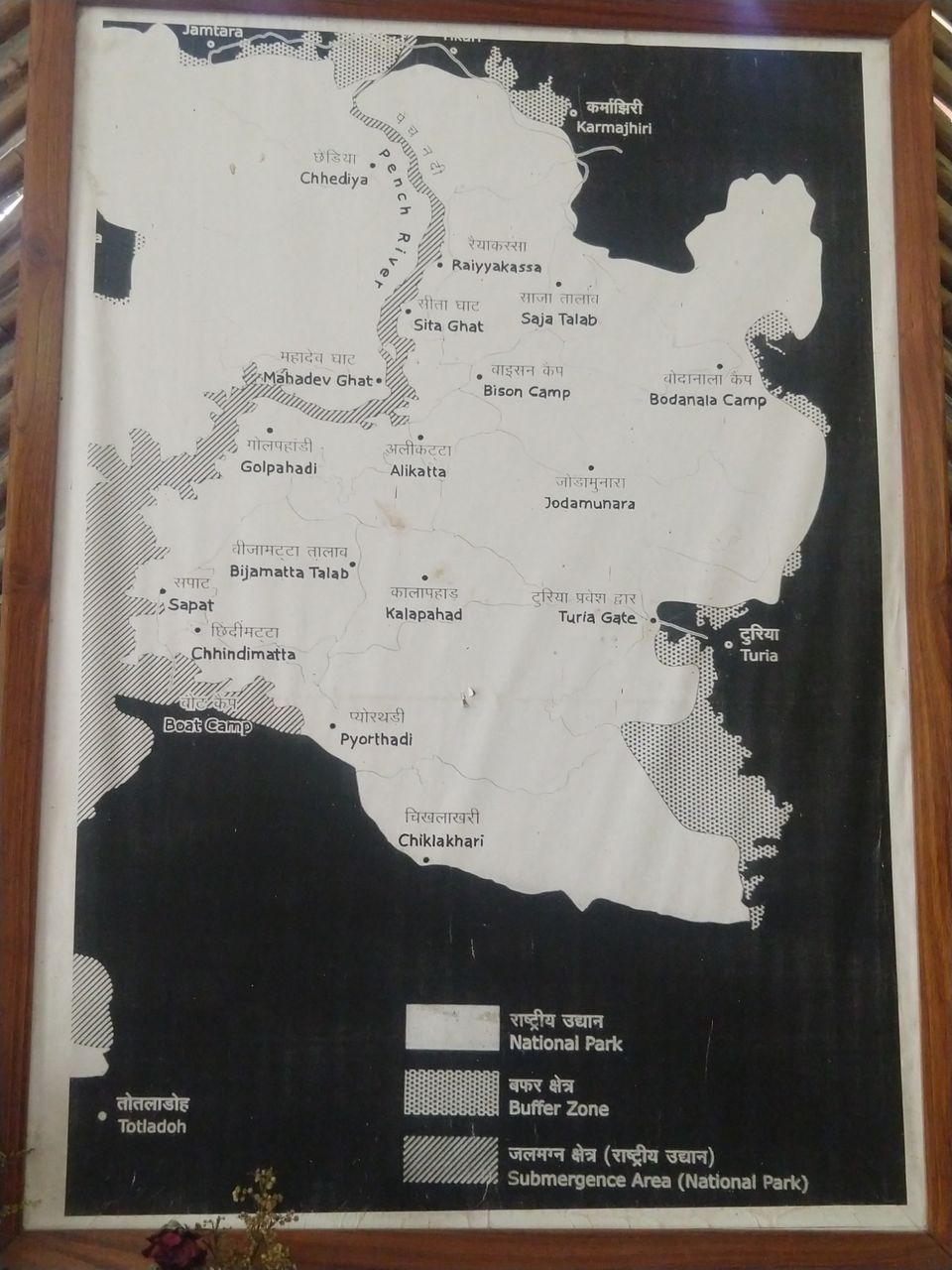 This was our last day at the resort. We did not have any safaris today and decided to rest before our vacation ended. We woke up late than usual and enjoyed a leisurely breakfast. Our resort baked fresh bread everyday and it was soft like a cloud. We had some time before we had to check out so we decided to go cycling through Touria Village. We cycled all the way till Touria gate and got some souvenirs.
We came back and requested our resort If they could extend our check out but unfortunately the resort was full over the weekend. They promised us if there is a cancellation they would shift us. We went to freshen up and pack our bags. An hour before checkout we received a call that there has been a cancellation and they are shifting us to a cottage. We were relieved we would have the cottage till 4 pm before we left for airport to catch our flight back to Mumbai. The cottages were not as luxurious as tents but they were quaint and had all the amenities. We had our Lunch, thanked all the staff members and exchanged numbers with Vishal (resort naturalist) who had become our friend by now. We took a small nap since we had accomodation now before our driver arrived.
I almost had tears when I sat in the car as I felt like I was leaving home. Pench Jungle camp has one of the best hospitality and they made sure we were comfortable throughout. If you are going to Pench I highly recommend this property. It is luxurious, huge with great service and is extremely reasonable for the facilities they offer.
I would love to visit Pench again but untill next time adios.