Hello Mumbaikars and Punekars ,you can park aside Lonavala and Khandala for a while to experience beauty of nature in its True form <3. Its a pure hidden gem in Maharashtra. Bhandardara is a treat for eyes with its milky white waterfalls flowing between lush green forests. Its purely a breathtaking experience. Look at it yourself below :) Once you reach Bhandardara, your first destination would be Umbrella waterfalls.
Umbrella waterfalls is a picture square one <3. You will be mesmerized with the milky white water flowing through the lush green background. Shape of the waterfall flowing through a circular rock gives its a name - Umbrella Waterfall. This is not a natural waterfall flowing through the hill but dependent on the old Wilson dam, as gates of the dam opens waters flows through the rock. Their might be a situation its a Dry season and the gates of dam are closed, you will not be able to see this beauty.
Your very next stop would be the Arthur lake. You will end up on shore of a lake with greenish water around amidst fog and far seen beautiful island. If you are visiting in monsoon, you will experience the Touch and Feel of a cloud :) Its a must see place in Bhandardara.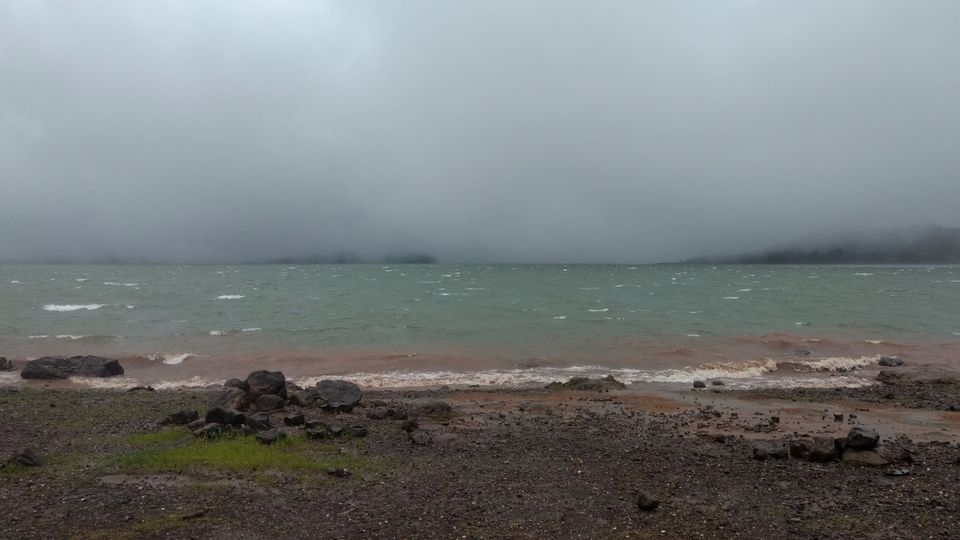 Next comes the Naani waterfall. Its fun to pose here as below :P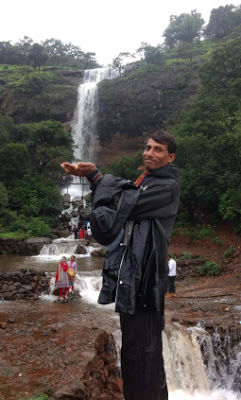 And the next stop would be 1000 year old temple on a Hill top - Amruteshwar temple. Its situated on the bank of Holy river Pravara. Its is Ratanwadi village of Ahmednagar district.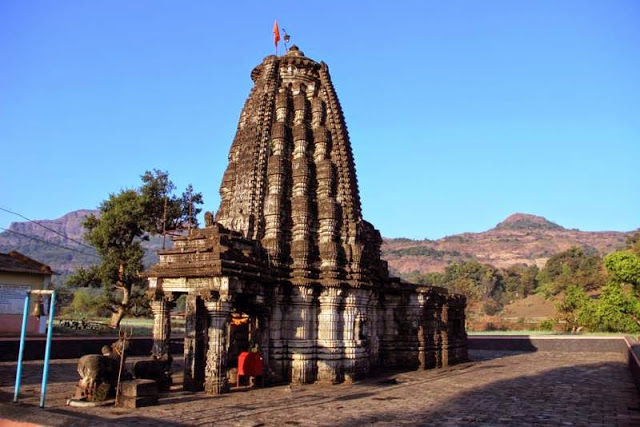 Few more beautiful pics of the way that you reach to Bhandardara.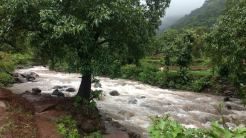 Journey to Bhandardara is equally beautiful as the destination.
Bhandardara - Its located in Ahmadnagar district of Maharashtra. Its about 185 KM from Mumbai. Its about 5 hour journey from Mumbai. Best time to visit is in the Monsoon. If you are a first time visitor do take a local guide as there is no network available its difficult to explore on your own or another option would be to download offline maps of places you may want to visit.
Fun note :) Guy in the waterfall pic was our local guide for the day and he was super cool to agree for that click :)
Places to Visit:
Kalsubai peak - A 3 - 4 hour trek.
Umbrella waterfalls
Arthur lake
Naani and Necklace waterfalls
Amruteshwar Temple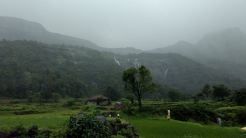 Bhandardara is an ideal weekend getaway. It can be even a day trip or you can opt to stay in one of the resorts for a night. Its have very few resorts compare to many other hill stations in Maharashtra, so is the reason its less commercial.
#TravelwithApSid