In an effort to go see some baby turtles take their first steps towards their hometown, the ocean, we took a bike trip to Velas, the village on the border of Raigad and Ratnagiri district of Maharashtra.
We started at 6:30 a.m. from Nerul, took the Old Mumbai Pune highway till Khopoli. From there we rode on a picturesque, 'movie-set feel' kind of Khopoli - Pali road till where it meets Mumbai - Goa highway and then on to the Mumbai-Goa highway till Mangaon continuing on to Mangaon-Harihareshwar Road, via Mhasla. This stretch had some gorgeous string of banyan trees! Absolutely beautiful stretch to ride!
Once we reached Mhasla, we took a 5 minute ferry-ride (Rs. 51 for 2 adults and the bike) from Harihareshwar and got on the Bankot road. From there it's only about 15-20 minutes till the village. Just before we touched the outskirts of the village there is a stretch of coastal road and although there was some construction work going on, the ocean view made us ignore the dust and the bumps!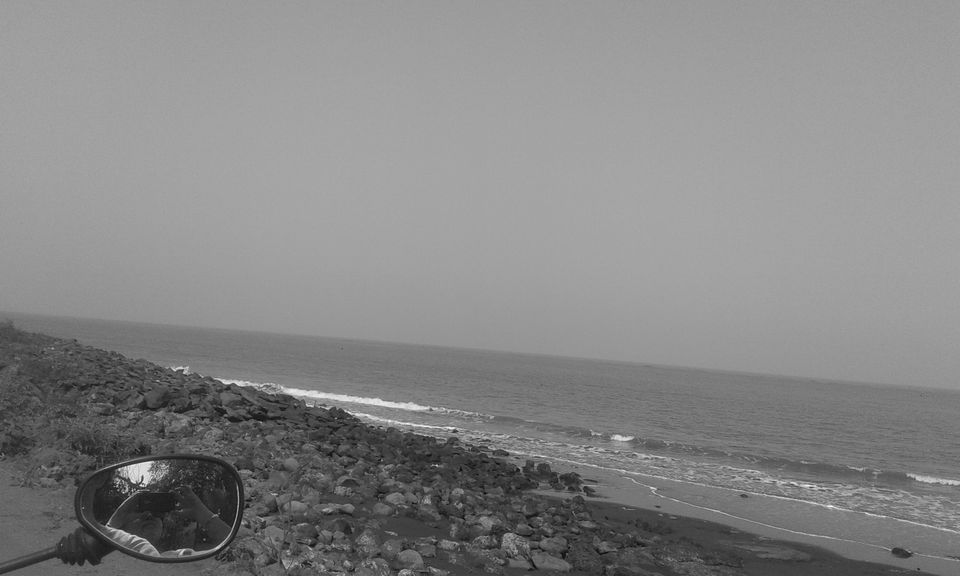 We reached Velas at 1:15 p.m. with 3 to 4 ten to fifteen minutes break on the way to relax our numbing bums. :)
Our home stay host, Manali Patil (Contact: 09657189518 ) welcomed us with some delicious lunch of konkani style cashew curry, coconut dal, chappati, rice, chutney and koshambir.
In the evening, after chai, Manali took us through the lush green village full of betel nut, cashew nut, coconut and palm trees. We even got some cashew fruit as gifts from the very generous Manali. :)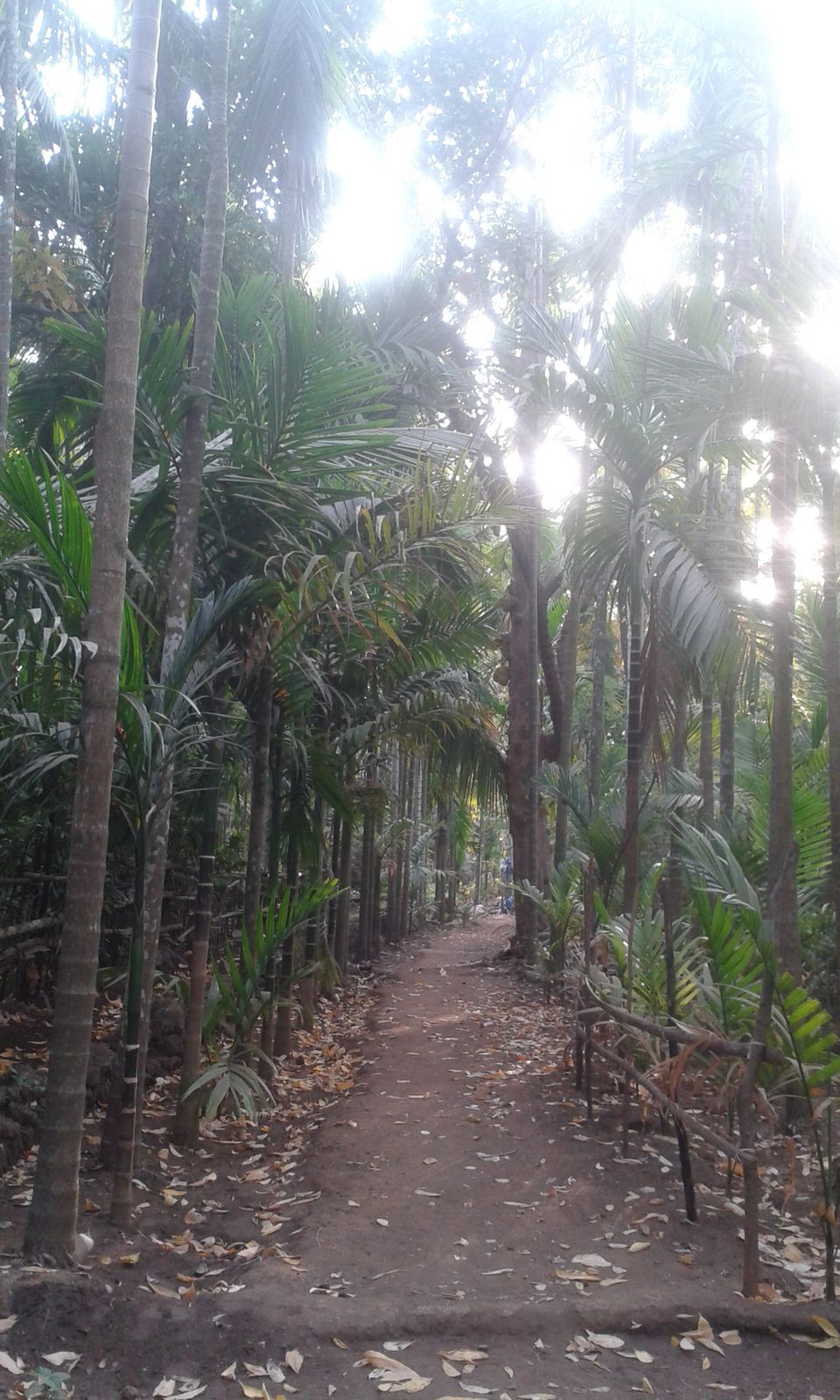 It's a 15 - 20 minutes easy walk through the village to the beach. That evening however the baby turtles were not yet ready to come out of their nest. The hatchery carers had covered the nest with a basket which is an indication that the babies will dig themselves out from the sand any day now. So we decided to keep out spirits up and check them again the next morning. That evening we enjoyed an absolutely gorgeous full moon night, cool sea breeze blowing across the black sand beach and some delicious fresh Surmai fish fry and curry with some rice bhakri.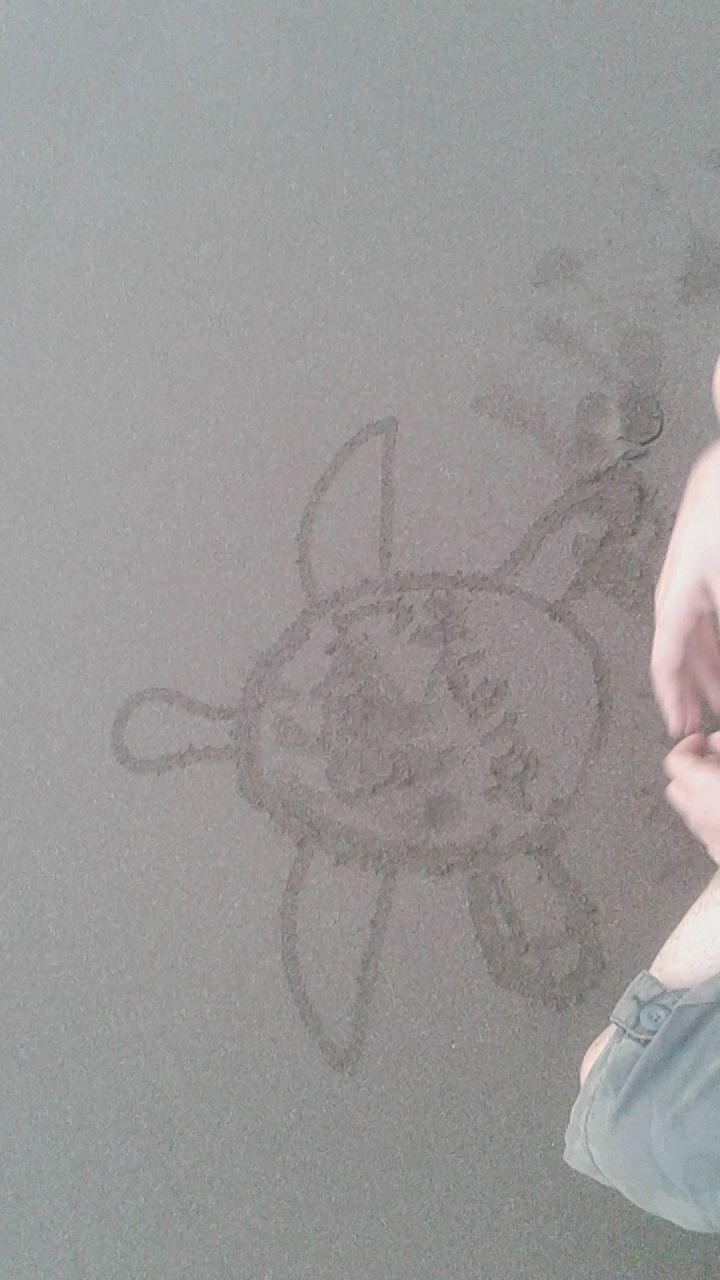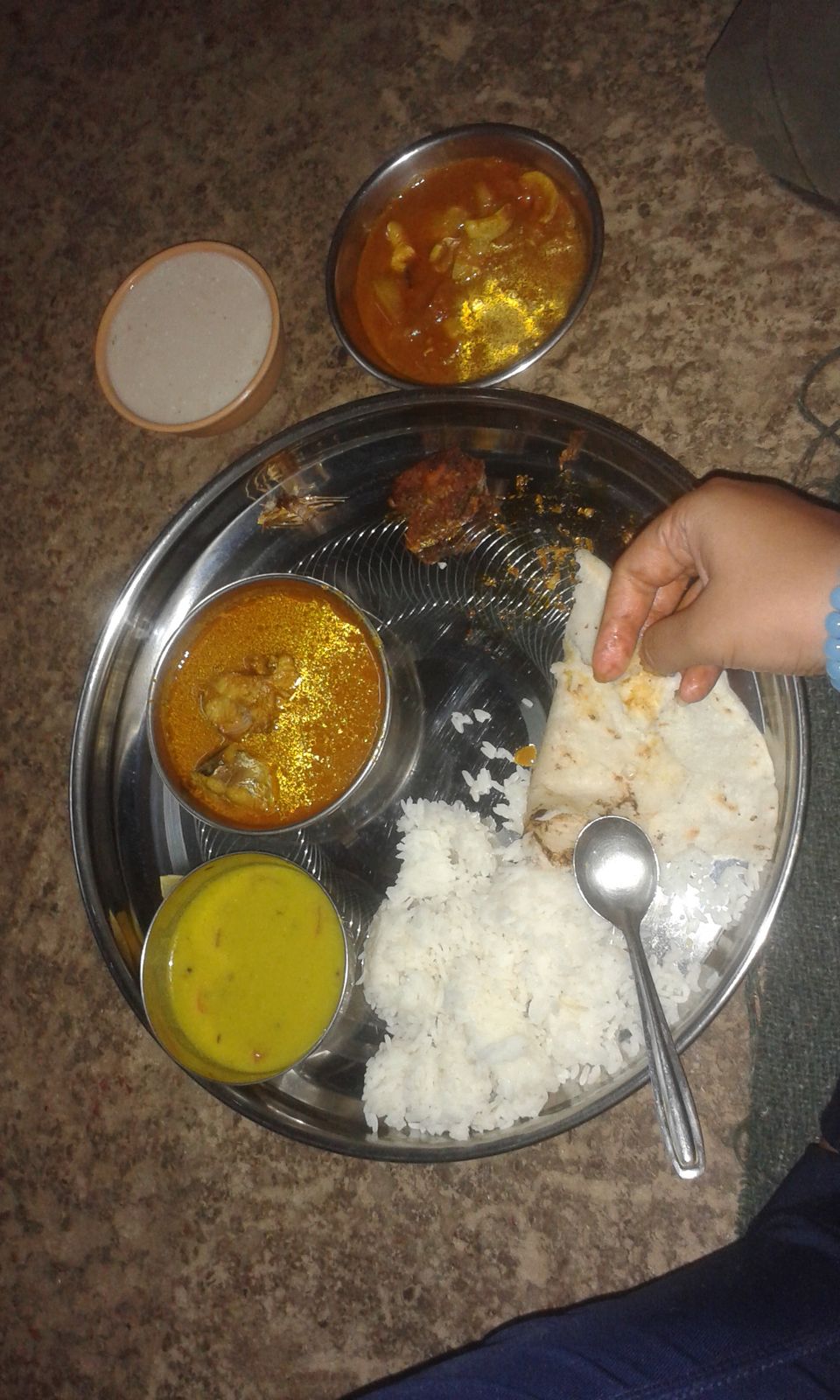 The next morning we went to the beach at around 6 a.m. and were told by the carer that few eggs may have hatched! We waited in anticipation until 7 a.m. when the carer lifted the basket and we saw 10 baby turtles as excited as us! The carer carefully placed each of the babies inside a straw basket and took the basket closer to the ocean where he placed the babies back on the ground. Then the count down towards their first ocean kiss began for the 10 baby turtles. It's an absolute joy to watch them waddle towards the ocean making their own unique tracks on the sand. Kind of makes you reflect on your own life and the paths that you choose, indifferent to the paths others took.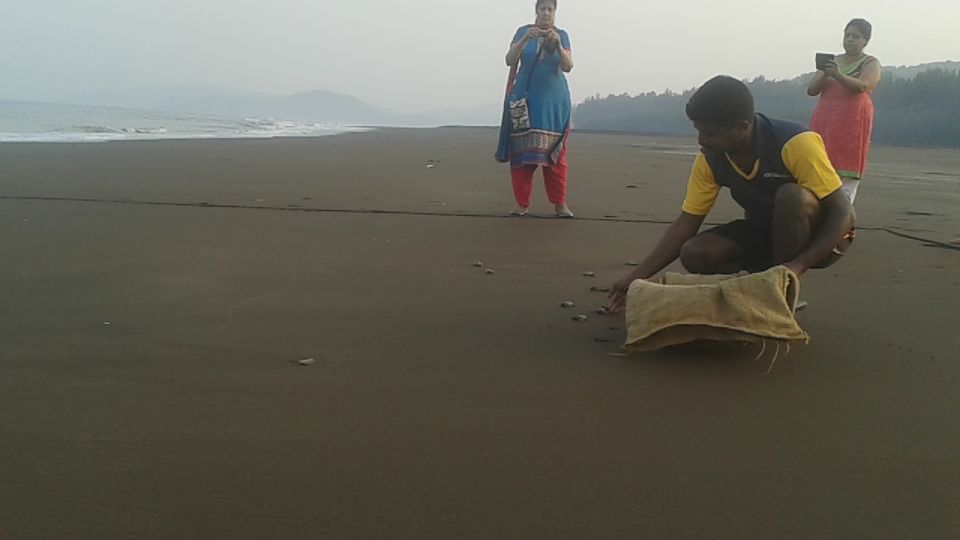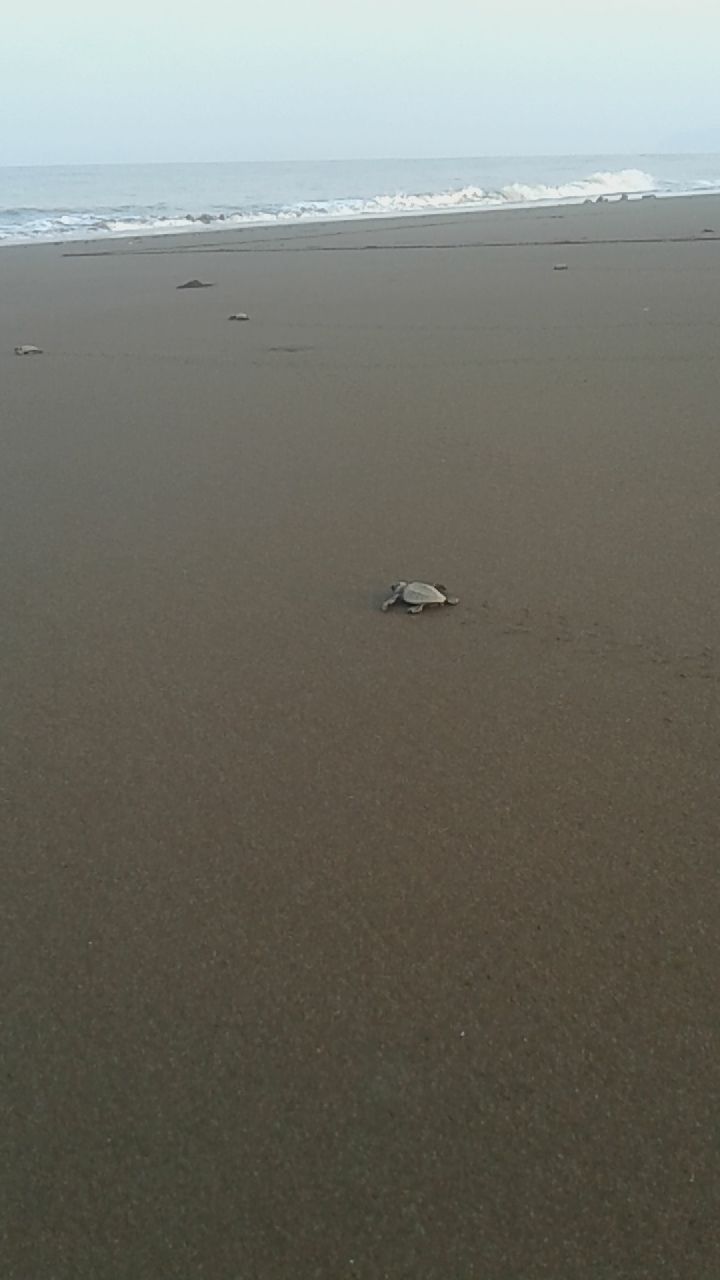 The babies take about 15 to 45 minutes to reach the water depending on their own temperament. We waited till the 10th baby was washed into the ocean to start his or her life journey. There is a sense of satisfaction of a successful trip when you experience this conservation effort. It is highly recommended to call in advance and check for hatching dates so you are not disappointed but I would say even if you don't get to experience the hatching, Velas is a beautiful beach village to enjoy some peace and quiet. Go on a full moon night.
After a breakfast of dosa and chutney with the Patils, we rode to Bankot Fort, a 10 minutes uphill ride. It's a 15th century Peshwa fort and can't be missed on your trip to Velas.
We took the same route back and made a pit stop at Harihareshwar to check out the ancient Kalbhairav and Yogeshwari temple.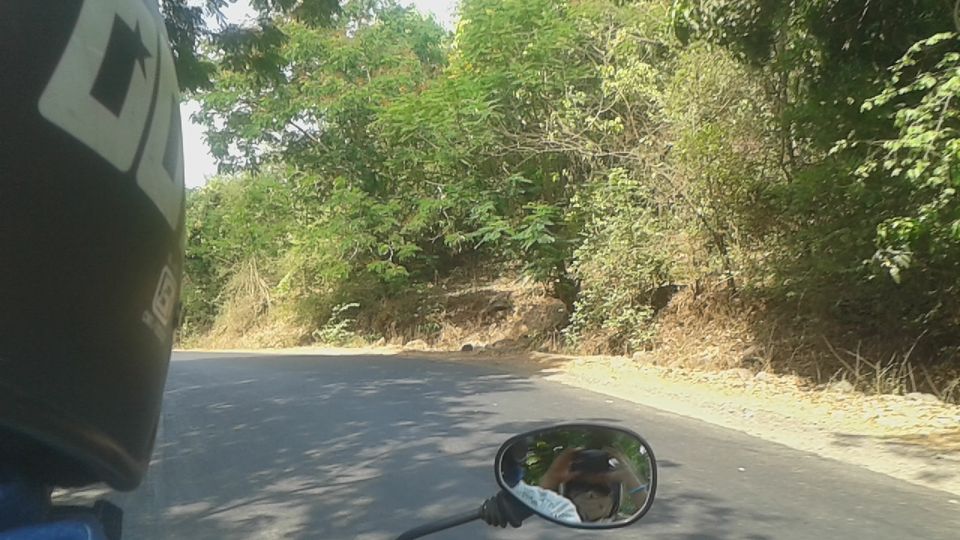 Overall we rode for 410 kms (approx Rs. 1000 fuel) to and fro in 2 days and thanks to an excellent and safe rider (we both wore helmets all through the trip), this maiden bike trip was pure fun.