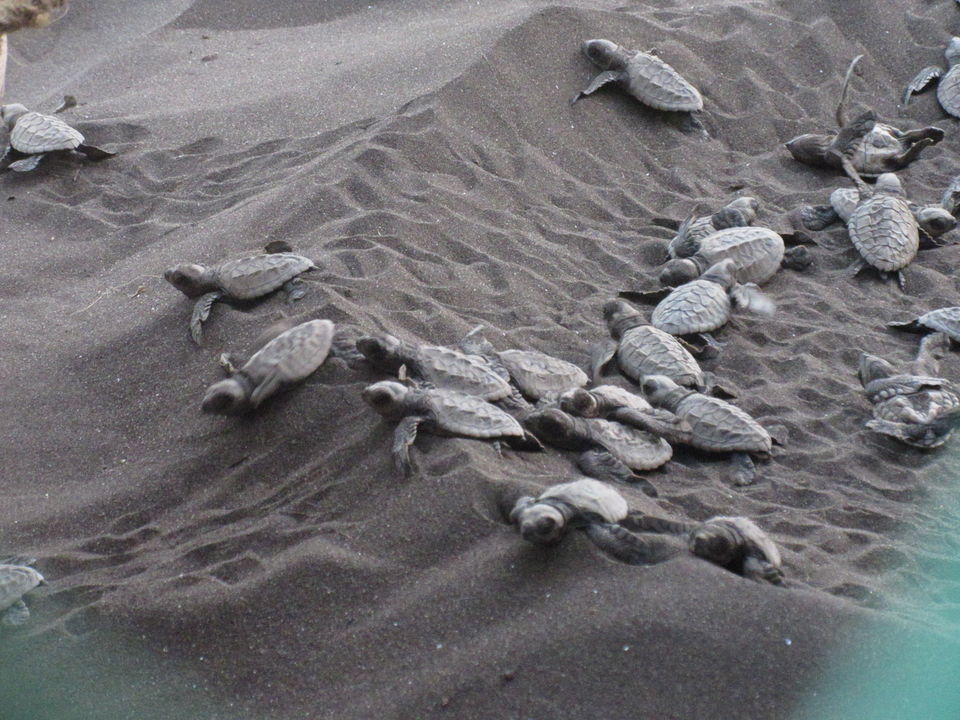 Hey fellow Travelers, I hope you all are doing well in the Quarantine period.
I am here with my first blog which is Trip to Velas Turtle Festival.
Velas is a small village situated in the Ratnagiri District of Maharashtra and in the Western Ghats of India. It is a Coastal Village in Konkan Region and located at a distance of 217 km from Mumbai. Every year Olive Ridley Turtles come ashore to lay down eggs between November to December and those eggs hatch in the period of February to April. The villagers, together, welcome tourists coming from overall India to see Baby Turtles walking into the sea.
Our 2 days trip wasn't planned for Velas only, we did enjoy the other places such as Revandanda Fort and Beach, Korlai Fort, Kashid Beach, etc.
Day 1: New Panvel - Revdanda Fort and Beach - Korlai Fort - Velas
Day 2: Velas Beach - Harihareshwar - New Panvel
We woke up the next morning at 5.30 am for Morning Session on the beach. We went to the Velas Beach Parking area on a bike. We parked our bikes and a Car in the parking area and started walking towards the beach. Many tourists gathered around the protected area inside which Turtle's eggs were kept. It was a pleasant day and slight coldness in the wind. We were enjoying the fresh sun-rays passing from branches of tall trees which we generally find on the beach.
We returned to our homestay and left for the return journey after having breakfast. We decided to visit the Hariharehwar Temple which was located at 24 km away from Velas Village. We chilled for some time near Temple and started our journey to Mumbai via Murud at 12.30 pm.
This is what our Trip was!
Expenses:
1. Petrol = 660 Rs
2. Homestay + 1 Veg lunch + 1 Dinner + 1 Breakfast + 1 Tea = 800 per person
3. Homestay + 1 Non-Veg lunch + 1 Dinner+ 1 Breakfast + 1 Tea = 900 per person
Velas Homestay Contact: Anuja Daripkar: 9850581022 / 7057303646
Please let me know how was my first blog was! I hope you have enjoyed reading it. Kindly use the comment section if you have any queries or contact me on email: madaboutmountains01@gmail.com.
Follow me on Insta: @mad_about_mountains
Tips and Warnings:
1. Bankot Fort which is very near to Velas village to get the bird-eye view of Velas beach.
2. Avoid Road to Velas via Mangao as the road condition is worst!!
3. You can visit Diveagar beach too.
4. A personal vehicle is preferred or else you can contact several groups that organize Velas Trip.
5. No Mobile range in Velas.
6. Avoid alcohol drinking on the beach.
7. Since Egg hatching is a natural process, so it is on your luck if you will see Baby Turtles or not!
We left New Panvel at 5.30 am and headed towards Velas by visiting Revdanda Fort which is nearby to Alibaug. I was accompanied by my friend Omkar Taskar and Vaibhav Rasam. Omkar had his Unicorn 160 and Me and Vaibhav were traveling by Honda Hornet 160R. We decided to take the coastal route and reached Revdanda Fort (79 km from New Panvel).
Then 2 Volunteers came and started checking how many Baby turtles have come out of the eggs. People present around the Protected area were waiting to welcome and cameras were ready to picture those babies. And tell you what!! It was our luckiest day!! maybe because of Leo's presence, a total of 49 Baby Turtles were ready to step into the world.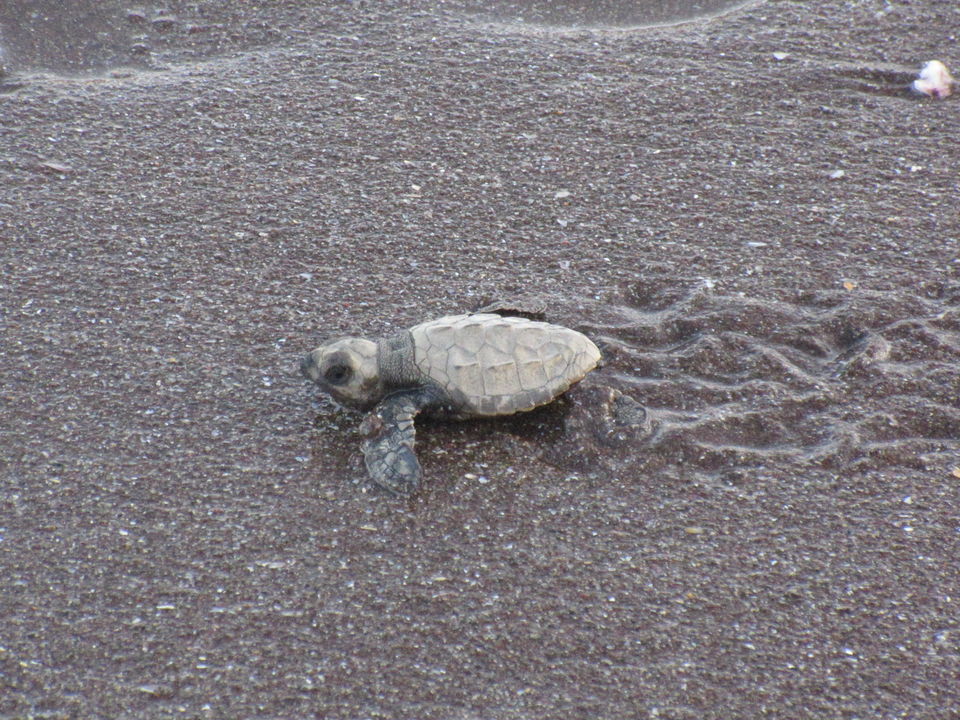 Revdanda Fort was built by Portuguese in the period 1524. No one was there as it was too early, around Revdanda Fort 8 am. We explored the inside area of the fort and then went to the beach. Since the fort is situated near to the beach and because of low tide, we had a bunch of places for photography.
Then we rode to Korlai Fort (83 km from New Panvel), another coastal fort and built by Portuguese. We reached here at 10 am.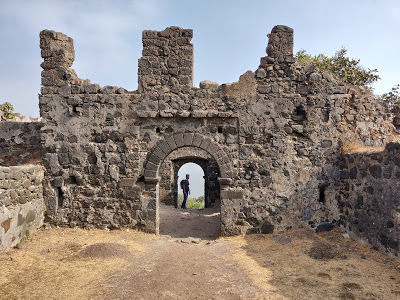 Korlai Fort has more area than Revdanda Fort and is beautiful just after the monsoon. We reached at Some part of fortification and a Portuguese church is still intact. We also visited Lighthouse situated beside the Fort. After exploring the fort and taking so many clicks, we again started our journey towards Kashid Beach at 12.30pm.
I love Kashid Beach (96 km from New Panvel) since it is a unique white sand beach and less crowded than other Alibaug Beaches. We enjoyed the sea waves and then had a Maggi on the beach while enjoying the sea. Omkar suggested that if we travel directly to Velas now, then we can attend the Evening's session at Velas Beach.
We liked the idea and then left for After reaching Agardanda Port, we took Jetty/Ferry to reach Agardanda Port (122 km from Panvel). In between the journey, we saw Koli community People dancing on traditional music as a part of the "Shimga" Festival. Dighi Port and again took coastal route to reach Bagmandala Port (173 km from New Panvel). We crossed the Savitri river (which meets the Arabian Sea after a few hundred meters) via Bagmandala - Vesavi Jetty/Ferry and then reached Velas village (190 km from New Panvel) .
As soon as you enter the village you feel the pleasant fresh air and positive vibes maybe because of the villagers. 5.30 pm, then unpacked our bags at a homestay and left for the Velas beach where we get to see the Baby Turtles walking into the sea.
On Beach, two volunteers started checking if Baby Turtles are out by hatching the egg. In the evening session, only 1 Baby turtle came out of the egg. Then that Baby Turtle was left near with shore and then she walked into the sea, to meet his family.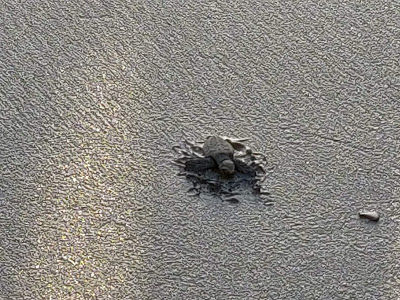 My other friend Pavan Patil along with 4 more people and a cute dog named " Leo" joined us for Velas Trip and then we had dinner together and yes, we had so much fun by recalling our College, Journeys, Trips memories.
We were very happy. All people started welcoming all of those tiny lives! :) Again those baby turtles were left near shore, letting them enter into the sea on their own. Those tiny babies have enough instincts of their destination! They all started walking towards the water.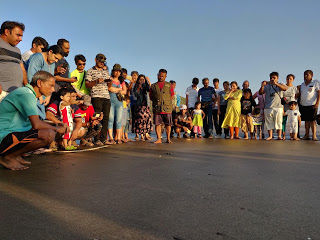 Gathered people were watching and clicking photos from a distance of those babies taking the first step towards the water.
Some baby turtles were walking fast and some were slow, but all went into the sea and started the journey to meet their parents!
"One day these turtles will again come to their birthplace to give new tiny lives. Sometimes Nature seems to be perfect than humans."
After having a joyful moment of watching baby turtles, we played with sea waves along with Lea. He kind of like the sea and playing with waves.