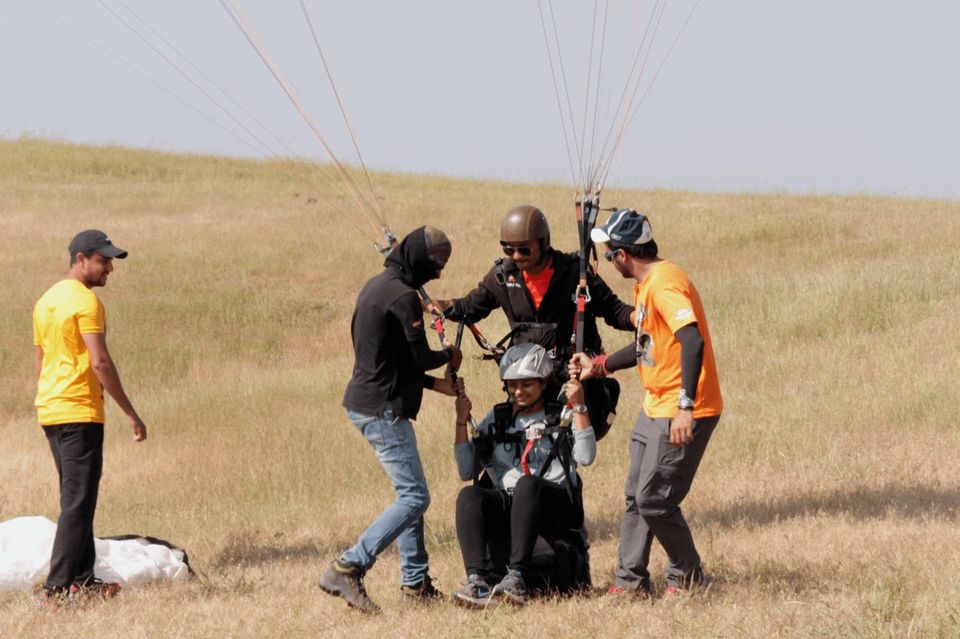 "Papa, how come birds can fly but we cannot?", Ansul had once asked me with innocence that is exclusive to a child. "I wish I too, could fly", he followed up with a longing that is also the sole domain of children. "You too will fly", I lied to make him smile.

A few weeks later I had the opportunity to overturn that lie when I saw an advert for Kamshet paragliding. I could not simply turn down this chance given Kamshet's proximity to Mumbai and the stunning views of the Western Ghats the advert displayed.
During mid-week I told Ansul that he should look forward to flying like a bird during the weekend. I do not whether I was more excited and impatient in that moment or him. I researched a few paragliding schools and selected the one that I felt was the best option.
Come weekend, we packed a small bag, fueled up and were soon on our way to the picturesque town. Kamshet is one of the most recommended places for paragliding not only within Maharashtra, but all of India. It lies somewhat in the middle between Mumbai and Pune within the laps of the Sahyadris.
Green hills as far as the eyes can see and ideal wind conditions make Kamshet paragliding one of the most sought after adventure activities in the state. I had booked an early afternoon slot and we arrived well in time to ensure Ansul runs off Tower Hill and takes to the cerulean skies.
We were greeted warmly by our instructors; given a small briefing before Ansul was made to gear up. I had booked a tandem paragliding session for Ansul in which a pilot operated the glider while Ansul gawked at the mesmerizing views of the valleys and hills from several thousand feet in the air. I swear I could see him smiling even when he was all the way up there.
After a flight of about ten minutes, the duo landed safely on the ground. As soon as he was released from his harness, Ansul dashed towards me, giddy and excited. "Papa, I was a bird", he answered before I even questioned him. "You have to get up there", he pester and prodded me.
I was hesitant at first but gave in eventually when the pilot told me that he will accommodate me without a booking. I, too, took the tandem session having no prior experience but was told that I could learn to paraglide over the course of a few days.
I was given the briefing all over again, harnessed in and before I knew it we were running towards the edge of the hill. My heart leapt out of my chest as we jumped off the cliff. The view was indescribable when we gained peak altitude. I felt less like a bird and more like a child as I waved to a tiny Ansul from between the clouds.