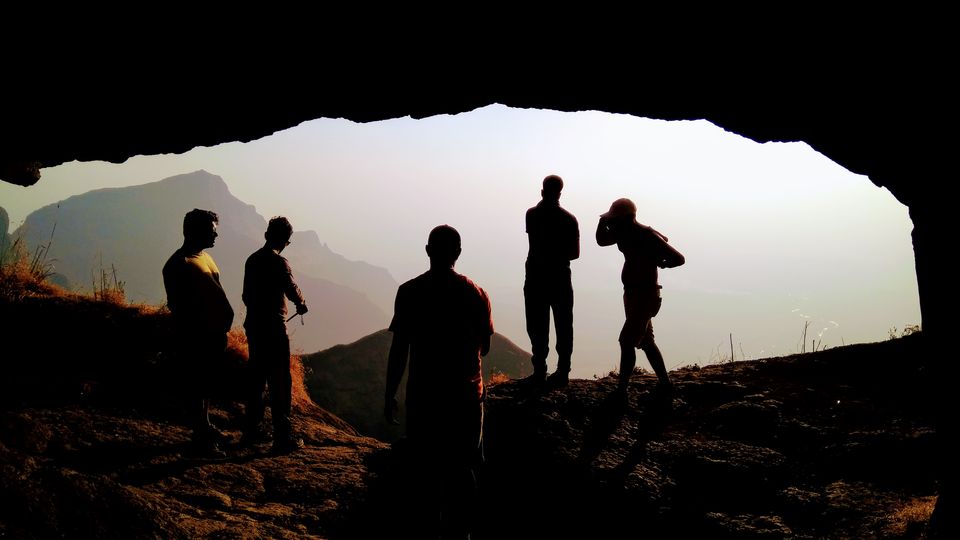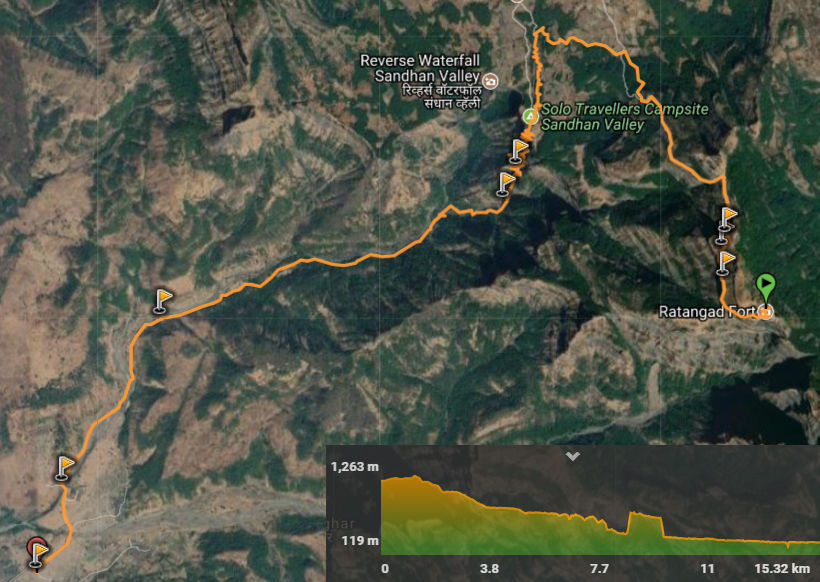 https://www.youtube.com/watch?v=LP5CSH06awI
Right now I am at Ratangad fort. I woke up at 5 at the cave. Since the cave was full of darkness, I waited for some time. While I came out of the cave, I realized that sun rays had started bursting and the horizon was yellowish. I felt as if the sun was peeping at me through the ghats. I enjoyed the beauty and serenity.
Today must be a long trek. Firstly, I need to go to Sandhan Valley and descend it completely. Then to Dehene village. Samrad is the base village of Sandhan Valley trekking, but I don't need to go there. I have another route which will take me to the starting of Sandhan Valley trekking point. Sandhan Valley is situated at a distance of 4.7 km from here. I have got a company of two people, Mahesh and Avinash, both of them reached Ratanghat fort in the early morning after a night trekking. They had planned to return back to Ratanvadi, but with an interest in my plan, they agreed to trek Sandhan Valley with me and then return to Ratanvadi.
The trail to Sandhan Valley is starting from the Tyrambak Darwaza which is on the other side of the fort. we started at 7:30 and reached at Tyrambak Darwaza within 30 minutes with some breaks to fill the water bottles from the underground water cistern and to shoot some snaps at Nedhe, The Needle of the Cave. Now, there are more than 75 steep steps on the rock and thus the altitude is changing rapidly. Surprisingly the other side of the fort is still wrapped in the darkness and the view of ghats from the darkness is quite soothing.
We have reached a small forest filled with small pieces of rocks on the trail. After one km trekking descending through this forest, we reached a dry field and again walked towards Sandhan Valley. After having a stop for breakefast, we reached Sandhan Valley at 9:30 AM.
Sandhan Valley, The Valley of Suspense or The Valley of Shadow is one of the greatest canyons in the splendid setting of Sahyadri western ghats. The water carved Valley is around 4 km long and 200 feet deep. The deep narrow rock floored ravine is located between the two high walls of a mountain range. At some places, its width is less than 3 feets while at some other places, sun rays are unable to reach the ground. This is why it is Valley of Shadow!
The first one and half kilometre trail is not challenging. People make moves without any difficulty. Now we have to cross a water pool of 4 feet high. It is full mud with many travels through it. Thus, we are forced to carry all luggage on the head. My two companions left me from there and they returned to Samrat. Thanks, guys. will meet you somewhere sometime. Now, I am alone in the crowd and the remaining travel is really adventurous. Missing or slipping of one step may be missing of the life itself. There are 4 places including 2 rappeling points where I need support from someone to get down the rock patches. I got help from some other trekking groups. It is advisable not to trek here alone here. You need enough patience to get down some rock patches since there are long queues.
Finally, I did it. thank God! I took around 4.8 km to completely descend it due to the zigzag nature of rock patches. My companions returned because they heard that there was no return way to Samrat village other than a 40 km long one. it is because one can't take the return on the same route. But, I came to know that there is another way which will take you to the starting point of the trekking if you want to go back to Samrat.
Now, I need to go to Dehene village where I will get the bus to Asagoan. Dehen village is around 6 km away from here. The trail is along the side of a dry river bed. But, some parts of the river are so fascinating with pure water. Hills are reflecting on the water. wow. beautiful.
Finally, I reached Dehene village at 4 pm after trekking of 15 kilometres. The village contains less than fifty houses. Dehene is a base village for Ajoba hill trekking. The hill contains "Valmiki Ashram" and a cave where Goddess Sita stayed with her two sons Luv and Khush. The hill got its name from the term "Ajoba" which means grandfather in Marathi – a term that Luv and Khush used to address Saint Valmiki, who wrote Mahabharat by sitting here.
The Bus to Shahapur is available here, but not frequently. Daily, only four buses. The first bus is leaving at 6 in the morning and then at 10 am, and 2 pm. The last bus is leaving at 5 PM.
I made a walk through the village and waited for the bus in a small tea shop. The bus has reached at 5 pm and it started the travel after a waiting of 15 minutes. The bus is running only for me and a man.
After one hour and 15 minutes travel, I reached Shahapur and caught an auto to Asagoan railway station which is 2 km away from here. And, now I am back to Mumbai.