It's been quite a few years since my first epiphany at the beautiful sands of Diveagar – a wonderful stretch of sandy peacefulness somewhere along the Arabian blues. I remember it was a Christmas Eve - a bright and beautiful Saturday in winter Mumbai, tempting anyone to run away from the confines of the city to any place that was far away.
Far away for that day was Harihareshwar – another beautiful beach in Raigad district, about 200 kms from our maddening metropolis. But what amazed me that day was the serendipity that was Diveagar, where we chanced to make a 'brief halt'. It started with our devoutly religious driver telling us of a Ganapati temple on the way that was worth seeing. Apparently, a woman had discovered a golden Ganapati bust in her coconut plantation while farming; she agreed with the villagers to erect a temple nearby and house the statue therein. This sounded quite interesting, so off we took a detour and came to the temple – the bust was quite beautiful without being too ostentatious. The surrounds were beautifully bucolic, with swaying coconut trees everywhere, accentuated by the mild sunlight and the balmy winds, reminding us each moment of the rustic beauty of rural India. This made us city-sloths feel energised enough to take a peaceful walk nearby. We started walking into the coconut farms and even came across the farmer who had discovered the statue and had put Diveagar on the Ganapati map of Maharashtra (the people here are fervent believers of Ganapati or Ganesha – the elephant lord, and have scores of temples dedicated to Him – there's even an Ashtavinayak trail in the state. 'Ashtavinayak' literally means "eight Ganeshas" in Sanskrit and as per the trail, one needs to follow eight Ganesh super-holy sites around the state. And yes, you must visit the first temple again after ticking all other temples to ensure you complete a full circle – oh yes, Ganapati can be demanding at times!)
Coming back to our story, we chatted with the woman about her discovery – she narrated her story animatedly and even took us to the exact location of her discovery. Sadly, the temple council no longer gave her any share of the temple receipts from the pilgrims (this is where karma kicks in – a few months later, I read in the papers that thieves had looted the golden statue from the temple, with a silver statue now bedecking the altar). Having sauntered thus, we felt like walking some more and so, on and on we went, until we could hear the sound of waves crashing somewhere nearby. We were already smitten by the ambiance – adding a cerulean sea to the canvas was like a double bonus!! I still remember the trail – a small mud path amidst green wilderness led to a red derelict temple - a few more steps and lo, we walked directly into one of the most beautiful beaches I had ever seen in my travel experience in Maharashtra. The immediate impact was mind blowing – I think no word or photo can capture that sudden sense of numbing beauty as the overall panorama of brown-white silky sands, coupled with the endless expanse of blue seas and skies was overwhelming. A wonderful comparison struck me immediately – it was a reminiscence of the Taj Mahal far away in Agra, where one walks though long lanes of red sandstone until one suddenly gets overwhelmed by the majestic whiteness of the Taj. We had been similarly meandering through green under-growths until we suddenly stumbled upon the brightness of the beautiful beach.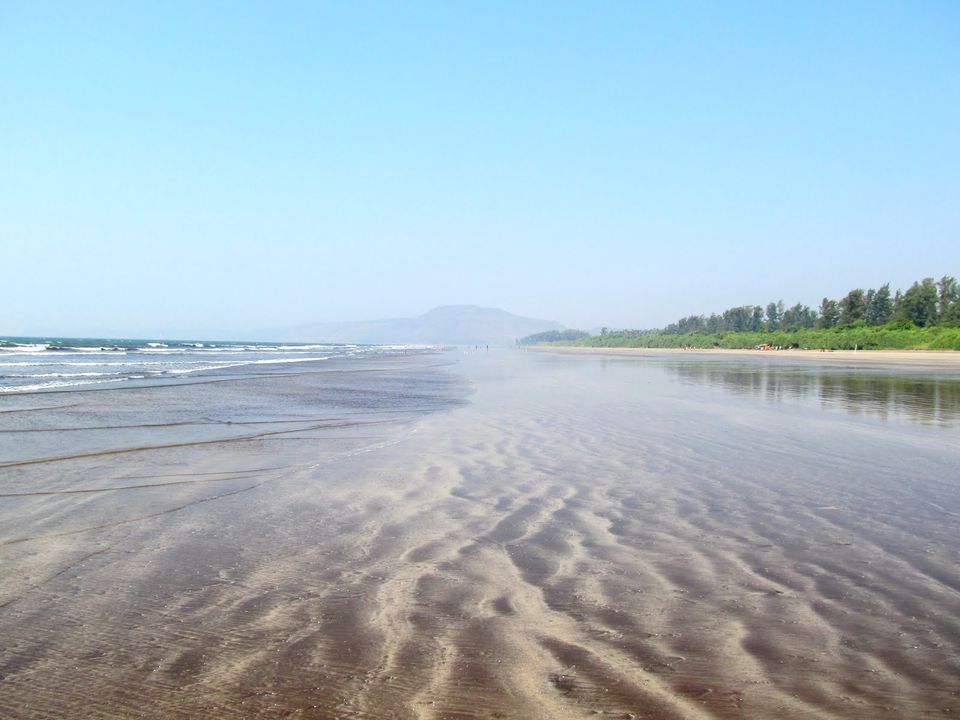 We walked onto the beach and decided that this was more than what we had bargained for – a beach couldn't be any better. Rows of deep green casuarina trees hiding the beach, making it seem more elusive in its hidden beauty with signs of neither asphalt nor vitiated traffic; a long – and I mean, really long – stretch of fine brown-white sands that was soft as silk and yet compact enough to not sink in, making for a wonderful walk; deep blue seas, yet transparent waters teeming in marine life with scores of hermit crabs and shells and mussels crawling all about (I must admit here that the marine life at Diveagar is the most fecund of all beaches that I have visited in Maharashtra). And as if this painting was not beautiful enough, the Artist had added the quintessential element that forms the backdrop of most beaches in this part of the country – lovely grey-blue hilly ridges on both ends of the beach that seem to rise that sentinels guarding the magical sands from the rest of the world and perhaps, the pace at which it was changing outside.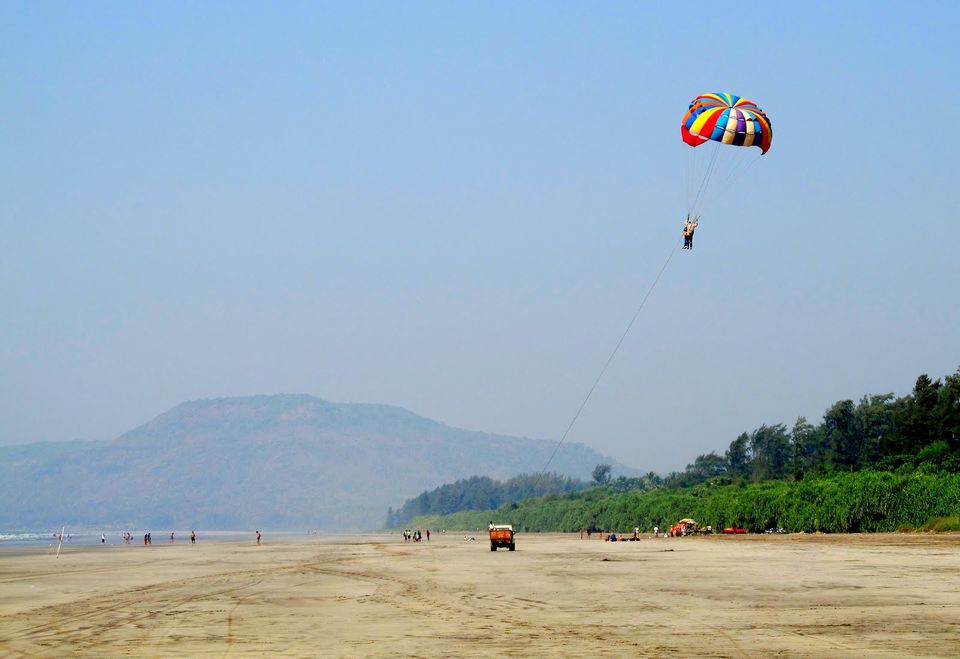 Thus smitten, we walked on the sands. And we walked and we walked, each on his own, lost in the heady beauty of the place, each carving a sliver of indelible memory that could be dipped into like a magical 'Pensieve' someday in the future. For a few moments I forgot all about yesterday and tomorrow and just trailed though the cool waters, felt the warm sun rays, and followed the scurrying crabs and shells…we grouped after some time and just sat on the sands, with a lot of content quietness all around, feeling no need to talk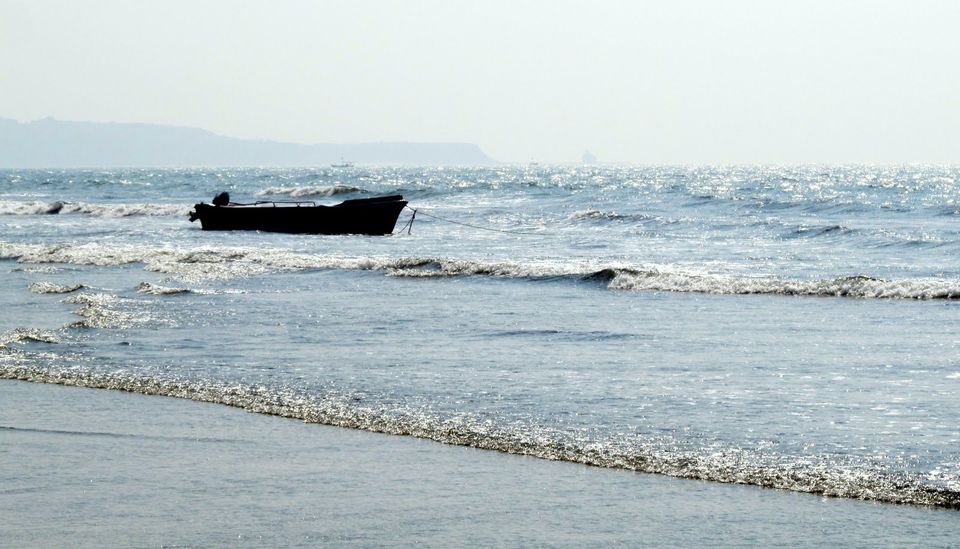 When I look back today, I think the sense of overwhelm arose because we were not expecting any such beauty in Diveagar. We were just ambling about, following whatever threads time had strewn about in front of us. And when there are no expectations, you just walk about enjoying that little flower, listening to those rustling leaves, feeling that wind on your hair (and drinking cool coconut water fresh from the trees as well :P). When you look back, you suddenly realise there are foot-steps left on the sands of time. And are they beautiful!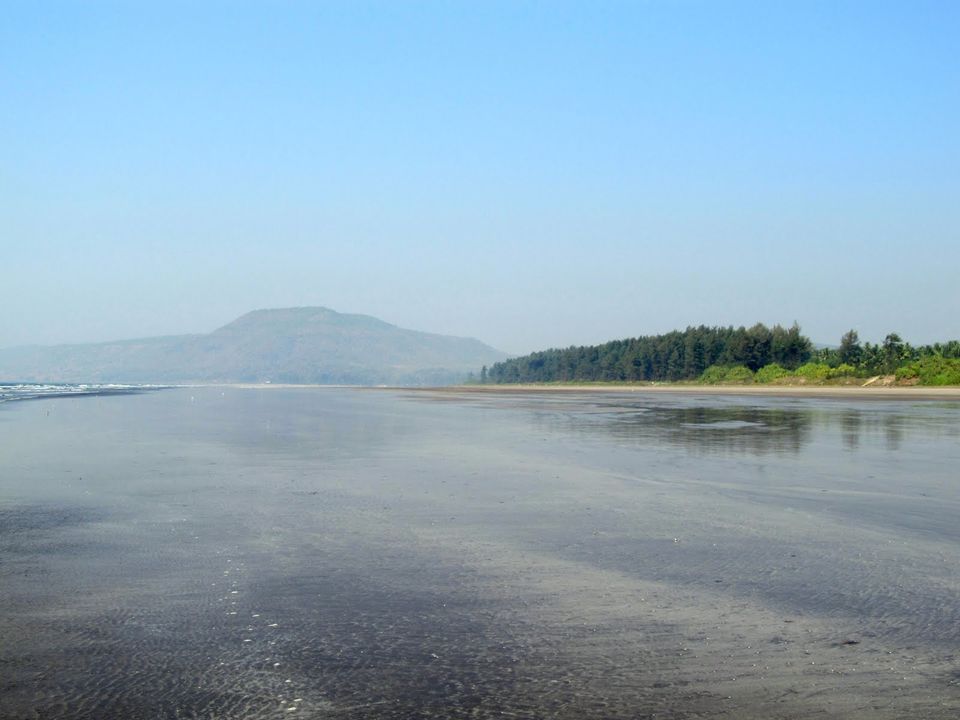 I have travelled widely in the state, ticking of most beaches in this beautiful state, heavily under-rated by its much smaller sibling in the south (read: Goa). We have been to many a wonderful beach to laze by, from Korlai to Nandgaon, hidden Ganeshghule and all the way down to Tarkarli and Vengurla. Like every person, every sandy sliver is different and beautiful in its own way. But Diveagar has been like my most treasured piece of jewel. It also reminds me of a Ruskin Bond story ('The night train at Deoli'), where the protagonist does not get down on a small nondescript station, afraid that he will no longer be able to find a blind girl he had once met on that station. I had similarly avoided going back to the beach for many a year, afraid that I may no longer find the beach as beautiful as I had seen it for the first time. But I did go back to the beach again in the summer of 2015 – but the place did not disappoint. It was as pristine and refreshing as ever. And I do wish it stays that way. Hopefully, what are a few decades in the eternity of the rolling seas and sands?
FACTFILE:
Distance: Roughly 200 kms from Mumbai
How to travel: It is advisable to book a car for the day / weekend costing roughly INR 3,000 per day. This is not only convenient but also helpful to travel around and see other places nearby
Where to stay: There are plenty of guest houses and resorts close to the beach, but it is advisable to book in advance if you are going on a long weekend, when practically all of Mumbai spills onto the beaches making it difficult to get accommodation
What to eat: Try the local Malvani cuisine, delightfully spicy and aromatic. Fresh fish, fried in spices is a must have. There are plenty of coconut plantations close to the beach – you can even buy coconut water from these farms, and relish it in its freshest form.
What to do: Walk, breathe, relax! You must try walking barefoot on the silky soft beach. The end-to-end walk, though long is a pleasant experience at early morn or in the evening, when the sun is not very strong. You can also meander aimlessly along the many plantations or to the temples nearby. A splash in the clean waters is another joyous experience!
What else: If you are still heady for some more beach beauty bonanza, head south to Srivardhan and Harihareshwar. Be on the look-out, as the road is just beautiful with amazing vantage points overlooking little slivers of sandy beaches all along. Stop, rejuvenate, take a selfie and yes – don't forget to feel the wind in your hair.