Day 1: Arrival into her territory! Early morning Air India to Nagpur from Mumbai, not surprised to have it delayed by an hour or so.. Lousy breakfast on board, but being the cheapest flight we couldn't care less. On arriving at Nagpur International Airport we quickly got our luggage and left for Radisson Nagpur, where we had a sumptuous but expensive breakfast!
Pench is about 2 hours from nagpur by road, the hotel had sorted our car ride. We reached the Pench Jungle Camp, to be greeted by our great hosts - Agam and Anuradha, this couple lives in the jungle and takes care of the camp property. Very warm and welcoming, they'll make sure you're as comfortable as you can get in the jungle! Pench Jungle Camp is just outside the main Turia Gate of the Pench National Park and thus an excellent location to stay. Post lunch, we left for our first jungle safari to the Khursapar gate. Being the first experience in the jungle, it was exciting and peaceful. The sounds of the jungle is unlike any other, I would call it 'chaotic peace'. This gate, we later realised is not that famous for any sightings, so would strongly not recommend to take it. Safari cost: Rs. 5500/- for small gypsy and Rs. 7500 for jumbo (both can fit in about 4-6 people) The night had a nice tribal performance by the villagers (even if you don't like it, appreciate it as it's the only form of employment for them). Being the 31st, we had a few drinks after which we all passed out as we had a very long day!
Day 2:
Just a few birdsWe didn't opt for the morning safari, so got up straight for breakfast then relaxed in this beautiful jungle property of merely 24 odd rooms, we had taken the luxury tents which is an experience in its own right. Agam made sure we had the food of our choice, if we didn't like anything from the buffet and also made sure the staff was at our disposal. Agam being a naturist, it was interesting even just to walk around the property with him, as he will give you insights into the plants and birds around. Also his stories of the jungle made us all, all the more excited for the next safari in the afternoon. Post lunch we left for the safari by about 230 and this time agam was nice enough to drive us himself, he gave us deep insights into every bird and animal we sighted. He also helped us sight a beautiful owl sleeping inside the hollow of a tree. Unfortunately we weren't lucky enough to sight a tiger, although we heard many alarm calls from the deer and monkies. We slept early that night as we were scheduled for an early morning safari the next day.
Day 3:
Paddevwali sighted with her 4 sub-adult cubs! Early morning, 0630am we left for our next jungle adventure, freezing cold due to the windchill in the open jeep. We were with this other couple from Hyderabad which was alot of fun! In the wild everybody is one, just an extra pair of eyes can really help. We heard strong alarm calls but couldn't sight anything.. After about an hour, was our moment, at about 830am we see a line of jeeps near the a small pond on route number 2. We get our first sight of the Paddevwali tigress with her 4 sub-adult cubs! They were playing around the lake and then even crossed our jeep. The mother also sprayed with a squat to mark her territory! It's was an amazing experience, majestic yet gentle, calm yet ferocious, dangerous yet innocent! Evening was chilling with the new friends we made at Kohka wilderness camp.
Day 4:
Last Safari Again an early morning safari, we left in the chilling cold, as soon as we entered the jungle from the Turia gate, we realised it was dead.. So quite we could barely hear even the birds, there wasn't any alarm call during the entire safari. We weren't as lucky as the day before. The same day evening we left for Nagpur then to Mumbai by the Duronto. Tiger sighting is purely on your luck, the guide can help you but no one can guarantee anything! But the rush to try and find one is amazing. Apart from the tiger, we sighted the jackal, spotted deer, sambhar deer, nilgai, langoor, kingfisher, drongo king crow, blabbers, owl, blue Jay etc etc!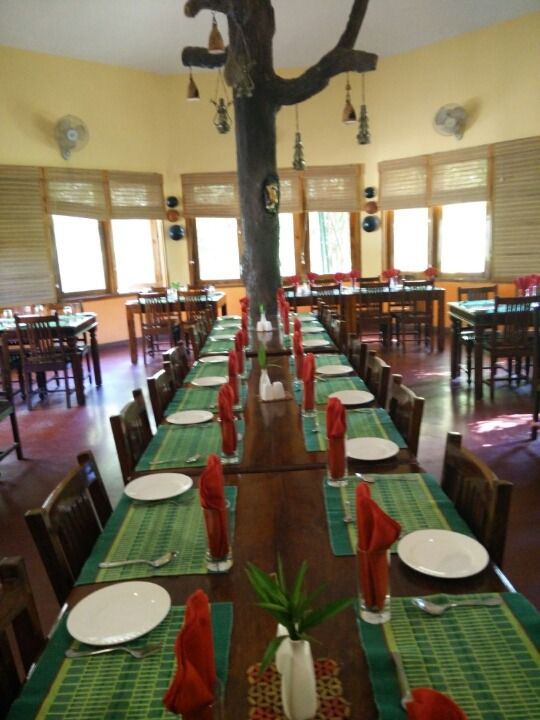 Amazing jungle through the Turia gate