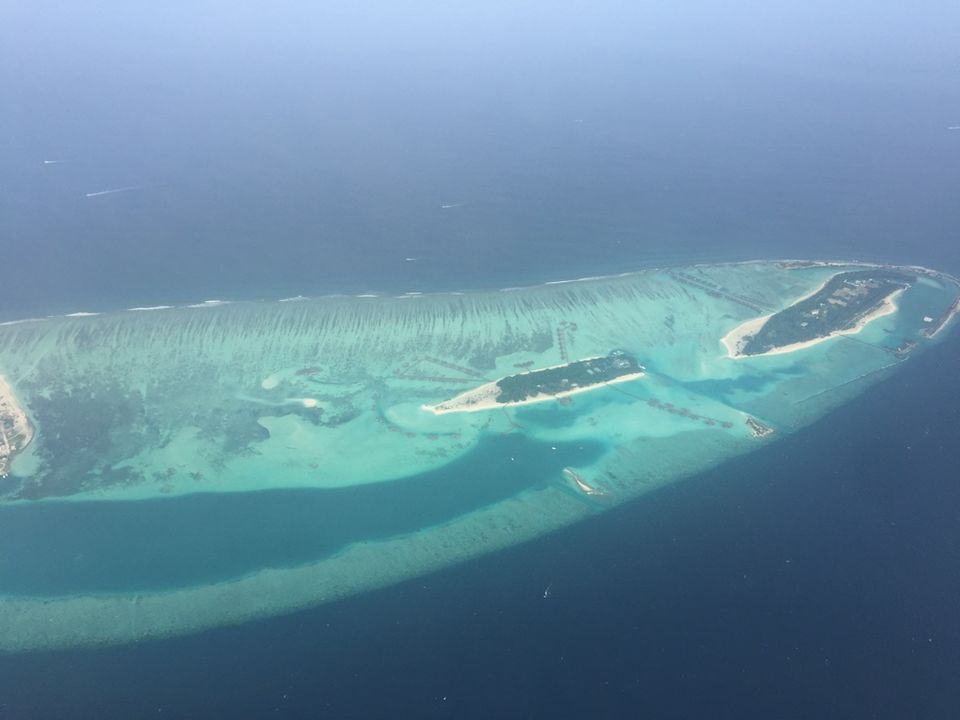 Many a times, I would wait to finish a trip and then jolt down what i felt about the trip. Tonight, I am in the Maldives, heading to Sri Lanka tomorrow in the afternoon and I already feel the need to share what I have felt so far. From a small but beautiful beach like café called coffee olé, on an island some 1 hour away from man kind made world, I am typing this with Ed-Sheeran singing in the background and this couple making out in front of me (feels like someone fasting is watching someone have McDonalds)...
One of the most difficult things in the world, which I have always found very easy, is travel, and especially when you are passionate about it, one's perspective on it changes. As those close to me will know, I rely very strongly on my instinct. When I was going to begin this trip, I had a strange feeling that this was not going to be as smooth or as heavenly as I had planned it and today as I write, just 2 days in to my trip, I can tell you this travel is teaching me more than many in the past have.
When the plane was taxiing in Karachi, I pulled out my best friend on a travel, my DSLR to click a few starting shots only to learn that the battery had completed its time on this planet. The reality began to sank in as a dagger had been formed. I thought to myself 'what the f***. I have planned a trip to one of the beautiful places on the planet with so many hopes of clicking tons of images, especially sunsets and here is my DSLR giving up!'. Then I saw this beautiful person on my flight, and I forgot all about the issues of the camera - Rachel Viccaji. I recognized her right away for she is one of the vocalists in Coke Studio; a brand of music that has deeply touched me always with its work. At some point during my flight, I requested if she could sign my journal; a photo did not seem appropriate.
The sunset time came and I was once again thrown back in to the sorrow of not having my DSLR's support. Capturing that sunset, well, that was also on my list to do! I took whatever I could using my iPhone - trust me, no match whatsoever.
We land in to Colombo and after immigration at the duty free shop; somehow, I manage to have a photo with Rachel! I rush out of the airport and ask my driver to take me to shops for the DSLR's battery. We drive up to an hour and I cannot find it. I see that the airport has a shop where I can get it. Next morning, I look for the shop after checking in, only to find out that it has closed. Oh wait, I forgot to mention that my iPhone cable also died when I was on the flight to Colombo. So the iPhone died due to low battery that 1 st night!! Such a challenging travel right? Wait, I have more to say...
I head to the Maldives. WHAT A BEAUTY! Every time on this trip when my heart has uttered this line, I have reminded myself how much I miss my DSLR!
PS: having ginger tea with a sea breeze around, and it rained too! And thank God, the couple left...
So I land in Maldives and the person picking me up isn't there. I get in touch with the person who assisted me with my booking and he says I will have to wait for an hour at least!! Sorry, I know I have used way too many exclamation marks, but the article calls for it.After waiting for about an hour, the person picking me up comes and tells me that due to some reason, the morning speed boat was cancelled and now I have to wait till 1500 for it. I'm thinking, wow, any more surprises my Lord?
I go to Male with him to look for my battery; we go around the capital, which is the smallest capital in the world. We don't find the battery and hence the dagger of reality even sharpens that my DSLR will be quiet in Maldives.He takes me to a souvenir shop and I select one item, he makes it 50% discount (I just don't know how one can waive off cash like that but well), and I take a ferry back to the airport.The one thing I want to mention that I was impressed to see was the role of women in this country. Islands are generally considered 'not developed' but the thought of the people is developed. Women riding bikes, no helmets, respect for the land in that no one litters, respect for others on the road - little to no hooting or screaming at each other, something I witness so often in Karachi; I was so impressed with this country in just the first few hours I was here.
By the way, the ferry from the airport to Male was another of those things that left a deep mark; like it was as if I have travelled to another world.
I went to a sandbank today, walked quite a distance to reach a coral with sharp blue colored fish; beauty. I also saw turtles there... in the afternoon, we set out to see dolphins. I had 4 of them jump right next to where I was on the boat; some experiences, you cannot value them in monetary terms!
I want to conclude this piece with the last surprise that I have received, SO FAR:
As I said, I am at an island about 1h 30m away from civilization. My flight was UL118 at 1045, which means taking the 0730 ferry is great, but Sri Lankan Air cancelled that flight at now, the new flight time is 0925. Well, clearly I wont make it so now I am forced to change myself to the 1530 flight. This means I get to the airport in the only ferry of the day, around 0900 and I wait for up to 4 hours perhaps. I then land in Sri Lanka at 1725 - spoils the day I had planned but so grateful to the car company and this one individual who has supported my logistics of the Sri Lankan bit.
Am I disappointed? - yes, with the way Maldives has happened, a bit. I am TOTALLY NOT disappointed with my decision to come but with the logistics. The lesson - plan better, review better, learn much better, and then choose even better!!
So, to all those out there who wish to travel the world, it is not impossible and it is not about money. It is about belief, courage, and just the will to go. I had put Maldives on my travel list in 2014 and 4 years later, I can finally say, I have done it!
Will I come back - without a shadow of a doubt. Insha'Allah, I am leaving because that is life's demand of me; I will come back because that is my demand of life.
Peace!
Champ!
Frequent searches leading to this page:-
Maldives travel package from India, sri lanka and Maldives family holiday, Maldives flight ticket, Maldives trip cost from India for couple, Maldives tour package from Kerala, how much does a trip to Maldives cost from India