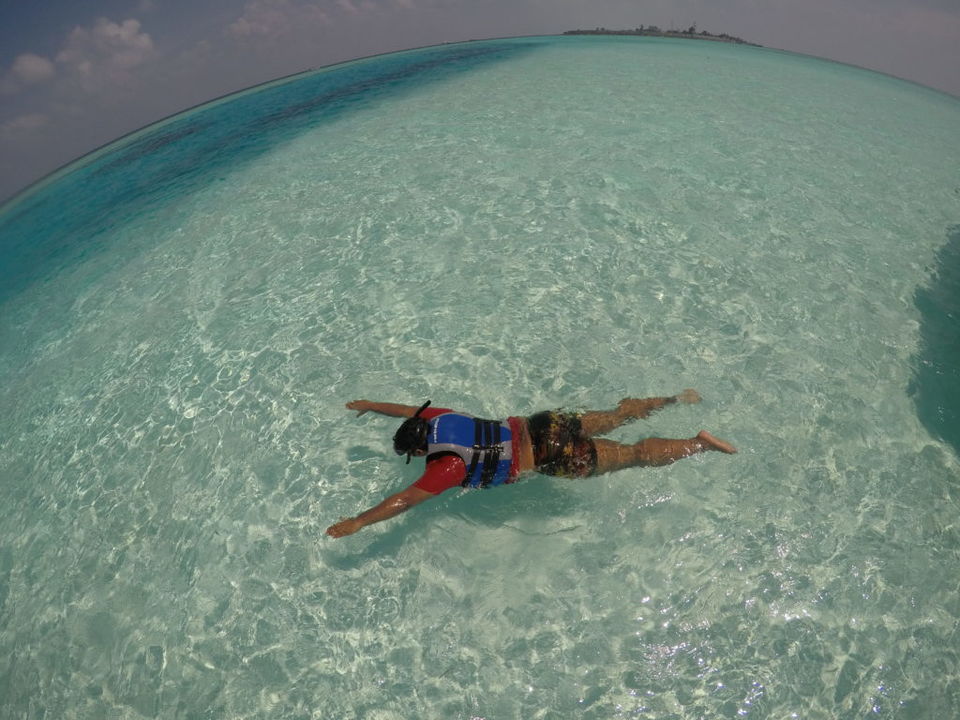 If I translate a favourite Bangla song,it will go-"We ,the wanderers have once again left our home to travel to far away shores." This is the song that I was humming in my mind at around 3 am on 16 th March,2019. It was the day when we started for our holiday to Maldives and I could not keep calm. We had to board an early morning flight to Bangalore from where we were to fly to Maldives. Little Nirvaan,now a naughty toddler couldn't keep his excitement on realizing that he was going somewhere. On reaching Bengaluru, we had to wait for a while. Nirvaan took full advantage of it as he loves running inside airports and meeting new people. Our Air India flight from Bengaluru at 2.20pm reached Velana International airport, Hulhumale at around 4.30 pm Maldives time ( it is about 30 minutes behind Indian time ). Immigration ( no visa required for Indians to visit Maldives ) went smoothly as would everything be in this trip.
Maafushi - a local island
For the first two days, we had planned to stay at Maafushi Island, a local island. Alcohol is absolutely prohibited in any local island and there is a designated beach for bikini, since the local islands are inhabited by Muslims and as travelers we must respect the culture we are visiting.
We were received at the airport by the staff of our hotel, Velana Blu. He directed us to the ferry. Once we arrived at the hotel after a half an hour speedboat ride, we were served a refreshing welcome drink and wet towels. Nirvaan enjoyed a ride in the swing and befriended a cat during our check in formalities. My weary body was rejuvenated by the calming sight of the colors of dusk spreading across the vast blue water visible from our room balcony. We spoke with Mr. Ibrahim of Velana Blu for booking a half day trip in a private boat for snorkeling and other activities before we went out for dinner at a local restaurant. We tried a few Maldivian dishes like Kothu Roshi. Nirvaan had a big bowl of chicken soup.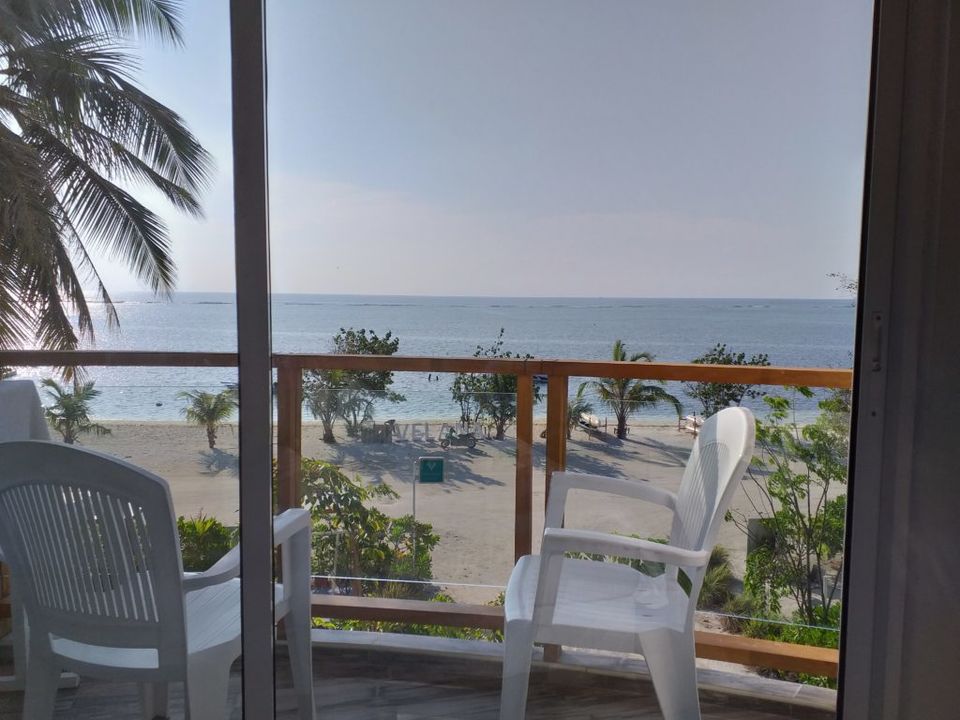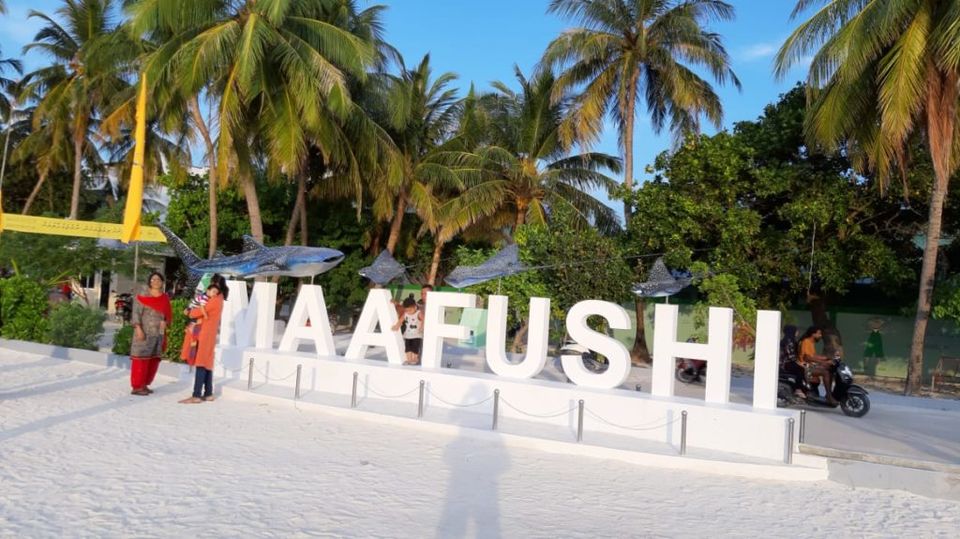 On 17 th morning, after breakfast, we set off with our instructor and guide, Mr. Ibrahim in a covered speed boat. Luckily, it wasn't a very sunny day. In fact, it was so comfortable for Nirvaan that he fell asleep on his granny's lap. The first point of snorkeling was in the shallow part of the sea where our feet could touch the bed. It was a practice session. The water was crystal clear. Once we were confident there, Mr. Ibrahim took us to a deeper part of the sea, one by one. I was thrilled by the plethora of colourful fishes who swam around the corals. Next we went to even greater depths to see turtles. All the years of being glued to Animal Planet and Nat Geo and this was straight from one of the shows. In the silent motion of the sea creatures, I found profound peace which made me let go of the fear of not being able to breathe in water. This was truly a sublime experience. Next, we were taken to a spot where we could see many dolphins at an arms distance, dancing and singing in their natural habitat. We were mesmerized. Nirvaan was happy seeing the dolphins and he clapped and laughed with joy. We went to a sand bank after this. A sand bank is an area which emerges from the sea during low tide and submerges during high tide. Our lunch consisting of chicken rice, fruits and aerated drinks had been packed from the hotel. We had it on the sand bank. The waste was carefully packed by our crew and brought back to our boat. Despite this, we found a lot of litter especially plastic waste at the sandbank. This aspect of tourism here and around the globe is a major concern. The Maldivian government should implement stricter measures to curb pollution and save the endangered marine life.
While coming back, it started raining heavily but under the able hands of Mr Ibrahim and his crew, we were back to Maafushi safely. If you ever visit Maafushi and plan to go snorkeling, please contact Mr. Ibrahim at Velana Blu because he is a wonderful guide and will make you feel secure and confident to enjoy the sea. The private tour cost us US$250 and it was worth the amount. It includes photos and videos using a GoPro camera as well.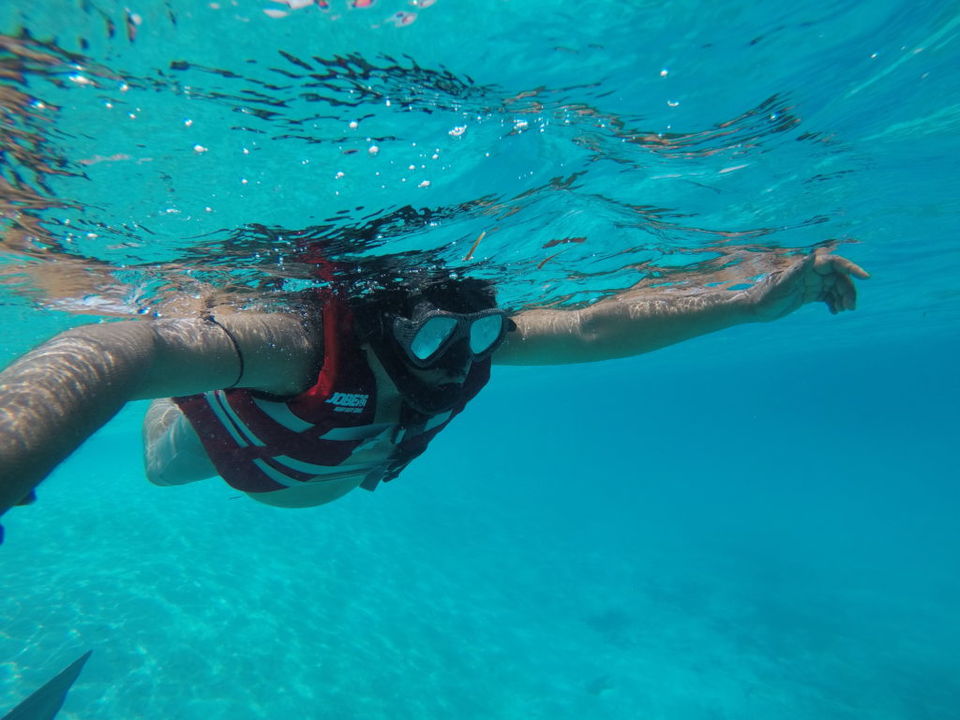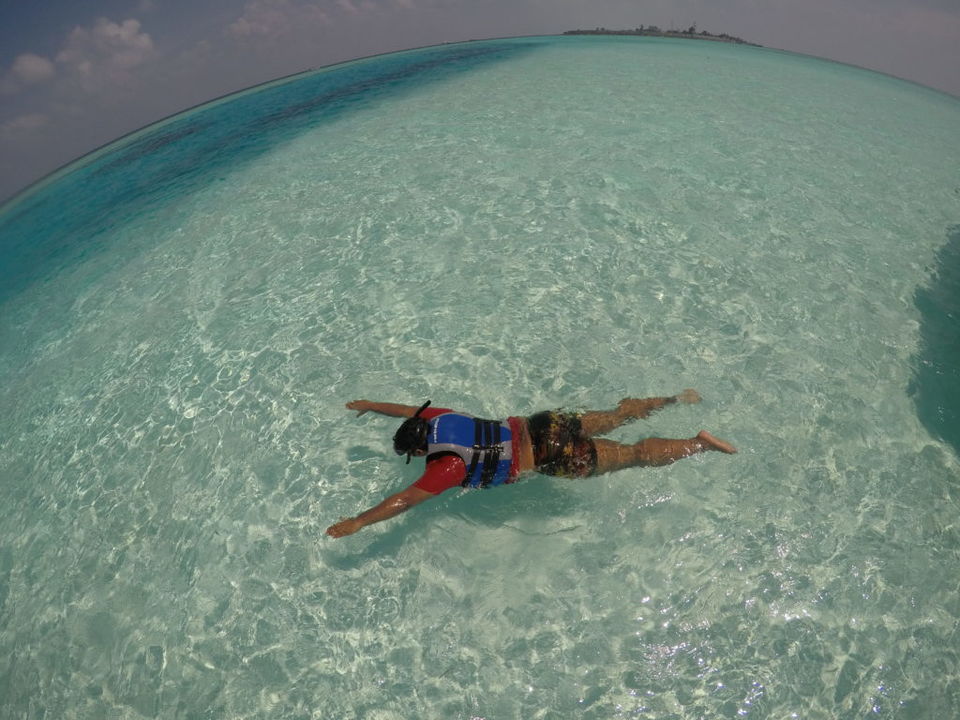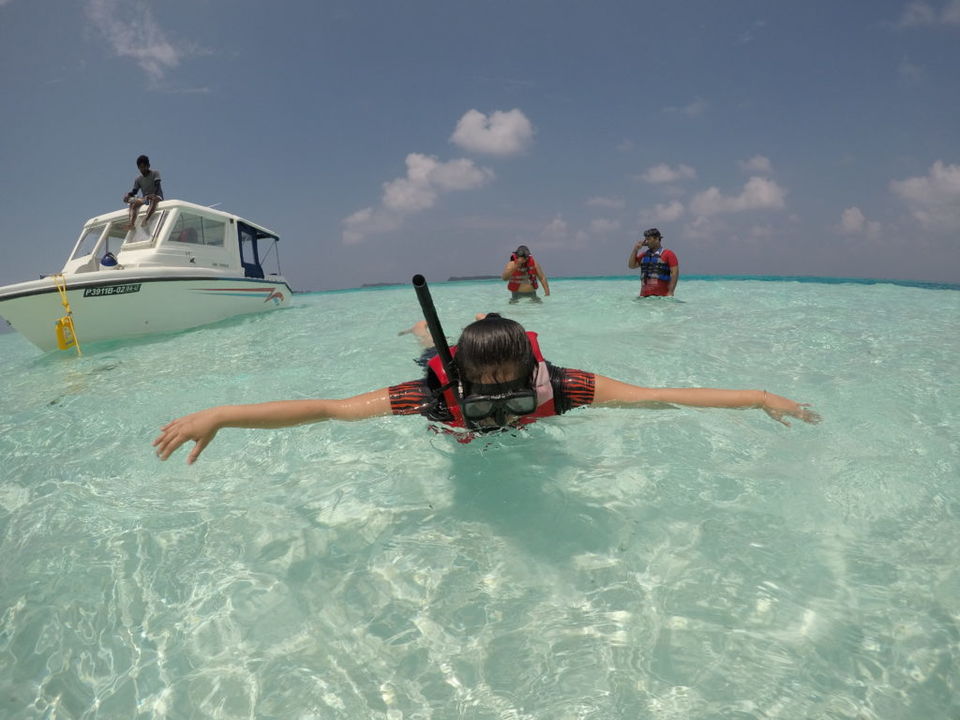 After freshening up, we three went around to explore the small island of Maafushi and its beaches. Nirvaan ran into a little Russian girl and they merrily played for a while before bidding good bye. We interacted with an Italian couple. It seemed as if the world is a small place. In the evening, we went to a floating bar called Ushwa. There are speedboats waiting at the ferry to take you to one of the three floating bars for free. It was a divers' boat converted to a bar in the middle of the sea. It was a unique experience. After a few beers, we came back to the island, enjoyed a four course elaborate dinner buffet by the beach and retired to our hotel room with a happy heart and a tired body.
Malahini Kuda Bandos - a resort island
The next day we were ready to be transferred to the airport for our resort island, Malahini Kuda Bandos. The ferry left for airport right on time at 9.30am from where another ferry from the resort picked us up. Resort islands are ones where an exclusive resort is in one island, and there are no restrictions when it comes to alcohol or beach wear. Most of these resorts are famous for their water bungalows. If you could afford one, it is definitely an unforgettable experience to stay in the middle of the ocean. There are currently 137 resort islands in Maldives. They are extremely costly, and it is always better to opt for the all inclusive package there. The lunch, dinner and beverages ( both alcoholic and non alcoholic ) were elaborate and delicious. The vibe was calm and cool. Malahini Kuda Bandos is the ideal place for a typical lazy beach holiday. Nirvaan initially did not like walking in the sand, but soon he adjusted to it. Nirvaan's morning was spent running after the pigeons. Maldives has a huge number of people from Bangladesh, southern part of India and Sri Lanka. We met Mr. Jalil from Bangladesh, who waited on us. A special mention must be made of Mr. Anubarasan from Chennai who made delicious tandoori chicken for us. All inclusive package also includes snorkeling gears and other non motorable water activities like kayaking, surfing etc. We had another snorkeling stint near the beach. The water was so clear that even without the gears, a variety of fish were visible.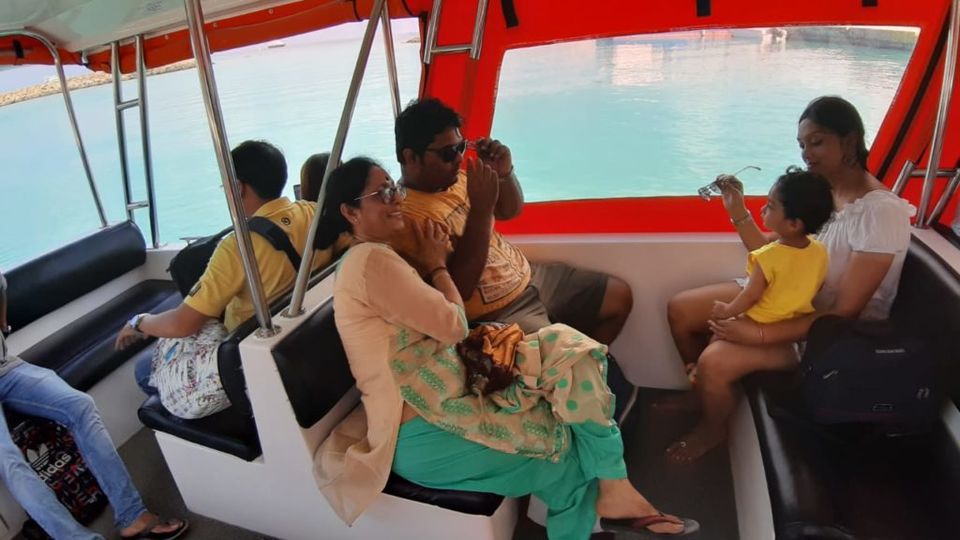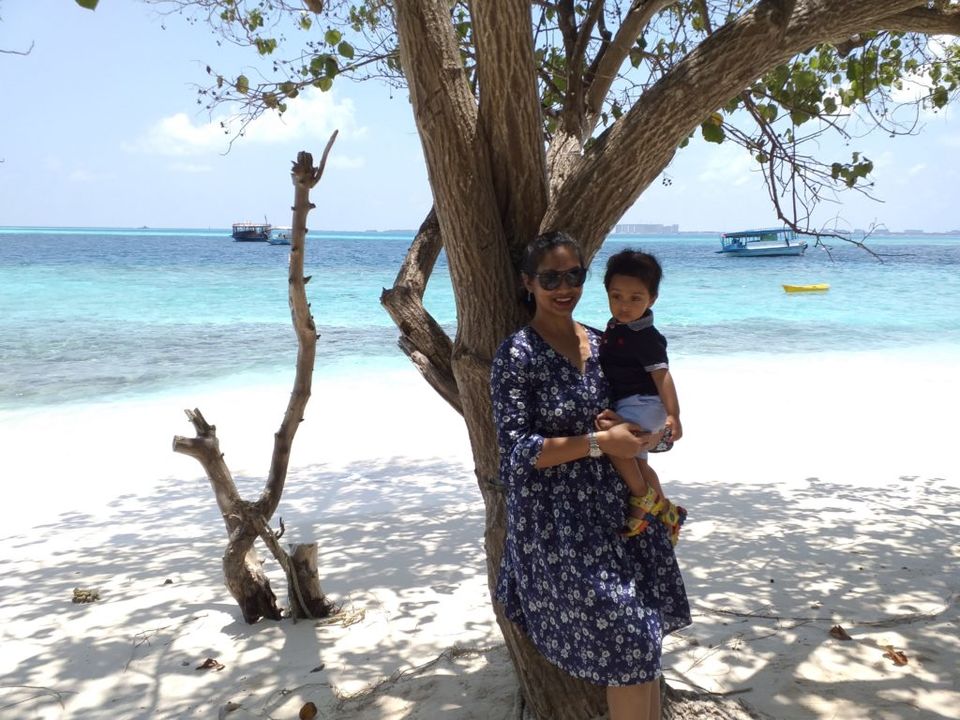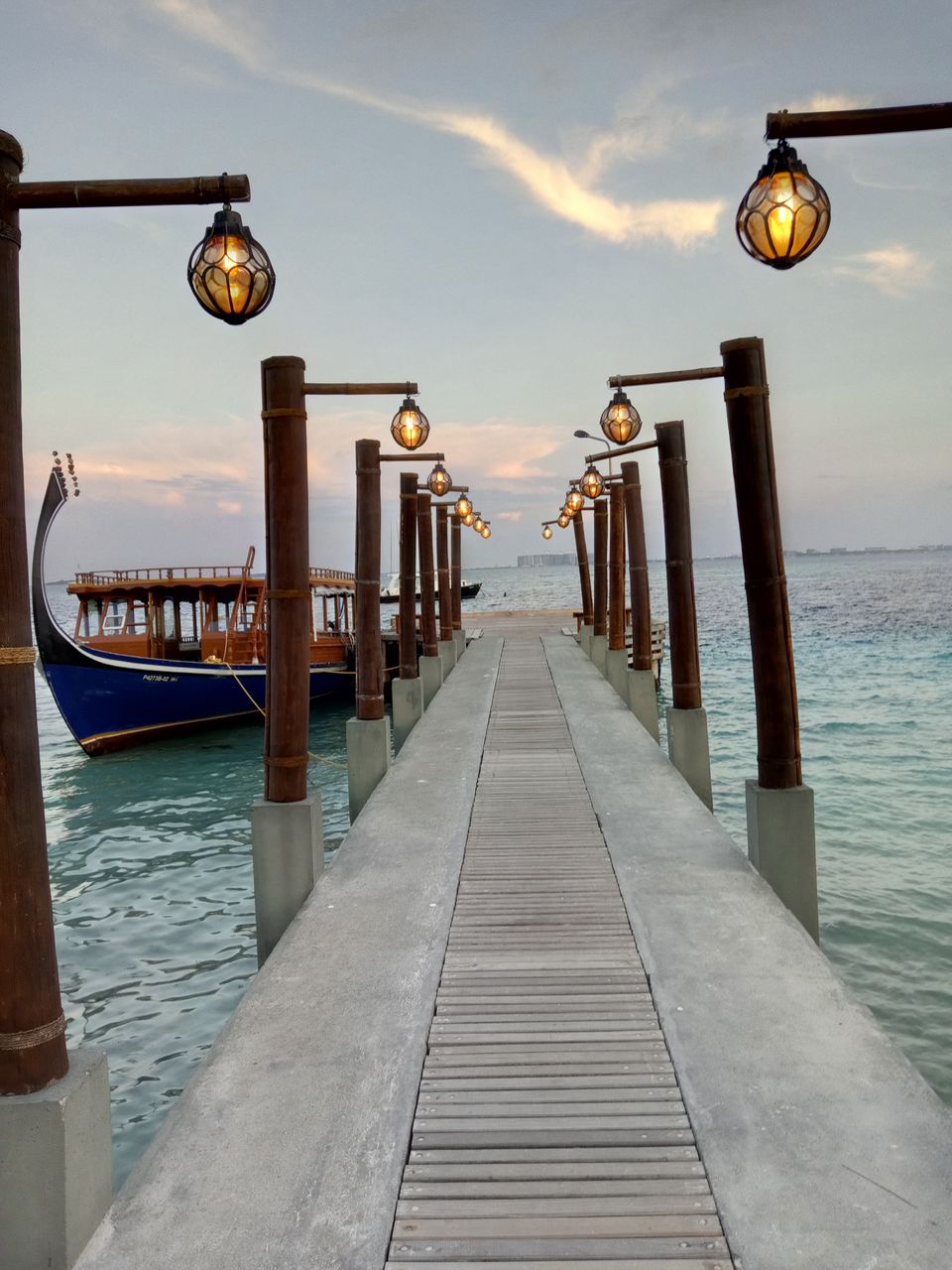 After a couple of relaxing nights at Malahini, on 20 th morning we headed to the airport by our resort ferry from where Mr. Ali from hotel Octave picked us for the capital city,Male. We took the China-Maldives Friendship Bridge which is built over the sea. Male is a small island with a population of about 1.5 lakh. However,we should learn from the way it is kept clean even though the roads are narrow and congested. We quickly dropped our luggage in the hotel and left for jetty number 1 to board the transfer vessel for the submarine. Once we reached the deck of the submarine and purchased our tickets ( 85US$ for adults and 45US$ for babies and children ), we were informed that the dive would be delayed due to strong underwater current, owing to the imminent full moon. After almost waiting for an hour, we dived 120ft under water and saw a variety of fishes and beautiful corals. The 45 minutes dive was extended to an hour perhaps as a compensation of the delay. It was once in a lifetime experience especially for those who are scared of snorkeling and scuba diving.
Once back to the shore, we visited the Friday Mosque. In front of the mosque was a huge playground with thousands of pigeons. Nirvaan went crazy running after the birds and trying to feed them just like all the other children and toddlers present .We had an early dinner at Lemongrass Fifth and the food was delectable. Next morning was time we bid adieu to Maldives with fond memories and beautiful photographs.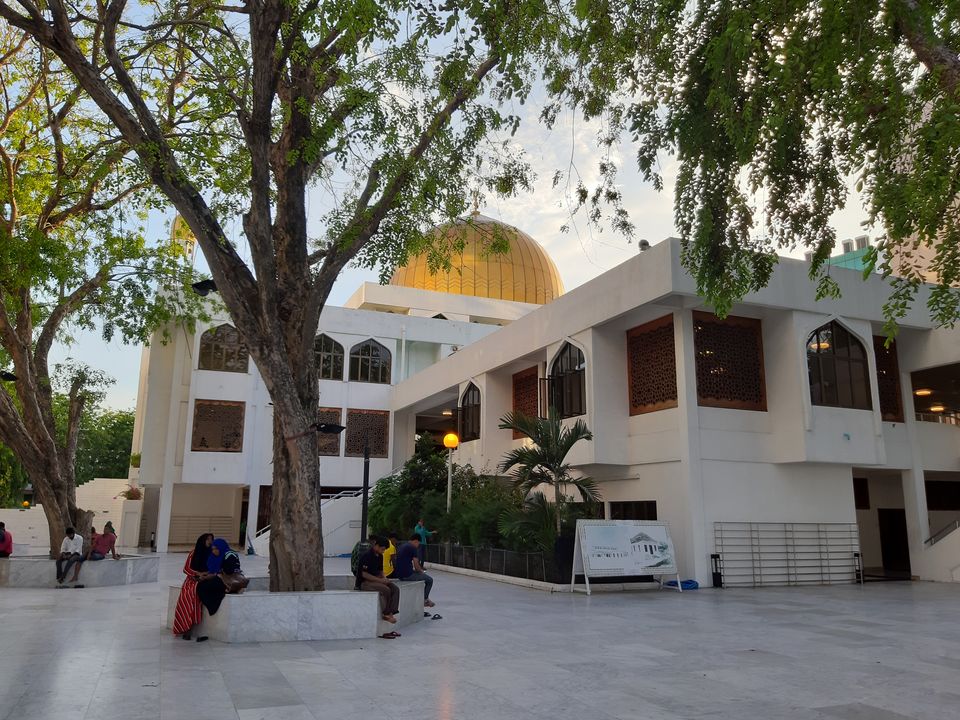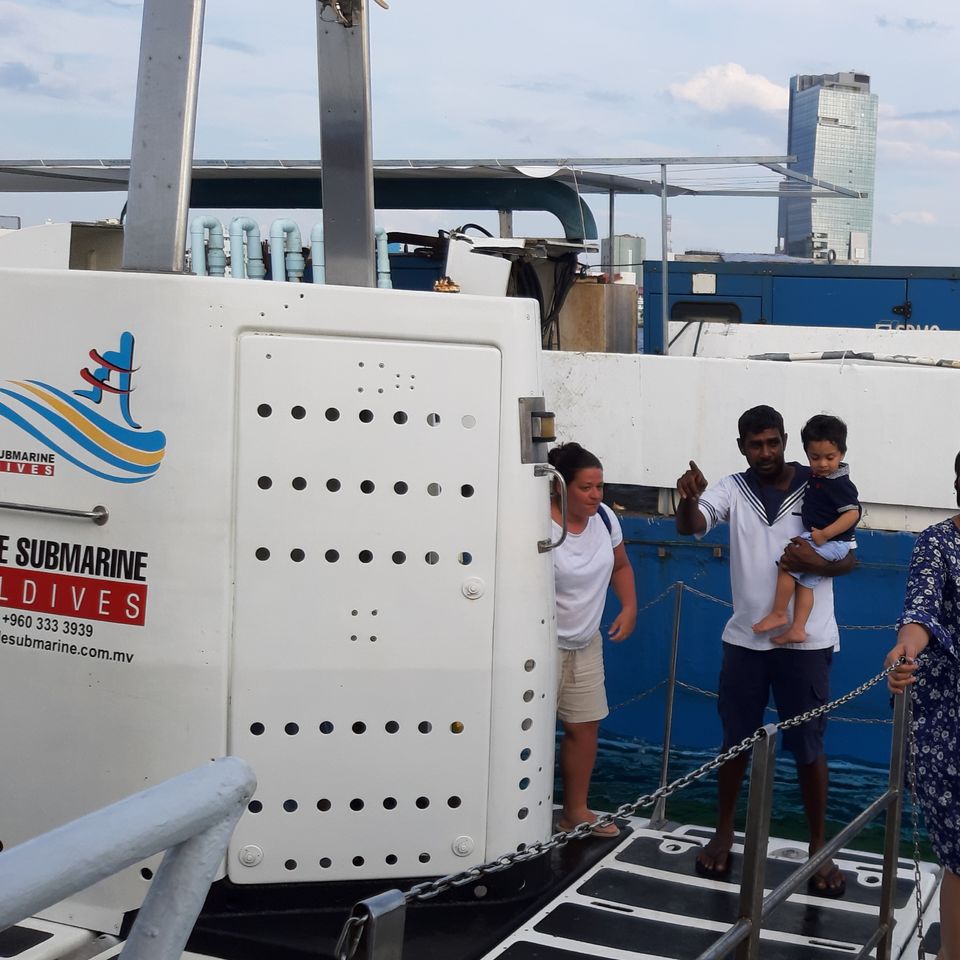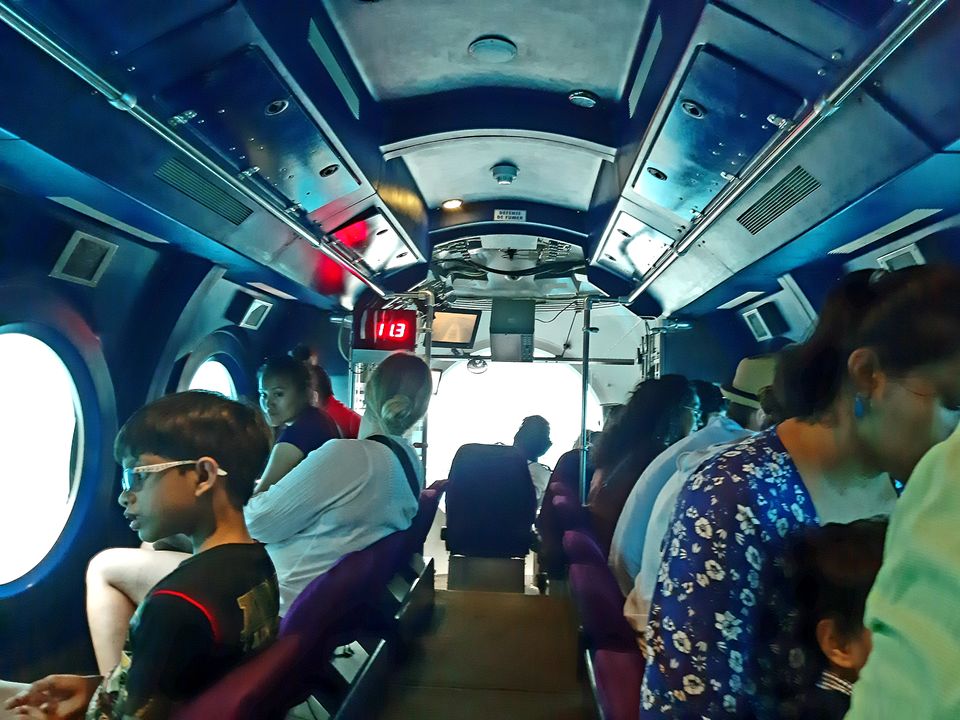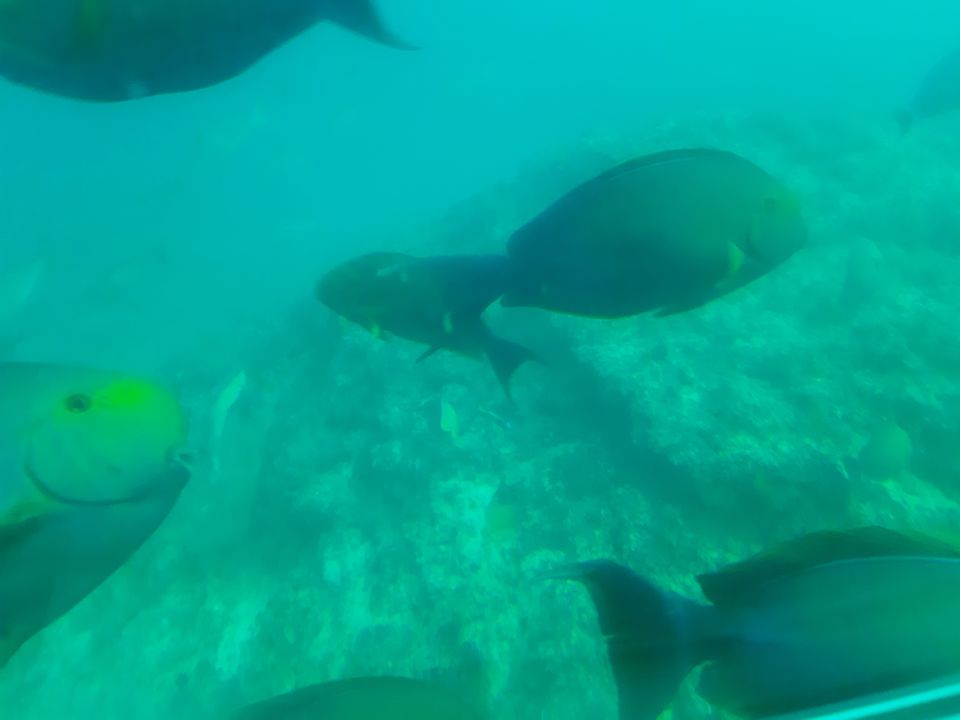 Some important points to note:
1.Maldives does not require visa for Indians.
2. Preferred currency is US$. Most places accept cards though local restaurants and activities mostly take cash.
3. Divide your stay between local island and a resort island. Do all the marine activities from a local island ( in our case Maafushi ) as they are much cheaper ( almost 1/4th ) than those available at resort islands. Stay for a couple of days in a resort island just to indulge in all the luxury. Alternatively, there are full day trips to these resort islands from the local islands which are much cheaper inclusive of lunch and alcohol. If staying in a resort island, choose an all inclusive package otherwise you will be ripped. Even a half litre bottle of water costs 4 US$ ( i.e. INR 560 per litre of water ! ). While booking online, do not get excited with the relatively cheaper prices of resort islands, as there are a lot of hidden charges as well ( like transfer costs, green taxes etc ). Do a thorough research before you book. Our all inclusive package for 2 nights for 4 adults in deluxe sea view rooms at Malahini Kuda Bandos was worth 1500 US$. Our total trip cost us INR 75000 per adult (all inclusive) for 5N/6D after a lot of research online beforehand ( It was a DIY trip ). It was a steal deal to visit Maldives which is otherwise really expensive.
4. Submarine tickets has to be booked beforehand even if it is just through a Whatsapp or a message confirmation. Various travel agents and resorts charge varying amounts. We booked the cheapest tickets ( 85US$ for adults and 45US$ for babies and children ) through Budget Maldives over Whatsapp. Hard copies of tickets are given only after payment at the submarine jetty. If your baby is below 3 years of age, he/she will not be covered by insurance from the submarine company and the guardian has to sign a form for the same.
5. Beach holidays are ideal for toddlers. However, food may become a major concern at this stage. Fortunately, our little one is not a fussy eater and eats everything like we do. He mostly indulged in milkshakes, fruits, yoghurt, cereal bars, soups, boiled egg and veggies, salami and sausages and formula milk. While flying, if your baby is not asleep, it is a good idea to bring a book or a toy to keep him/her engaged. Let your baby run around, explore nature and socialize. It keeps them busy as well as learn new things. But make sure one of the parent must be accompanying him/her everywhere. At this stage, they may stray away at the blink of an eye. A sturdy and spacious travel diaper bag will come handy throughout the trip. Do not forget an umbrella and a good sunscreen lotion before heading to the beach.
Happy travelling folks!!!
Frequent searches leading to this page:-
cheap Maldives tour packages, luxury hotels in maldives island, beautiful places to visit in maldives, maldives trip in which country, things to do in maldives city