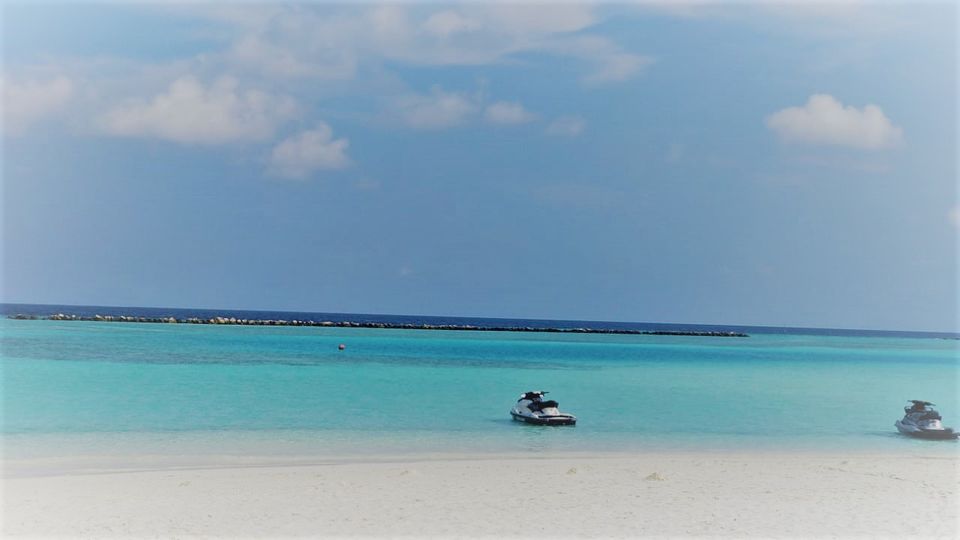 Like most honeymooners, my fiance and I fell in love with the idea of going to Maldives. For us the entire idea of a honeymoon was to rejuvenate and get over the chaos of the wedding. The picturesque pristine blue waters complemented by its white sands won us over and we couldn't think of going anywhere further.
We stayed at Paradise Island Resort which is in Lankanfinolhu island in Maldives. Situated just 15 mins away from the airport, the resort had arranged a speed boat at our arrival.
As we reached the resort, we were welcomed with a briefing of the place and the different activities we had the luxury to choose from. Tourists feeling adventurous could choose water sports ranging from scuba diving, snorkelling, parasailing, wind surfing and jet skiing.
Romantic getaways such as a Couples' Spa and Dinner by the beach could also be arranged by the resort. There were cruises where you could drift along with the dolphins and witness sunsets and sunrises.
For those travelling with children you could take your children for fishing. A dolphin safari would be an excellent idea as motoring around alongside dolphins would definitely be a big tick for your child.
The Bageecha restaurant is the most sought out place to eat at the resort. You could also try the Japanese and Italian restaurants out there.
Tuna makes up an important part of the Maldivian cuisine. Mas Huni is a traditional Maldivian dish eaten for breakfast. It consists of grated coconut, chilies, lime and onions. You must try it with the famous Maldivian Roshi.
Maldives is the perfect getaway for beach lovers seeking rejuvenation from their day to day hassles. A short trip at one of the many resorts should do the trick.
All in all the experience was relaxing and left me and my fiance fresh after the hectic wedding we endured.