I was staring at these sexy pictures on a random day in February and it was love at first sight. With Maldives! And once you go there, you would know that there is so much more to it than just the villas extending into the sea and those blue pristine clear waters - the people, the underwater life and the simplicity - that will leave you astounded. :) And you can experience it all in a budget of less than INR 40,000 per person with your partner, friends or your family. Yes, you heard it right. Here's how....
When should you visit?
The best time to visit Maldives is between November and April as the weather is perfect and sunny. And you can witness the perfect gradient of the sea with the sun at all times. The temperature round the year is between 23ºC-31ºC. But, May - October usually gets rainy and windy. I decided to go in March as the prices worked out and I preferred for it to be sunny as I wanted to complete my open water scuba diving certification.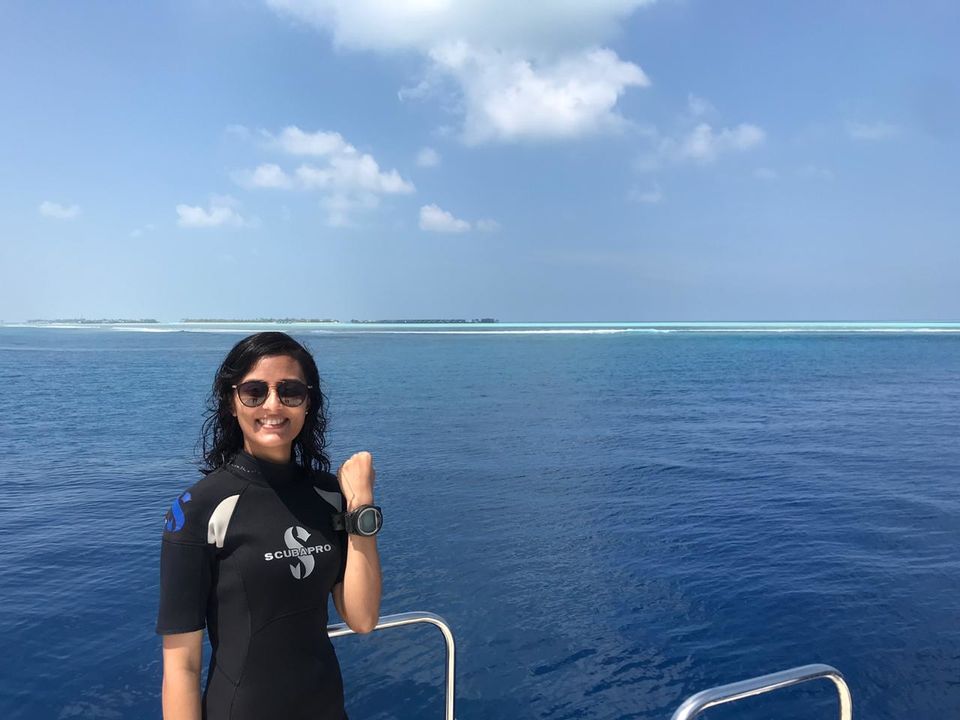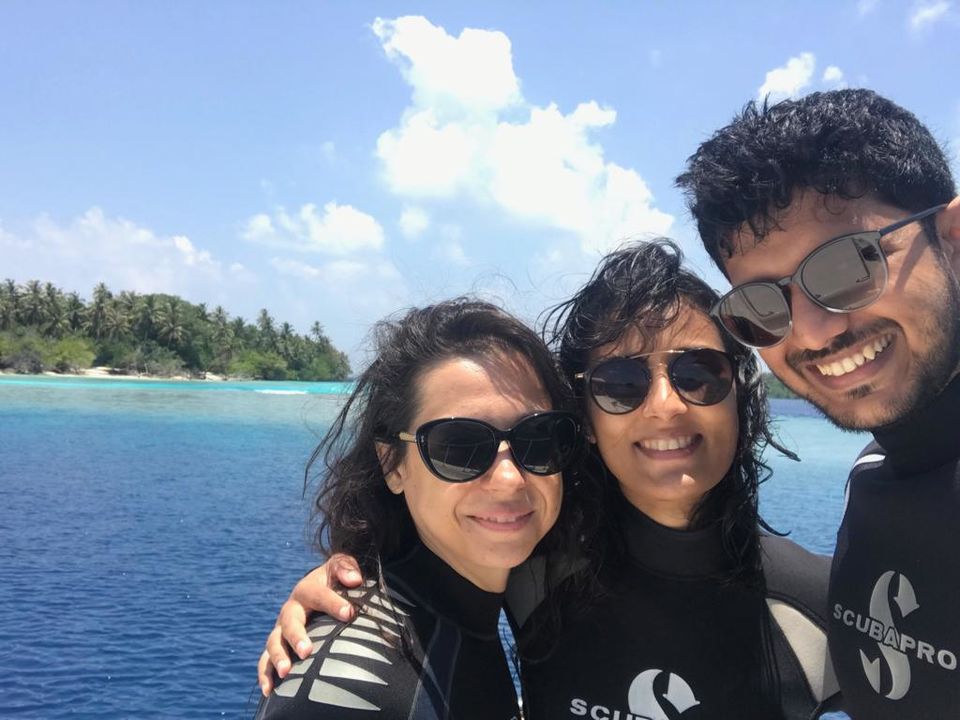 How to reach Male?
Take a flight to Male. The airport is actually Velana which is connected to Male on the left and Hulhumale on the right. From what I know, there are direct flights from Bangalore, Cochin, Delhi and Mumbai. Plan in advance and book your flights. I booked my return flights at steal away price of INR 10,200 from Bangalore one month in advance. Take your holidays around the days with best prices.
Tip: Reserve the window seat with online check-in. You cannot miss the aerial view of the islands.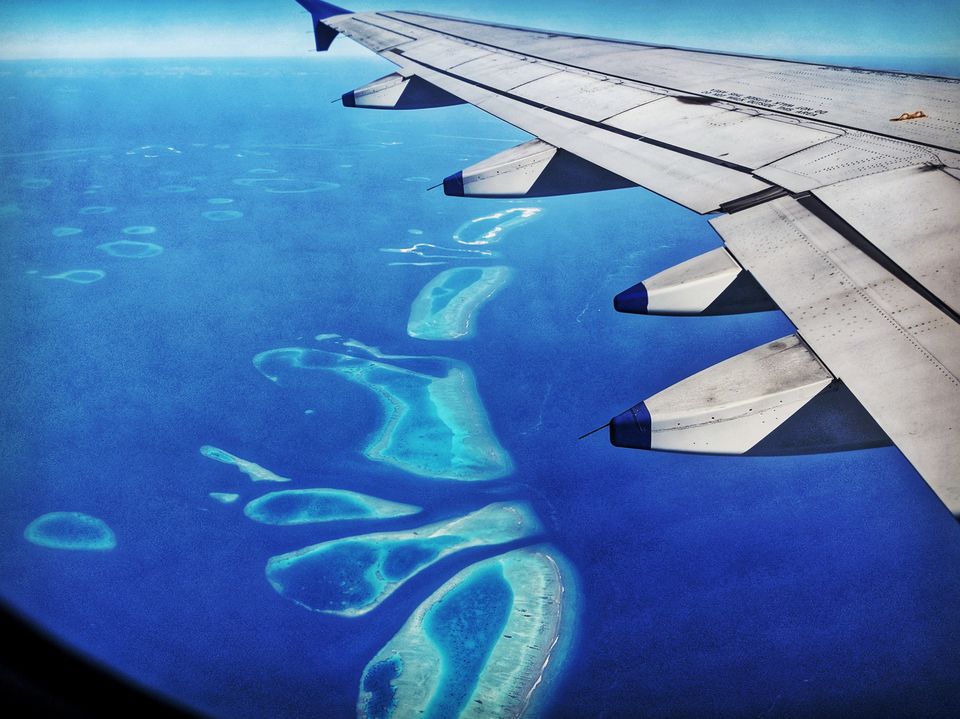 VISA
No pre-arrival visa is required. You just need your passport with 6 months validity, valid return flight ticket, 2 passport size photographs and bank statement with enough funds to cover the stay. And you will get a 30 day visa for free.
Which island/s to visit?
This is one of the most confusing questions that would haunt you. There are around 1200 islands grouped into 26 atolls (chain of islands). For the first time, you can choose any of the islands from North Male, South Male and Ari Atoll. These are easily accessible from Male without taking a sea plane. Most popular ones are Maafushi, Biyadhoo, Huvahendhoo, Fulidhoo, Rangali and Rasdhoo. I visited Maafushi. You can also choose to visit 2 of them.
Currency
Currency in Maldives is Rufiya. USD is also accepted at all places, even on the islands. Since Rufiya will not be available at Forex exchange in India, get USD from India. You can either pay in USD or get it converted to Rufiya at the airport. 1 USD = 15 Rufiya (actually 15.45) when you pay cash anywhere.
The prices are not always going to be in multiples of 15 in Rufiya. So, I would suggest you to get some USD converted to save yourself from the hassle of always calculating how much Rufiya to take back when you pay in USD.
SIM
You do not need to buy a new SIM if you are here for 5 days. All the hotels have WiFi and it's better to not have the internet on the beach and just enjoy the nature / experience.
Transportation in Maldives
Well, there's taxi, local ferry, speedboats and sea plane. As you would have guessed, sea planes are the most expensive ones and taxi cannot be used for traversing to any of the islands. You get the ferry / speedboat from right outside the airport. Usually resorts include transfers from the airport, but check on this. In case it is not included, ask your hotel for it. They will have the speedboat driver waiting for you. You might have to wait for 30 min - 1 hour as they wait for other tourists booked on the same speedboat.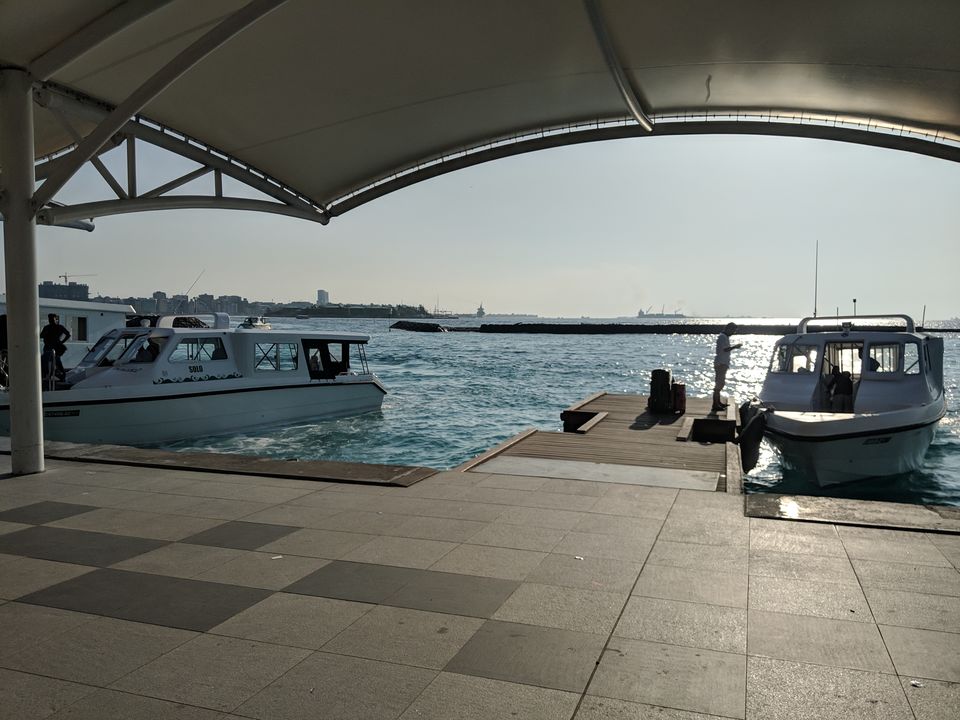 Taxi in Male / Hulhumale -> 25 RFY (INR 115 / 1.6 USD) per km. Locals did not really recommend Male, but if you want, you can go to Hulhumale.
Male to Maafushi
Local ferry -> 22 RFY (INR 102 / 1.4 USD). This is a 1.5-hour ride. Departure timings are fixed at 3pm (Saturday to Thursday) and 10am (Tuesday, Thursday and Sunday only). Since we were landing at 3.30 pm, this was not an option for us.
Speedboat -> USD20 - USD75 (INR 1400 - 5400), depending on the number of people. This is a 30-minute ride.
I took the speedboat from the airport to Maafushi and back -> paid USD20 (INR 1400) for each trip. On my 5th day, my flight was early in the morning. There is no early morning speedboat and it was expensive to book a speedboat specifically for my friend and I. So, we took a speedboat back to the airport on 4th evening and stayed over the last night at Hulhumale. Here, we took a taxi from our airport to the hotel in Hulhumale.
Note: The local ferries do not run on Fridays.
Tip: Try to catch the sunset from the ferry / speedboat in case you land late afternoon. Make sure you plan your accomodation on islands considering your flight and ferry / speedboat timings.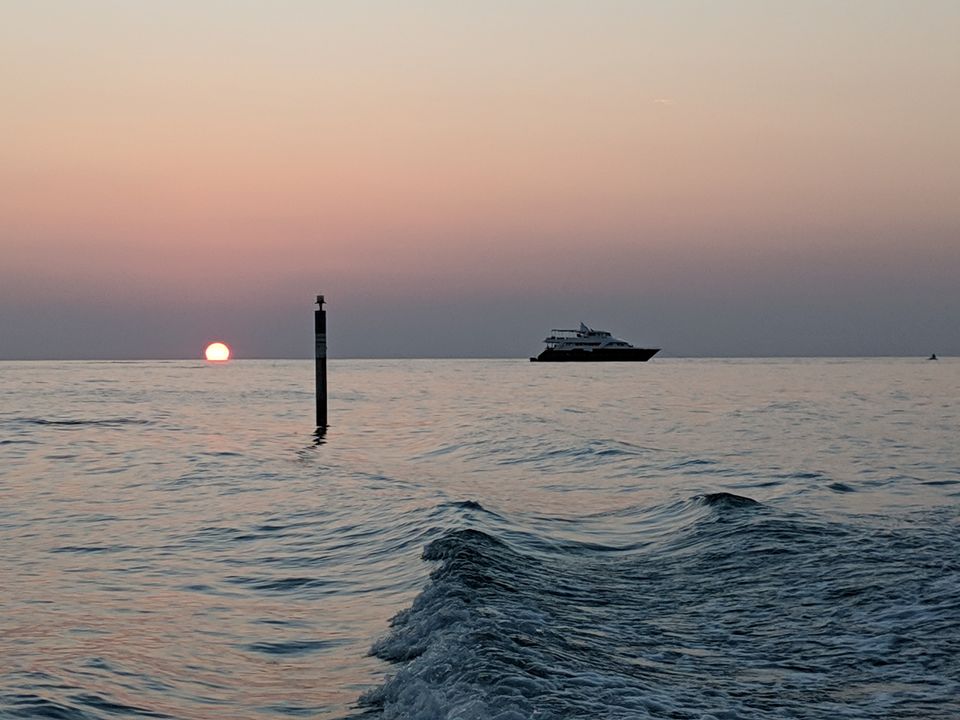 Accomodation
Choose this wisely. There are many island resorts and expensive hotels on the islands. But, that's not it. There are all ranges of hotels you can find. Here's some good ones from Maafushi:
INR 3000-4000: Ci-Ritorno
INR 5000-6000: Triton, Kaani Palm
INR 7000-9000: Arena Beach, Kaani Grand
(The rates may vary. Click on the link for the latest rates)
I would highly recommend you to take the hotel close to the Bikini Beach. Because of the religious constraints, you cannot wear a bikini on the island except at the Bikini beach. I stayed at Triton. The Bikini beach was 100 metres away. They have a pool table and they provide free beach towel, sun beds, snorkel equipment and cycles.
I got Triton for around INR 5000 per night -> 3 nights. I spent last night in Hulhumale at Hotel Araam which had the same rate. Since I was there with a friend, it cost us INR 9,500 per person. You can actually manage the costs in accomodation if you have a lower budget.
Itinerary
This was my itinerary. I just wanted to visit one island and get the local experience.
Day 1: Velana to Maafushi
Arrive at the Velana International Airport in Male. Take the speedboat transfer to Maafushi. Check-in at the hotel.
Freshen up and explore the island on foot. Have candle light dinner at one of the beach restaurants. I went to Maafushi Dive Center to understand the requirements for my Open Water Scuba Diving Certification. I completed 5 classroom sessions and completed my quiz. Have dinner and take rest.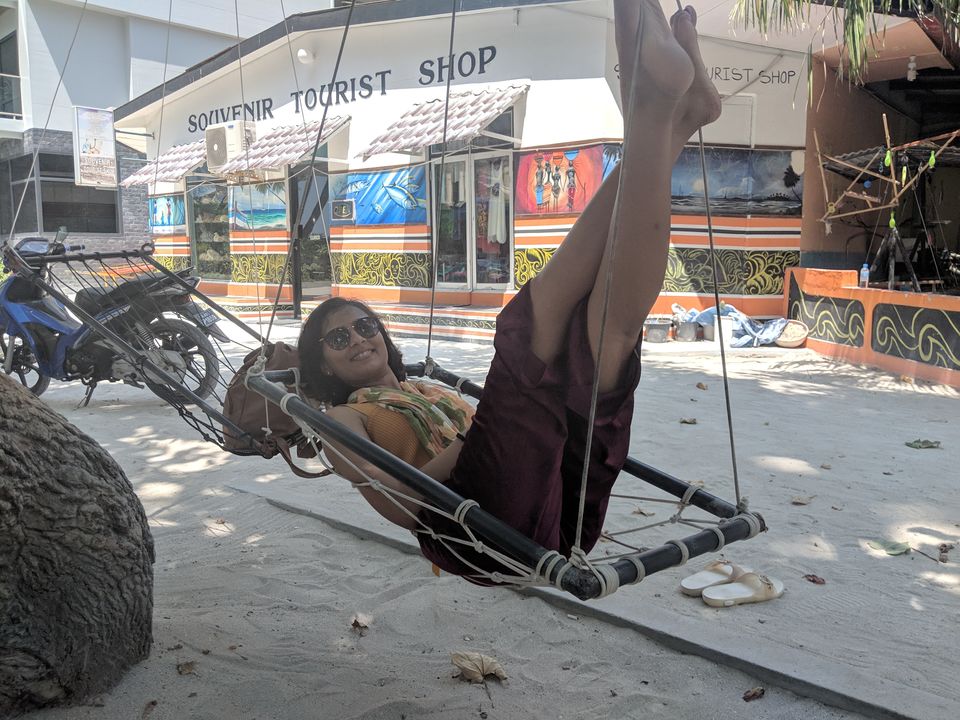 Day 2: Day outing at an island resort (+Crab Race)
You can go for a day out at some island resort without staying in one. It costs USD50 -100 per person inclusive of unlimited drinks, snacks, buffet lunch, access to the private beach and use of sunbeds. I went for shallow water dives in the morning. I spent evening talking to my new diving friends, enjoying coconut water, local food. You can also go to one of the safari boats where you get alcohol. The hotel usually provide free transfers to that boat.
And then we ended the day with CRAB RACE Tournament! Yes, you heard it right. All the crabs are tagged to a participant and put at the center of circle. If your crab reaches the edge of circle first, you win. It happens every Friday at Active Watersport Maafushi.
Day 3: Water sports + exploring island on bike
Get up in the morning and go for scuba diving / snorkelling. You are going to go crazy with the underwater life here - different types of sharks, dolphins, manta rays, turtles, .... (The list is too big!). Post lunch, you can explore the island on bike. I completed 2 deep water dives on this day. After reaching back Maafushi, we collected snorkel equipment from the hotel and enjoyed the evening at the Bikini beach snorkelling.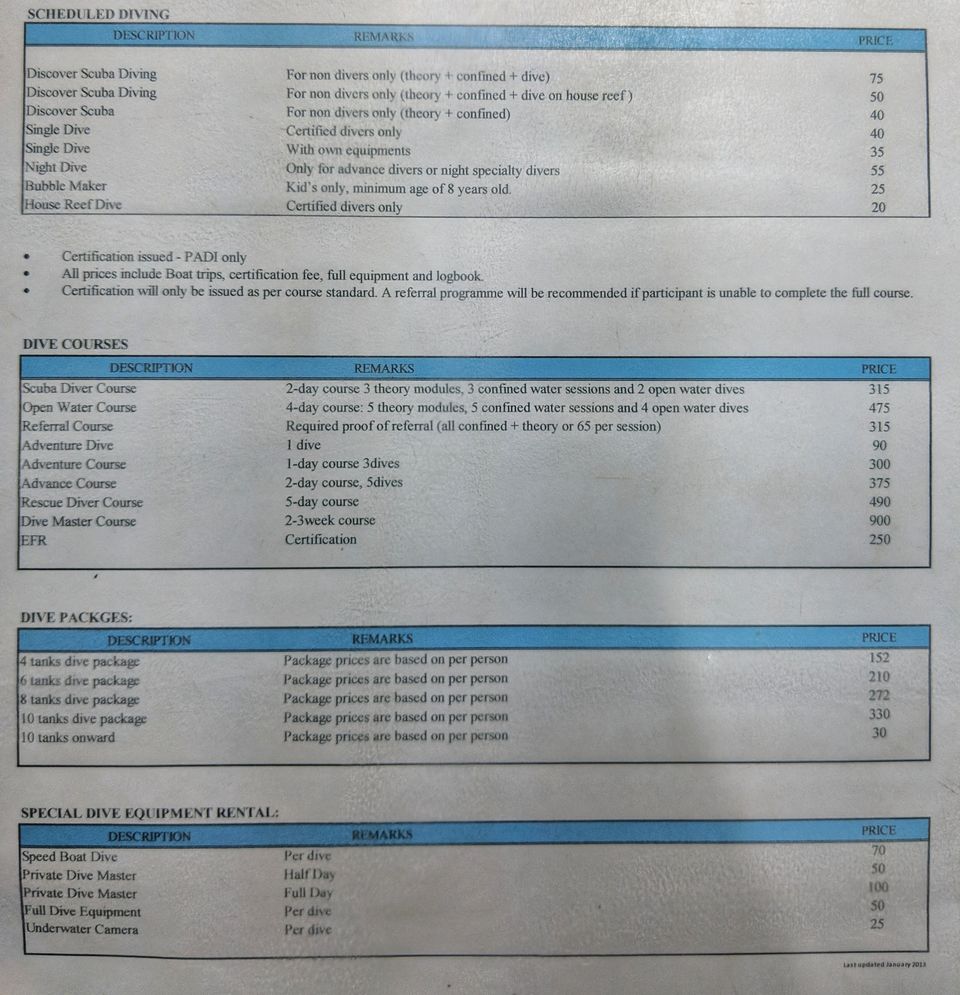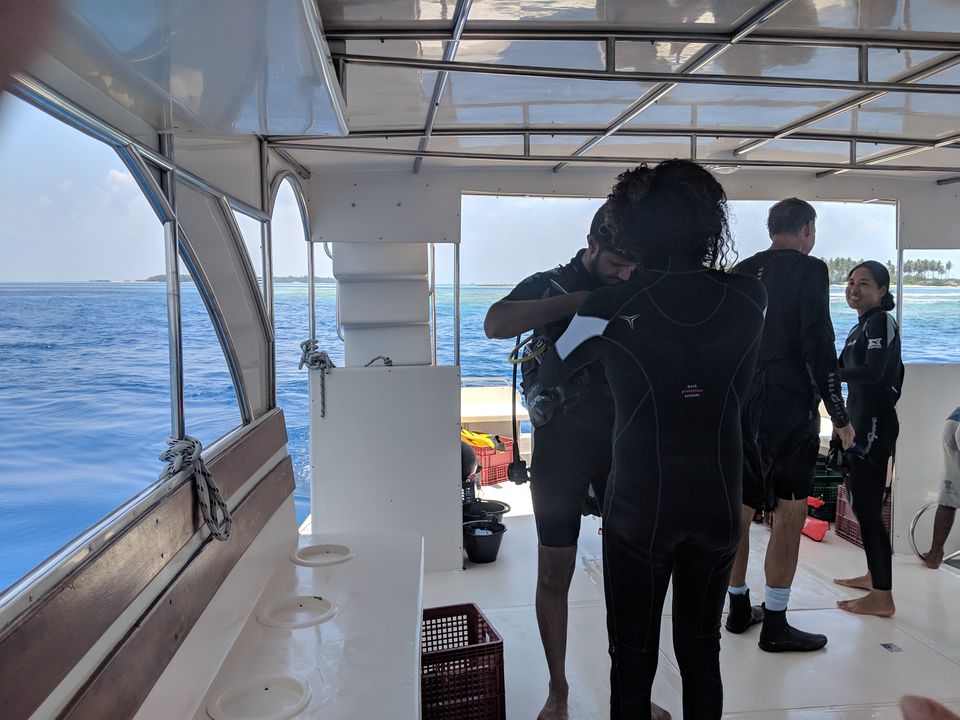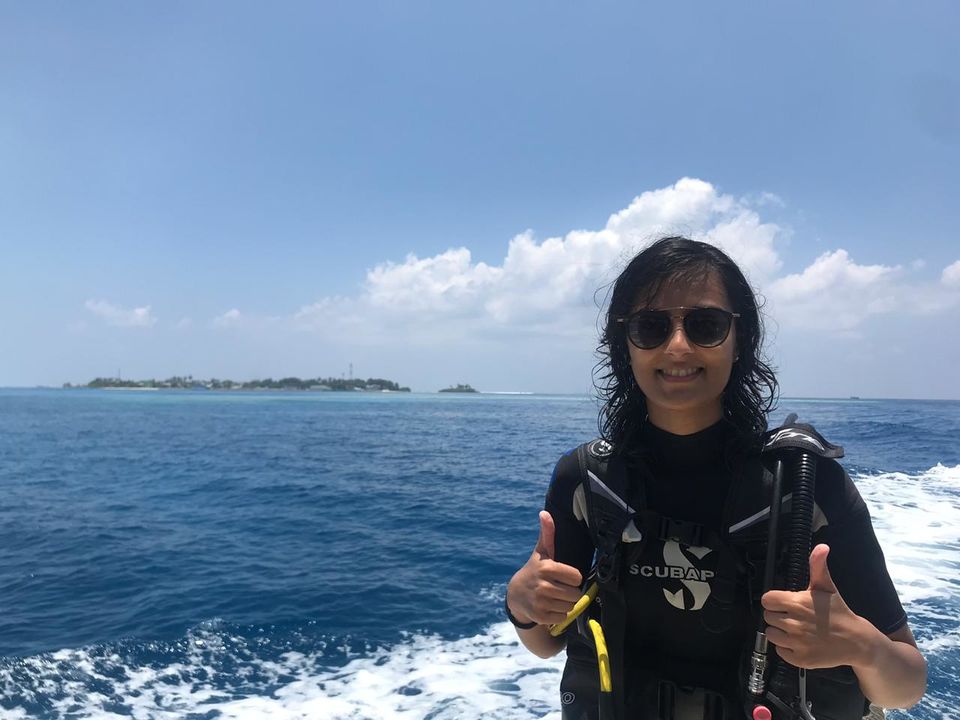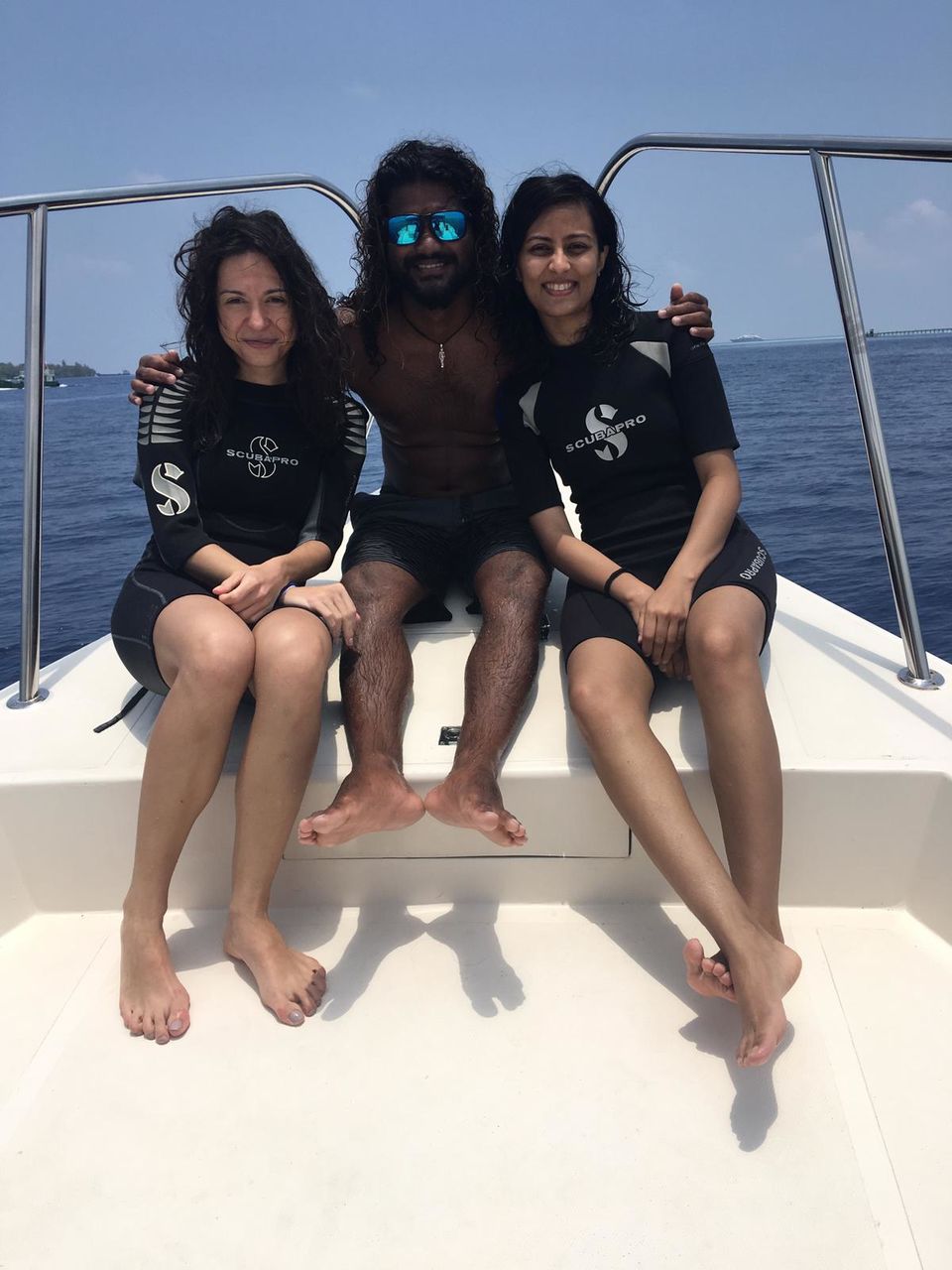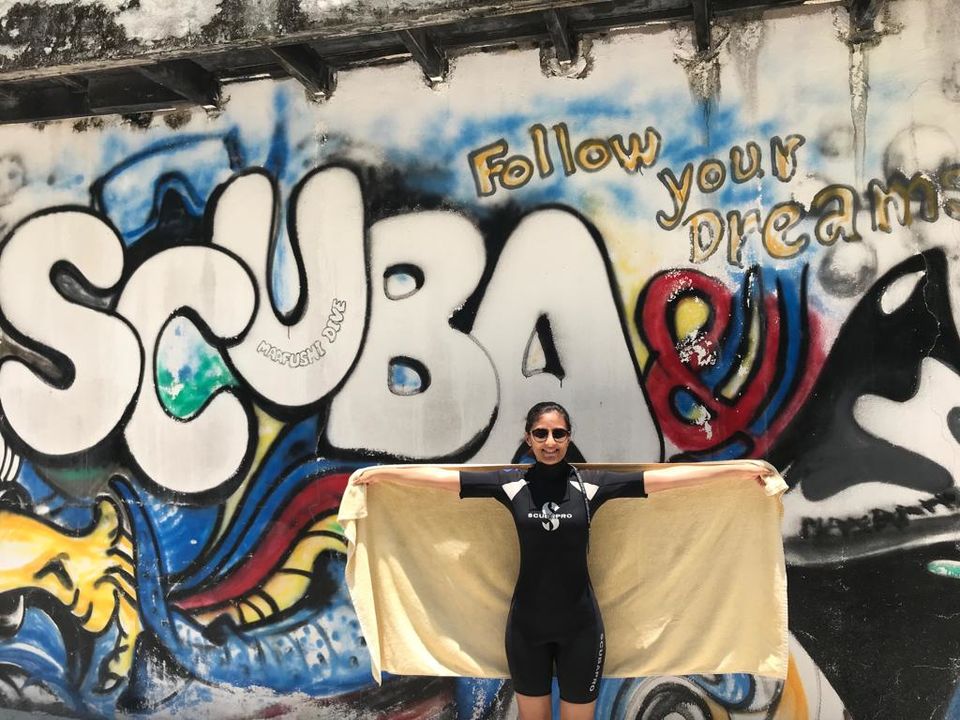 Tip: You must spend one sunset at the Bikini beach. The water gets so warm that you feel like you are in a hot tub (Natural one!). The warm waters also make Maldives one of the most comfortable diving spots.
Day 4: Leisure + Maafushi to Hulhumale
Choose from the other activities that you might be interested in - fishing, flyboarding, paddleboarding or anything else from the list below. I actually completed 2 more deep water dives on this day.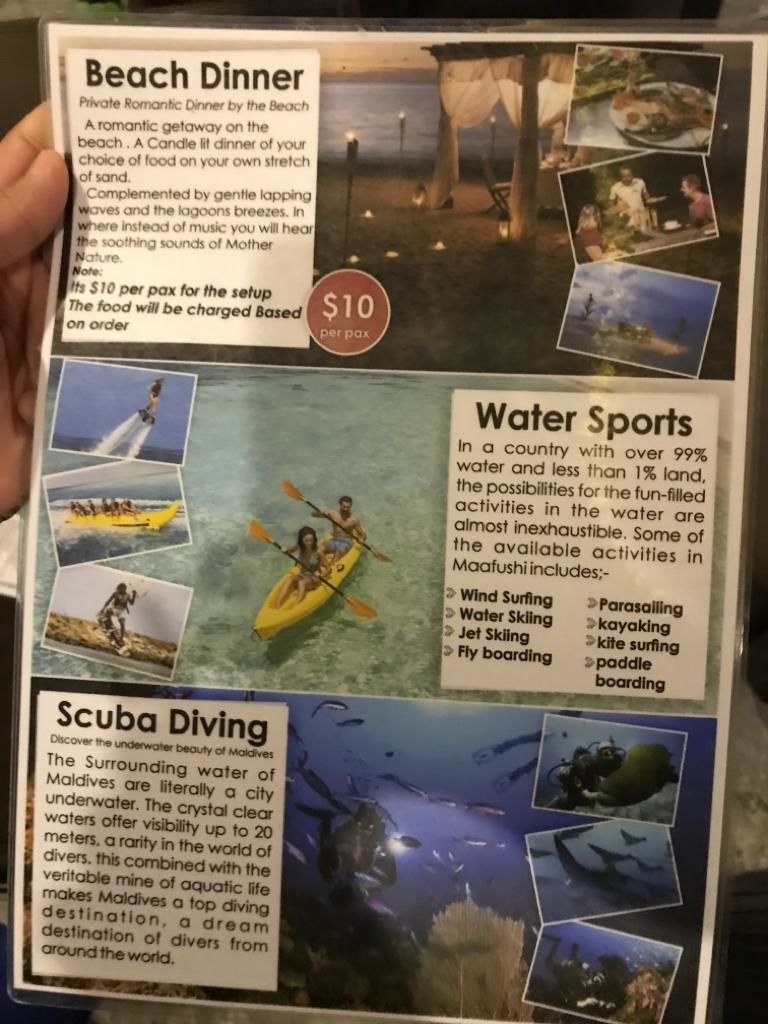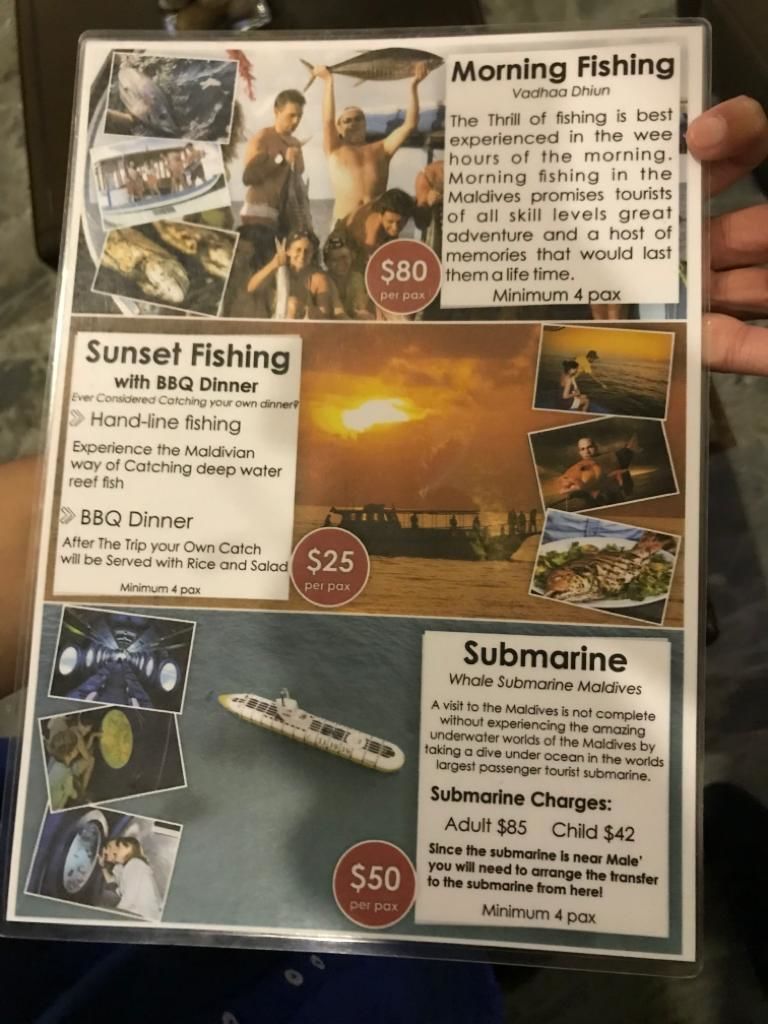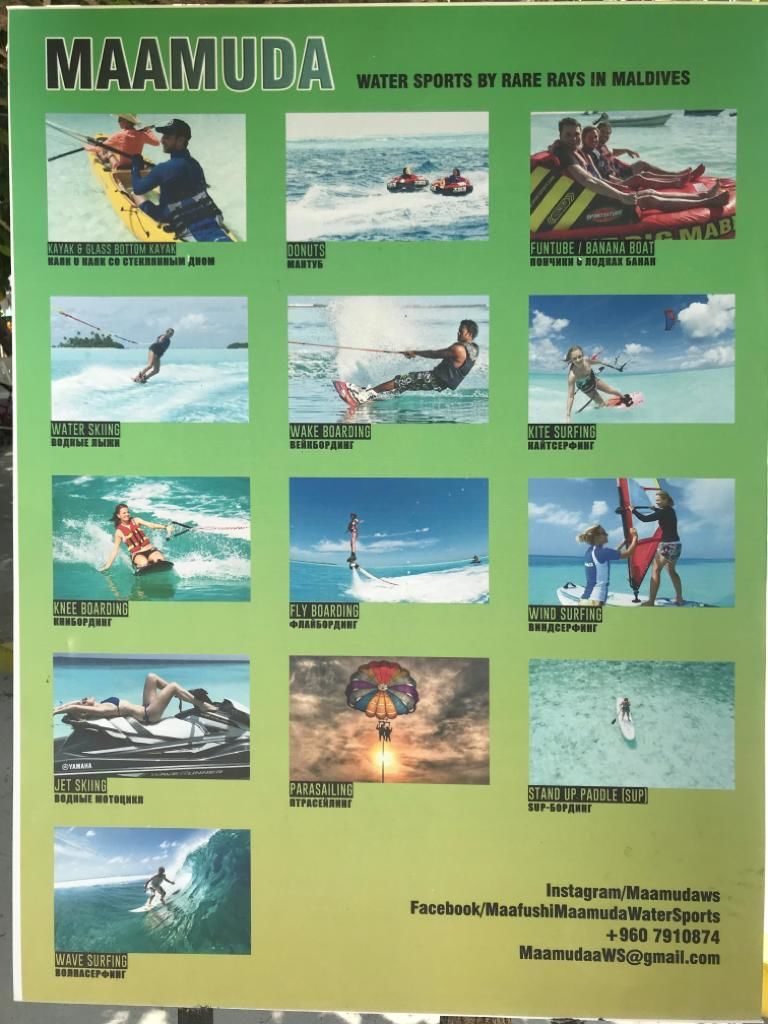 In the evening, head to Hulhumale. Check-in at the hotel and enjoy the night walking at the beach. You can also choose to stay at Maafushi in case you do not have an early morning flight.
Day 5: Fly back to reality
Take your flight and miss this island!
Food
Breakfast will be included in your stay and you might see some of the local dishes in the buffet. If you are a non-vegetarian, you will have a lot of options. Try the fish curry at Velana Blu (all their dishes are good actually), tuna rice at Suzy's cafe. If you have a vegetarian friend with you, do not worry. You can have pizza and pasta at Mamma Mia's.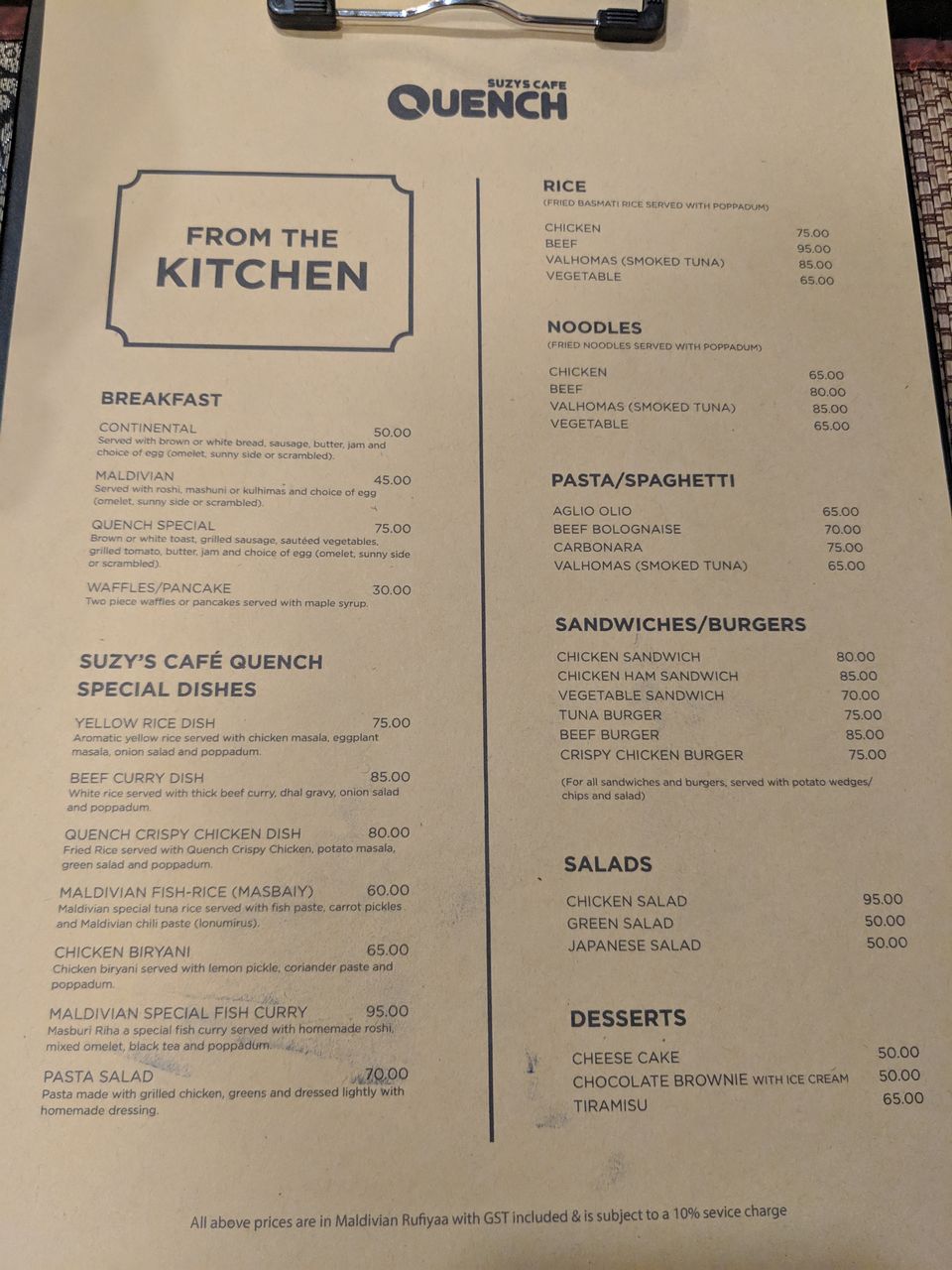 Tip: Keep yourself hydrated with water, coconut water or juices. I loved the watermelon juice at Hot Bite.
Total Cost
The costs may vary person to person. Like, for me it was INR 65,000 since my Open Water Scuba Diving Certification cost INR 35,000. The table below shows the cost breakdown as INR 30,000 + activities cost per person.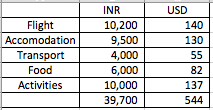 Things to Remember
1. The local islands (does not include the resort islands) are Islamic dominated and make sure you show respect for the same. Do not wear bikini on the beach except the Bikini beach. Try to cover your arms.
I would highly suggest women to carry thin scarves or buttoned T-shirt. You can wear sleeveless underneath. You can remove the scarf while taking pictures if you want.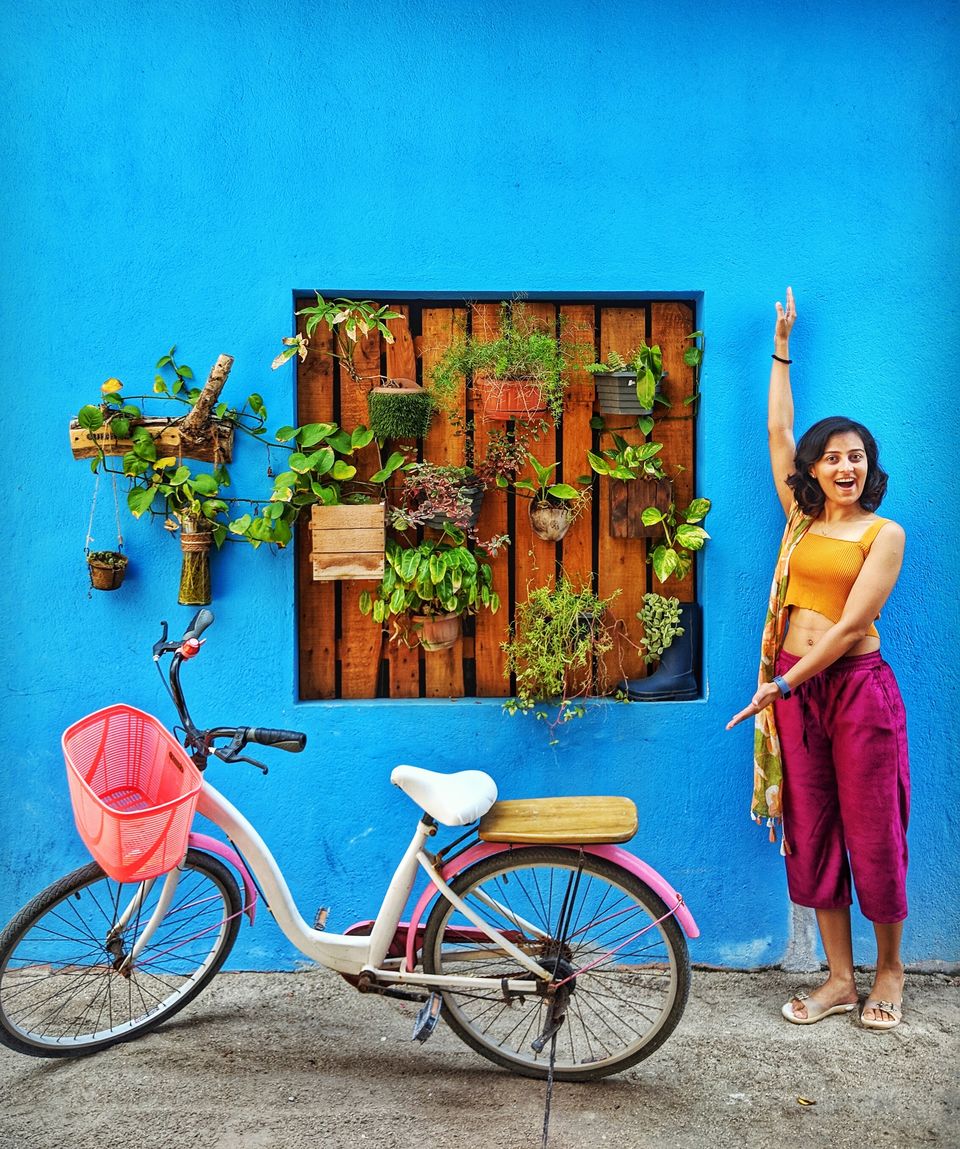 2. Make sure you keep your sunscreen, hat and slippers
3. Adjust to the Maldives time upon landing. It is 30 min behind India.
4. Though Maldives is seen as a honeymoon destination, I feel it is a perfect place to enjoy with your friends as well. You can engage in all sorts of adventure here.
I have tried to answer whatever questions I received from my friends. Let me know if you would like to know anything else. Hope you visit Maldives soon!
FOLLOW ME:
Instagram @explorersaga