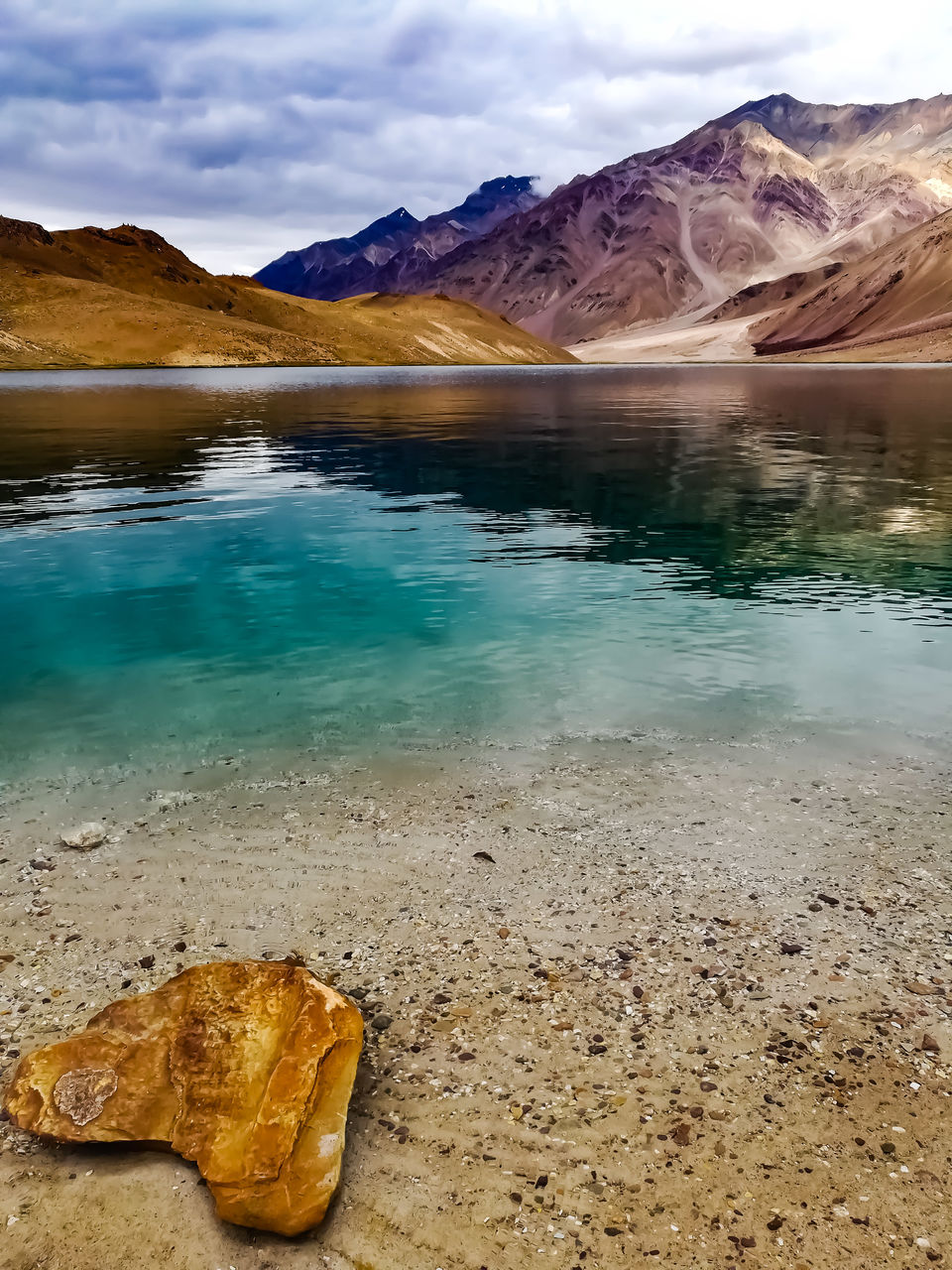 So after a failed attempt at Pin Parvati pass, we(Nimish, Moumita, Shoaib and me) along with our Guide Prem, decided to goto atleast Chandrataal, as we have read too much and seen too many pics of it, and it was time to see it with our own eyes. All this while, we had our dog Barshee with us, whom we found at Barshaini, crying and running haphazard around every bus that arrives. But that's another story altogether. So we moved at 05:30 am for the Bus from Manali to Batal. Had some snacks, at the Bus station, as Prem has advised that we will get Breakfast at Chatru, where we are expected to reach by 11:00 am. We took our seats in the bus, and embarked onto a 9 hour Journey to Batal.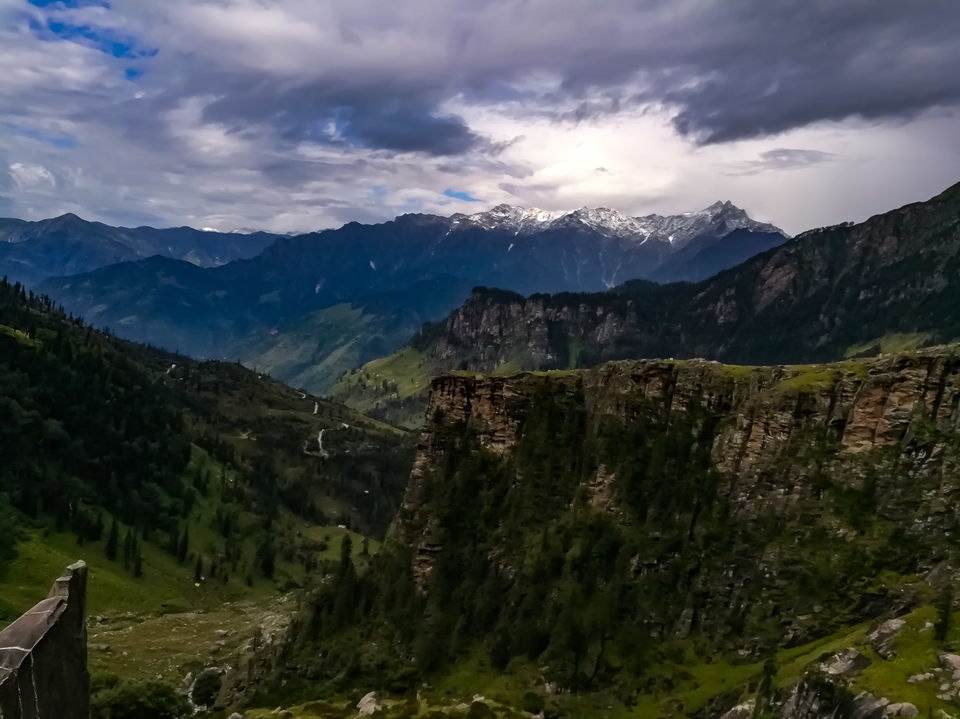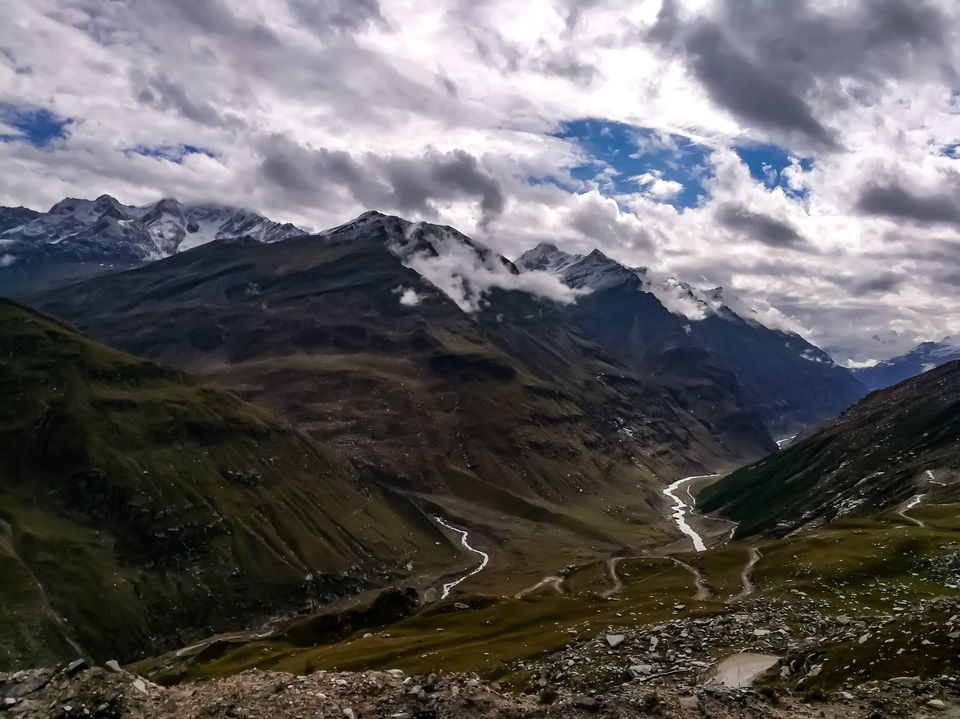 Batal came, after a tumultuous journey through the Valley looking at mighty mountains of Spiti Valley, on both sides and Chenab River flowing in between, over the huge stones brought down by Landslides.
Once at Batal, we ordered food as soon as we reached at one of the available two dhabas(Kangri Dhaba), as we were quite famished by the 9 hour Bus ride. While ministering our bellies with hot Rajma Chawal, we got the info that it might take upto 5 hours on foot, to reach Chandra Taal Base camp, as it is around 14 kms. Once done, we smoked some, along with tea and moved to pitch our tents for the night. Once done with pitching our tents, we(Nimish, Moumita and me), got out of our camp, to explore around Batal.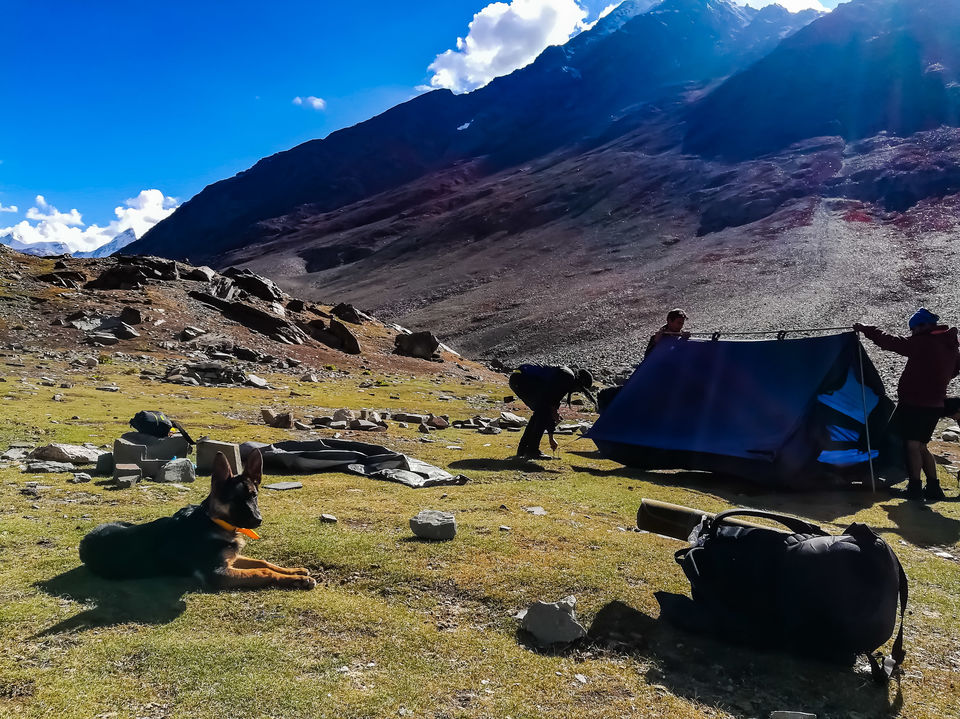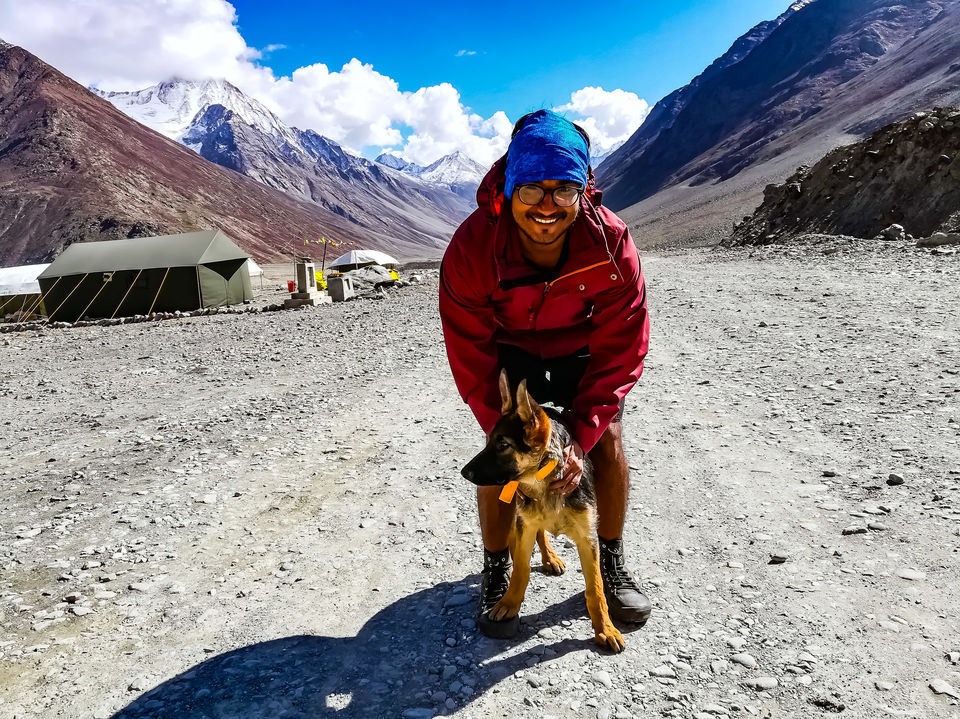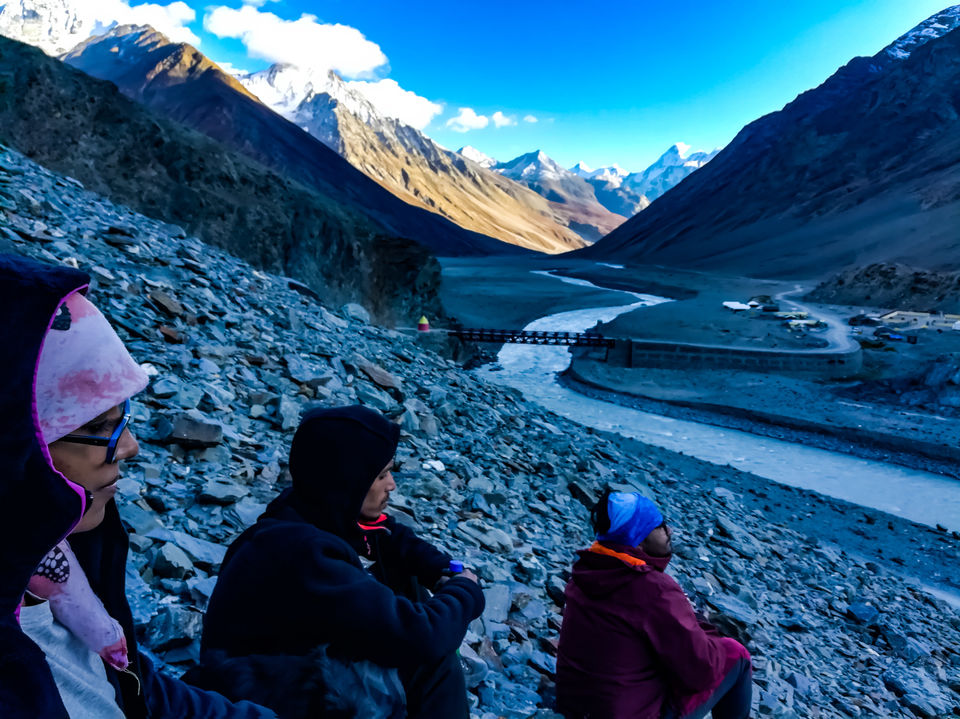 By the time we reached at the campsite, it was 02:30 in the afternoon, and our tents were already setup by Prem and associates. :D. As we still did not had any sight of the Moon lake, we were getting impatient by each passing minute to reach there first, hence we quickly had Maggi, fed Barshee, and moved towards Chandra Taal, which we were now informed that, is still around 2.5 kms away.
On the way to the beautiful water body, we came across the magnificient view of Samudri Tapu Glacier, which is the Origin of Chandra River, a major tributaries of Chenab to make it more fierce-some.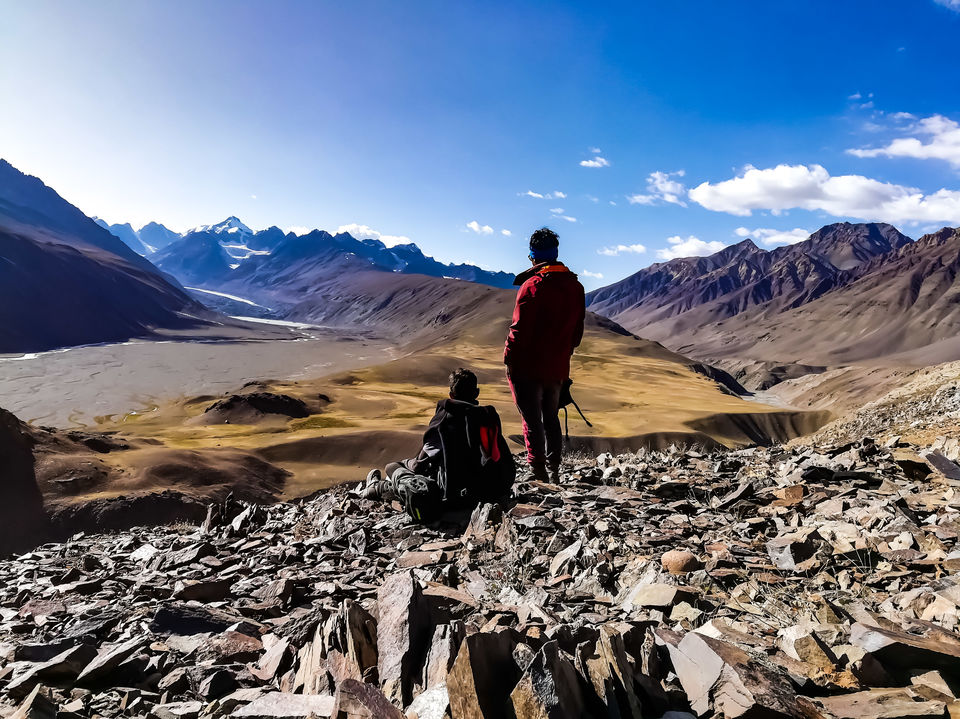 The first leg of the journey up-till Rohtang was quite relaxed, however, soon as we crossed Rohtang La, the road became uneven, filled with boulders from landslides or the ones came down with the stream water. I was eager to reach Chatru, as was all of my friends, as we were quite hungry, however, unfortunately, the bus did not stop at Chatru, leaving us.... Although the Bus broke down mid way, and also another vehicle on the way got stuck in stream, we still managed to reach Batal by 02:30 PM.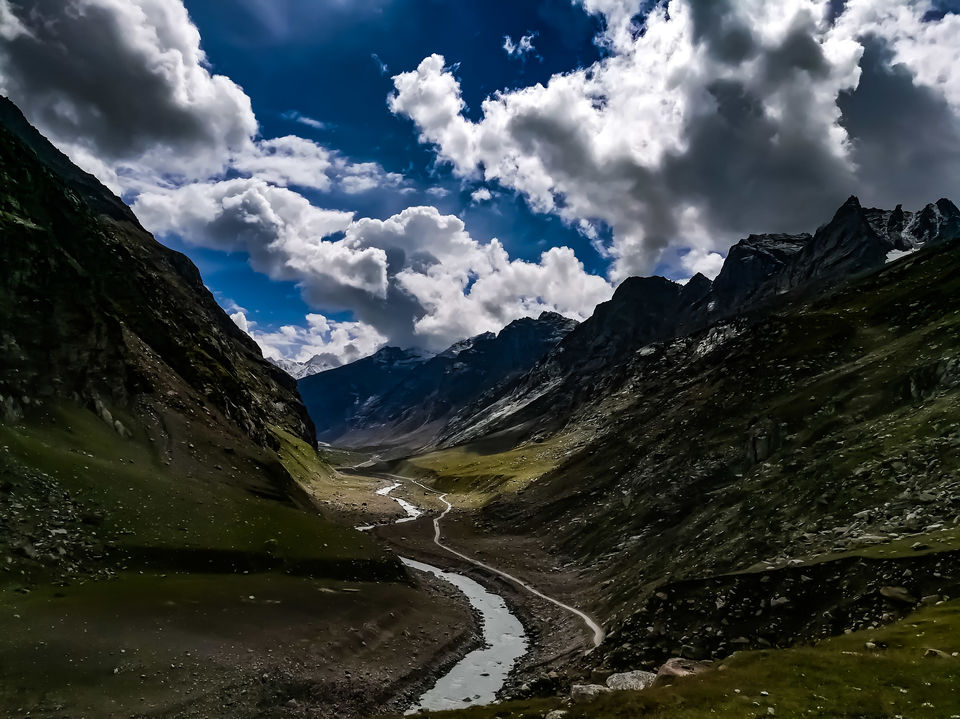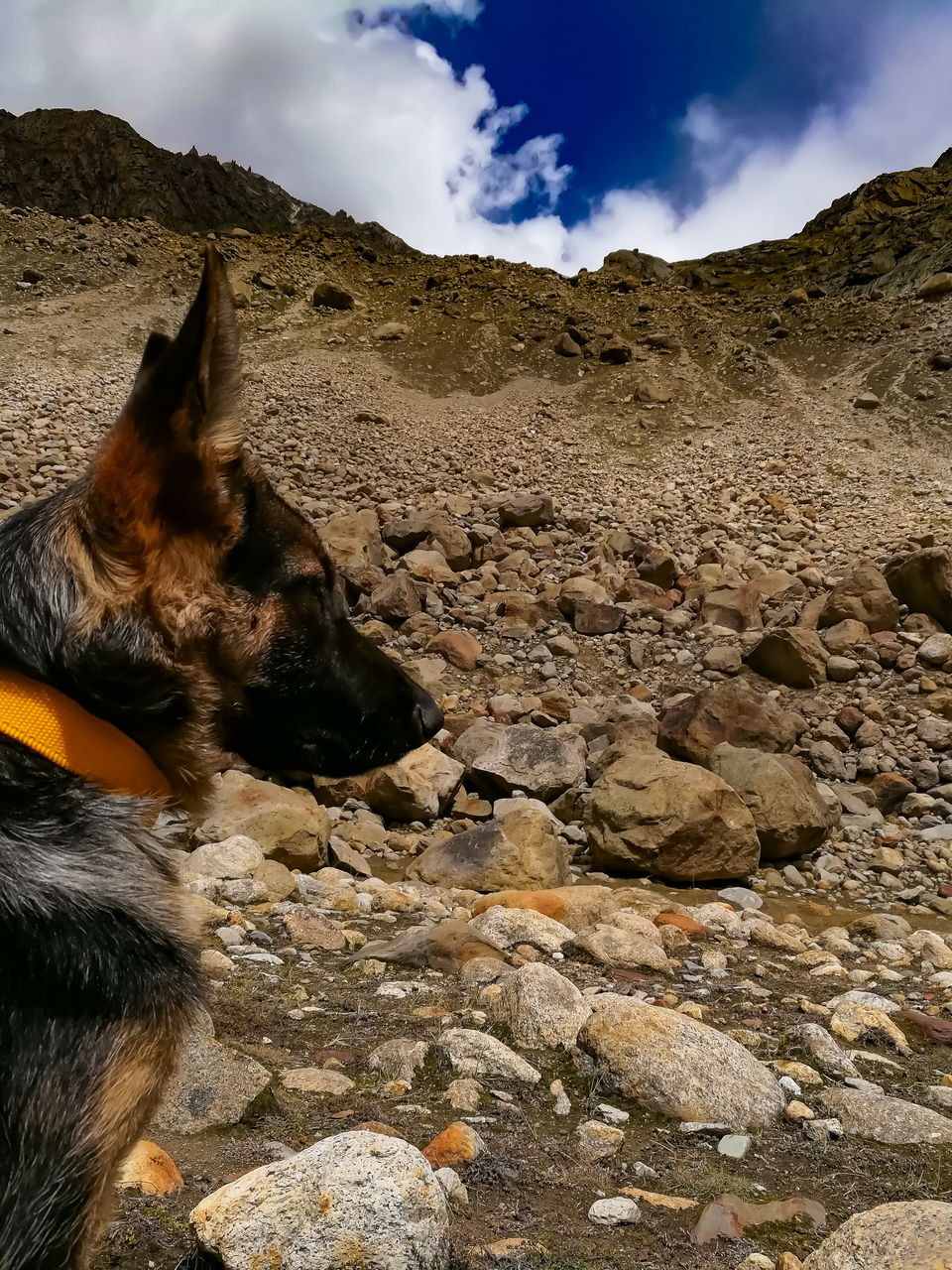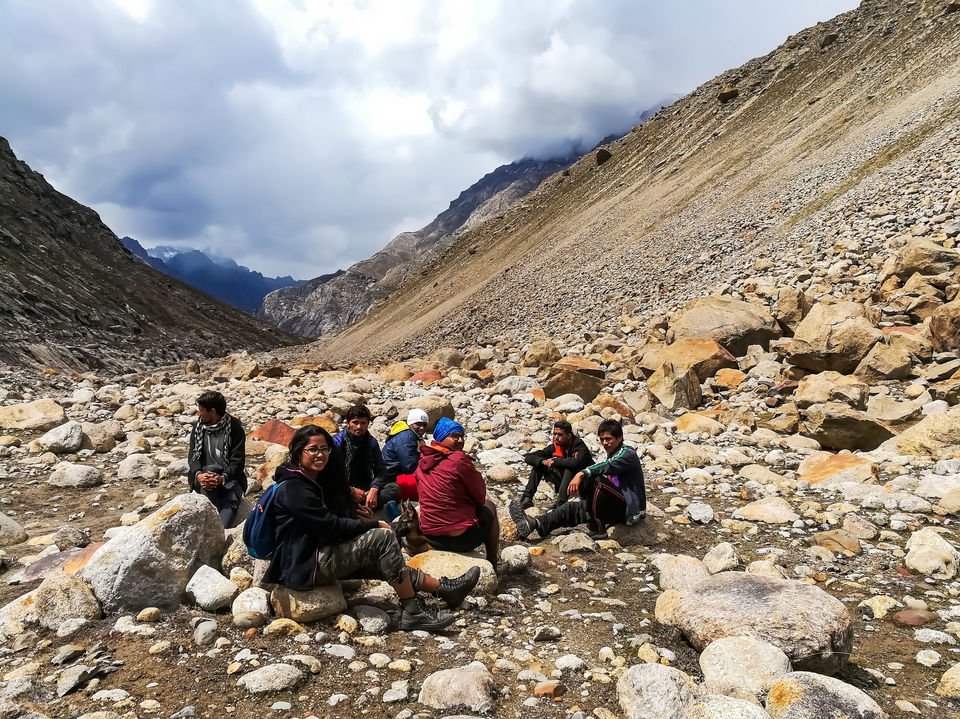 We climbed on a nearby hill, which was covered with razor sharp stones and rocks, due to continuous Landslides ahead of Batal Bridge. We clicked some, as our cameras were also quite restless in the camera bags. Quite content and happy with our evening hike, and tired from the back breaking bus ride, we came back to our tents, where some hot Dal Chawal was waiting for us, prepared by none other than Prem. Once done with dinner, we got out of our tents, to bathe in the glittering-bedazzling spectacle of the night sky at the darkest place in India. I couldn't believe my eyes, as I was witnessing such a beautiful and unearthly view of night sky first time in my life.
We quickly setup our Tripod, and got busy clicking, since there was no time to be wasted, as moon will be up soon, and will obscure, our and cameras view of Milky way(At least theoritically, looking at my camera capabilities). Although it was a starry night, soon they started fading, as moonlight started shining on the icy peaks, however as the air was quite thin, without any haze, and there is no light pollution, we got to capture some gorgeous milky way clicks, with Moonlit snowy peaks.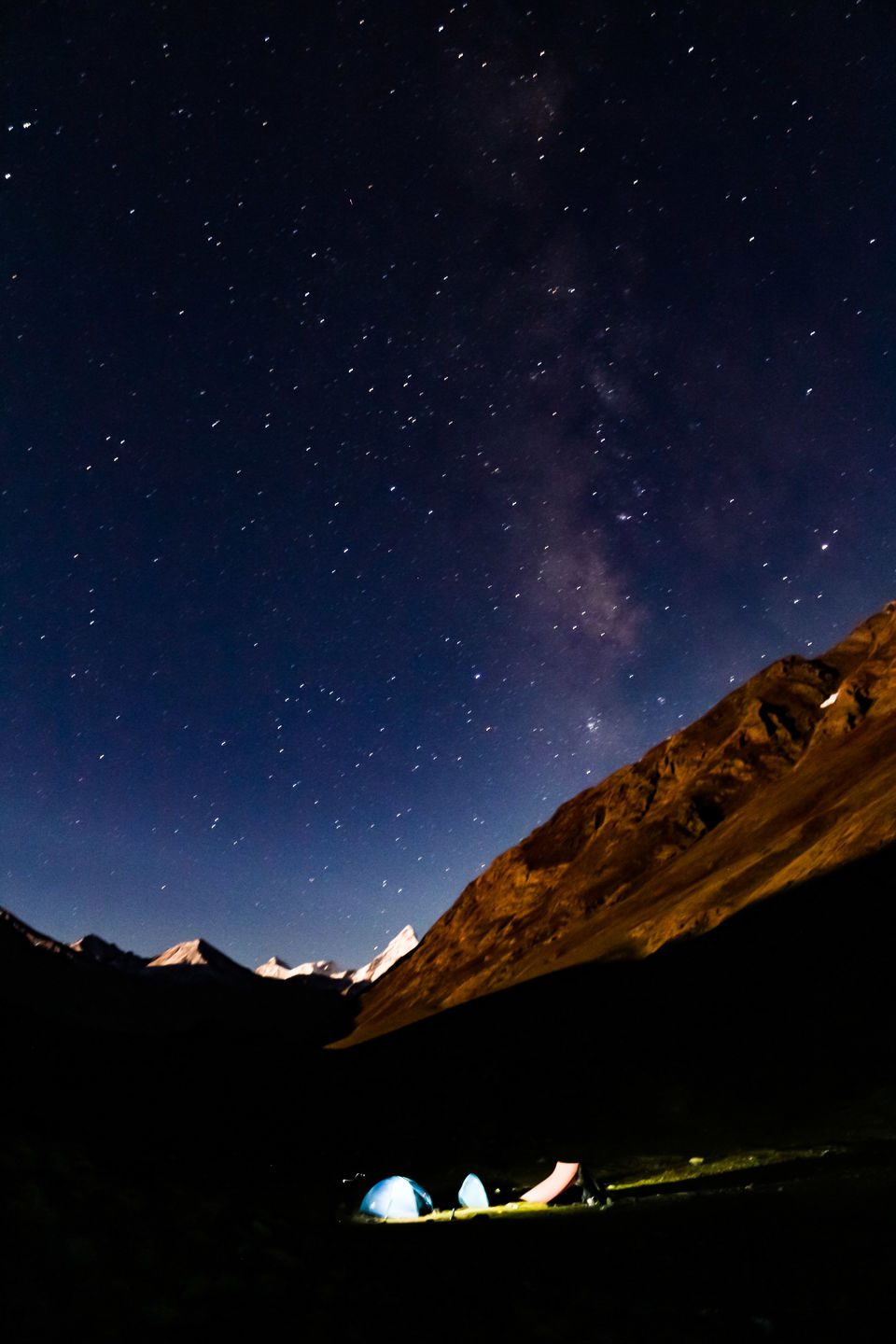 Satisfied with the clicks, we hit the sack, and slept as we had to hike to Chandrataal, the following morning. We woke up with the sound of birds, and yummy smell of Rajma Chawal. Had a quick breakfast, packed our tents and backpacks, and we started walking towards our final destination.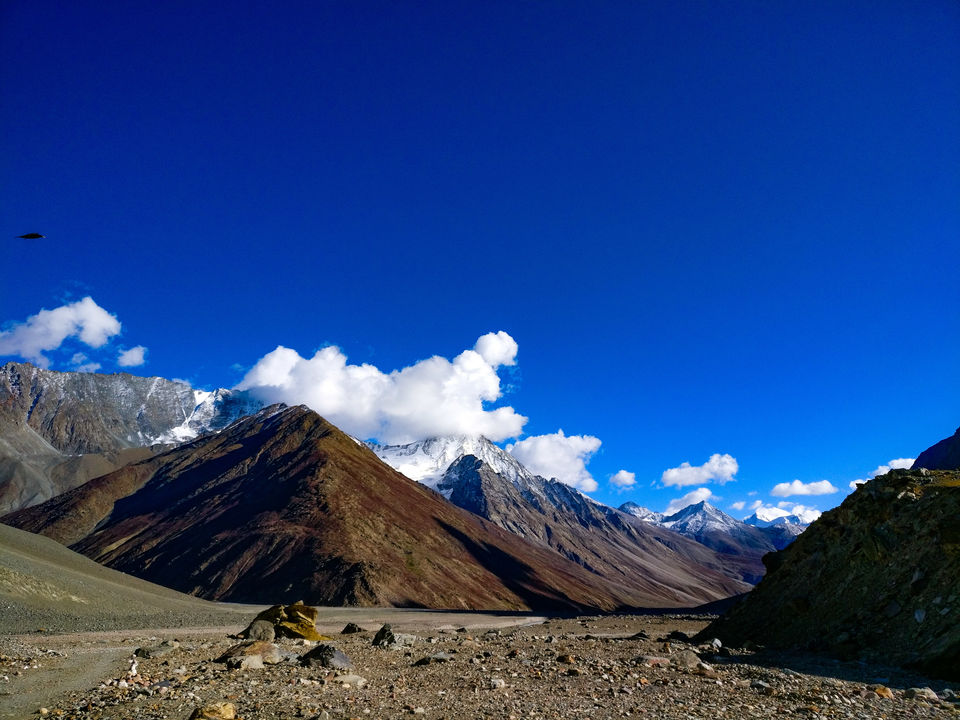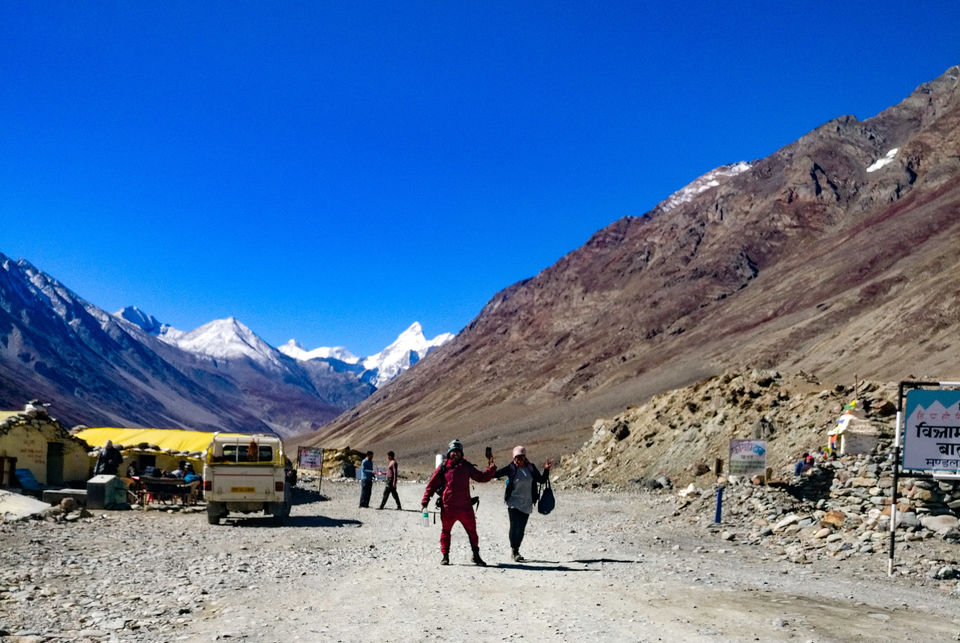 Once on the road to Chandrataal, we did not stop much, other than to feed our camera some still images of the Valley flowing next to us, however as it is a long walk, we used to stop in between for 10 min, just to catch our breath. The hike was not much weary as there was cold breeze and we were walking in Mid-Day Sun.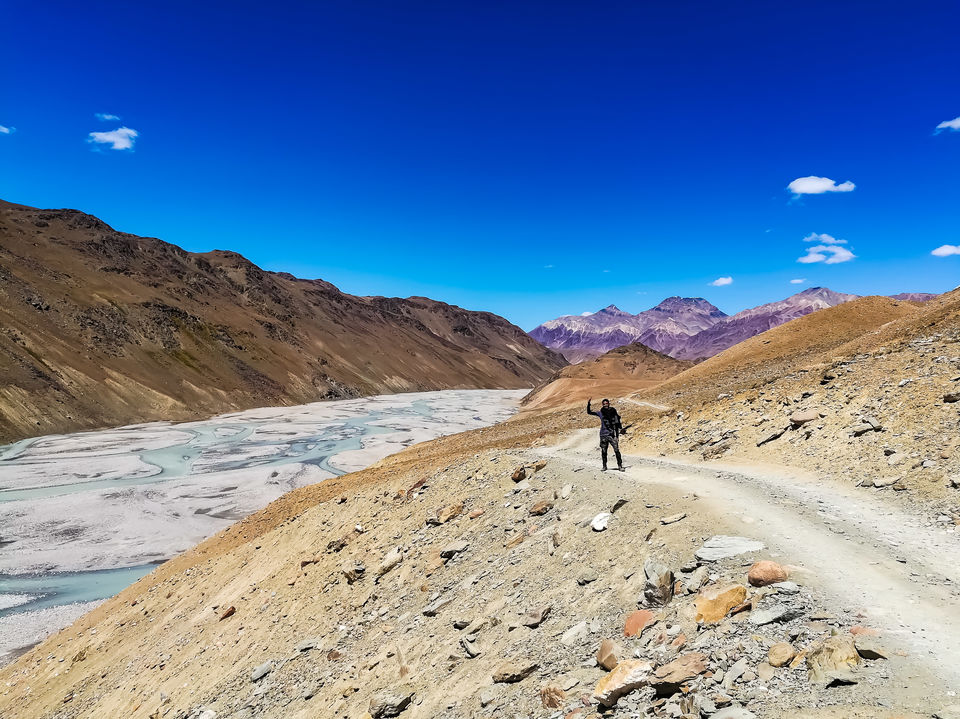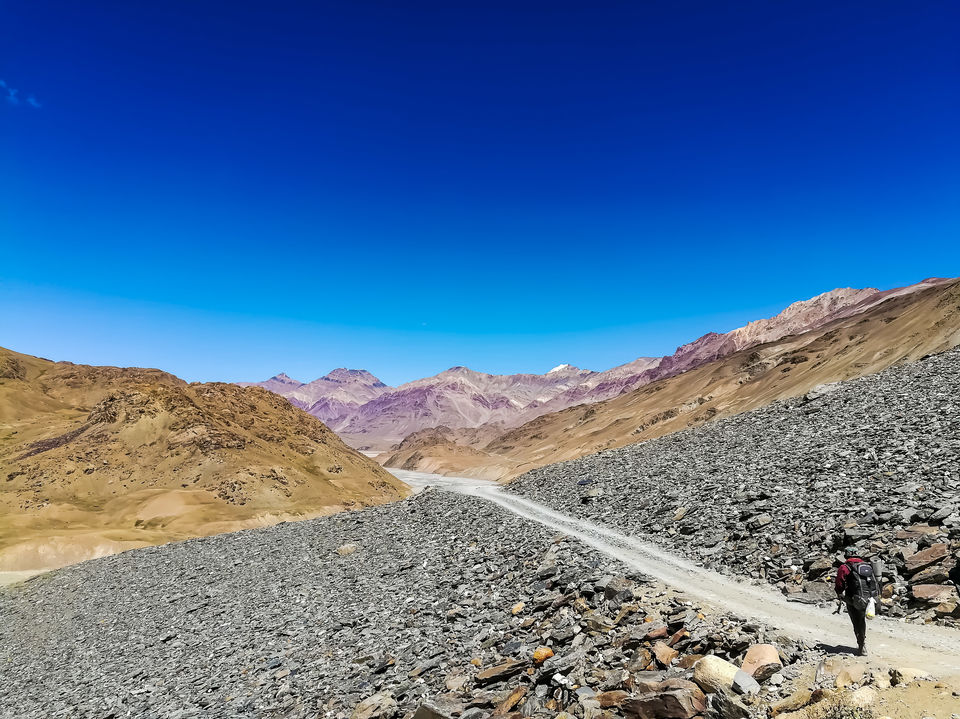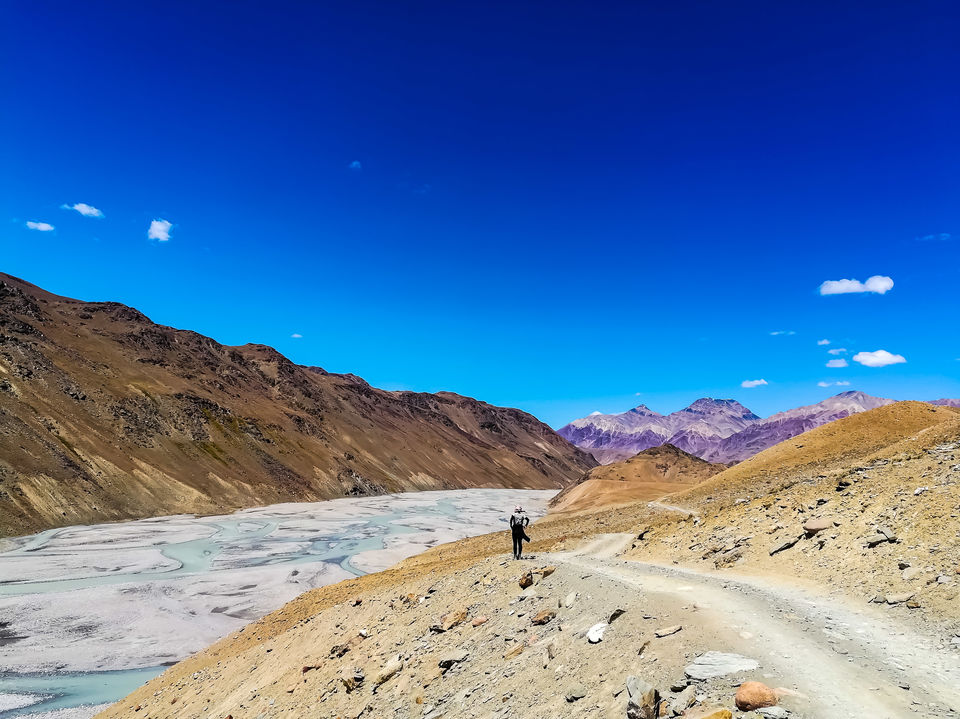 While walking we were smitten, lost and astounded at the beauty of the valley created by the might Chenab, flowing amidst these gigantic rockwalls, creating plethora of stunning vistas all along the way.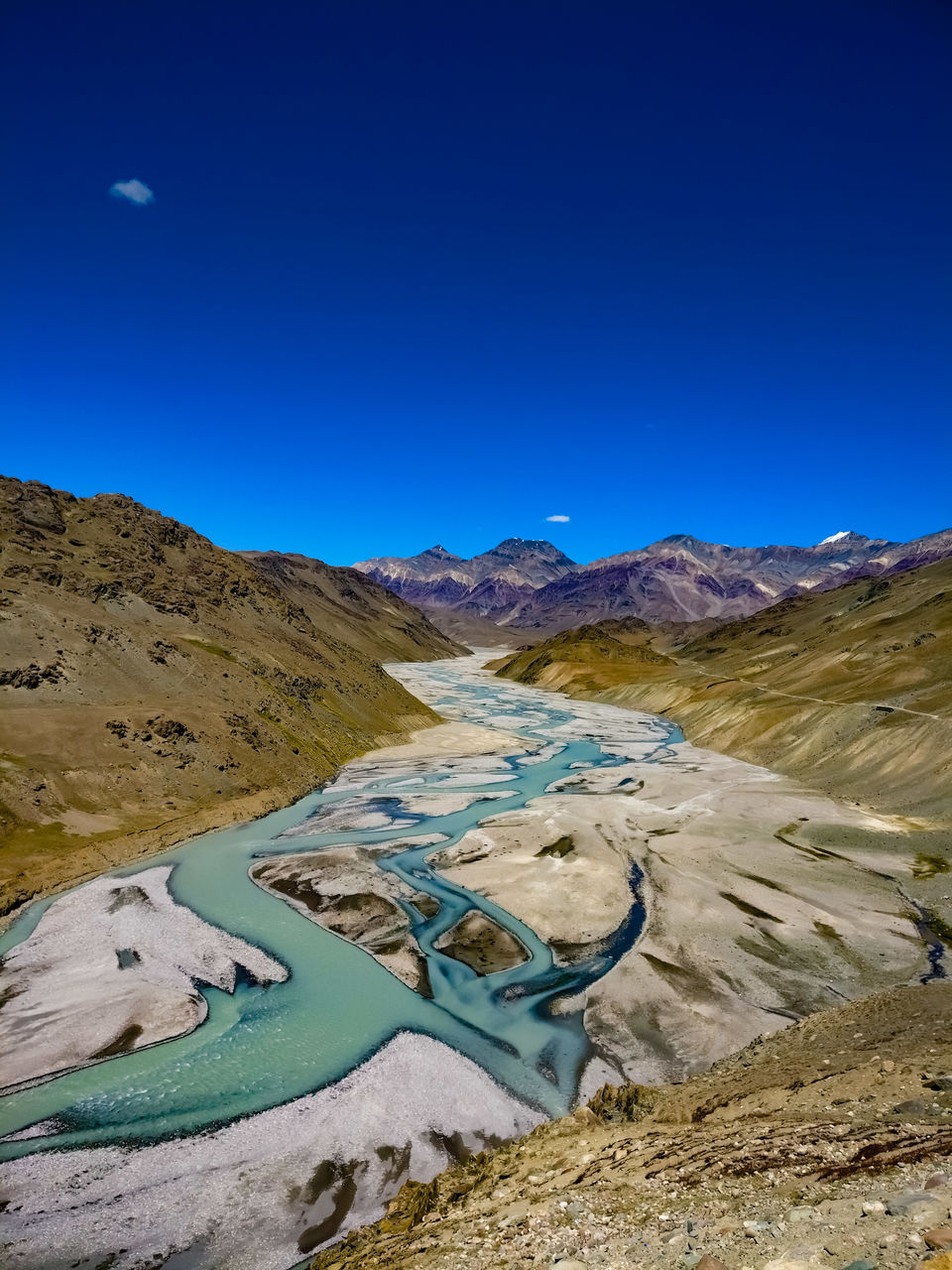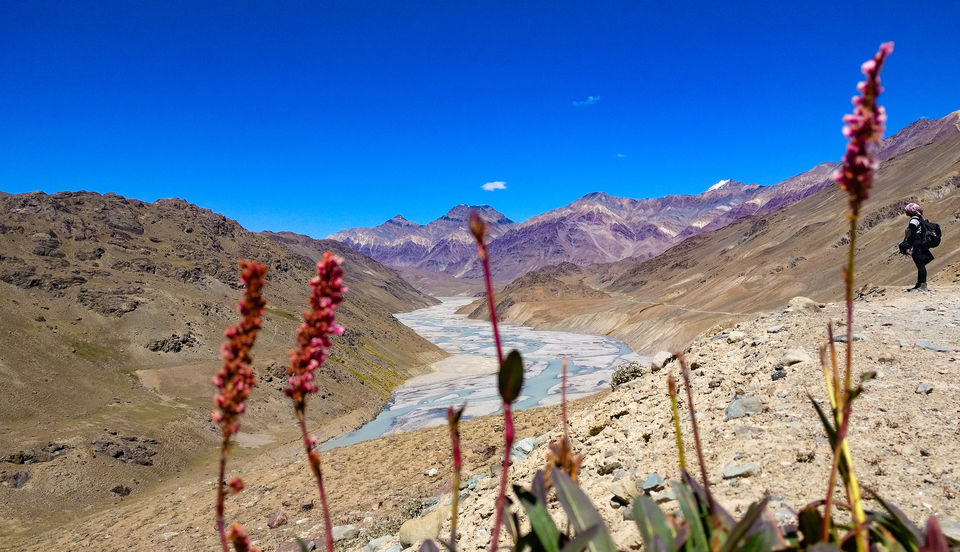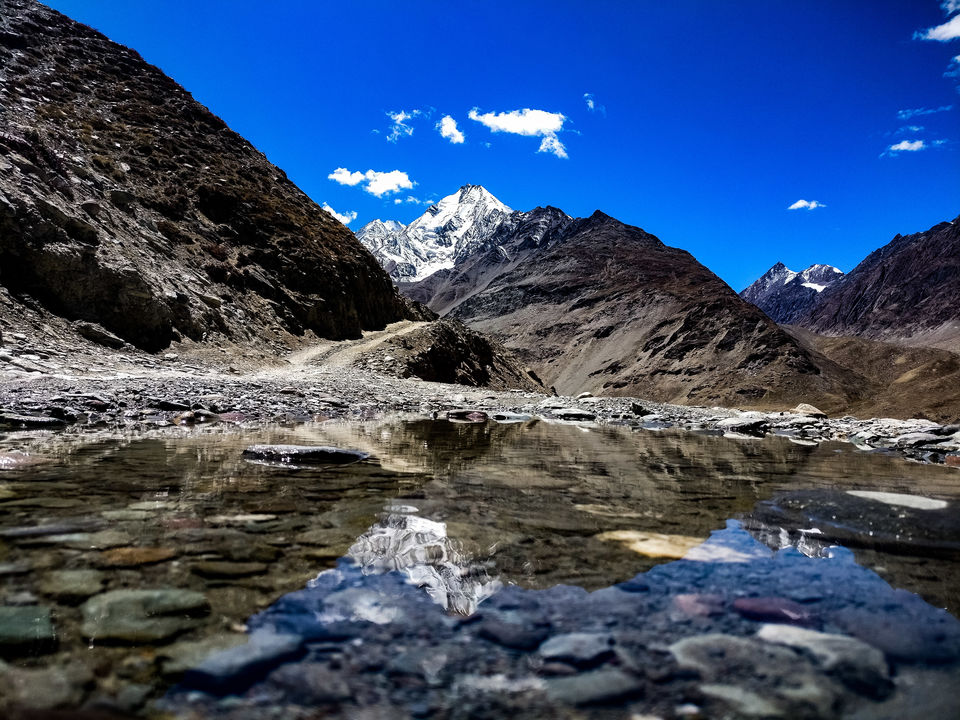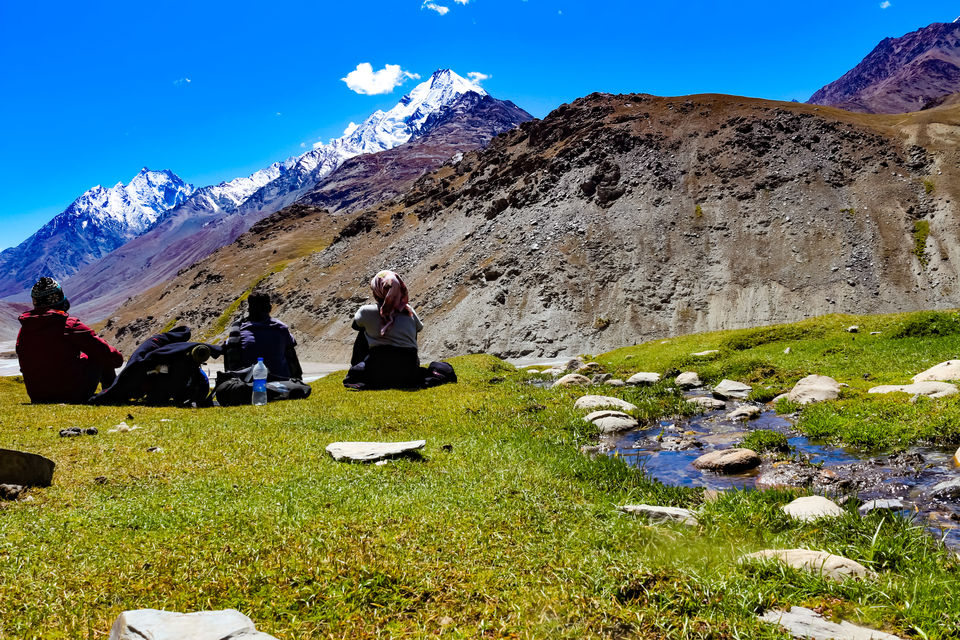 After walking for almost 3 and half hours we reached the first few camps at Chandrataal, although we still had to walk 2 km more to reach our Camp site, hence, just had 5 min rest and moved again.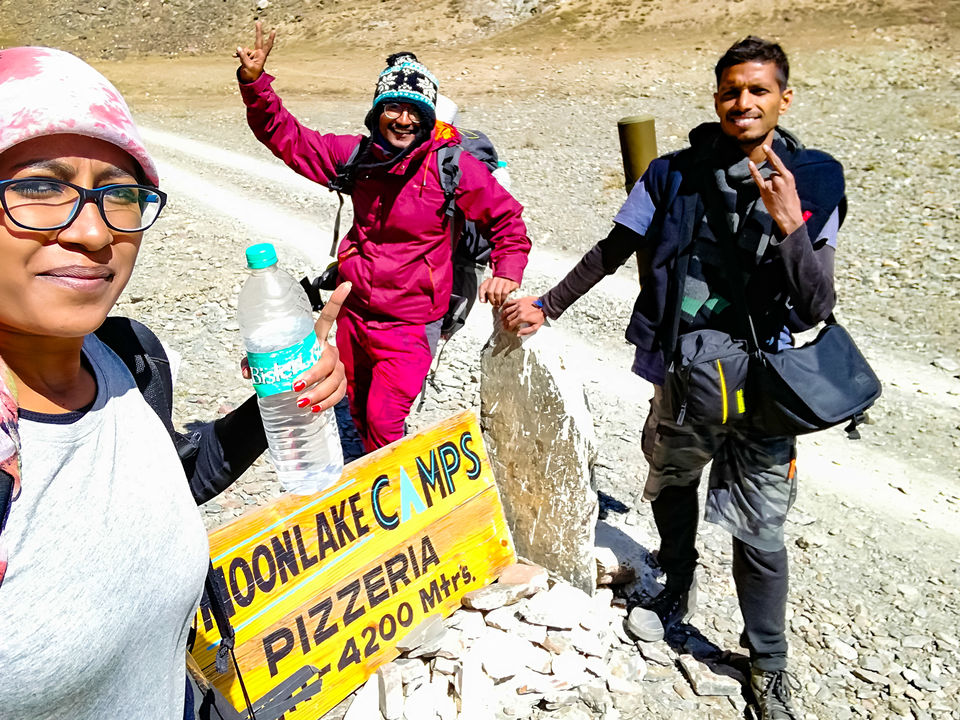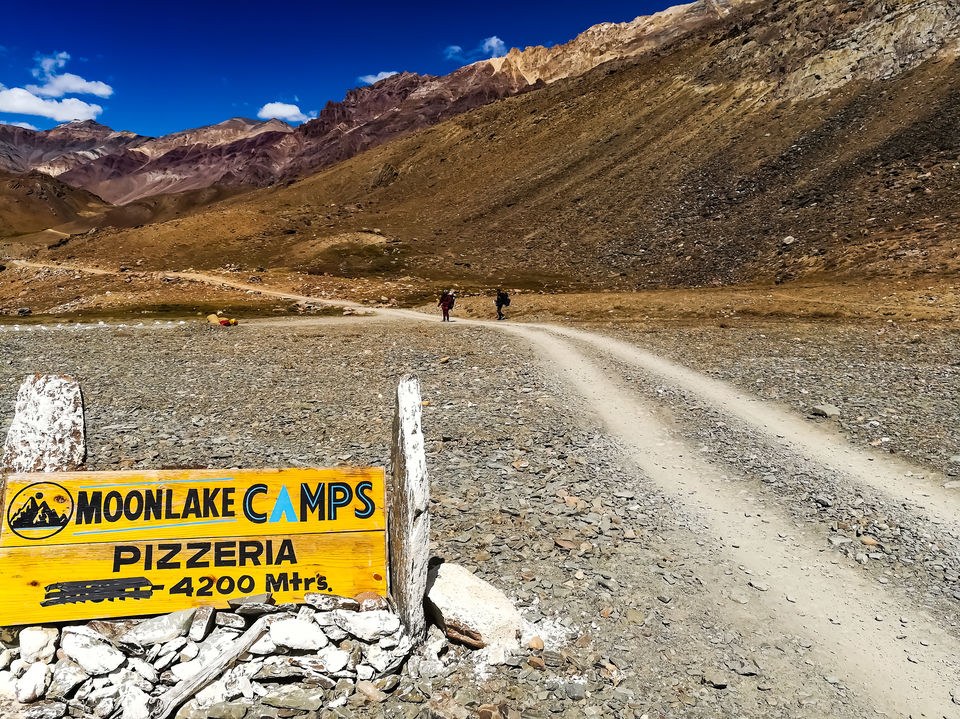 Also, we came across some temporary ponds formed by snow melt and rains, with hues of grass bed ranging from green to flourescent green to Silver. Some points on the way offer stunning views of mountains, Samudari Tapu glacier and Chandra river.
After so much hiking we were totally waned and tired, when we got the first glimpse of the turquoise green water sparkling with the evening sun. They say that journey is more beautiful, than the destination, however Chandra Taal, might make you disagree a bit. It has such a splendid setting of purple and barren mountains around, with their gleaming white peaks, and melting glaciers flowing down with a aqua hue, and making such magnificent water bodies in this heavenly cold arid land.
My friends also took a dip in this heavenly body, to rejuvenate themselves.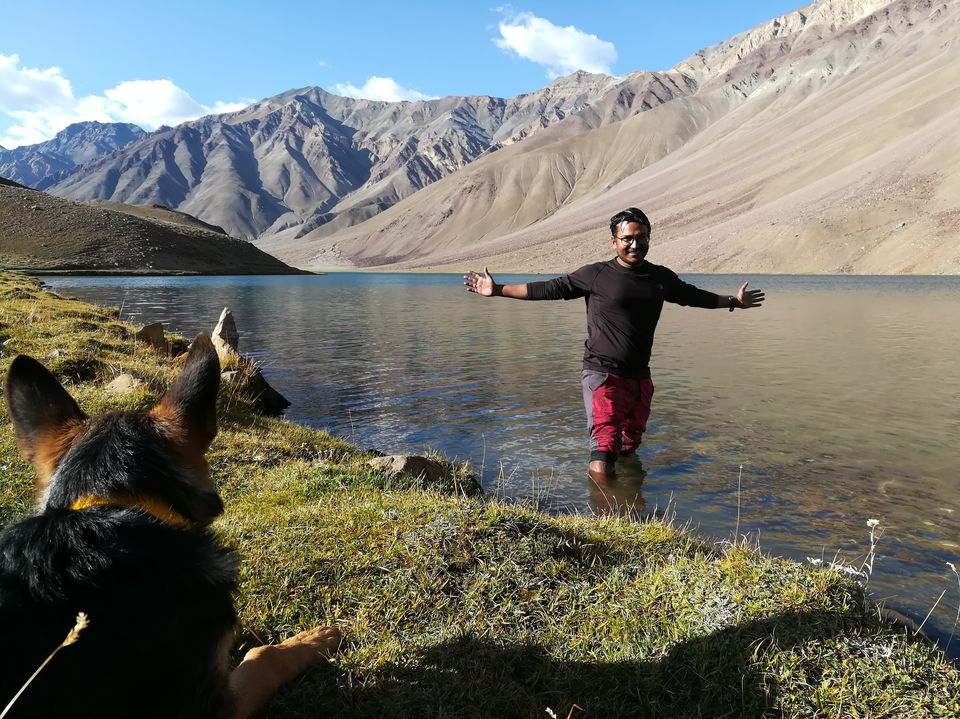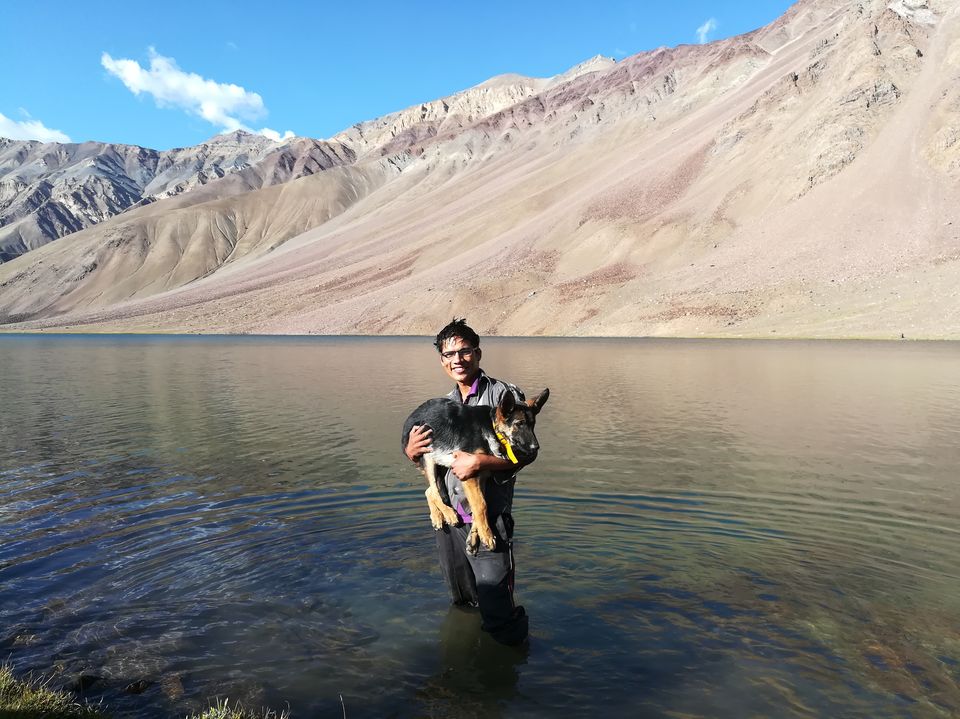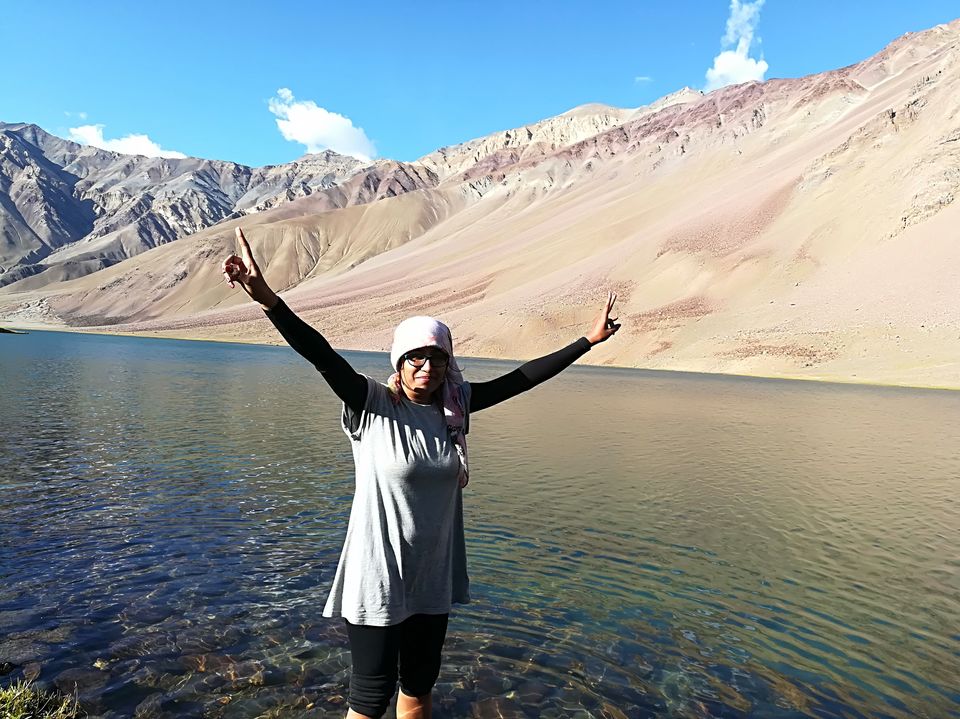 I won't say much about the beauty of the lake as the pictures I think might do more justice.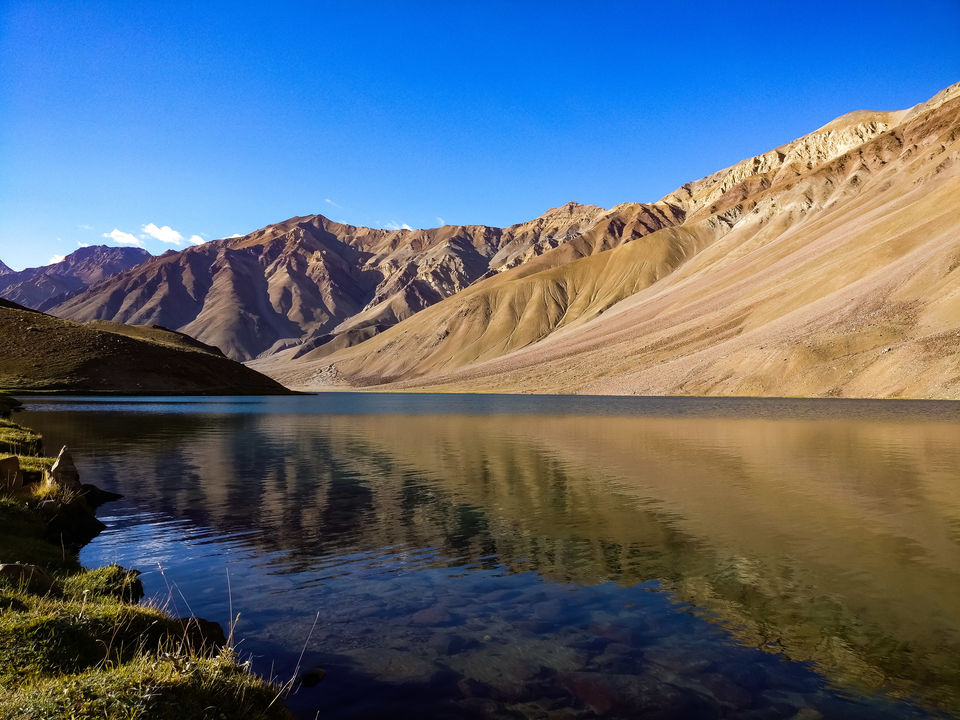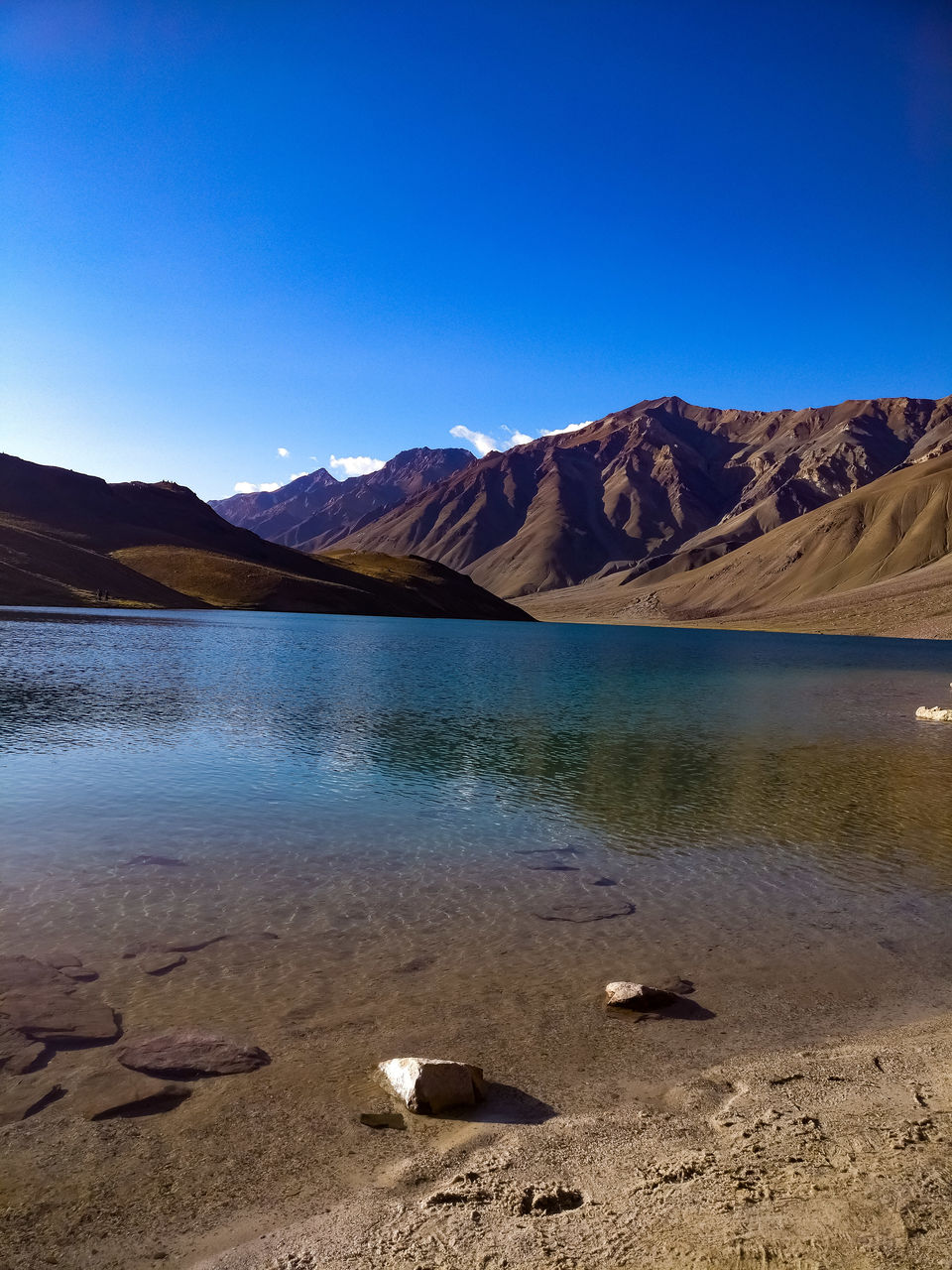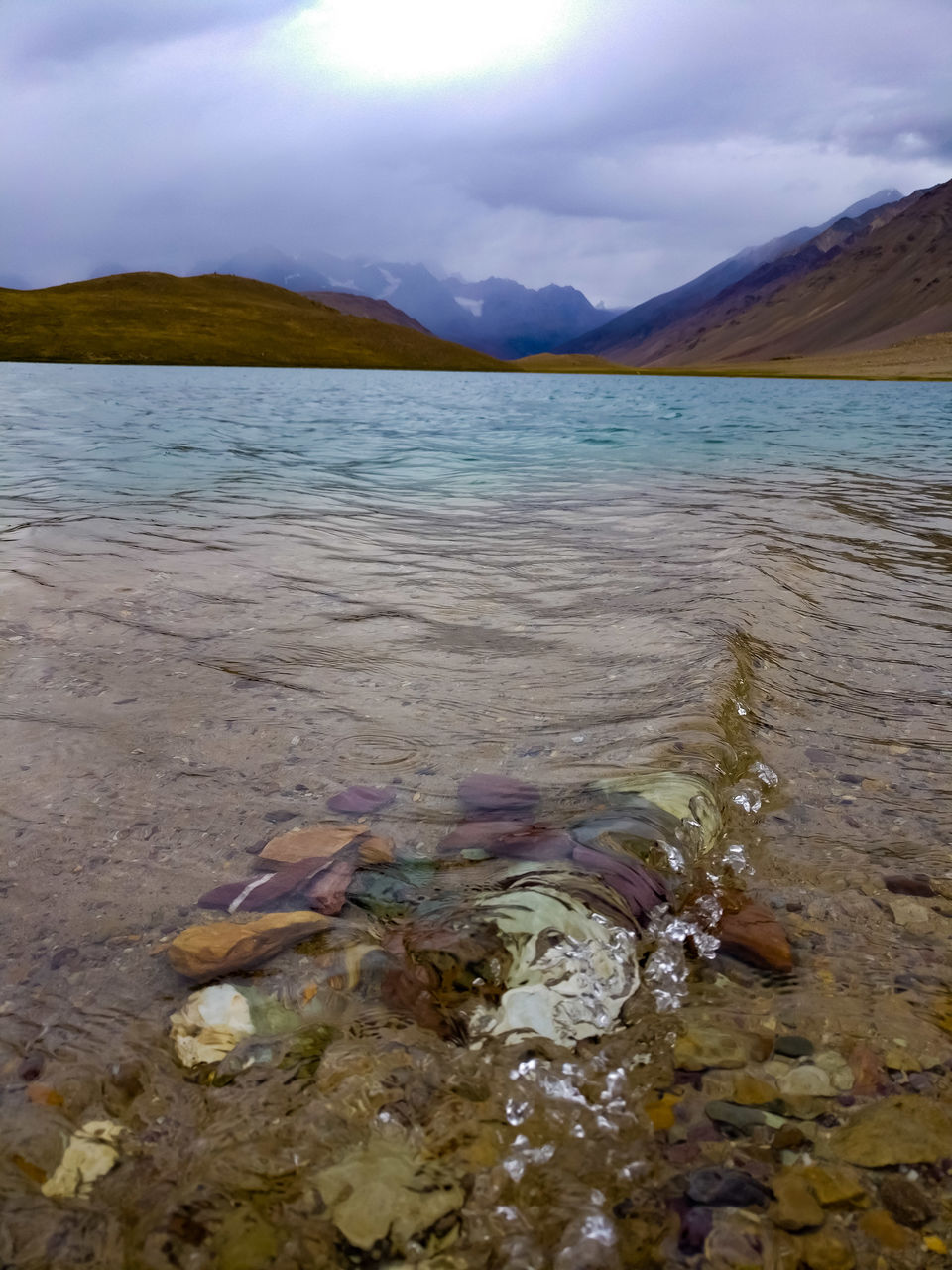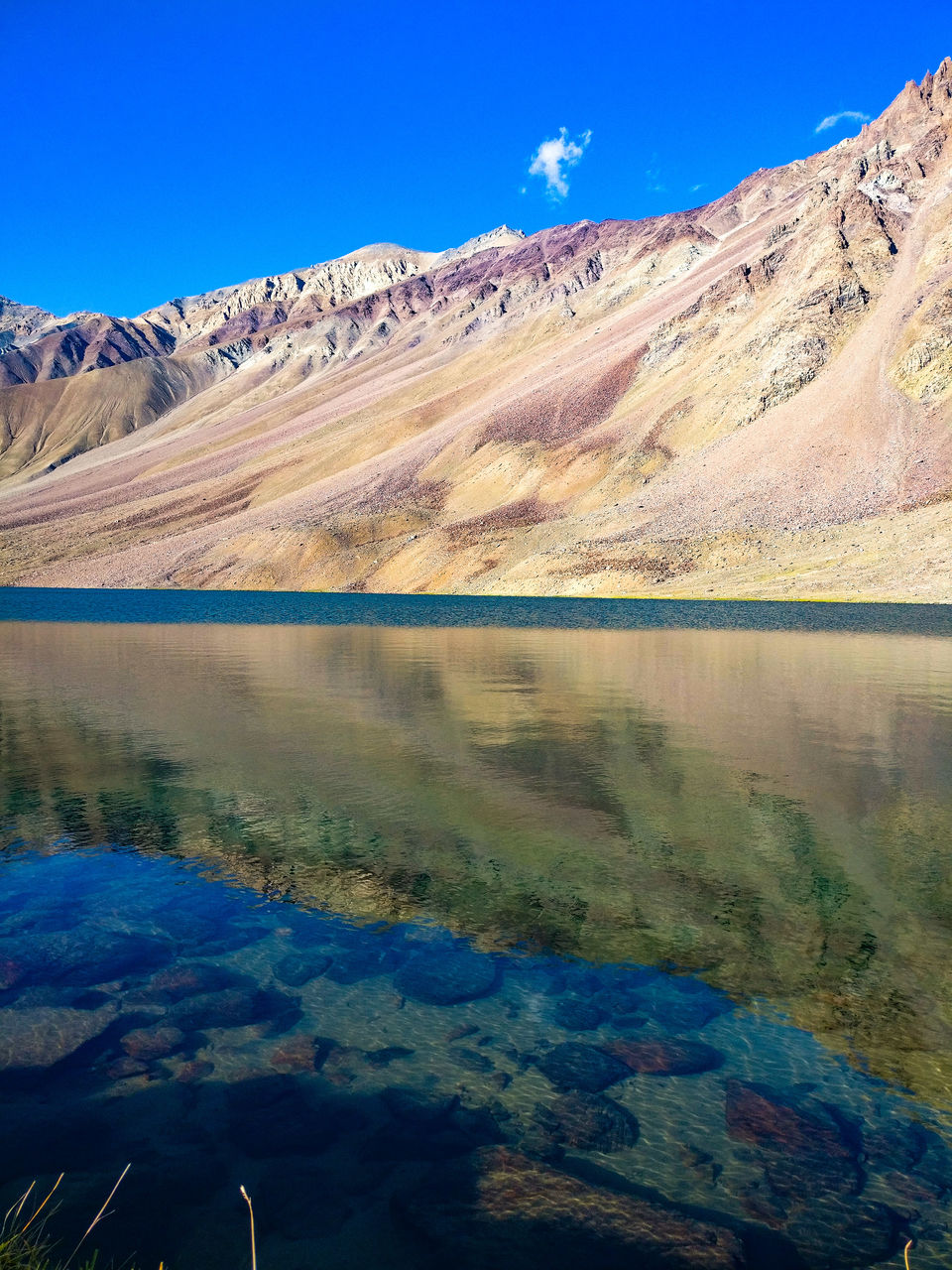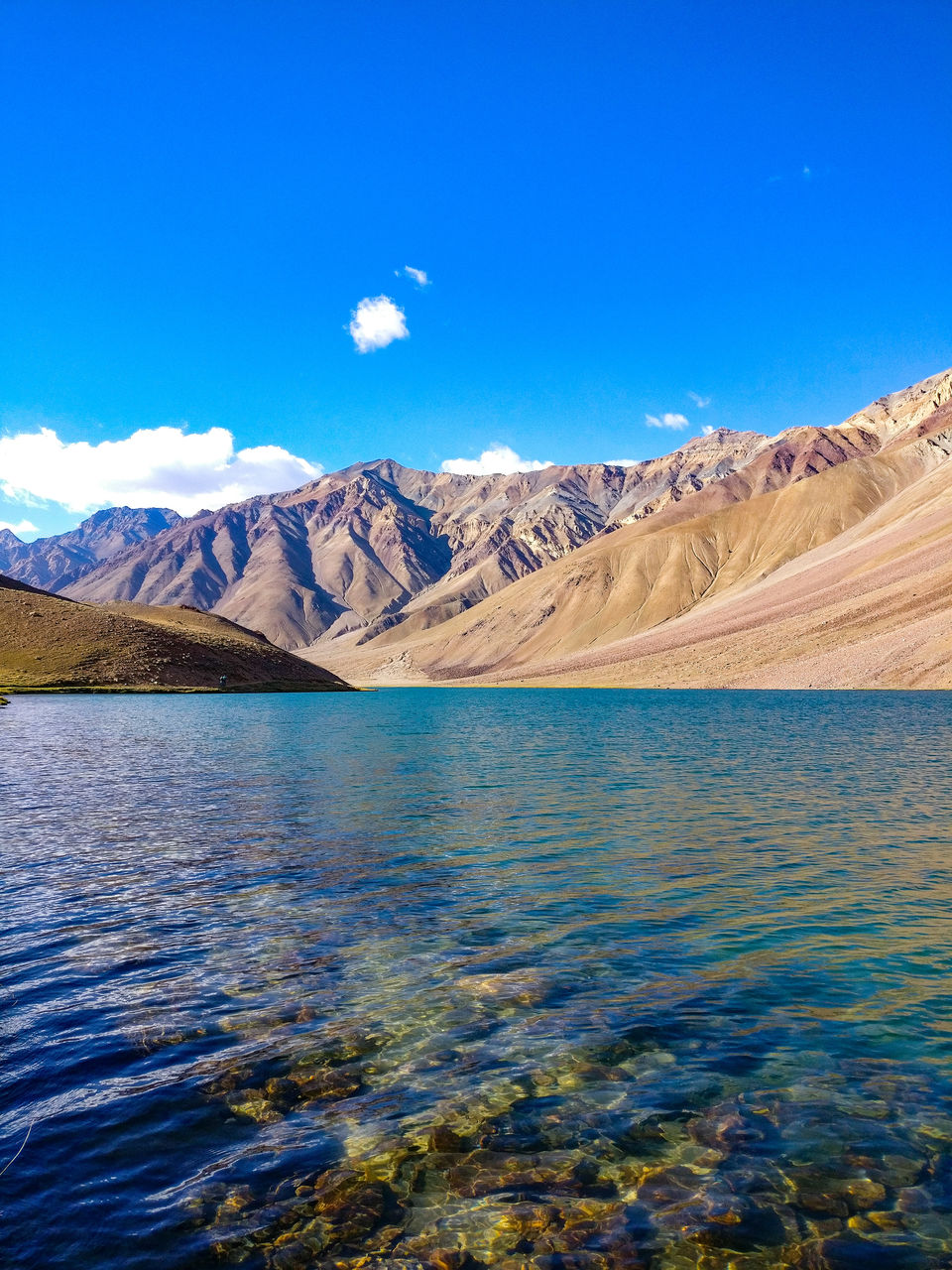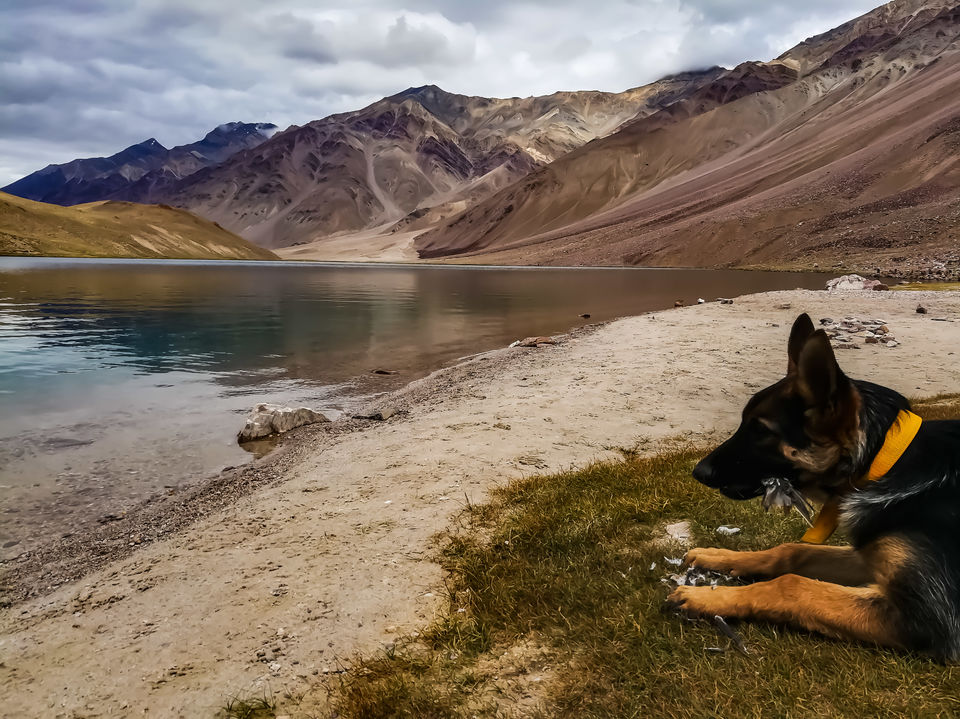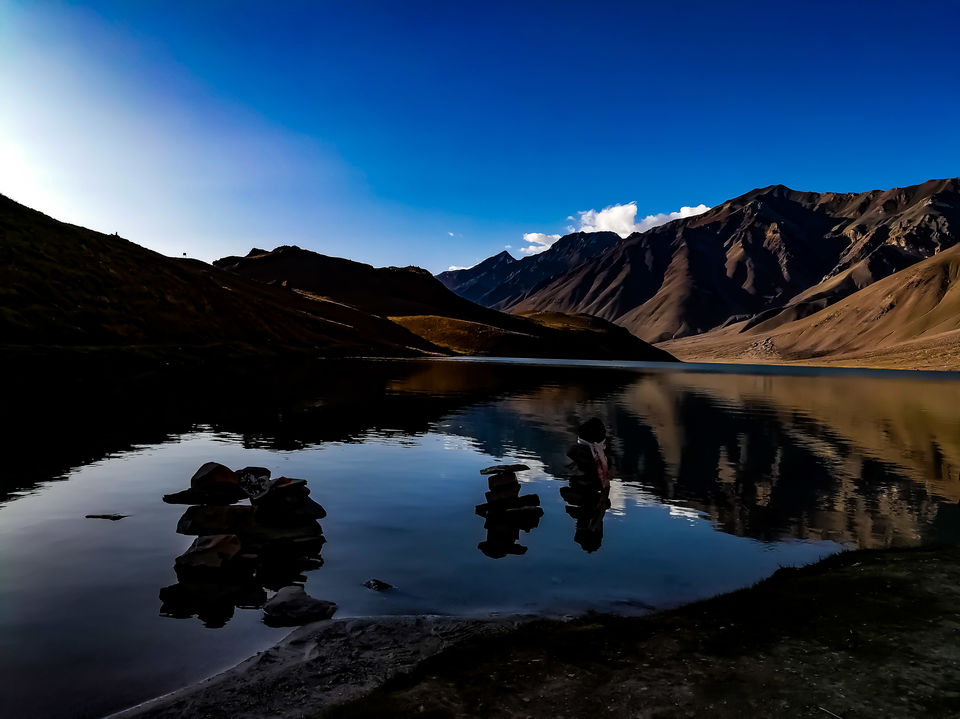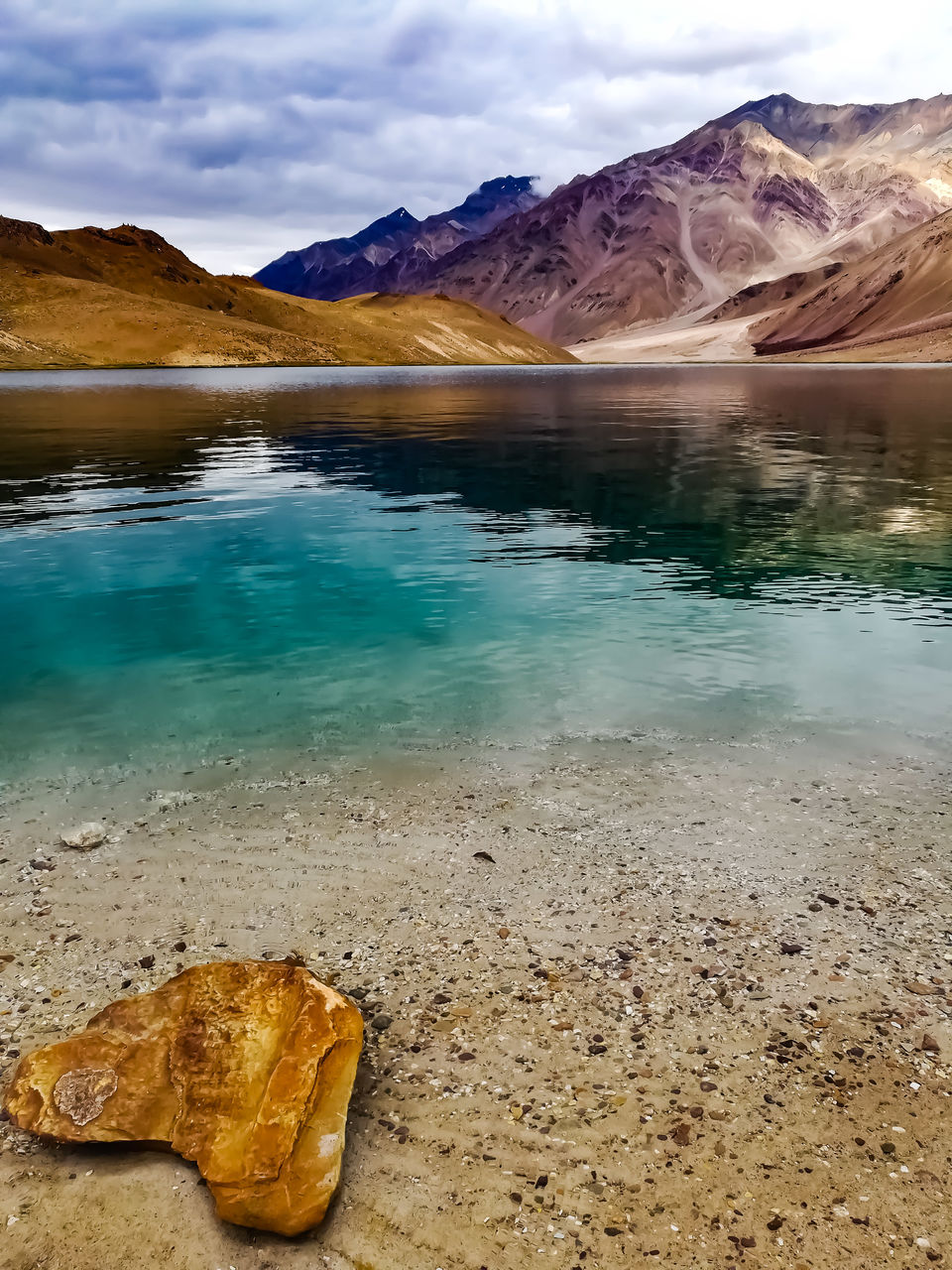 Once we had our fill of the insurmountable beauty of the lake, we headed towards our camp, however I guess Nimish had some energy left, and he ran on a nearby hill for a downwards trail run.
Once at the camp, we had food, smoked some, and got out in order to meet the spectacular riot of stars, and ultra clear milky way. I will let the images speak.
PS : Please excuse the noise on the images, as we are still novices and learning as we go.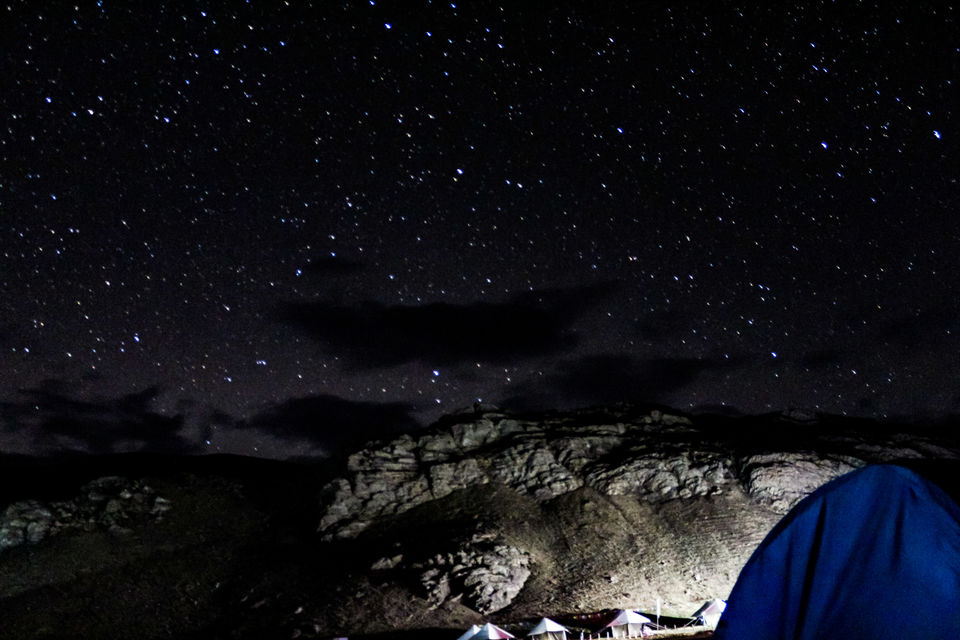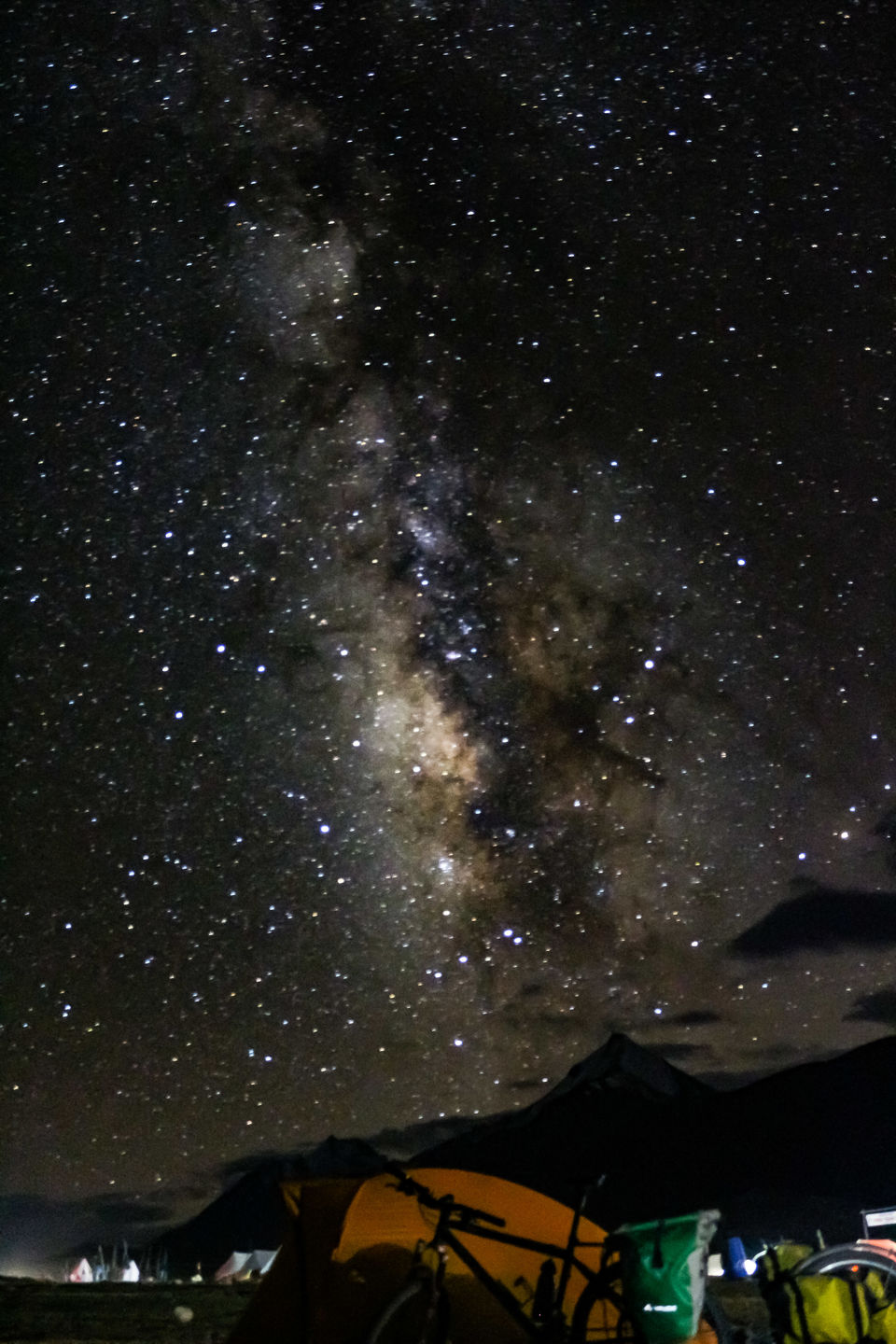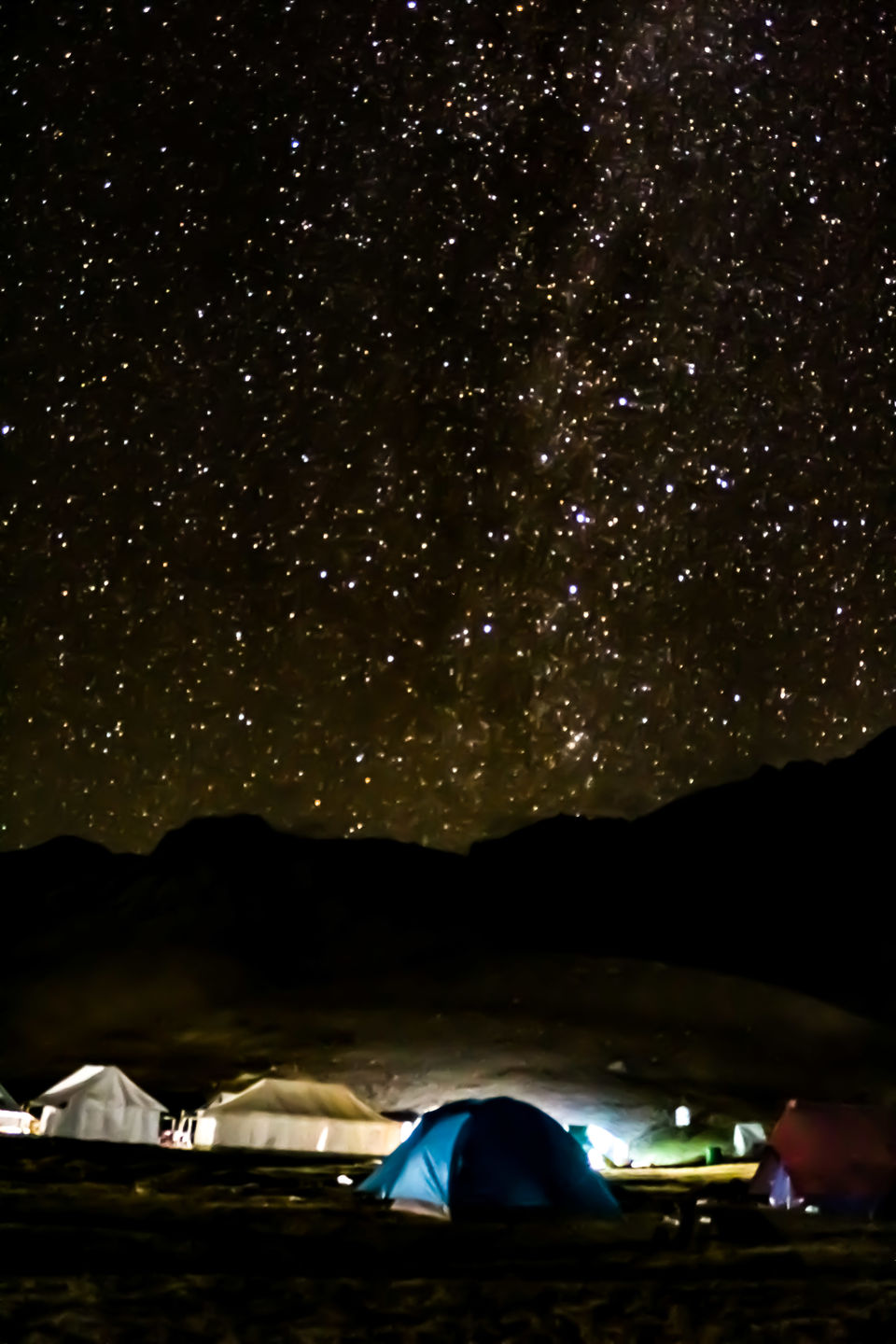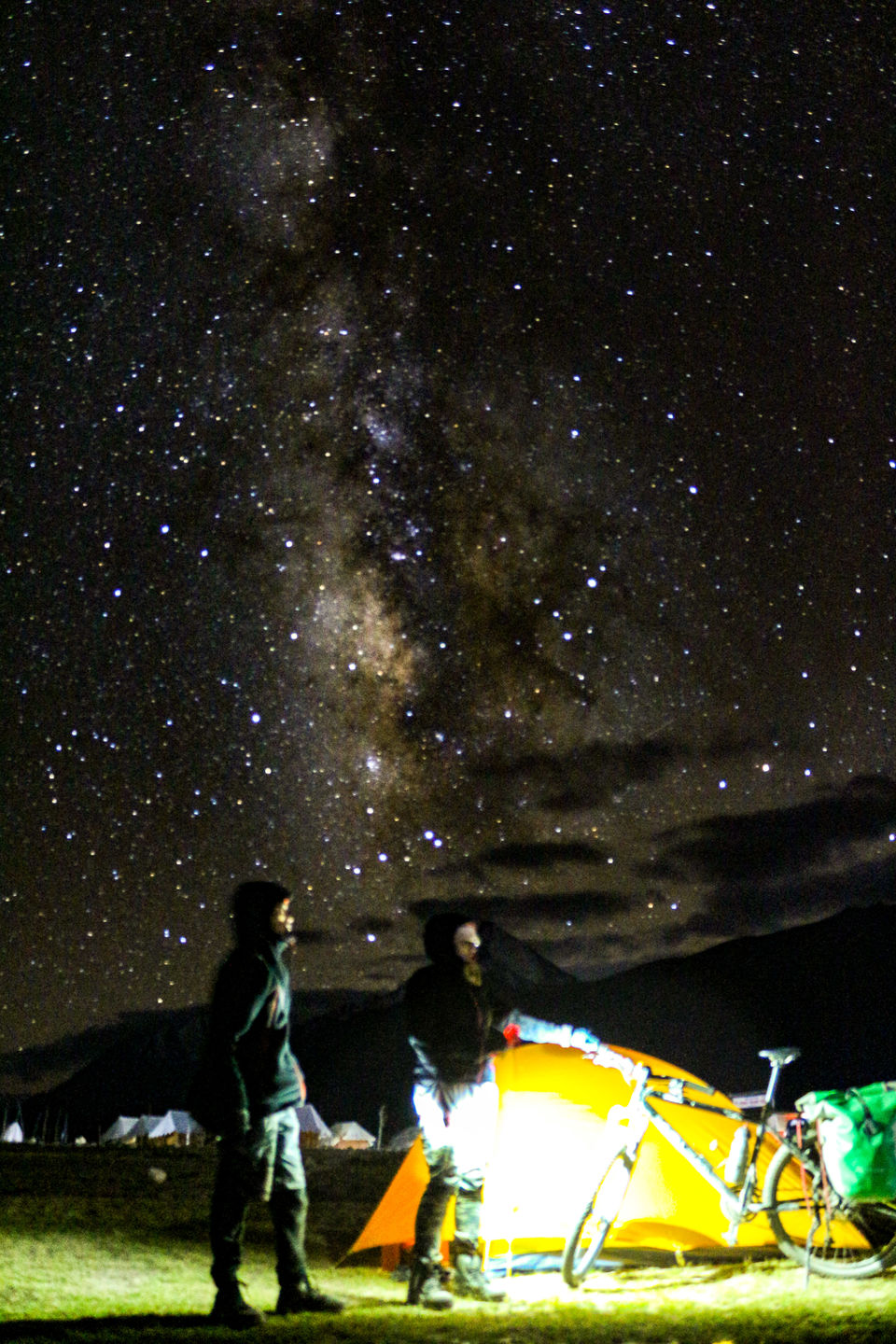 We stayed another day at Chandra Taal, to spend some more time around this beautiful high-altitude lake, and the next morning moved back to Batal to get a bus to Manali, with memories and experience worth a lifetime.
How to Reach Chandra Taal : Manali to Batal bus, and then on foot for 14 Kms, or no hassle, get your own vehicle. Also you have options available for a round trip via Taxi for INR 8000. Suit yourself.
Where to Stay : At Batal, you can get a room at Kangri Dhaba for 500, and at Chandra Taal, you have options ranging from INR 700 for a 3 person tent to INR 4000 for a Swiss tent per night, Or you can carry your own tents, and be free as a bird.
Precautions : Nothing special, as this is not an inhostile environment, however be prepared for sudden snowfall, and sub zero breeze, that will dehydrate you and drain your energy, if you don't have proper protection from the elements.
My Experience : Our team was on a 10 days trip to Pin Parvati pass, however, we dropped the idea and enjoyed our time and KheerGanga, and Chandra Taal, and this is surely one of the most beautiful lakes I have came across, and my first high altitude lake. Honestly, I hate to leave such places, however, bread and butter calls me, for another beautiful day and another awesome place.