When you are a kid, you see something new it seems astonishing. But when you are an adult it's your choice. You can choose adventure for your life. It's about getting out of your routine. I don't want my life to control me. I don't want my life's calendar to be my boss.
I wanna choose a mind and soul that's wide awake. It's up to you, you can stick to your routine or want to make your"70-80 years of planet to 1000".
So, Hampta Pass trek is a 4 or 5-day trek which will make you fall in love with the amazing grasslands, maple forests and the snow line. This trek is very beautiful in the short span. What makes this trek more alluring is you'll have to trek in the grasslands, forests, meadows, steams and waterfalls flowing beside you. You will also get a chance to hike on the chilled snow.

**Day 1**
You'll have to drive up to Jobri Nala from Manali which gives mesmerizing views. Very few people know that there is a road behind Manali which climbs up to an altitude of 9800 ft with 39 hairpin bends. Jobri is the last place you'll get some network. So, if you have to inform any family member or friend just inform them. Then after there is a 2–3 hour trek to Chika base camp. Just when you start your trek from Jobri you get into the lovely maple trees, thick forests of Walnut and Oak.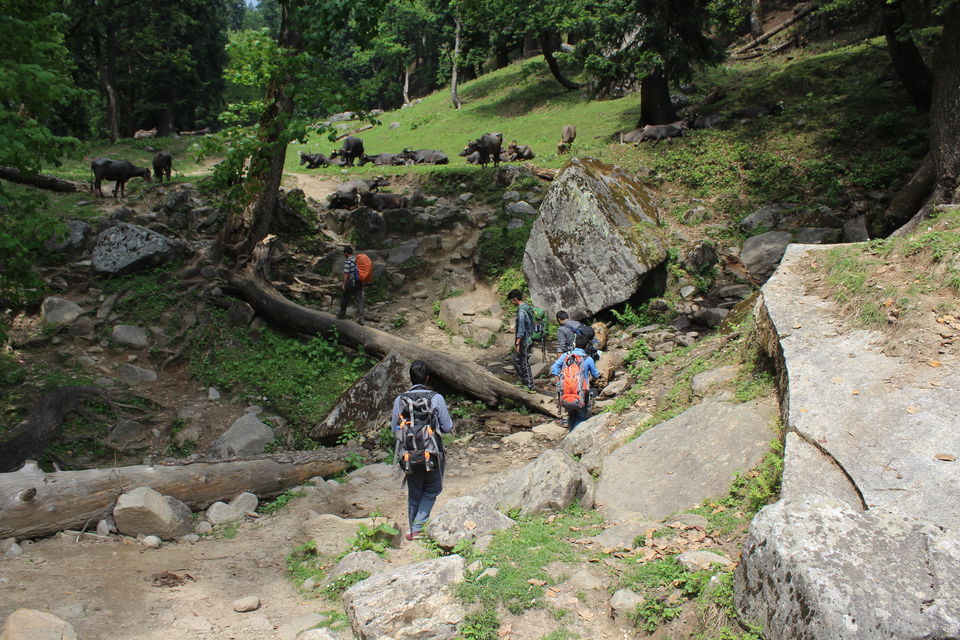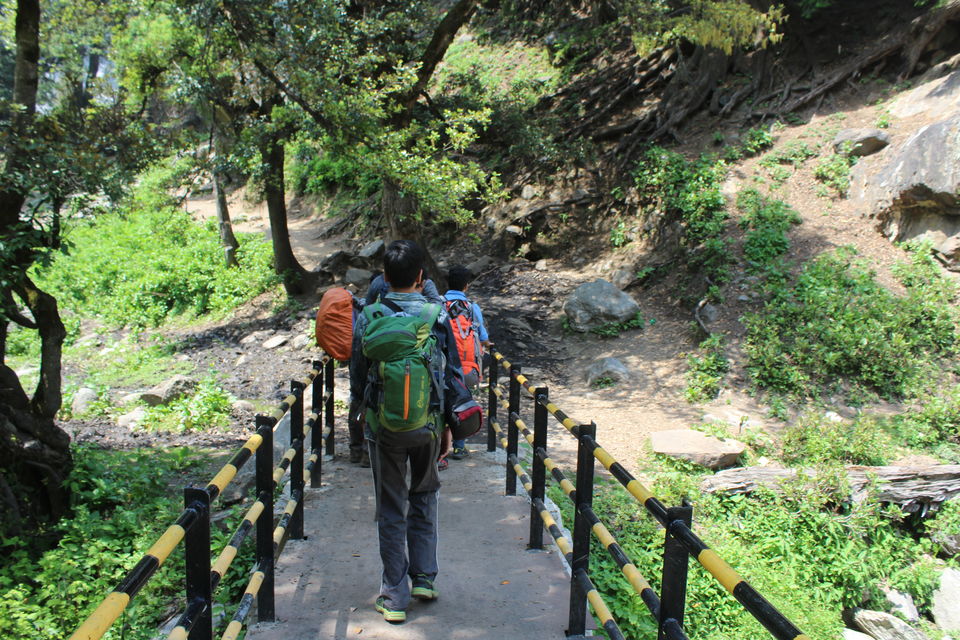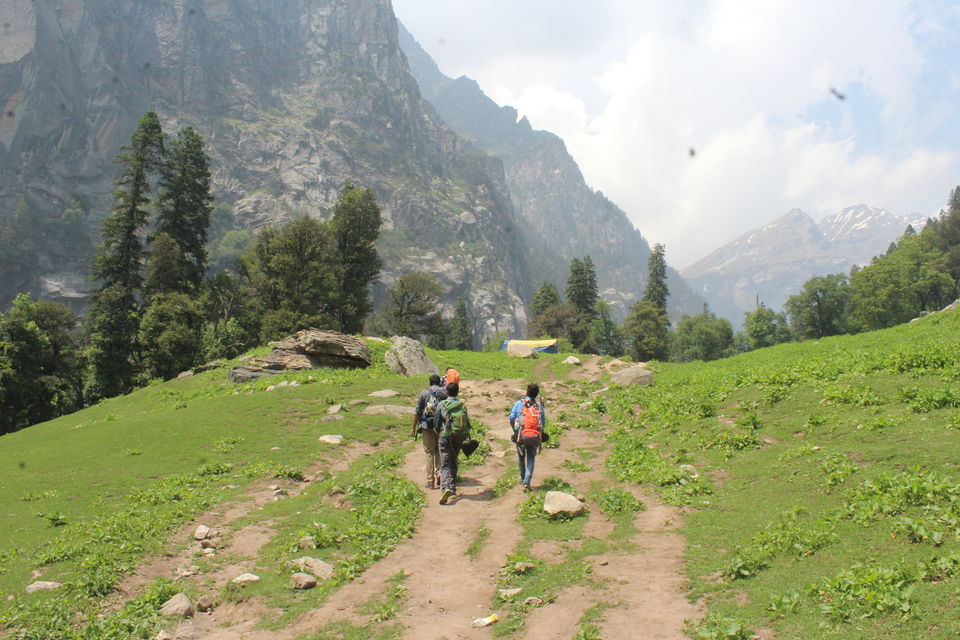 As we started trekking to Chika heavy rain started and suddenly the climate changed from warm to cold. We took our raincoats and completed our lunch in the way. After that, you will trek some time alongside the river. After crossing some rivers over the wooden ridges and the rocks you will reach the base camp Chika.
After reaching Chika, sit here for a while.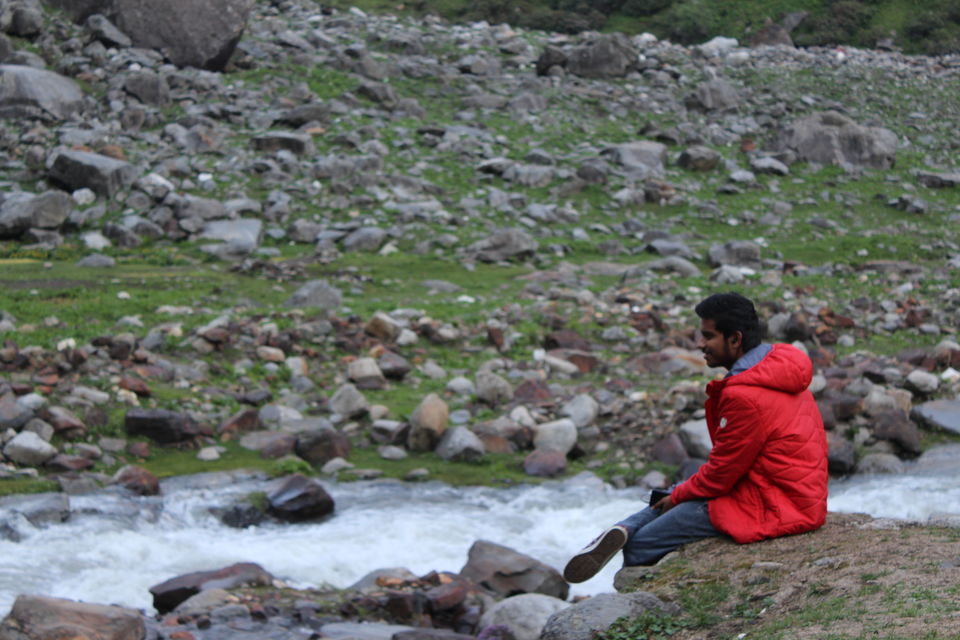 *Just sit around, Observe.*
*Listen to the sound of water. Feel the cool breeze flowing across you. Admire the beauty. Don't talk. Explore. Dream. Discover.*
I met this beautiful creature. I think dogs are the most amazing creatures, they give eternal love.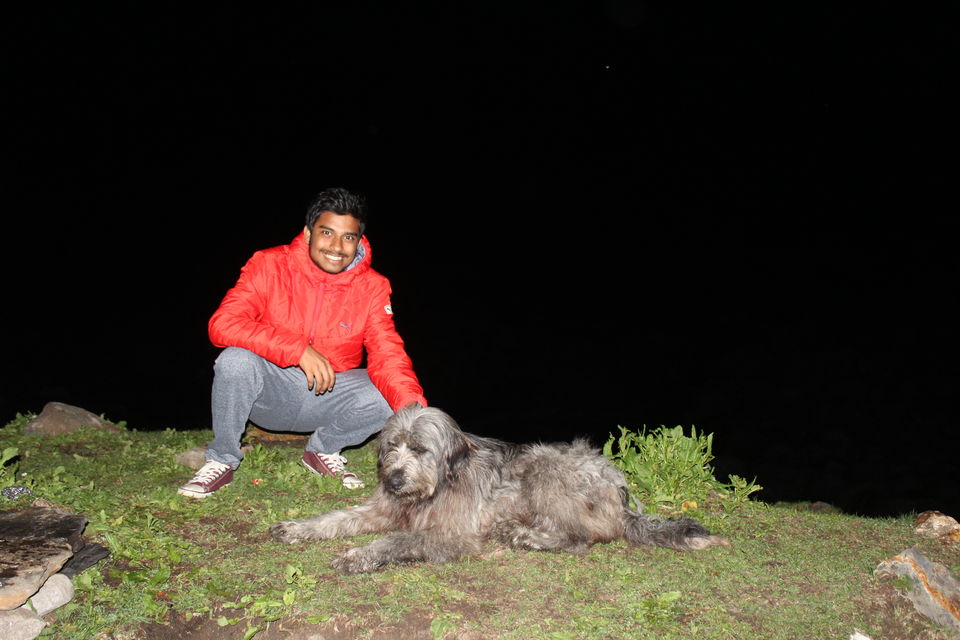 Then we slept our dinner and slept under our camps. Sleeping under the stars is a magical feeling.
**Day 2**
Then came the sun. I remember that freezing cold morning in the Himalayas.

We were too scared of even washing our faces with the freezing water flowing across us in the r​iver. I woke up early that morning to witness the sun rise in these captivating mountains. And I was entranced to see the magical sunrise here.
*Sunrises are life's way of reminding us that no matter how dark the going gets, there will be light again.*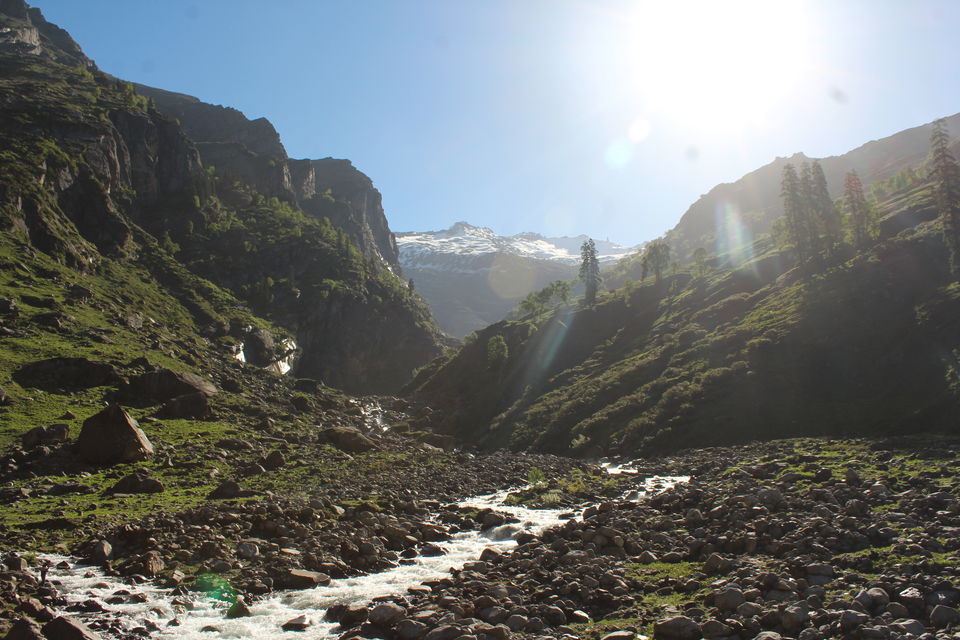 Then after breakfast, we started towards our next camp site Balu ka Gera. It was beautiful walking through those rivers, meadows and valleys. We trekked and reached Jwara meadows where there are two valleys coming and intersecting at one place so we were in the middle of this grassy landscape valley.
We had to cross a naala. The water was so chilled that the second I stepped my foot in it, my foot got jammed. That small naala looked like a vast sea. For a second, I thought just let it all go. I lost my confidence for some time. My feet got numb. But our guide uncle motivated us and eventually, I crossed it. This was a bit risky but a great adventure.
And then we reached here.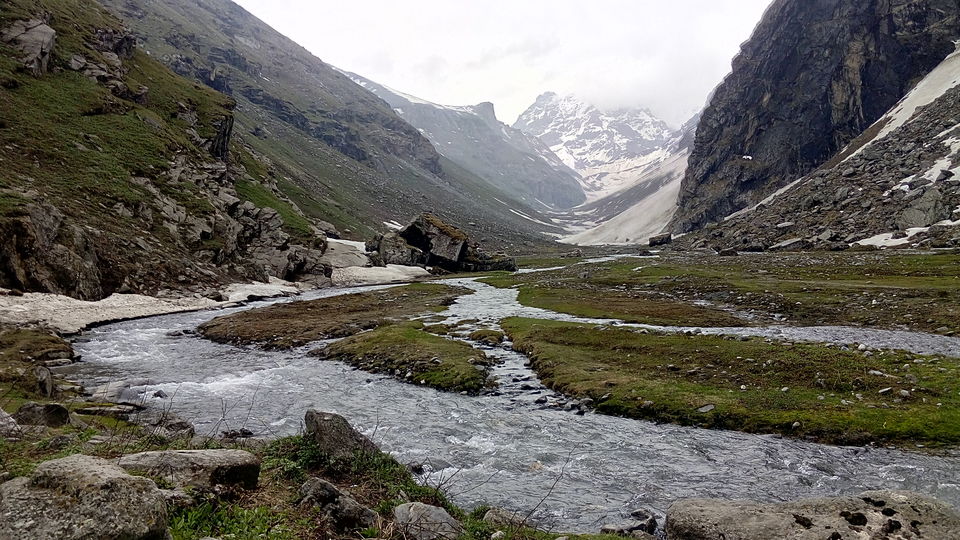 *I was so stunned by the view that I stopped for a moment, took a moment to realize if it was reality, admired the view and then took the picture.*
*This place was so amazing, and the best part about it was the silence. The sound of water flowing beside you, the sound of wind touching you, it was all breathtaking.*
After reaching Balu ka gera camp, we were served with yummy Maggi and soup. And, it started raining. The weather changed suddenly.
It rained all night. One of the funniest things happened at the camp. So, we were three guys in a camp and as it was raining and the fast wind blowing so 3 out of our 4 hooks of the camp were out and the outer part of the camp was free. We were freezing and some water also came in the camp. Our whole sleeping bags and phones were wet. It was good that one of us woke up and fixed the pins otherwise we'd all be wet. I will remember this funny story forever.
And then we started toward Hampta Pass.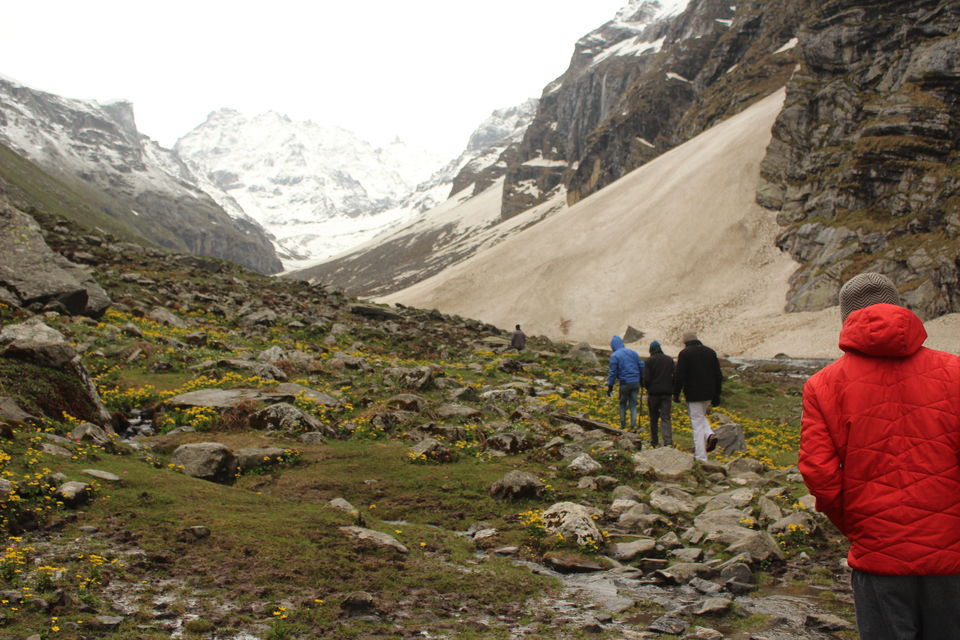 Trek to Hampta pass was a little bit difficult in comparison to other days. We had to trek through out snow until Hampta Pass. And then we reached the highest point of the trek around 14000 ft. Roads to Chandrataal lake were not opened in the first week of June. So, we returned to Balu ka Gera and then after taking our backpacks we left for Chika camp site.
While going to Balu ka gera, we had to cross a naala but while returning our Guide Uncle saw a layer of snow was up there above the naala. So, he decided to cross the naala above the snow. As it was a very thin layer of snow, chances were also that it could break anytime. The layer was very slippery and to be frank, I was really scared while crossing it.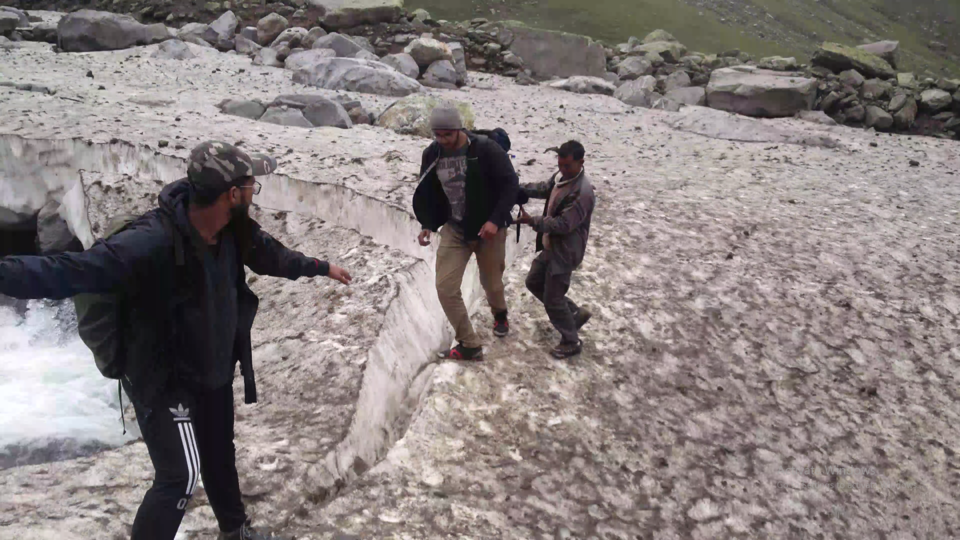 After crossing it, we returned to Chika camp site, camped there all night.
**Day 4**
We trekked down to Jobri Naala from where we reached Manali.