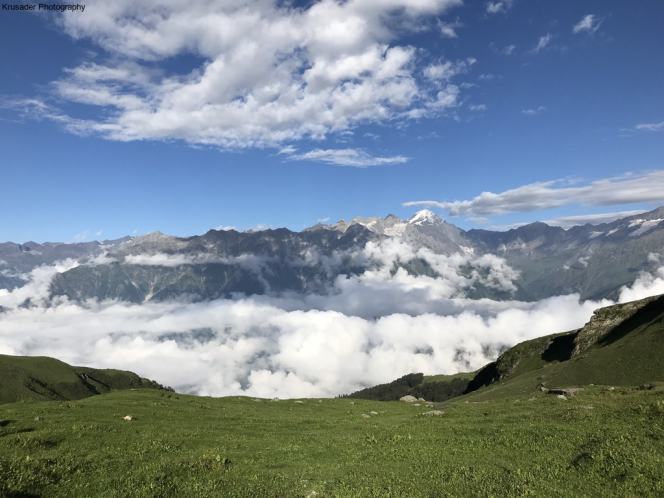 With the intent of staying closer to nature and staring at mountainous landscapes for hours together, we thought of going on a Himalayan trek. After a lot of research and keeping in mind our physical abilities, we zeroed in on the Bhrigu Lake trek.
Why the Bhrigu Lake trek?
We had planned to go on a trek in August, which narrowed down our choices to monsoon treks in Himalaya. One of the most important considerations was the difficulty level of the trek. Since this was our first high-altitude trek, we decided to stick to the easy-moderate difficulty level. We also did not want to spend more than three to four days on the trek because this being our first trek, we knew that we'll need to prepare ourselves physically for the kind of endurance these treks demand.
Given our preferences, the trek that tick-marked all of them was the Bhrigu Lake trek and it took us no time to make up our mind as it also offered a view of lush green meadows throughout the journey. We all have heard or seen people going on and on about how beautiful Switzerland is and this is primarily because of the meadows which are an integral part of the country. Although such beautiful meadows can be witnessed without too much of an ascent (8,000 feet) during the Bhrigu Lake trek.
And the journey begins…
We took an 8:30 PM bus from Delhi (ISBT, Kashmere Gate) which arrived in Manali at around 11 AM. We had planned to stay in Manali for a night before the trek as this was my first visit to the famed hill-station and also the starting point for the trek. After a good day's rest, we were scheduled to meet our trek guide at 2 PM near the government bus stand.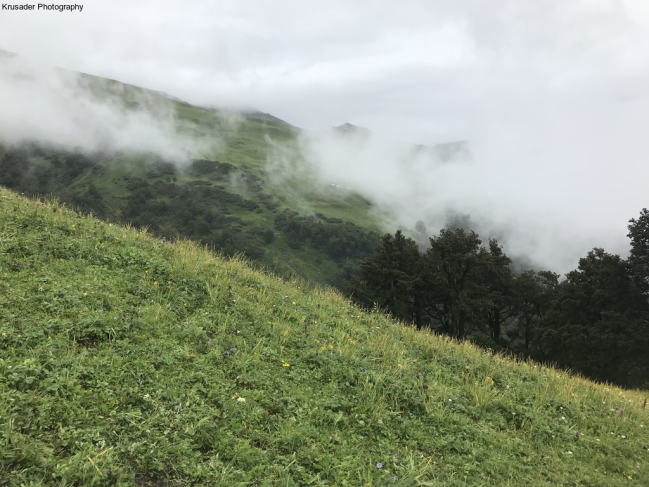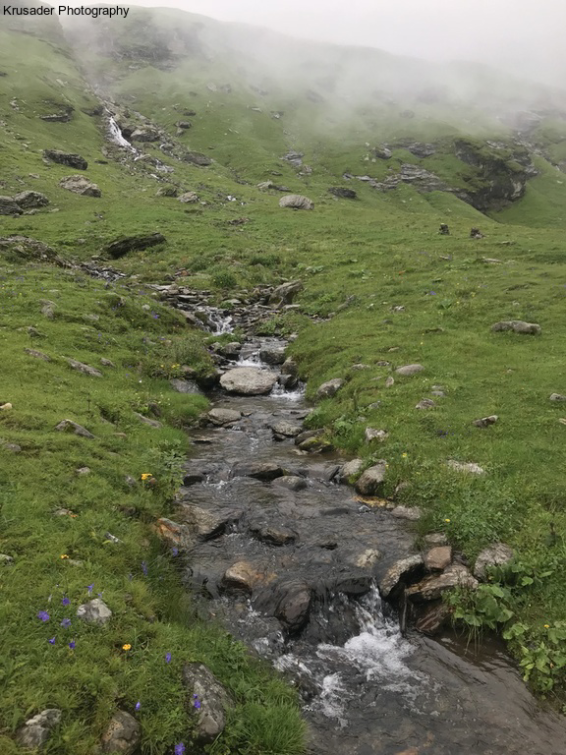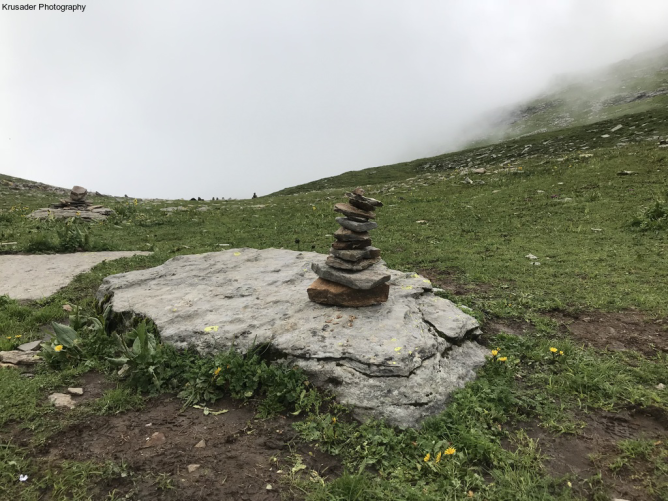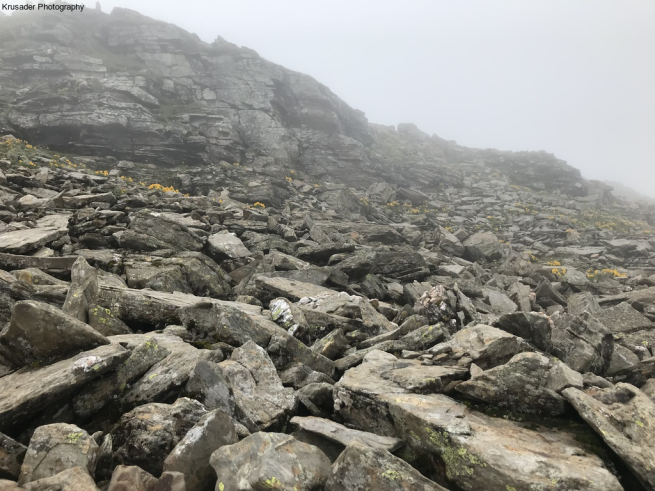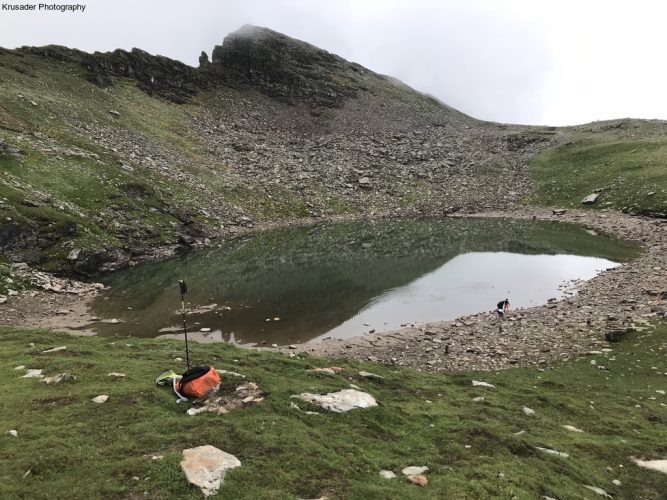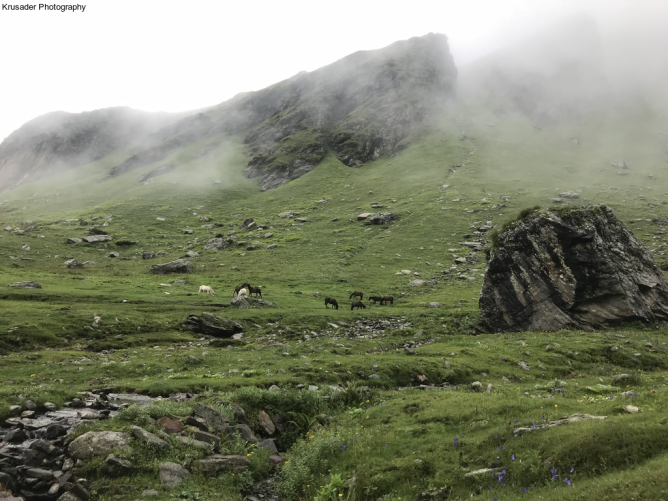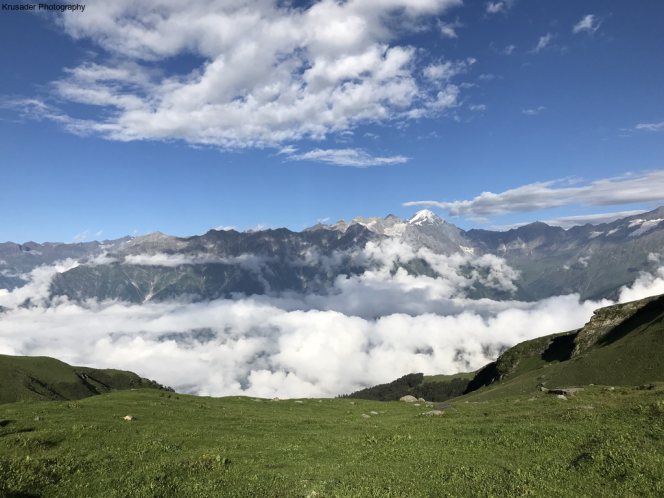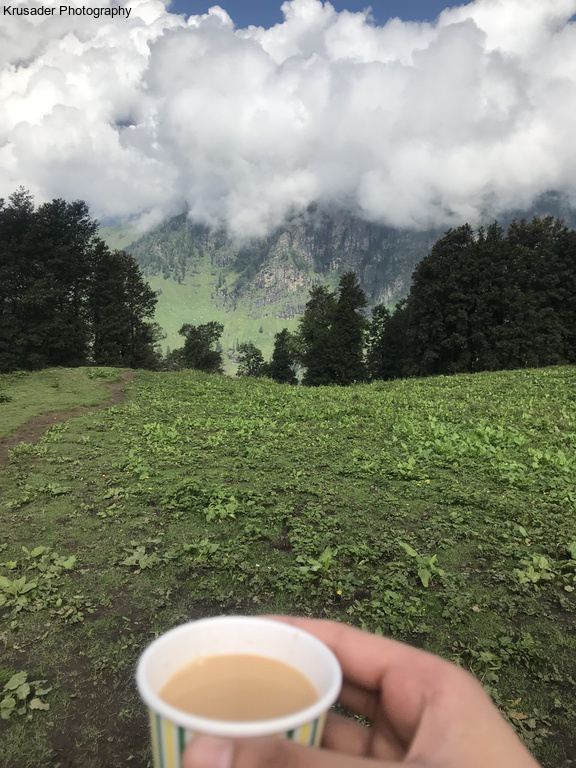 Our trek operator had arranged for a cab that would take us to our destination for the day, Gulaba. It was approximately an hour-long ride from Manali and you get down at a place called Badi Chowdi. From here, it is a 30-minute easy ascent to Gulaba campsite where we were to spend the first night. Since it was raining incessantly at Gulaba, we had to spend most of our time inside the tent and rarely got a chance to observe the view from the campsite. When it stopped raining for a couple of minutes, there was so much fog that visibility was almost zero. Our dinner for the night and breakfast for the next day was taken care of by the only dhaba there (a makeshift hut with enough space for five to six people to sit). We had simple and nutritious dal and rice for dinner and called it a day.
We were scheduled to leave Gulaba at around 7 AM but nature had its own plan. It had been raining the entire night and showed no signs of stopping anytime soon (this was at 6 AM when we woke up). We had breakfast at around 7:30 AM and by 8 AM, the rain gods decided to show us some mercy. With the rain subsiding a little, we decided to take a chance and begin our five-kilometre journey towards Rola Kholi, our campsite for the next couple of days.
After the first five minutes of ascent, we realized that it was literally going to be an uphill task. The journey was marked by climbing through muddy terrain and the rain wasn't helpful at all. Our trekking shoes really proved their worth in the difficult terrain. Throughout the journey, no matter where our eyes gazed, all we could see were miles and miles of meadows. We had to take a couple of breaks to hydrate ourselves.
Tip: Drink as much water as you can since you cannot afford to be dehydrated at high altitudes. I intended to test my new prime lens but the persistent fog didn't allow me to. We also had to cross a few small river streams and many distant waterfalls were visible.
After around four and a half hours from when we started, we reached Rola Kholi. By the time we reached, it had stopped raining and we could finally soak in the calm of the surroundings. We freshened up and had a tasty bowl of Maggi. After taking care of our hunger, we thought of taking a stroll around the campsite. It was cold and although it had stopped raining, the sky was overcast. There was a big river stream and we sat appreciating the stark difference from our busy city lives. To our surprise, a group of pack horses were at their playful best. You can find them playing around in this video. We spent some time petting them and went to our dhaba where the locals were preparing dinner.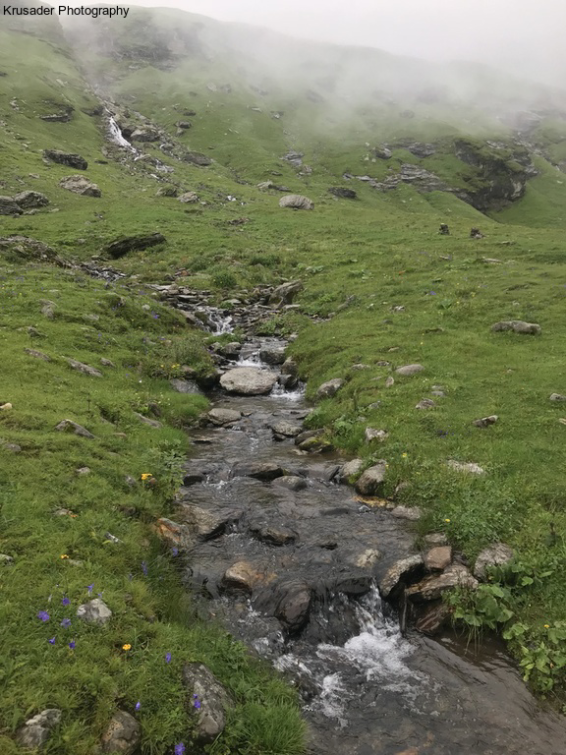 After a couple of hours of rest in our tent, we had delicious rajma (kidney beans), aloo gobi (a staple dish comprising of boiled potato and cauliflower cooked in Indian spices), rice and roti (flatbread). We called it a night and went to our tents but we realized that at such high altitudes, sleep is difficult to come by.
The penultimate day of the trek was the defining one as we were to start for our destination, the much revered Bhrigu Lake. With a lot of enthusiasm but not much rest, our day began with a much-needed breakfast as it had been almost 12 hours since our last meal. Our trek guide had asked us to be ready by 7 AM so that we could leave by 7:30 AM as we had to come back to Rola Kholi, which was our campsite for the day. The trek began with a steep ascent and all our preparation over the last two months was put to test. As we were almost at 12,000 feet, the air started getting thinner and breathing took a lot more effort which strains the body. The view remained pretty much the same but we were able to see further owing to the elevation.
After marching on for a couple of hours, we took a hydration/snack break and our trek guide detailed out the last stretch of 300-400 metres which was interspersed with stones and boulders. To give you some perspective, this climb was daunting because of the uneven sizes and shapes of the stones and boulders. Adding to this, there were also huge gaps between them which made it difficult to establish a grip (the trekking pole, which had been a faithful companion throughout the ascent, isn't of much use here; you would rather use your hands in case of a slip).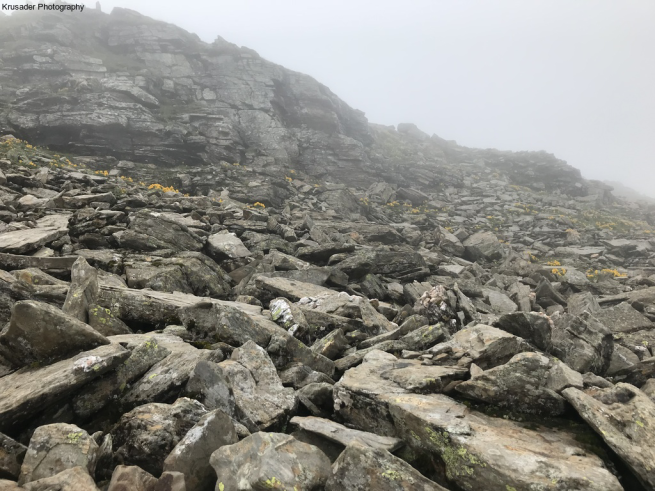 It took us almost an hour to complete this strenuous stretch but the effort was well-rewarded when we got a glimpse of this mystical lake at an altitude of 14,000 feet. It was an overwhelming feeling to have reached our destination, partly because this was our first high-altitude trek and the sense of accomplishment made us feel proud of ourselves.
Let me tell you a little bit about Bhrigu Lake. According to Hindu mythology, the lake is a namesake of Maharishi Bhrigu, who supposedly used to meditate here. The locals consider the lake sacred. Being an avid photographer, I was excited to click some pictures and nature, as a sign of support, cleared the fog completely rendering the whole landscape as my playground. I was gifted a prime lens specifically with the intent that I could make good use of it on this trek.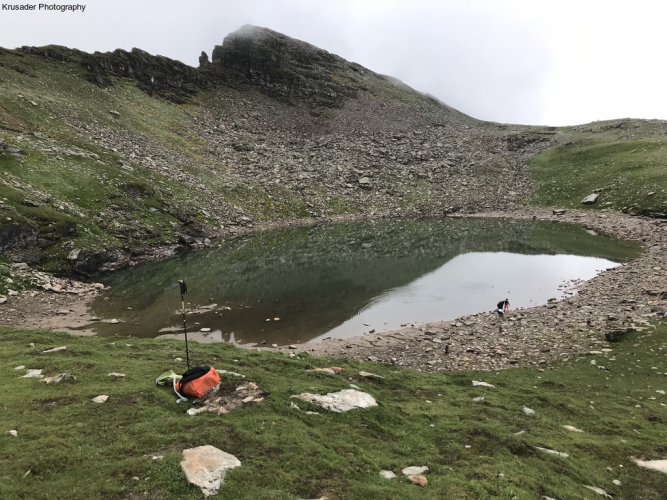 After spending some time at the lake, we began our descent. We had to come down the stony stretch very carefully because you tend to be a little faster in descent, as compared to the ascent. It was not just this stretch, the entire descent till Rola Kholi was more demanding than we had anticipated. This is mostly due to the sheer stress on your knees during the descent. It took us around 90 minutes to come back to Rola Kholi. We then lazed around the campsite and went on with the mountain routine that we had developed over the last two days.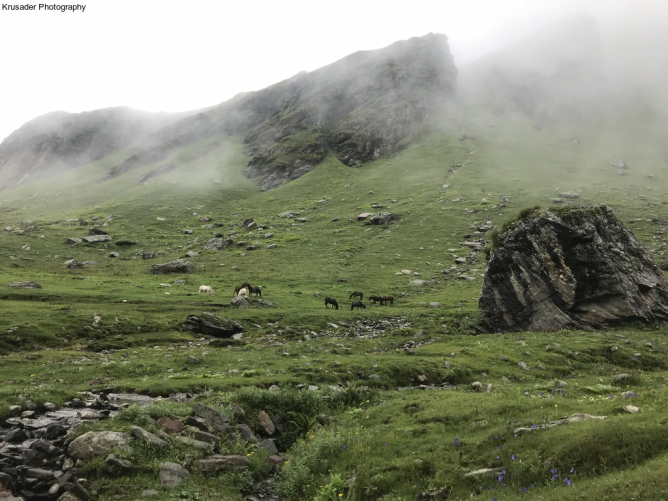 Nature works in mysterious ways and surprised us with bright sunlight, clearing up the fog that had been omnipresent over the last three days. It was as if there was newfound energy on the campsite. Without wasting much time, I hooked up my camera to make the most of this opportunity. This was the first time we realized how beautiful the surroundings at Rola Kholi were, specifically the mighty Mt. Hanuman Tibba.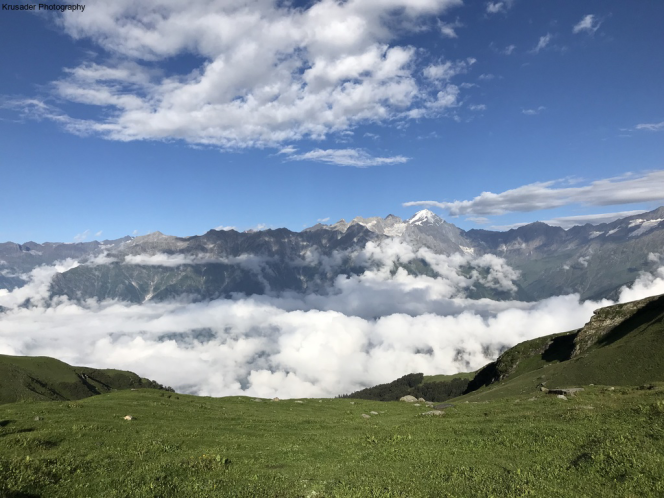 After fulfilling my photography desires, we began the last leg of our trek which was a descent till Gulaba. This two-hour journey, although not too hard on your lungs, compensates by putting your knees to a gruelling test. The consistent rain over the last three days ensured that the trail was slippery and even our faithful trekking shoes gave up in some situations, leading to small slips (luckily without any injury). We realized that the descent is more about balancing your body.
Tip: Our trek guide advised us to walk in a zigzag pattern and not in a straight line to balance better.
We then took a quick hydration break at our first campsite, Gulaba. Then we managed to reach our pickup point by 11 AM, where our cab was waiting to take us to Manali.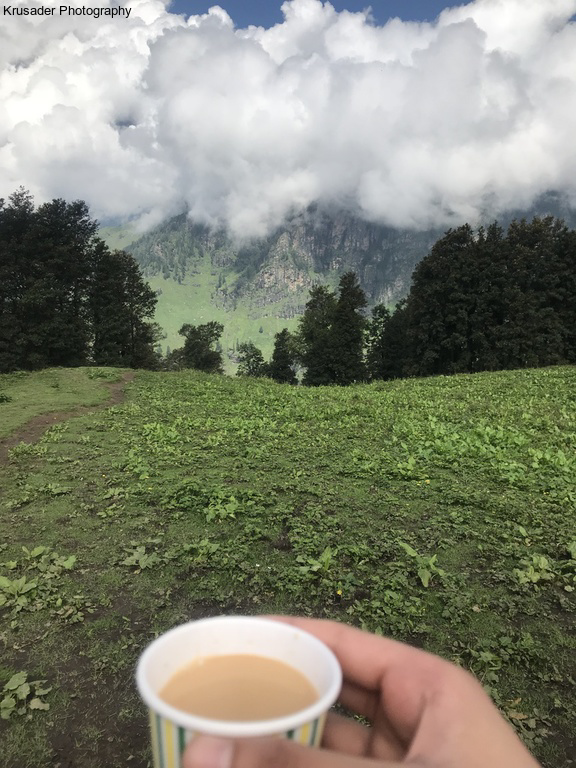 It was with mixed feelings that we boarded our cab. On one hand, it felt strangely good that we were back in our natural surroundings with man-made amenities and on the other, we felt a sense of disappointment in leaving behind the untouched natural habitat we had spent the last three days in. We'll surely be back to the mighty Himalayas and take on yet another high-altitude trek.
What I carried for the trek:
50-litre rucksack
Sun cap
Headlamp
Sunglasses
Thermal wear – 3 pieces
T-shirts – 3
Track pants – 2
Undergarments – 3 pairs
Jackets – 1 padded & 1 fleece
Small cotton napkin – 1
Water bottle – 2 of 0.80 litres each
Socks – 3 pairs
Poncho
Trekking pole
Cutlery – 1 tiffin box, 1 spoon, 1 plate, 1 steel glass
Slippers – 1 pair
Trekking shoes
Toiletries – 3 packets of wet tissues, 1 roll of toilet paper, lip balm, toothbrush, toothpaste (small), 1 spray bottle filled with rose water, moisturizer cream, sunscreen SPF 40+, deodorant, hand sanitizer, 4-5 zip lock pouches, 3-4 cotton pads
Medicines – Diamox, Dexamethasone, Combiflam, Crocin, Dispirin, 3-4 ORS sachets, Omnigel spray, Band-aids
P.S.: Don't litter your surroundings. Make sure whatever you take, comes back with you.