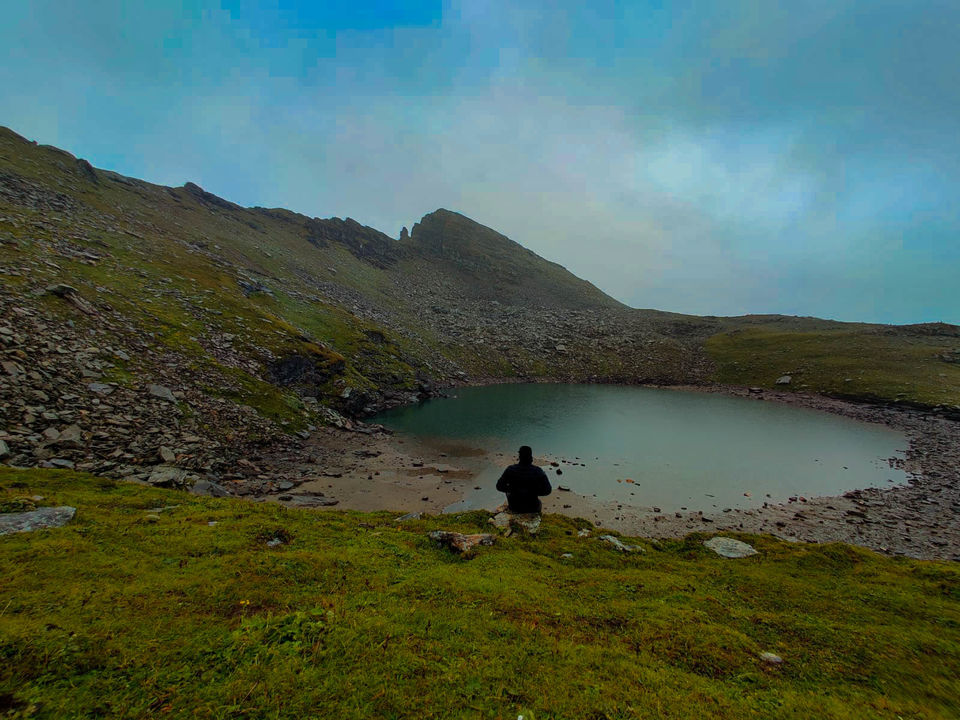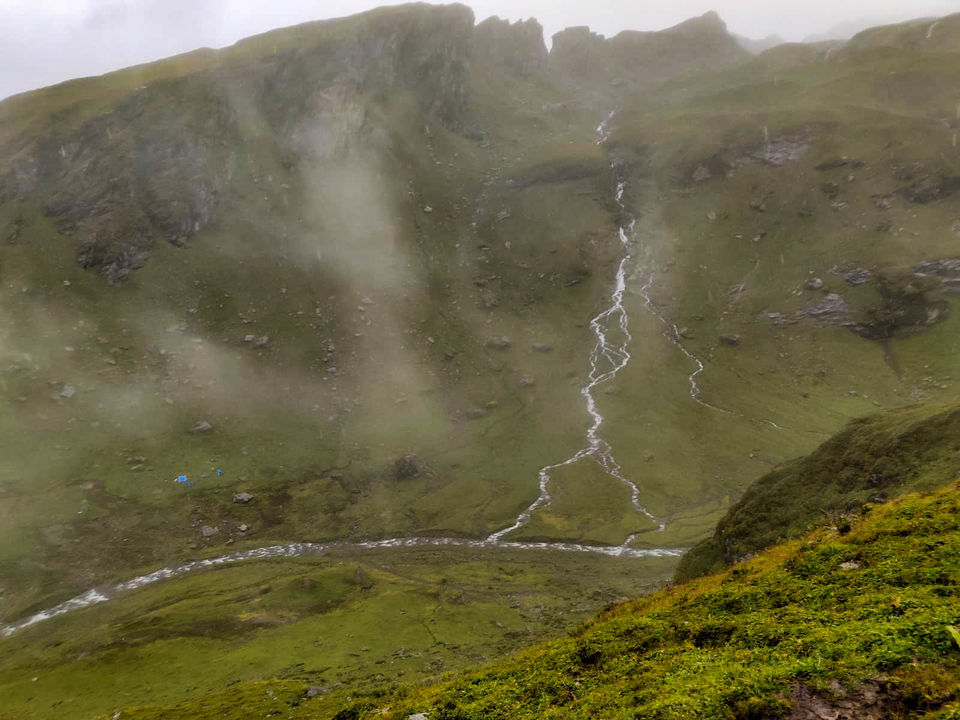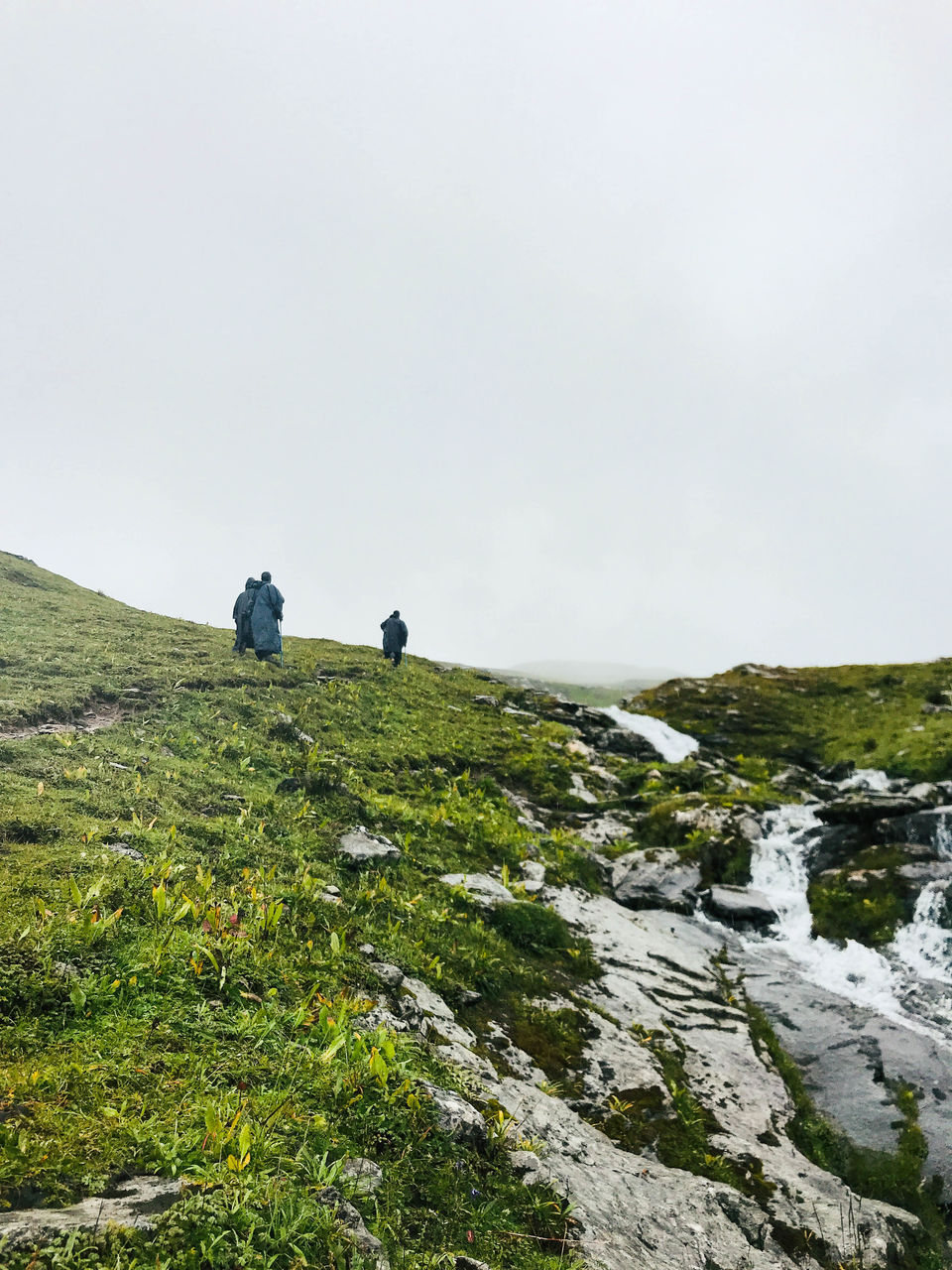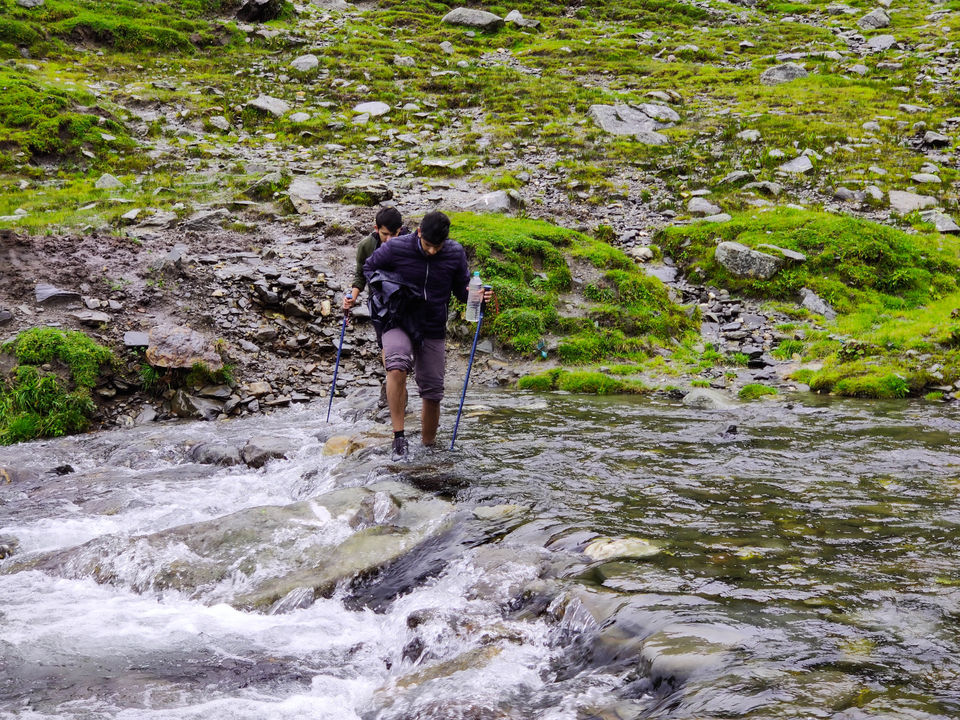 From the name, it is natural that it appears to be a trek that leads you to a Glacial lake which is 14100ft ASL. But in actual, you gotta do this trek for its meadows and grasslands. I haven't seen such grasslands anywhere in Himachal! It was a random Wednesday night in the boys hostel and I was browsing YouTube. I saw this lake and it was a usual late night craving to trek to this place. Everything was sorted the next day and we (A group of 5 students) departed for Manali on Friday night from Chandigarh. We always trek in DIY style without any guides and porters. The forecast already predicted heavy rains but we were so motivated and it took as a challenge as our first monsoon trek. Lets dive into the trek!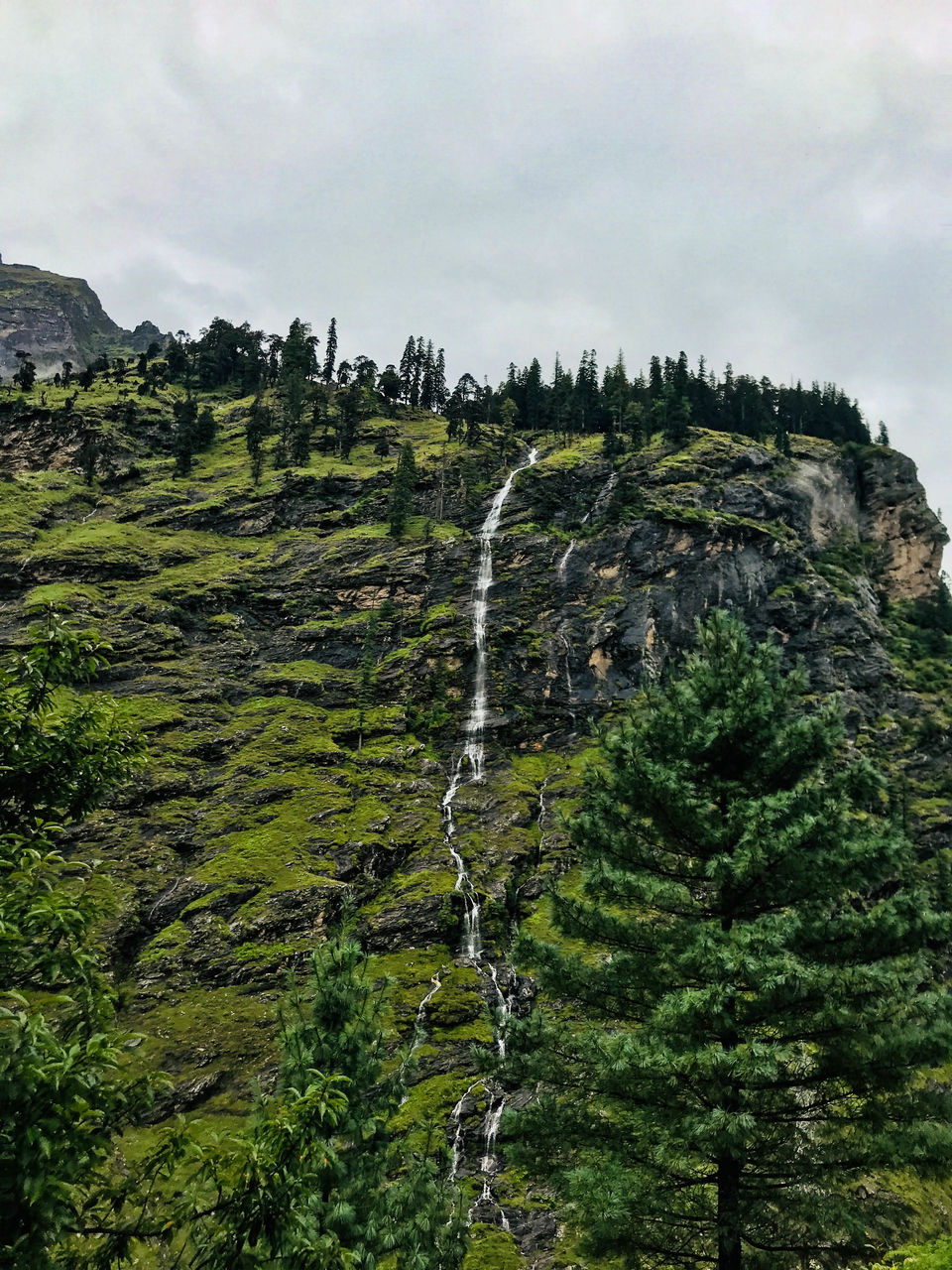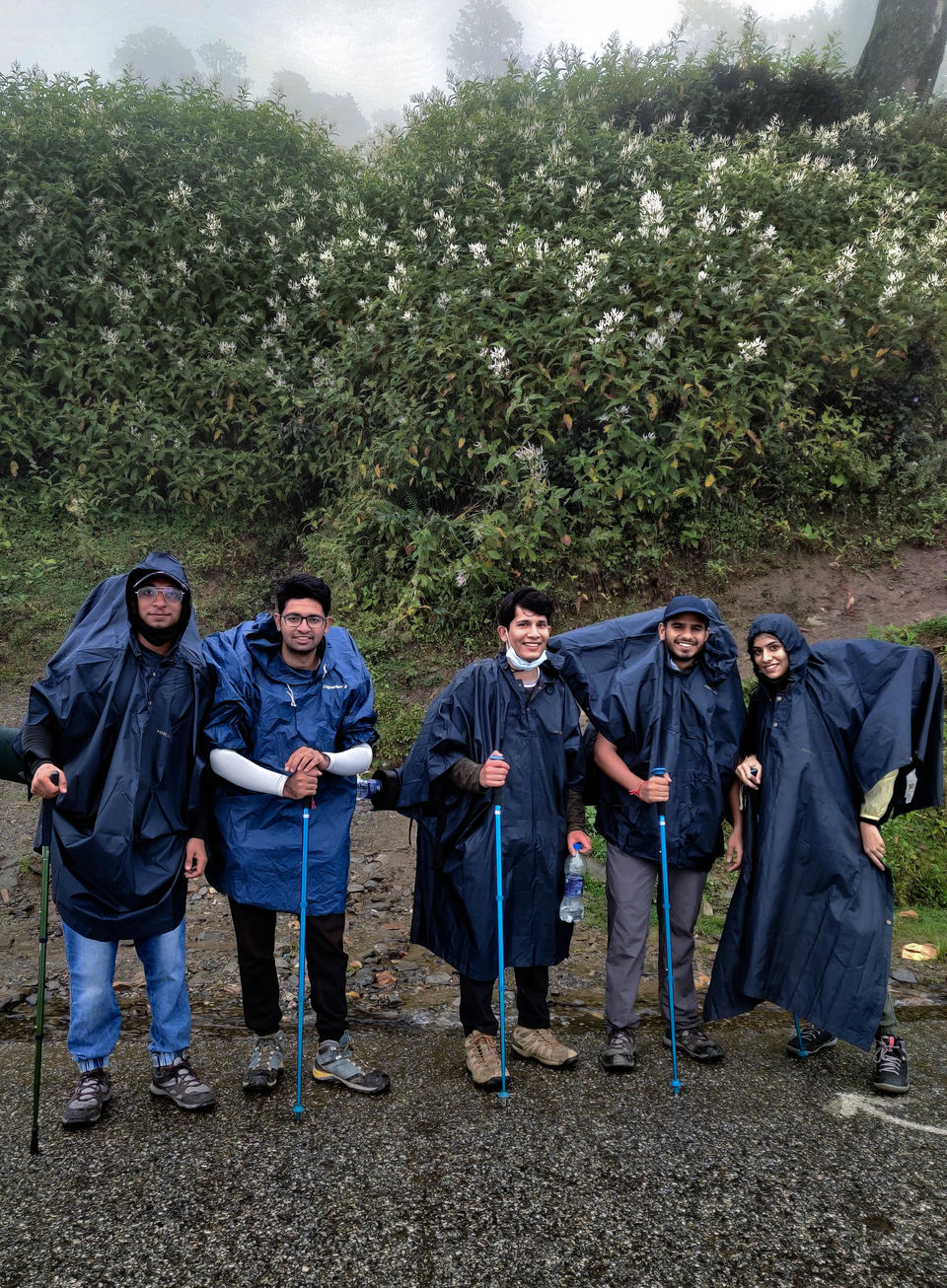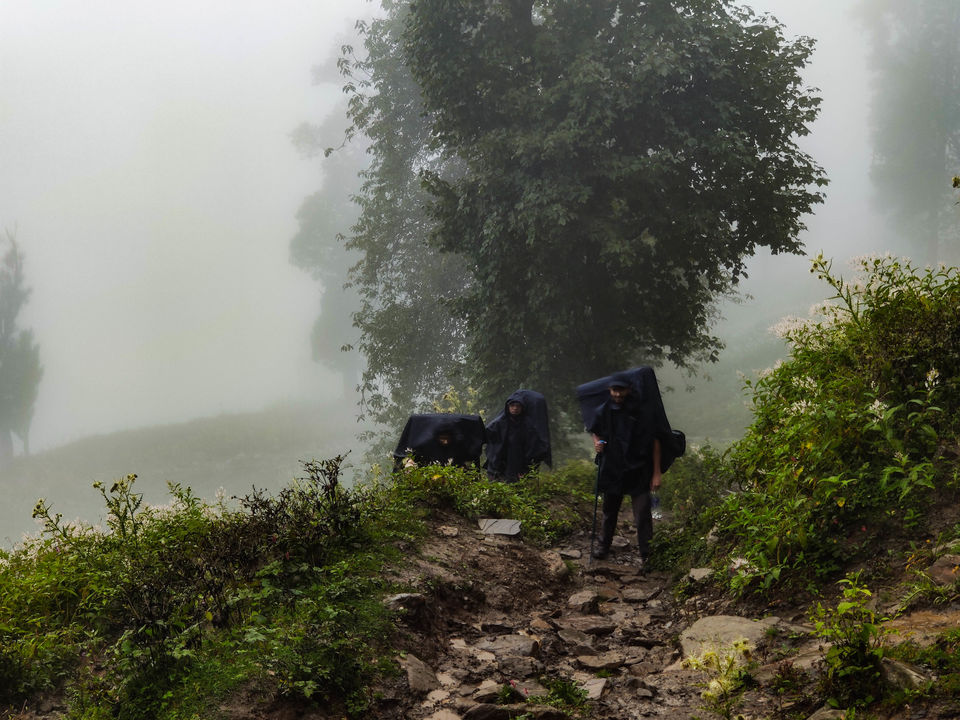 This trek is a circuit actually! You can ascend from Gulaba side and descend from Vashisht side or vice versa. The trail from Vashisht side is much more steep but shorter. Since we had heavy rucksacks, we opted for the Gulaba side and we also decided to descend from the same side. The starting point of the trek is called "Chaudah Mod" or "14 Turns". Every taxi driver in Manali knows about the same and you can easily reach the point in any taxi. They charge 1200 for a Sumo from Manali private bus stand to the starting point and it is a 45 minute magnificent drive. The trail is all marked and there are white arrows marking the direction every now and then. It is difficult to get lost on this trail. We started our trek at 11:00am. Just start up the trail and you enter a partial forest. Just 10 minutes into the trek, and the forest ends and you enter into the meadow, the endless meadow!!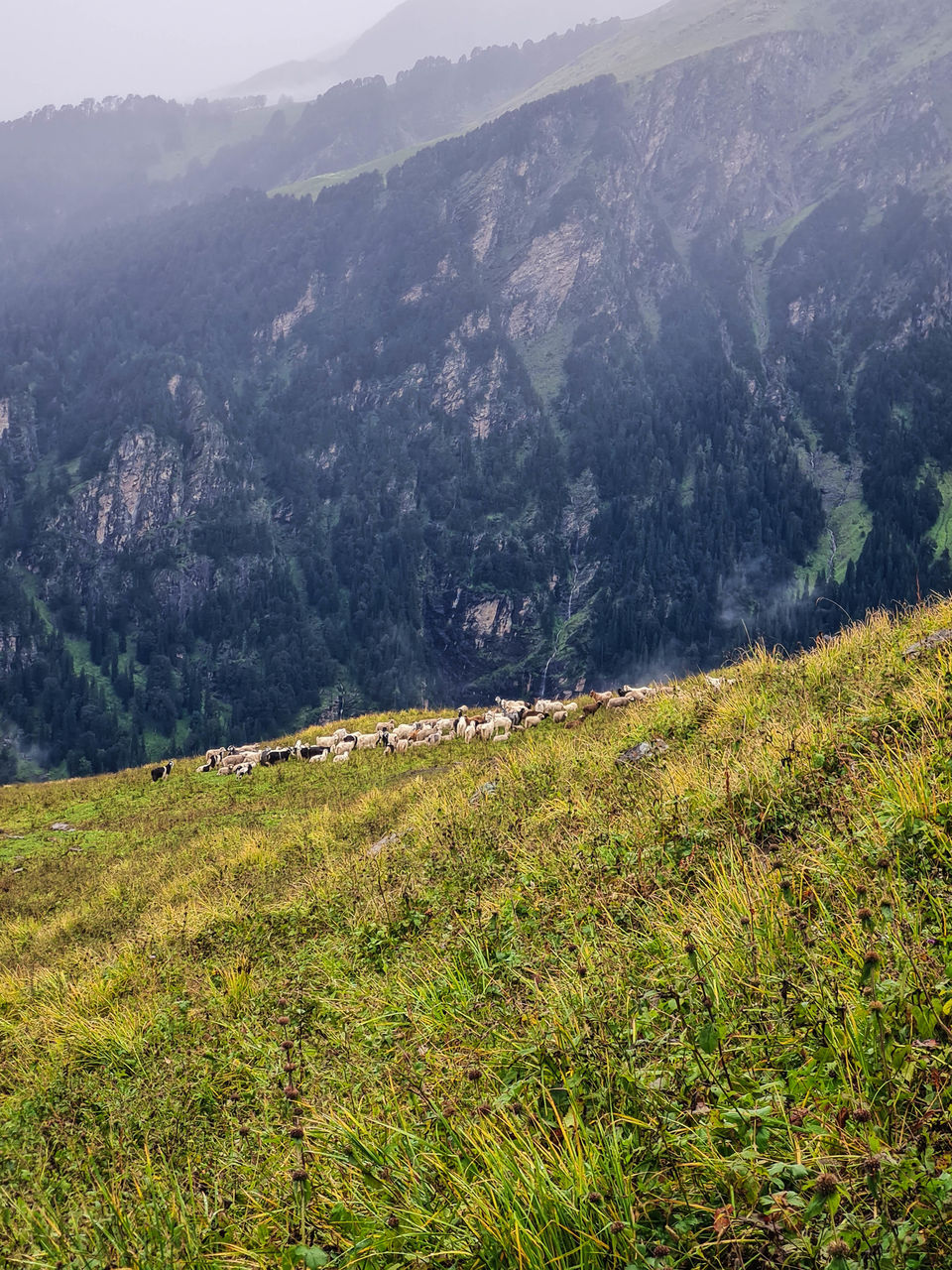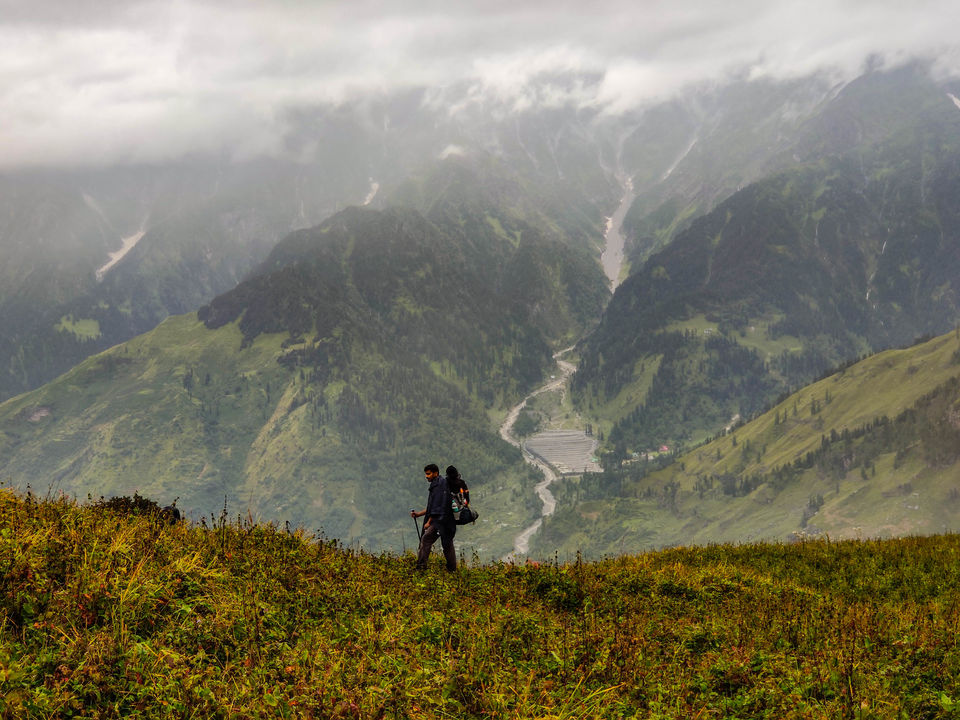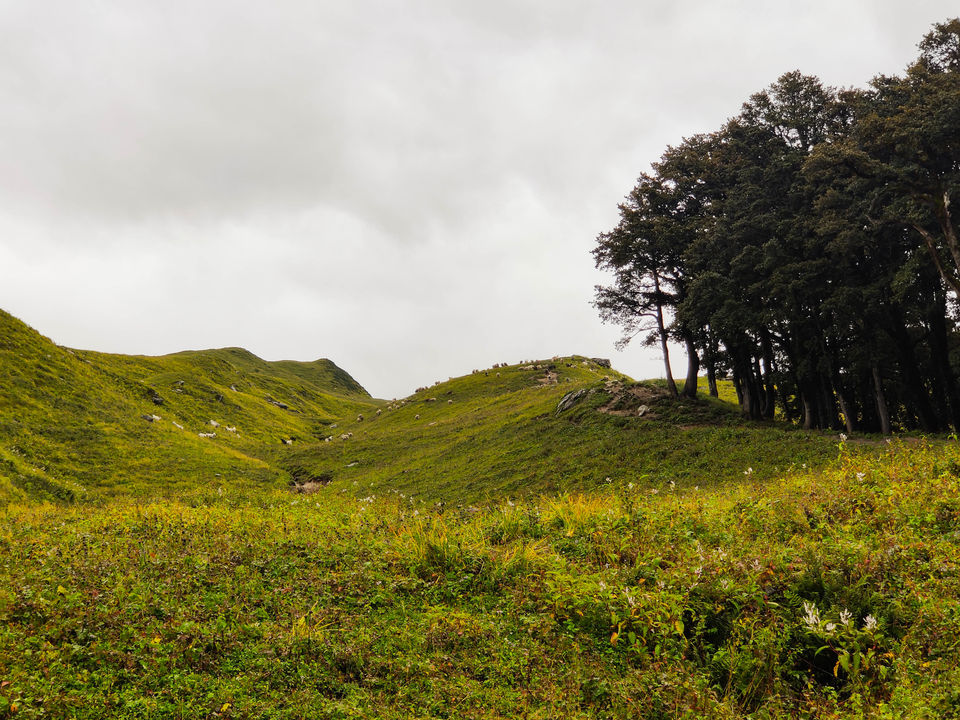 You climb and climb and climb all the way to Rola Kholi (6.5kms from starting point). It is a moderate climb all the way and a flat trail in the last 30 minutes.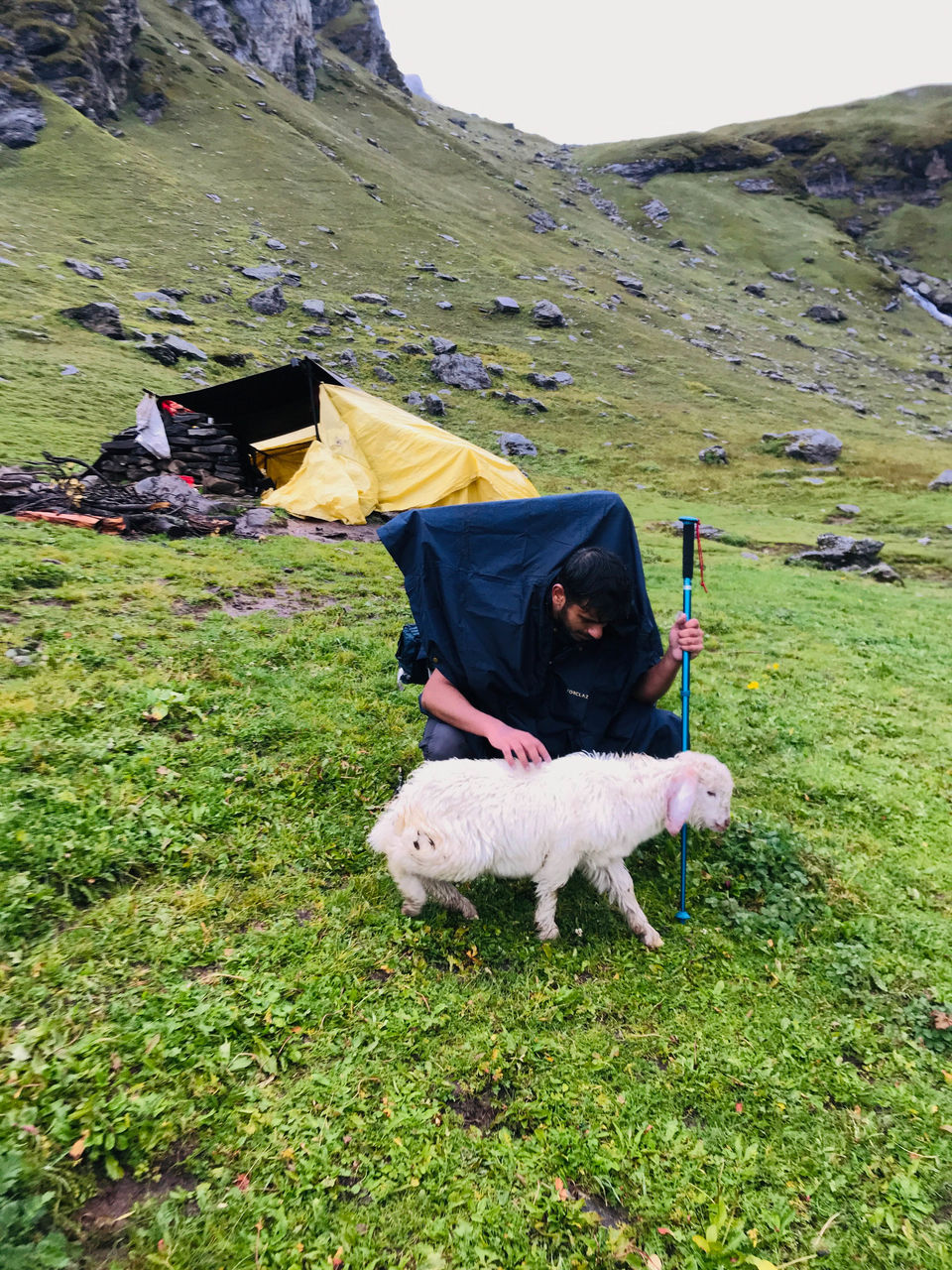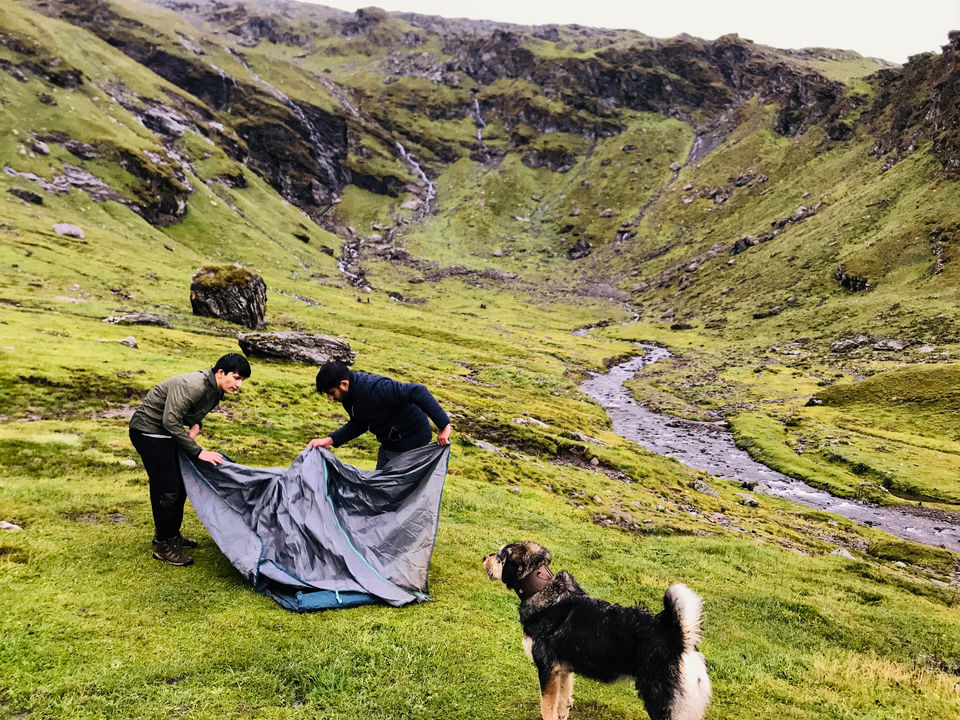 It was raining non stop from the starting till Rola Kholi and we were already drenched! We reached Rola Kholi by 5:30pm and pitched our tents to dry up ourselves. It rained all night but had a good sleep. The next morning, it was tough to put your feet in icy wet shoes but we did it anyhow and started our trek at 7:30 am. You have to cross a stream at Rola Kholi to move forward towards the lake. The trail is marked clearly and you just have to follow it. After crossing the trail you have to climb upwards for the next 30 minutes and it is steep! But once you have climbed that part, you get beautiful view of the campsite!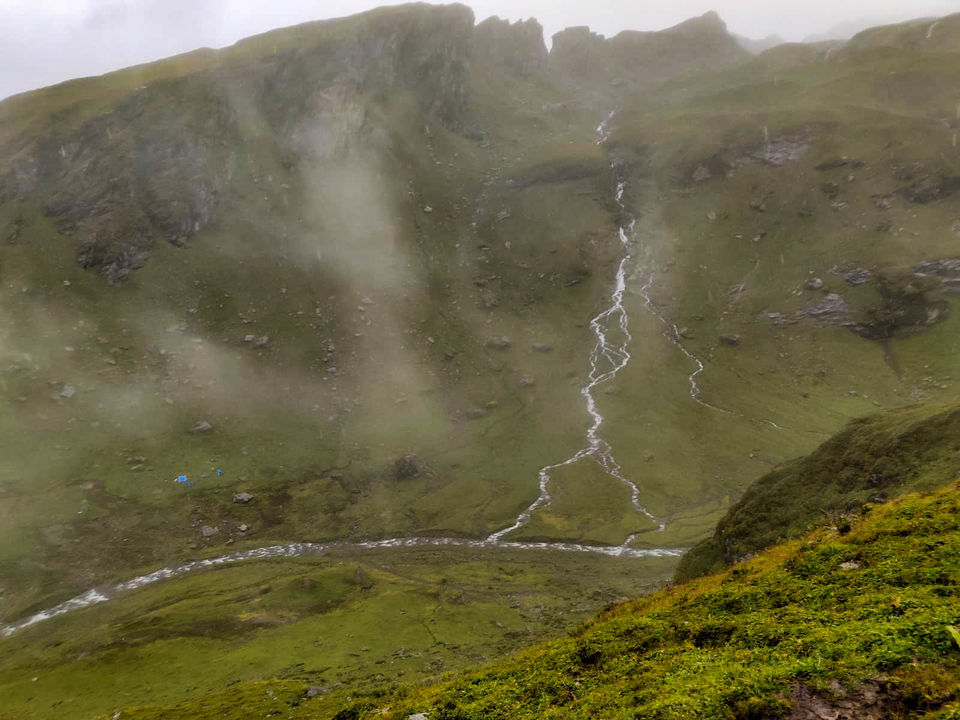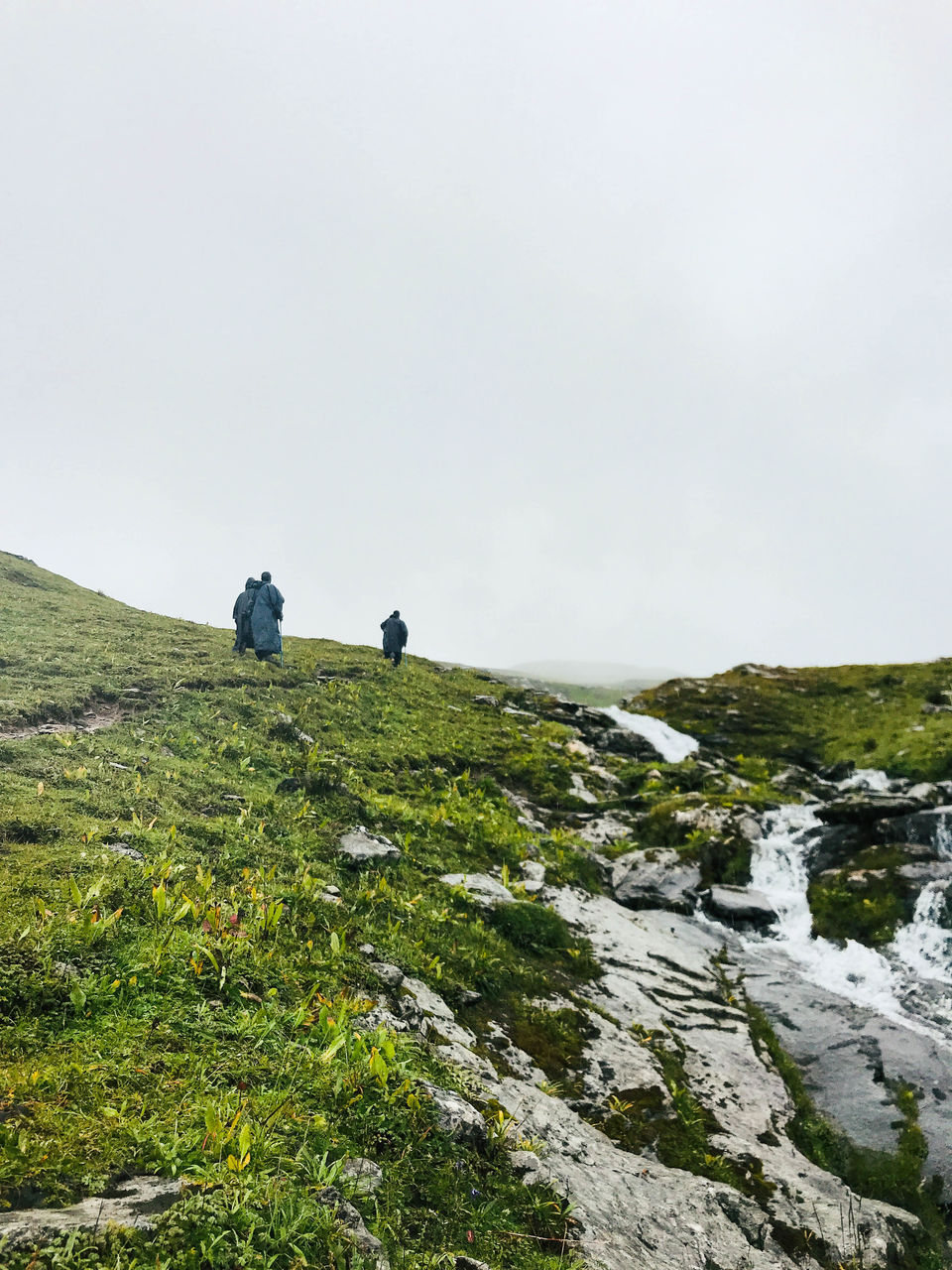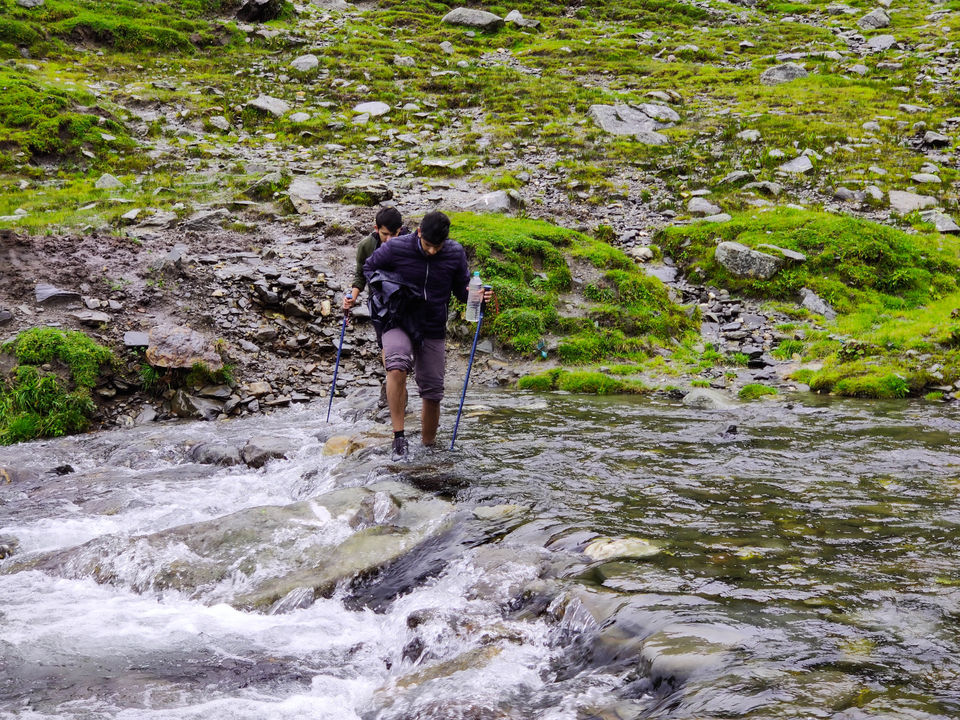 After straight climbing, you reach an area full of cairns. It marks the hilltop and you have to descend for the next 10 minutes. It is a plain walk for the next 15 minutes and once you start encountering boulders, it is time to ascend. This is the last ascend and it goes on for atleast an hour. Just follow the white arrows marked on the boulders and it will take you to the lake! We reached the lake at 11:00am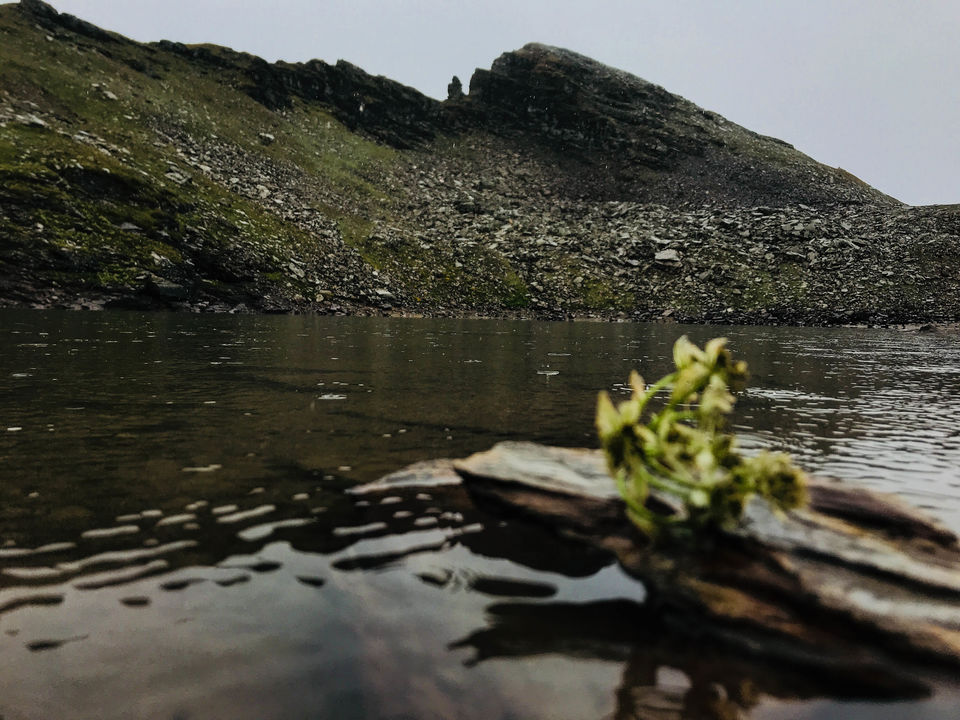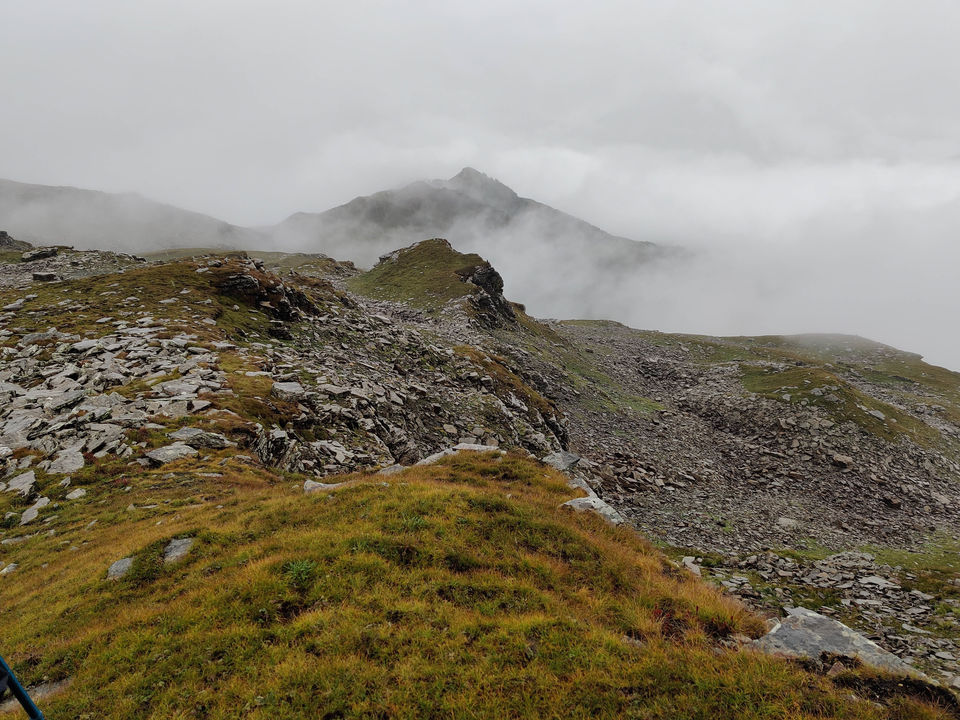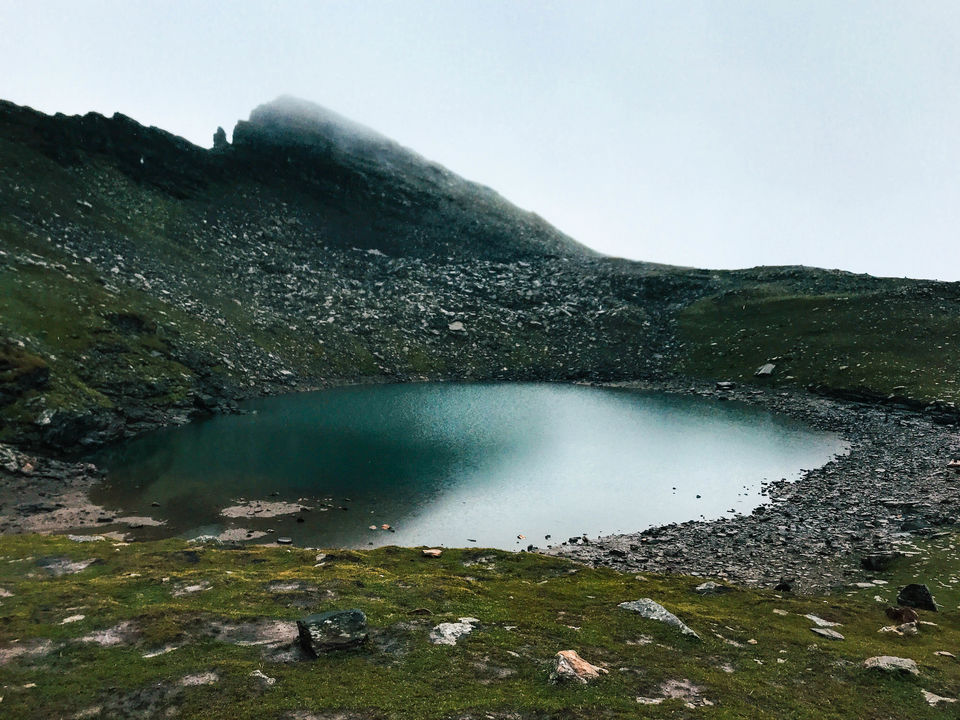 We spent 30-45 minutes in peace around the lake and it had started to whiteout. The visibility reduced to 10 meters and we could not trace out the trail because the arrows stop at a point and you have to find your own path. We went in the wrong direction and climbed up further to 14300 feet and realized it soon! Somehow we managed to find the trail and started to descend asap as the whiteout takes a lot of toll on time. We reached Rola Kholi at 2:00pm and packed up our stuff and descended back to the starting point of the trek! We descended back to the road by 6:30pm just before dark. I would recommend a guide on this trek if you are not experienced enough. Whiteouts can be dangerous! We completed this trek in 2 days and in non stop drenching conditions! There are intermediate mobile signals all along the trek!