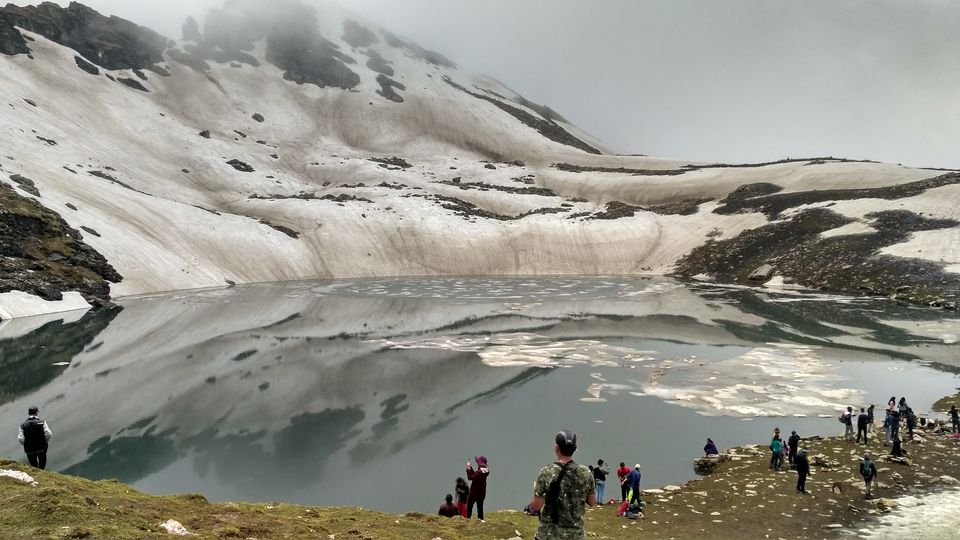 BHRIGU LAKE LOCATION
https://www.google.co.in/maps/place/Bhrigu+Lake,+Bashisht,+Himachal+Pradesh+175104/data=!4m2!3m1!1s0x39047cff88585203:0x4a555ceed3dc0aa?sa=X&ved=0ahUKEwjGmaDdmcLVAhVMQ48KHWhSD6EQ8gEIOzAB
Bhrigu Lake is a lake located at an elevation of around 4,300 metres (14,100 ft) in Kullu district, Himachal Pradesh, India. It is located to the east of Rohtang Pass and is around 6 kilometres (3.7 mi) from Gulaba village. It is named after Maharishi Bhrigu. Maharishi Bhrigu (Sanskrit: Bhṛgu) was one of the seven great sages, the Saptarshis
Bhrigu lake trek seems to provide an amazing experience one could have in three different Trek. it was a sum of all the Six Seasons in a 4 days. my eyes were unable to contain seneries of the mountains. As amazing as this journey was this track open eyes to one important fact that I shouldn't bother seeking company for a trek. it is always and always advisable to take your journey alone. Of course that is my experience I couldn't speak for anybody. after 5 treks I can say that it is true for myself you could go alone and find out yourself that by missing someone what is it that you are not missing.
Region :- Himanchal Pradesh
Duration :- 4 Days
Grade :- Easy
Max Altitude :- 14,000 Ft.
Approx Trekking Km :- 26 Kms
Trek Itinerary
Day 1: From Manali drive to Gulaba and trek to Gulaba Meadows camp
Day 2: Gulaba to Rola Kholi
Day 3: Rola Kholi to Bhrigu Lake to Pandu Ropa
Day 4: Pandu Ropa to Vashist to Manali
On Day 4, you'll reach Manali between 4:30 pm and 5:30 pm. You can book your travel any time after 6:30 pm.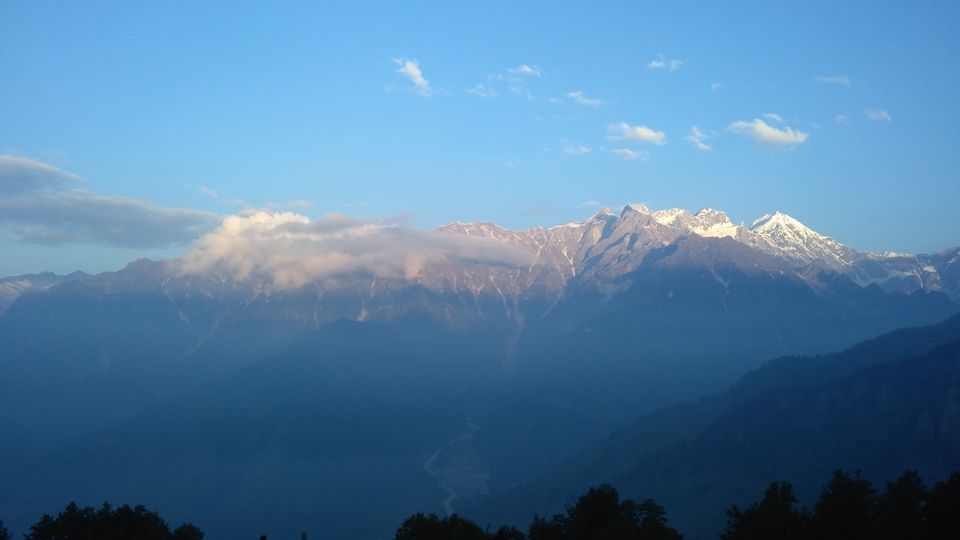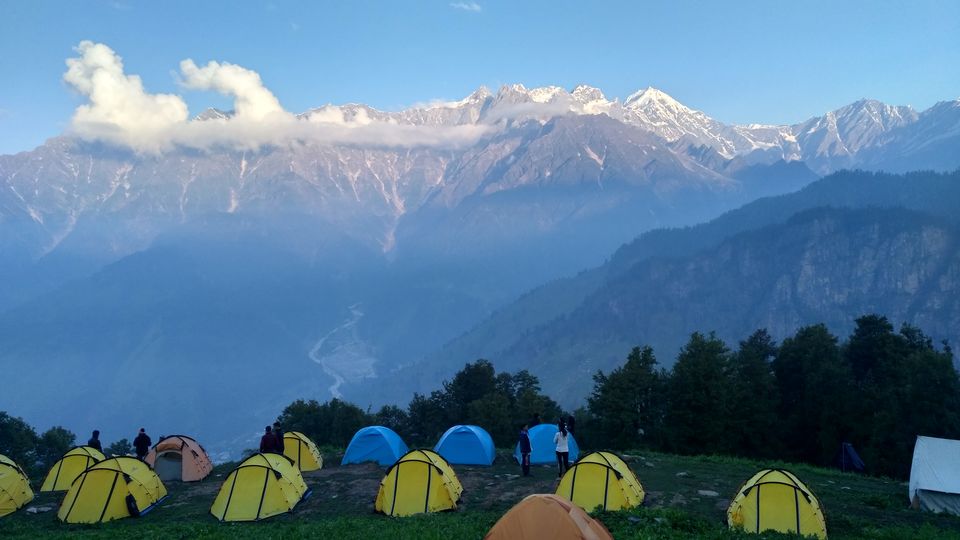 Day 1: From Manali drive to Gulaba and trek to Gulaba Meadows camp
We could Lake Trek starts from Manali I had to take the Delhi to Manali Volvo around 10 p.m. I was supposed to reach at Manali around 11 but a bus got delayed and I reached Manali by 3 p.m so it is advisable that to you take one of the Himachal Pradesh Tourism bus and not the private Volvo and please book your ticket in advance. so after reaching Manali and after having some lunch we left for Gulaba. it is a 2 hour drive from Manali. after reaching Gulaba it is approximately half an hour trek to Gulaba camp site. It is situated in a lush green meadows and wild boulders. I reached Gulaba camp site at around 8 p.m. fellow trekkers were all setup and playing antakshari. I missed our introduction .there was almost 40 people and at the end of the track I didn't knew names of the half of the people in the group. group shouldn't be more than 20 person as it prevents us from wanting to reach out to another person from the beginning. so I decided I won't do any other trek with Trek the Himalayas and this is my personal experience. IH is much better in my experience.
Day 2: Gulaba to Rola Kholi
Altitude: 12,500 ft
7 kms trek, approx. 5 hours
So after a good night sleep in a perfect Meadows a perfect atmosphere and a sloping field I woke up at 6 A.M to see the most beautiful sunrise. we left for Gulaba to Rola kholi Camp site which was about 7km and 5 hour long trek. First 1.5 hours is steep ascent and then gradual ascent till campsite, via Kolang Nallah. The trail passes through virgin forests with views of Manali & Solang.
8 kilometre walking made me worried but this time my legs weren't hurting anymore. I think it got of accustomed to the mountains. all it took was 4 treks . it was not a piece of cake but it wasn't as hard as I thought because I hadn't done any exercises or any preparations for the hike and I was worried that even if the trek itself is a easy track the height which we had to accomplish was 14000 which was more than any other trek i did in the past. it was a July the season of rain; thank god it didn't rain while we were walking during the day. I don't know what would have I done in that situation. So after 5 hours we reached campsite. The scenery in between the road was mesmerising .it was covered with soft grass. green carpet was covering all the walkway. After lunch I got severe headache. mountain was getting to me I knew it was a mountain sickness. I couldn't be bothered about the headache I am a doctor so I easily took time off cause I didn't want to avoid mighty Bhrigu lake. Two or three more people got a headache. I think for a 14000 feet height the track shouldn't be too short that is a rule and the first and foremost rule of Mountain.
It started raining during the night. sound of raindrops on our head I couldn't even go out .I had never experienced a night in a tent with profuse rain falling over my head. thank heavens the tent wasn't leaking. I was in a sleeping bag so there was no questions that I would get wet for it but I was worried about my bag. in the morning the rain stopped by the grace of God.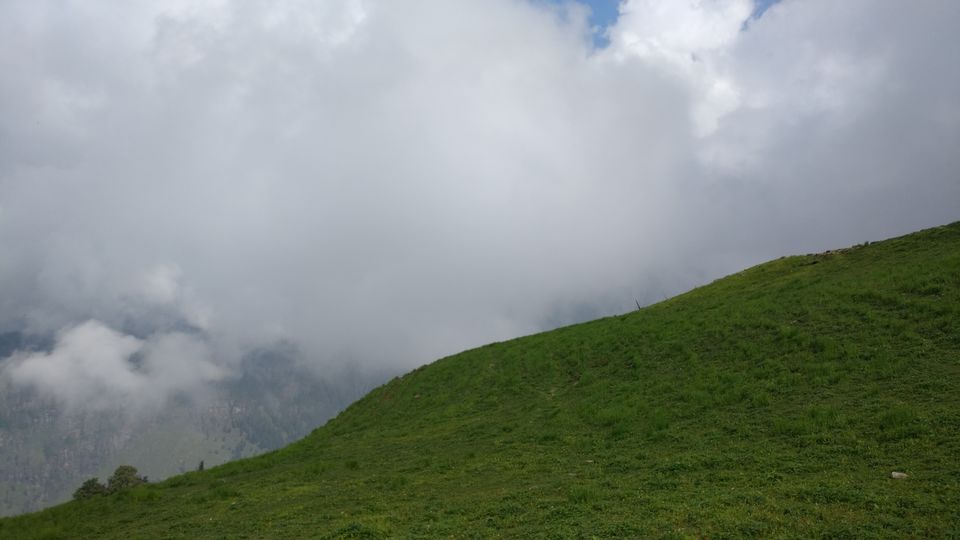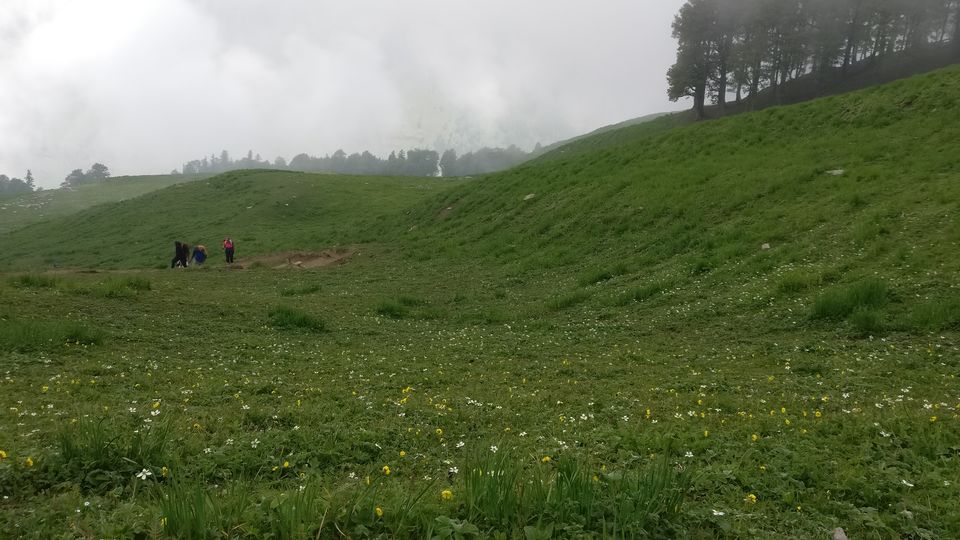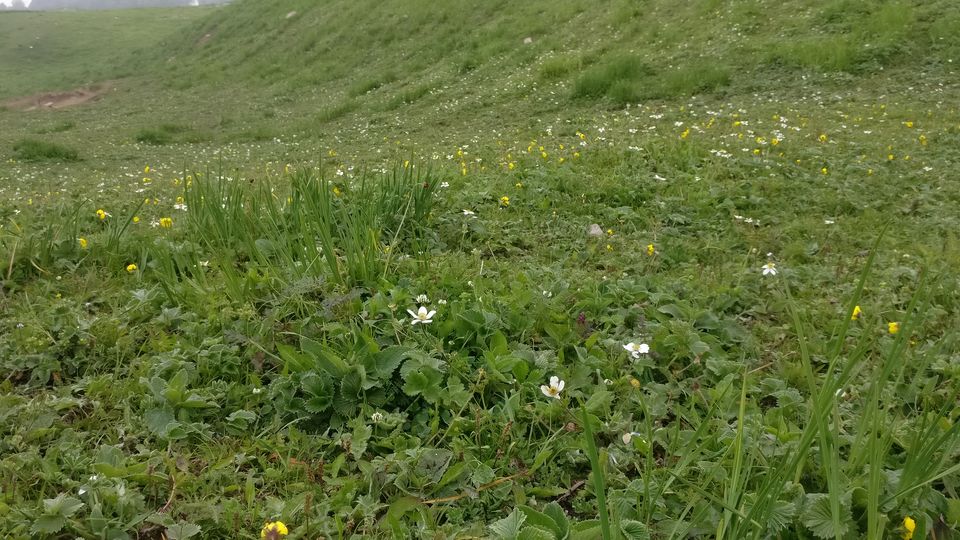 Day 3: Rola Kholi to Bhrigu Lake
Altitude: Bhrigu Lake at 14,000 ft
10 kms trek, approx. 8 hours. Steep ascent till Brigu Lake for approx. 4 kms (Walking on snow in winter)The oval shaped lake is frozen almost throughout the year
I don't know how I would have climbed another slippery Slope.we didn't have Spikes in our shoes and snow was so sticky and dirty. it was really difficult scary experience.we should have had a spike with us for climbing as it was only single trail through we had to go and we couldn't cross or hold on to each other because if one that was one scary Street I have ever seen in my life. we didn't have any equipments for safety. there were stones below the trail. this one girl slipped from the trail in front of our eyes and to view that scene was so shocking everybody was scared and everybody was watching the girl fell and she couldn't help herself because slope was to steep but thank god that guide was standing below the trail. if he didn't had caught her she was a dead woman.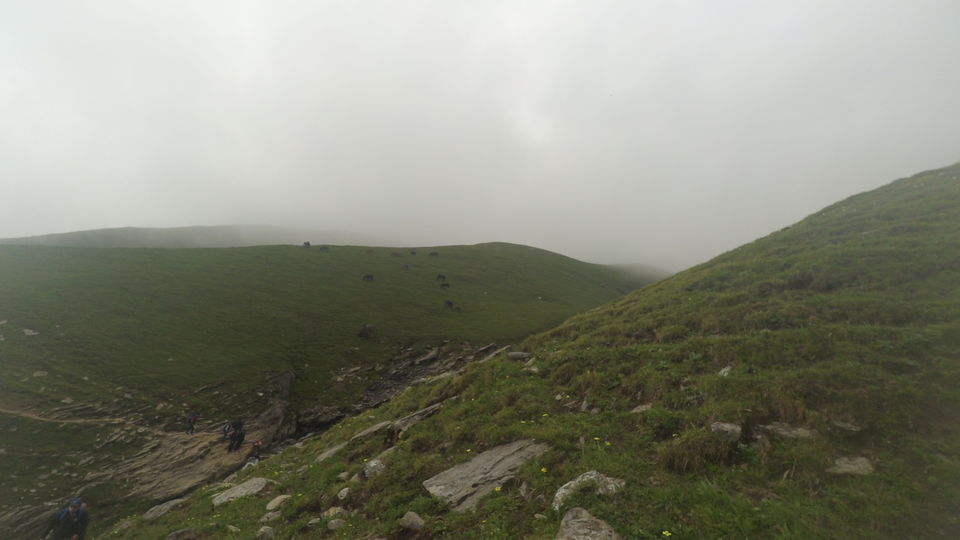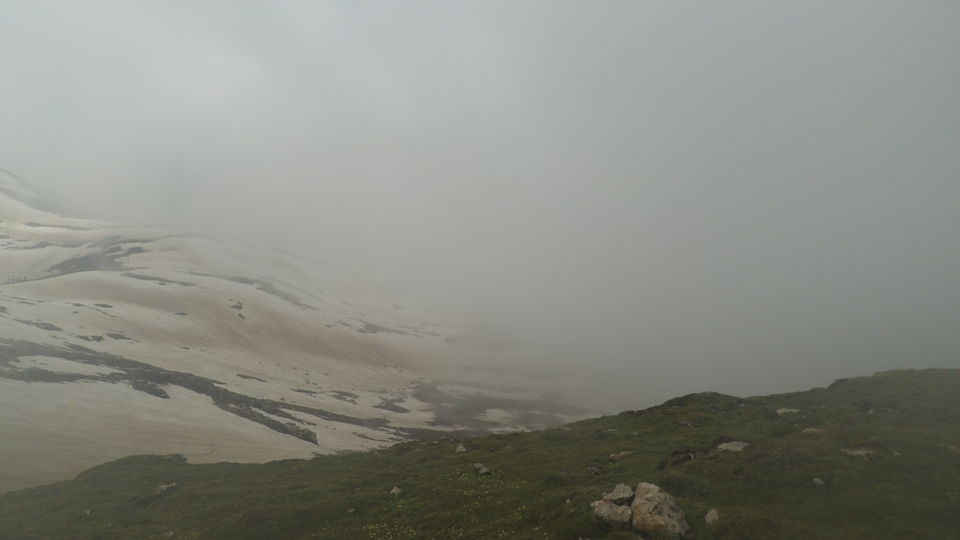 No one was around me and visibility was so nice because all I could see was the person standing next to me. we reached 14000 feet height and it was beautiful lake just as mountain was holding Crown over his head.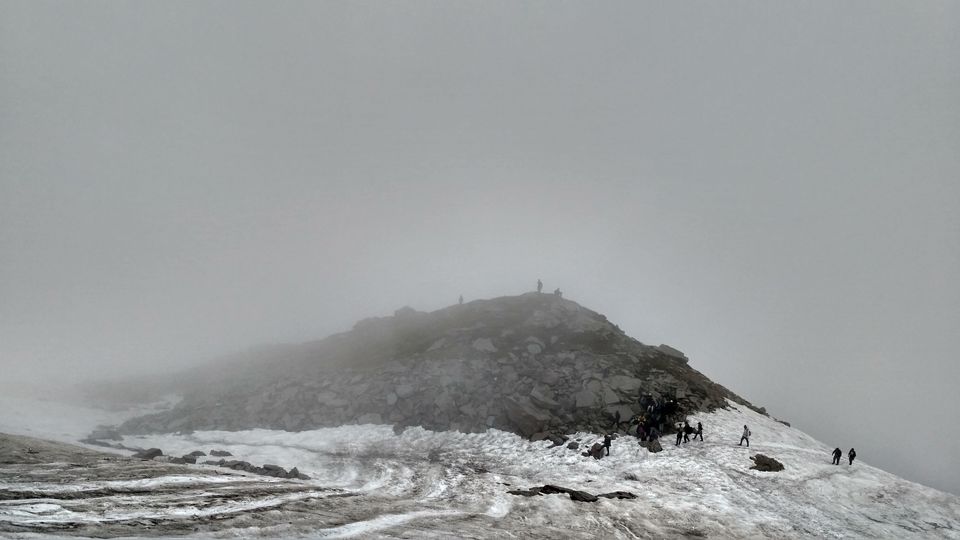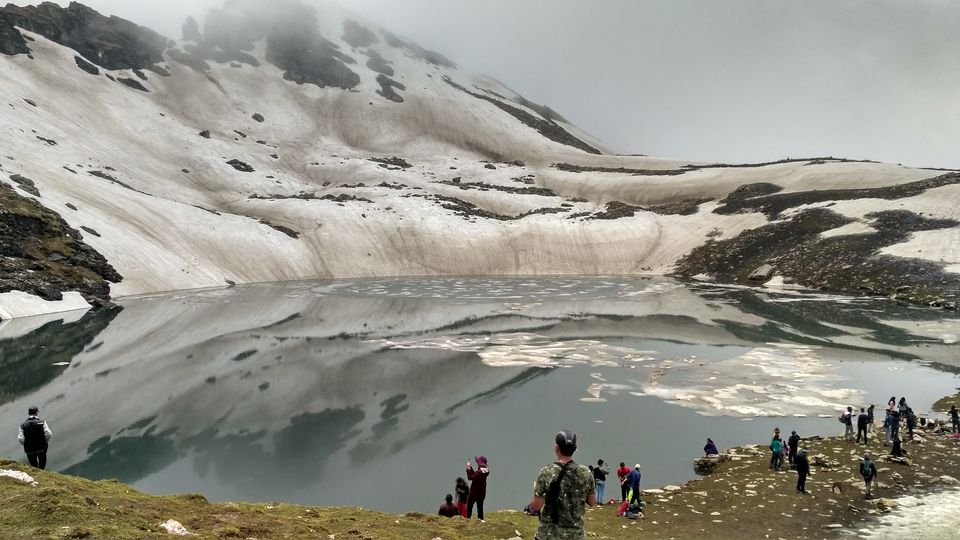 Day 4 Bhrigu lake base camp to Gulaba
from Gulaba to Manali 2 hour drive and then back to where we came from to again that mundane life.
but this trek was a wholesome package and memorable one.
good by mountain... until I see you again...