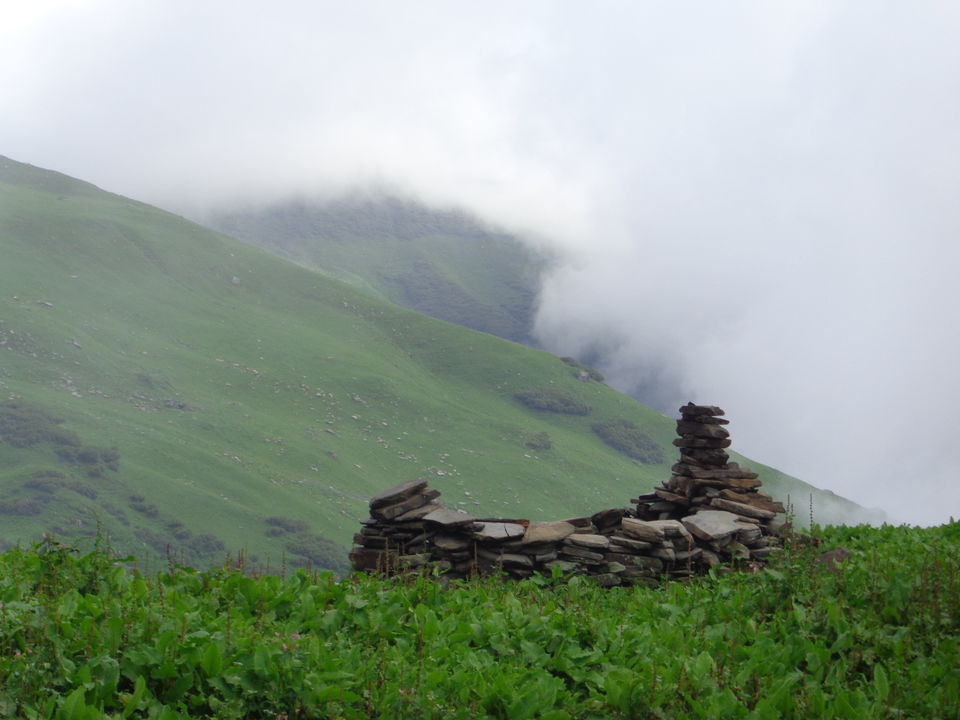 Bhrigu Lake is a high altitude Himalayan lake located at an elevation of around 4,300 metres (14,100 ft) in Kullu district in Himachal Pradesh.It is named after Maharishi Bhrigu. It is located to the east of Rohtang Pass and is non-motorable. It can be reached by trekking either from the Vashishth temple, which is famous for its hot water springs, which is close to the town of Manali or from Gulaba village. Actually there is no settlement in Gulaba and is an area of the Pir Panjal mountain range.
DIGGING DEEP:
Legend has it that the sage used to meditate near the lake and hence it has been rendered sacred; the locals believe that due to this the lake never freezes completely. You are not allowed to camp at the Bhrigu lake and one must descend few meters to find the suitable ground.
ITINERARY:
Manali- Gulaba- Rola Kohli- Bhrigu Lake- Rola Kohli- Gulaba- Manali
DURATION :
3 DAYS & 2 NIGHTS
If you are a beginner and have a craze for high altitudes then try the trek to Bhrigu Lake.I planned trhis trip with my friends. We rented a Gurkha (Force Motors) and started our journey towards Gulaba from Manali. Gulaba is accessible from the highway between Manali and Rohtang Pass.Gulaba has no settlement and it is an area of the Pir Panjal mountain range. It is about 22 kms from Manali. As the route has lots of traffic always it is good if you start the journey as early as possible. We parked our vehicle next to the check post at Gulaba and packed the necessary things for the trek. If your baggage is heavy you can give it to Packhorse. They charge around 400 bucks for one way. We all carried our stuff by ourselves. The trail for the trek is just across the road where we parked our car.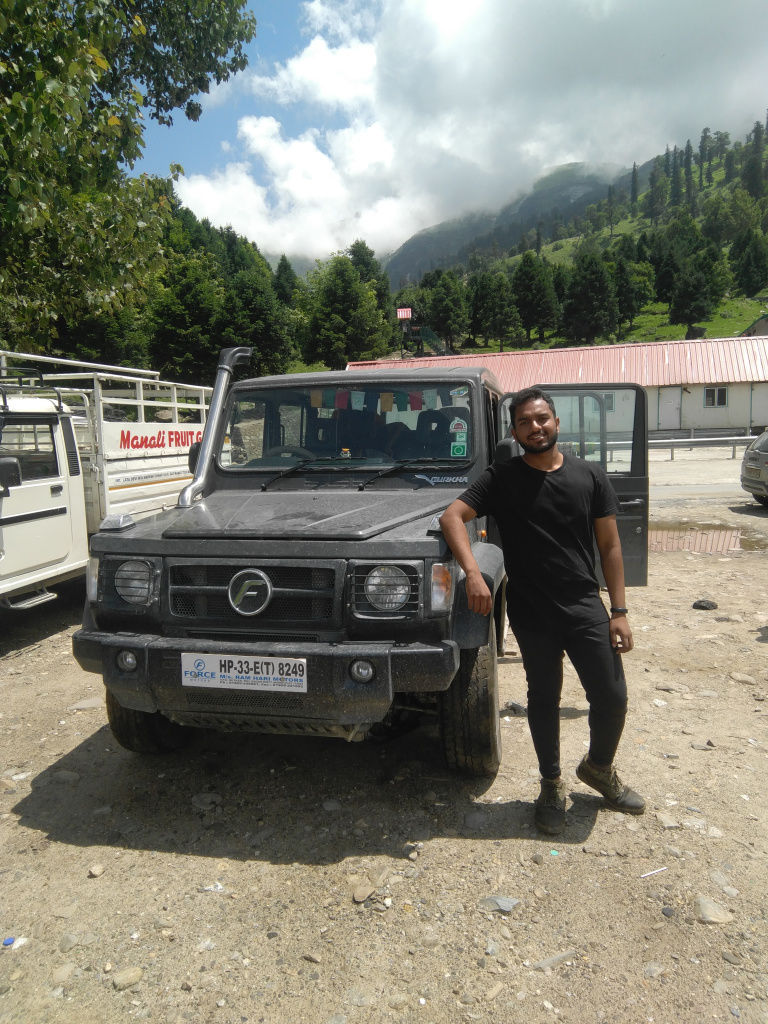 Our plan is to reach Rola Kholi which is the campsite within evening. Rohla kohli is 7 kms from Gulaba.
We started our trek at 12 P.M. I did not expect the trail would be so steep at the beginning itself. First 1 km was like a warm up climb. We breathed real heavy but after sometime our body got adapted and was easy thereafter. After few minutes of the trek itself we was in the middle of beautiful Alpine meadow. After a climb of nearly an hour we reached the tip from where the trail to next mountain tip would be visible. I can say it as an endless carpet of grass stretched all over.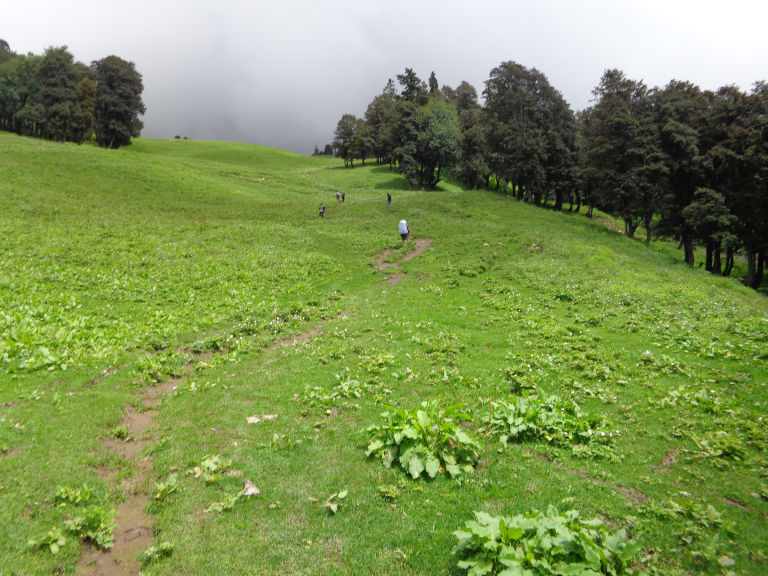 We also found brown oak, cedar and birch trees on our trail here .If you turn behind you can find the beautiful stretch of Solang Valley and Beas river. Also, we found number of small streams on our way. These streams are dry during summers but fill our bottles rest of the season. The trail is fully damp and the only way to get grip is through your poles. In fact many of us slipped at many places. There is a waterfall crossing after few hours of trek. This is bit difficult and you have to be very careful. Our legs went inside muds as the place was damp and marshy. I advice you to check the place by using poles before stepping onto it.Beautiful stretch of River Beas.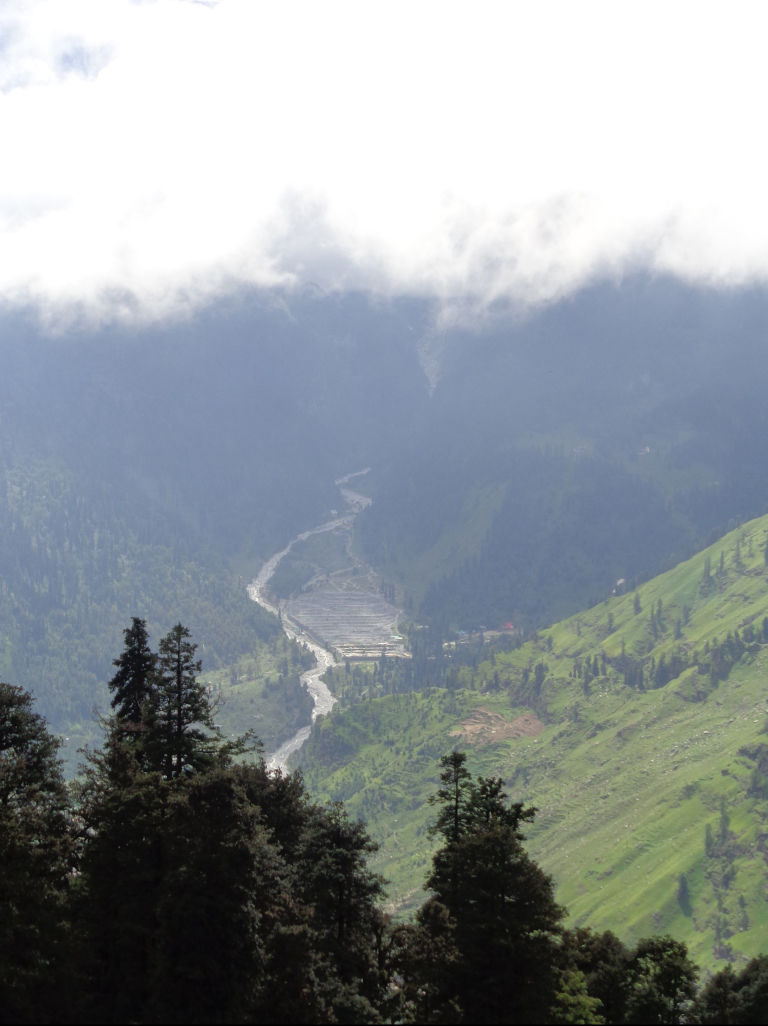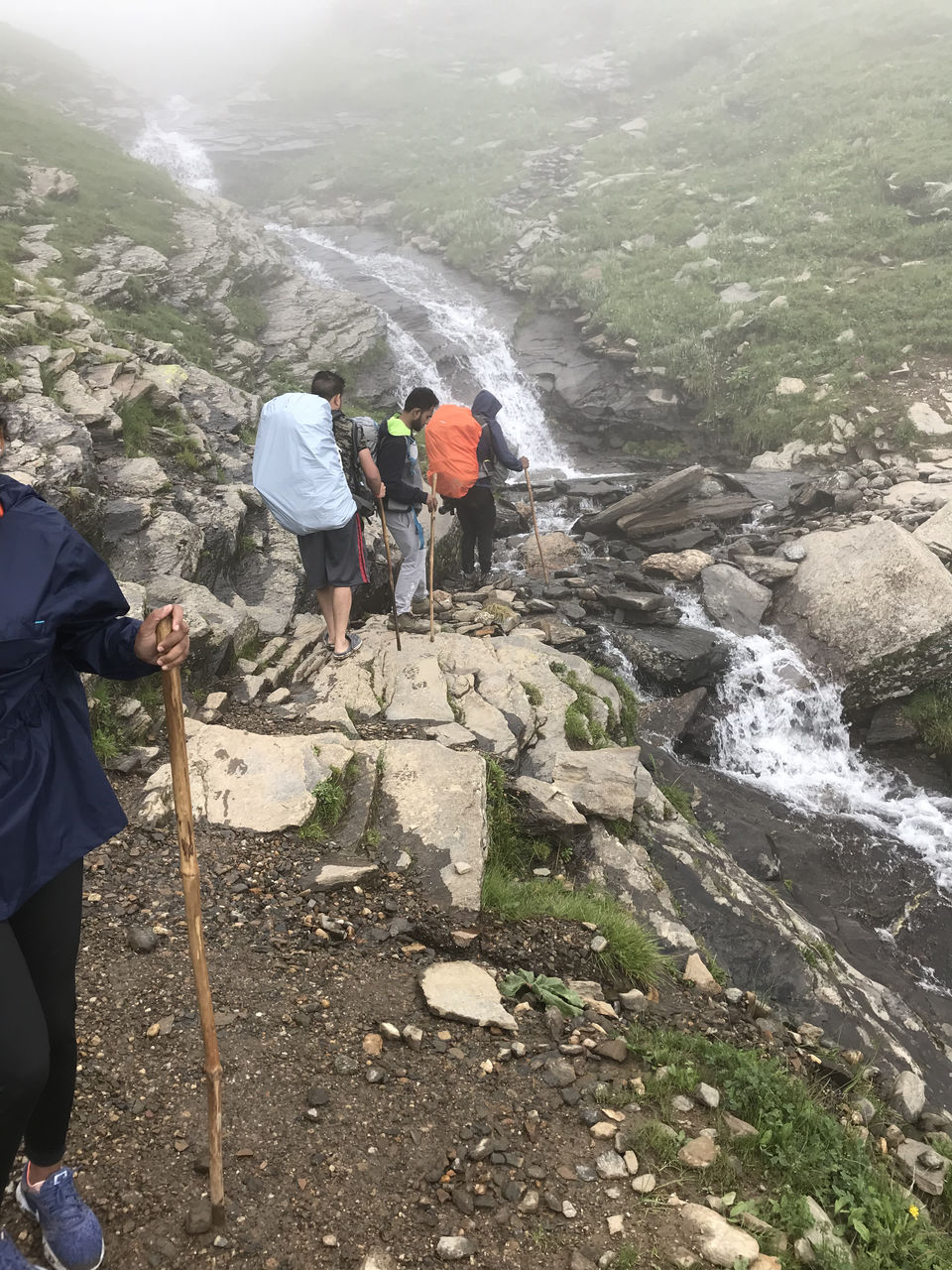 The trail gets flattened thereafter for about a km. This path was completely cloud-covered. We couldn't see anyone here and started shouting to make sure of our presence. After few minutes of walk I started hearing echo of "You're my Heart, You're my soul" song and as the clouds started clearing I was pleased with the view of Tents amidst mountains. We were excited to see people at last after 5 hrs because we didn't find anyone during our trek.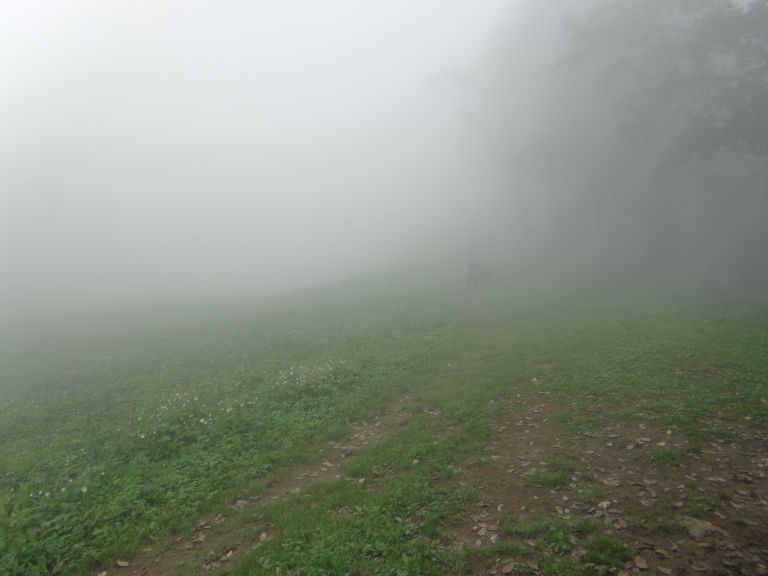 As soon as we reached we found a place next to the stream to make our tents. We made three tents as we were six in number. We planned to stay there for the night. I took rest for an hour and woke up at 7 P.M. As soon as I stepped out of the tent I felt so freezing. The temperature was 3 degree Celsius. We booked our cook before itself through a localite at Manali. He served us Rice and Rajma for the dinner. Rice is a good option during trek as it has good amount of carbs. After dinner , we spoke to other people there and had good time.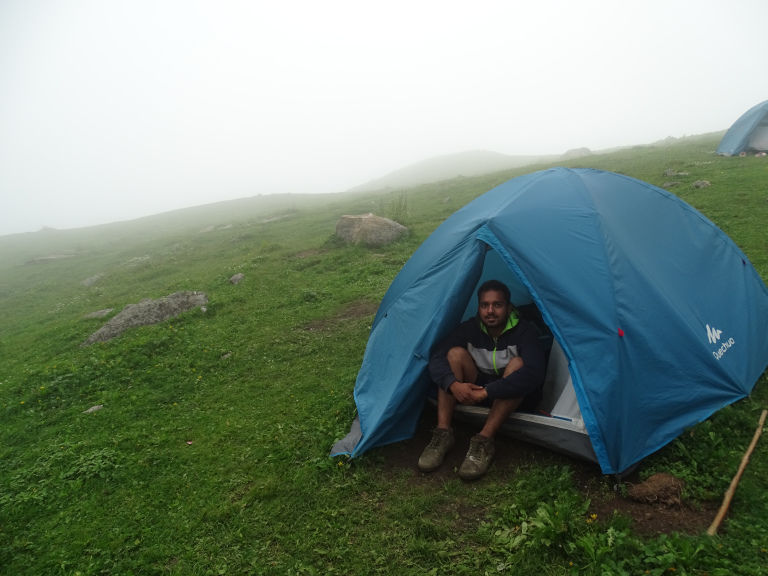 The next day , we all planned to woke up at 5 A.M. but due to the weather we managed to woke up by 6 A.M. The night before was hell because we couldn't sleep properly as we kept on sliding in our tents because our tents were made on slopes ( you can see it in the pic above) and there was no adequate friction between our sleeping bag and the tent's base. The morning was kind of challenging for us because we don't have toilets up there and have to dig our own pits. Thank God! I had toilet paper roll. It was time for breakfast. We were served with Bread Omelette and Tea.
Next, is trek to Bhrigu lake which is approximately 4 kms from there. Our plan was to reach Bhrigu lake and come back to the tents by evening. We left all our belongings at the tent itself and packed just our lunch to have it by the lake. We were warned not to litter around the lake as it was considered sacred. We started trekking from Rohla kohli. As before first few steps were like warm up. The trek was not so steep as before. First 3 kms were covered by grass and wet muds here and there. We were able to observe two peaks during this trail, one was Mt. Hanuman Tibba and another one is Friendship Peak.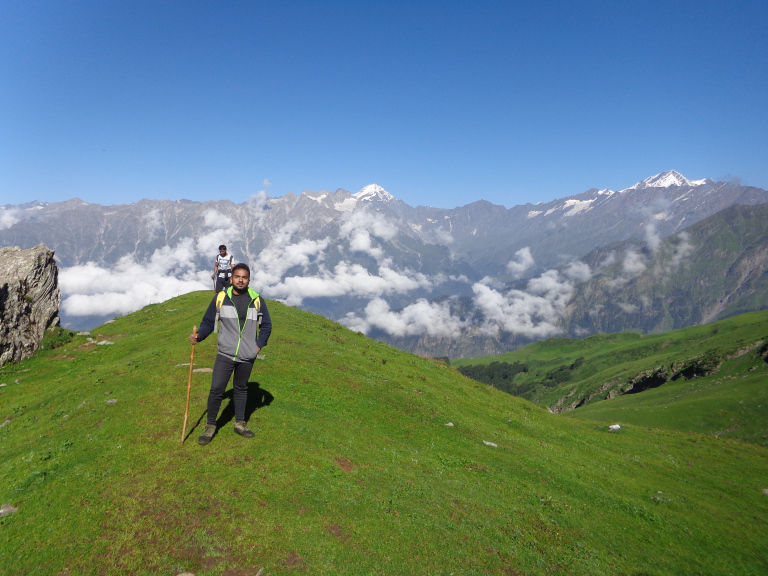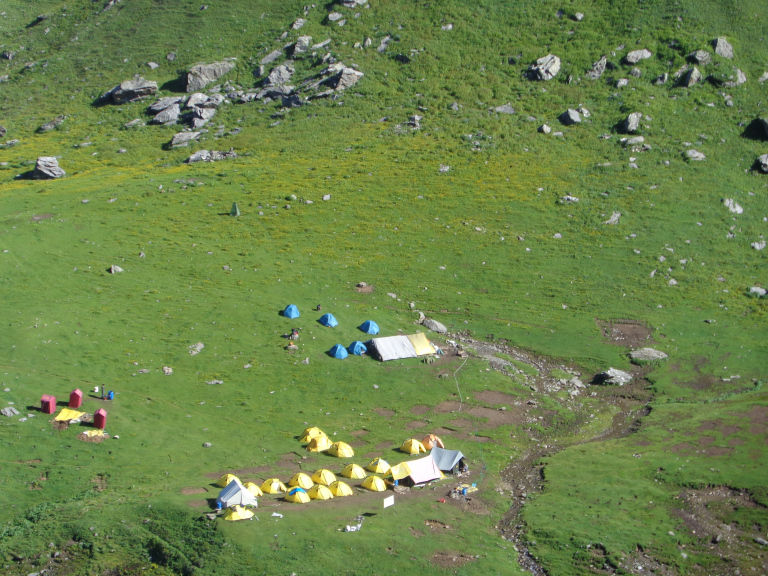 Last 1.5 kms of the trek is climb through rocks. One must be careful here because the rocks are loose and may get you out of balance. After 1 km trek on rock we reached an amazing spot ( It's in the pic below). We rested here for a while and continued trekking after that.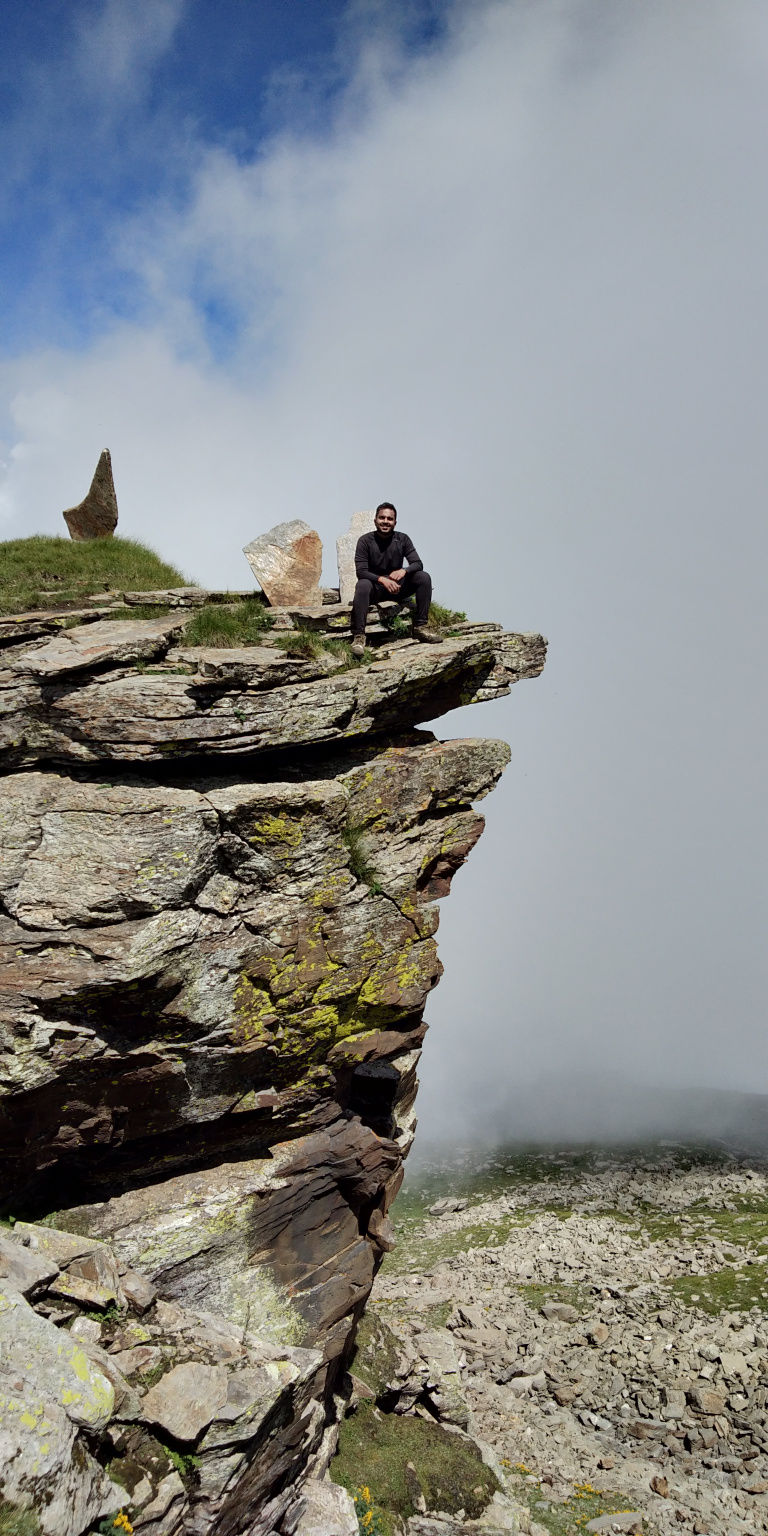 After getting to the tip of the rocky road we found plains with combination of yellow and pink flowers below which we saw Bhrigu lake. We shouted out of joy and was able to hear our echo. It took around 2 hours for us to reach here from Rola Kohli. Before we went down for the lake we sat and had a chat with others whom we wet the other night at our campsite. The view of Bhrigu lake was ———( I don't know what to put in the blanks) from there. The lake is kinda oval shaped and the people there believes that the lake doesn't dry up or freeze completely even during heavy winters. Then we went near the lake and did meditation for a while. We were warned not to wear footwear near the lake as it is considered sacred. There is a temple beside the lake which has a Trishul as the one with Lord Shiva.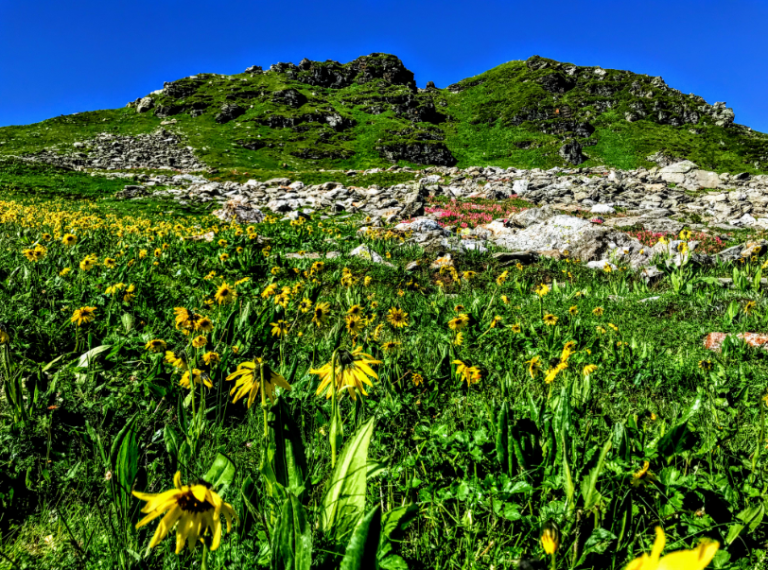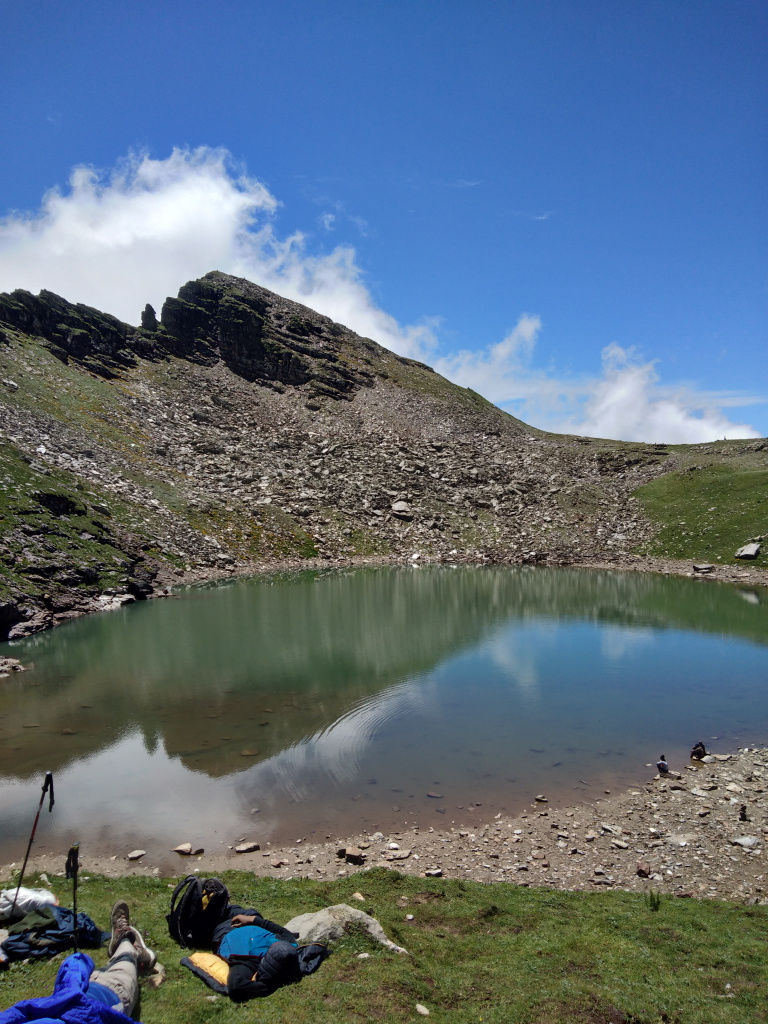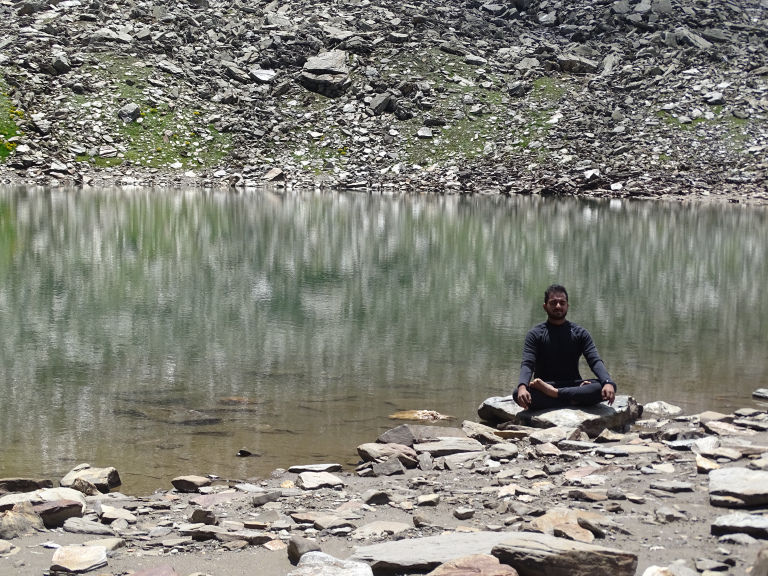 It was just 11 A.M. so we decided to have our lunch back at our camp site itself. We decided to make the descend bit more challenging and took the unusual trail. We all were scared because we were not getting the proper support to hold and get down. One of my friend even rolled over the rocks. So please don't do this kind of stuffs. At last we made it to our tents by 2 P.M.We had our lunch there and started clicking pics. So, what now for the rest of the day? Few of us said we descend to Gulaba that day itself but majority of them was not convinced because the trail becomes almost invisible at night. Everyone went back to their tents as the place was bit cold.
That evening, I walked few metres and was sitting near cliff. Suddenly from no where I heard my name. It was one of my friend calling me to come over. As I went near him I was surprised to see a bottle of rum in his hand. I ran and got a cup for myself. Everything was good until we found that we had nothing to mix with it. We went to our cook and asked him if he had anything. He had Frooti nothing else. I had to drink it any cost and decided to drink rum with frooti. Why not a new combination at a new place??? All of my friends joined later and had a great time.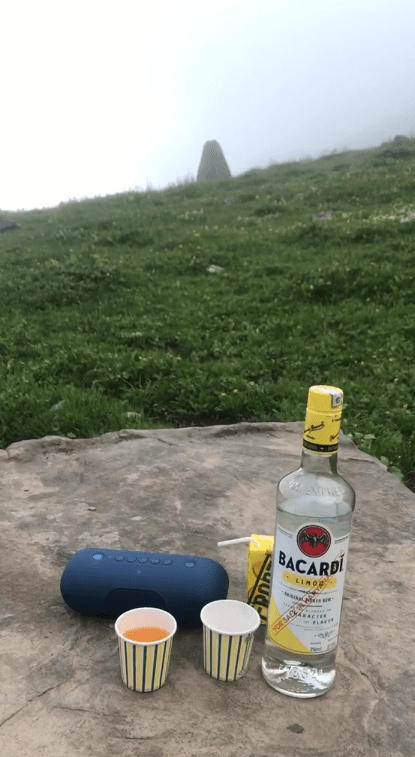 Later after dinner we went back to our tents. It started to rain later that night and the temperature was near zero degrees that night.
The next morning we gave our baggage to packhorse and started our descend to Gulaba. As usual, the descend was quite easy and was able to make it to Gulaba in 2 Hrs. After that we went back to our hotel at Manali.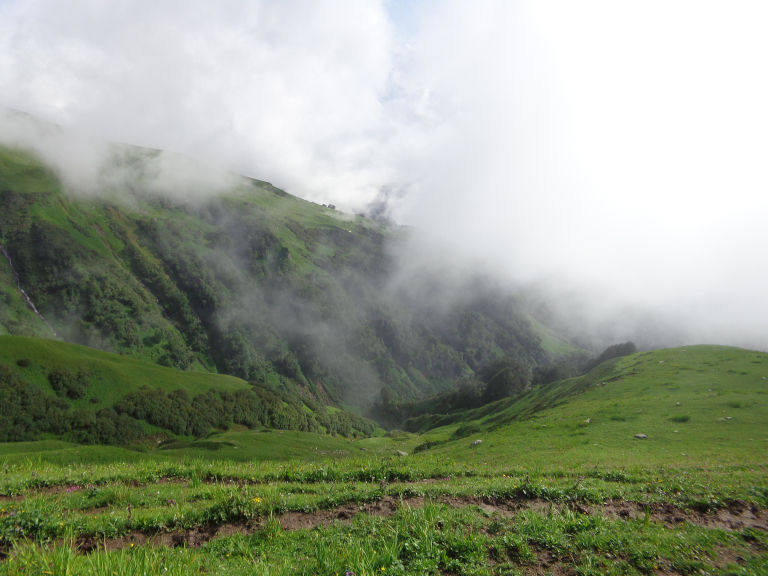 This trek is a must go for mountain lovers and the trek difficulty is moderate. So what are you waiting for???Go grab your bags now!!!