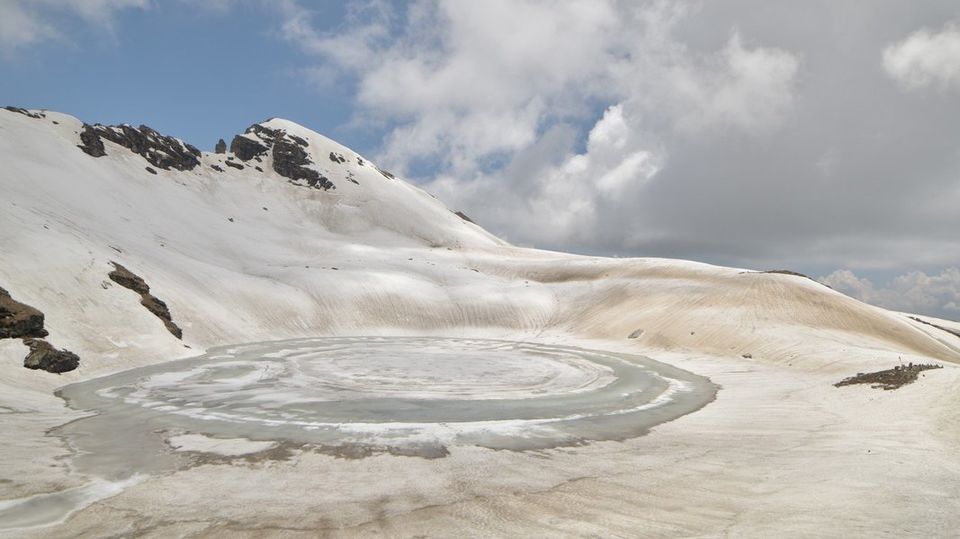 Scroll down to the 'Things to keep in mind' section if you wish to skip my interesting itinerary Mind
Reading travel blogs is one of my favorite hobbies. Last year this month my office work was blowing my mind. I needed an escape so I started searching on the internet about what I could do in Himachal for 2-3 days. I came across an article about Bhrigu lake which inspired me to trek without a guide. I asked my friend to join and he immediately agreed. And so we booked our bus tickets - Delhi to Manali.
ITINERARY:
Manali- Gulaba- Rola Kohli- Bhrigu Lake- Rola Kohli- Gulaba- Manali
Though I knew there was some construction going on a way to Manali and it would take more than 16 hours to reach but still we made a perfect plan with a buffer time. We left Delhi at 6 pm and expected to reach Manali in 16 hours, i.e. 10 am max.
It took us 4 extra hours to reach Manali because of the traffic. Now we could not start our trek that day. So we stayed in old Manali, did some cafe hopping, talked to the locals, and we got to know the best route to the Bhrigu lake which is the 14 mod route. The locals advised us to take the bus for Rohtang pass from the bus stand which would drop us at 14 mod.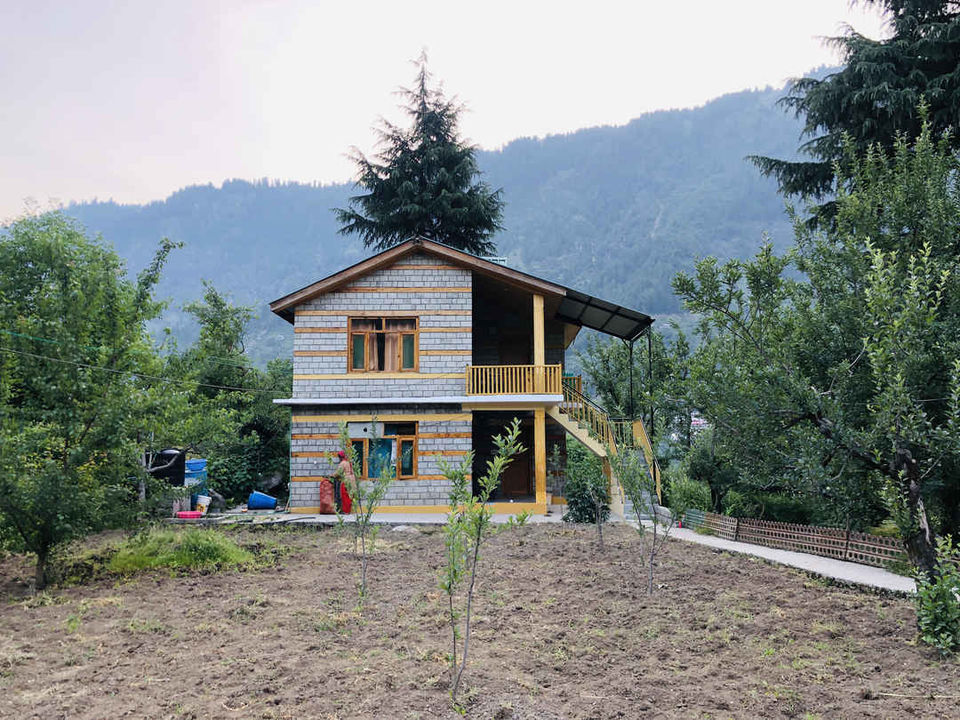 Next morning, we left our rooms at 5 am, expecting that we would catch a bus and reach 14mod in an hour, and would start our trek early. But again, aisa kahan hota hai ki jo aap socho vo ho jaye!
We could not find any bus. All the buses there were booked beforehand. Around 8:30 we found 2 more travelers who were struggling like us. Together we thought of booking a cab, which was quite expensive. Luckily, there were some laborers who wanted to reach somewhere via 14mod, so our expense also got sorted!
We reached 14mod around 10 am and started our trek through the forested slopes! Our target was to reach Rola Kholi which was our campsite by 3 pm.
In the beginning the trek felt easy but soon after 1 km the trail got too steep! We weren't able to catch our breath! But then slowly and steadily we kept trekking and soon we were in the middle of mesmerizing alpine meadow! It looked like an endless carpet! We found brown oak, cedar and birch trees on our trail. We were greeted by wild horses, grazing sheeps after crossing the treeline!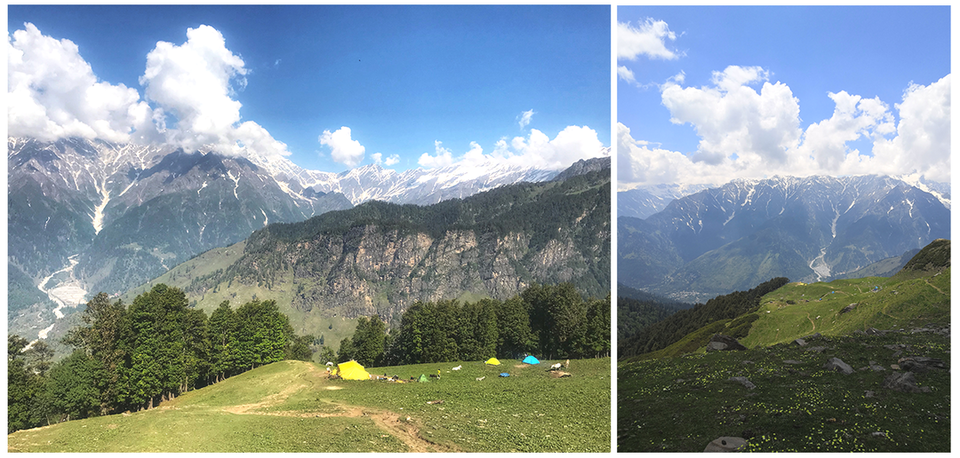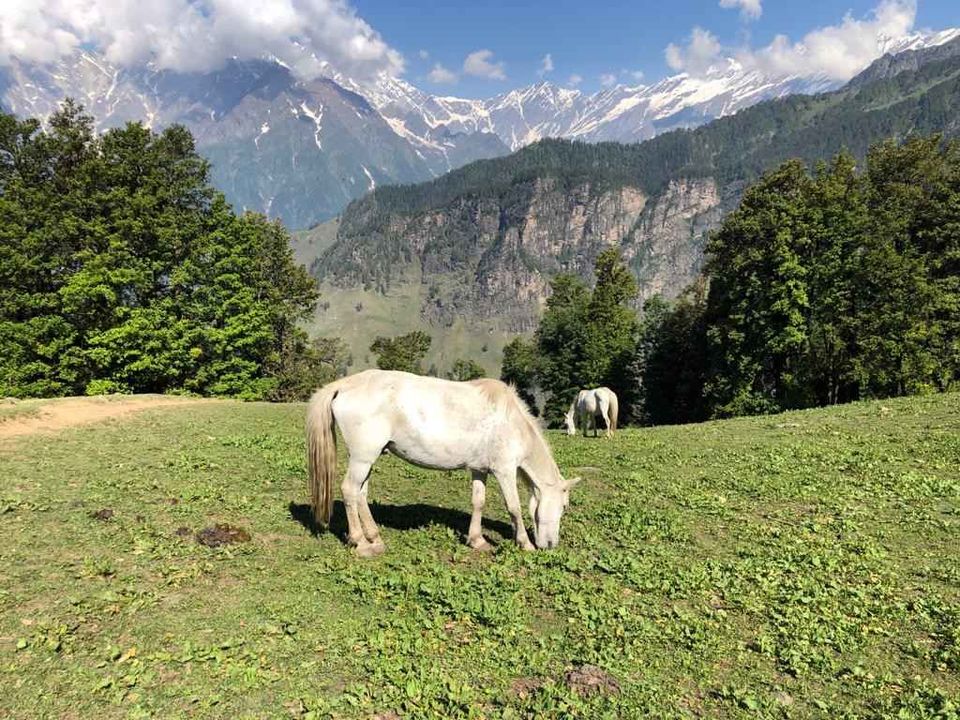 The meadows changed texture, shape and colour but stayed with us all along. We could see the beautiful stretch of Solang Valley and Beas river. We found a number of small streams on our way. As we were trekking in the month of june, we could see multiple patches of ice while reaching Rola Kholi.
We reached Rola Kholi at 4 pm. We had hot tea with maggie! Now, we carried our own food and tents with us. So we made our tents, rested for an hour, and then we met travellers who were travelling with other groups.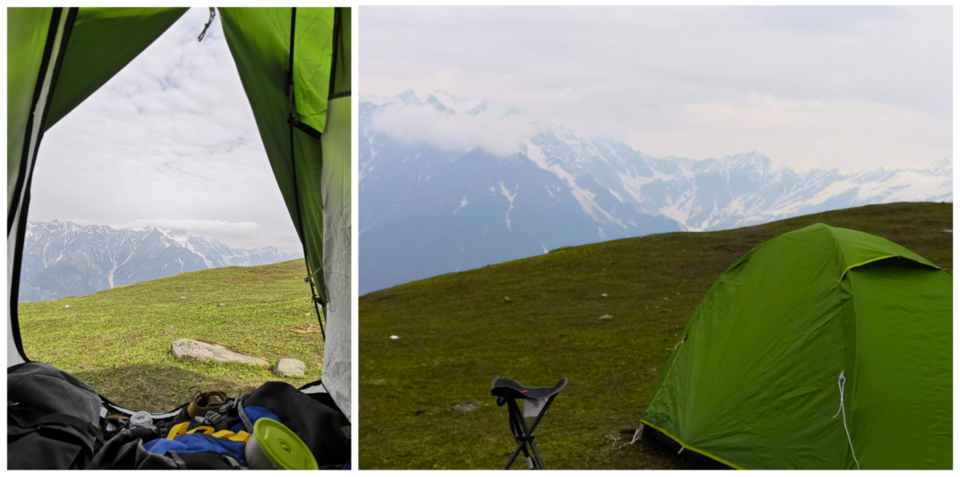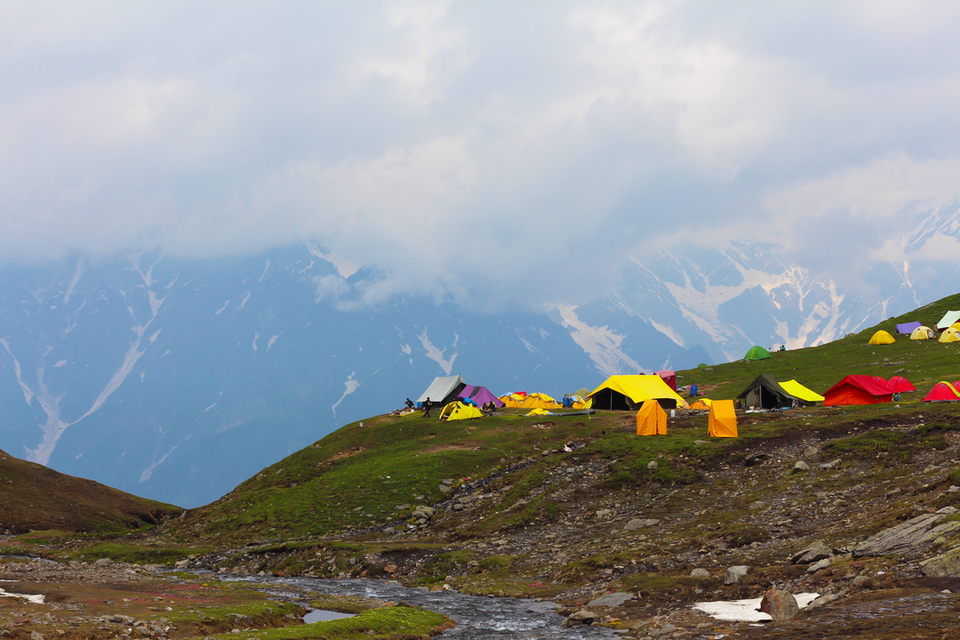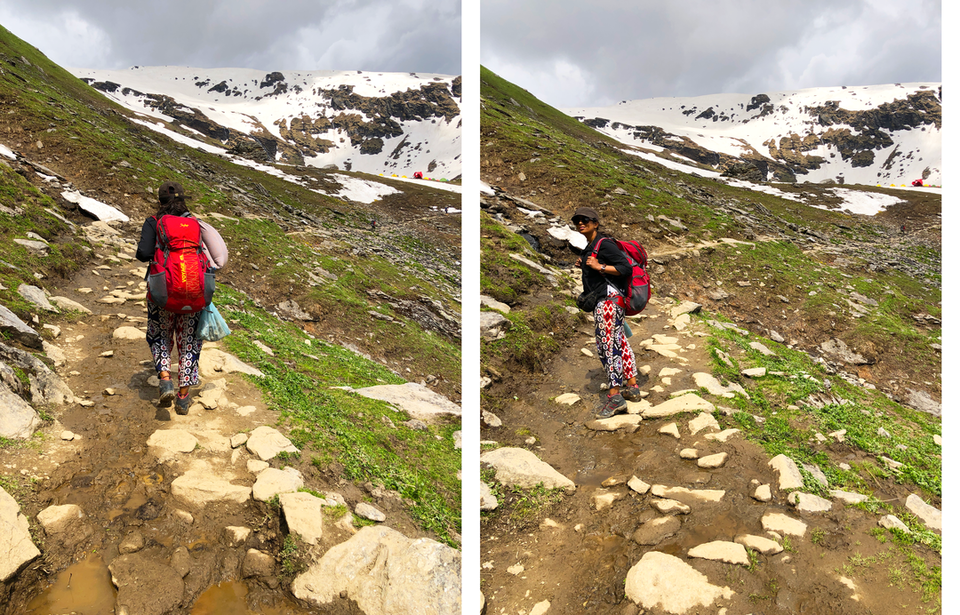 The other groups were very helpful. They even offered us their food! They were mostly impressed by us as we were travelling on our own. But trust me - it's very easy. We had a food filling dinner of rajma chawal and had a good time!
The plan was to trek to Bhrigu lake and come back to basecamp by 2 pm in the noon. Then we could either descend back to Gulaba the same day, or we rest and have fun on the campsite for a day. Since we were running a day short, we decided to descend the same day.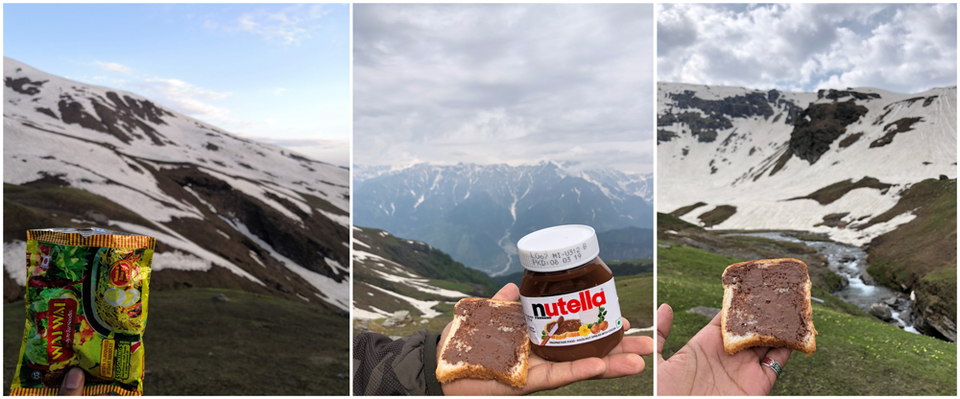 We woke at 6 am the next day, hoping we could start early. But life had some other plans. We could not sleep the night before as since the tents were made on slope, we kept sliding. I woke up with a fever and was dehydrated because of the trek.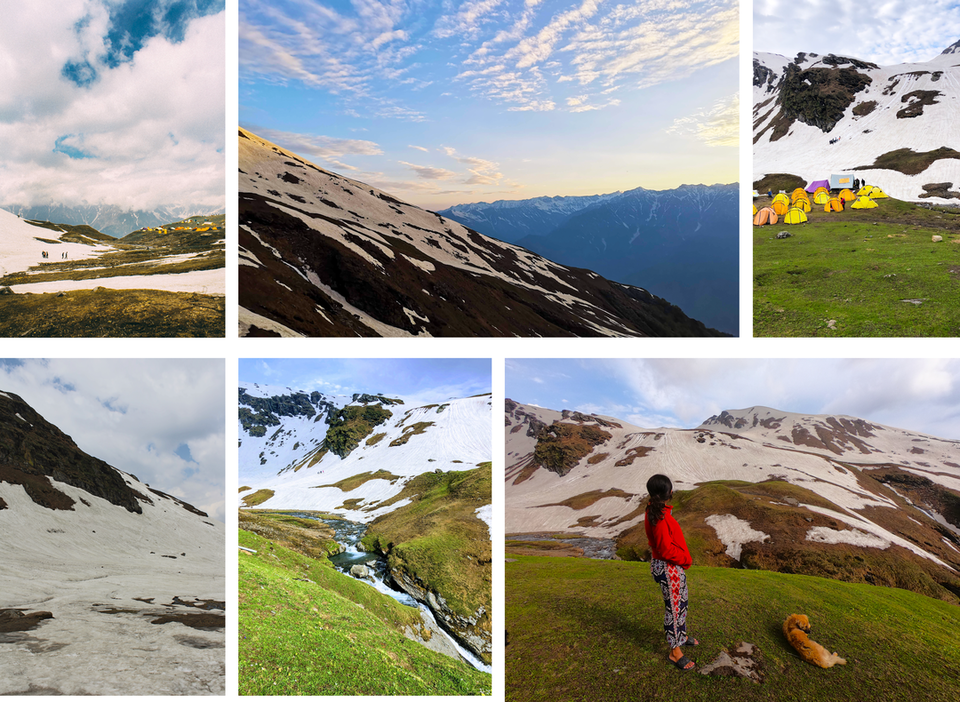 There was a lot of snow and I could not trek with the fever so we stayed at the campsite. We left for Gulaba at around 11 am when it started raining heavily. We reached the main road by 3 pm hoping we would find a bus or a cab but due to the rain, we could not find anything. After an hour of struggle a local resident gave us lift till Gulaba from where we took a bus till Manali.
Things to Keep in Mind
1. We faced many setbacks in our plan but I will still recommend you to go without any guide because it becomes far more adventurous and you save a few bucks too! The locals are always helpful.
If you do travel on your own, remember to carry your own tent, Sleeping bag(buy or rent), Poncho for rain protection, Hiking shoes with ankle support and waterproofing.
2. Keep drinking water while trekking else you will get dehydrated and won't be able to trek.
3. ALWAYS book your bus tickets beforehand. It's very difficult to find a bus there and cabs are too expensive.
4. If you're interested in snow the best time to go on the trek is from May-June
5. If you're interested in witnessing meadows in full bloom and the lake without snow then July- September is the best time to go.
We all desire a peaceful and happy life, and the one practice that aims to help us achieve emotional balance and clarity of mind is by frequently taking a long break, and be with all peaceful mountain nature.
#bhrigulake #trek #solotrip #manali