Agra.. The most famous city of India Worldwide.. The city of Love.. The city of Taj Mahal.
But, there is much more to agra than just the Taj Mahal. Its a city rich in History. Various dynasties led to many Archaeologically beautiful monuments, presently preserved by the Archaeological Survey of India (ASI).
If you've plans of visiting AGRA in near future, make sure that you can spend here at least 2 days and 1 night, so that you can cover the lesser known but beautiful monuments too.
Listed down are the Historical monuments in and around Agra.
1) Taj Mahal (Mumtaj Mahal and shah Jahan's Mausoleum)
This monument doesn't need an introduction.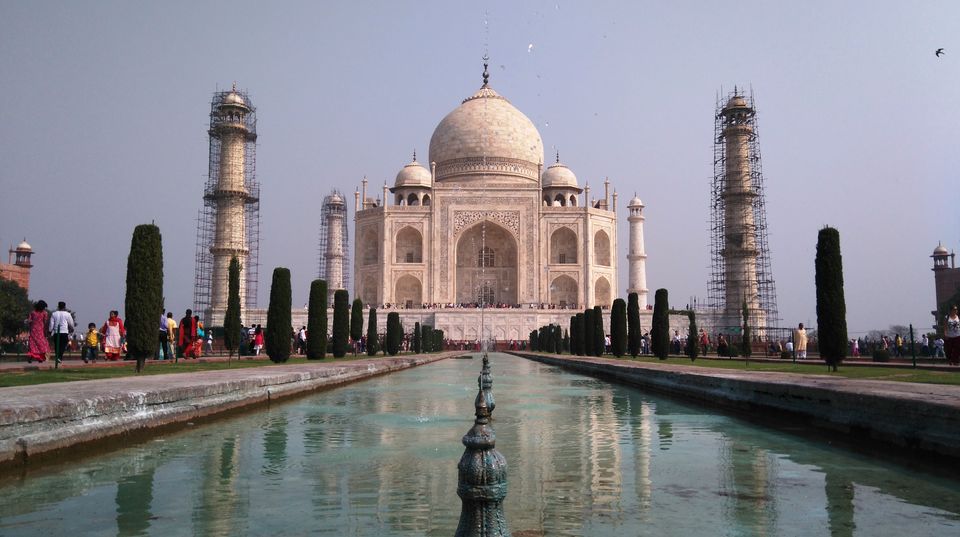 The Taj Mahal (Picture courtesy: Arijit Majumder)
2) Tomb of Akbar the Great
It is located at Sikandra, in the suburbs of Agra, on the Mathura road (NH2), 8 km west-northwest of the city center.
The construction of this Tomb was commenced by Emperor Akbar himself, and was later completed by his son Jahangir.
This monument is an excellent example of architecture with extensive use of Red Sandstone and White Marble. The complex starts with a Salami Gate, followed by the Jehangir Darwaza and then the final Mausoleum. Once inside the tomb and by Akbar's grave, one can see the symmetry of this architectural wonder, where all the gates and the grave fall on a single line.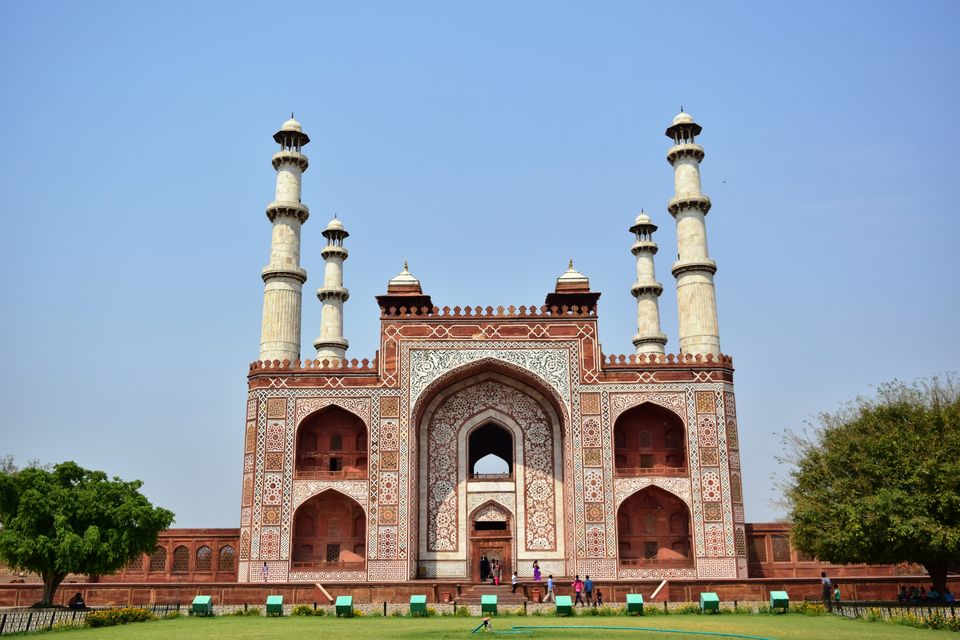 The Jehangir Darwaza (Picture Courtesy: Shatabdi Mitra)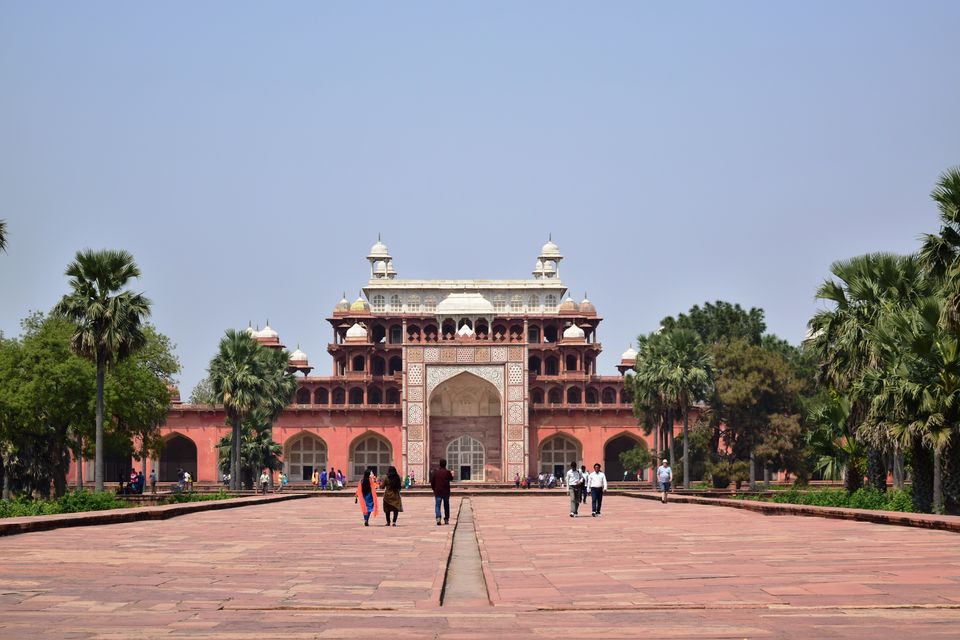 Tomb of Akbar the Great (Picture Courtesy: Shatabdi Mitra)
There are graves of other members of the Mughal family as well inside this tomb.
The Garden inside this complex and around the monument is graced by the presence of Peacocks, Deers and Blackbucks. If you're visiting around the migrating season, then you may come across a variety of migratory birds as well.
The Jehangir Darwaza and the Mausoleum have beautiful Marble and Sandstone inlay works (Prachin Kari or Pietra Dura) driving inspirations from Persian, Rajput and Hindu designs.


Prachin Kari on the Walls of Jahangir Darwaza (Picture Courtesy: Shatabdi Mitra)
3) Itmad-Ud-Daulla's Tomb
Again an excellent example of Pietra Dura/Prachin kari, this is the Mausoleum of Itmad-Ud_Daula, Akbar's Wazir (Prime Minister) and Mumtaz Mahal's Grandfather. This monument is also known as the Baby Taj.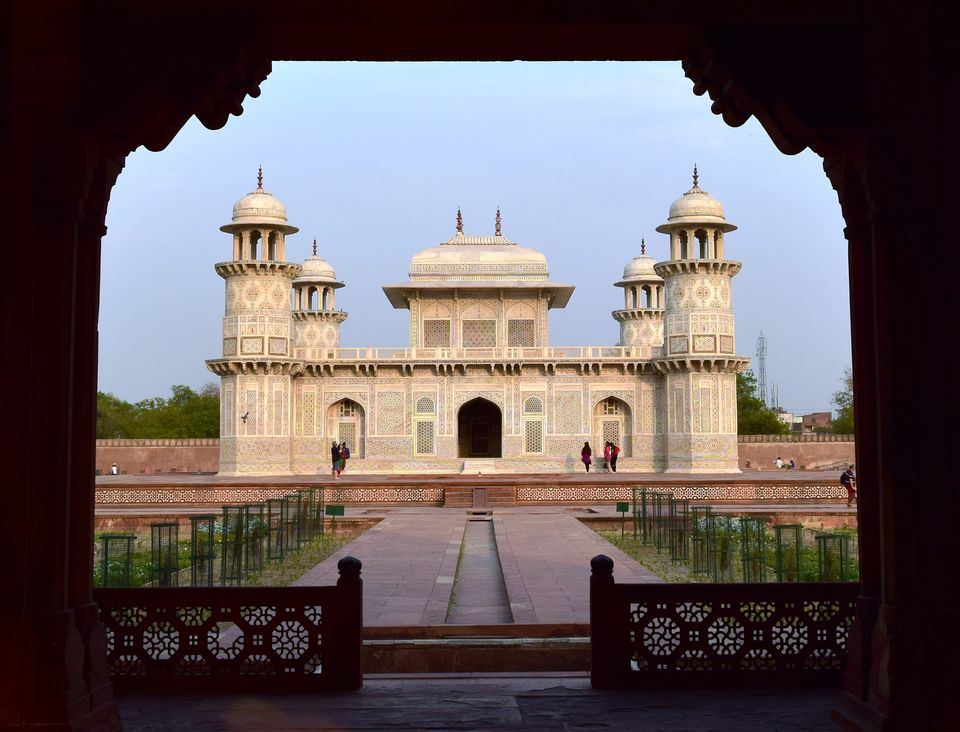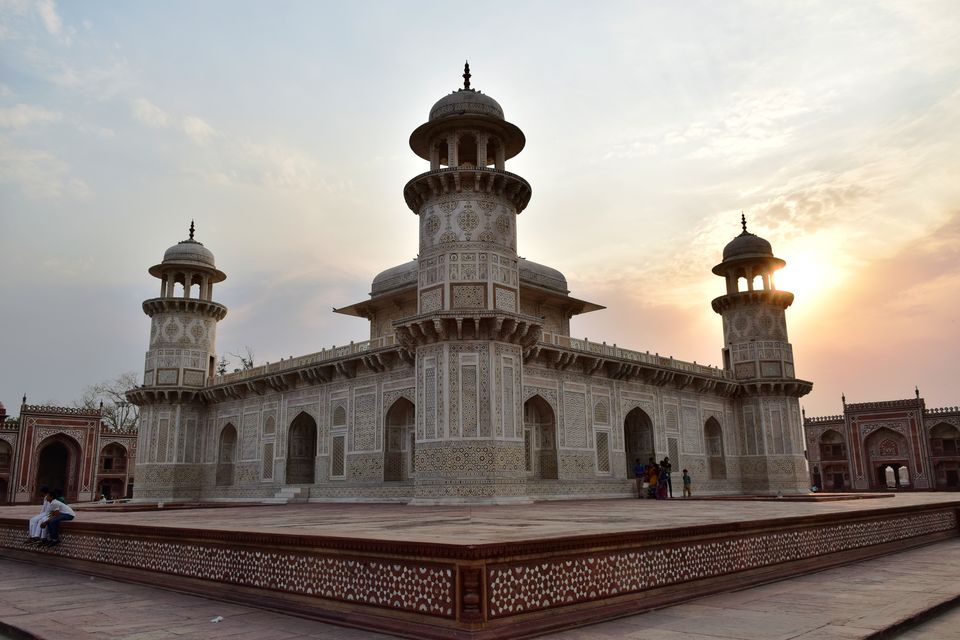 Tomb of Itmad-Ud-Daula (Picture Courtesy: Arijit Majumder)
4) Agra Fort
History says that the Agra Fort has been owned by many rulers.. From Hindu Kings to Muslim Invader, From Marathas to British. The Present form that we see, were mostly constructed during the rule of Akbar (The Red Sandstone parts) and were later on modified by Shah Jahan with white Marble because of his love for the same.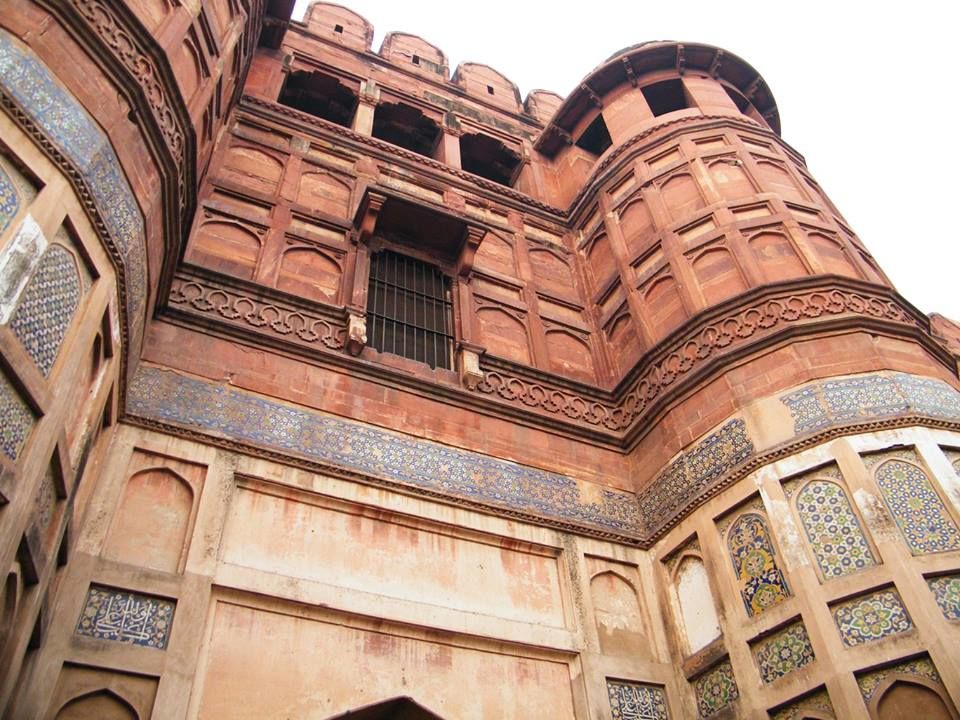 Agra Fort (Picture Courtesy: Shatabdi Mitra)
5) Fatehpur Sikri
Located about 37 kms from Agra, famous for Sheikh Salim Chisti's Dargah and the Red Sandstone Palace complex of the Mughals, each and every corner of this place will make you wonder about the efficiency of the artisans who built this place.
The palace complex has various buildings dedicated to Akbar's queens, Deewan-e-khas, Deewan-e-aam, Houses for the 9 gems from Akbar's court, Stables, Post Office and entertainment areas.
The buildings have Intricate designs on them, inspired from Nature, Rajput, Hindu, Christian and Persian designs.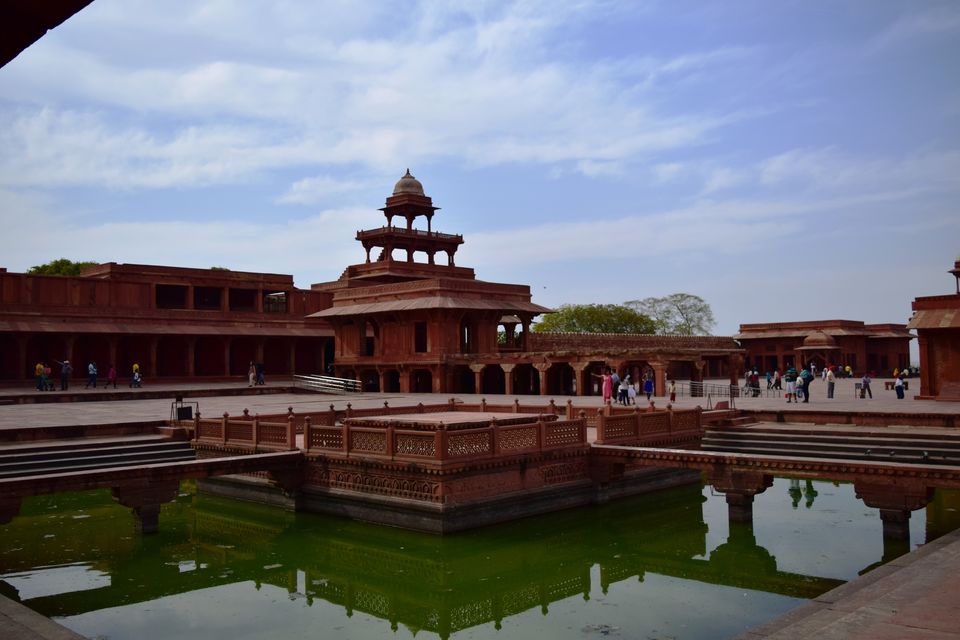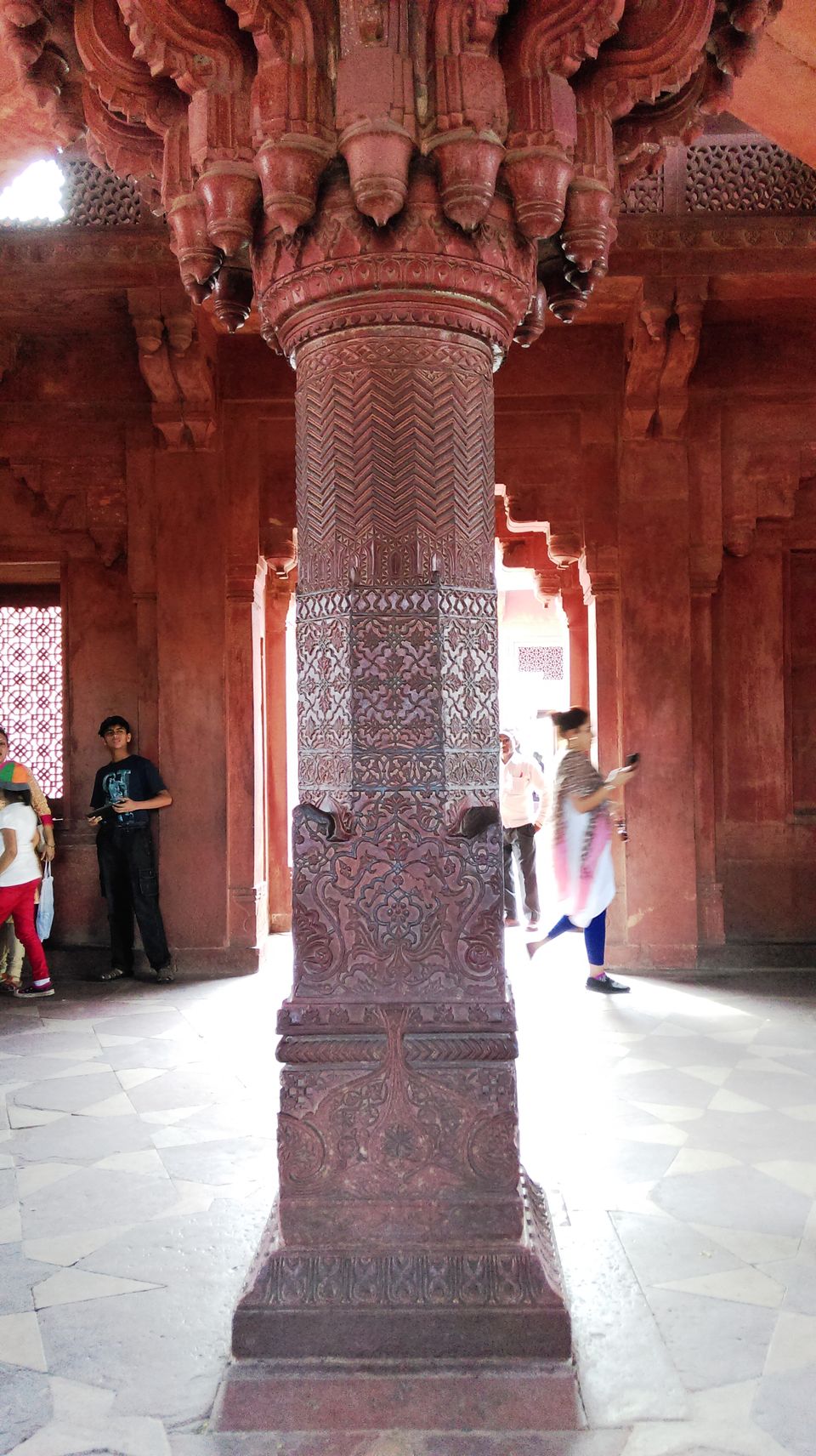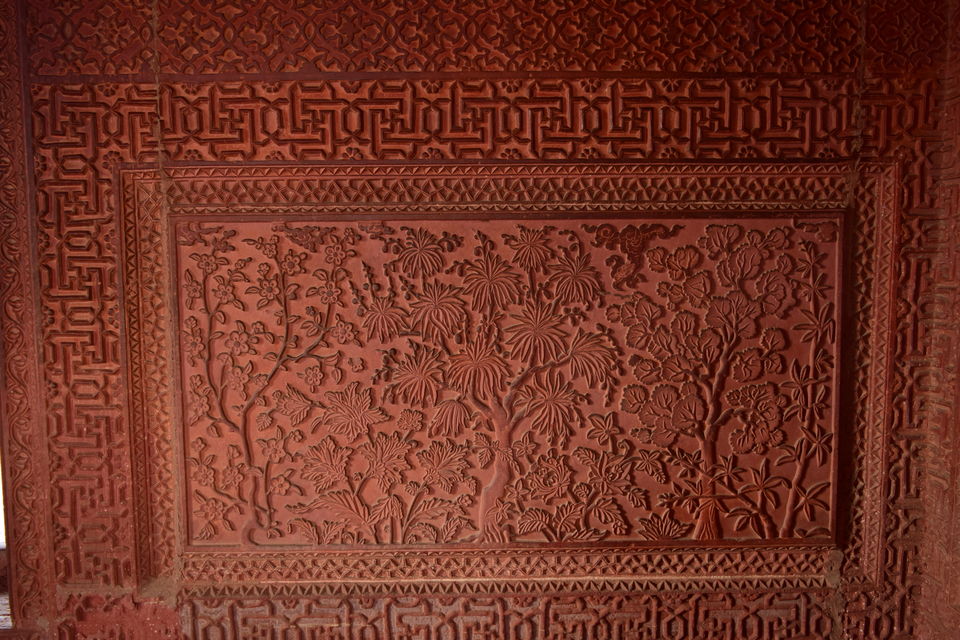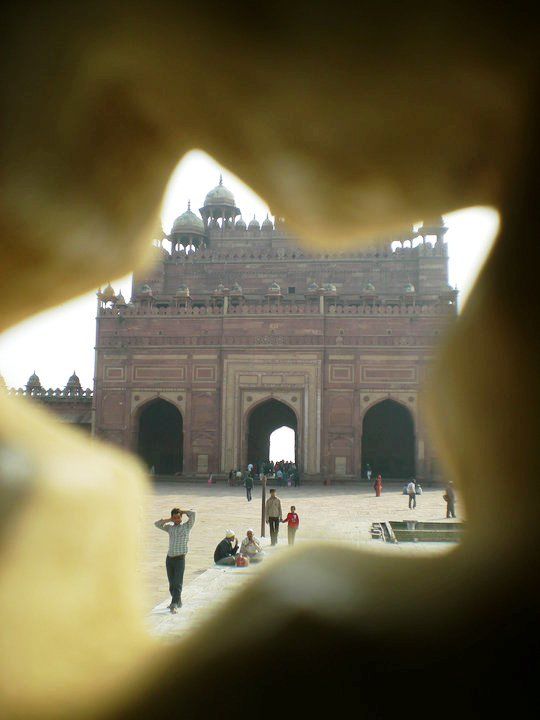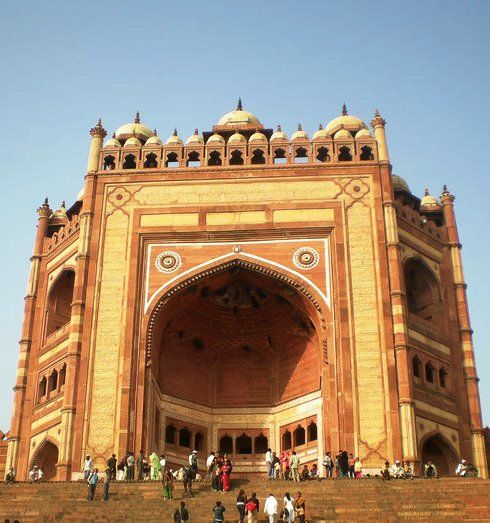 Buland Darwaza (Picture Courtesy: Shatabdi Mitra)
6) Red Taj Mahal (Grave of John Hessing)
This monument is located in the Padretola, or Padresanto, a Christian cemetery in Agra. Built by Alice Hessing on her Husband's grave, this monument, built in Red sandstone is yet another symbol of love for the spouse. John Hessing was a military officer who served in the armies of the Maratha Empire in the late 18th and early 19th centuries.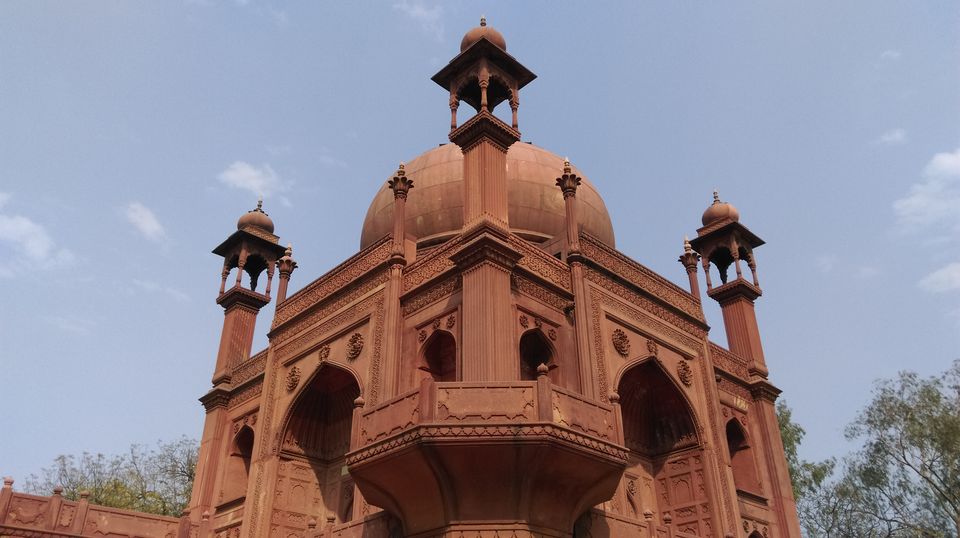 Picture courtesy: Arijit Majumder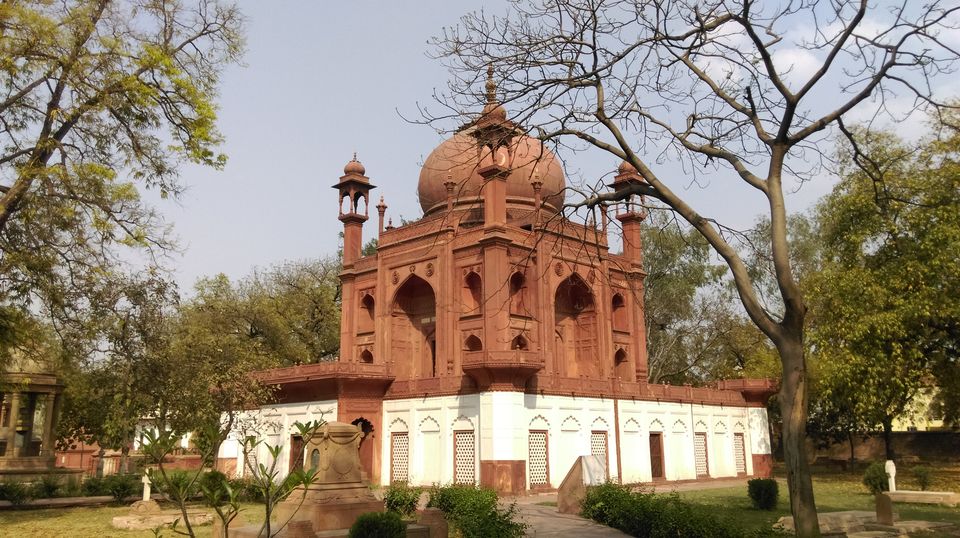 Picture Courtesy: Shatabdi Mitra

7) Mehtab Bagh
Mehtab Bagh or the moonlight garden is a garden complex on the northern side of the Taj Mahal, across river Yamuna. Visit this place for the beautiful view of the Taj Mahal reflecting in the river Water.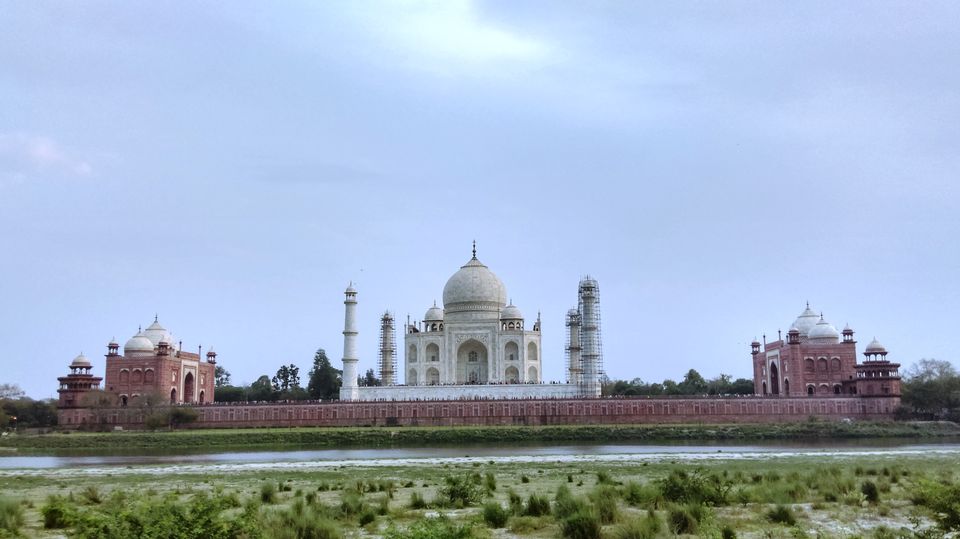 Picture courtesy: Arijit Majumder
8) Tomb of Mariyam-uz-Zamani (Tomb of Harka Bai/ Jodha Bai)
This Mausoleum is about 1 km from Akbar's tomb. This is the tomb of Akbar's first Hindu Wife, The princess of Amer (Modern day Jaipur), Daughter of King Bharmal and the mother of Emperor Jahangir.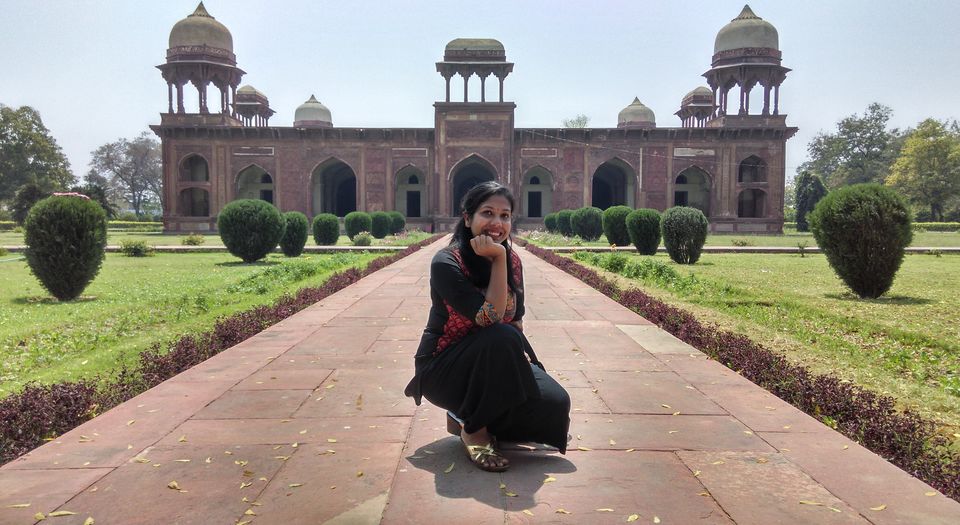 Picture courtesy: Arijit Majumder
Although the tomb shows signs of negligence, its a quiet place to be around.
9) Chini ka Rauza
I was very disappointed by the present condition of this monument. Its almost in ruins with no maintenance at all.
Once decorated with designs made out of blue tiles all around, only portions are left of it. This is the tomb of Shah Jahan's Prime Minister.
But, I was truly mesmerized when I imagined what it might have looked like while in its glory.

(Picture Courtesy: Shatabdi Mitra)
These were 9 monuments worth visiting while in Agra.
There is another temple, Radha Swami temple in Dayal Bagh which you can keep in your itinerary if you've time. This temple is still under construction.
Apart from the Historic monuments, Agra is also famous for its Leather craft, marble handicrafts and F-O-O-D. Enjoy your travel by indulging yourself in some great Mughal Delicacies or Pethas and take home some beautiful handcrafted souvenir.
Please post your opinion in the comments below or share the article with your friends on facebook :)