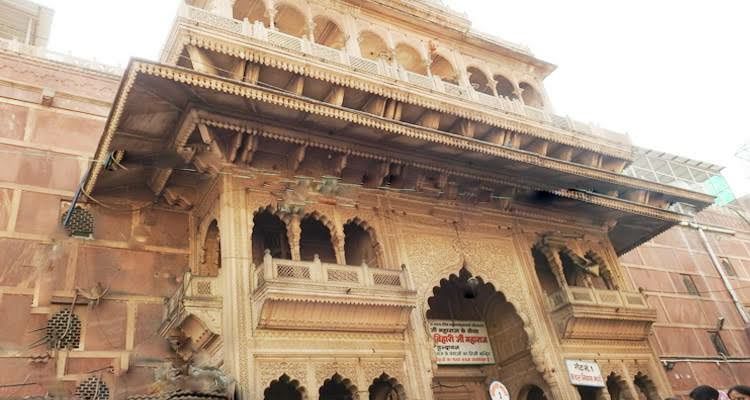 Hello Friend's, Myself Dhruv and today I'm Coming with my new Travellog "MATHURA, CITY OF KRISHNA". As you now, I'm basically from Agra, U.P so, start this trip from Agra The City Of Taj.
First I tell u about some interesting things about Mathura. Mathura is a birth place of Lord Krishna. In Hindu Mythology's Lord Krishna get here birth In Jail. In present day this place available now. If u visit Mathura One Thing that You Remember always when you visit Mathura "Bolo Bankey Bihari Lal Ki Jay" Or "Radhe Radhe"
Now I start my travellouge are u ready to visit Mathura. I Start this journey @5:00 A.M. From Agra I.S.B.T., I take Roadways Bus from here , the ticket cost something ₹60/65. From Agra Mathura is about 55 K.M away. So, from bus it take approx 1.5 hour or 1 hour 30 mins.
From Agra when u travel to Mathura, first you see Jay Jay Gurudev Temple. There is no entry fees of this temple. The main thing is this temple is constructed from White Marble, it's similar to Taj Mahal. This temple not belong to Hindu Or Not Belong To Muslim, Who are Vegetarian This Temple Belong to these. If u eat non-vegetarian food, so committee not accept any donation from you.
After that from here you take an auto- rikshaw, and visit to Janm Bhumi(the Birth Place Of Lord Krishna). The auto take approx ₹20-50 .
Note:- When You Visit Mathura always remember one thing that from 12 P.M To 4 P.M all Temples are close.
When you visit Janm Bhumi you see many thing, The Jail where Lord Krishna take birth Nd a beautiful Temple. After that you again take auto-rikshaw and visit Vrindavan. the auto take approx ₹20-50 .
In Vrindavan You see Many things. First Visit Bankey Bihari Temple, It's most famous temple of Mathura Or Vrindavan. When you visit Bankey Bihari temple "note one thing Please Don't wear ur Spects Or Googal,if you wear Spects Or Googal there was lot of monkey they theft your Spects Or Googal, and when you give Frooti to them they can return ur Spects Or Googal "
After that you visit many temple here, after that you visit Damodar Temple, Pagal Baba Mandir Where are Latest Gold Pillar Situated, Iskon Temple, Chandroday Temple, After That Mata Vaishno Devi Temple . In front of Mata Vaishno Devi Temple You See World Famous Prem Mandir Where In Evening we see Musical Fountain Show.
The Time was 12 P.M , Now all temples are close, Now U visit Jain Mandir At Goverdhan Chauraha. The Jain Mandir Open all day. You know that In Jainism Mathura Is a Special Spot. This temple Belong to Lord Ajit nath Nd Lord Jambu Swami. Here, 21 ft. High Idol Of Lord Jambu Swami situated.
After that you visit Mathura Museum , In Mathura there is 2 Museum, Goverment Museum And Jain Museum, You visit both Museum After that The time was 4 P.M.
After That This is the right tym to visit Barsane , The Place Of RadhaRani. There are famous temple which have 50steps. After 50 steps when you reach Temple you see amazing view. If you shopping lover so you can buy many things from here, but remember one thing Barging is Must. If you History Lover Or Architecture Lover So You also Visit Streets Of Barsane .
The Time was 7 P.M.
After that now again you visit Vrindavan, Prem Mandir. Because If you Visit Mathura nd Not seen Musical Fountain Show, So All day is Waste. So make always Program like that , that u can see this Show.
After that we again take roadways Bus and Back To Agra.
And last "Bolo Bankey Bihari Lal Ki Jai", "Radhe Radhe"
If you Like My Travellouge, LIKE , SHARE ND COMMENT and also Follow my Profile For Latest Updates.
Thanks, I see u with my new travellouge Soon...