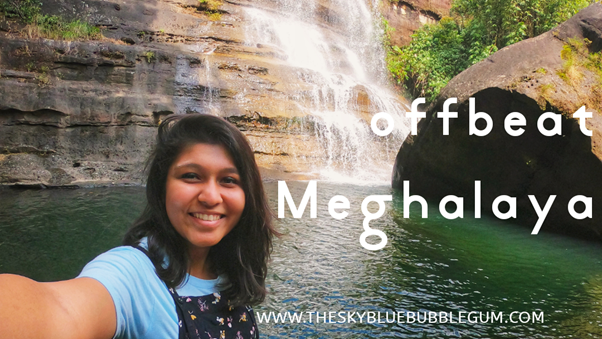 This post is in continuation of the previous post of Meghalaya trip which covers how to reach Meghalaya, internal public and private transports, where to stay, where to rent a scooter and details about the usually traveled to places in Meghalaya.
This post covers offbeat Meghalaya and details about it which are difficult to find on the internet in one shot. The places covered here are Mawlynbna, Mawsynram (world's wettest place), and Mawphlang. Bookmark this for your next Meghalaya travels
Mawlynbna
Why travel to Mawlynbna?
A town that is 97 km from Shillong can be visited for a few hours, but I would highly recommend staying here for at least 2D1N (which was my earlier plan but thank you rains!).
Mawlynbna is not on the radar of usual tourists since it is an offbeat destination. The only number of people you'll see when you travel are the locals and a handful of tourists.
You can have the entire waterfall to all by yourself and swim there till your heart's content!
.
How to reach Mawlynbna?
I took a private cab from Police Bazaar to Anjali Parking Point (5 km INR 100 ) – you can also get a share cab for INR 20 – 10-15 mins –> then take a share cab from Anjali Parking point to Mawsynram INR 100 2-3 hours –> then another share cab from Mawsynram to Mawlynbna INR 40 40-50 min
All the cab stops are right next to each other
Please note: the last cab from Mawsynram to Shillong leaves at 1pm. I reached Mawsynram at 2 and no cabs were heading towards Shillong. You can hire a private cab in this case but I was lucky to have Mr. Ridor as my driver cum guide who took the initiative to make his car a share cab till Shillong!
.
Where to stay in Mawlynbna?
There are only a handful of homestays and Mawlynbna's Traveller's Nest (+91 8837046925) is one of them. They charge INR ~2000 for 2D1N for one cottage with 3-5 rooms. They have cheaper options of staying in tents too.
.
Things to do in Mawlynbna and costs:
The Traveller's Nest will help you with the activities and cost too. The rates very reasonable (INR 300 for Kayaking, INR 600 for a guide for a day, INR 300 for caving, INR 100 Waterfall Trek – DO NOT miss this ), lunch and dinner INR 250 each, etc .
.
Tip: All these places are 3-5 km from each other. In case you want to hire a car for a day, I would highly recommend hiring Mr. Ridor. I was on a solo trip on this day and I felt extremely safe with him even in those places where there was no one!
.
Split Stone ( INR 30 )
You can rappel down or take a ladder down this split stone. You will get the ultimate experience of the movie 127 hours!
Check out the caption and carousel photos...
Trek to an unknown waterfall
Check out the caption and carousel photos...
.
See the Pitcher Plant Garden
For those who do not know, Pitcher Plants are carnivouras plants – yep, they consume insects!
The locals are known to drink the secretions from the plant once it is done eating the insect.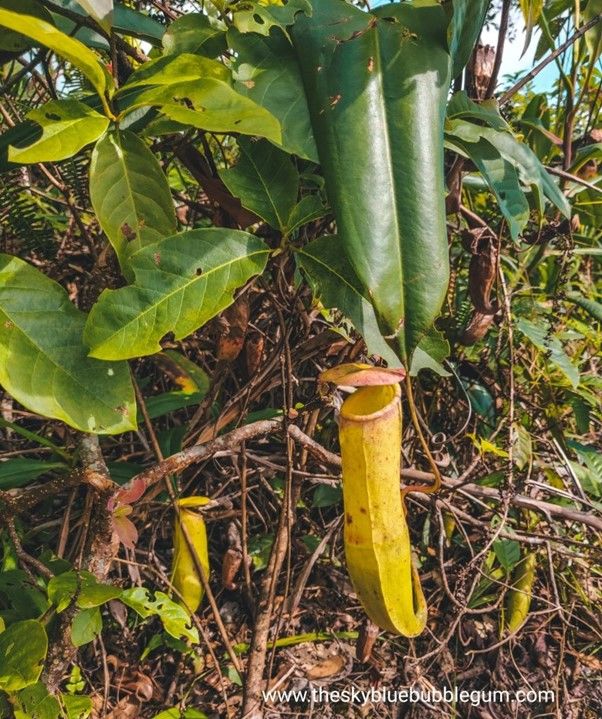 Discover Fossil Lands
Some parts of Meghayala are now roads which were earlier ocean beds! Cherapunjee and the below image are such examples. One often tends to find staggering amount of fossil imprints on these lands.
Mawsynram
If you have time, you can stop by at the World's wettest place while going to Mawlynbna and explore the 209-meter high cave -Mawjymbuin caves.
Check out calcareous sandstones which has numerous stalagmites (formed as a result of calcium carbonate depositions, weathering and dripping of mineral enriched liquid) on your Meghalaya trip.
.
Mawphlang
Why visit Mawphlang?
Mawphlang is 25 km from Shillong and it houses one of the 800-year-old sacred forests spread across 192 acres.
The East Khasi Hills and the Jaintia Hills District of Meghalaya are filled with sacred forests, all closely linked with the indigenous cultures and religious beliefs. Meghalaya earlier had 52 kingdoms and each kingdom had its own scared forest.
This is one of the few surviving Sacred Forest in Meghalaya. No one is allowed to pluck and take ANYTHING outside this forest. It is believed that the person will be followed by an ill omen if they take anything.
• To see the plants/trees which cures cancer and many other ailments
• To see monoliths where animals (esp bulls) were sacrificed in olden days
.
How to reach Mawphlang?
We hired a scooter from Delphi's for a day. The roads are fantastic, and the drive was an extremely amazing experience. I would recommend self-drive for only this stretch.
.
Where to stay in Mawphlang?
We went for a day's trip and returned to Shillong to call in a night.
However, you can stay in a home-stay in Mayphlong for INR 1500 / room (Mr Embor +91 8837437716 ) or Maple Pine Farm, Lyngkein, Hima Mawphlang, Mawmyrsiang, +91 098560 41205 and proceed towards Mawlynbna and Mawsnram the next day.
.
Things to do in Mawphlang and costs:
Mawphlong's Sacred Forest will take around 1-2 hours while you stumble upon rudraksha tree, pine trees, poisonous mushrooms (don't worry, your guide will always be your chaperone).
I would highly recommend taking at least half a day for this place and taking a package of an hour if there are no elderly with you.
The trail after half an hour is beautiful with a water stream following you everywhere! I would highly recommend an hour's tour since a better part of the forest begins after half of the tour.
A guided 30 min tour costs INR 300 and an hour costs INR 500. You will get official guides right outside the gates of the Sacred Grove.
Do check out these carousel photos