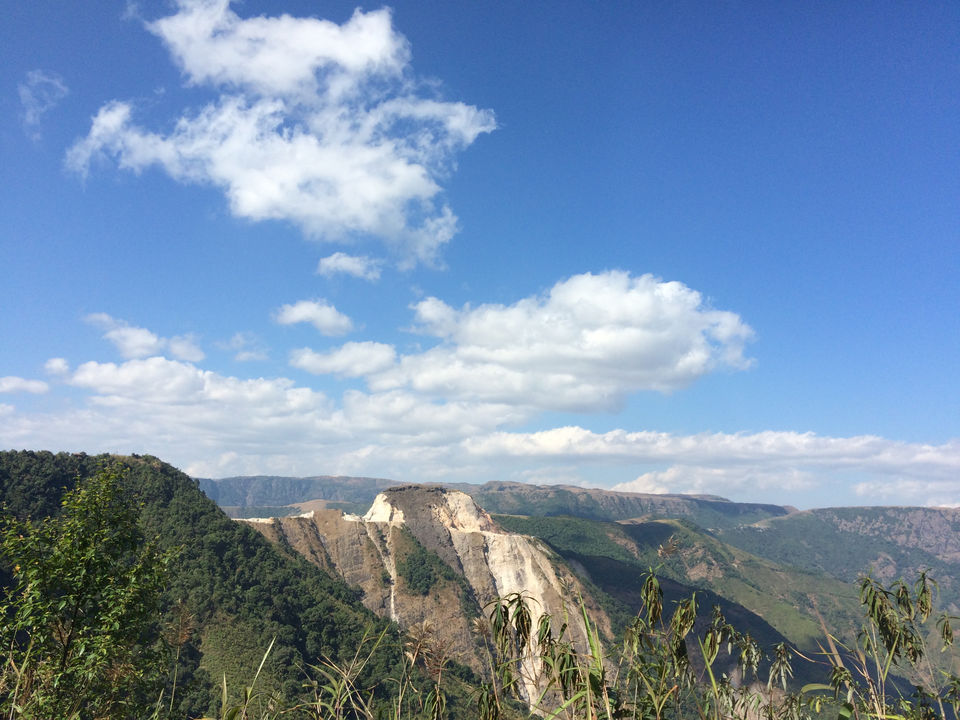 Again it was towards the end of the year and new year was a few days away so we decided to travel to Guwahati .I have a number of reasons to be excited to visit Guwahati .One of the reasons is that i get to travel north east more and i get to eat Assamese food,i must tell you that i not only love travelling but i have immense love for different cuisines specially Assamese food .Anyways whenever we visit Guwahati together with my brother in law and his wife and their kid(tiku) we make plans to travel .This time we decided to travel some parts of Meghalaya -North east state in India.I must say its such a beautiful North east region of India with breathtaking views and landscapes .Everything about this place makes you fall in love more with this place ,the sliding slopes,the blue sky with beautiful white clouds ,rolling green mountains and nevertheless the fresh cool air.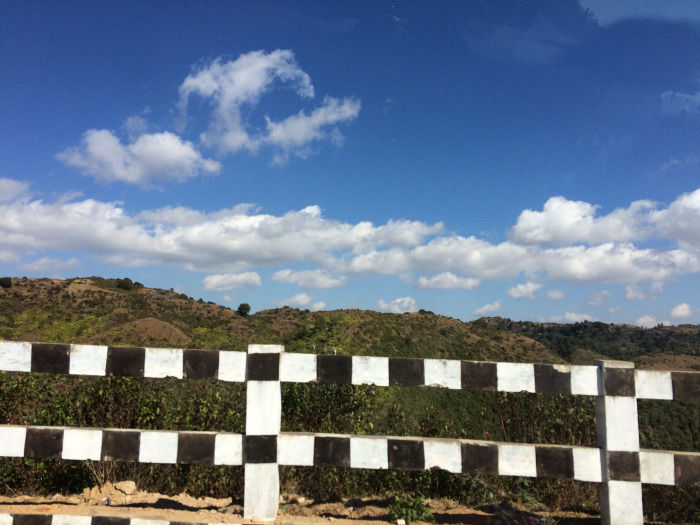 so we started early on the morning of 7th January 2017 about 6.30 am .As we started we we were pretty much excited .My brother in law took charge of driving and i must admit he is an amazing and crazy driver at the same time .At times i was so freaked out with the way he was driving but i knew i was in safe hands and nothing would go wrong . Seems he knows all the turning points in the hills ,phew!!!.It is quite a risky drive unless you have a good driver .We had a lovely time in the hills of Meghalaya where we went exploring the beauty of the land and people .we met beautiful people there and i have shared the pictures of the beautiful landscape and people in this post.Hope you will enjoy reading this post.
we wanted to see some beautiful places in Meghalaya so we decided to visit Shnongpdeng Dawki– ,Mawsynram -wettest place on earth and Mawlynnong Village –cleanest village in the country
It took about 5 hours for us to reach here from Guwahati.It is approx.175 km distance and the weather was pleasant in jan during the day but night and morning the temperature dropped to about 12°c-15°c.
Shnongpdeng Dawki: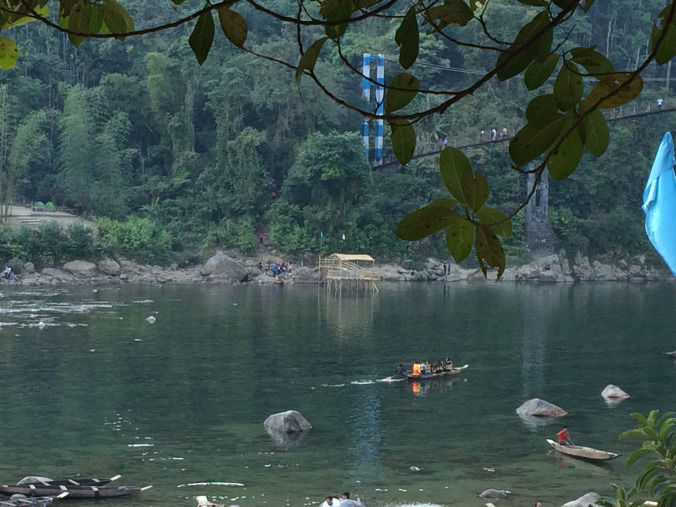 we headed towards our next destination Mawlynnong Village .Tamabil is Located in the Jaintia Hills, the Dawki-Tamabil border between India and Bangladesh.The security was not so tight here .I saw minimum army force on the border,it seems anyone can easily trespass through this weak security line . Illegal migration is certainly a big issue in India .Here is a picture of the border.
I was once more astonished to see such a beautiful creation of nature .I never imagined such a tree existed until i saw this one .This place is in Riwai village in the east khasi hills of Meghalaya. They call this place as "God's own garden" and i believe they are absolutely right. I traveled during winter so i found the weather quite pleasant .I wonder how this place would look like in monsoon !!! I am sure it would be absolutely Gorgeous during rainy season. Anyways with much amazement we left this place and headed towards our next destination.Sharing some pictures of the Living Root Bridge :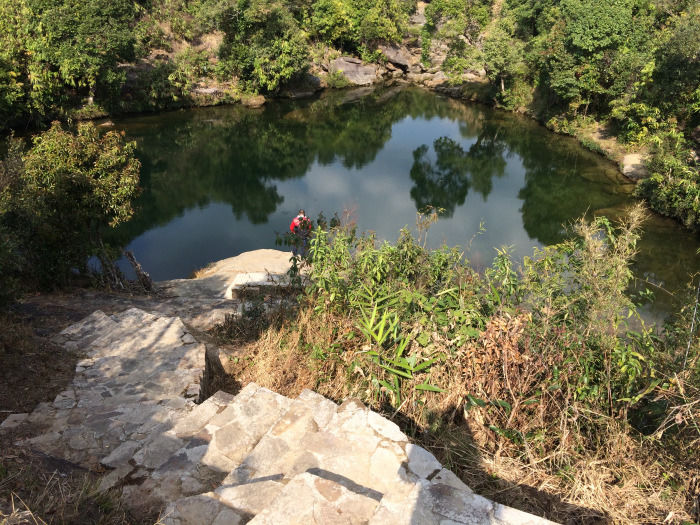 The distance from Mawlynong and Mawsynram that we covered was almost 110 km .We drove for almost 3 hrs and 30 mins and finally reached this place .we reached about 7 pm and the weather was very cold .We had pre booked our stay with one pwd inspection bungalow and it seems that was the only hope for accommodation there as i could not find any other tourist accommodation nearby .The owner mentioned that it is always open for tourists .Next morning we were all set to see the place .It was a beautiful morning in the arms of nature with beautiful mountains stretched in front of us .What a beautiful morning it was !!!
After having breakfast we drove to a nearby village .The way to the village was amazing, full of beautiful mountains crafted with fragmented silver clouds.The clouds playfully gave a dramatic view to the already beautiful mountains .If you are trying to find solace then this is the perfect place because the silence is just wonderful .We could see the mountains full of waterfalls but all dried up.I even doubted if it was really the wettest place on earth as i didn't see any down rush. Unfortunately we didn't witness rain in Mawsynram during our stay but they say that it rains several times in a day during monsoon .Meghalaya means 'land of the clouds'. Most of the rain occurs during the monsoon season, between June and September.Maybe we came here at the wrong time !!!There are several view points and tourist attractions here.The village is well known for its huge formation of a stalagmite, which takes after the shape of a 'Shivling'.
Here are the pictures from Mawsynram: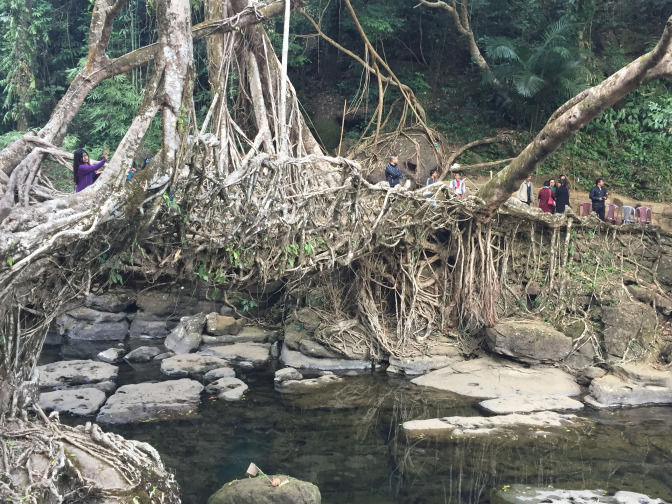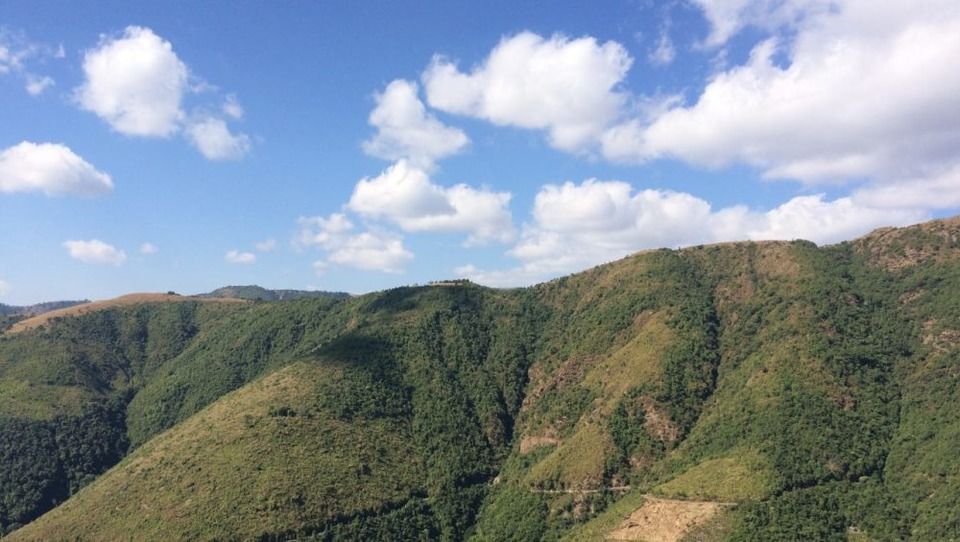 picture clicked from the window of the hut where i stayed .Beautiful!!! isn't?
Loved everything about this place .The beautiful river,green mountains ,big rocks and amazing landscapes.Its located on the border of Meghalaya and Bangladesh.Best time to visit is between nov -feb .Its a great picnic spot for everyone .I saw a good crowd mixture of children,college students and old people enjoying here .They had got their own utensils for cooking and they cooked near to big rocks at the bank of the river.Everyone seemed to be enjoying.My eyes captured the stunning boats near the river i wanted to take a ride but it was already late and they closed the ride after 5 pm so i had to wait until next morning .The water of the river is so crystal clear.It appears green and blue due to the reflection of the green mountains and blue sky.You could clearly see the stones inside the water .Next morning we got up by 7 am and we went for a walk through the suspension bridge over the river. At first i was scared to cross the bridge as it was swinging in the wind but somehow i gathered some courage and crossed the bridge .The view from the bridge was amazing. Below is the picture of the river clicked from the bridge.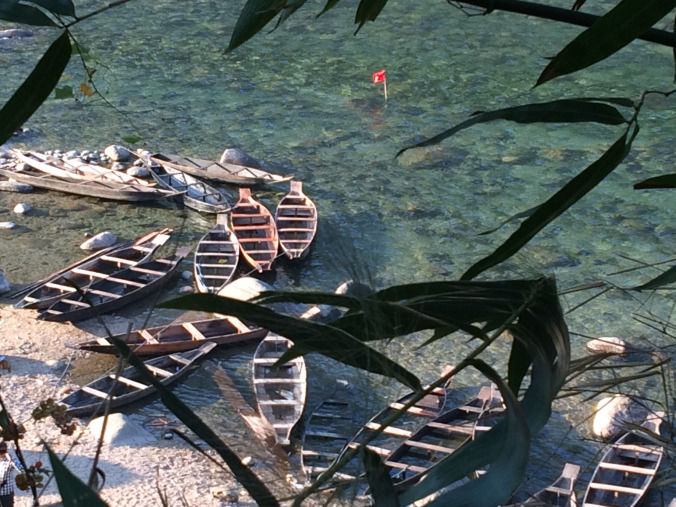 At 10 in the morning i was all set to take a boat ride .My husband ,bro-in-law and his wife and our little champ (tiku) were not willing to go for the boat ride .They were afraid to go in the river due that one bad experience we had last year while doing rafting in the river of Rishikesh where we had fallen off in the river and almost died .Anyways my fear had vanished after that experience but they became more fearful,i guess!!.so i took that ride all alone with the skipper(Lerick) Thank God i didn't get bored in his company .He told me some amazing stories about the river.One fisherman caught my attention .He was a young boy who had moored his boat, apparently he was waiting to catch fishes and he was playing a nice song on his phone. He told me that it is a khasi song(khasi is one of the languages of Meghalaya) It was completely enchanting to listen to that music in the middle of silent river.While coming back I took picture of that fisherman.The whole Experience made me so peaceful and relaxed .I am so glad that i took that boat ride .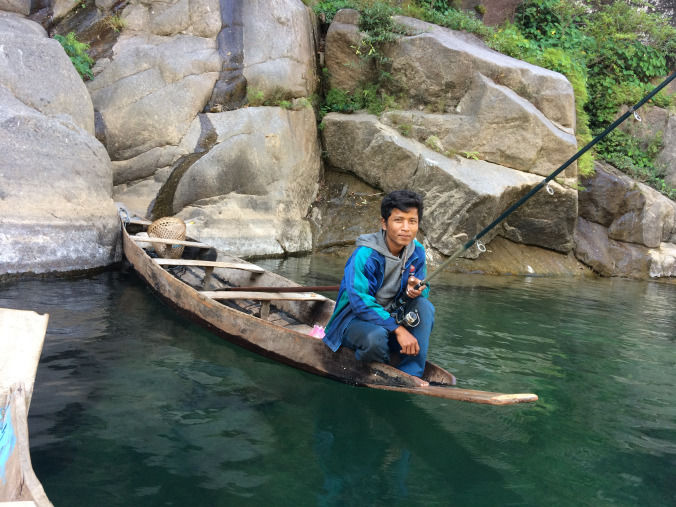 Cute fisherman waiting to catch fishes .
Oh!!! what an experience i had while riding the boat.Everything was so magical about this place.The sound of the river,the beautiful landscapes and blissful atmosphere .I just cant get over with this place . I want to go back again, hopefully soon !!Sharing more pictures from this place.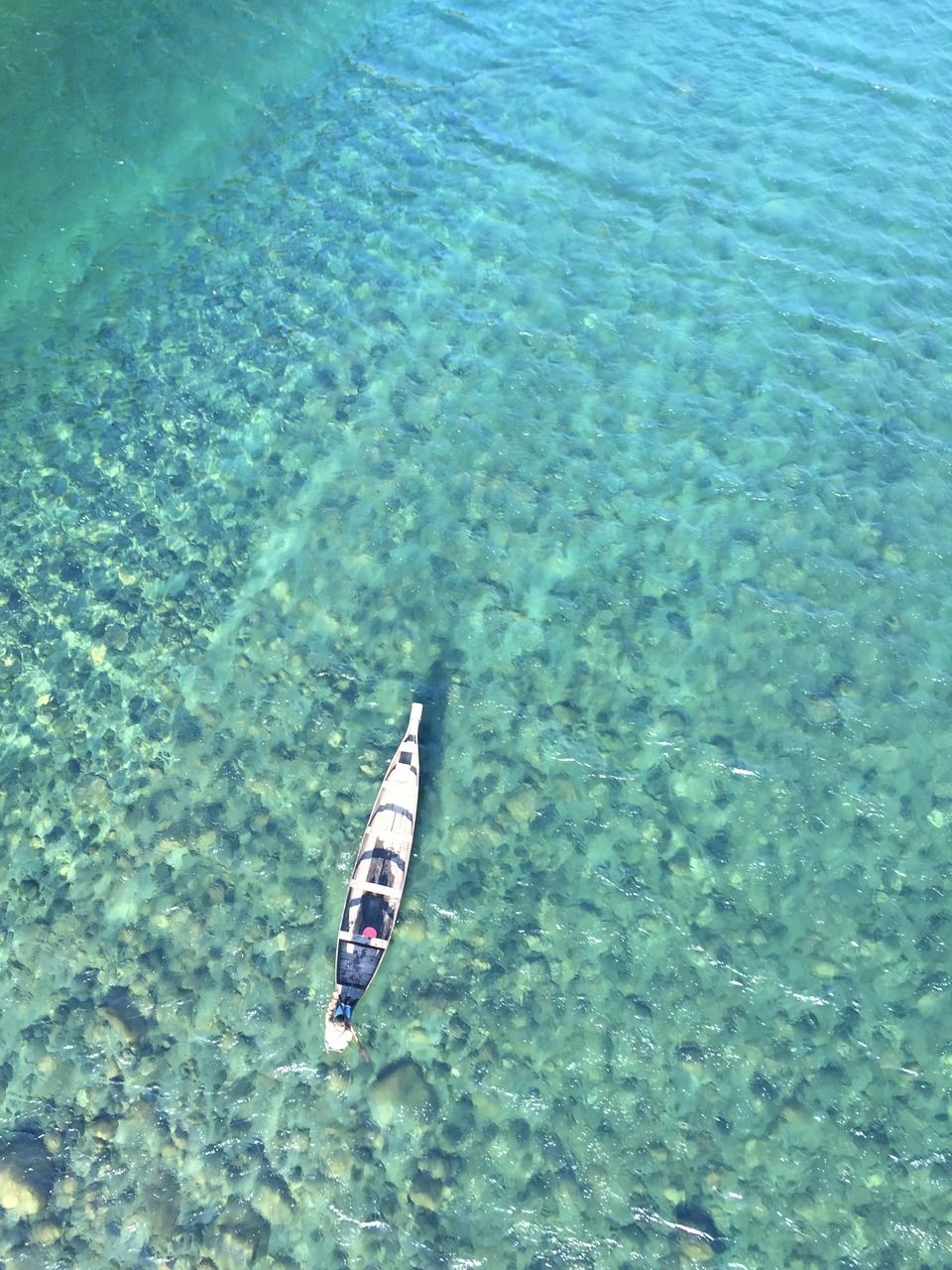 I ended my boat ride with a whole new experience .Although i had taken boat rides before but this one was spectacular.It made me feel happy and left me feeling afresh.so it was time to leave this place as we had to travel few more places .Before leaving I captured few more pictures.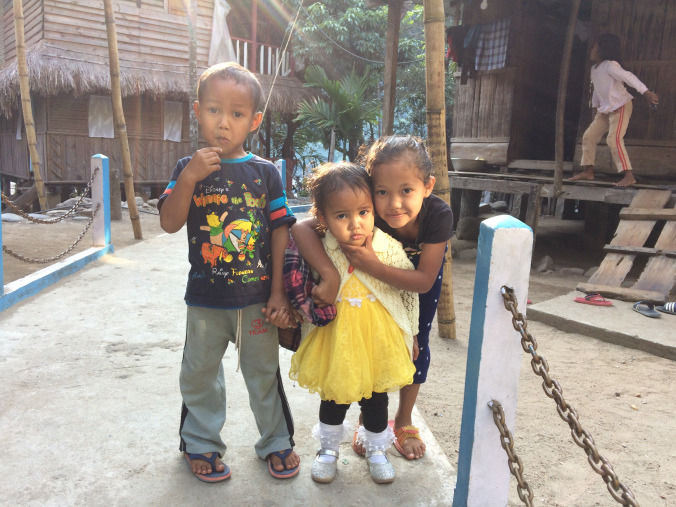 So the boat ride costed me only Rs.100 and i was the only one in the boat with the skipper and the hut where we stayed costed us Rs.2000 which was quite reasonable according to the place .The food was prepared by the owner of the house and we paid about Rs.1800 for food including lunch and dinner for 5 people .
Mawlynnong-The cleanest village i have ever seen
Our next destination was Mawlynnong about 37 km from Tamabil and 90 km from Shillong .It is a village in the east khasi hills of the Meghalaya state.This village is famous for its cleanliness and Natural beauty. Mawlynnong was awarded the prestigious tag of 'Cleanest Village in Asia' in 2003 by Discover India Magazine as per Wikipedia.So i was really curious to explore this place.When i reached this village i was wonder struck by seeing the beauty and cleanliness of this village .The people have really maintained the natural beauty of this place .I didn't find any trash on the way and in the village .There were bamboo baskets that were placed around every nook and corner for the trash.I really loved the idea and would imagine if this baskets could be placed around everywhere in our country to keep it neat and clean.
Here are some pictures from the village :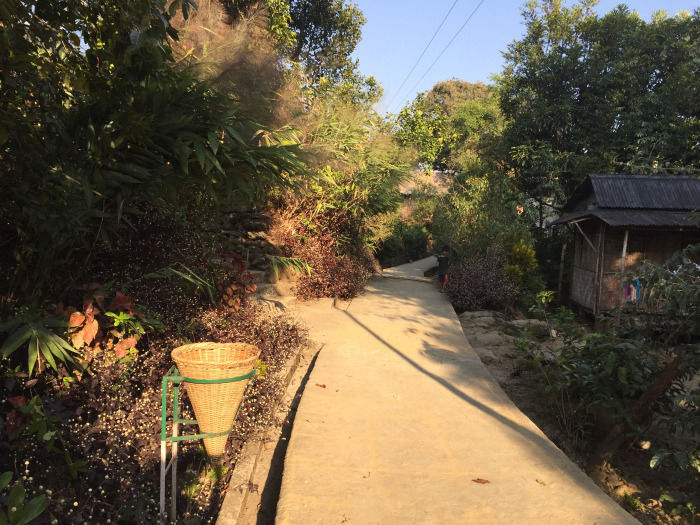 After walking through the clean village we went down a slope and found our way towards the Living Root Bridge-what a wonderful creation of nature???
While coming back from the clean village we halted for lunch about 2 pm at a restaurant .It looked pretty nice so without thinking much as we were already starving, we entered the restaurant (kyntiew shaphrang bites & taste restaurant).The food was great although we had to wait for an hour for our order but so far in our trip this was the only place we enjoyed the food.
Mawsynram-The wettest place on Earth
I loved every bit of my time spent in the Khasi hills .My next trip to this place will be definitely during monsoon season .so with this, i wrap up this travel story from Meghalaya-The abode of clouds. .I hope you liked and enjoyed my travel experience .Stay tuned for more travel stories.please share your views with me about this post
This post was originally published on Renadas.
Frequent Searches Leading To This Page:-
guwahati to shillong traveller, meghalaya tour packages, shillong meghalaya tour packages, guwahati shillong meghalaya tour packages, hest meghalaya packages