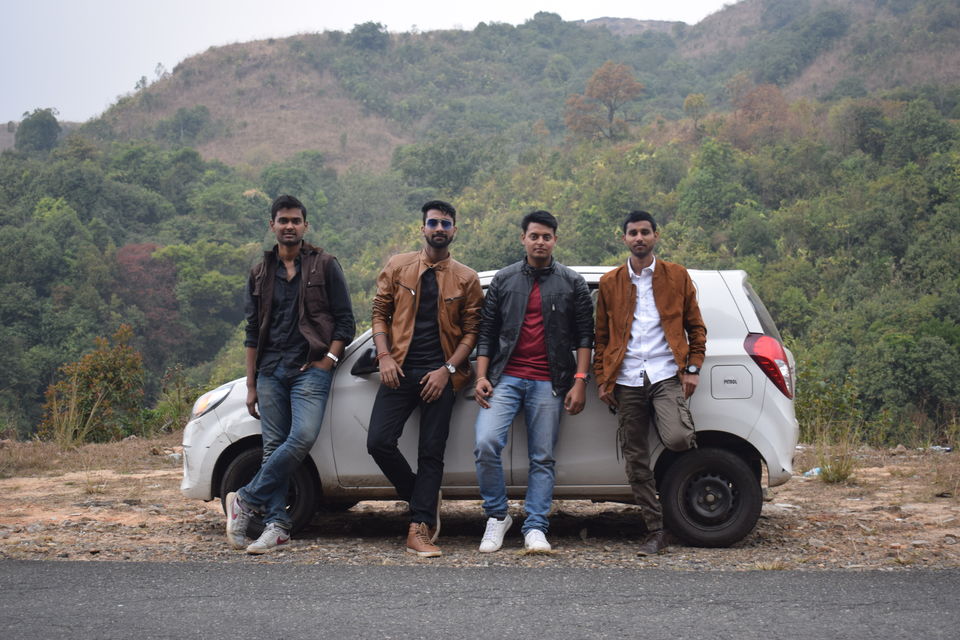 I've been studying since the last 3.5 years in the North East, yet due to some reason or the other, haven't been able to visit a single place here. Half of my college has at least been to Shillong, which is just 210 kms from Silchar. Since this was our last semester, me and my friends had decided that we'll visit Shillong this time no matter what.
Although I prefer to use public transport whenever possible mainly because it is cheap and you get the local experience, but this time we decided to do a road trip to Meghalaya. We had never embarked on a road trip before, except just a short one, when we drove to Nandi Hills during my internship in Bangalore. Since there are no car rental facilities available in Silchar and the road condition is not that great, we decided to start our journey from Guwahati.
Day 1 : Guwahati -> Shillong
We reached Guwahati early morning 6:00 AM after boarding the SCL TVC Express (12516) the night before. The weather was quite foggy in Guwahati and we were afraid whether the same would be in Shillong. After a quick breakfast of chole bhature, me and my friend Heramb set off for the most important task - booking our vehicle. We rented a Maruti Alto 800 from Awe Rides, situated around 3 kms from the railway station. The choice of Alto was for two reasons - it was the cheapest option and fitted our budget, me and Heramb both had prior experience driving it. We rented the car for around 80 hours, which cost us ₹4673, and the petrol charges were to be borne by us. The booking process was hassle free and the car was in an excellent condition. After finishing all the paperwork, we finally started our journey at around 9:30 AM from Guwahati. Since we were a group of 5, the car was perfect for us.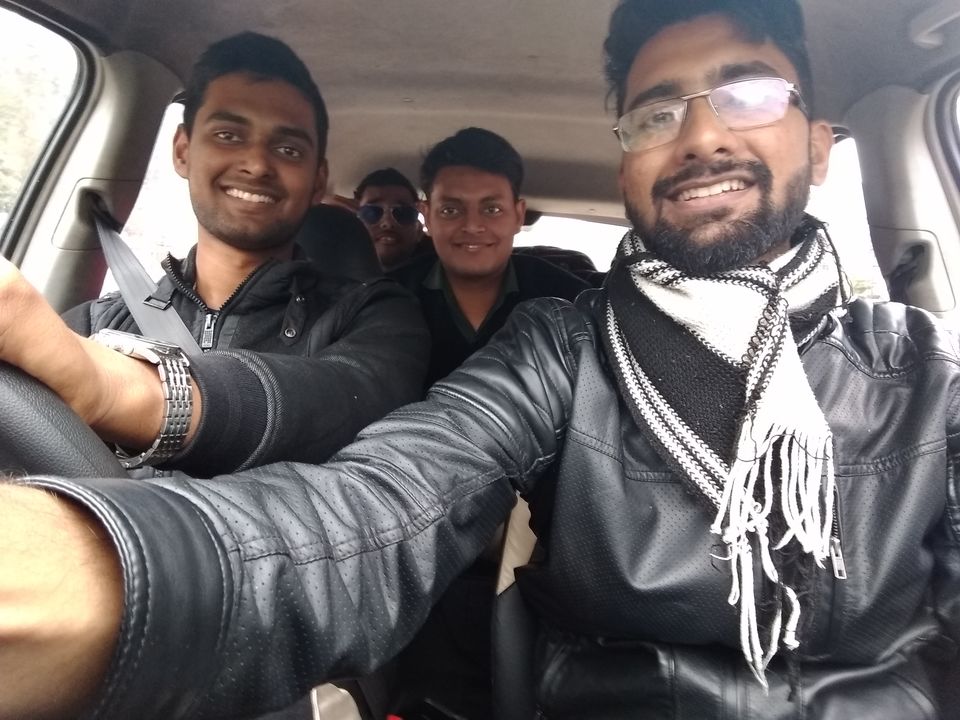 After encountering some traffic in Guwahati, we crossed Khanapara, which is at the border of Meghalaya. The road after Khanapara becomes relatively traffic free and more winding. The chill in the air also starts growing as you gain altitude. The highway from Guwahati to Shillong is a well paved 4-lane highway with lots of twists and turns. It was a pleasure driving there and we also stopped the car at a few places to click pictures. The fog also cleared up paving the way for plentiful sunshine.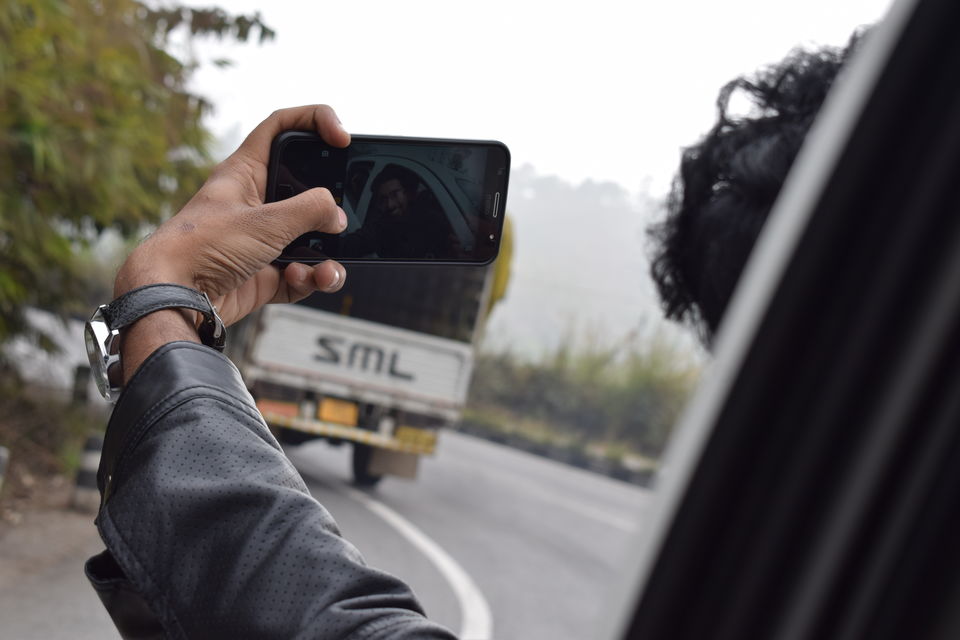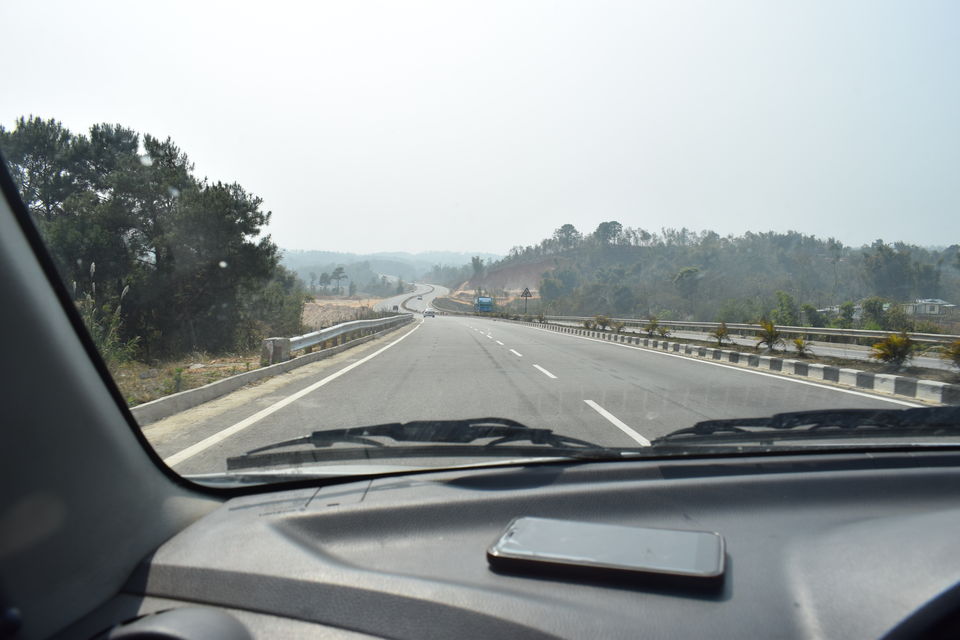 Our first stop was Umiam Lake, an artificial lake created by damming the Umiam river. The lake had also featured once on an Airtel ad. Instead of going to the crowded Umiam Lake Viewpoint, we parked the car at a secluded spot and hiked for a bit to reach to bottom of the lake. A cool breeze was blowing and the lake was much bigger than what I had expected.
We left Umiam Lake at around 1:00 PM and continued our journey to Shillong. Our stay for the next two nights was at Isabella Hostel (₹300 pp per night for dormitory) and the last night was to be spent in Cherrapunjee. However, we had a lot of difficulty in locating our hostel as the road leading to it was very narrow, just about enough for our car to pass.
The hostel was pretty decent for the price and the caretaker was also nice. After freshening up and having our lunch, we set off to explore Shillong. Now, the thing with Shillong's roads is that at some places, specially in the interiors of Shillong, the roads are very very very steep, inclined at about 45°. I've been to Mussoorie and McLeodganj and found the roads there to be steep, but Shillong takes it to another level. You literally have to press hard on the accelerator in the 1st gear to make the car move up the incline. Me and Heramb both were not accustomed to driving on such roads, however we managed somehow.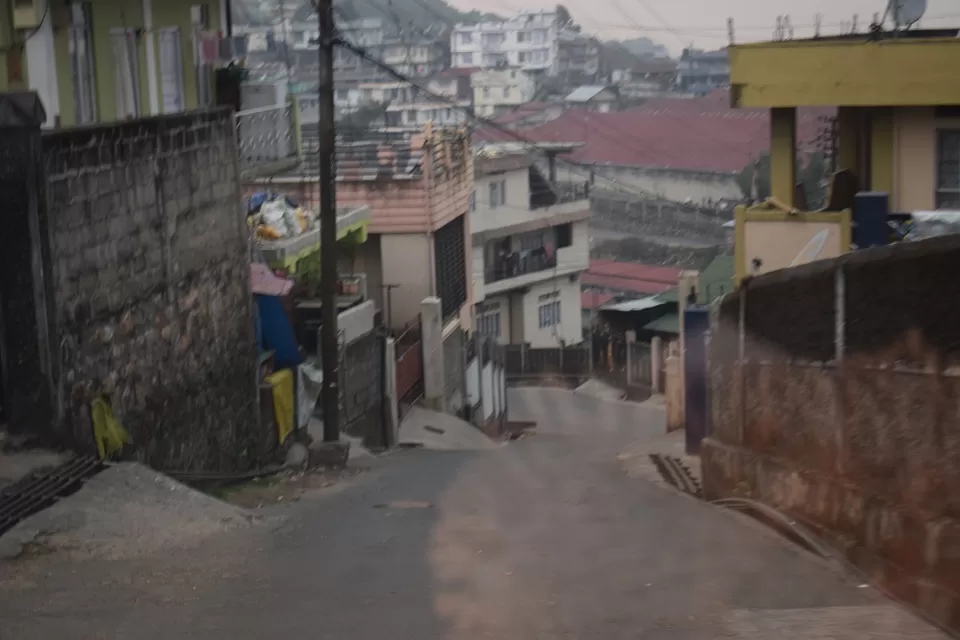 We then set off at around 3:00 PM for our first stop, the Shillong View Point, which apparently provides the view of the entire city on a clear day. However, to our disappointment, we found it to be closed when we reached there. We reversed and then decided to visit Laitlum Grand Canyon. However, fate had different plans. The sun sets pretty early in the north-east and we got stuck in a traffic jam on the way to Laitlum. It was already 5:00 PM and we were still 30 mins away from our destination. Deciding that it would be futile to go there now, we returned midway and went back to our hostel.
The first day turned out to be a bit disappointing as we could not visit any major landmark. After an early dinner, we dozed off for tomorrow was going to be an early day.
Day 2 : Shillong -> Jowai -> Dawki -> Shillong
We woke up at 4:30 AM and quickly got ready to leave planning to cover Krang Suri Falls in Jowai, Umngot River in Dawki and the Laitlum Grand Canyon. This was the driving map for today.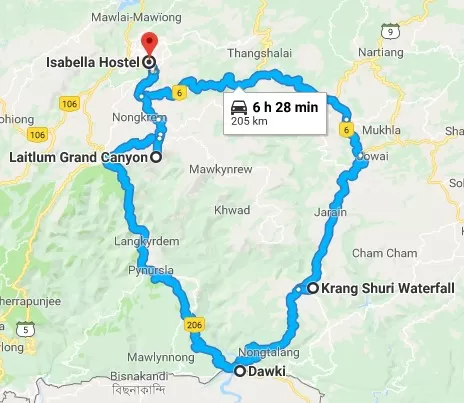 As you can see, there are 2 ways to reach Dawki. Either take the longer route via Jowai and visit Krang Suri Falls in between or take the shorter, direct route to Dawki. One of my friends who had previously visited Shillong recommended the Falls.
We began at sharp 5:30 AM for Jowai planning to beat the morning traffic. Within half an hour, we had exited Shillong and well paved smooth roads welcomed us again, providing some respite from the narrow ones in Shillong. The car had a music system but since we had no aux cable, we played music on our portable USB speakers which was deriving power from our power banks, because jugaad.
Cracking jokes all along the way and playing road trip songs, we inched towards Jowai stopping for few pictures whenever the views surprised us.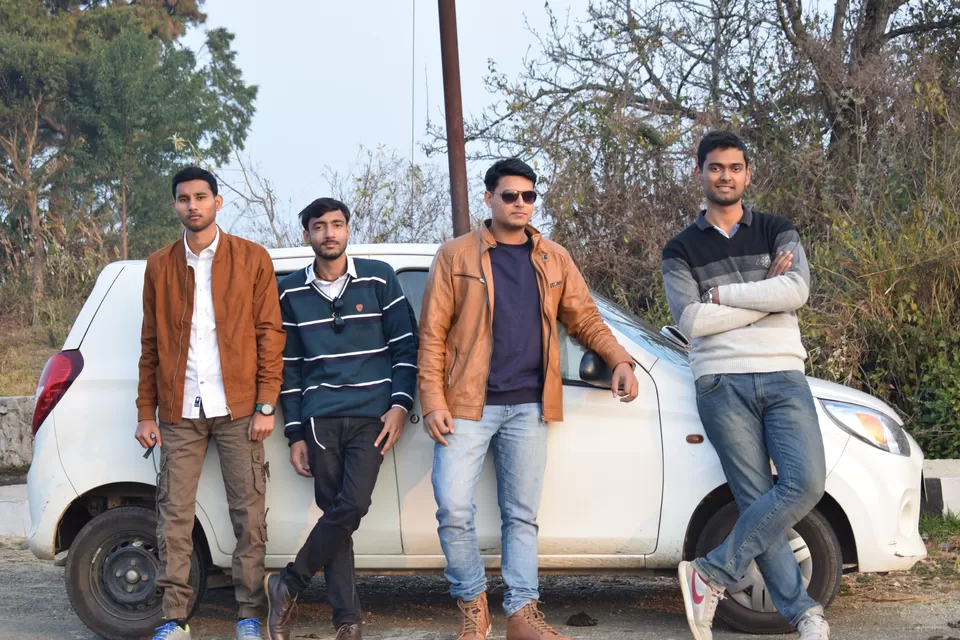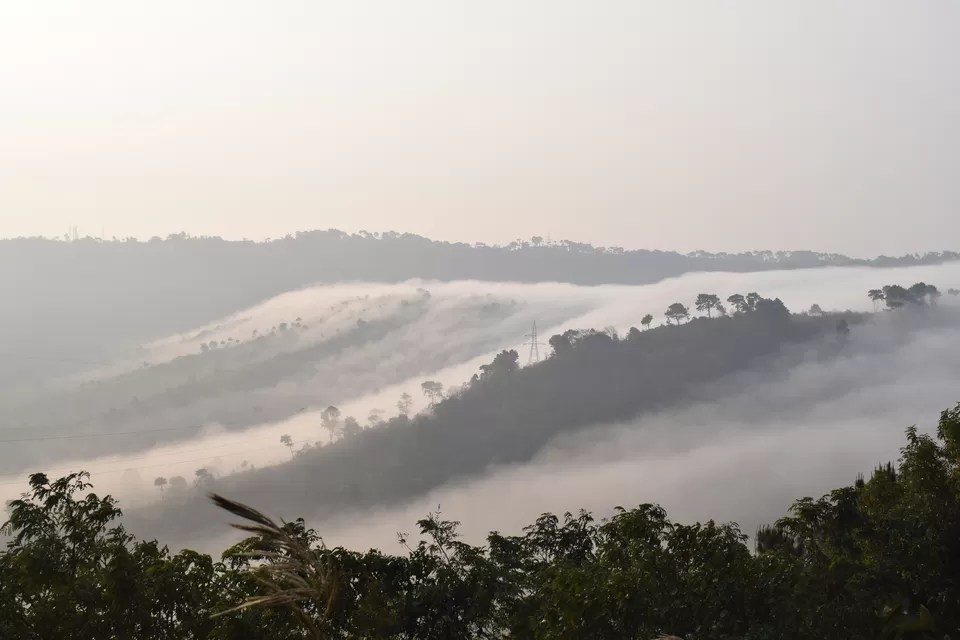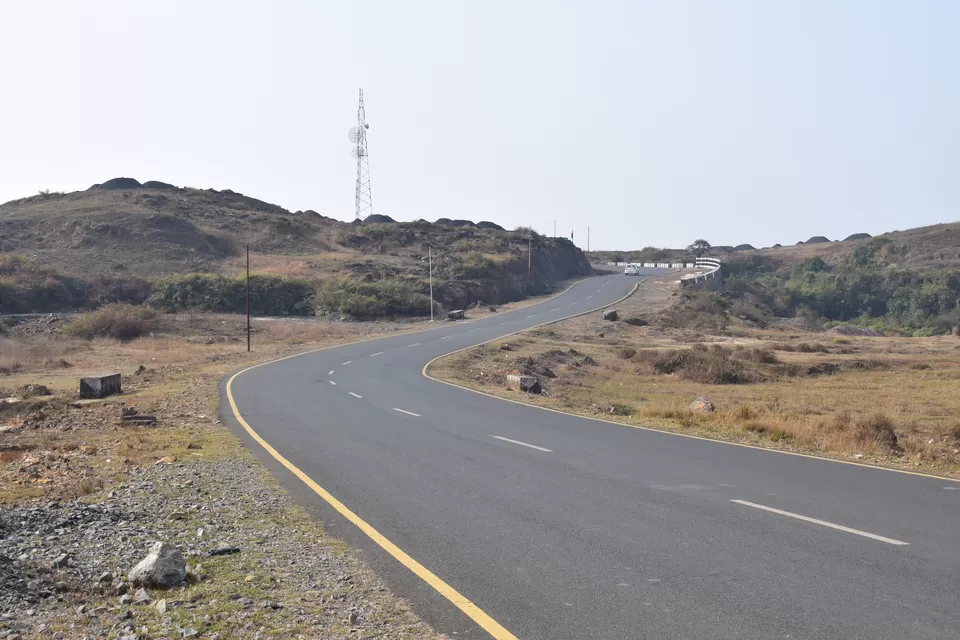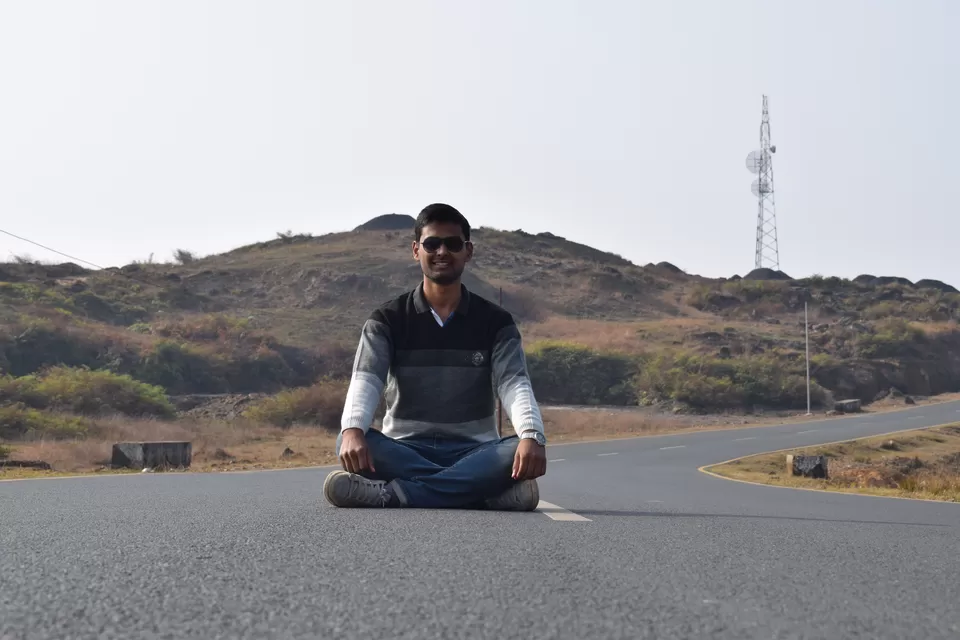 After driving for around 4 hours, we reached Krang Suri by 10 AM. The roads were in an excellent condition except for a few bad patches here and there. Car parking is available and you need to hike for about 15 mins downhill to reach the falls. The entry charges are ₹40 pp. If you wish to take a dip, you have to rent life jackets costing ₹30 pp as they are compulsory. Coming to the Falls, it was just as astounding as I had heard from my friends. Clear blue water shimmering in the sunlight gives a magical aura to this place.
A guide will help you strap the life jackets. The water was pretty cold and we could not last more than 15 mins inside it. Only one of my friends who knew swimming made it to the other side of the falls. Also, do note that the rocks beneath are very slippery.
After spending around an hour at the Falls, we hiked back up and began our journey to Dawki. The journey was very eye soothing with small hillocks accompanying the smooth roads.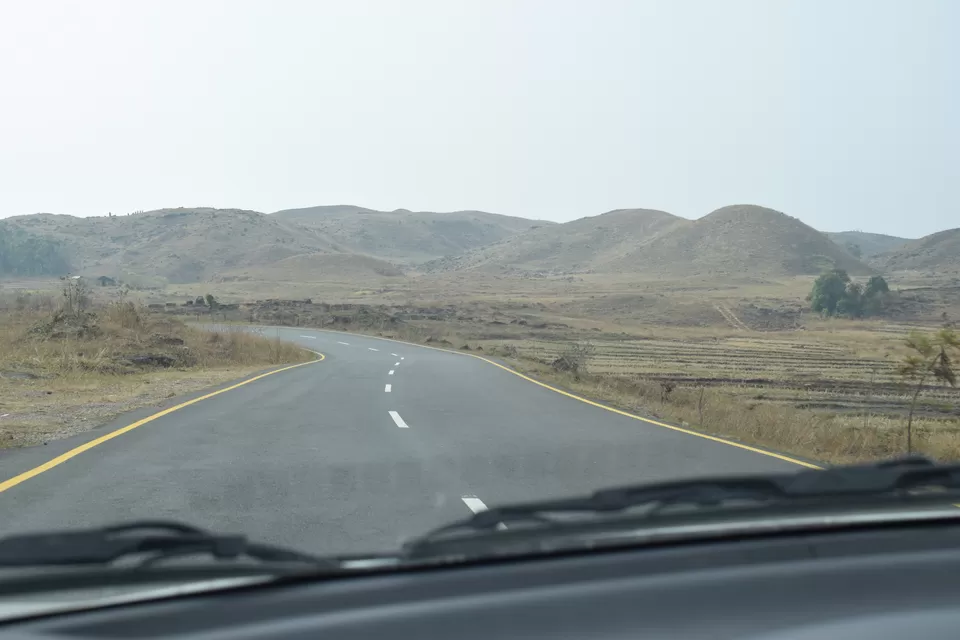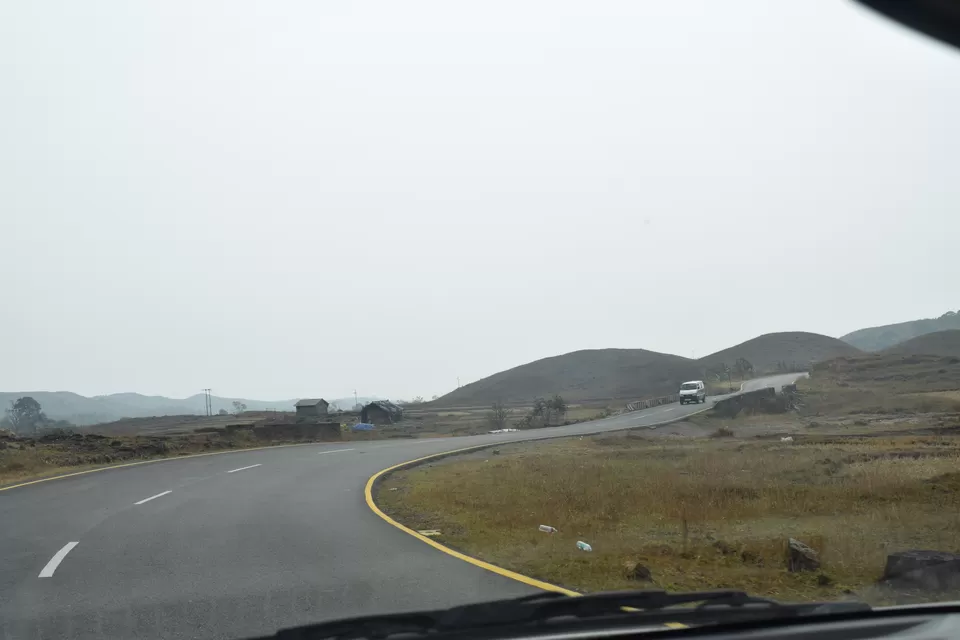 We reached Dawki at around 1:00 PM. Even though we were starving like anything, we decided to visit Umngot river, do boating and then have lunch. The first thing that strikes you as you enter Dawki is the Dawki bridge across the Umngot river.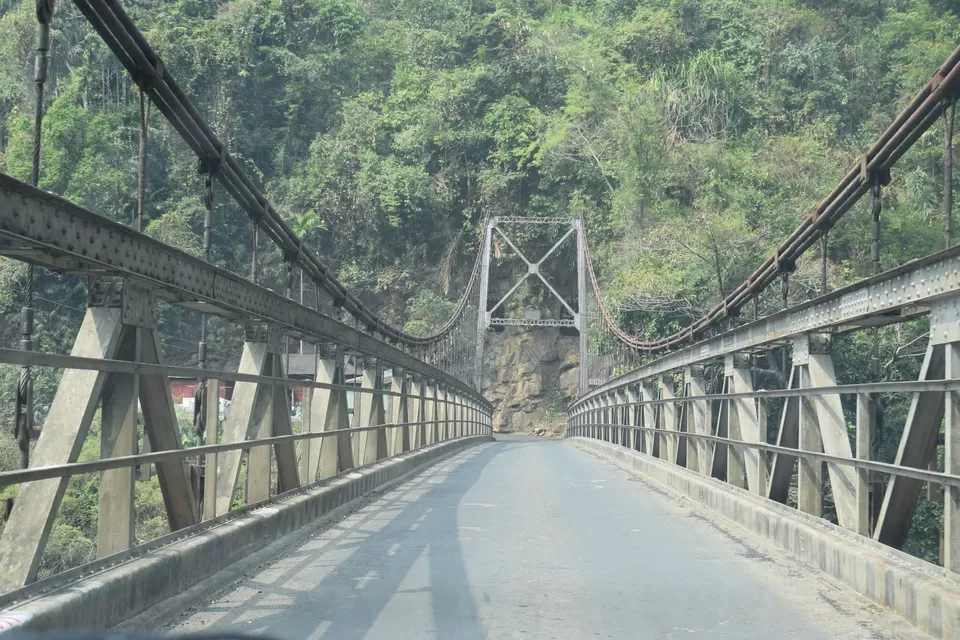 The Umngot river flows between massive sized rocks and is amazingly clean given the amount of people that visit here. The boating charges here are ₹800 for 30 mins and ₹1200 for 1 hour. A maximum of 5 people are allowed per boat and the 1 hour boating will cover the entire length and breadth of the lake. We went for the cheaper option.
I had heard a lot about the place of having waters so clean that boats looked liked they floated on it. Which in fact is true, but only for the shallow ends. Once you venture into the deeper side of the river, the water turns thick green. We even witnessed a couple getting their pre-wedding shoot done on a boat along with drone photography.
One peculiar thing about this place is that the Bangladesh border is just a stone's throw away and you could actally see the Bangaldeshi people. The thing which is interesting is that while the Indian side is pretty calm, the Bangladeshi side is chaos - complete chaos. It looks like some mela kind of thing is going on on the other side of the border always. Our boats were not allowed to venture to the other side. A cool breeze always keeps flowing by the river and the river has aquatic life too.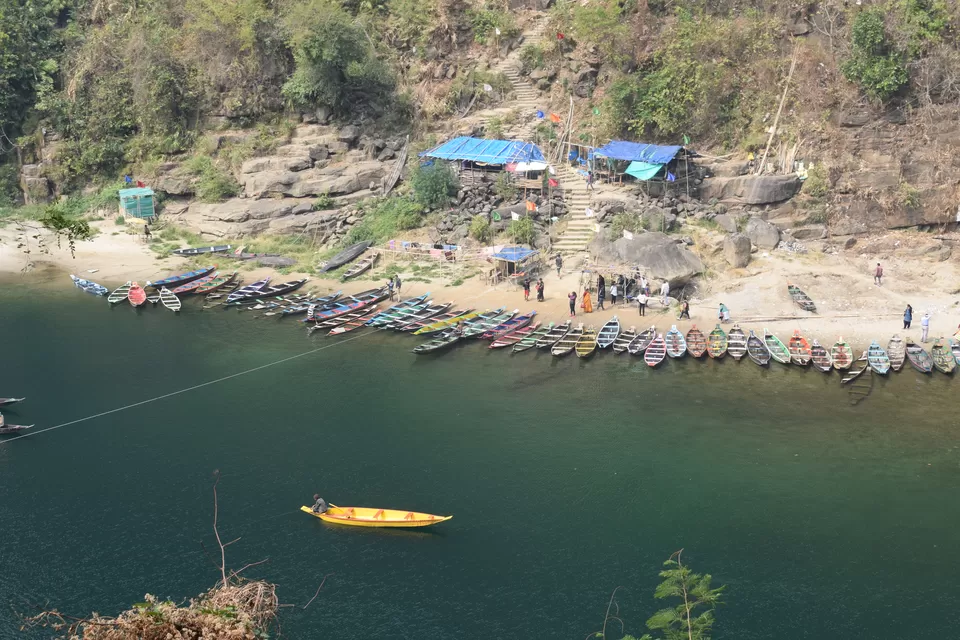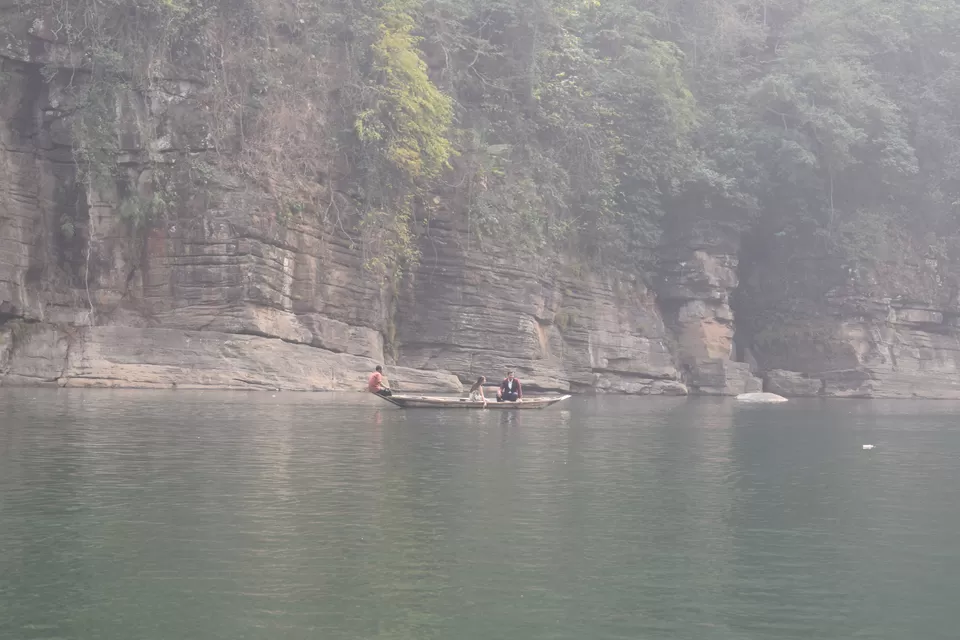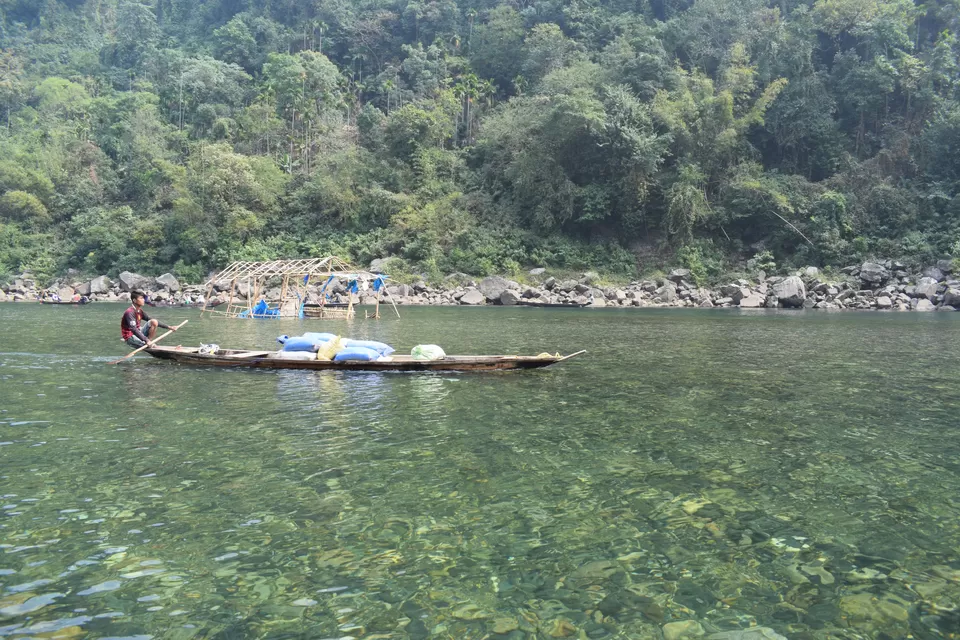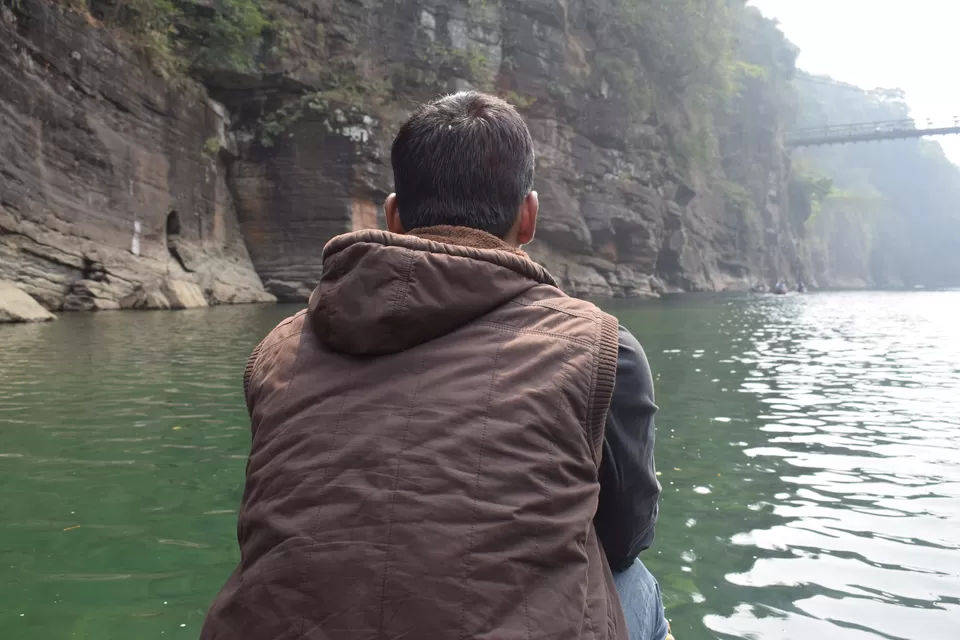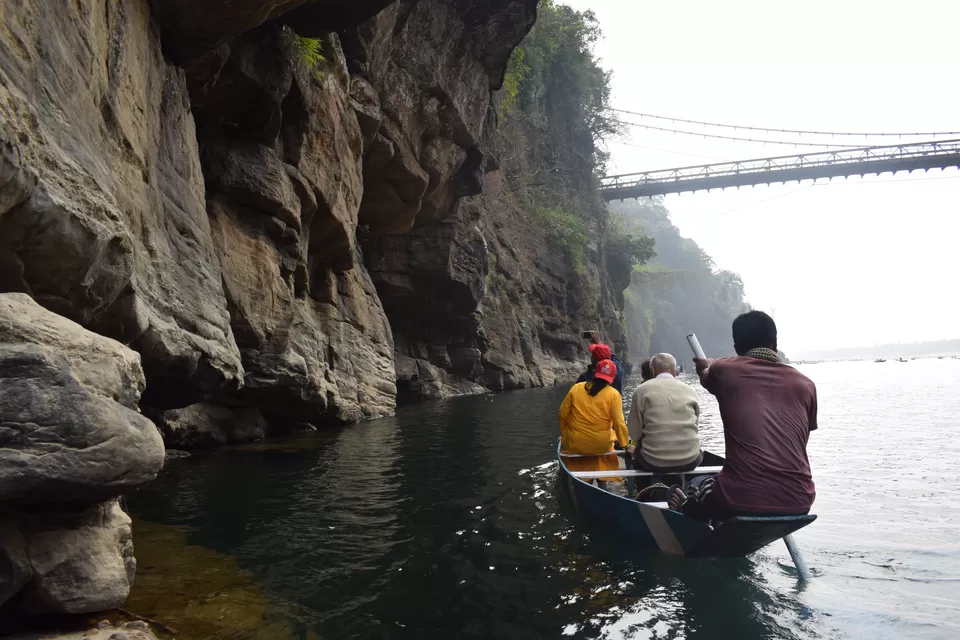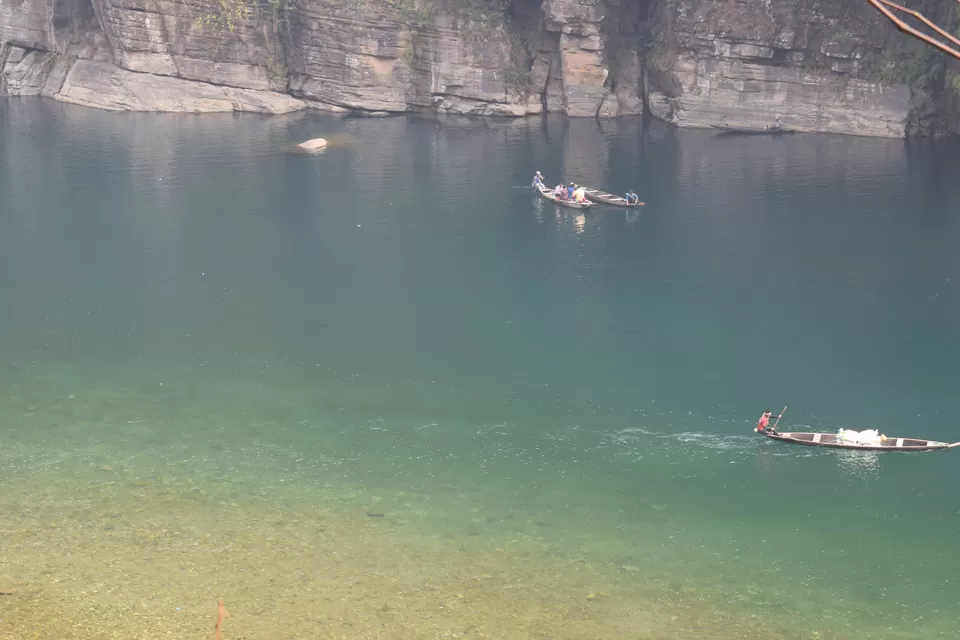 We left Dawki for Shillong by 1:00 PM and had our lunch at a dhaba on the way. The Dawki - Shillong road is also extremely well laid out and provides gorgeous views when passing through tiny villages. Small viewpoints are created on the way by local shopkeepers which you can access by paying a paltry sum of ₹10 or ₹20.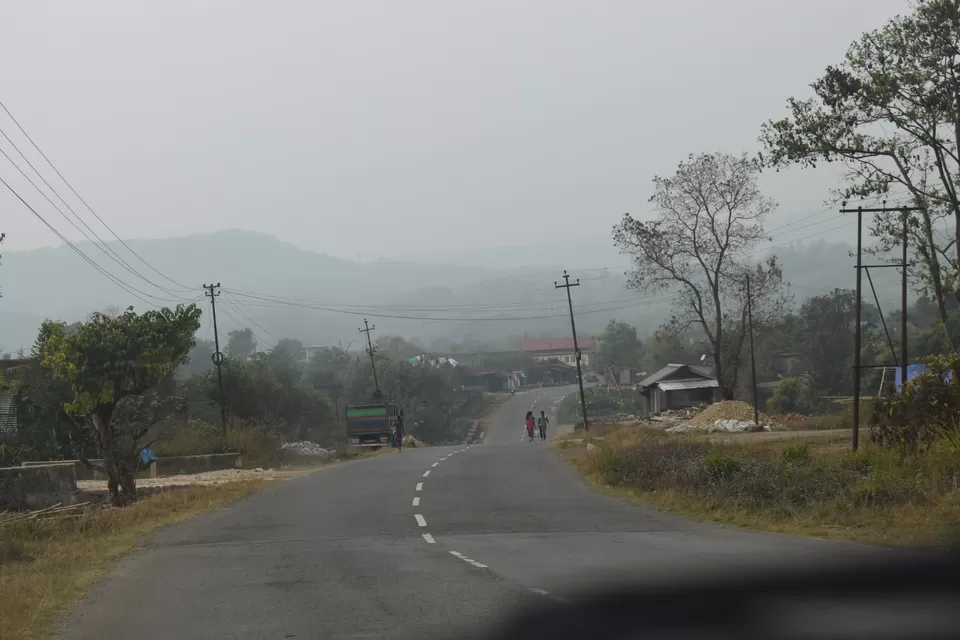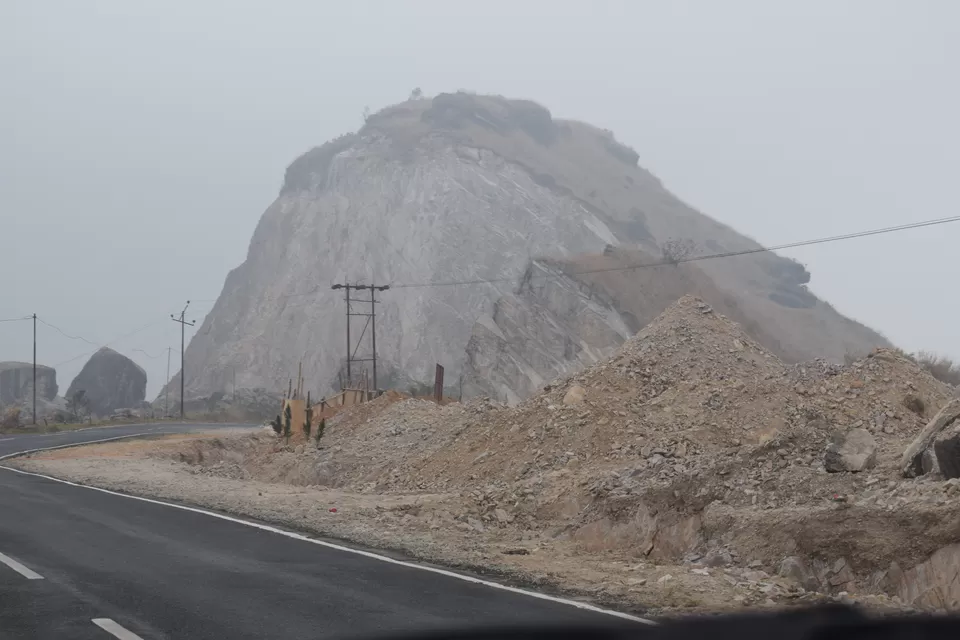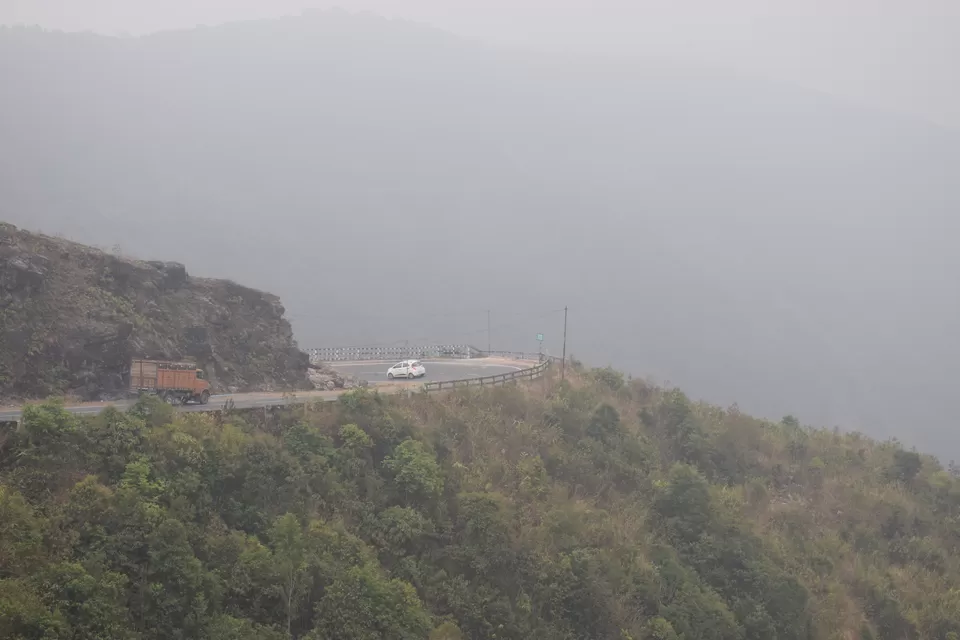 Before proceeding to Shillong, we decide to cover our previously missed spot from yesterday - Laitlum. However, it seemed like even God did not want us to visit there. By the time we reached Laitlum after driving through some very bad stretches of road, the fog had increased so much that visibility had reduced to a mere 10 metres. We decided to wait for sometime, but even after half an hour, the fog had no plans of receding. It was starting to get dark and we decided to return to Shillong without covering Laitlum - something I will regret the most in this trip.
We reached Shillong by 5:30 PM and after parking our car in the hostel, set off for Police Bazar - the city center. Nights in Shillong during February are chilly, so it's advised to carry adequate thermals with you. Police Bazar is lined with rows and rows of shops selling anything to everything - fruits, clothes, street food - you name it, you have it. We tried strawberry and me and Heramb tried pork for the first time. Though I liked strawberry, I found pork to be a bit fatty to my liking. I'd prefer chicken anyday over pork. After rambling through the Police Bazar for some time, we had our dinner and proceeded back to our hostel. We then had a small party session in our hostel while blasting Punjabi songs on the hostel's speakers. And thus ended, our last day in Shillong, for tomorrow we were leaving for Cherrapunji.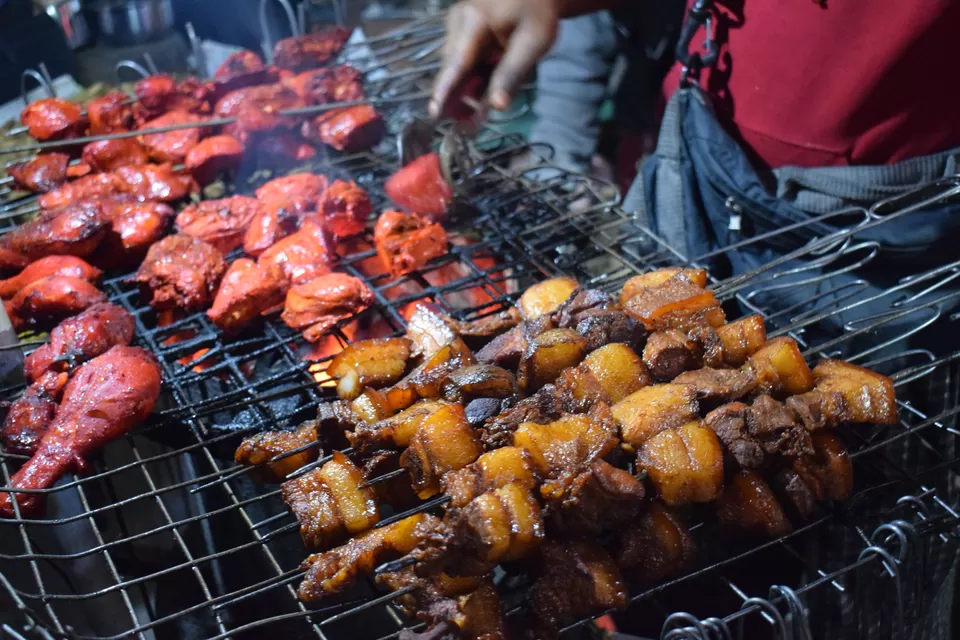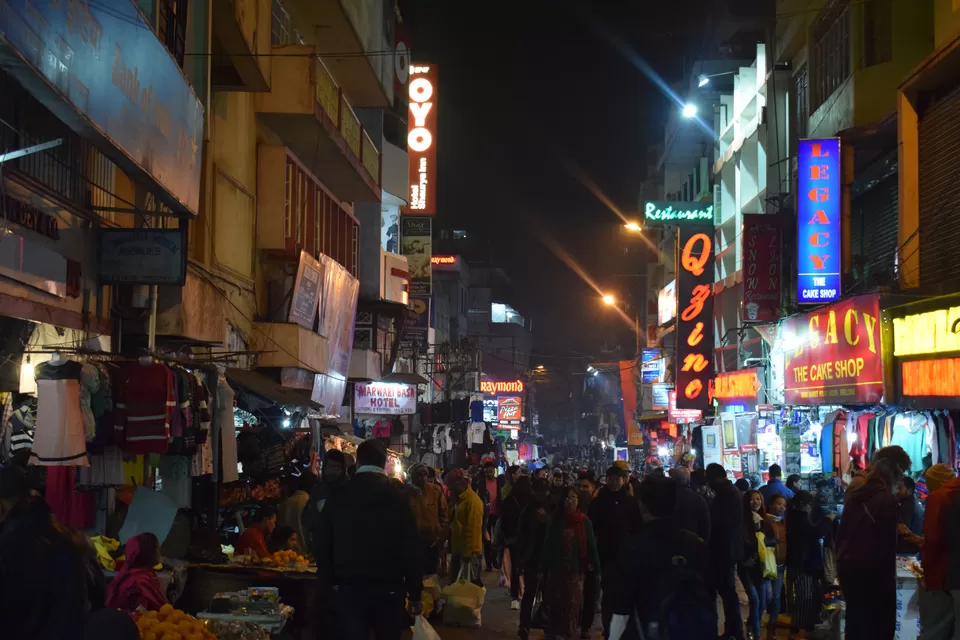 Day 3 : Shillong -> Cherrapunjee -> Tyrna
The day started with a comedy of errors. We again left at 6:00 AM to escape the traffic and had planned to reach Tyrna village, the base village from where you trek to the famed Double Decker Root Bridge. Heramb was driving today and I was responsible for the navigation. However, while pressing Tyrna in Google Maps, I accidentally pressed Tyrsad.
For reaching Cherrapunjee, you have to take the road which diverges to the left at Elephant Falls. But since we were navigating incorrectly, we took the road which diverged to the right and continued straight on it for more than an hour. It was only when we talked to a few villagers on the way that we realized our mistake. However, just like always, the wrong turn led us to some nice views.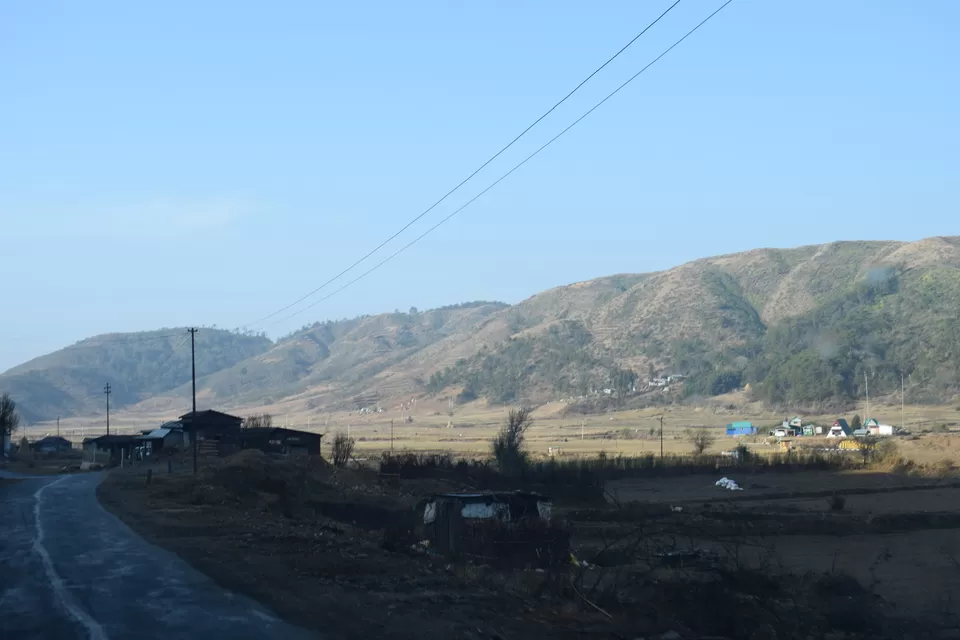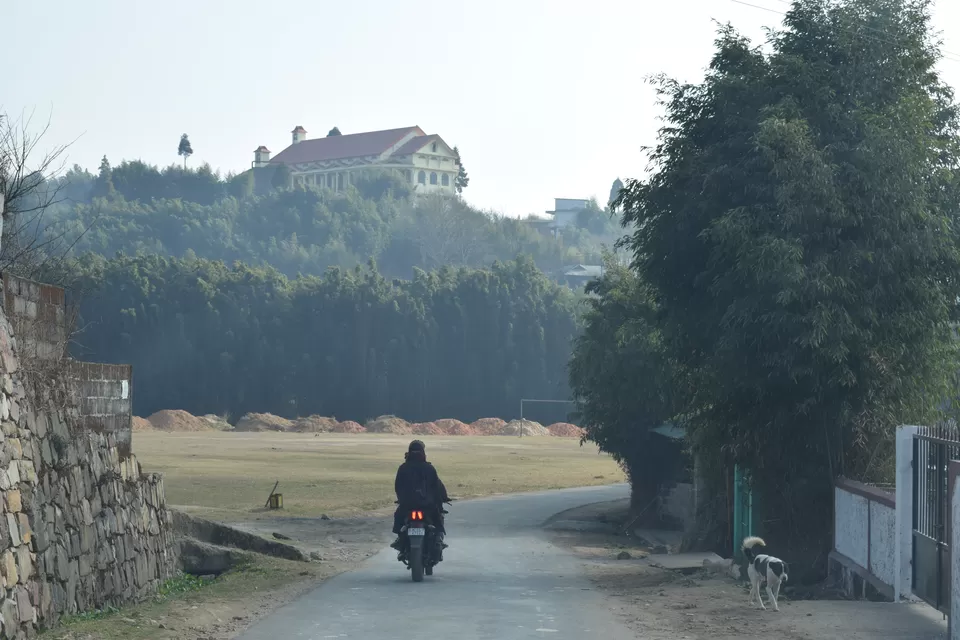 The mistake had cost us a lot of time and we sped for Cherrapunjee, this time navigating correctly. The difference was apparent as the road this time was much wider compared to the road leading to Tyrsad. Tyrna is another 12 kms ahead of Cherrapunjee and we decided to visit Nohkalikai Falls before Tyrna.
On reaching the road for Nohkalikai Falls, we found a sign that read 'Top of Nohkalikai Falls'. Assuming it to be the viewpoint, we went there only to find the place almost deserted. The person there told us that there's a trek of around 15-20 mins to reach the top of Nohkalikai Falls. Anaware, I still assumed that the trek would lead us to the viewpoint.
5 minutes into the trek, and I knew something was amiss. We were not trekking to the viewpoint but the top or mouth of the Falls, from where it plunges down 1115 feet down.
Now, I've done my fair share of treks but this trek is in a different league of it's own. Even though it's very short lasting only 30 minutes or so, but requires a great deal of effort. The first 15 minutes pass through a thick forest with very steep makeshift stairs descending continuously. Once you cross the forest, what you will witness is just raw unadulterated nature. Huge boulders, with streams of water flowing through them make the rest of the path. The boulders are marked with arrows to help you guide the right path and small ladders are placed whenever there is a very steep ascent or descent.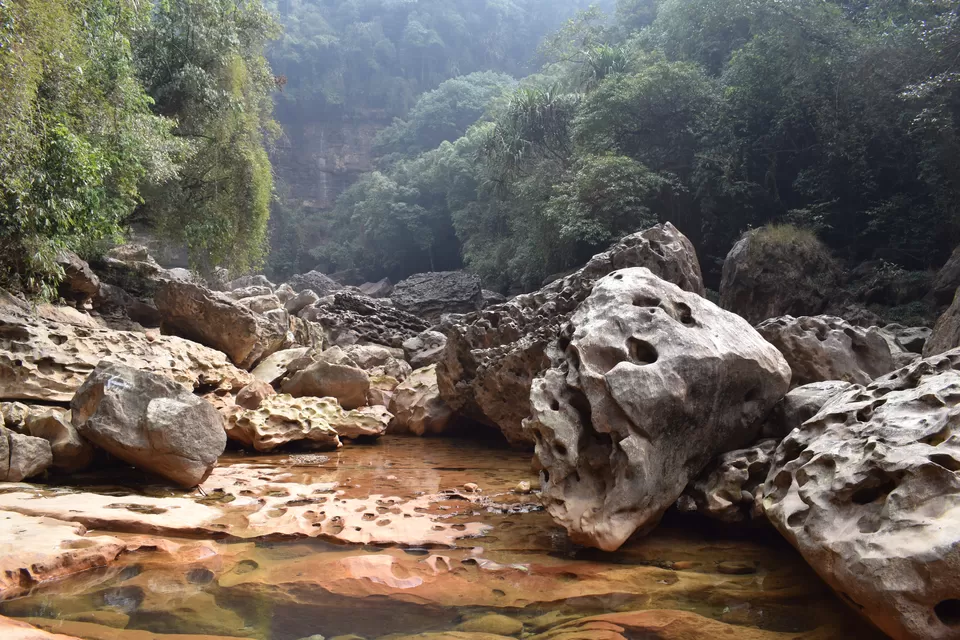 Some points might look like dead ends, but we managed to jump from one rock to another, sometimes climbing on all fours. The rocks have crevices in which small pools of water are collected. One wrong step and you might end up with a broken foot. The crevices have been formed from hundreds of years of water flowing through the rocks.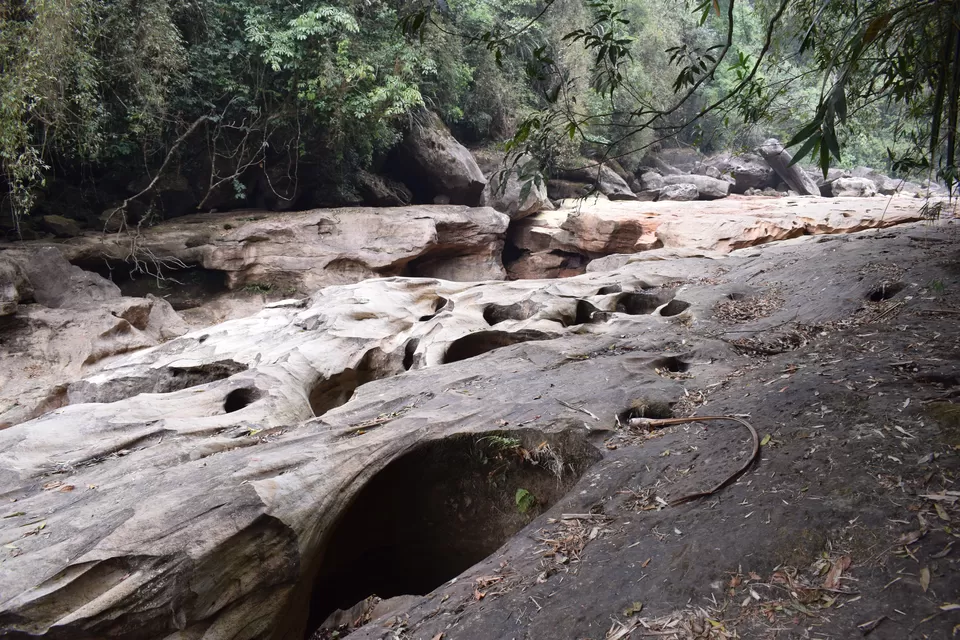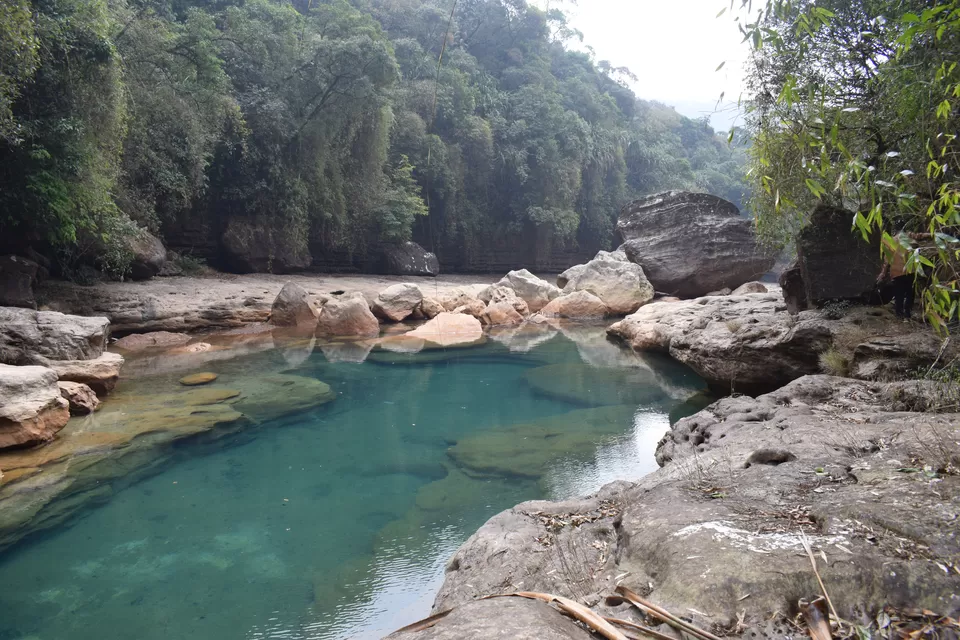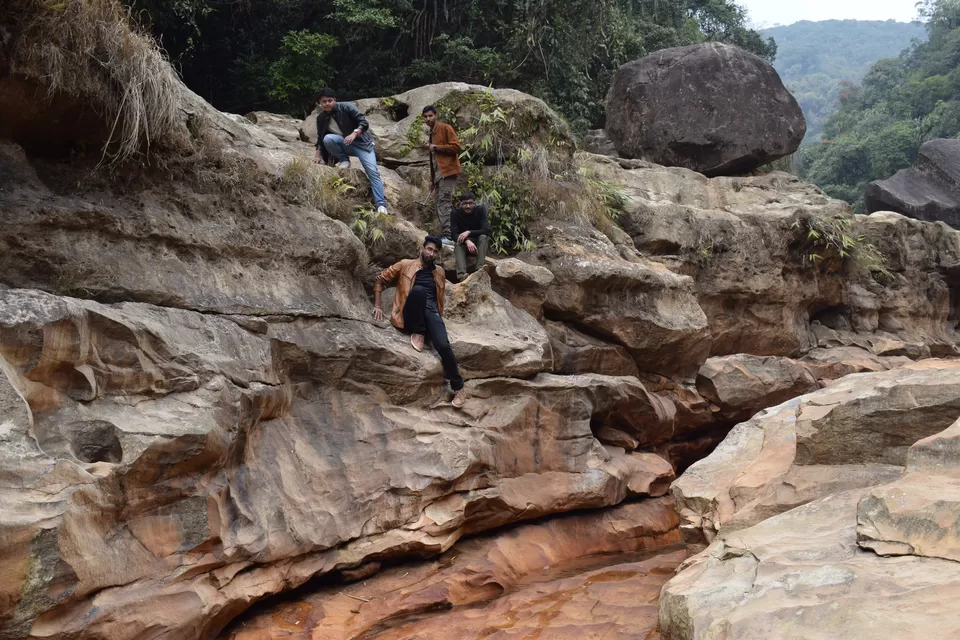 10 minutes later, we had the first sighting of the top.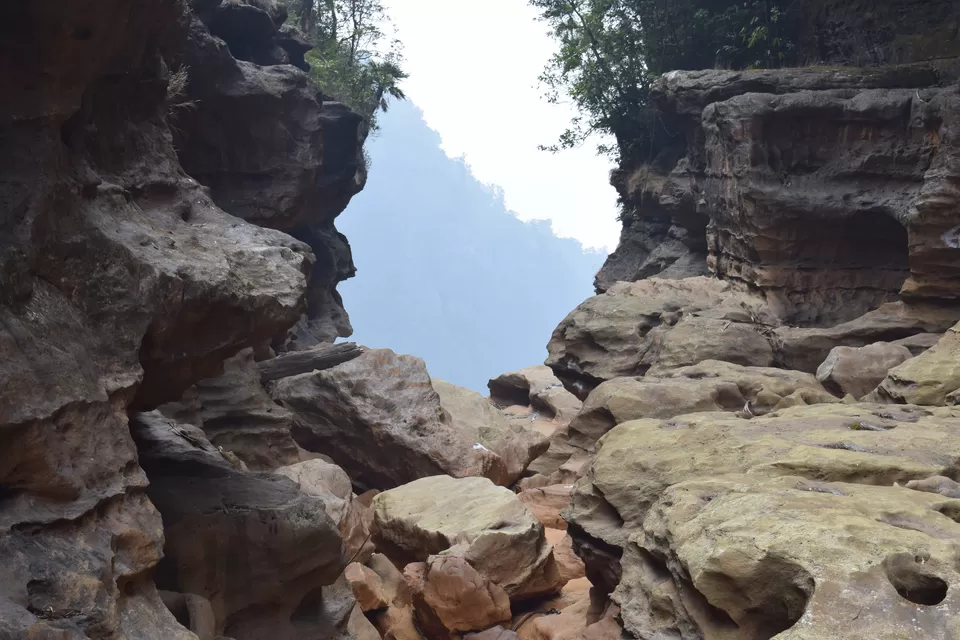 On reaching the edge, there is a marker which indicates the height of the falls and warns against going any further. The feeling on reaching there is something which simply cannot be expressed in words. You feel like you have reached the edge of the world. Be very careful with your steps here though as the rocks might be slippery and any wrong step will send you 1000 feet down.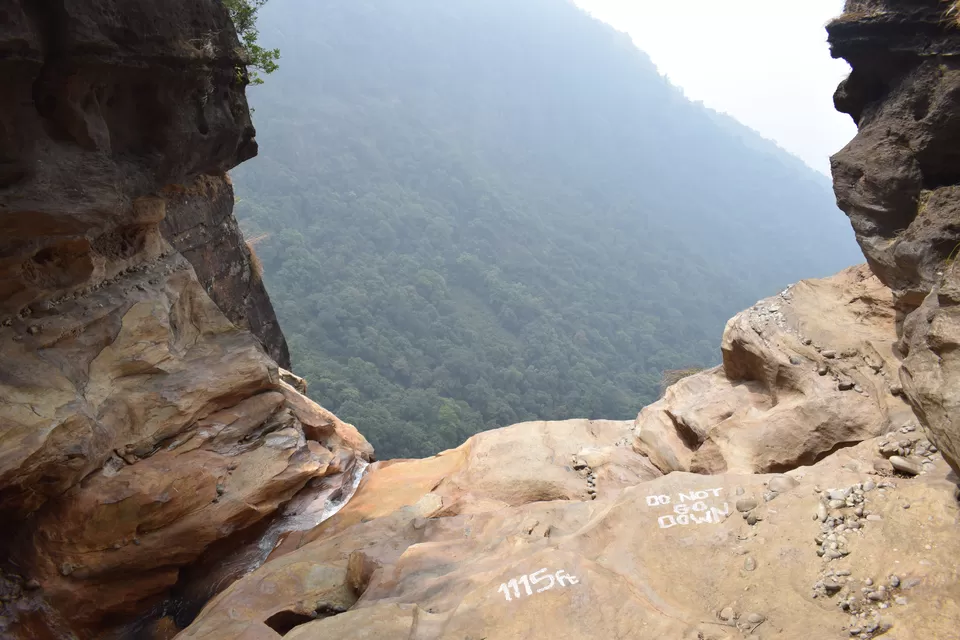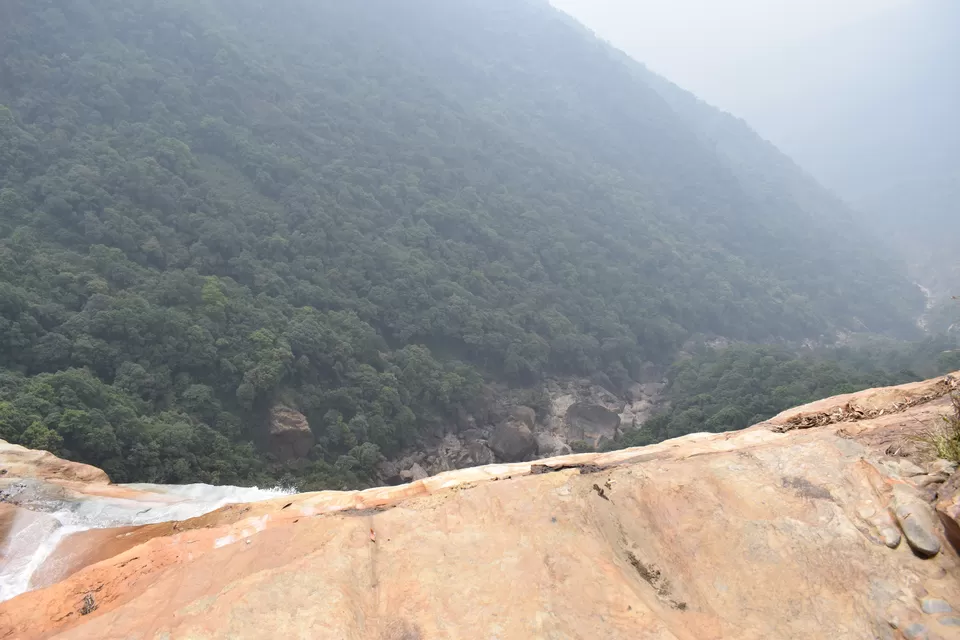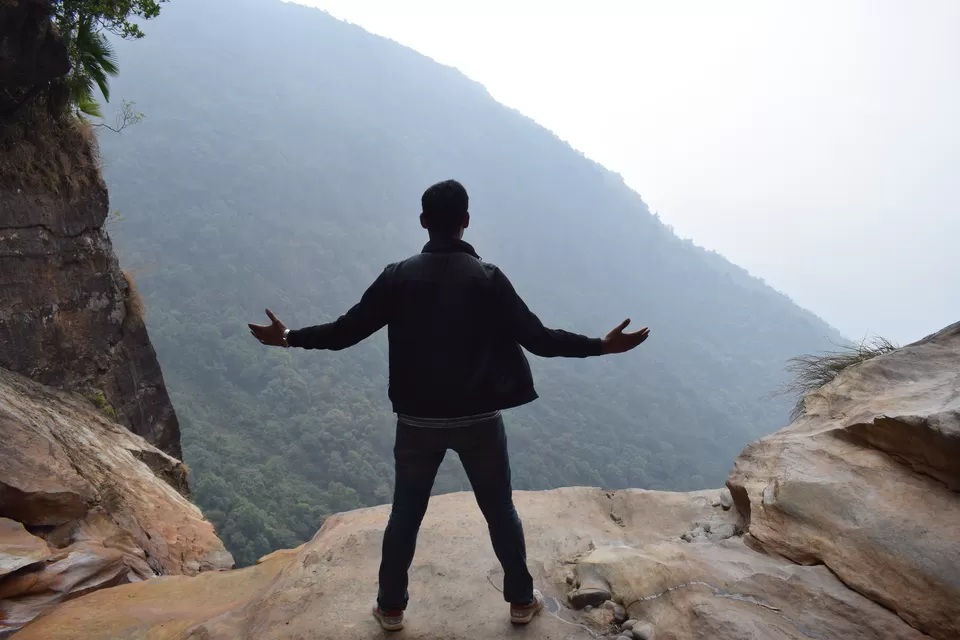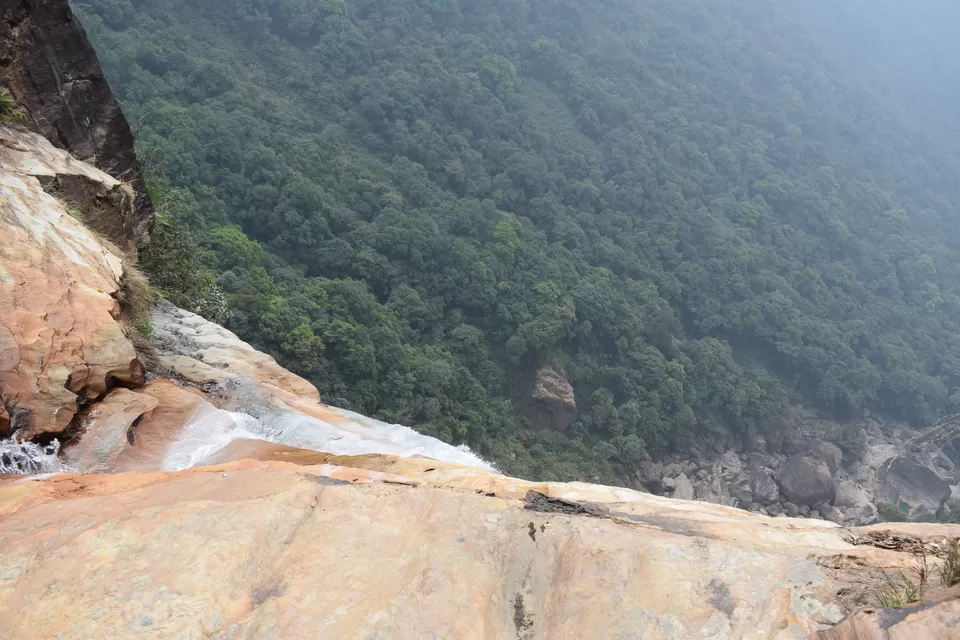 Spending some time at the top, we started our trek back. Do note that this trek is open only in the winter months as during monsoon the water flow is too high. It took around 40 minutes to reach back and then we started for the Nohkalikai Falls Viewpoint, which is just a few metres ahead of the trek start point. Since there was a slight fog cover and very less water in the Nohkalikai, the view was not that great.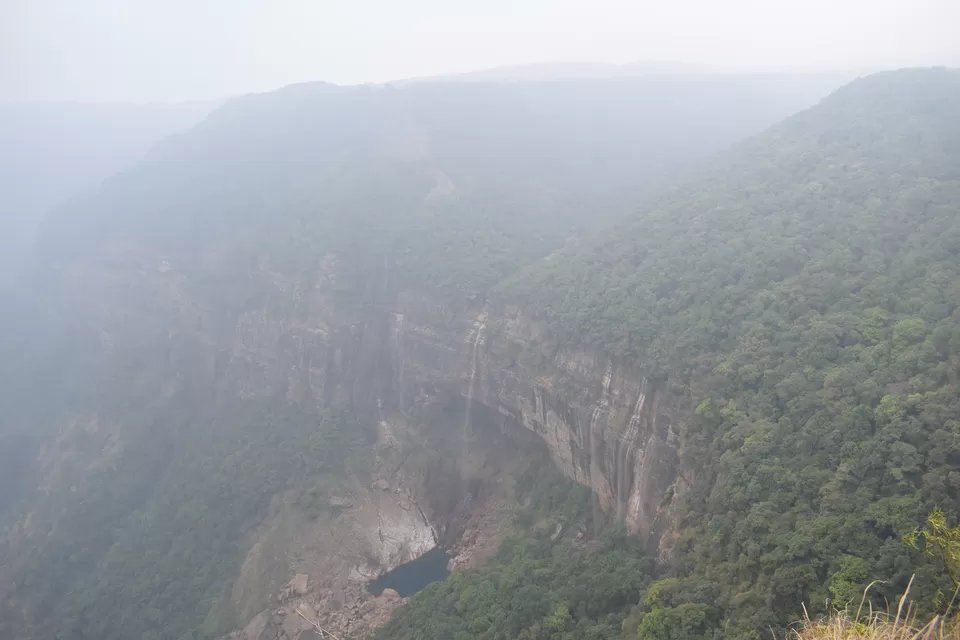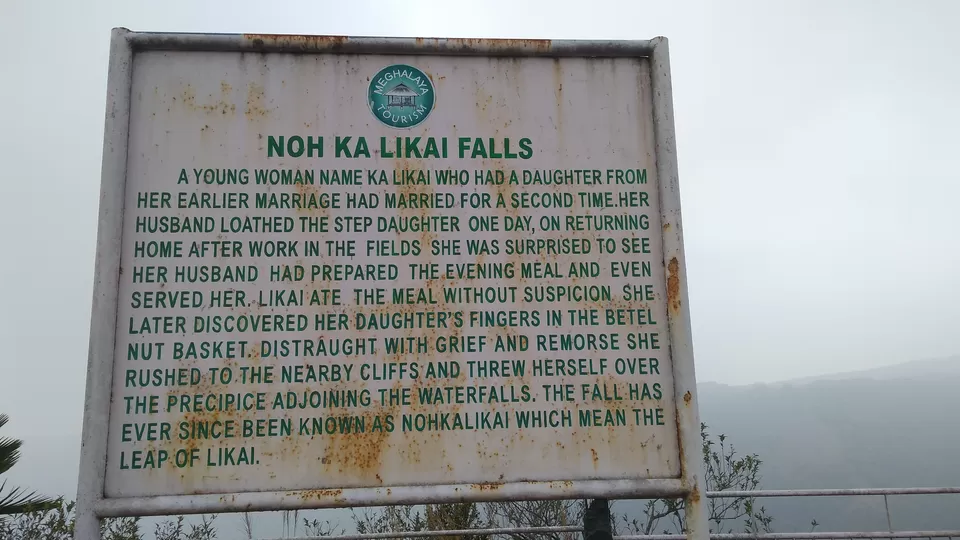 We then had our lunch in Cherrapunjee and proceeded towards Tyrna village. It was well past 1:00 PM and we were running behind schedule. The road to Tyrna is made out of making huge gaps between rocks at some places and is quite bumpy. Car parking is available at the starting point of the trek in case you wish to spend the night at Nongriat village, the home to the one of its kind double decker root bridge.
We started our trek at sharp 3:00 PM intending to stay overnight at Nongriat. The trek consists of around 3400 steps of which most of which is descent followed by a few places where you have to ascend. The first 15 minutes is a sharp descent which lead you to a small village, of which I can't recall the name. Shops selling snacks and water bottles are available every few minutes.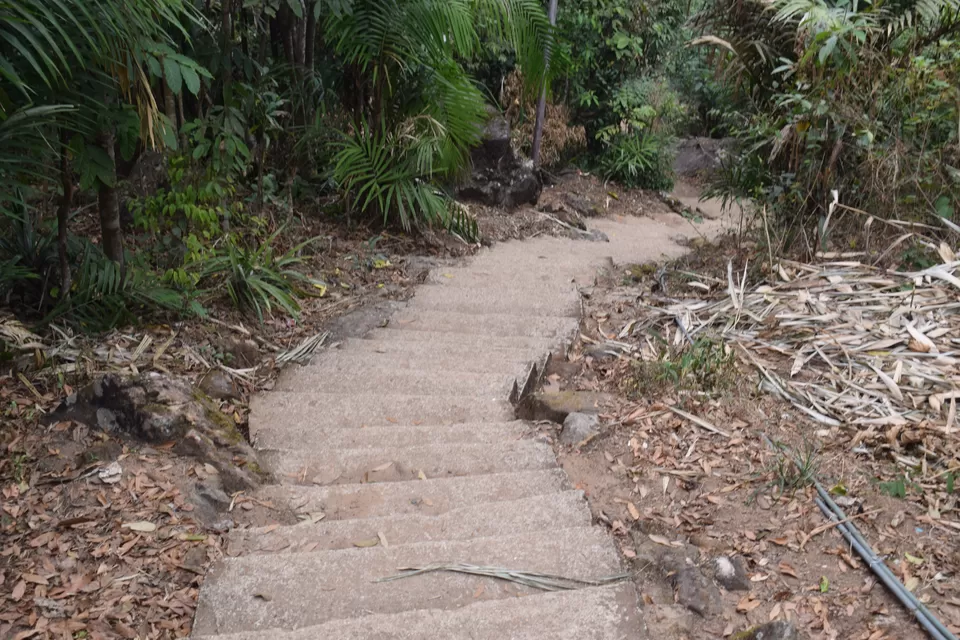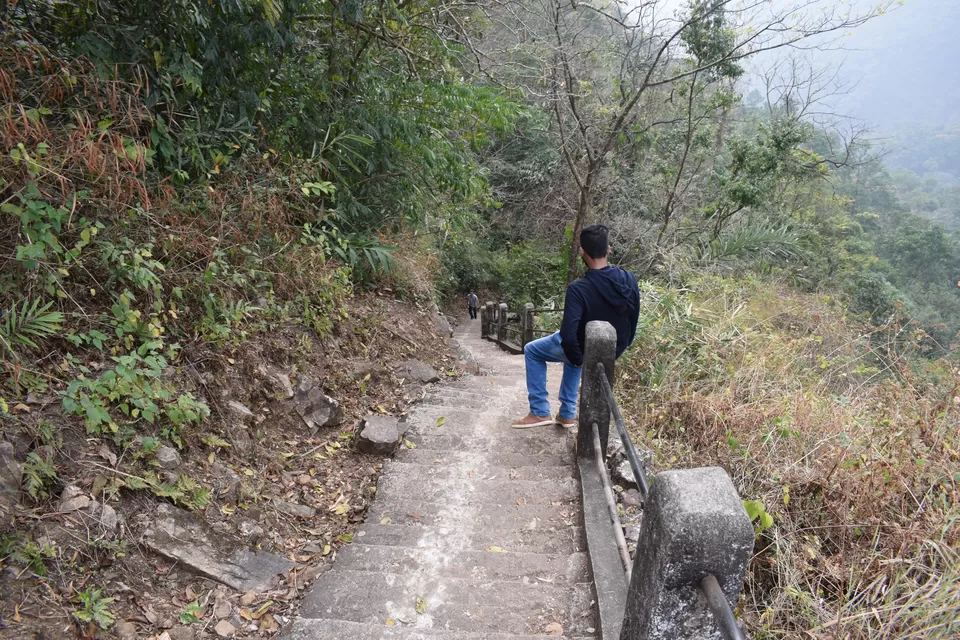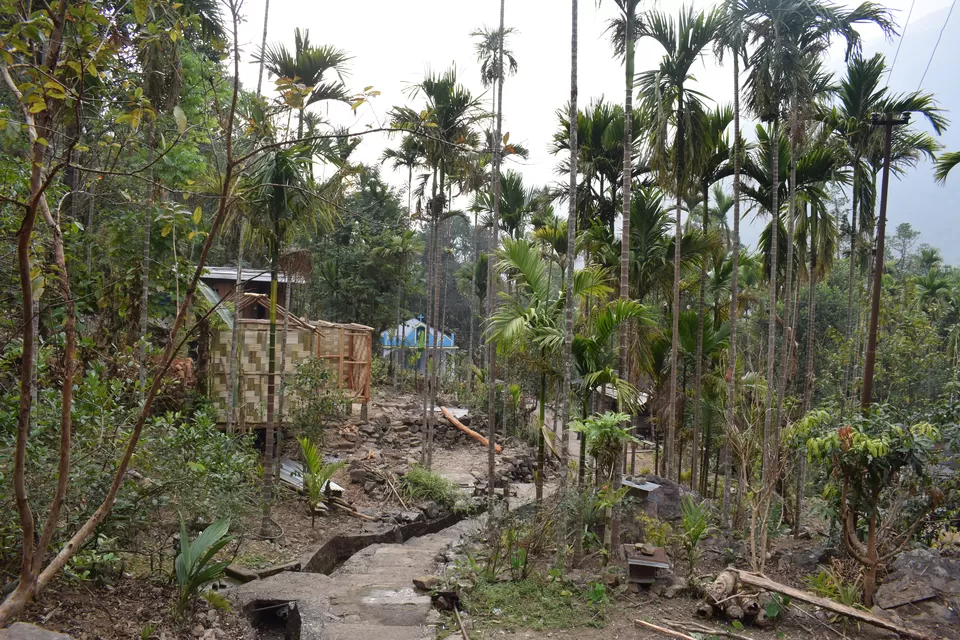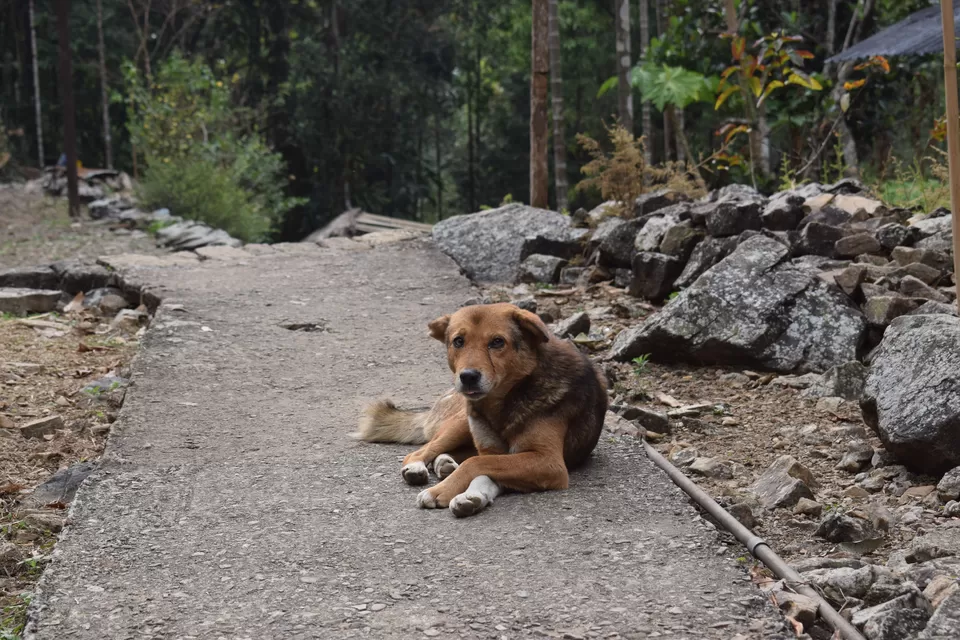 Since we were already worn out from our previous trek a few hours ago and because the steps were very short, our legs had become wobbly. However, we kept on pushing further as we had limited daylight with us. The next 15 minutes are less steep descents, after which you cross a small pool and reach an iron bridge built by the locals themselves for crossing a river.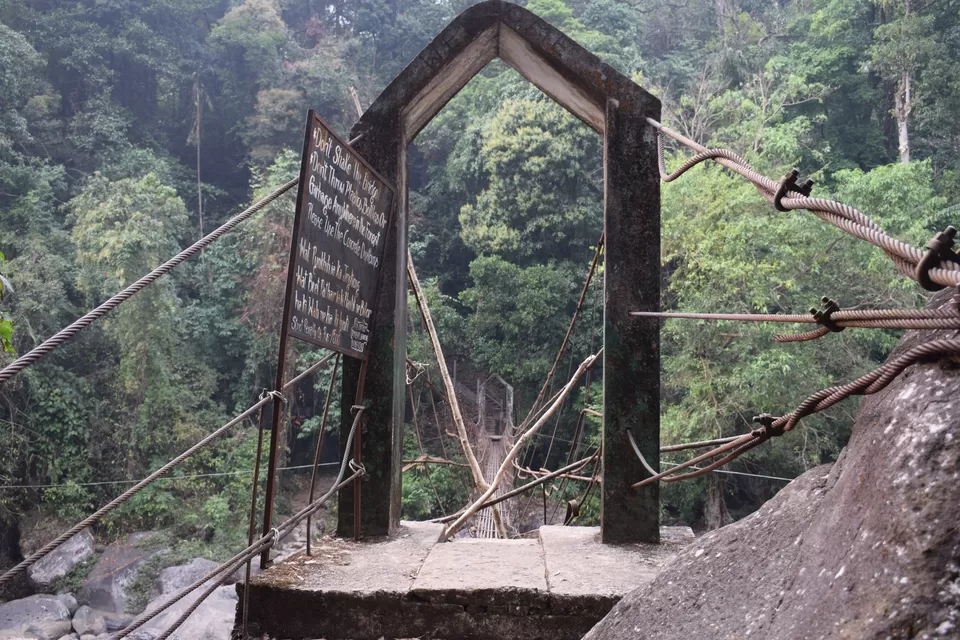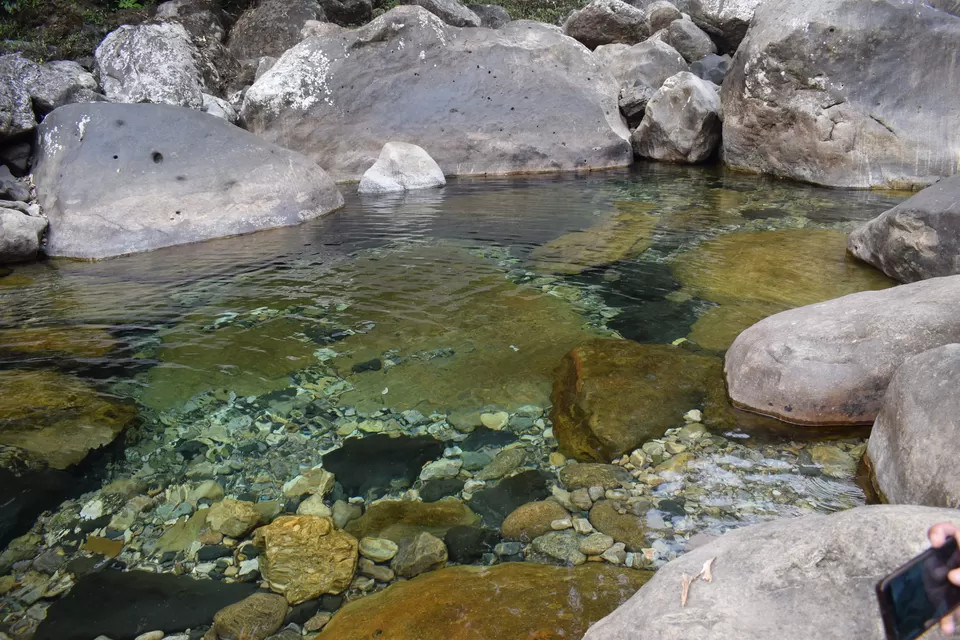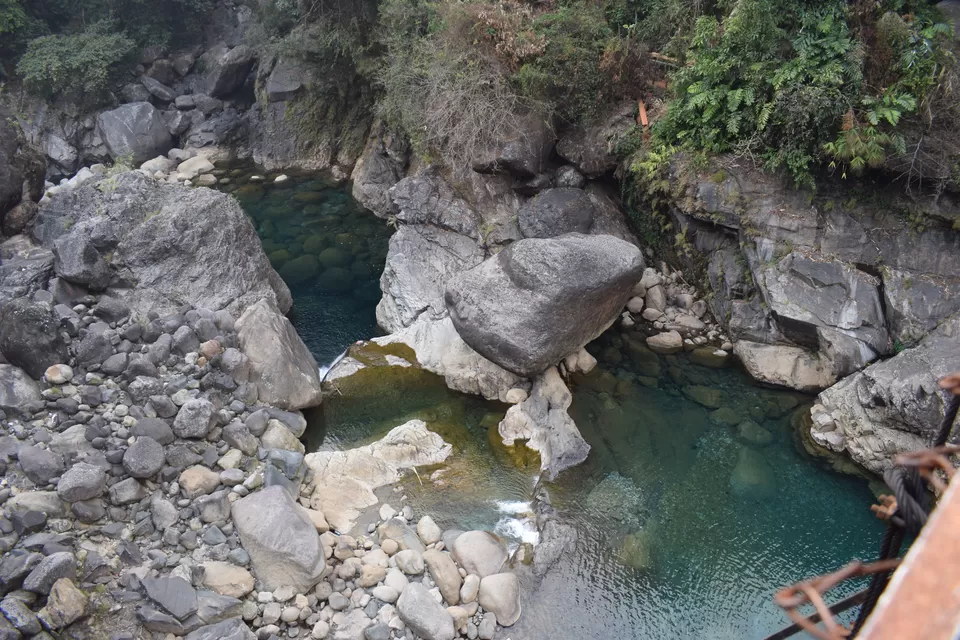 After crossing the iron bridge, you reach the single decker root bridge.
After this, you enter the last phase of the trek, which consists of a series of sharp ascents and descents which brings you to Nongriat village. A sign board welcomes you and you can see the village folk going about their daily chores. The village has a lot of homestays and accommodation won't be a problem here.
Just 5 minutes ahead lie the famous double decker root bridge. There is an entry charge of ₹20 pp, which is completely justified.
Now coming to the bridge, the sight of it will surely awe you. These man-made wonders are hundreds of years old and have been built by the Khasi tribe using sheer ingenuity. Unlike wooden or iron bridges, these bridges only get stronger with time as the roots become thicker. There is a small pool with lots of fish just in front of the bridge. Spend some quiet time here and soak in the raw nature. Coincidentally, we hit up with another group of friends from our college here.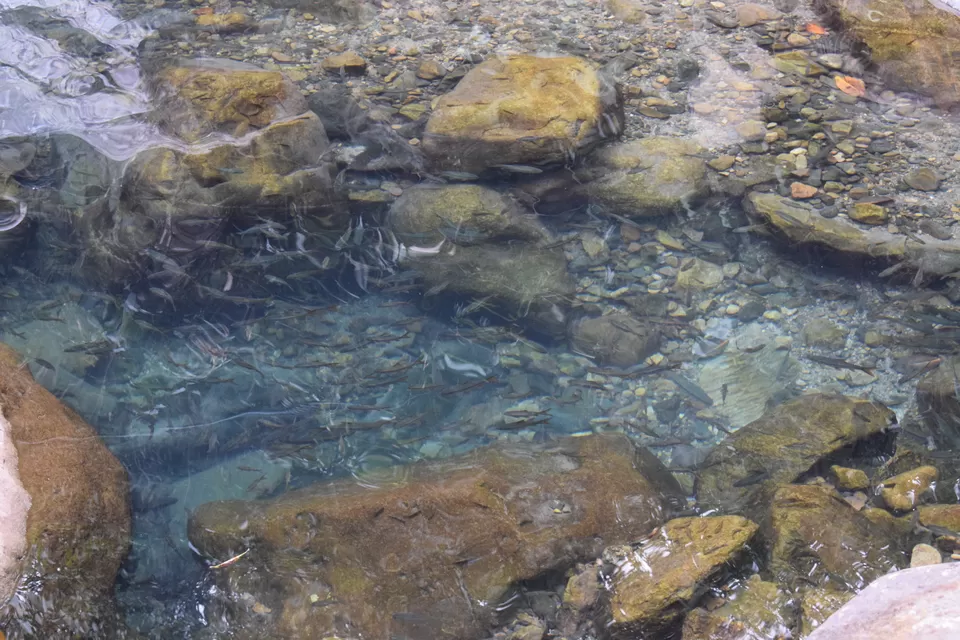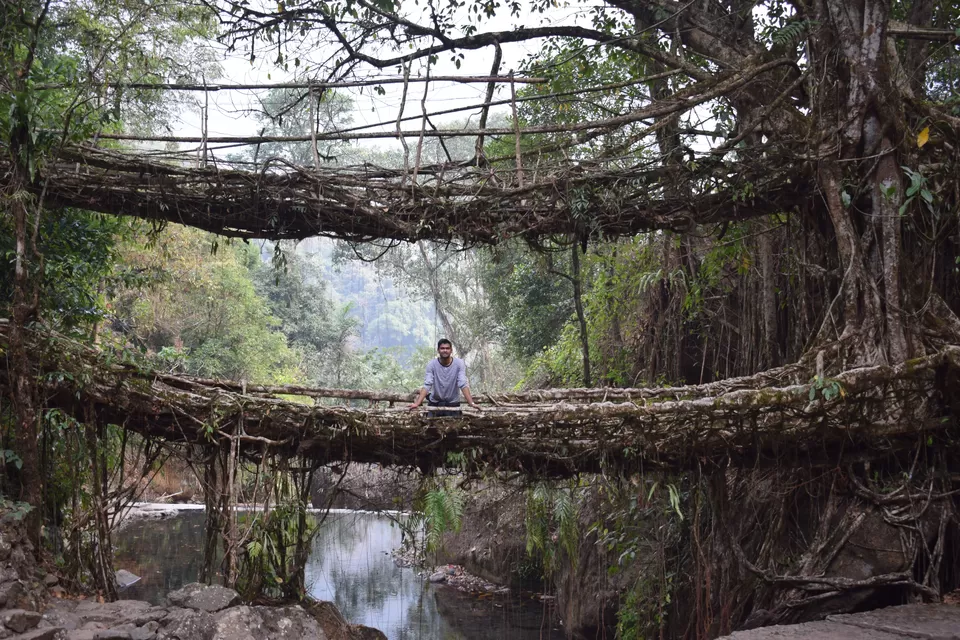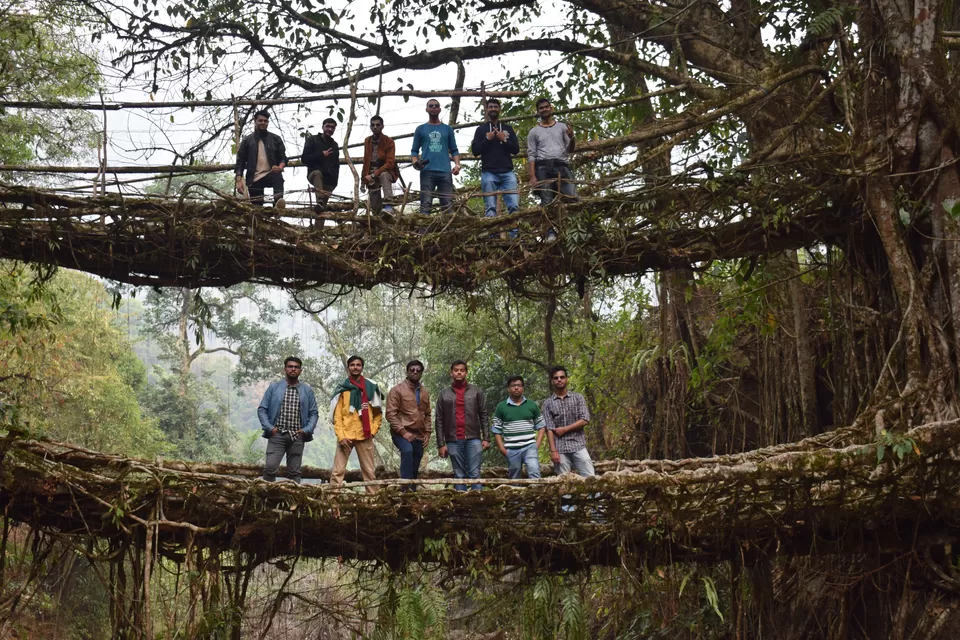 It was around 4:30 PM and it was starting to get dark. We knew that we can't cover Rainbow Falls today so we thought of staying in Nongriat for the night. One homestay owner quoted a price of ₹400 pp, which is cheap considering the remoteness of this place.
However, the problem was that tomorrow was our last day in Meghalaya, and we had to return the car by 3:00 PM and had a train to catch at 5:30 PM. Visiting Rainbow Falls, going back up to Tyrna and then driving to Guwahati seemed very unlikely to complete before 3:00 PM. We had to make a decision, and fast. Finally, we decided to skip Rainbow Falls and proceed back to Tyrna the same day, managing with whatever daylight we had. Our legs had given up but we still pushed forward, because we had 3400 of these to climb.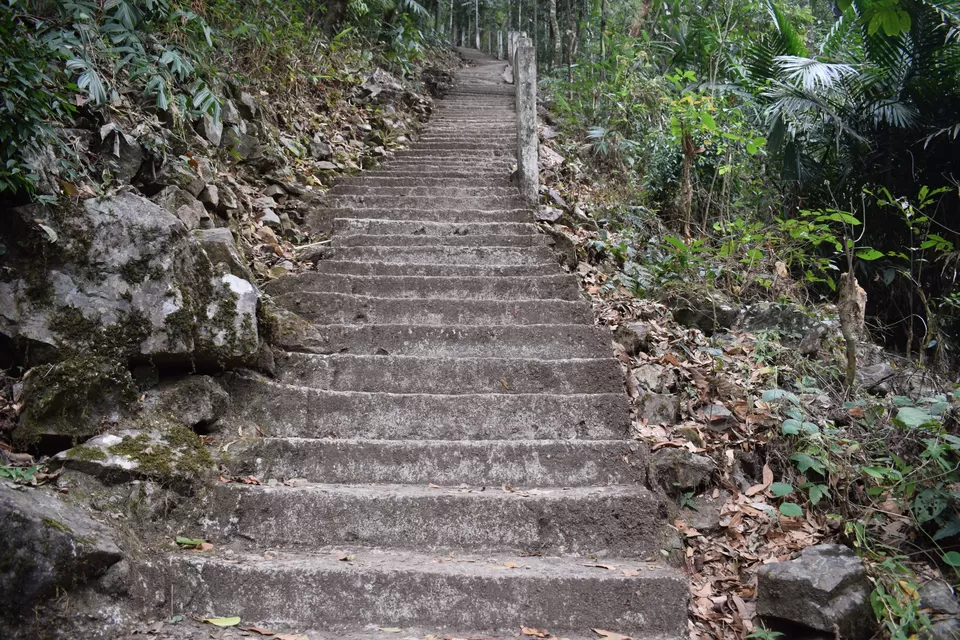 Finally, at around 6:00 PM, we reached Tyrna, and it had gone completely dark by that time. The total time taken by us was 50 minutes from Tyrna to Nongriat, and 1.5 hours for coming back.
After resting for a while, we started our drive back to Cherrapunjee. There were very less vehicles on the road and the drive was feeling spooky. Added to that, we started sharing ghost stories to notch up the eeriness factor.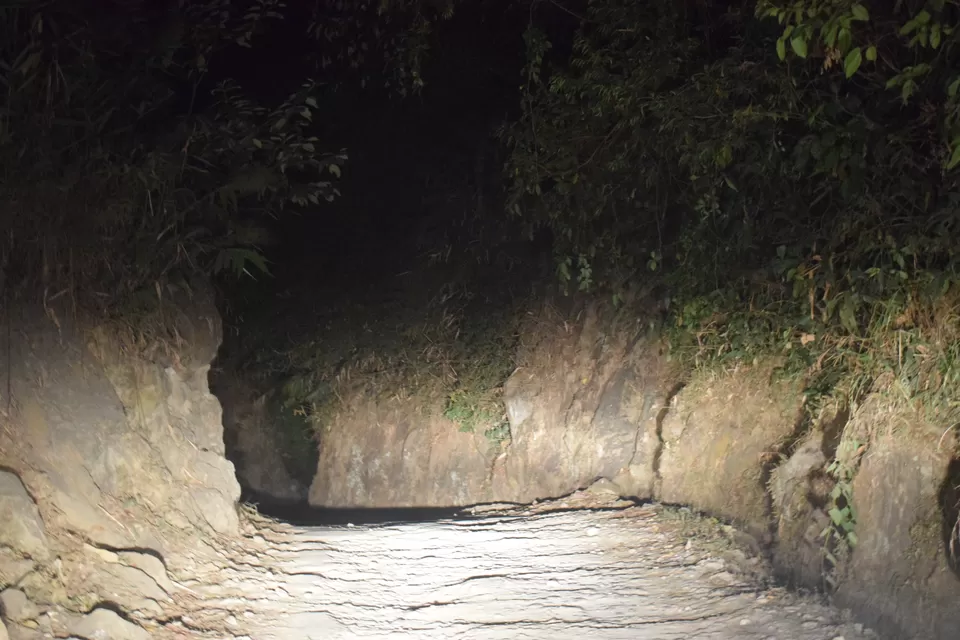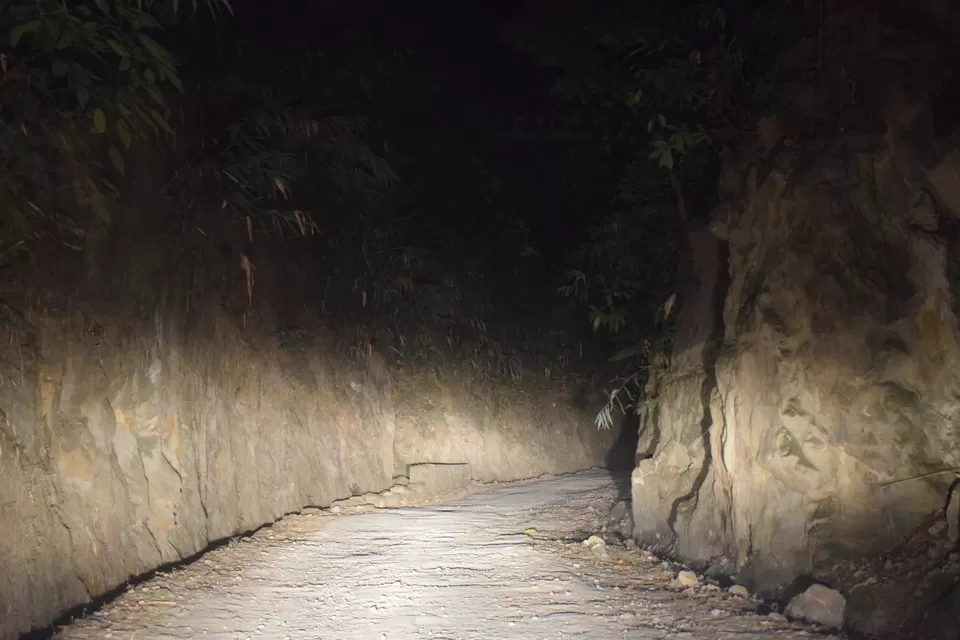 In the meantime, I called up Mr. Yai, owner of D-Cloud Guesthouse in Cherrapunjee to enquire if he had any rooms available for tonight. This guesthouse was the cheapest option in Cherrapunjee when I was hunting for them on Booking.Com. However unlike Shillong, I did not prebook it because of the uncertainty of our place of stay for the 3rd night. We got a good deal, costing again ₹300 pp for a 3-bed room with shared toilet. The one with attached bathroom costs ₹500 pp. The guesthouse itself is situated in a scenic setting, with small hillocks surrounding it. The rooms are very basic but comfortable, and Mr. Yai himself is very friendly. We had our dinner in a small restaurant (Gemis Indian Cuisine) that served amazing tava rotis. Tired as we were from the two treks, we dozed off the moment we hit the bed.
Day 4 : Cherrapunjee -> Guwahati -> Silchar
Today was the last day of our trip. Before leaving for Guwahati, we decided to visit a few spots here and there - Seven Sisters Falls, Eco Park and Mawsmai Caves.
The first on the list was Seven Sisters Falls. The falls look majestic in monsoon, but since it was winter, the water in the falls was negligible.
Next up was Eco Park. Nothing interesting here and you can skip this. Finally, we arrived at Mawsmai Caves, only to find that it will open at 9:30 AM. Waiting 1 hour for the cave to open was futile, so we had to skip Mawsmai. However, we planned to cover up for it by visiting Arwah Cave, which lies on the way to Guwahati and is 6 kms from Cherrapunjee.
Reaching Arwah cave requires a short hike of 15 minutes through wooden bridge, albeit a more shorter path is also available for the adventurous souls. The walk itself is very refreshing, with a waterfall flowing along the bridge.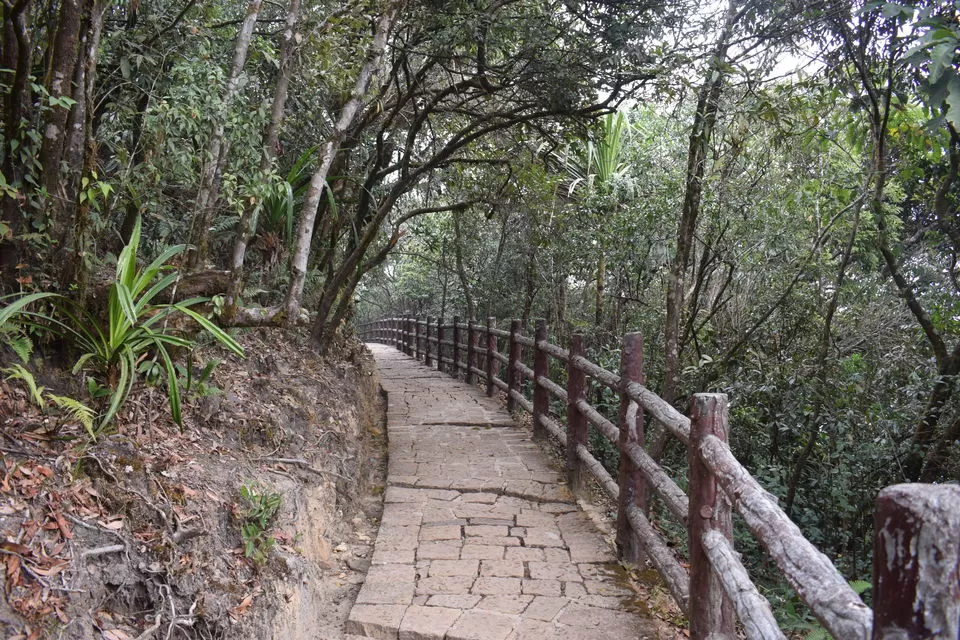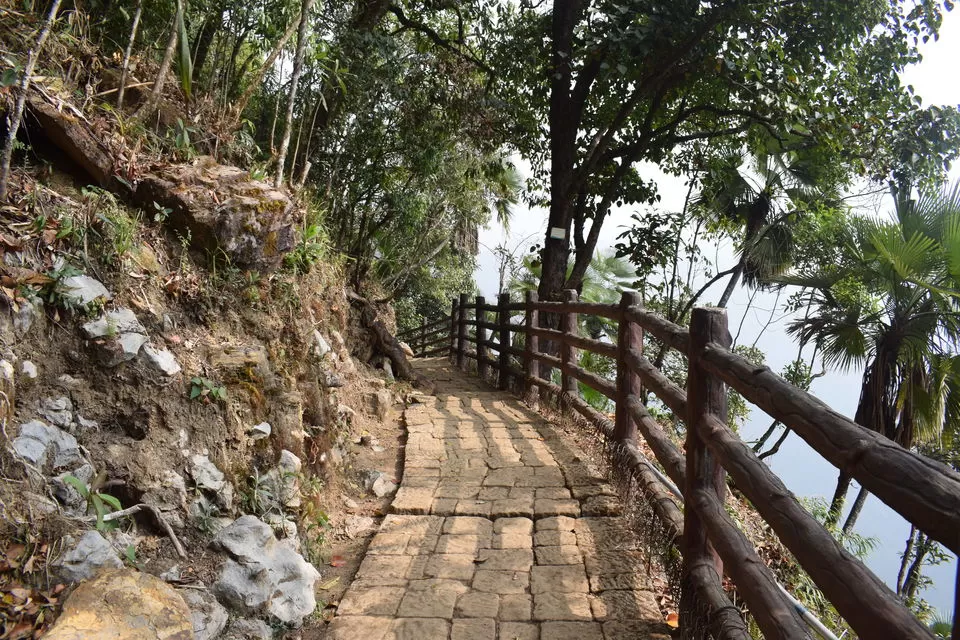 We then arrived at the cave entrance and walked down the steps leading us to the interiors. The cave is well lit and small streams of water flow through the crevices. Inside, it is a completely different world. At some places, the height is less than 5 feet and you have to bend down and then traverse the section.
We started our journey back to Shillong planning to cover the last place in our trip - the Elephant Falls. The traffic was very less and we bade goodbye to Cherrapunjee driving through some picturesque roads.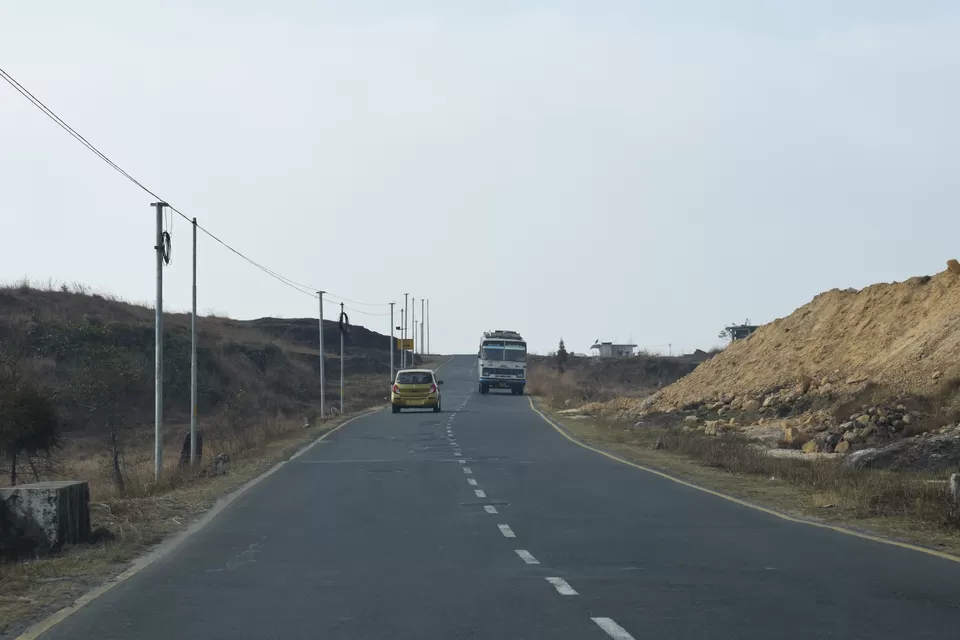 Some 30 kms before Shillong, we stopped at a viewpoint to capture some more pictures.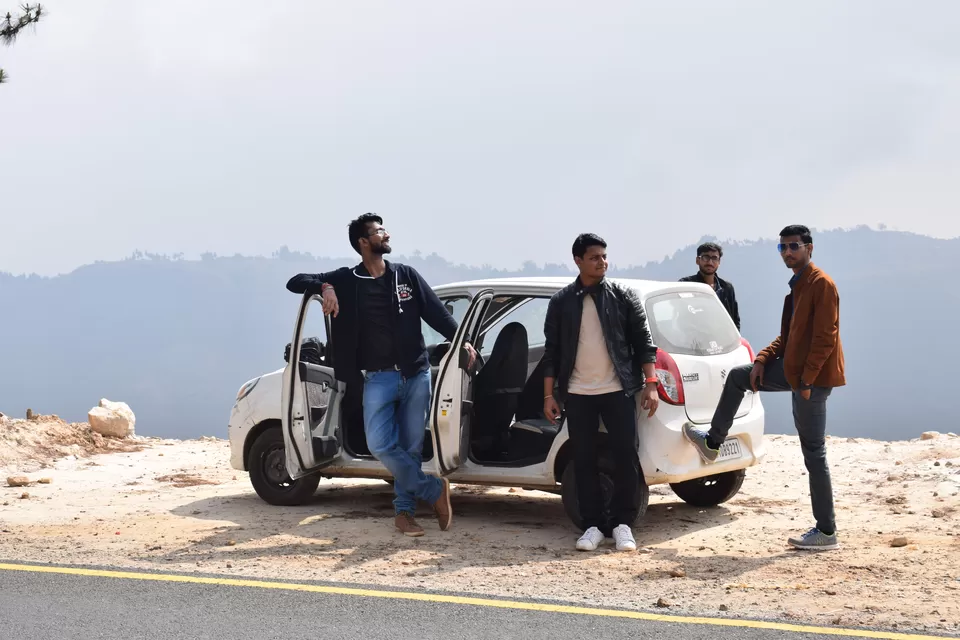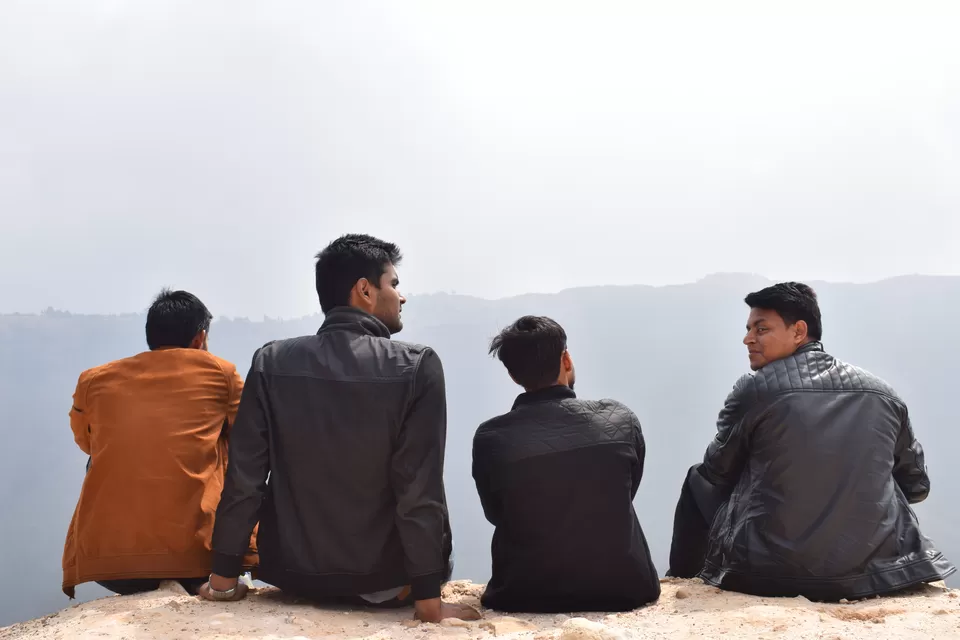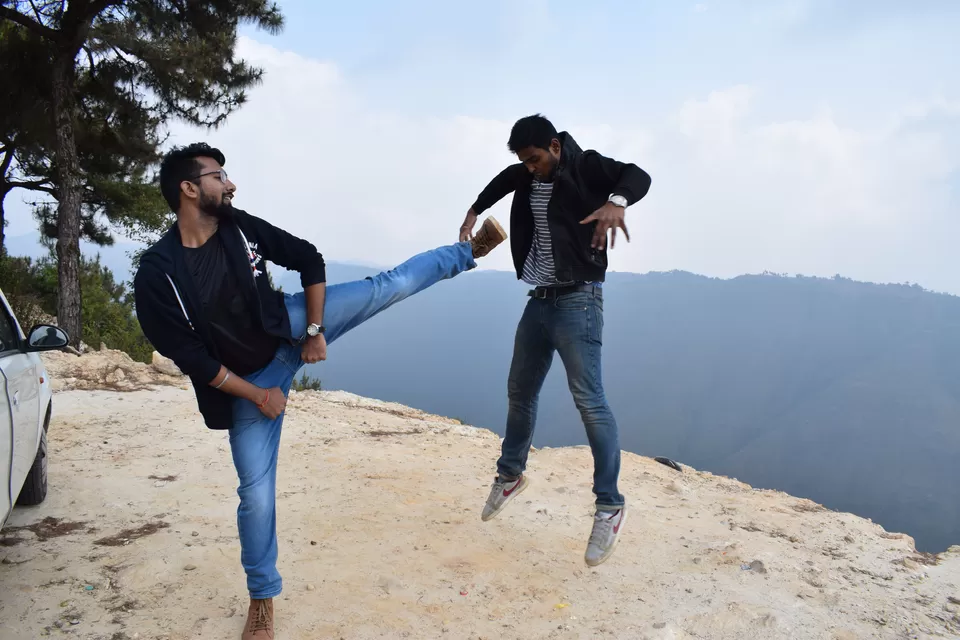 After the photoshoot, we set off for Elephant Falls. This Falls also lies on the way to Guwahati, so we did not have to take a detour. It is situated on the outskirts of Shillong and is actually made of three smaller falls. The name Elephant came in the British era when the Englishmen spotted a rock near the fall that looked like and elephant - and from then, the name stuck.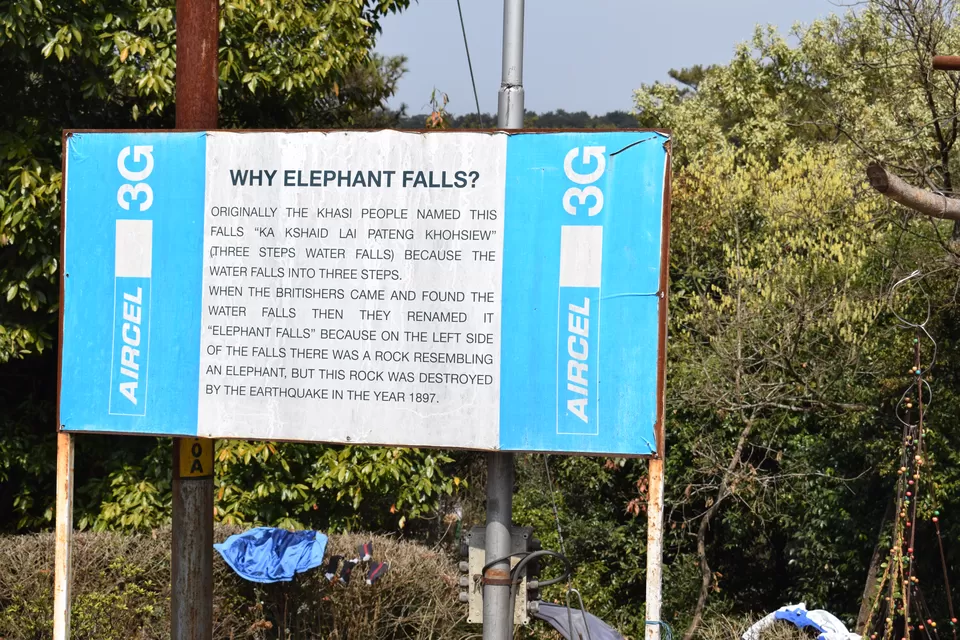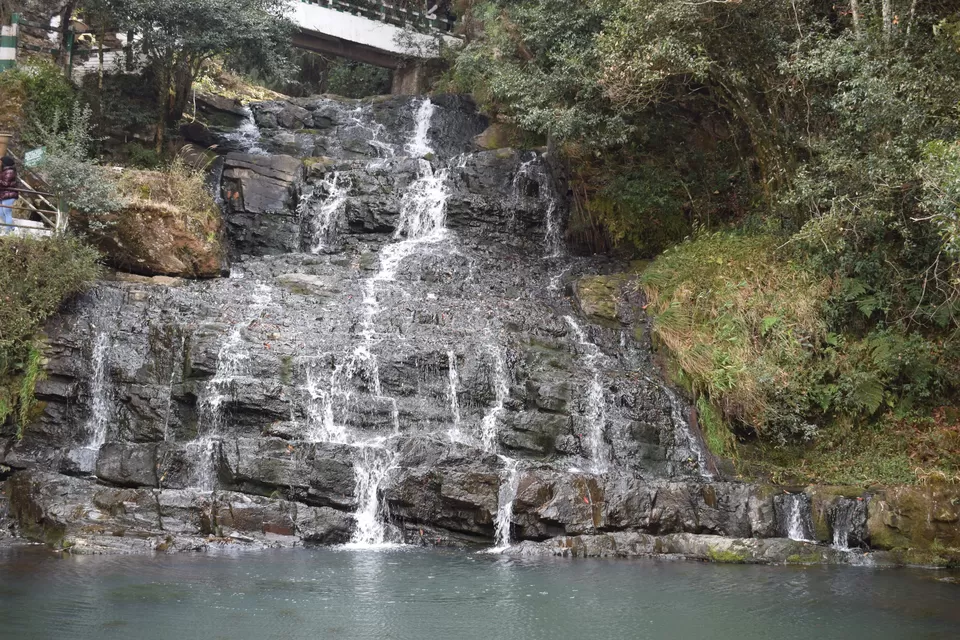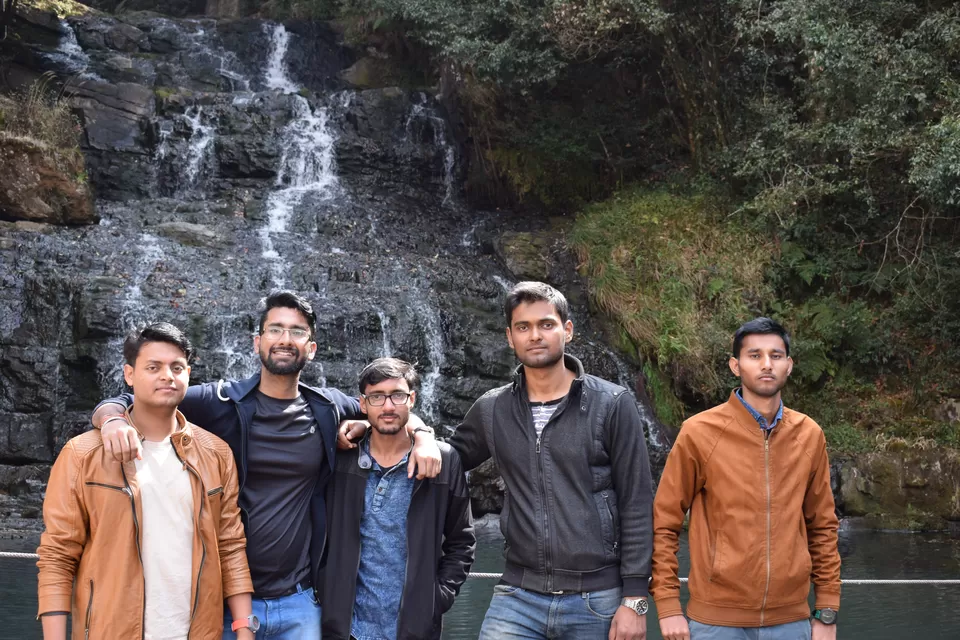 All the landmarks done and dusted, we started our journey back to base - Guwahati. Even though we got stuck in a huge traffic jam in Shillong, we managed to drop the car well within the stipulated time. We drove for around 640 kms, with the petrol costing us ₹2800. Thus, the car cost us a total of around ₹7500 (₹1500 pp). We boarded our train at 5:30 PM for Silchar, thus ending our first ever college road trip.
Cost (per person)
Transport : ₹235 + ₹1500 + ₹235 = ₹1970
Accomodation : ₹300 for all three nights = ₹900
Food and misc. expenses : ₹1500
Total : ₹4400
Places where we stayed
We stayed at Isabella Hostel in Shillong for 2 nights, costing us ₹300 per person per night for dormitory bed. I had pre-booked this property from Booking.Com which is the best portal to book hostels in my opinion. I have used Booking.Com to book a hostel in Rishikesh, which cost me ₹168 (Into The Unknown Hostel).
In Cherrapunjee, we stayed at D-Cloud guest house, again costing us ₹300 per person per night. For peak season (post May), prebook this property online (again Booking.Com) as the caretaker told me that the guest house is packed during this time with people sleeping even on the floors. For winter seasons, no need to prebook.
Points worth mentioning
1. Maruti Alto and Maruti 800 are the most seen vehicles on road, with every other vehicle being either of the above. I'm sure Maruti Suzuki earns it's maximum revenue from Megalaya. On asking a localite about the reason, he said that these cars sell like hot cakes here because of the narrow roads. They suit the budget and are very easy to drive and negotiate through the narrow roads.
2. Eating pork is very common in Meghalaya, with every restaurant offering pork in one form or another.
3. People in Meghalaya are very particular about lane discipline. You will be tempted many times to get into the opposite, traffic-free lane, but don't do it, ever, lest you want to create another jam or get cussed by everyone around. Heck, even I got tempted to change the lane many times, considering I've driven mostly in Delhi, where traffic rules get thrown out of the road, but please don't do it. Refer the following picture.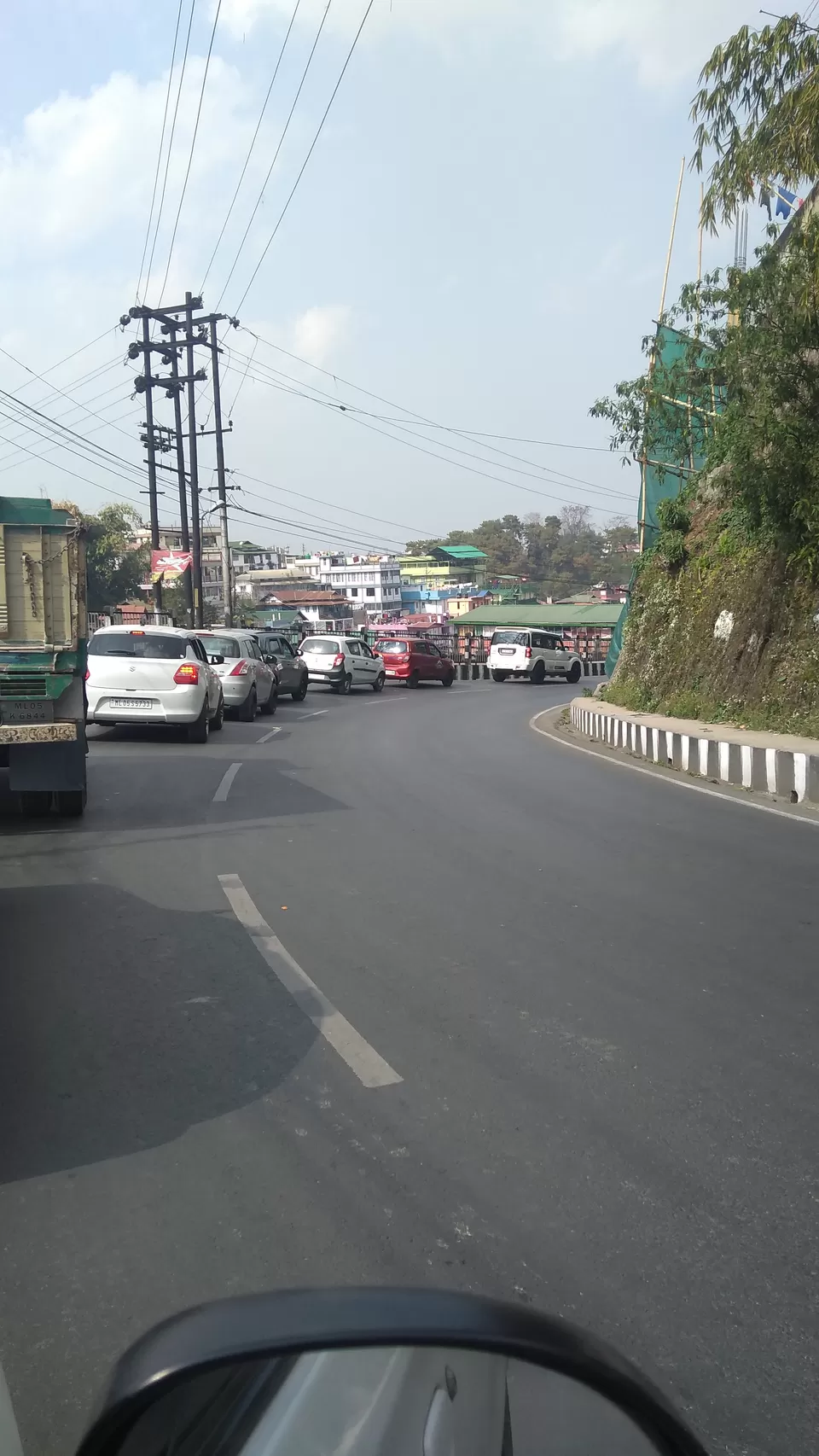 4. Bollywood songs are hugely popular in Meghalaya, with the remotest dhabas where we ate playing songs ranging from Kishore Kumar hits to the latest Punjabi numbers.
5. The Khasi people are extremely helpful and considerate about their surroundings, so please respect the sanctity of the places you visit and please do not litter.
At last, sharing this picture of a cute child I clicked near Nohkalikai Falls viewpoint, with her permission.
Frequent searches leading to this page:-
Shillong tour packages, A week-long road trip in Meghalaya, road trip to Meghalaya, Shillong - meghalya road trip