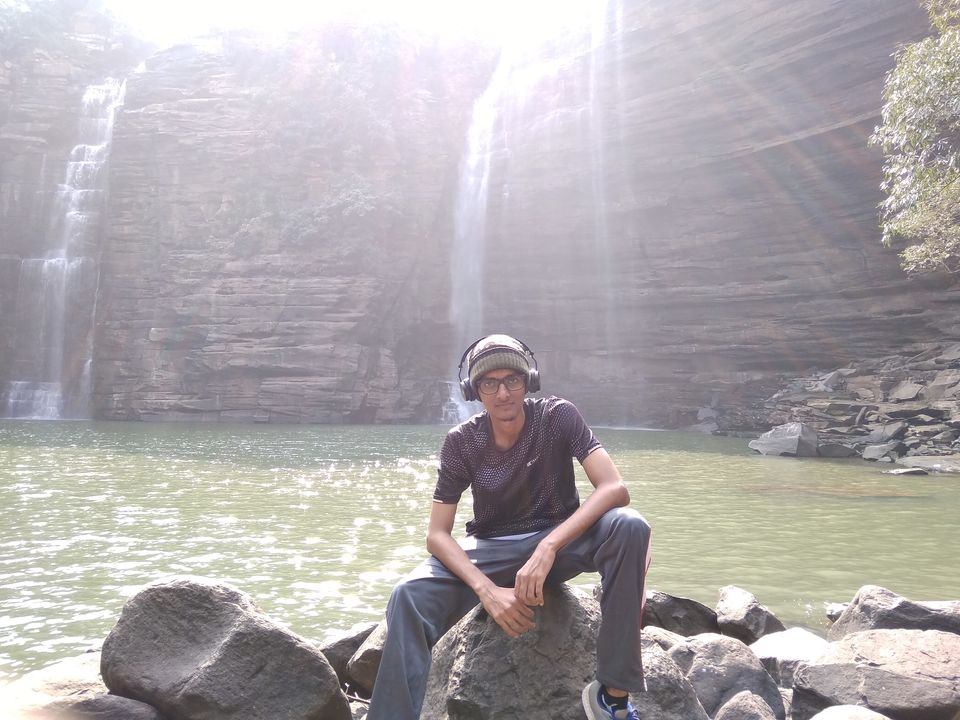 Well, I have a surprise for you, that guy is me!!!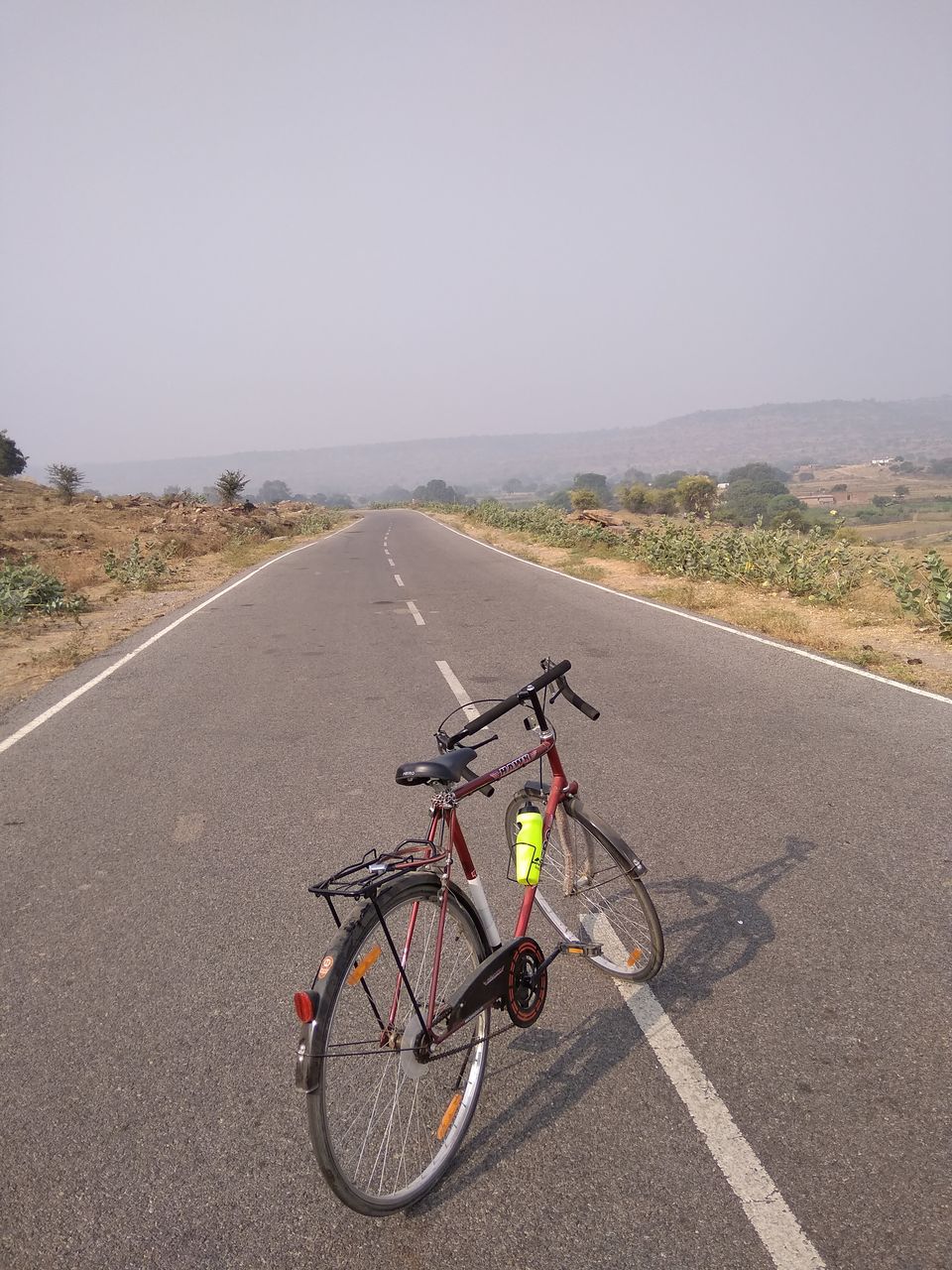 Let me begin by telling you my my inspiration of this journey.....ready?
"THERE IS NO INSPIRATION"!! I'm just crazy. One day I got up and went out to buy a bicycle. Few days later I set out at 4 a.m in the morning, on my new bike, I rode for 28 KMs that day. Next thing I knew, I was cycling on the long streched road between Varanasi and Chunar. Cycled 60 KMs and visited the Chunar Fort.
Then, I thought let's do something even crazier. Mind you, people around were already commenting on my new found hobby- "Why?", "Dude, You're Crazy?", "Bhai, aajkal maal phunkne laga hai kya?". So, I decided to go on my first century ride, cross the 100 KMs barrier. I started looking for suitable places and Lakhaniya Dari perfectly fitted in my requirements. It was situated at convinient 55 KMs from Varanasi. If cycle and then cycle back, I would cover total of 110 Kms or more.
The real challenge was preparing for the Trip. I just had a bike that's all. No, cycling Helmet, cycling shoes, clothes nothing. I didn't have the budget to buy expensive protein shakes and supplements, or other cycling equipments for example a mobile holder for handlebar, so that it would be convinient for me to guide myself through google maps.
The day before, I went out and bought food which suited my budget and fulfilled the nutrient requirements. Mustard seeds which I soaked overnight, 2 Dozen Bananas, A dozen eggs and I hoped that would be enough. Other factors like the situation when something really goes wrong with my bike en route ware left on chance.
On 2nd of December, 2018 I got up at 4.00 a.m in the cold that would make you shiver. Here are some other "Banarasi Jugaad" I used- I fixed my mobile on my Handlebar using a rubber band, I replaced cycling tights with my swimming trunks, which did the job, Though this wasn't safe but I had to go without a cycling helmet, I put on a woolen cap. It was still dark when I started. I had decided to stop on tea stalls and gather some information about the place I was visiting. You see, there are many rumours about Lakhaniya Dari, and few of those "Chaiwallas" added fuel to the fire. I stopped at the first tea stall when I still had approx 28 KMs to go. He cautioned me about the wild animals which live in the forests around the waterfall. Next I stopped at a tea stall when I had 19 KMs to go, the father-son duo scared the shit out of me! They told me the area was full of naxalites who capture anyone found alone in the area. "Just don't go too near the fall. You should have brought some friends with you. If they find you, they'll first capture you, bind you and then tell you to make a call to your place". When I left their stall, I was doubtdul of myself, "Let's go, and I keep distance until I see few people, only then I would go anywhere near the fall", I thought to myself. But to clarify my doubts, I stopped at a tea stall when I had 8 KMs to go. Walking out of that place was like walking out of a hot shower after a long tiring day, my tension eradicated mostly.
Lakhaniya Dari is exactly like the third tea stall owner had told me, no naxalite, no animals, no nothing. It was sunday and soon it was filled with people of all sorts of age group. But that's not the entire story. So, after drinking so much tea, that I hadn't drunk in last one year, I reached Lakhaniya Waterfalls. I had reached very early. The place was almost deserted. I heard the sound of water as soon as I entered the gates. I could see a small waterfall, but this was not what I had cycled KMs for. I kept walking, as I walked further I started seeing lesser people and more forest and rocks. Even faintest of sound would scare me, but I kept walking. Luckily, I found a bunch of students from Varanasi, and I grouped along. Obviously they were surprised to hear my mode of transport, but they turned out to be very helpful. If it hadn't been for them my mobile would have died, which would have added to my problems. We walked for about minutes and at the end of it I witnessed the most beautiful scenery I had ever seen. It was like looking at a painting. It was the first time I had heard the sound of waterfall, a proper waterfall, and it is the most serene sound I've ever heard.
For the next hours I did what everyone would do, clicked photos, sat and listened to water falling, staring at the twinkling waters, dipping my feet in cold water. Just when I'd started to rank this day among the best days of my life, I LOST THE KEYS OF MY BIKE. Why did that have to happen? I had walked almost Kms among rocks and trees, it was almost impossible to locate the whereabouts of keys. I immediately went back to the gates, where I'd "double" locked my bicycle to look for an alternate solution. A very helpful dhaba owner lended me his tools and some other helpful "Policemen" helped me to break the locks of my bicycle. That is 100% true. The looks on their faces was worth looking at, when I told the that I'd come there from Varanasi. "Are you a fool?".
"No sir, I'm just crazy".
So, I cycled 100 KMs, an achievement for me, and a chance to torcher young minds. "When I was your age, I cycled for 110 KMs you loser!!"
And to all the people out there who've said to me things like-
"Don't you eat?"
"Look at you! You look malnourished"
"I could study anatomy on you"
Try cycling for 100 KMs and then we'll talk.